Experience the art of choux pastry with our fascinating collection 10 exquisite choux pastry recipes. A testament to the versatility and elegance of choux pastry, this compilation offers a range of sweet and savory delights that will leave you wanting more.
What is choux pastry?
Chouxalso known as Pate à choux, is a light and versatile pastry dough that can be used to make a variety of sweet and savory treats. It is an essential ingredient in many classic French baked goods such as profiteroles, eclairs and choux pastry buns.
How to make choux pastry
Choux pastry is made from a simple combination of milk, water, butter, flour and eggs. Prepare the batter by heating the water, milk and butter in a saucepan until the butter melts. Add flour to the mixture to form a smooth paste called "breading." Briefly cook the breading over low heat to cook out the raw flour flavor and allow the batter to come together.
As soon as the breading has cooled down a bit, gradually work the eggs into the batter, one at a time. The eggs add moisture and structure to the dough, giving it its characteristic light and airy consistency. The batter should be of a smooth, glossy consistency that can be piped or molded into the desired shape.
What recipes can be made from choux pastry?
Choux pastry is a versatile dough that you can use to make a variety of delicious treats. From classic cream puffs and elegant eclairs to savory gougères and towering croquembouche, choux pastry offers a light and airy texture that serves as the perfect base for a variety of fillings and flavors.
cream puff
Indulge in the classic favorites like cream puff, where light and fluffy pastry shells embrace delicious fillings, from silky vanilla cream to rich chocolate cream. Each bite is a harmonious symphony of textures and flavors guaranteed to satisfy your sweet tooth.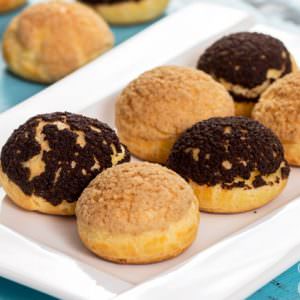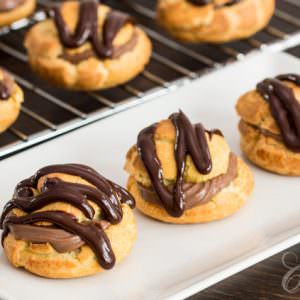 Chocolate Cream Puffs
Delicious chocolate cream puffs filled with chocolate pastry cream and topped with chocolate ganache, a perfect treat for chocolate lovers. It is best to serve them the same day after filling to enjoy the tender and crunchy texture of the choux pastry combined with the creamy pastry cream.
Check out this recipe
eclairs
Experience the magic of eclairswith an irresistible combination of light dough shells and creamy fillings that will make your taste buds dance with delight.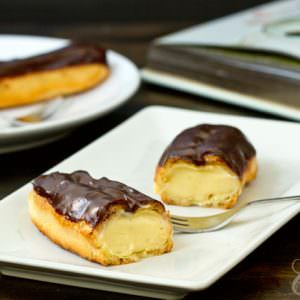 Vanilla Eclairs
Eclairs are a great French dessert made from choux pastry, filled with cream and then usually topped with fondant icing. There are many variations for the topping, but making a simple and quick chocolate ganache just seemed perfect to me.
Check out this recipe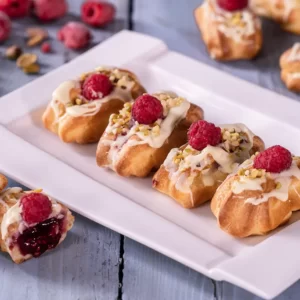 Vanilla Raspberry Mini Eclairs
This Vanilla Raspberry Mini Eclairs are delicious, bite-sized pastries that combine the timeless taste of creamy vanilla and tangy raspberry. These elegant treats are tender choux pastry shellsfilled with a luscious Vanilla Pastry Cream And homemade raspberry jam.
Check out this recipe
Hearty choux pastry recipes
picture tender gougeres with an intense cheese taste, a delicious accompaniment for your next meeting.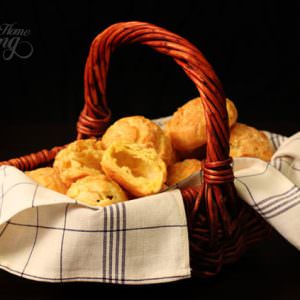 Innovative choux pastry recipes
Immerse yourself in a symphony of flavors with our innovative creations. Enjoy our amazing Profiterole Cake. It consists of a moist cocoa brownie on the bottom, topped with chocolate mousse and profiteroles filled with cream cheese frosting.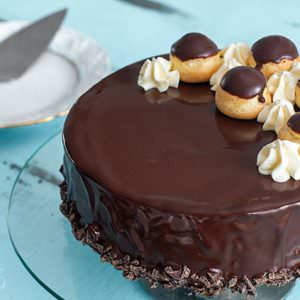 Profiterole Cake
This Profiterole Cake is a rich, decadent, impressive dessert that will satisfy both chocolate and profiterole lovers. The cake features a moist cocoa brownie base, topped with chocolate mousse and profiteroles filled with cream cheese frosting. The cake is then coated with chocolate icing and voilà! A profiterole cake that's super easy to make and a real treat.
Check out this recipe
Treat yourself to the ultimate chocolate lover's dream with our exquisite products Chocolate Eclair Cake. It consists of two layers of fluffy chocolate choux pastry sandwiched together with a delicious chocolate cream filling.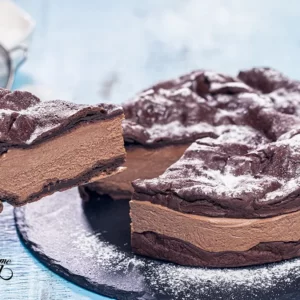 Try this irresistible Vanilla Eclair Cake Made from two layers of choux pastry, filled with a delicate vanilla cream.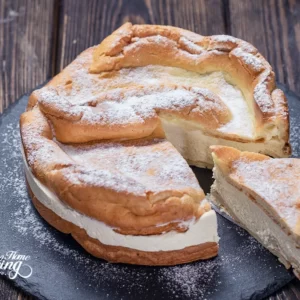 Croque en Bouche – Croquembouche
Discover the art of Croque en Bouche (Croquembouche), a delightful French dessert. It consists of a towering pyramid of golden, caramelized wreaths.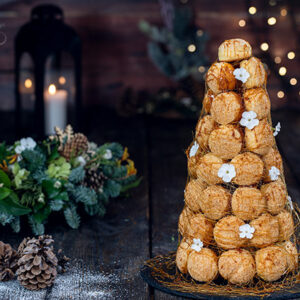 Croque en bouche or croquembouche
I've always loved croque en bouche, aka croquembouche, the famous French dessert that always makes a good impression wherever it's served and is so intimidating to make. It's an impressive dessert that's perfect for Christmas or New Year's Eve, but it's also served at weddings or other special occasions throughout the year.
Check out this recipe
Paris-Brest
Experience the pampering allure of Paris Brest, a classic French pastry with a ring of light and flaky choux pastry filled with a velvety praline cream. Named after the legendary bicycle race, this exquisite dessert offers a perfect balance of textures and flavors. Its delicate paste envelops a rich and nutty cream.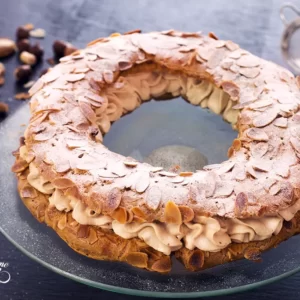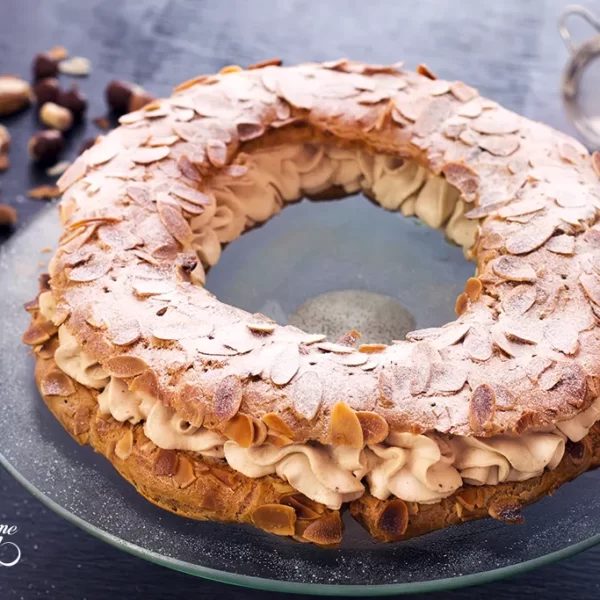 Paris-Brest
Paris-Brest consists of a ring of choux pastry filled with praline mousseline cream and decorated with slivers of almonds and powdered sugar that imitates the shape of a bicycle wheel. It is obviously a high-calorie dessert that gave drivers energy, soon became very popular and is now a dessert known all over the world.
Check out this recipe
Whether you're a seasoned baker or just starting out in the pastry craft, this collection offers comprehensive recipes to help you master the art of choux pastry. With detailed instructions and helpful tips, you can prepare these delicious treats with confidence.
Get ready to improve your baking skills and embark on a culinary adventure with our collection of 10 choux pastry recipes. Each creation promises to enchant your senses and transport you to a world of pastry perfection. I hope you will try each of these recipes. If so, make sure to share the photos with me Instagram. Enjoy!