If you're tired of your normal breakfast routine, this list is for you! I have compiled a list of my top 18 easy and healthy breakfast ideas. From pancakes to smoothies, this list has everything to make your mornings easier and healthier.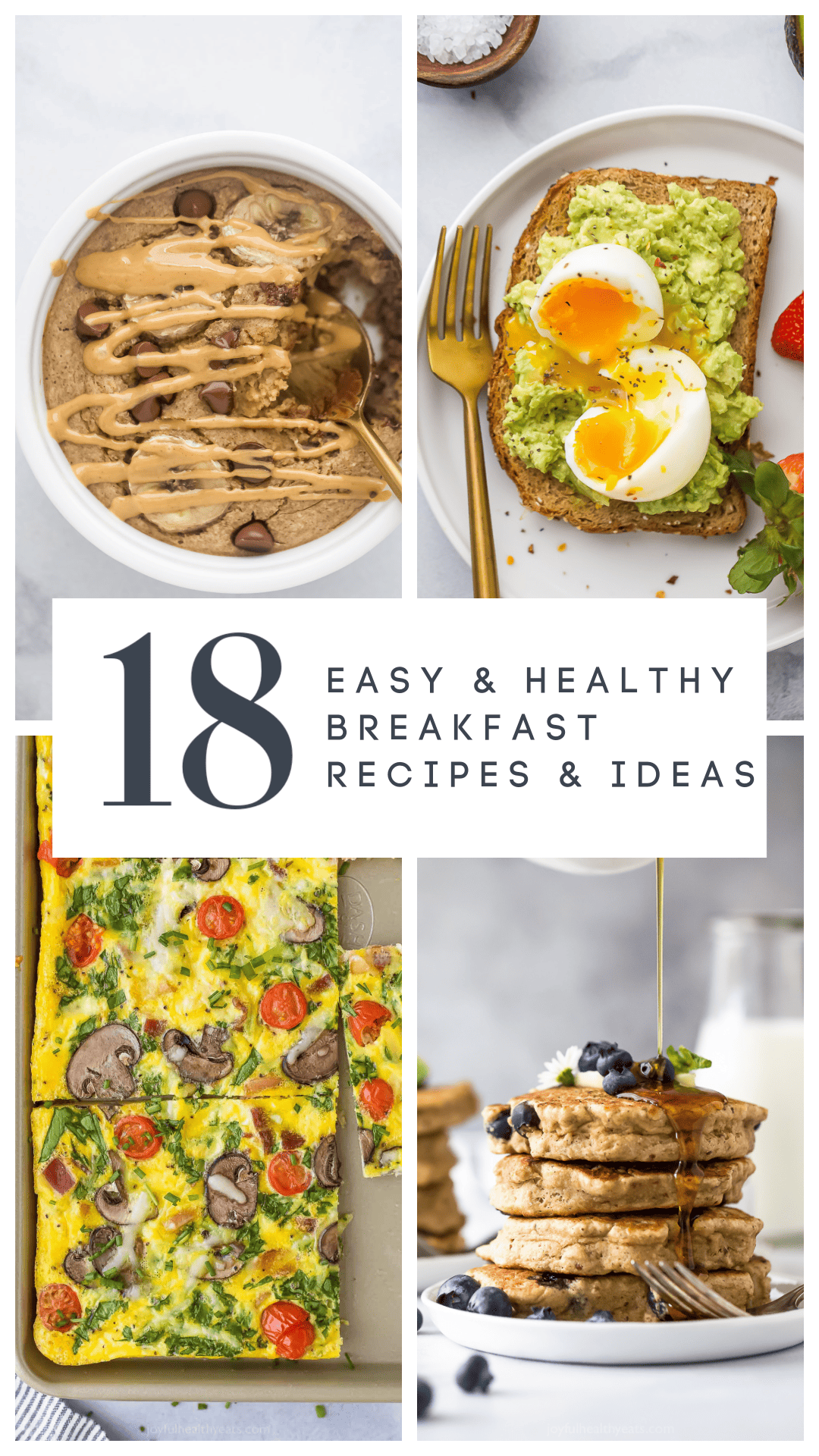 The best easy breakfast recipes
You are here to find the best of the best breakfast recipes and I promise you will find them! I love a good breakfast and it's important to me that it's simple and healthy. Most of the time we're always on the go, but that doesn't mean we can't treat ourselves to a delicious breakfast.
Easy and healthy breakfast recipes need to include wholesome ingredients (and the list needs to be short!). None of us has time to collect more than 20 ingredients every morning to prepare a hearty breakfast. All of these recipes contain ingredients that are good for you and serve a purpose! Most often, this purpose is to add nutrients to the meal and provide energy for the day.
Why is it important to eat a healthy breakfast?
Just like I tell my kids every morning – breakfast is the most important meal of the day! It's safe to say that we feel a lot better when we eat a healthy breakfast every morning. You don't want to cross my path on a day I don't eat breakfast! That's why I'm always looking for the best easy and healthy breakfast ideas.
As I mentioned before, breakfast gives you energy for the day. And when that fuel is low or just not enough, your day will suffer. Therefore, a healthy breakfast, whether it's loaded with fruits, vegetables, protein, or all of the above, is the best way to start the day.
What are the healthiest breakfast foods?
You'll see many of these healthy foods in the list below, but here are some of my top healthy breakfast foods. I try to focus on these foods when making breakfast recipes.
Protein: You can find protein in many different sources. And when it comes to breakfast, protein is often found in eggs, sausage, Greek yogurt, nuts, cottage cheese, and turkey ham.
Dairy: If your diet allows, dairy products are a great source of calcium and vitamin D.
fruit and vegetables: That goes without saying, right?! I like to load up on a lot of vegetables in the morning for the vitamins but also for the fiber. This extra fiber helps me feel full for longer.
Healthy carbohydrates: Some healthy carbohydrates are oatmeal, bananas, and whole wheat bread.
Top 18 easy and healthy breakfast ideas
Here is exactly what you were looking for! It's the ultimate list of breakfast recipes that are easy, quick, and good for you.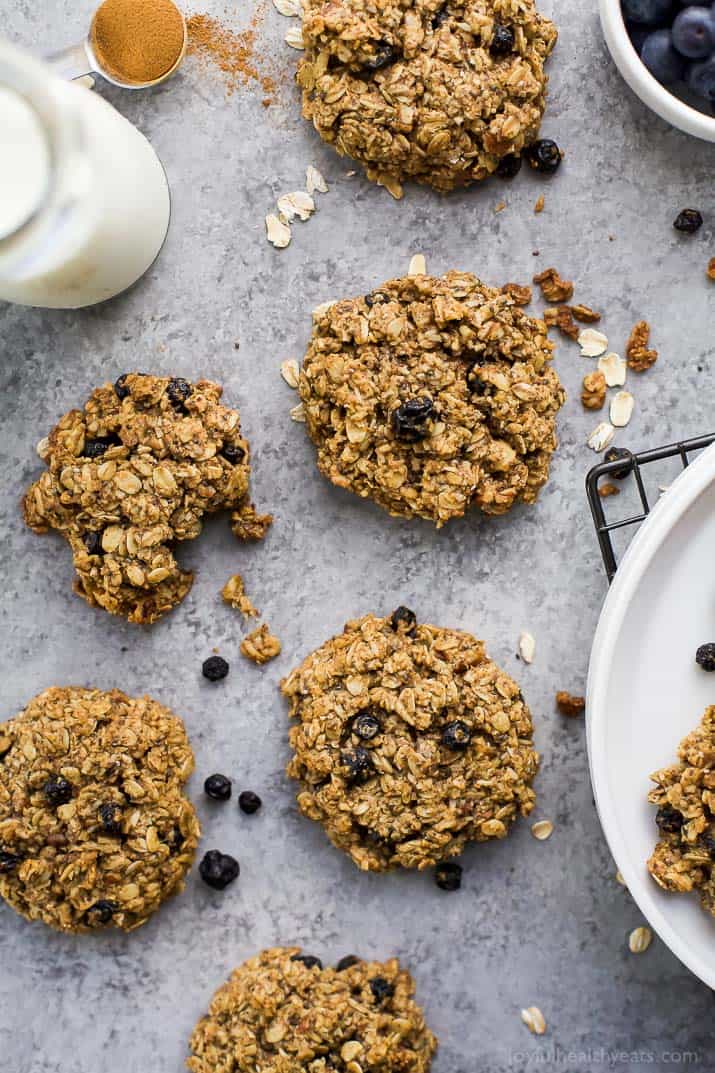 Blueberry Breakfast Cookies
We'll start with those of you who are on the go! These moist and chewy Blueberry Oatmeal Cookies are the perfect on-the-go breakfast. With heart-healthy oats, high-protein almond butter, antioxidant-rich chia seeds, and more, you won't find a healthier batch of cookies!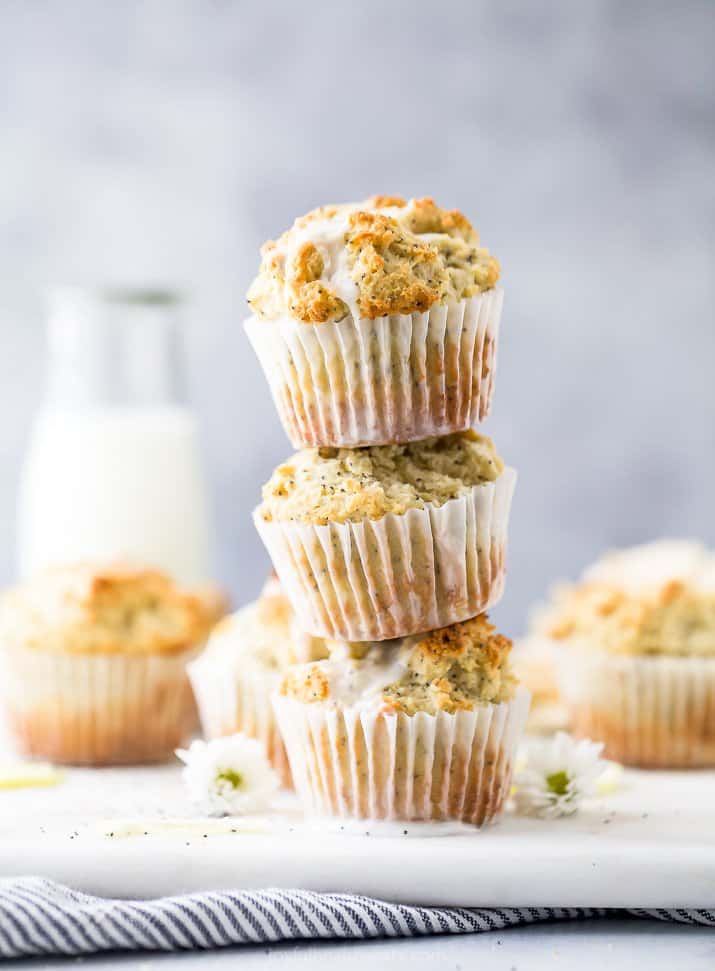 Crazy Moist Lemon Poppy Seed Muffins without gluten
These Lemon Poppy Seed Muffins are gluten free and the perfect healthy breakfast treat! Each bite is insanely moist and filled with fresh citrus flavor. Drizzle with a lemon glaze for the ultimate bite!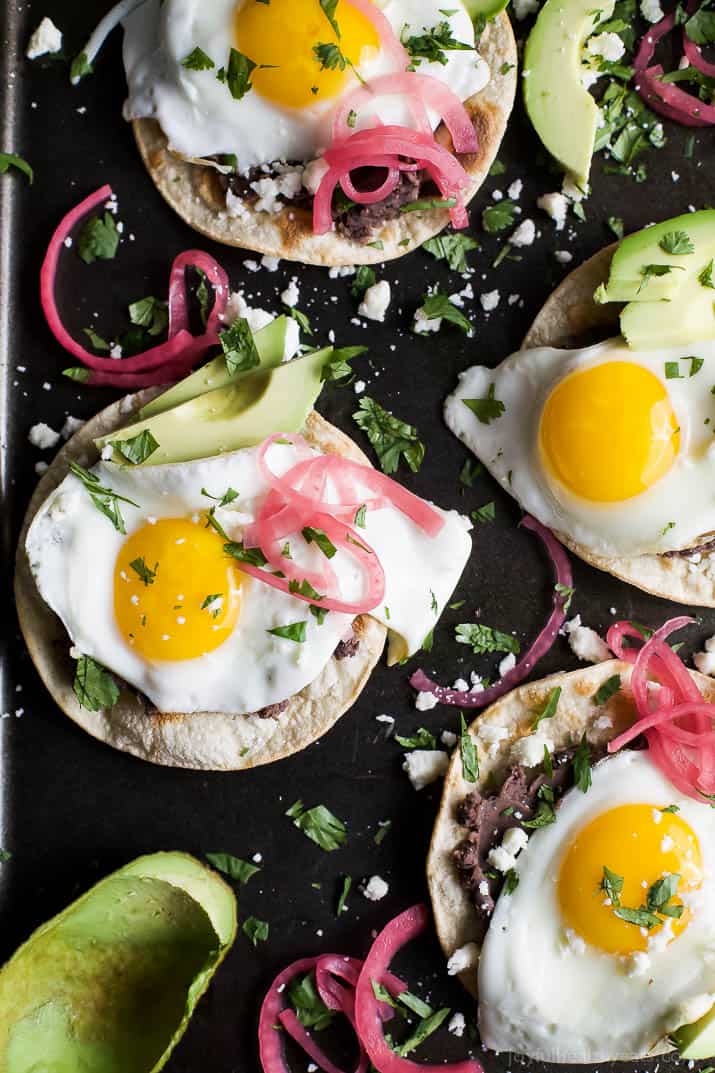 Huevos Rancheros Breakfast Tostadas
At only 292 calories per serving, these healthy Huevos Rancheros Breakfast Tostadas make a delicious breakfast that's high in protein and fiber! And they taste so good. We like to do them on the weekends.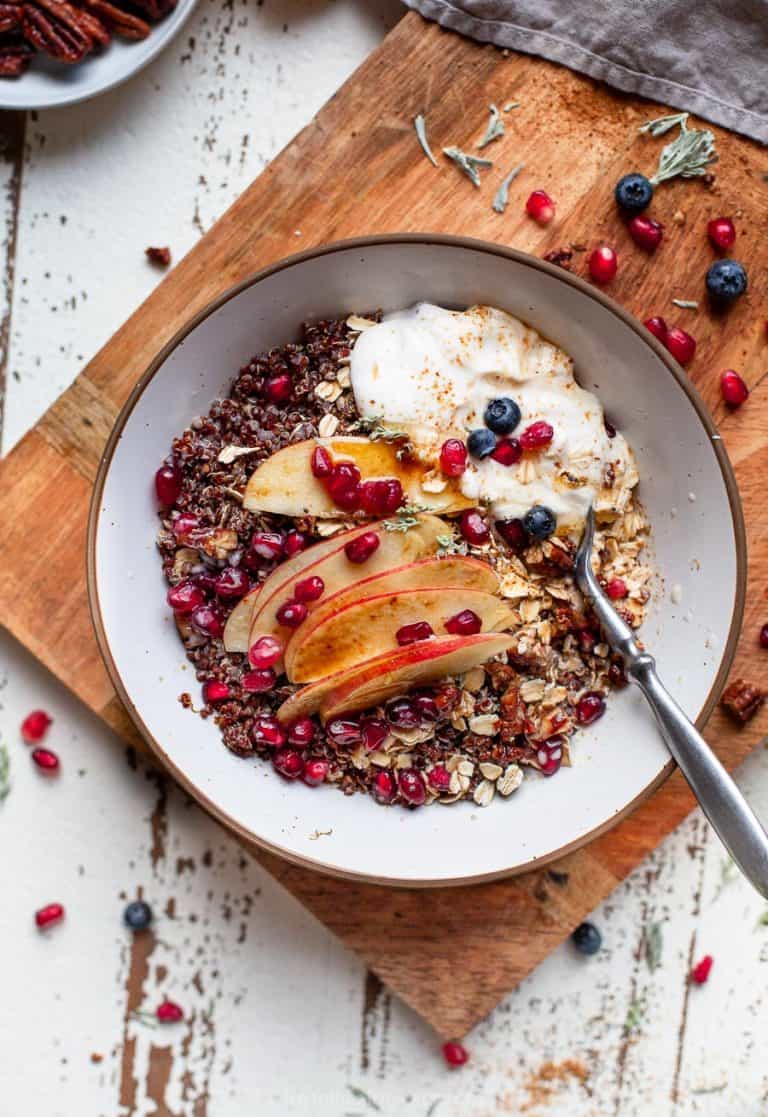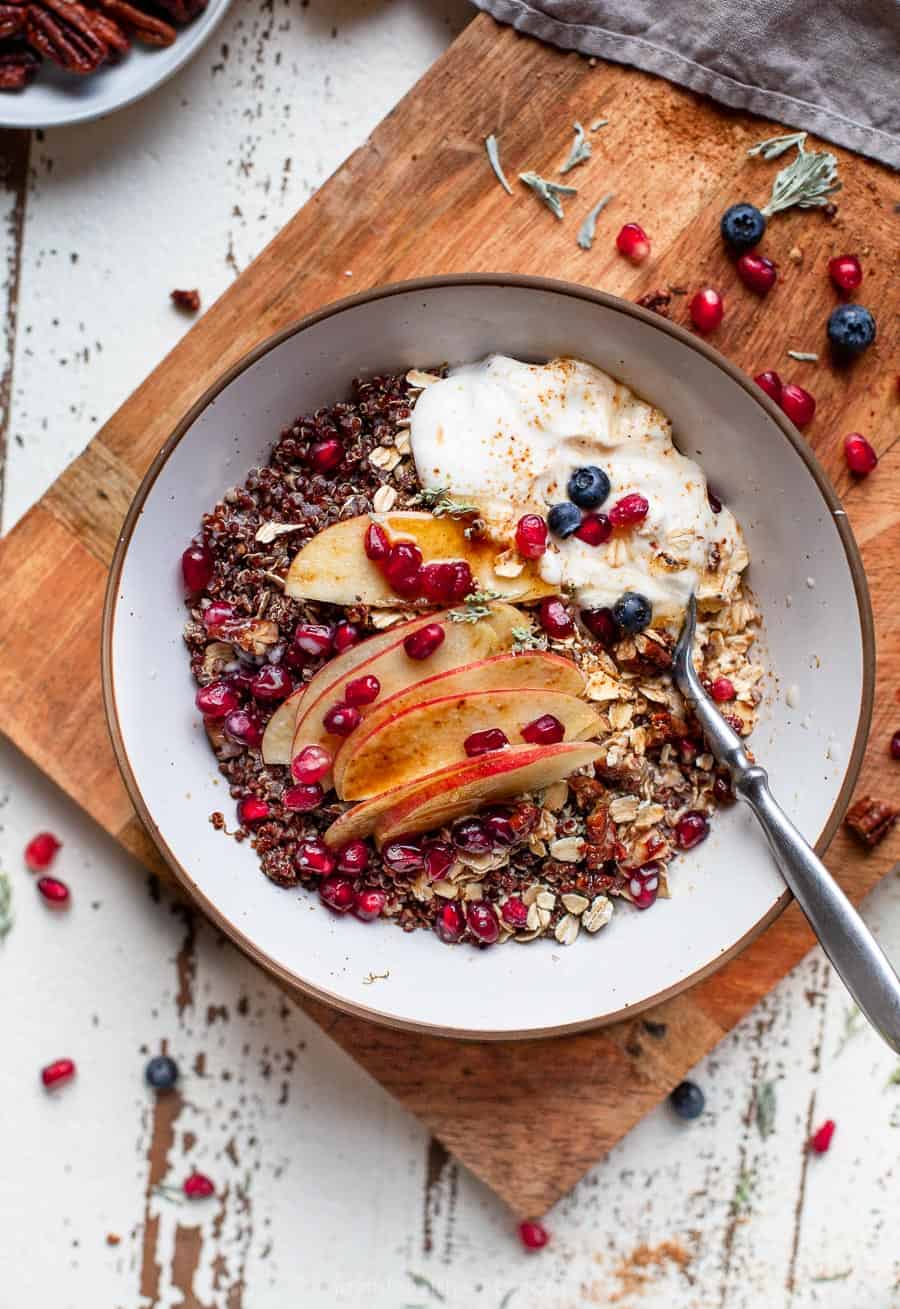 Apple Cinnamon Breakfast Cereal Bowl
An easy, harvest-inspired, gluten-free, dairy-free breakfast bowl! This powerhouse Apple Cinnamon Breakfast Grain Bowl is packed with nutrients and flavor. It's more filling and just as easy as pouring in a bowl of cereal.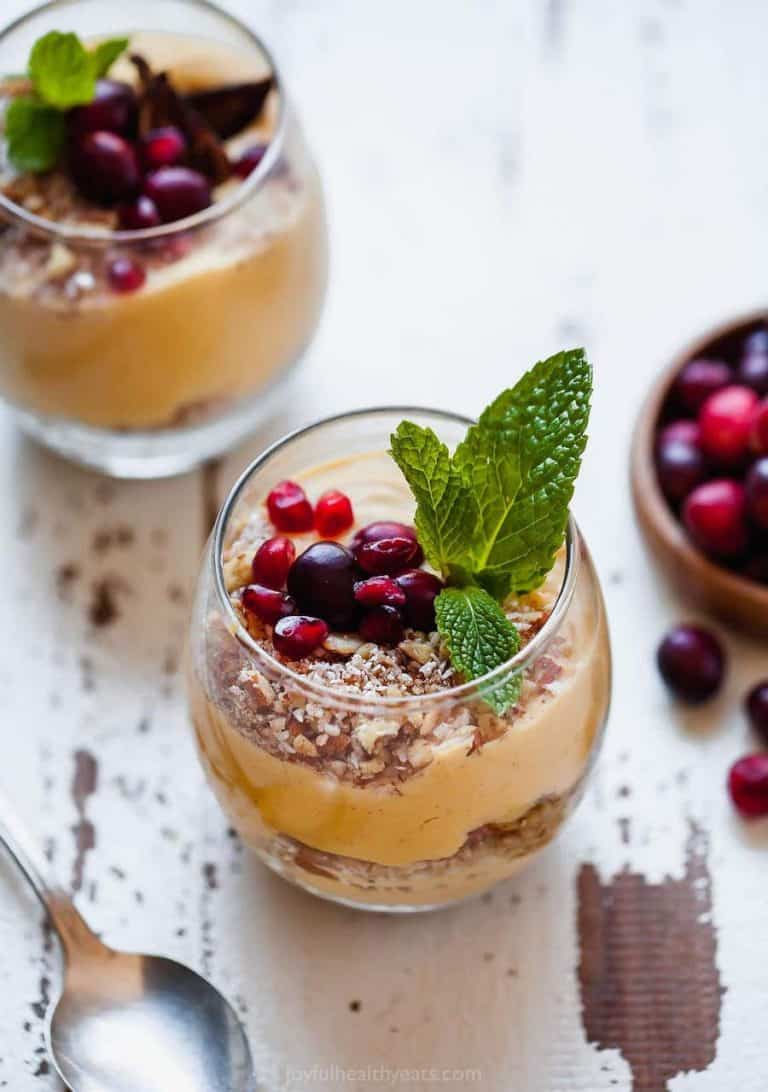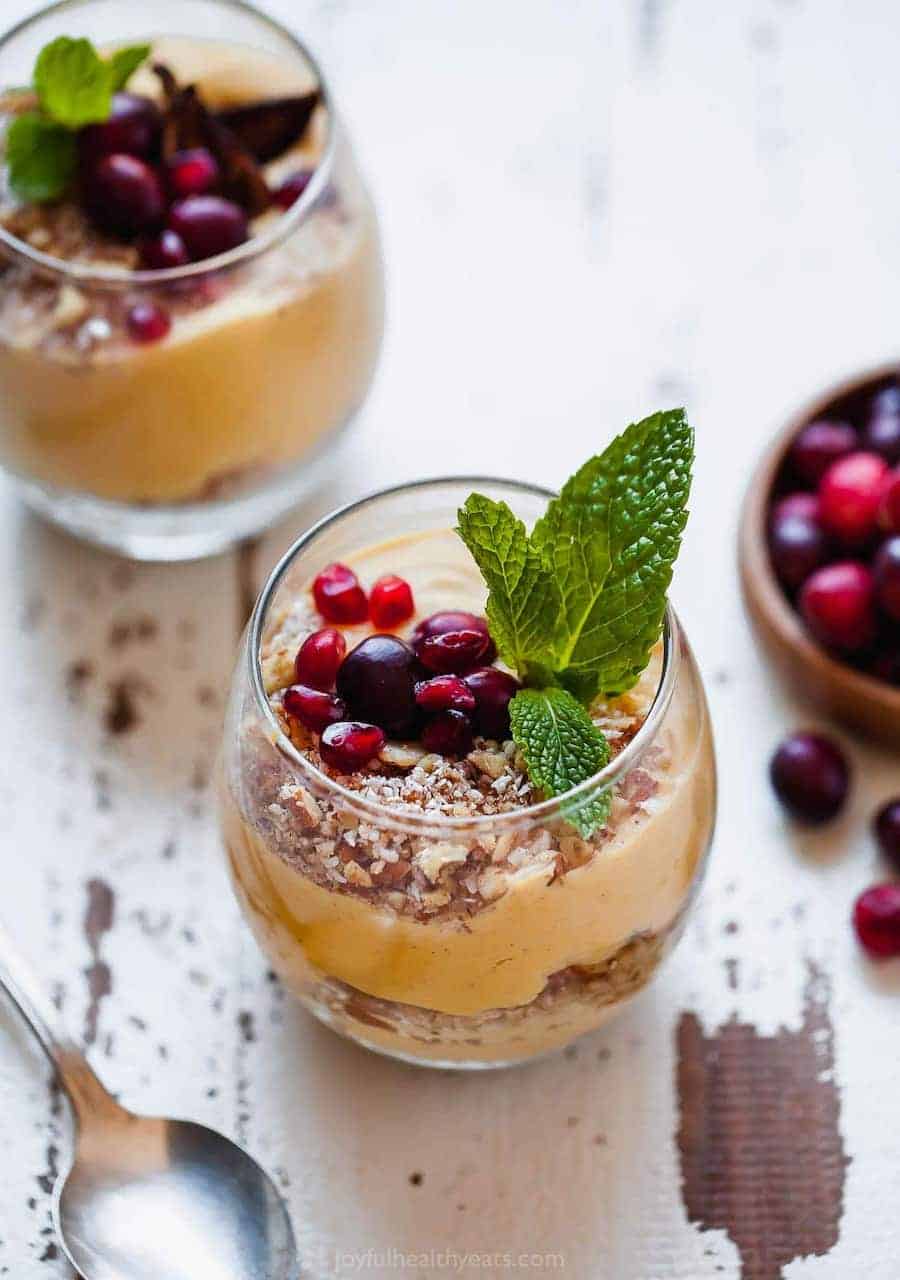 Healthy pumpkin pie parfaits
This is like a dessert for breakfast and you can make them ahead of time so they're easy to grab in the morning. Homemade pumpkin pie yogurt is layered between a 5-ingredient crunchy granola made with chopped nuts, coconut and cinnamon.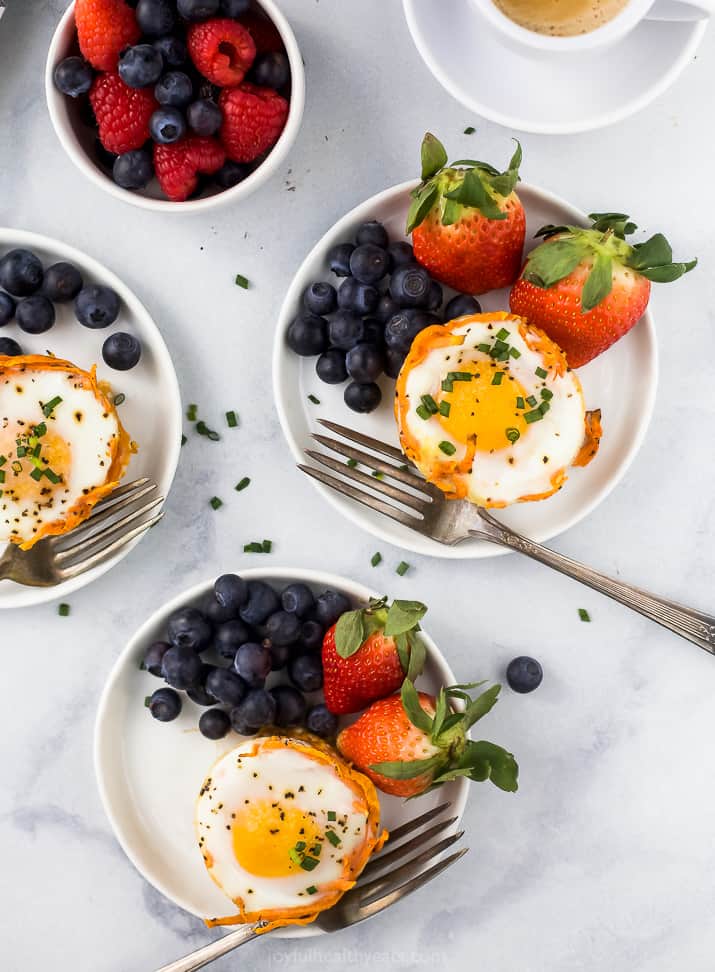 Light and easy baked egg cups with sweet potato hash
Sweet Potato Hash Baked Egg Cups are delicious ahead-of-the-line breakfast bowls that are easy and simple to make. These egg cups are perfect for a healthy brunch or a breakfast option for a crowd.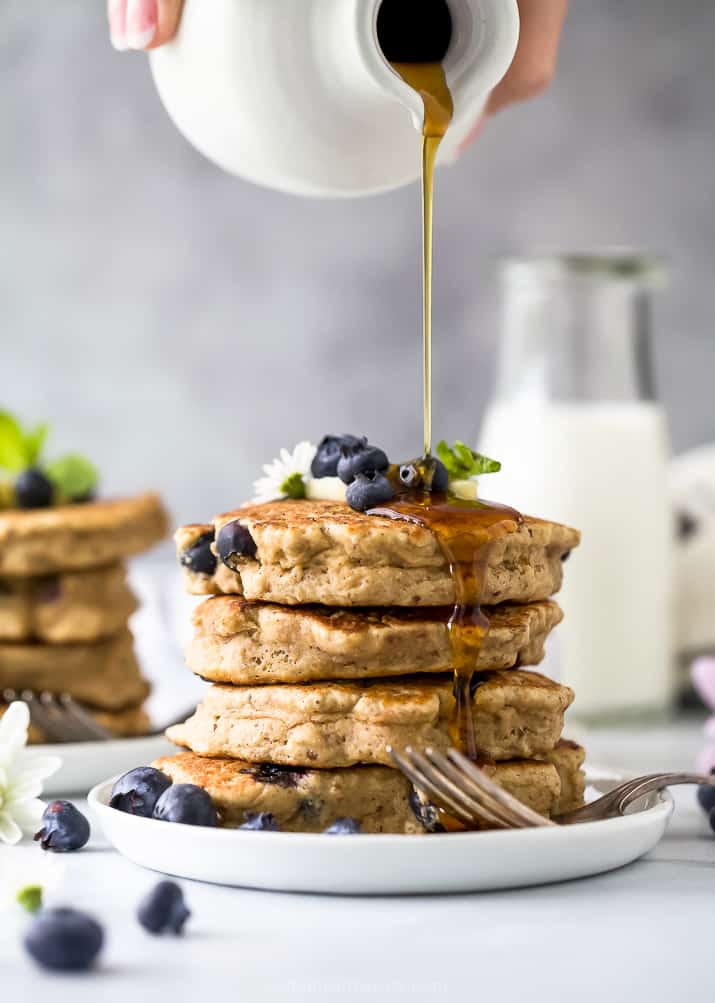 Perfectly thick and fluffy healthy blueberry pancakes
These healthy blueberry pancakes are made with whole wheat flour and are naturally sweetened and vegan! It's the best thick pancake recipe I've ever made, filled with bursting blueberries and perfectly sweet. We freeze them and pop them in the toaster for another on-the-go option!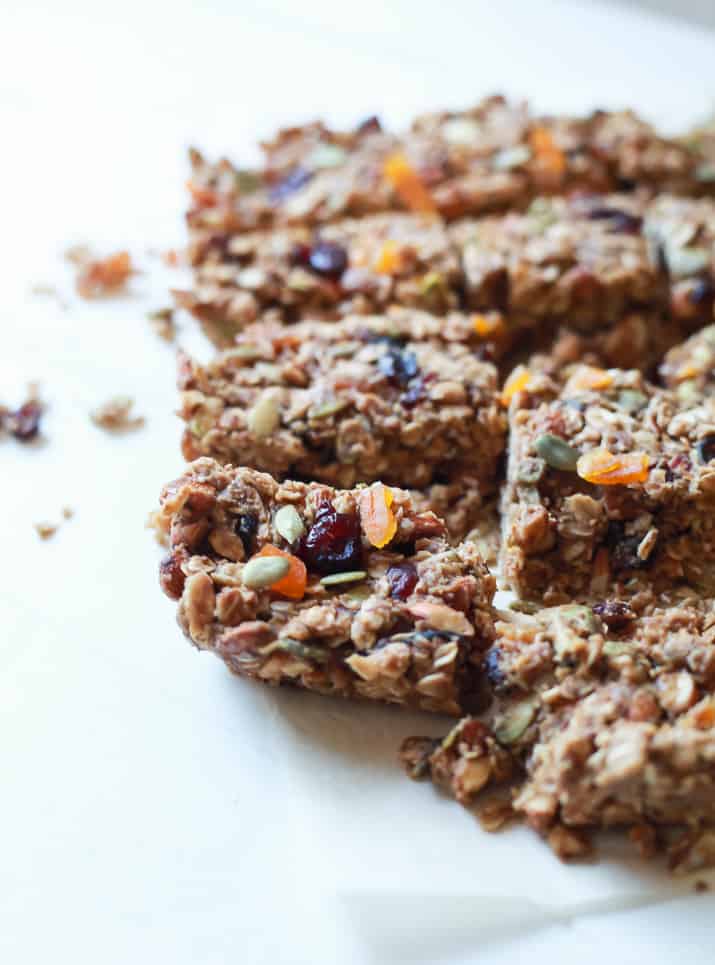 No Bake Pumpkin Spice Granola Bars
You'll be dropping all your favorite store-bought brands with these easy and healthy No Bake Pumpkin Spice Granola Bars. Filled with pumpkin spice mix, pepitas, almonds, cranberries and more, it's a unique and delicious breakfast bar!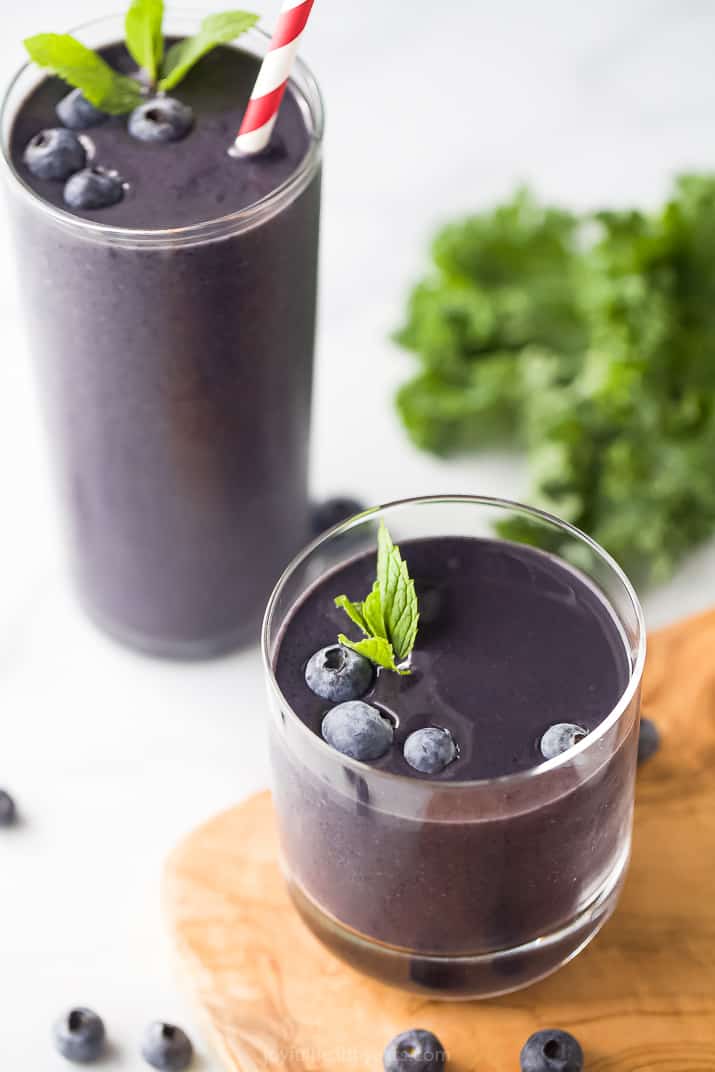 High Protein Blueberry Kale Smoothie
This is for smoothie lovers. It's a quick, easy, and healthy protein shake that's fruity and delicious! Fill your body with energy and nutrients by enjoying this high-protein blueberry and kale smoothie.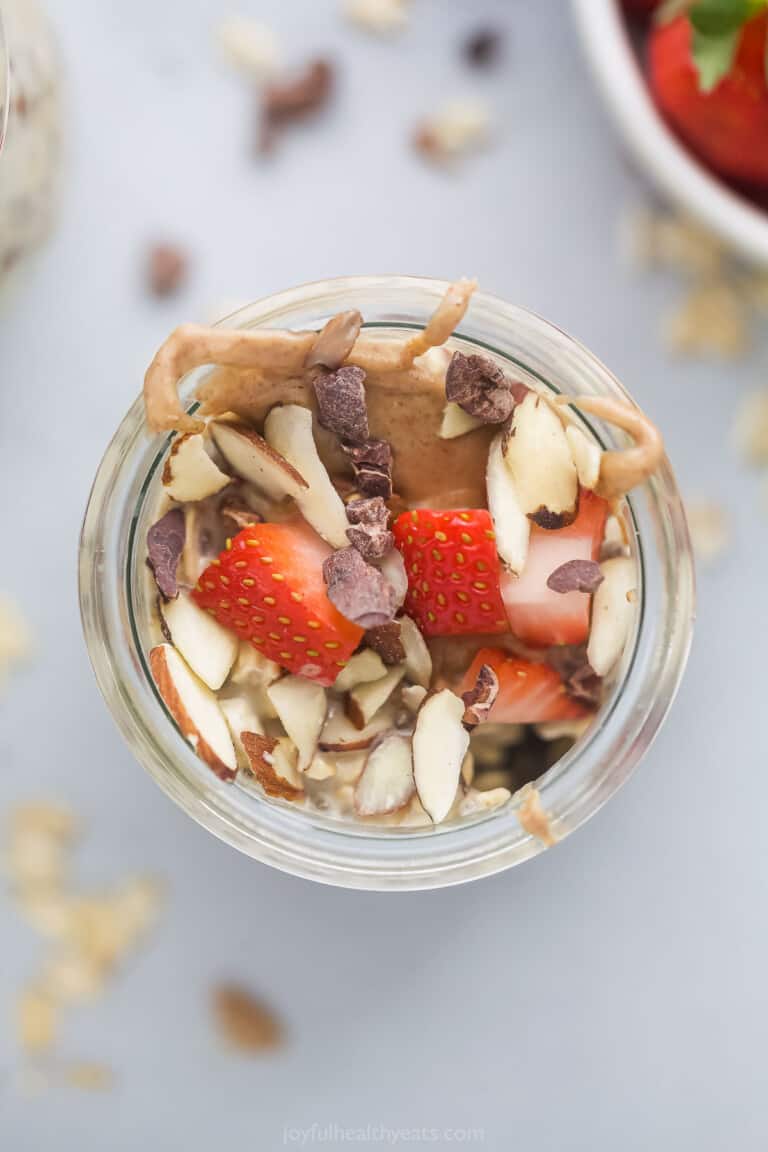 Vanilla Almond Overnight Oats
Made with old-fashioned oats, chia seeds, sliced ​​almonds and more, this creamy vanilla almond overnight oatmeal is a high-protein breakfast that will make your busy mornings a breeze! It is very easy to prepare without cooking or baking.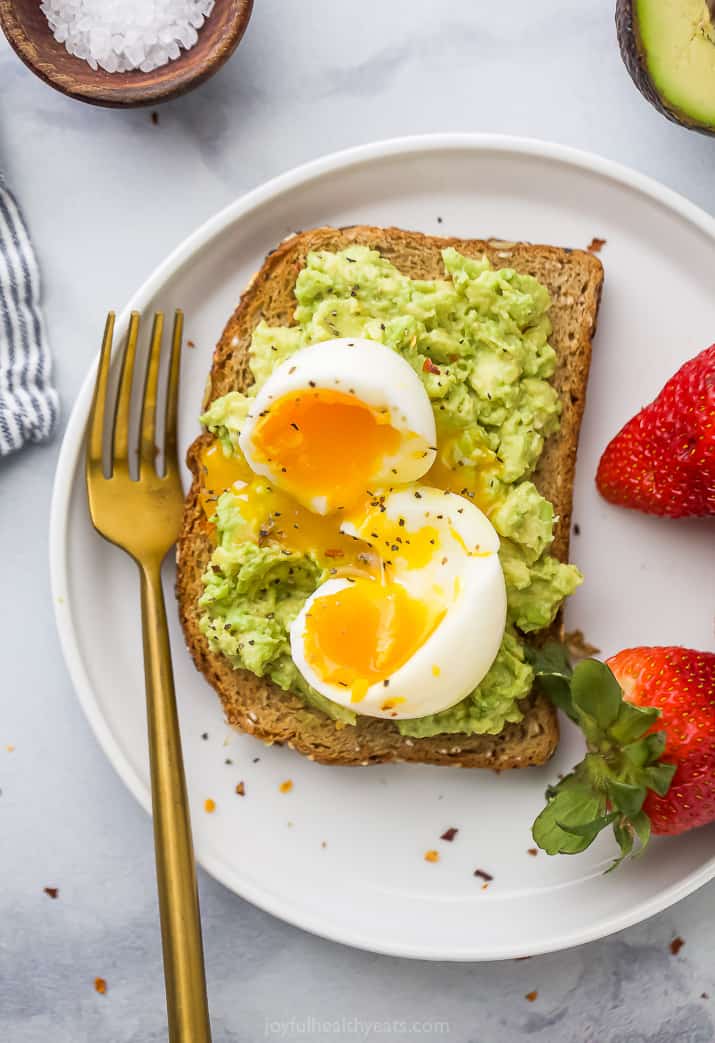 Smashed Avocado Toast with Soft Boiled Egg
Have you tried avocado toast yet? It's a fun and unique breakfast option. Try this Smashed Avocado Toast with Soft Boiled 6-Minute Eggs for the perfect quick and healthy breakfast that's ready in 10 minutes.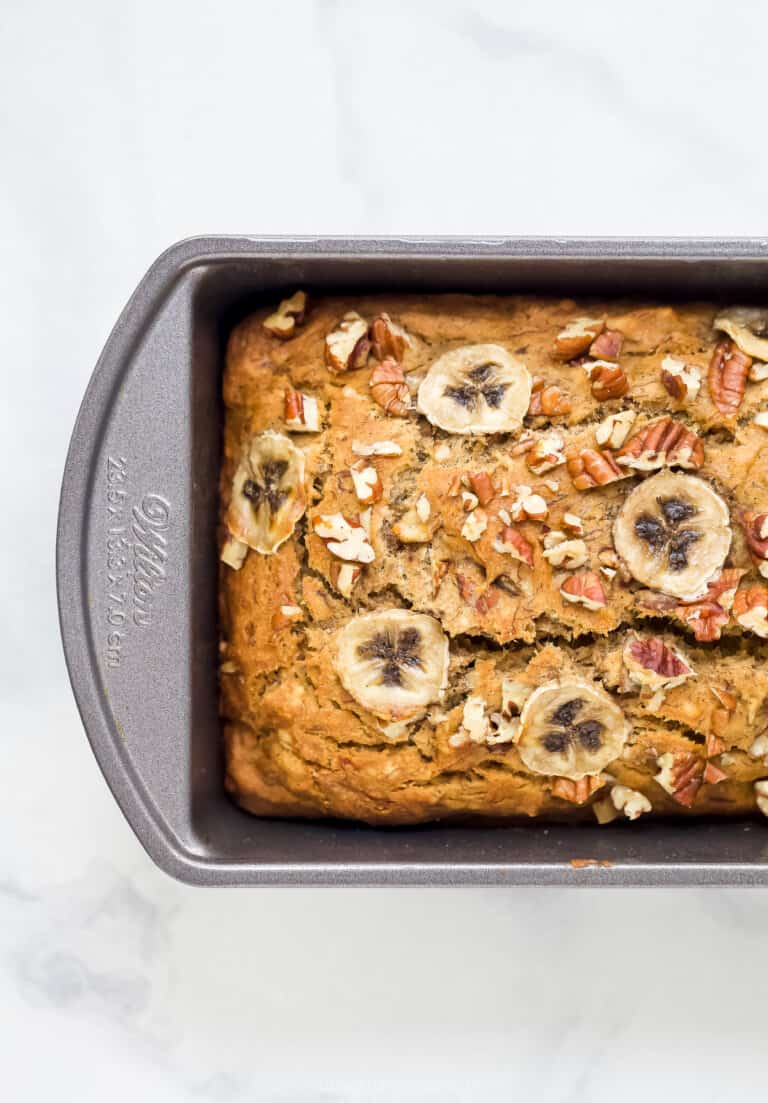 Gluten Free Healthy Banana Nut Bread
This healthy banana nut bread is extremely moist, naturally sweetened and gluten free. I like to bake a big loaf at the beginning of the week so we can grab a piece whenever we want. It's a great breakfast option that the kids love too!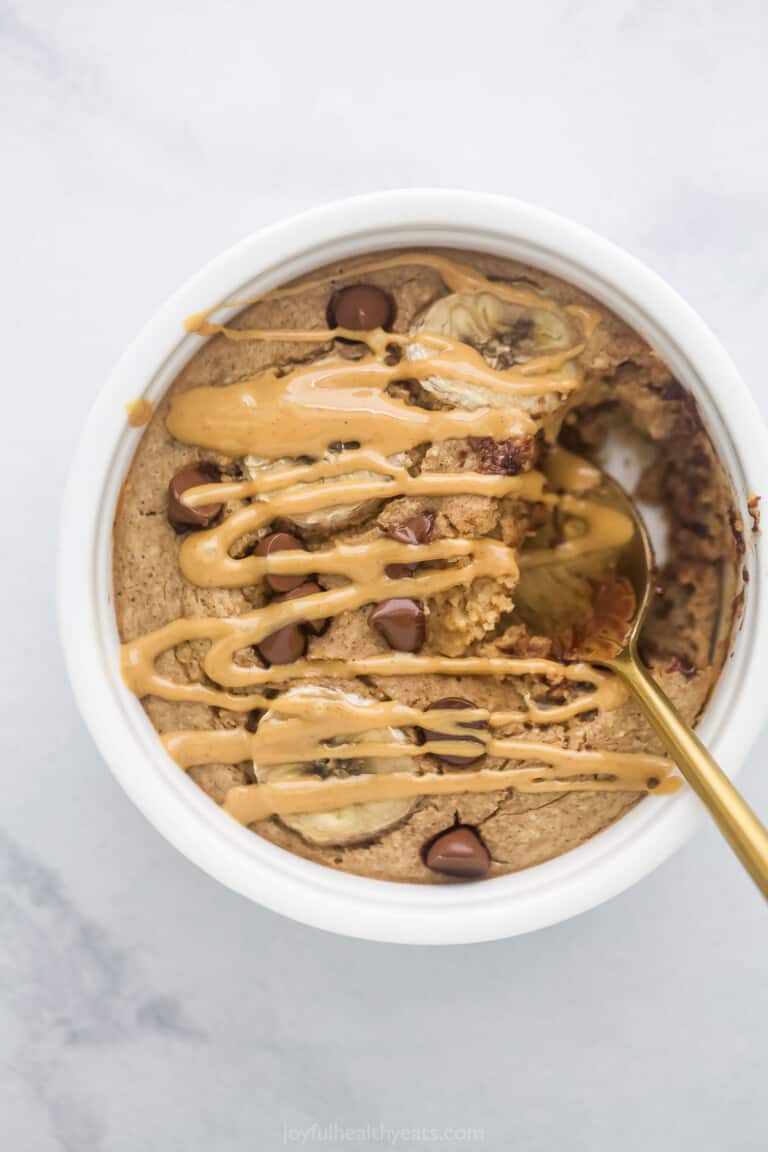 Baked Oatmeal with Chocolate Peanut Butter
Chocolate Peanut Butter Baked Oatmeal is a healthy and convenient breakfast that tastes like pie! Everyone in your family will love this recipe. It's easy to make and can be customized with your favorite oatmeal flavors.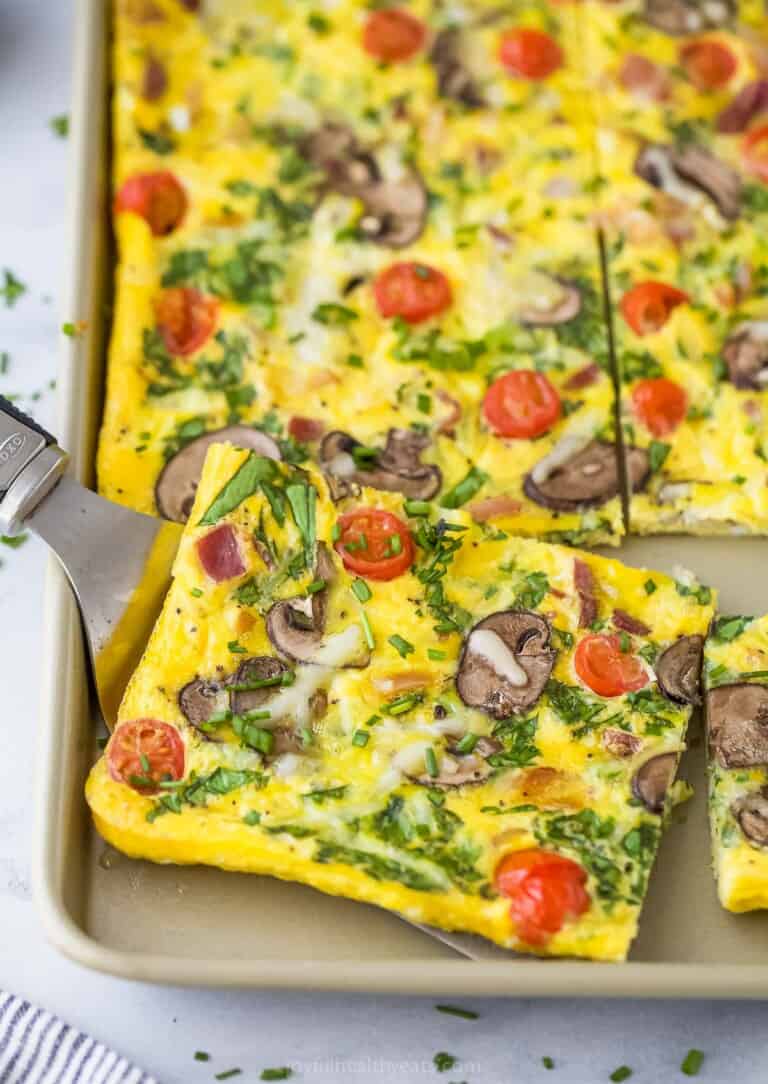 Leaf Pan Mushroom Spinach Frittata
Filled with fresh spinach, crispy pieces of bacon, juicy cherry tomatoes, thinly sliced ​​mushrooms and creamy Gruyere cheese Mushroom Spinach Frittata is perfect for breakfast or brunch. It comes together in under 30 minutes!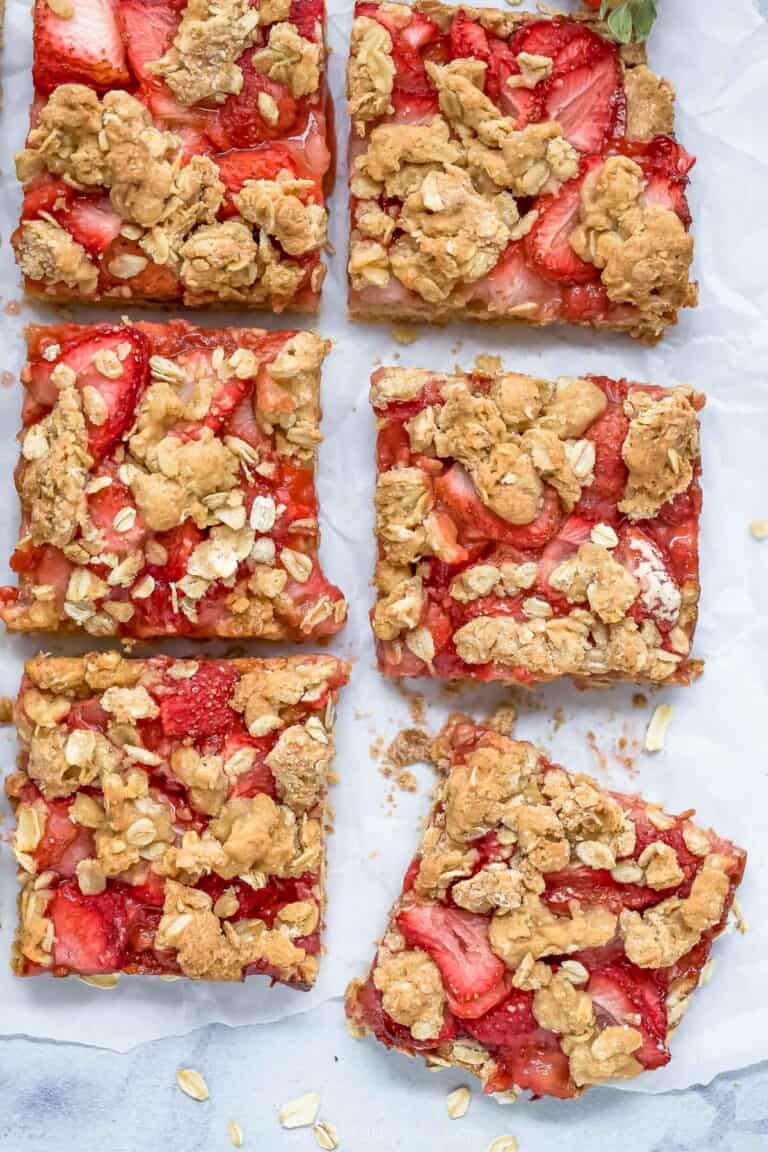 Strawberry oatmeal bar
Made with fresh, juicy strawberries and a buttery streusel topping, these easy Strawberry Oatmeal Bars are a delicious breakfast, snack, or dessert. Each bar contains only 132 calories!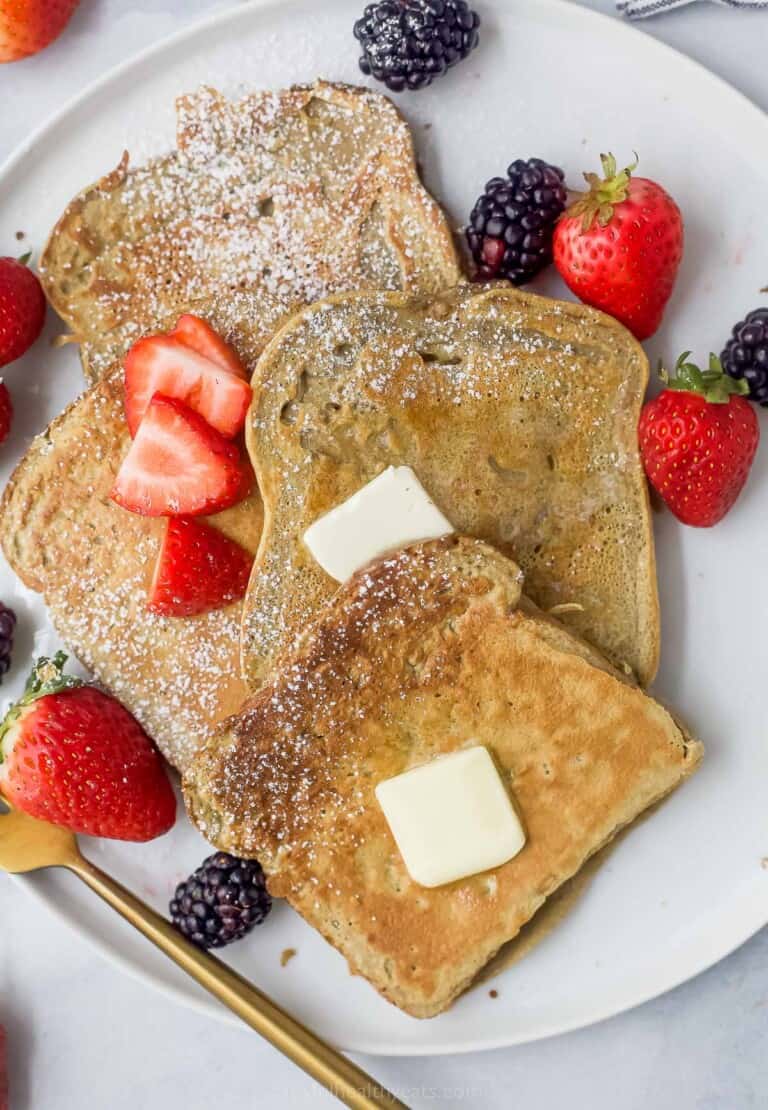 Quick and easy protein french toast
This quick and easy Protein French Toast is a healthy breakfast for the whole family. And it freezes well for a great make-ahead option!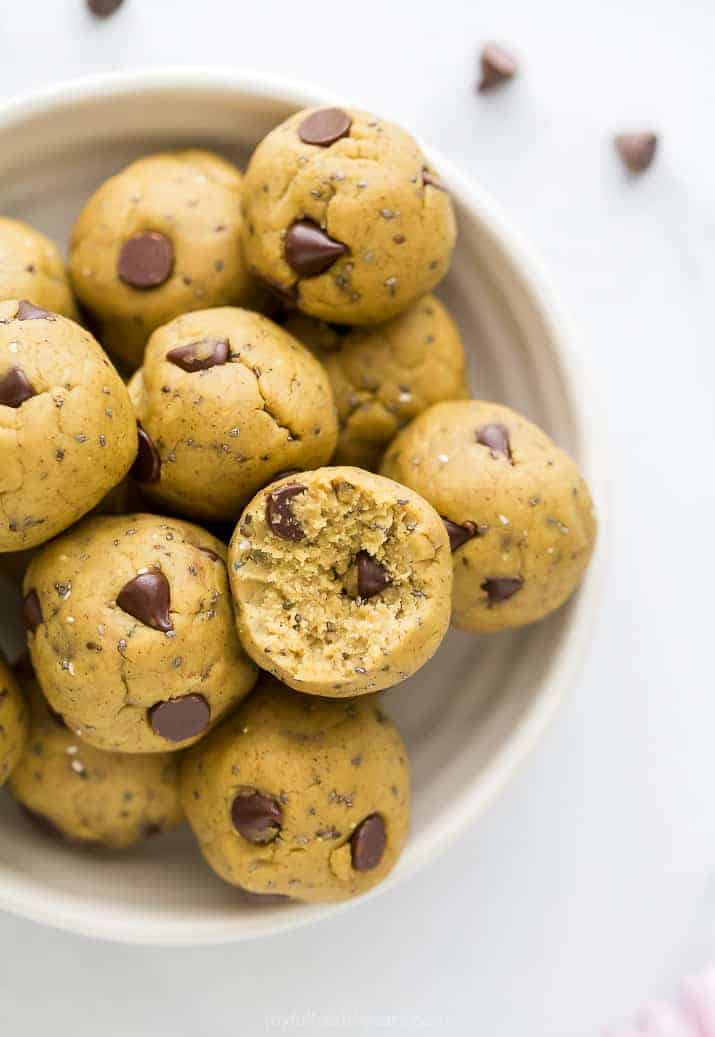 No Bake Vegan Cookie Dough Energy Balls
This is for cookie lovers! (I promise they're healthy!) My Vegan Cookie Dough Energy Balls are made with 7 ingredients and no baking required! They're a great on-the-go breakfast at just 111 calories per bite – high protein, low carb, and low in sugar.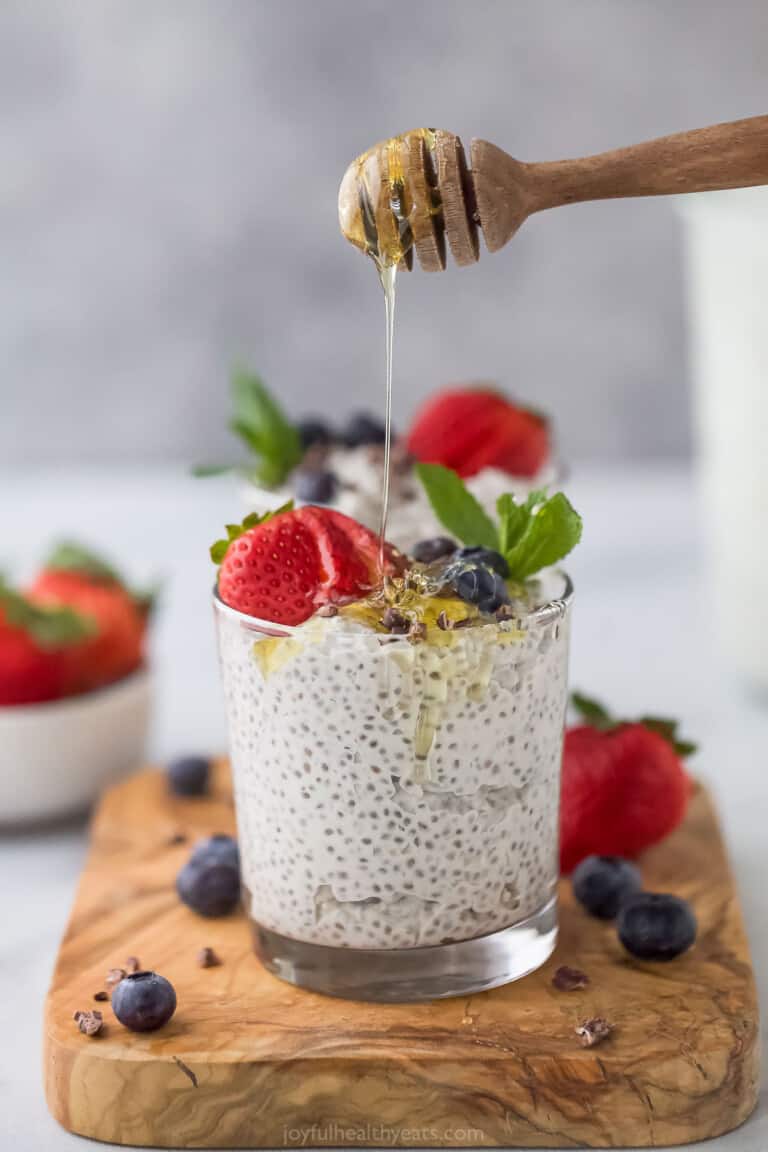 Vanilla Chia Seed Pudding
Made with coconut milk sprinkled with chia seeds, flavored with vanilla and sweetened with maple syrup, you'll be devouring this creamy chia pudding. It's a healthy breakfast that's second to none!