It doesn't have to be kale chips every single time. Try these kale recipes and learn to really love all the different sides of kale.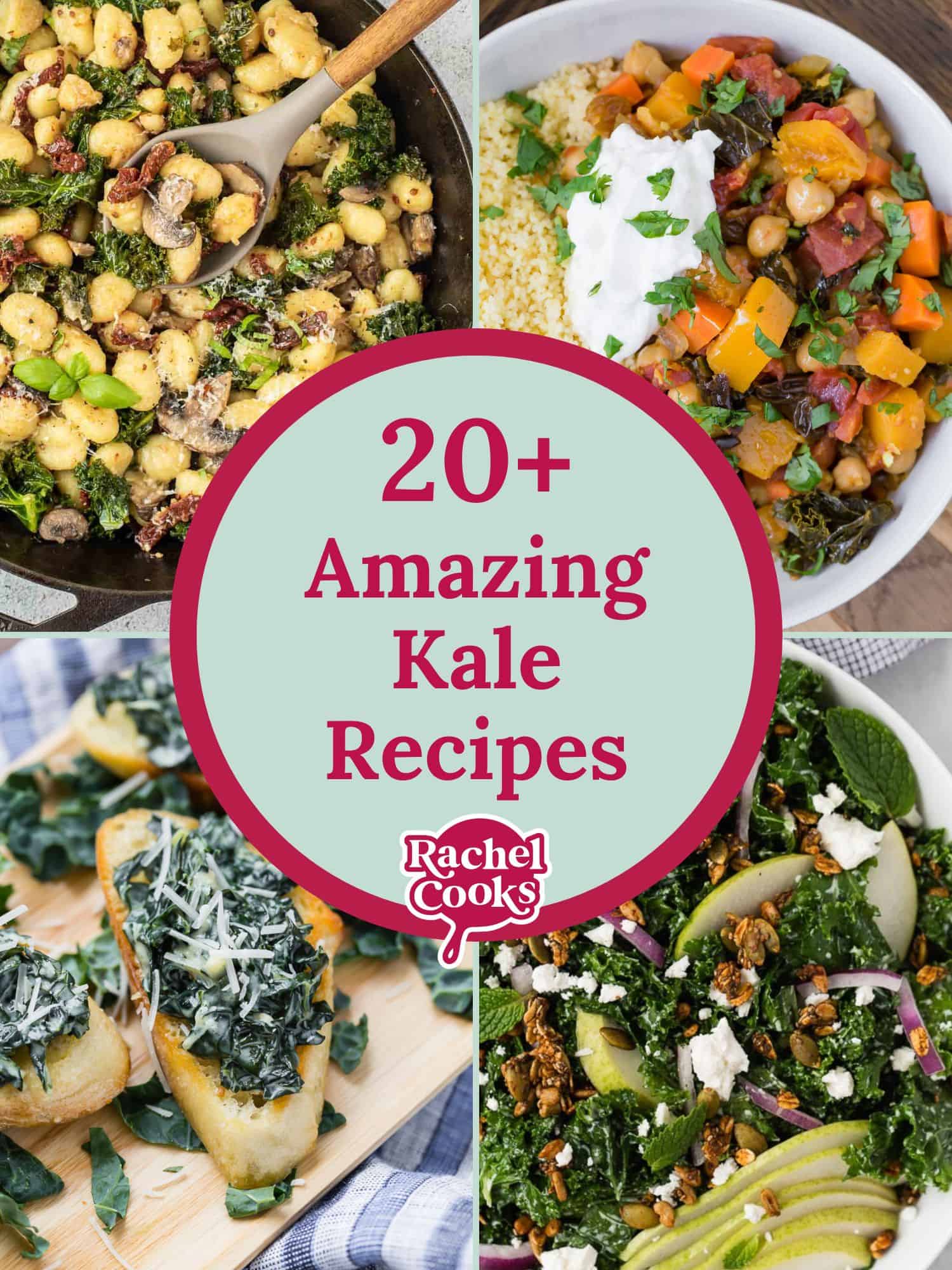 Kale — we can debate if it is a power food, a trend food or a food that is on its way out, but regardless of its category, I love the stuff. Anything that can be anything from a chip to the base of a salad to a great participant in a hearty winter soup is a-okay by me. I almost always buy kale when I go to the store. The trick is to wash it right away so it is ready to go into anything I need it in. I can't wait to try all these great recipes. Which one are you going to start with?
How to Prep kale
Fill up a very large bowl or your clean sink with clean, cold water.
Cut off the thick middle stems. You can also do this just by running your hands down the stem, pushing the leaves off.
Place kale leaves in the water. Swish it around in the water All the dirt will fall off the leaves and sink to the bottom of your bowl or sink.
Remove leaves from water and dry well. A salad spinner works great for this! If you don't have one, lay it out on paper towels or a lint-free towel and dry thoroughly.
Store in an airtight container with a paper towel – this helps keep it fresh.
Different Varieties of Kale
Buying kale can be a little confusing! Here's an overview of common types of kale. There are also many other, less common, types of kale, but these are the three that you'll see most often in grocery stores.
Curly Kale
Likely the most common type of kale, this is the one you'll most often see in stores. As its name tells, its leaves have curly edges. It is also typically one of the tougher varieties. We recommend either chopping it quite small, or if you're using it in a salad, make sure to massage the leaves with the dressing you're using to soften the leaves.
Lacinato Kale
Lacinato kale is sometimes also know as Tuscan Kale or Dinosaur Kale. It is typically darker green than curly kale and slightly more tender. The leaves are flatter and smaller than curly kale.
Baby Kale
Often sold with the pre-packaged salad greens, baby kale features smaller, more tender leaves. It's great for a quick salad because the leaves are tender and small.
20 Kale Recipes
Slow Cooker Chicken Kale Soup
Slow cooker chicken kale soup simmers all day for a healthy, hearty dinner that's ready when you are. It's packed with lean chicken, lots of leafy green kale, cannellini beans, and loads of flavor.
Check out this recipe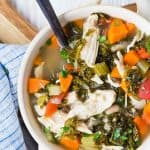 Stuffed Butternut Squash (Quinoa, Kale & Bacon)
Full of the goodness of fall, stuffed butternut squash is a noteworthy meal and super nutritious!
Check out this recipe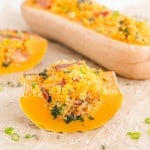 One Pan Gnocchi with Kale, Sundried Tomatoes, and Mushrooms
Try one pan gnocchi with kale, sun-dried tomatoes, and mushrooms for a truly delicious vegetarian entree or filling side dish. Ready in just 20 minutes!
Check out this recipe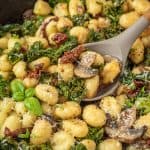 Kale and Pear Salad with Yogurt Dressing
With the surprising addition of fresh mint leaves, this kale and pear salad combines tender kale, juicy ripe pears, briny feta cheese, and a sprinkling of savory granola, topped with a creamy yogurt dressing.
Check out this recipe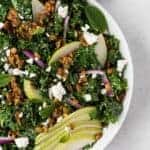 Creamy Kale Bruschetta
Reminiscent of spinach dip, creamy kale bruschetta will knock your socks off. Crisp bread topped with warm, creamy sauteéd kale, enhanced by a hint of garlic and nutmeg, make this appetizer irresistible. 
Check out this recipe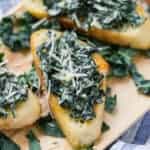 Sweet Kale Salad with Dried Cranberries and Poppy Seed Dressing
This sweet kale salad is a copycat of the popular bagged salad you find in grocery stores — but as always, homemade is way better!
Check out this recipe
Kale Sweet Potato Salad with Quinoa and Creamy Chili Lime Dressing
Filling and flavorful, this kale sweet potato salad is filled with southwestern flavors and nutritious ingredients! It's great for meal prepping and healthy eating all week long.
Check out this recipe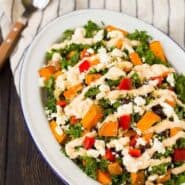 Kale Flatbread with Parmesan and Sundried Tomatoes
Kale Flatbread with Parmesan and Sundried Tomatoes is a quick and easy lunch or a fun appetizer for any gathering. It's packed with flavor and nutrition!
Check out this recipe
Kale Quinoa Salad with Walnuts, Cranberries, and Feta
This kale quinoa salad is a healthy and hearty salad that stores well in the fridge, making it perfect for meal prep days. You'll love the crunchy walnuts and sweet, chewy cranberries!
Check out this recipe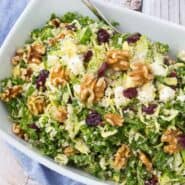 Kale Salad with Avocado and Cumin Lime Dressing
This kale salad with avocado has a great southwestern twist and is full of flavor and bright green hues. Salads don't have to be boring!
Check out this recipe
One Pot Green Lentils with Sweet Potatoes and Kale
One pot green lentils with sweet potatoes and kale is a hearty vegetarian meal. It's easy to make and packed with nutrition.
Check out this recipe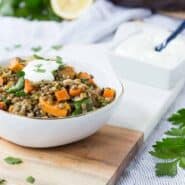 Kale Salad with Apples and Golden Raisins
The perfect salad to keep in your fridge and grab at lunch time, this kale salad with apples and raisins is tangy, tart, sweet, and full of flavorful nutrition.
Check out this recipe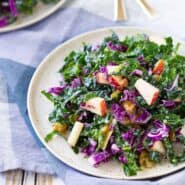 Italian Sausage Stew with White Beans and Kale
Healthy, quick, and delicious comfort food. Is there anything better? This Italian Sausage Stew with white beans, kale, and homemade croutons is dinnertime perfection!
Check out this recipe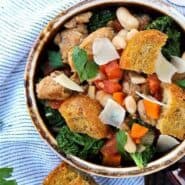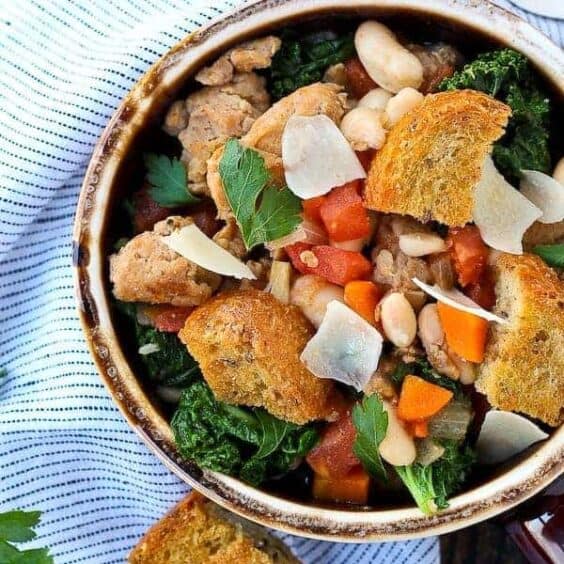 Kale Salad with Farro and Honey Dijon Dressing
This kale salad keeps really well in your fridge – great for healthy eating all week! The honey dijon dressing softens the kale perfectly.
Check out this recipe
Sun-Dried Tomato, Kale and Feta Stuffed Chicken Breasts
These sun dried tomato, kale, and feta Stuffed chicken breasts are impressive enough to serve to guests but easy enough to make for weeknight family dinners. You won't believe how simple and delicious these are!
Check out this recipe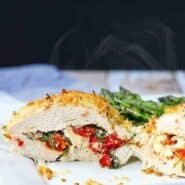 One Pan Quinoa with Ground Turkey, Kale, Mushrooms, Tomatoes
One pan quinoa with ground turkey, kale, mushroom and tomatoes – a great clean-out the fridge meal!
Check out this recipe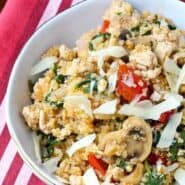 Vidalia Onion Tart with Bacon, Kale, and Feta
This Vidalia onion tart will have everyone around you gushing about it. Even my husband – who isn't crazy about onions, went back for a third helping!
Check out this recipe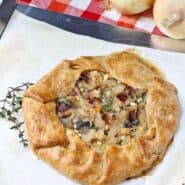 Pancetta and White Bean Soup with Kale
Pancetta and White Bean Soup with Kale has similar flavors as bean with bacon soup, but you can feel good about eating this flavorful and hearty soup.
Check out this recipe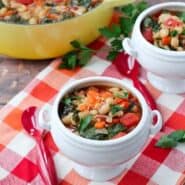 Chicken Tortellini Soup with Kale and Pesto
This chicken tortellini soup is the perfect transition into cooler weather. It's easy to make and perfect for busy weeknights. The kale and pesto ensure loads of flavor and nutrition!
Check out this recipe
Zuppa Toscana
Based on the popular soup at Olive Garden, Zuppa Toscana is so creamy and loaded with Italian sausage, russet potatoes, and dark green kale.
Check out this recipe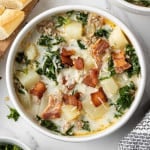 Chicken and Kale Casserole with Whole Wheat Pasta
This chicken and kale casserole is perfect for an easy weeknight meal or bring it to a family who needs a bit of help with meals.
Check out this recipe
Moroccan Stew with Butternut Squash and Chickpeas
Vegetarian Moroccan stew with butternut squash and chickpeas sings with a medley of vegetables, raisins, and spices. Serve it with whole wheat couscous and a spoonful of Greek yogurt for a filling meatless main dish. 
Check out this recipe