These Air Fryer Tempeh Nuggets are smoky and delicious little flavor bombs! Crisp and satisfying, they add vegan protein to any salad or bowl, as well as pasta dishes and soups. I like to snack on them, too. For those who don't have an air fryer at home, I've included an oven cooking option.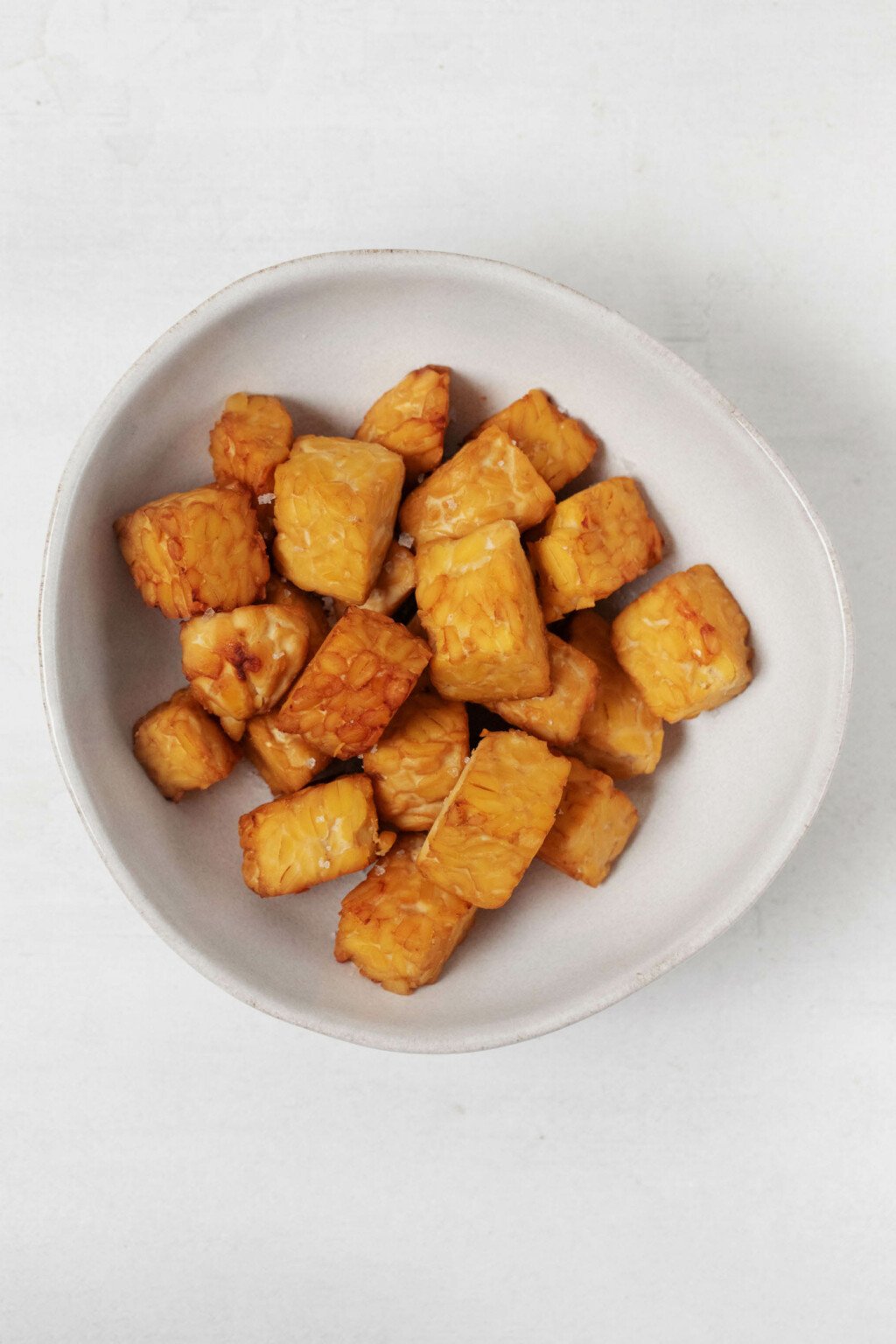 I spend a lot of time thinking about how I can get more use out of my air fryer.
Things I use the air fryer for, me really Use it for Primarily, I use it to reheat leftover pizza and make sweet potato fries or home fries to eat with tofu scramble.
Pizza leftovers and savory breakfasts are big in my house, so the air fryer has been worthwhile.
However, I don't often branch out with my air fryer. I can't blame it on laziness, because making things on the stove is actually more time consuming. And I'm not suffering from a lack of inspiration, because I've bookmarked so many air fryer recipes to read over the weekend!
I think I'm sometimes overly intentional, which makes it hard for me to try new things, start new things, etc.
Lately, however, I've been determined to do more with my air fryer, and these Air Fryer Tempeh Nuggets are the fortunate result.
What are tempeh nuggets?
A good question.
I'm calling these tempeh nuggets because they're crispy on the edges, delicious, and dense in texture. This density seems to evoke the idea of ​​a "nugget".
Tempeh nuggets are also very tempting.
You'll probably want to add them to salads and bowls and tacos and the like. But it's also very likely that you'll want to cram some into your mouth, snack on them, grab some whenever a plant protein craving hits.
In this sense, they are not like chicken nuggets. You can serve them with or on top of things, but they're also fun to eat as is.
How to Make Tempeh Nuggets in the Air Fryer
Using the air fryer does two things in this recipe.
First, it makes cooking time faster. On average, anything I air fry takes at least a few minutes less than the same time in the oven.
Second, the air fryer gives everything an undeniable crispness. And it does this without needing too much oil.
The recipe is really divided into two parts. The first is to season the tempeh nuggets, the second is to air fry them.
Step 1: Spices
I season the tempeh nuggets here with a technique I've used in other recipes. Basically, I boil the tempeh in the broth before cooking.
Many cooks recommend steaming tempeh before cooking, so that it loses its naturally bitter taste. I would never do it, but I understand the advice once I start.
Marinated or steamed tempeh before cooking is less bitter to me. I also find that it absorbs flavor more easily than tempeh that hasn't been steamed.
The problem is that steaming tempeh is just another step. And lately, I take any and every opportunity to streamline my cooking without overcomplicating it.
What I've found is that simmering tempeh in broth (and any other seasonings of your choice) does a lot of things at once. This reduces the bitterness of the tempeh, seasons it and at the same time helps absorb these spices and flavors.
I use this method for my Chili Lime Tempeh Tacos and Tempeh Meatballs which I love so much.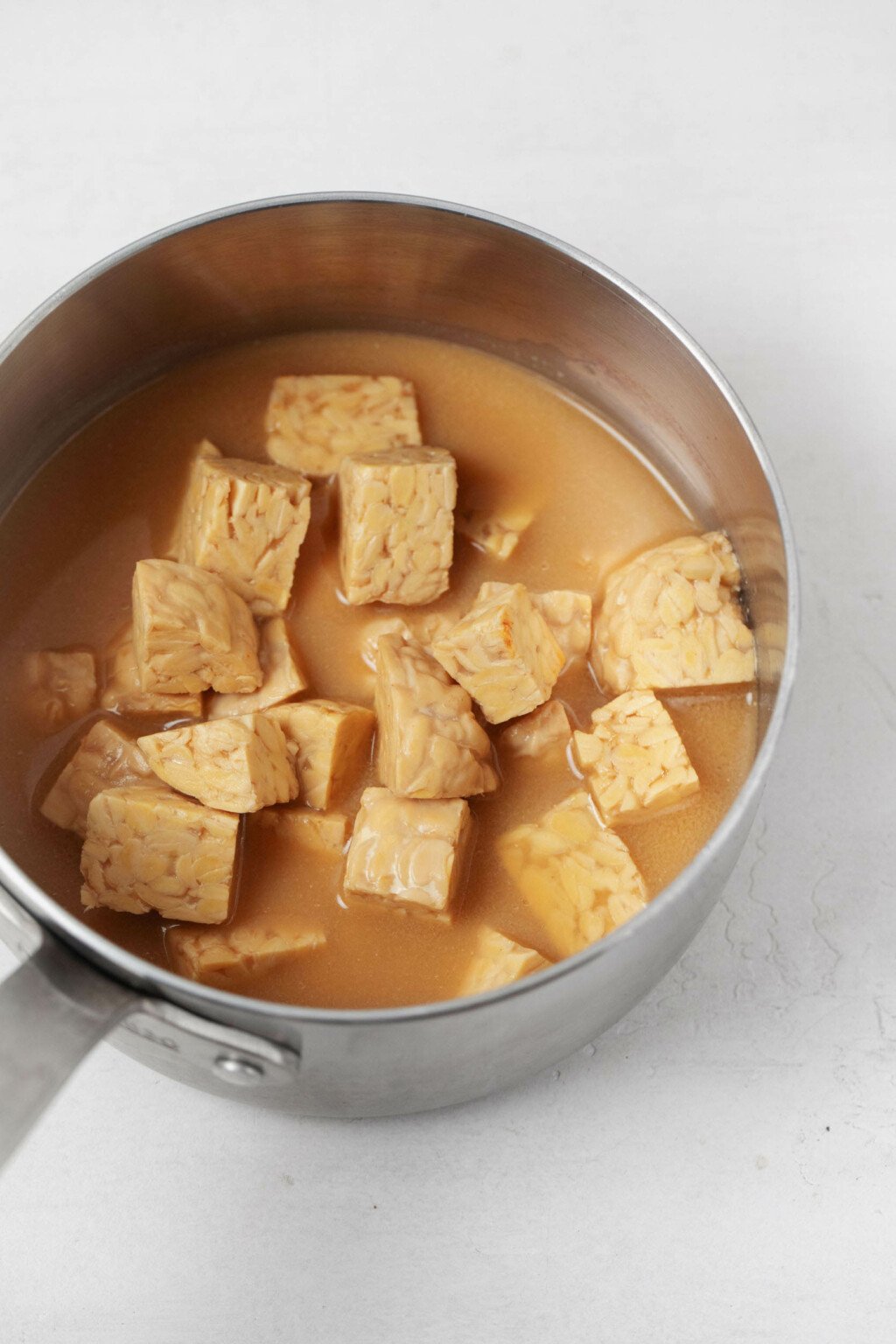 And I use it for these Air Fryer Tempeh Nuggets. Before going into the air fryer, the tempeh nuggets are simmered in a mixture of broth, tamari or soy sauce, paprika, mustard, onion and garlic powder.
One thing to say is that the simmering liquid will be very flavorful if you try it like this. It is completely intentional.
Think of it like the salt water for boiling pasta, which is always salted on purpose. This is because the pasta itself will not absorb the salt at any other time of cooking.
Likewise, this summer is the only chance you'll have to season tempeh nuggets. They will absorb some of the sipping fluid, but some will be drained.
The liquid needs to be twice as strong in flavor so that the finished nuggets are well seasoned.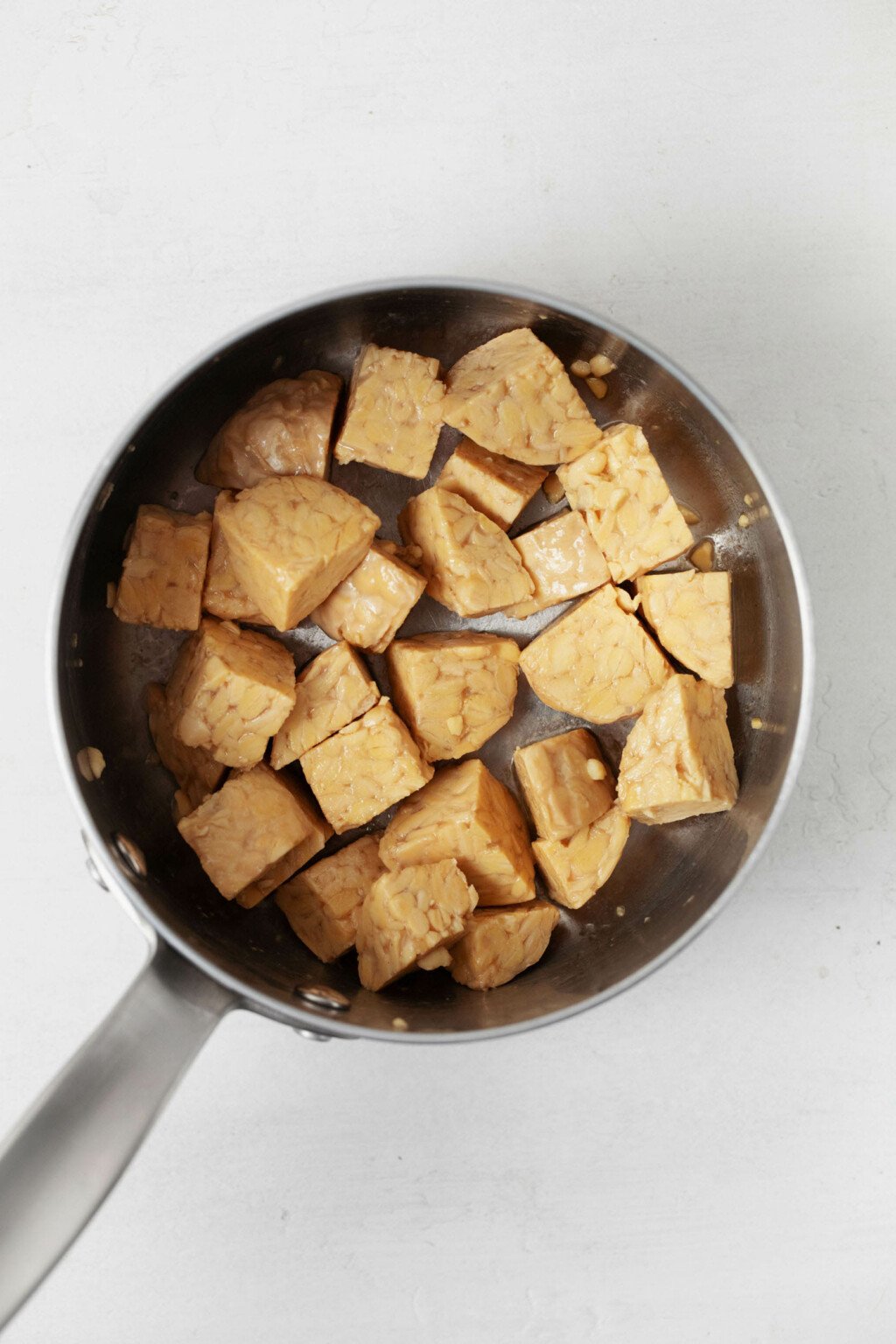 Step 2: Drain and air fry
After boiling for 10 minutes, you will drain the tempeh. And you give it a light coating of oil before going to the air fryer.
The oil helps keep the tempeh cubes crispy without being dry.
You can also return them to the pot, add a teaspoon of oil and stir gently to distribute it.
You can also add them to your air fryer basket and then use an oil spray (I like to use avocado oil) to lightly coat.
Next, you will air fry the nuggets at 400F for 8-10 minutes. Halfway through this cooking time, pause the air fryer and either gently shake the basket to move the cubes, or (if your air fryer is like a toaster oven), flip them onto the tray.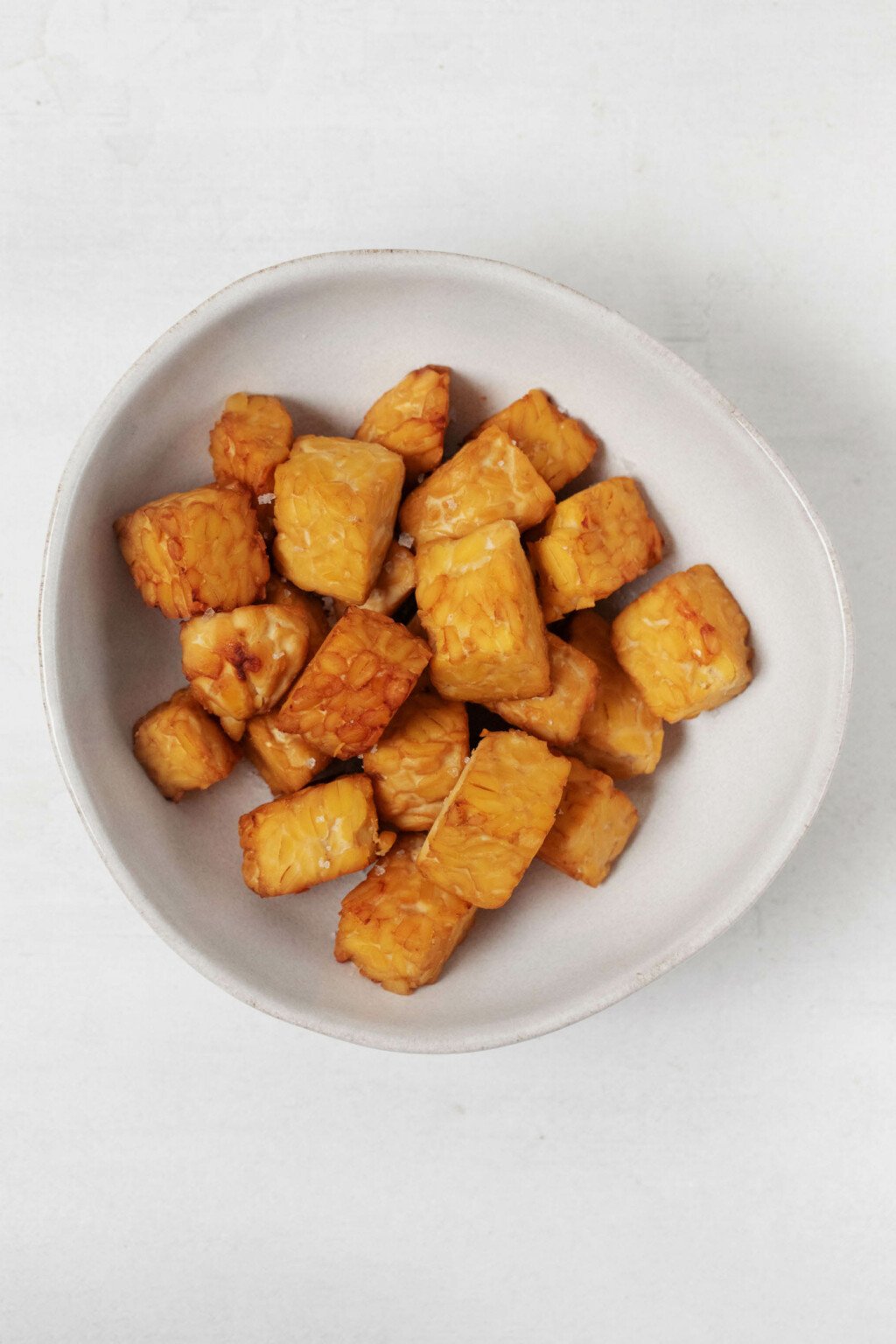 At this point, you'll have perfectly browned, delicious, and very irresistible little nuggets of plant goodness.
Oven option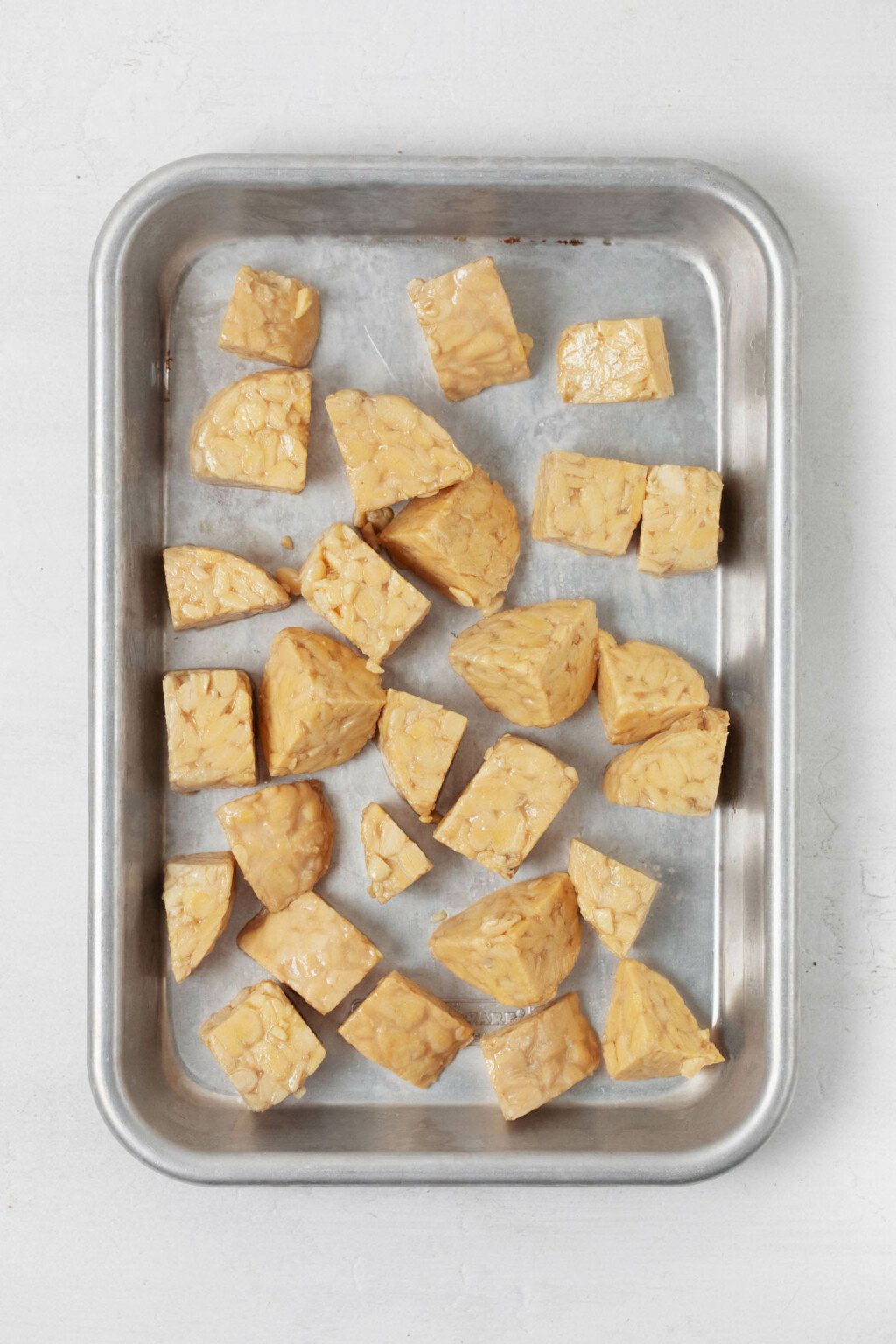 While I made this recipe for my air fryer, you can make it in the oven too!
To do this, preheat your oven to 400°F (200°). Lightly brush or spray a baking sheet with oil or use a nonstick baking sheet.
Bake the tempeh cubes for 15-20 minutes or until crisp and browned. Flip the cubes on the sheet once halfway through baking, so they brown evenly.
Which air fryer do you recommend?
I have a compact Philips Essential Digital Air Fryer. I've been really happy with it, and the size has worked for me so far with my limited storage and counter space.
I have definitely thought about investing in an air fryer which is a smart oven/toaster oven. Right now, it probably won't work with my space, but if I decide to go that route, I'll update this post.
Meanwhile, my basket-style Philips is a winner: easy to clean, efficient, fast, beautiful interface. I think there are probably more economical and budget-friendly models that work just as well, but I recommend this one.
What to do with tempeh nuggets
Once ready, you can do lots of fun things with these gorgeous nuggets.
This week, I plan to use them Power plate Sweet potato salad with tempeh and maple mustard dressing.
I also have tortillas in the fridge, so I can use them as the protein in breakfast tacos with homemade refried beans.
Nuggets would definitely work well in a grain bowl. I always love using tempeh cubes as protein-rich "croutons" in vegan soups and stews. They work especially well with split pea soup and chowder.
Another idea is to add nuggets to pasta, to enrich a simple pasta dish with vegetarian protein. Some pastas in which nuggets can work well:
Nuggets are also delicious as a snack or alongside other ingredients at lunch or dinner! I can imagine them working really well in kids' lunch boxes (or meal prep lunches for the week of growing kids).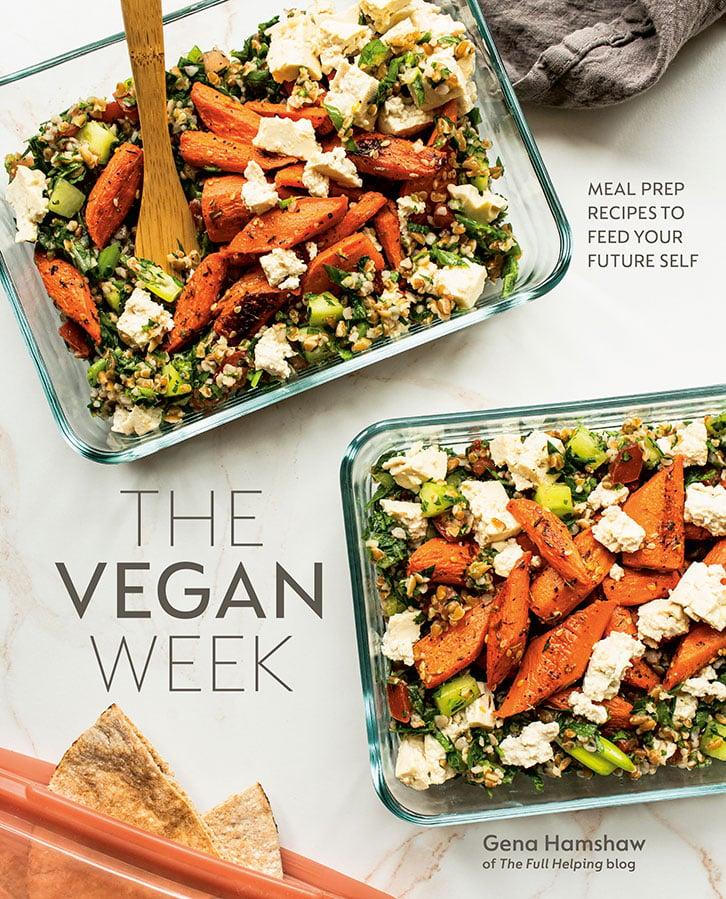 Vegan week
Embrace the joy of eating homemade meals every day with hearty and healthy recipes Vegan week.
Whether you have three, two or even an hour to spare, The Vegan Week will show you how to cook varied, colorful and comforting weekend meals.
Food preparation and storage
Tempeh nuggets can easily be incorporated into your weekly meal prep routine. Once cooked they will keep in an airtight container in the fridge for up to five days.
You can freeze tempeh nuggets for up to 8 weeks.
The only downside is that the nuggets lose some of their crunchy texture as you store them. Accordingly, you can reheat them in the air fryer (3-5 minutes at 350°F should do it).
Or, you can enjoy them cold without letting the altered texture get to you. To be honest, I've been doing this all week, and I haven't enjoyed the nuggets any less.
Here is the recipe.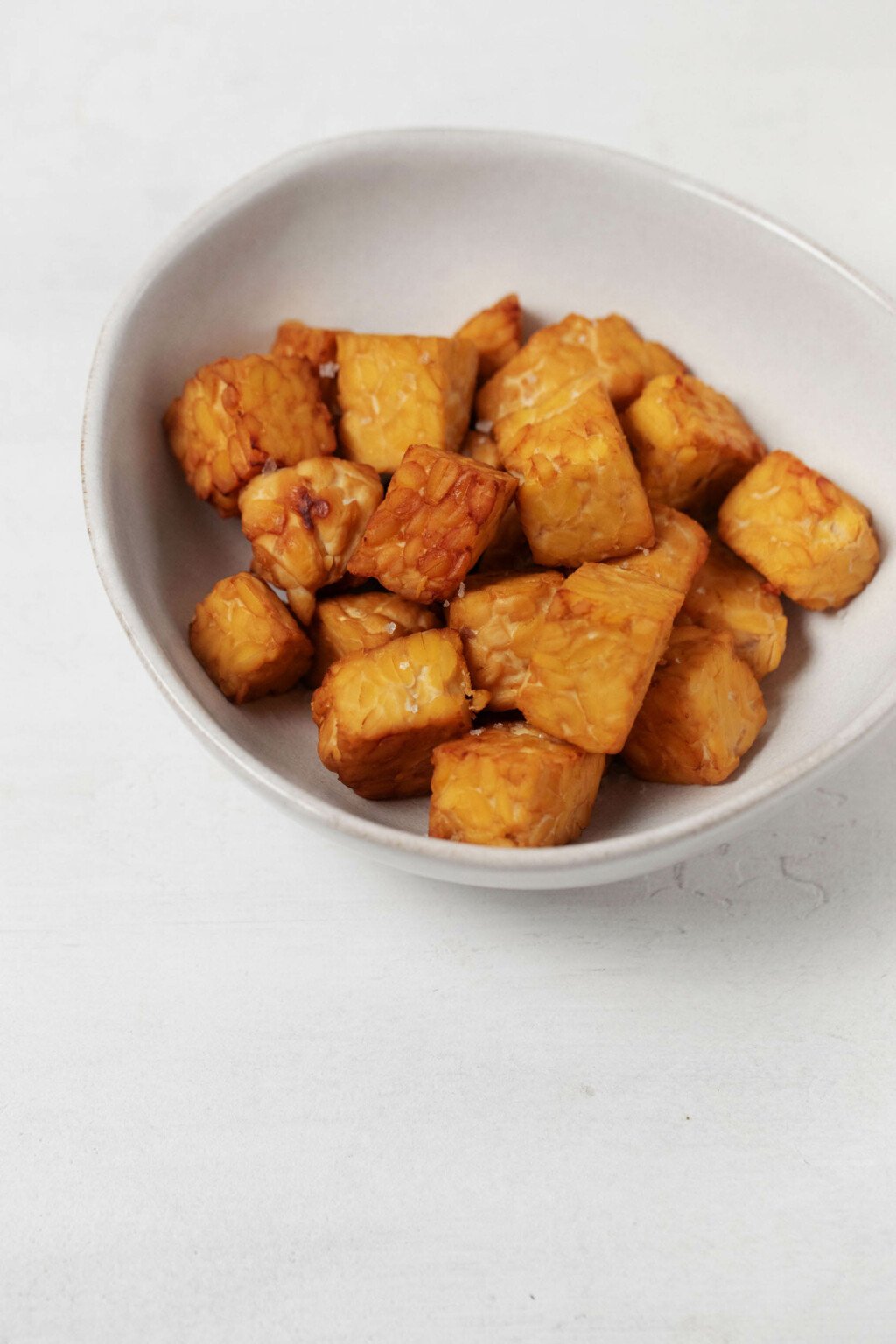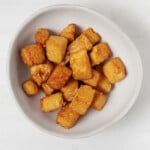 8

ounce

tempeh

(225 grams)

2

the cup

Non-vegetarian chicken broth

(480ml; substitute vegetable broth)

2

table spoon

Tamari

2

teaspoon

Paprika

(Use sweet paprika or smoked paprika—it's up to you—or 1 teaspoon of each)

2

teaspoon

Onion powder

1/2

teaspoon

garlic powder

2

table spoon

Dijon mustard

1-2

teaspoon

Avocado oil

(or avocado oil spray, as needed for a light coating)
Oven Instructions
If you don't have an air fryer, start by preheating your oven to 400F. Lightly brush or spray a baking sheet with oil or use a nonstick baking sheet.

Bake the tempeh cubes for 15-20 minutes or until crisp and browned. Flip the cubes onto the sheet once halfway through baking.
This post got me thinking about other, easy air fryer recipes. Roasted vegetables for the winter, of course, but also simple proteins like this one. I've occasionally made my Baked Tempeh Bacon in the Air Fryer, but there's so much more to explore.
I will keep you posted on my tests. In the meantime, happy Friday!
xo