For whatever reason, there are a lot of people who think that it's impossible to get enough protein on a vegan diet. That eating plants means you can't build muscle.
And to be totally honest, I get it. When I went vegan, I wasn't sure where my protein would come from.
These days, I know better and I'm motivated by a different question: is it possible to make a meal that's vegan, high in protein, and delicious in just 20 minutes?
I've concluded the answer is a resounding yes: you can have your gainz and eat well, too.
Which is why I'm proud to share these vegan high protein meals that take just 20 minutes to make but are flavor packed and fun. Each meal clocks in with over 30 grams of protein per serving!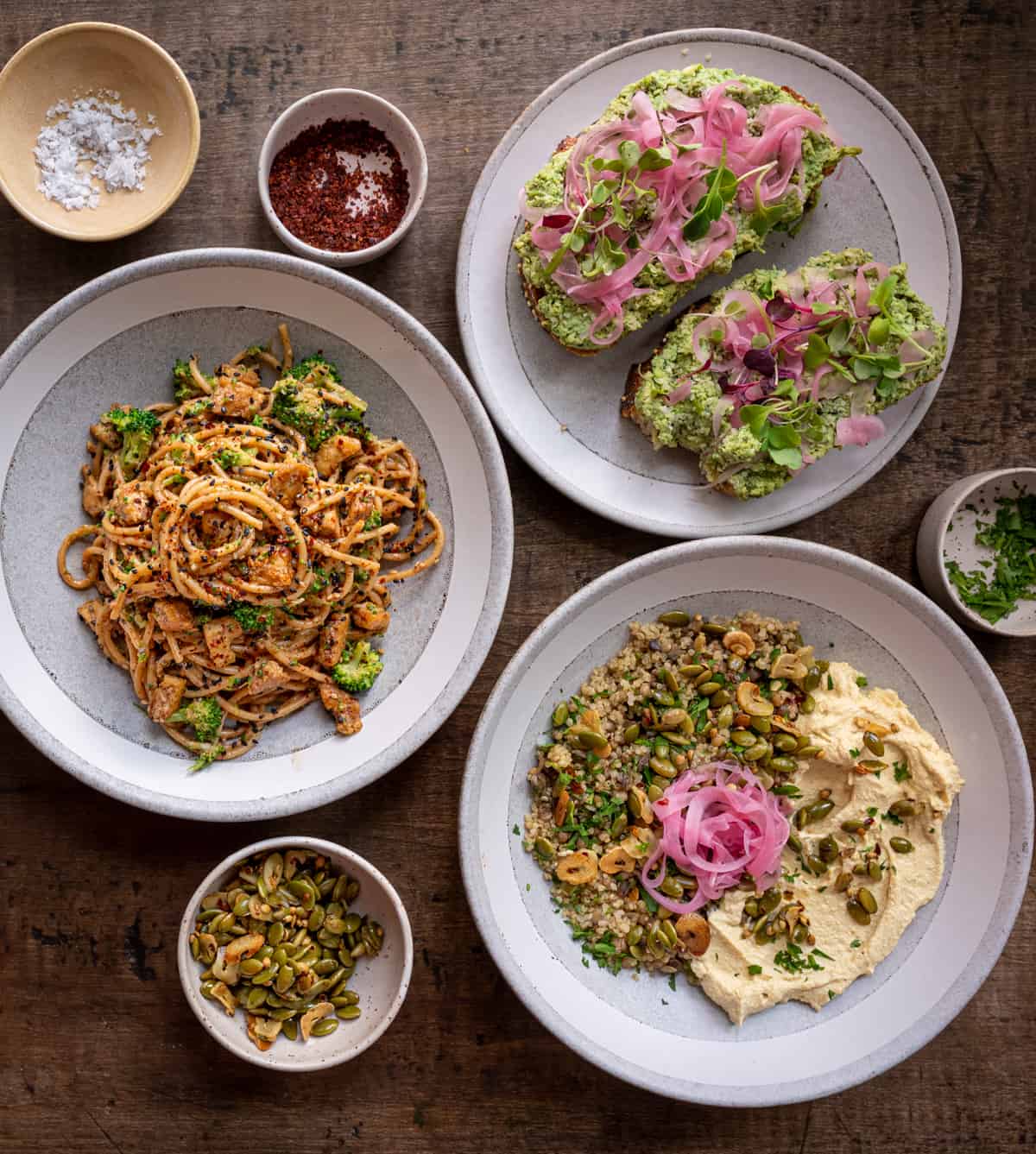 Watch the Video!
Over on YouTube, I cooked all three of these recipes. Check it out here:
Meal #1: Smashed Edamame Toast
Once you try this recipe, it might just become a meal prep staple in your household. It sits perfectly in the venn diagram of easy, wholesome, and tasty.
While I typically spread it on some whole wheat toast for quick but filling breakfast, there's no need to stop there. It would make for a terrific topping on a salad or grain bowl, too!
Why you'll love this recipe
Incredibly simple. With just a few ingredients and a food processor, you can prepare this dish in less than 10 minutes. How easy is that?
Crazy flavorful. Simple though it may be, this recipe is anything but boring. Creamy, rich and nutty with bold garlicky and slightly spicy flavors, I find it hard to believe anyone wouldn't like this edamame spread. Lime juice and zest add a zingy, citrus-y brightness that will keep you coming back for more.
Breakfast for the week. This recipe makes a generous four servings. Make a batch on Monday morning and you'll have breakfast for almost the entire week. The shelf life is great, too, so you could even eat it the following weekend.
Customize to your liking. Delicious on its own, this recipe is also easy to customize with some creative toppings. Sauerkraut is a great source of probiotics for gut health, while pickled onions provide a delightful tang. You can add hemp seeds or thinly sliced tofu for even more protein. And if you have any microgeens or thinly sliced salad greens hanging around your fridge, they'd be terrific on top, too.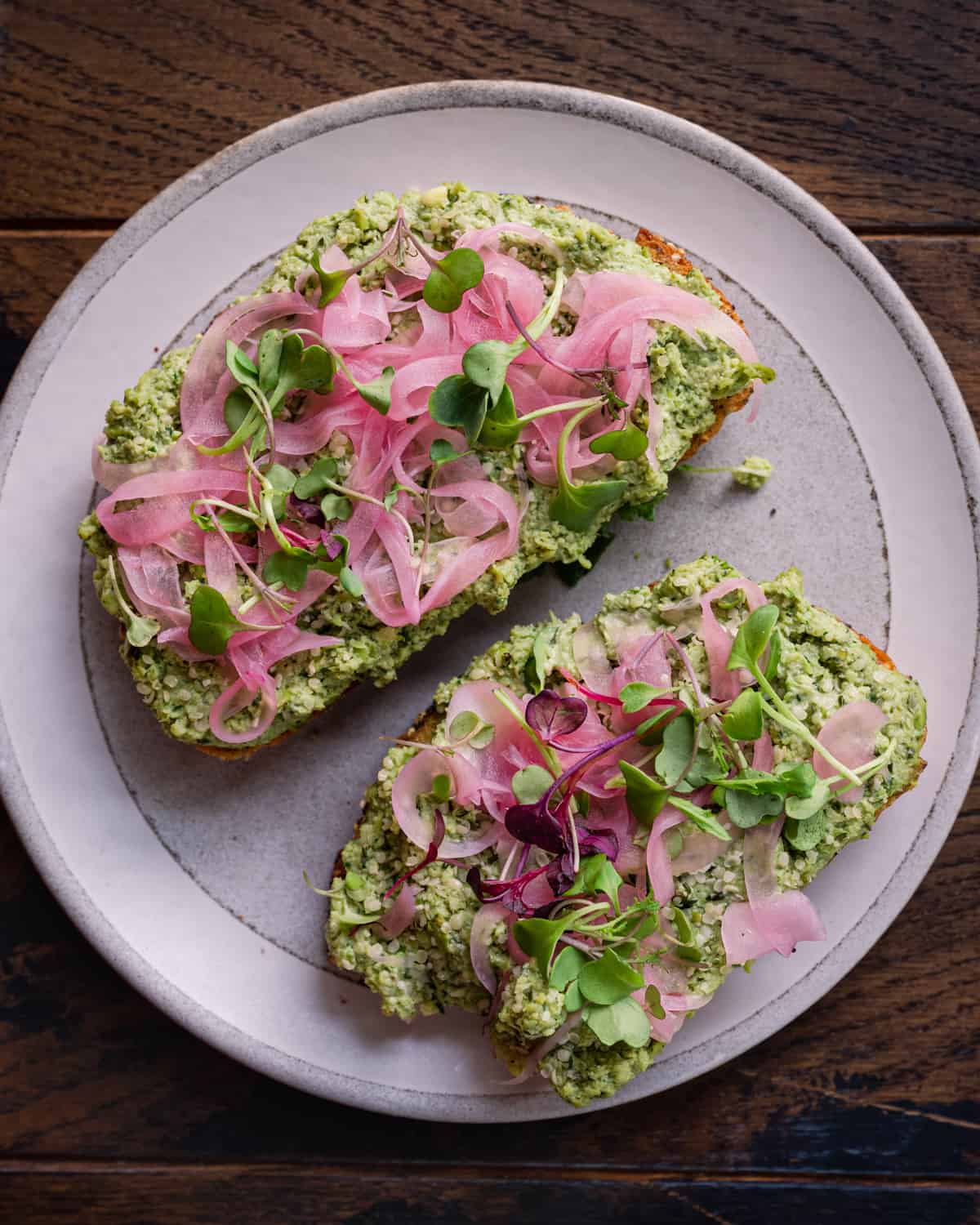 Protein sources in this recipe
There are three elements to this recipe and each contributes a significant amount of protein.
First, the edamame mash itself. Edamame is a protein powerhouse, contributing about 10 grams of protein per serving. Tahini is an underrated protein source; here, it adds about 3 grams of protein per serving. Finally, the half avocado adds about 1 gram of protein per serving.
Next is the multigrain bread. The precise amount of protein will vary by brand, but the brand I used (Silver Hills Bakery Hemptation) contains a whopping 6 grams of protein per slice, or 12 grams of protein in total. Dave's Killer Bread is another good option.
Finally, hemp seeds are a fantastic protein source. Sprinkle them on sandwiches or salads for an extra protein boost. Here, they add about 5 grams of protein per serving.
Move over smashed avocado toast because smashed edamame toast is just as good and packed with protein! Ready in 10 minutes, versatile to use, and unbelievably delicious.
Add the tahini, edamame, avocado, soy sauce, garlic, chile pepper, cilantro, sesame oil, and lime zest and juice to a food processor. Start blending until it turns into a chunky dip. Season with salt to taste as needed.

Toast your bread of choice. Smear a generous amount of the edamame smash onto each slice of bread.

Top with hemp seeds and sauerkraut or pickled onions, if desired.

Store leftover spread in an airtight container in the fridge for 7 to 10 days. The green color will fade but it will still taste good.
General Notes:
One serving of the edamame mash itself contains approximately 18-20 grams of protein. To reach 30 grams of protein per serving, serve over two slices of seeded or sprouted multi-grain toast and top with 1 1/2 TBSP hemp seeds. 
Nutrition values are estimates only. Variations may occur due to brand and product availability and food preparation. 
Note 1: You can also find refrigerated edamame at some grocery stores, like Trader Joe's.
Note 2: Use tamari to keep this recipe gluten-free.
Note 3: Remove membranes for mild heat. If you can't find serrano peppers, use a jalapeño.
---
Meal #2: Tofu Noodle Bowl with Almond Butter Sauce
I swear I could eat this every week. Delicious, easy, and wholesome? Sign me up.
The key ingredient is five-spice powder. It adds a lovely warmth and complexity that will keep you coming back for more.
Why you'll love this recipe
Anything but boring. This is a creamy, indulgent noodle dish that tastes nothing like what you'd imagine a "high protein meal" would taste like. Rather, it seems like something you might order from that new Asian fusion restaurant that just opened up.
Customize to your heart's content. While the ingredients call for whole wheat spaghetti, don't feel constrained; this would be terrific with a variety of noodle shapes. Broccoli could easily be swapped out for snap peas or bok choy. And peanut butter would definitely work in place of almond butter.
Lots of time-saving shortcuts. This recipe uses super-firm tofu (which doesn't need to be pressed like firm or extra-firm tofu). It also calls for pre-cut broccoli florets should you want to avoid spending time chopping. If you wanted to save even more time, make a double batch of the almond butter sauce; the next time you make this dish will be that much easier!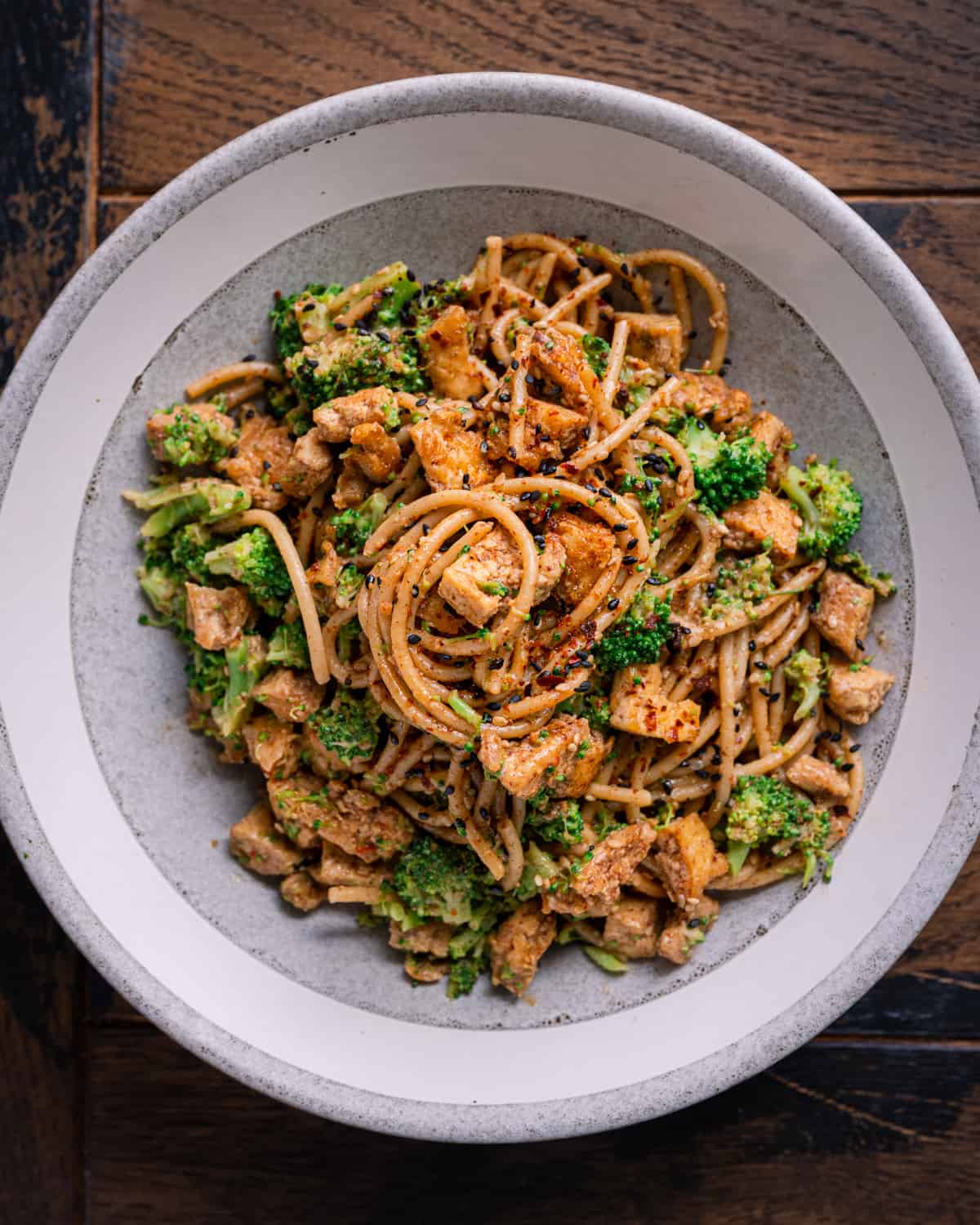 Protein sources in this recipe
With an astounding 37 grams of protein, this recipe has everything you need to help you get ripped, beefy, burly, hunky, and/or swole.
A block of super firm tofu provides 19 grams of protein per serving all on its own.
Whole wheat pasta adds 7 grams of protein per serving and broccoli adds another 2.5 grams.
Meanwhile, almond butter provides 7 grams or protein per serving. Finally, sesame seeds shouldn't be overlooked – they provide 1.5 grams of protein per serving in addition to their delightful signature nutty crunch.
Tofu Noodle Bowl with Almond Butter Sauce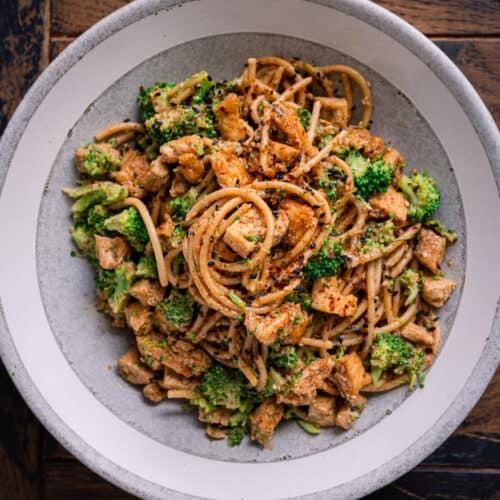 Meaty five spice-flavored tofu crumbles are tossed with whole wheat noodles, broccoli, and a creamy Asian-inspired almond butter sauce. Over 30g of protein and ready in 20 minutes!
Bring a medium saucepan of water to a boil for the pasta. When it's boiling, salt generously.

Cut the tofu into 4 slabs. Squeeze out as much water as you can. Crumble tofu into small pieces, about the size of a blueberry. Transfer to a large bowl. In a small bowl, combine the salt and spices. Sprinkle over tofu and gently toss with your hands to coat.

Cook the tofu. Heat the oil in a medium or large nonstick frying pan over medium-high heat. Once hot, add the tofu and spread out in a single packed layer. Cook 2 to 3 minutes undisturbed. Flip and continue cooking for a total of 10 to 12 minutes, stirring only every 2 minutes, until most of the tofu is browned.

Cook the pasta and broccoli. While the tofu is cooking, cook the pasta according to package instructions for al dente. About 3 minutes before the timer is done, add the broccoli and cook until the pasta is al dente and the florets are bright green and crisp tender. Drain and rinse under cool water to bring to room temperature.

Make the sauce. Meanwhile, stir together the almond butter, agave, vinegar, soy sauce, toasted sesame oil, and chile flakes. Add a bit of water to thin out.

Toss cooled pasta and broccoli with the almond butter sauce. Add in the tofu crumbles. Drizzle very lightly with toasted sesame oil and garnish with sesame seeds.
General notes
To make this within 20 minutes, you'll need to multitask! While the pasta water boils, crumble the tofu. While the tofu cooks, cook the pasta and broccoli, and make the sauce. 
Nutrition values are estimates only. Variations may occur due to brand and product availability and food preparation. 
Note 1. Super firm tofu is also sold as "high protein" tofu. It has very little water in it so it doesn't need to be pressed. If you're using extra-firm tofu instead, you'll need to press it for 10 minutes. 
You can also use this method with tempeh, which is even higher in protein. Crumble it into very small pieces. Toss with spices, then pan-fry using the same method until golden brown and a bit crisp. Finish with a little soy sauce to balance the bitterness.
Note 2. Buy pre-cut broccoli florets to keep this a 20-minute meal.
Note 3. Feel free to use peanut butter instead if you love peanut butter.
---
Meal #3: Garlicky Quinoa and Lentils with Ricotta
I am not someone who typically loves quinoa. I'd much rather cook rice, farro, or almost any other grain for that matter.
But I've been smitten by this dish. It's easy to put together and so satiating. And most importantly, it tastes great!
Olive oil toasted garlic chips and crunchy pepitas with coriander are bright, bold, and zesty, and infuse so much flavor into plain quinoa and lentils. Meanwhile, tofu-based signature ricotta adds a creamy mouthfeel and indulgence.
Tips for making this recipe
All the base components in this dish are some shade of beige, which is not the most appetizing. To add some color, top it with some pickled onions and parsley.
After cooking the quinoa, spread it out on a sheet pan for the best texture, so it doesn't clump or get mushy. 
This recipe uses pre-cooked lentils. I prefer the ones sold in the refrigerated section rather than canned lentils (more soupy). If you have the time, cook your own lentils. They're super hands off and easy in the Instant Pot.
If you don't love lentils, feel free to substitute with canned chickpeas. They don't have quite as much protein but they'll still do the trick, especially in combination with our other high protein ingredients.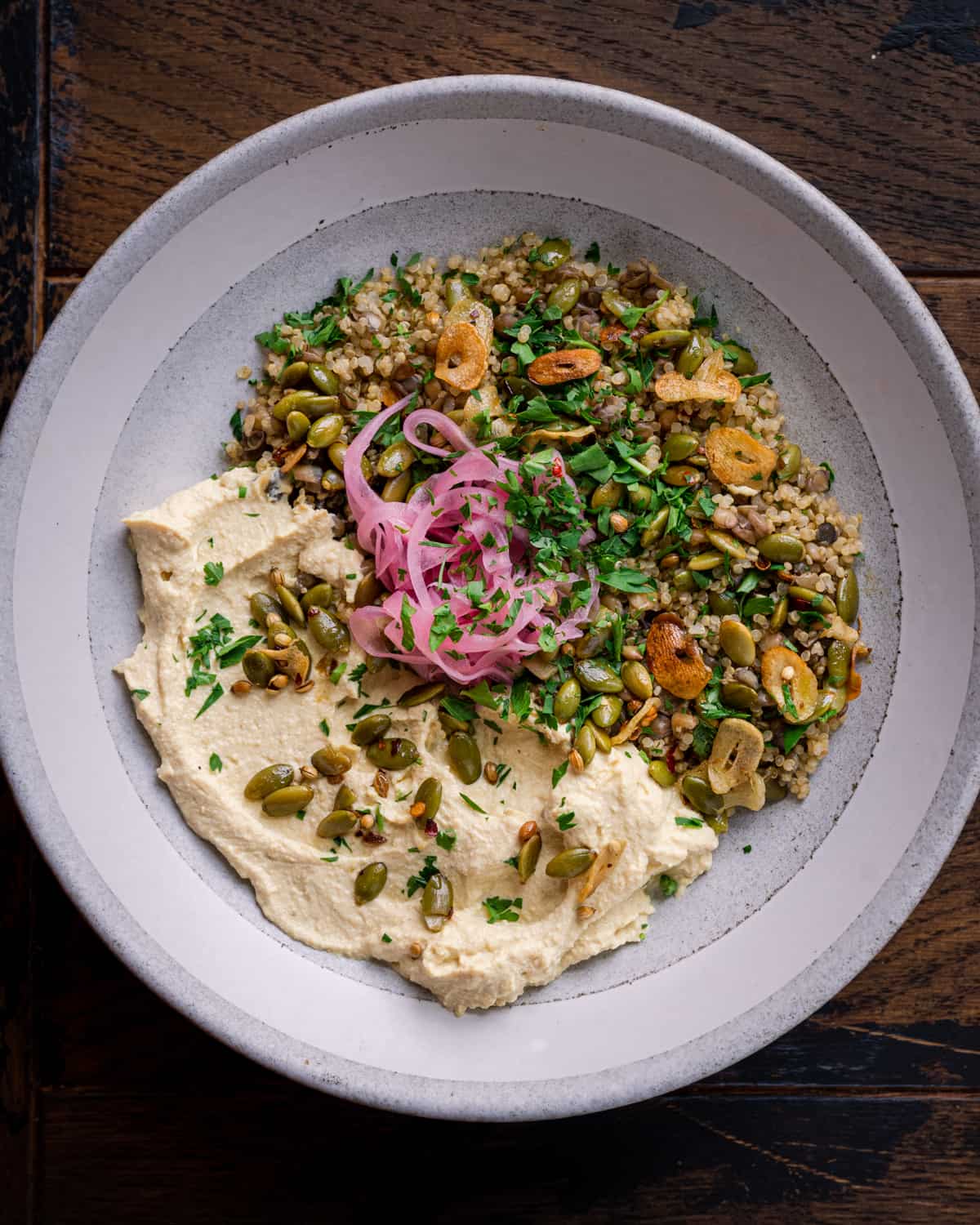 Protein sources in this recipe
This recipe provides a whopping 33 grams of protein per serving. As with the other recipes here, several components contribute.
Among grains, quinoa is one of the best protein sources among grains. Per serving, it provides 8 grams of protein in this recipe.
Two of the ingredients in the tofu ricotta provide a significant amount of protein: tofu (of course) and nutritional yeast. Together, they provide about 10 grams of protein per serving.
I love pepitas because of their crunch and flavor, but they're a terrific protein source, too. They add 5 grams of protein per serving.
Finally, lentils are a wonderful protein source, here they provide 10 grams of protein per serving.
Garlicky Quinoa and Lentils with Ricotta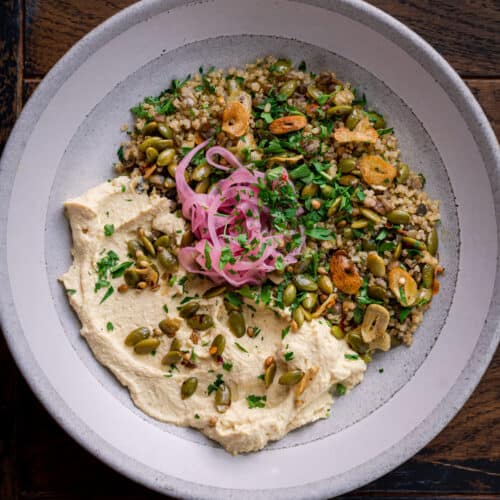 A super quick yet flavor-forward quinoa and lentil bowl featuring two superstar condiments: creamy tofu "ricotta" and crunchy, garlicky spiced pepitas. A great option for meal prep!
Make the quinoa. Bring 1 ¼ cups of water (300 mL) to a boil in a medium saute pan. Once boiling, add a pinch of salt and the quinoa. Reduce the heat to low and cook, covered, until the liquid has evaporated and quinoa is tender, about 12 minutes. Open the pot and fluff with a fork. Rinse out the pan if you'd like to save dishes and use again in step 3.

Optional: For the best texture, if you have time, transfer quinoa to a sheet pan and spread out in an even layer.

Make the ricotta. Meanwhile, add all the ingredients for the tofu ricotta in a food processor and blend until creamy and smooth. Taste for seasonings, adding more lemon or salt as needed.

Make the spiced garlicky pepitas. Return the saute pan to medium heat and add the olive oil. Once warm but not hot, add the garlic. Shake the pan often and use a spatula to separate the slices, and cook for about 1 minute. Add the coriander and pepitas, and cook for another 2 to 3 minutes. If the garlic starts to brown, take the pan off the heat for a bit or lower the heat. In the last 30 seconds, add the red pepper flakes and a big pinch fo flaky sea salt. Take off the heat to prevent garlic from browning.

To assemble, add quinoa and lentils to a bowl. Add several dollops of ricotta. Pour spiced garlicky pepitas on top along with seeds.
General notes:
To make this within 20 minutes, you'll need to multitask! While the quinoa cooks, make the ricotta and garlicky pepitas. 
Nutrition values are estimates only. Variations may occur due to brand and product availability and food preparation. 
Note 1: Tofu ricotta serves about 5, so you'll have leftovers. Use it in other grain bowls, salads, or as a toast spread. 
Note 2: If you have pickled onions or anything pickled/fermented in your fridge like saurekraut, it makes a great topping!
---