Versatile, good for you, and delicious, these winter squash recipes will wow your family and friends! From basic how-to recipes to surprising entrées, you'll be enjoying winter squash often.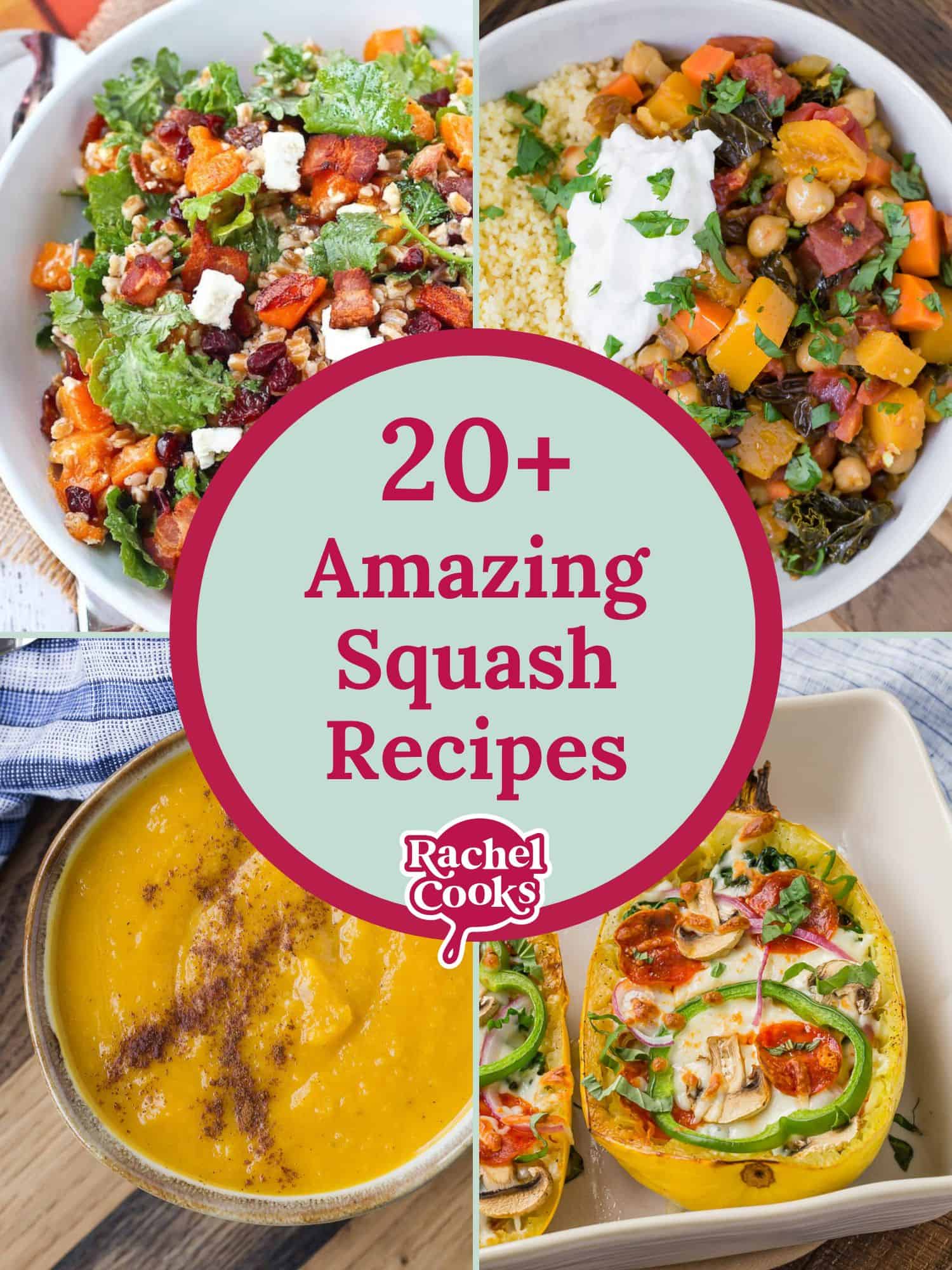 Winter squash can be cooked so many ways. Once you master the basic cooking methods which I have described below, you will be able to roast, bake, mash, stuff, freeze, and purée to your heart's content, turning this versatile squash into mouth-watering treats. 
Common Varieties of winter squash
Usually harvested in the fall, winter squash usually have orange flesh, with the exception of spaghetti squash.
Some varieties you may be familiar with are: acorn, buttercup, butternut, delicata, Hubbard, kabocha, pumpkin, spaghetti, sweet dumpling, and turban.  There are others available, but these are the most common.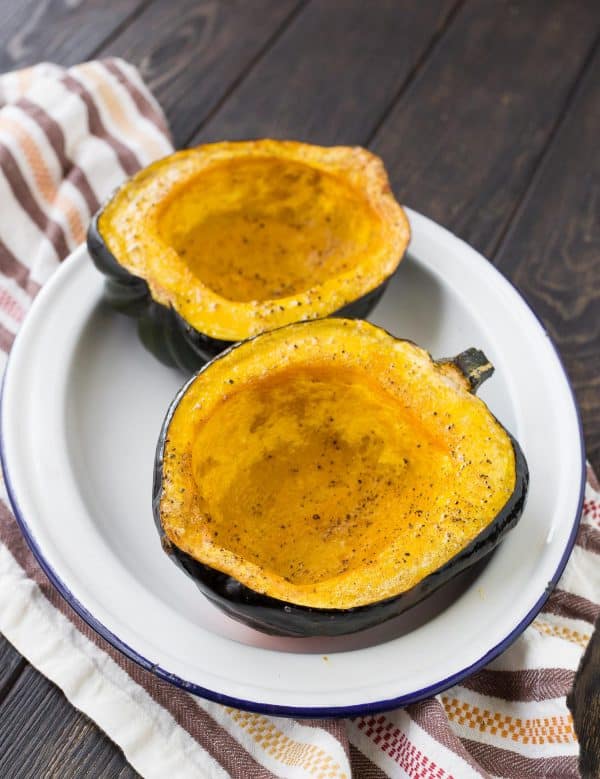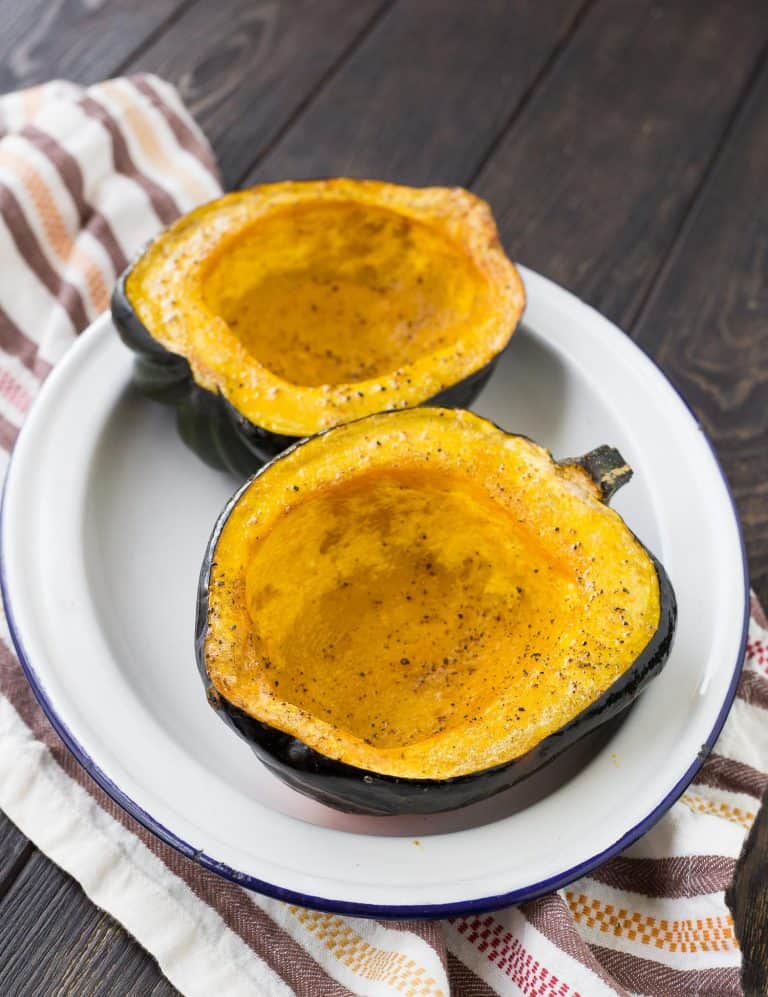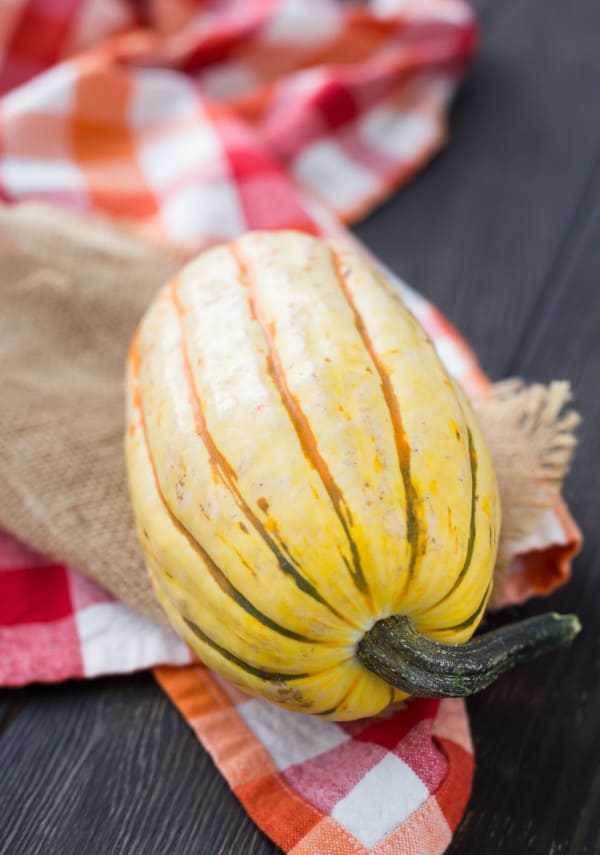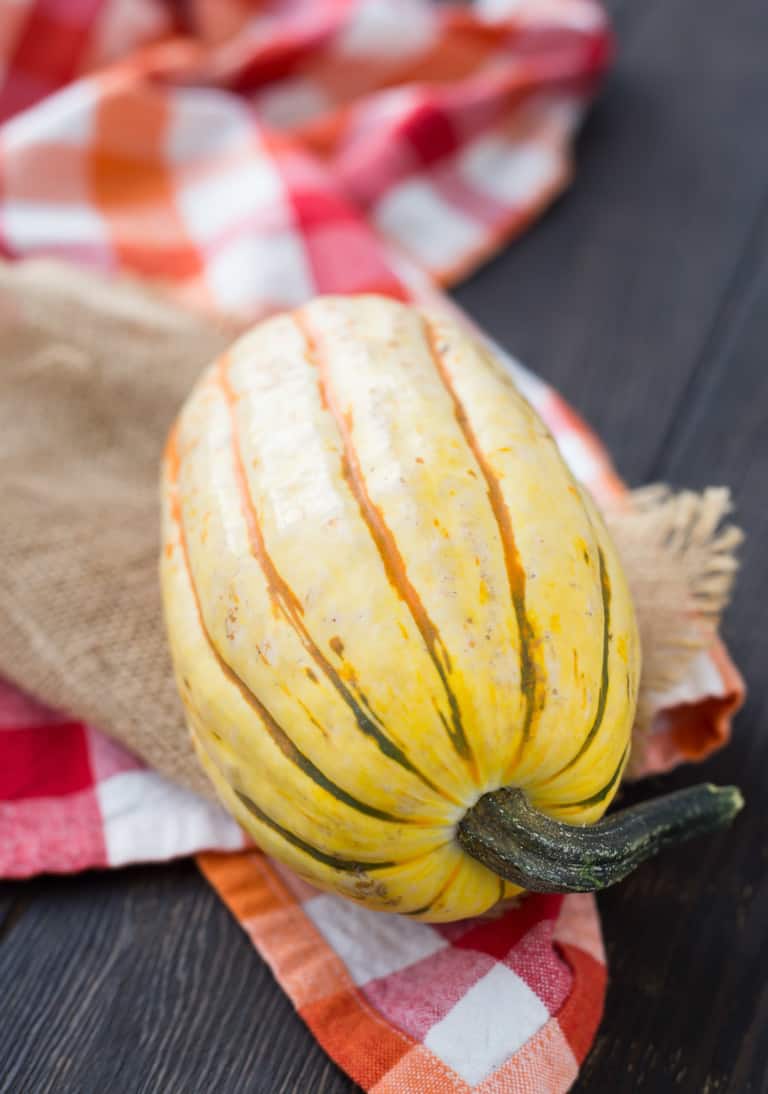 What is the difference between winter squash and summer squash?
Summer squash are usually harvested in the summer! They include varieties such as zucchini, yellow squash, or crooknecks. Summer squash will have a soft, edible skin, and the seeds are small and soft. They are best stored in the refrigerator for a week or less. You'll find that summer squash are very easy to slice, unlike their winter cousins, and are usually sautéed, broiled, or grilled.
Winter squash are harvested in the fall or autumn but are called "winter squash" because they'll keep for 3 to 6 months (most of the winter!) in a cool, dry place (not refrigerated). They have a hard, usually inedible skin. See the section below to learn how to cut winter squash.
Most winter squash recipes call for longer cooking methods, like braising, roasting, baking, or steaming. Keep reading for mouth-watering winter squash recipes.
How to Cook Squash
Squash can be baked, mashed, roasted, stuffed, made into casseroles, soups, breads, and served for breakfast, lunch, or dinner. 
Tips for Preparing a Winter Squash
Wash the squash well to remove any gritty dirt. We use a vegetable brush for this task.
Place it on a large cutting board that isn't going to slip around on you. A steady surface is essential.
You'll need a sturdy, sharp knife. Make sure your knife is long enough to go through the squash. No flexible or serrated knives here! 
Cut the tough woody stem end off. It also helps to cut a slice off the bottom of the squash, in order to stabilize it on your cutting board. 
Cut the squash vertically, from top to bottom. If the squash is very large or extremely hard, put the whole squash into the oven for 10 minutes at 375º to soften it, or heat it in the microwave for 5 minutes or so. Use oven mitts to handle it and let it cool a bit before cutting it.
Once the squash has been halved, scoop out the seeds. We love using a grapefruit spoon for this task.
Basic How-To Recipes
Acorn Squash: Cut this popular squash in half and bake it two different ways, sweet or savory.
Butternut Squash: Learn more than four ways to cook butternut squash: roasted in halves, roasted in cubes, cooked in a slow cooker, and cooked in an Instant Pot (three different ways). There are also step-by-step photos to teach you how to peel and cut this type of squash.
Delicata Squash: This is one squash that you won't have to peel. The outside rind becomes soft and delectable when cut into slices and roasted. Dumpling squash is shaped differently, round and plump, but the cooking process is similar.
Spaghetti Squash: Learn five easy ways to cook this versatile squash, video included. Anyone can do this!
Kabocha Squash: I'll show you three ways to cook delicious kabocha squash.
How to Freeze winter squash
Winter squash can be frozen for up to a year. These two methods will work with larger, orange flesh squash, like butternut or pumpkin. I wouldn't recommend it for the smaller squashes, like acorn or delicata, or spaghetti squash.  Here's how to do it:
Raw: Cut peeled, raw squash into one inch cubes, put on a cookie sheet in your freezer until the cubes are frozen, and then place into freezer-safe containers or resealable bags and pop them into the freezer. You can toss the frozen cubes into soups or stews, or roast them, unthawed, on a baking sheet with a little olive oil and salt. 
Cooked (preferred): Cook the squash and purée or mash it. Put it into ice cube trays or muffin tins and freeze it until it's solid. Place it into a freezer safe container or bag. Use cooked squash to make soups or thaw, heat, and eat it as is. 
winter squash recipes
Mashed Butternut Squash (sweet or savory)
Whether you make it sweet or savory, mashed butternut squash is one of the easiest winter squash recipes. It's an outstanding side dish for special occasions or everyday dinners.
Check out this recipe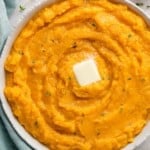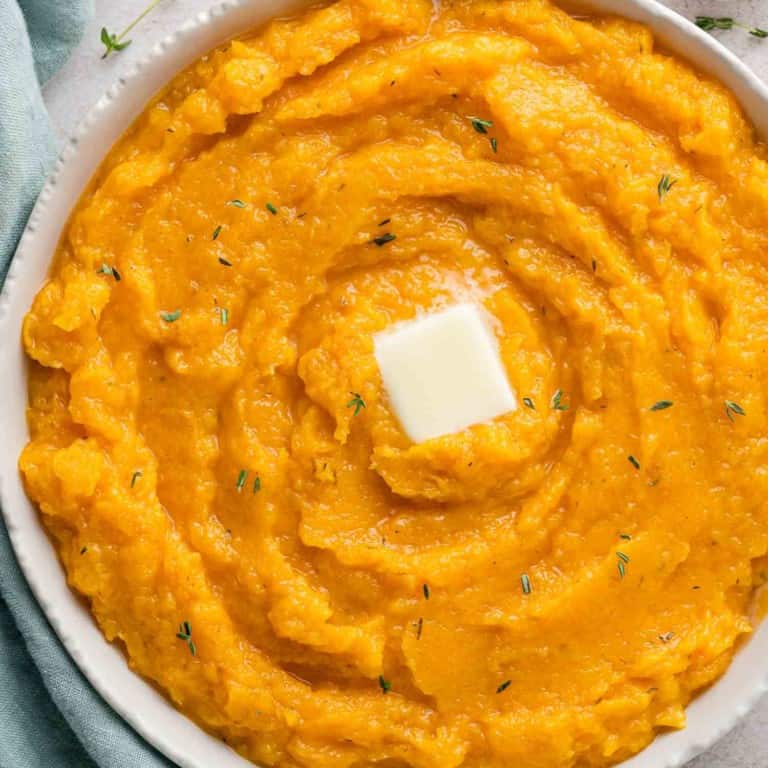 Spicy Sweet Roasted Butternut Squash
Roasted butternut squash is both spicy and sweet, and it's 100% perfect! A easy and healthy squash recipe that the whole family will love.
Check out this recipe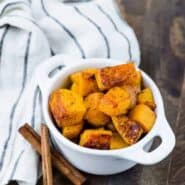 Stuffed Butternut Squash (Quinoa, Kale & Bacon)
Stuffed butternut squash is a noteworthy all-in-one meal. You'll love this flavorful and impressive squash recipe!
Check out this recipe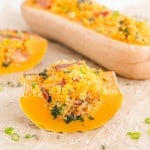 Roasted Butternut Squash Soup
This easy roasted butternut squash soup is full of flavor and is ultra-creamy, without any cream or butter! It's the perfect fall soup. 
Check out this recipe
Butternut Squash Soup (Vegan)
Roasted garlic and smoked paprika lend colorful flavor to this butternut squash soup recipe.
Check out this recipe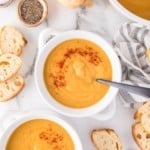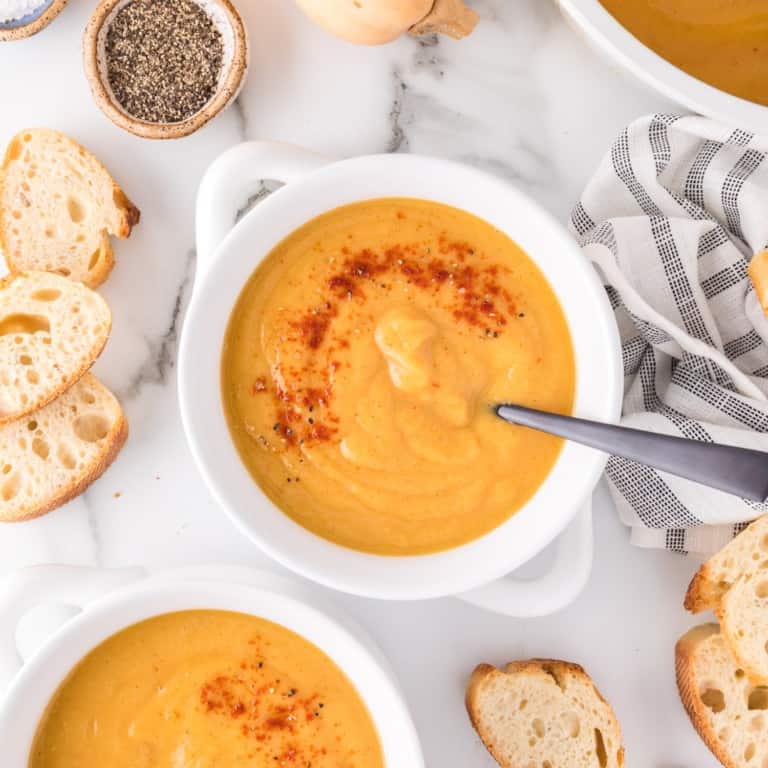 Butternut Squash Curry Recipe
You'll love the creamy red curry sauce in this butternut squash curry! Spoon it over fragrant jasmine rice for a satisfying meatless meal.
Check out this recipe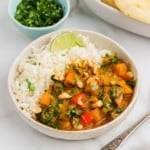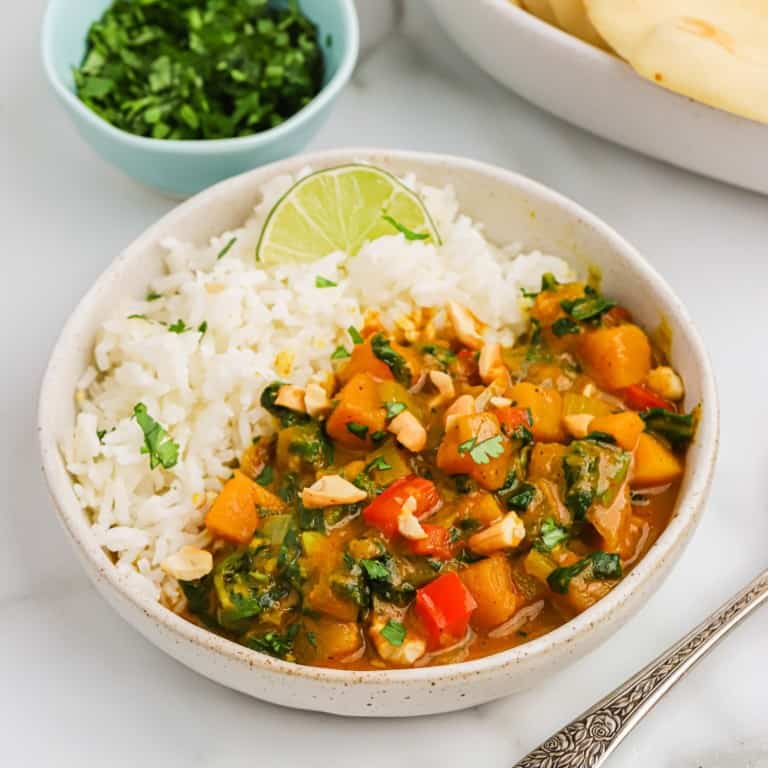 Moroccan Stew with Butternut Squash and Chickpeas
Vegetarian Moroccan stew with butternut squash and chickpeas sings with a medley of vegetables, raisins, and warm spices. You'll love this winter squash recipe!
Check out this recipe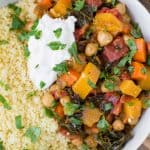 Slow Cooker Moroccan Chicken Thighs
Moroccan chicken thighs with butternut squash is a slow cooker meal that is super flavorful, filling, and nutritious.
Check out this recipe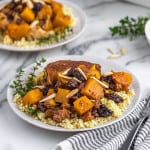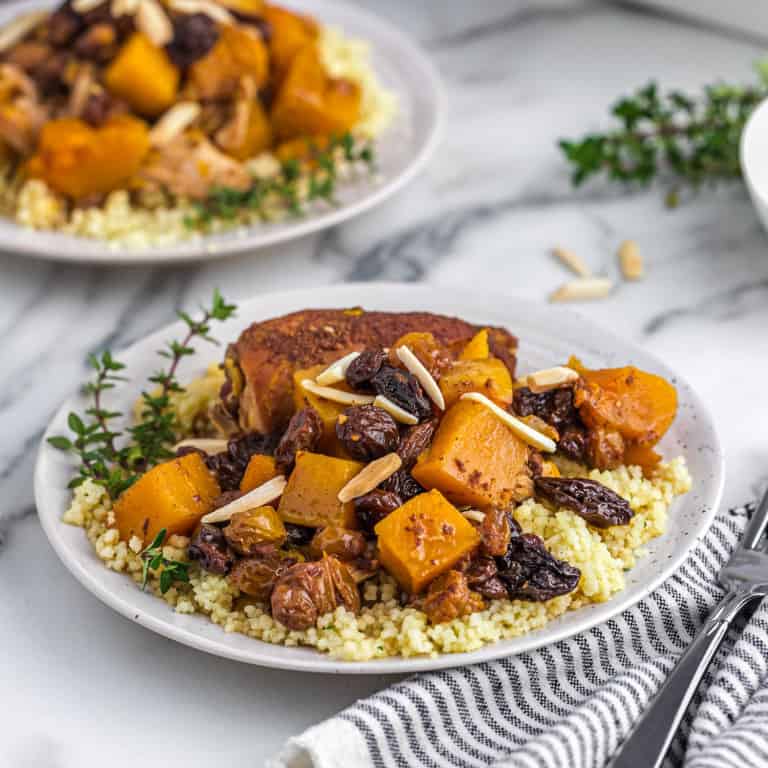 Butternut Squash Crostini with Ricotta
Butternut squash isn't only for soup! These butternut squash crostini appetizers elevate winter squash to super star status
Check out this recipe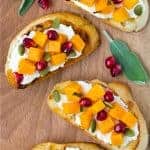 Ricotta Flatbread with Bacon, Squash, Apples and Maple Pepitas
You'll love the fall flavors of this ricotta flatbread: warmly spiced ricotta, crisp bacon, roasted squash and mushrooms, diced apple, and maple candied pepitas. A unique winter squash recipe!
Check out this recipe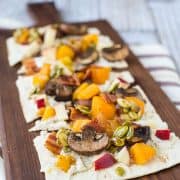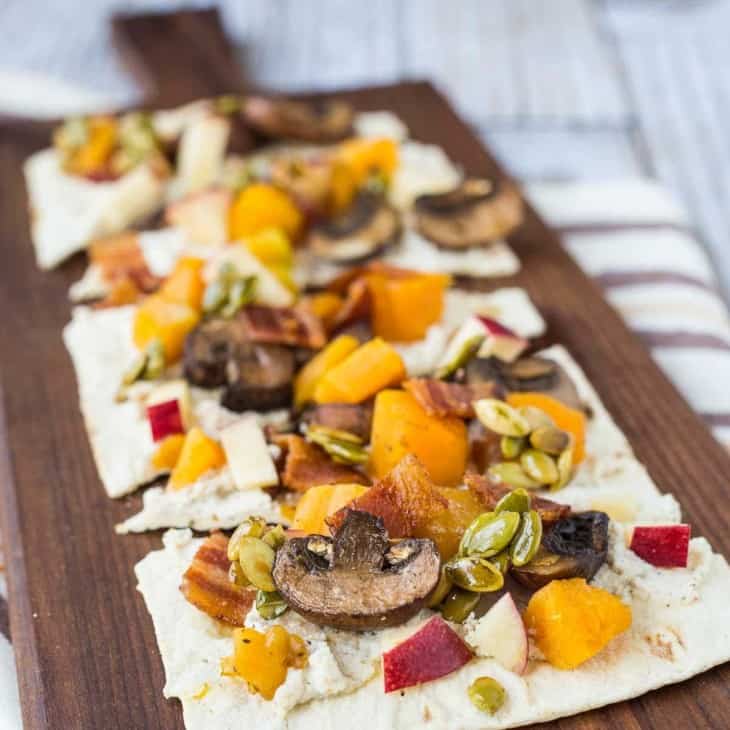 Chicken Barley Soup with Kale and Butternut Squash
With butternut squash and kale, this easy chicken barley soup is a delicious winter squash recipe that you'll make over and over.
Check out this recipe
Fall Instant Pot Shakshuka
Fall inspired Instant Pot shakshuka is easy to make, healthy and so delicious. Serve it with crusty bread for a satisfying vegetarian entrée.
Check out this recipe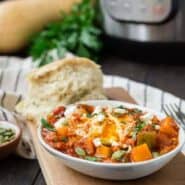 Copycat Panera Squash Soup
If you love the restaurant version, be sure to try my copycat Panera squash soup, a healthier version.
Check out this recipe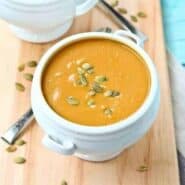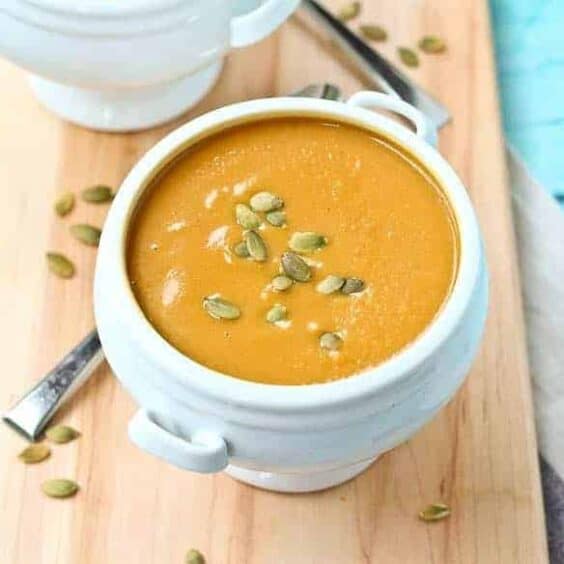 Farro Salad with Butternut Squash, Bacon, and Cranberries
Hearty farro salad with butternut squash, bacon, cranberries, kale and feta is fall in a bowl. You'll love this winter squash recipe!
Check out this recipe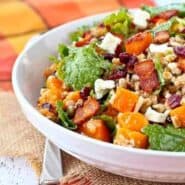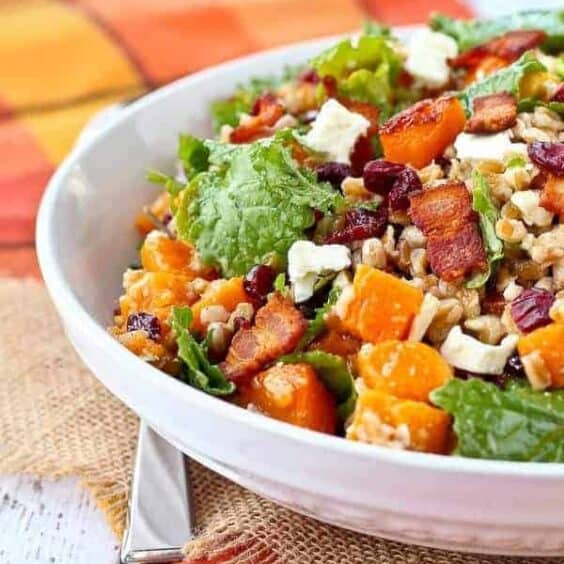 Spaghetti Squash with Parmesan and Herbs
Simple yet flavorful, this spaghetti squash with Parmesan and herbs is a perfect side dish or a great base for a topping such as marinara sauce.
Check out this recipe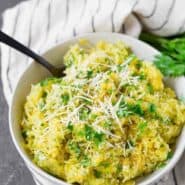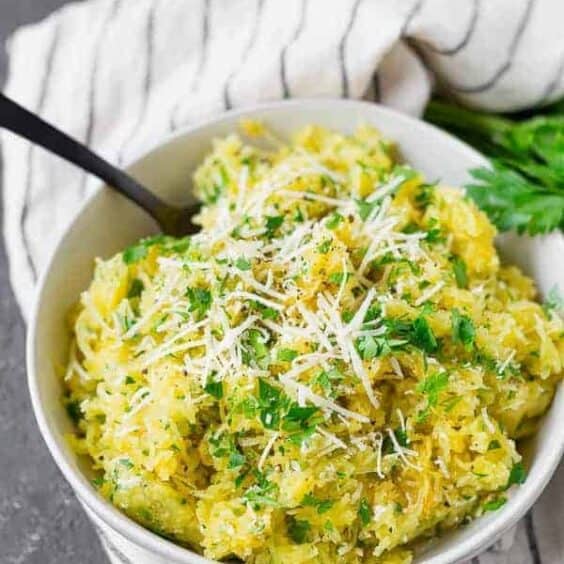 Chicken Fajita Stuffed Spaghetti Squash
All the fixings of fajitas are deliciously combined in chicken fajita stuffed spaghetti squash for a filling and healthy main dish.
Check out this recipe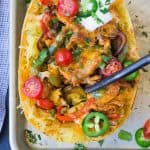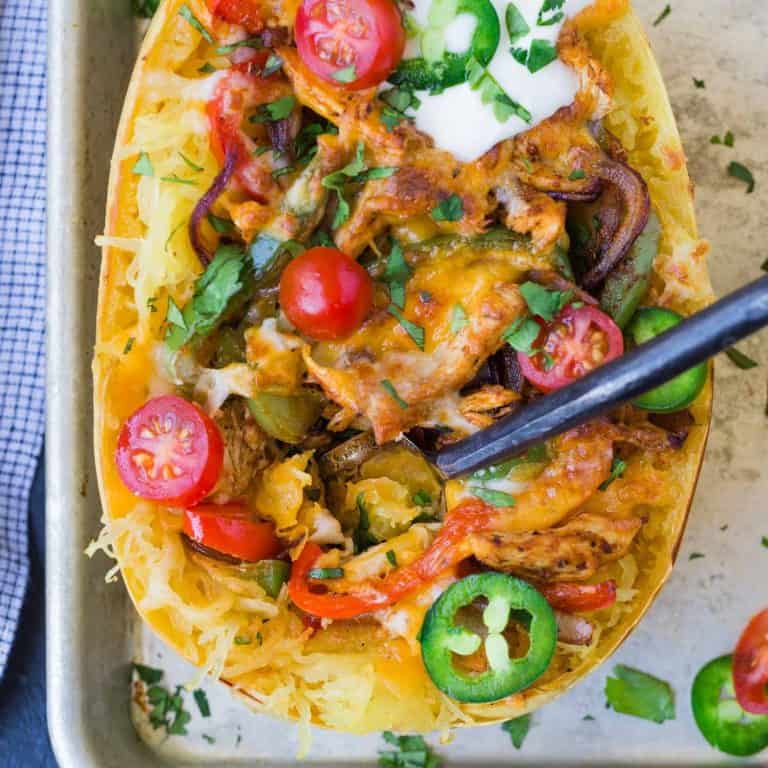 Pizza Stuffed Spaghetti Squash
Pizza, spaghetti, and squash? Sounds unlikely, but wait for the explosion of flavor when you try this surprisingly easy pizza stuffed spaghetti squash!
Check out this recipe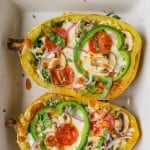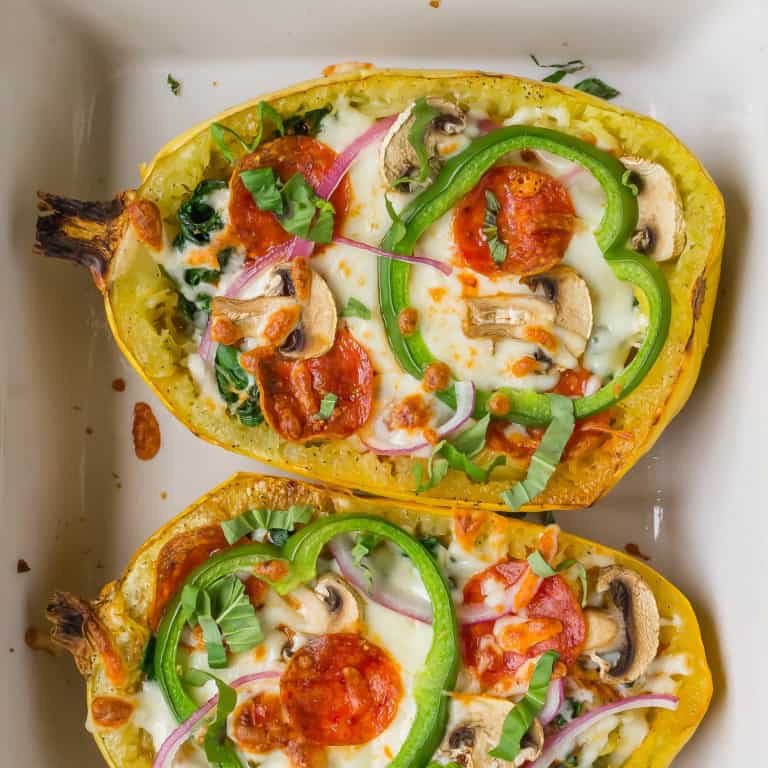 Roasted Acorn Squash with Spiced Yogurt Sauce
This roasted acorn squash is served with a spiced yogurt sauce that you're going to find absolutely irresistible!
Check out this recipe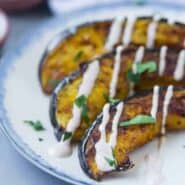 Stuffed Acorn Squash (Farro, Sausage, & Apples)
Stuffed acorn squash, with farro, sausage, and cheese, plus apples and dried cherries, is a delicious mix of sweet and savory. It's a fall favorite!
Check out this recipe
Crockpot Pumpkin Soup
Creamy crockpot pumpkin soup is velvety smooth and delicious. You won't have to peel the pumpkin first; the peel magically disappears in the soup.
Check out this recipe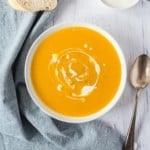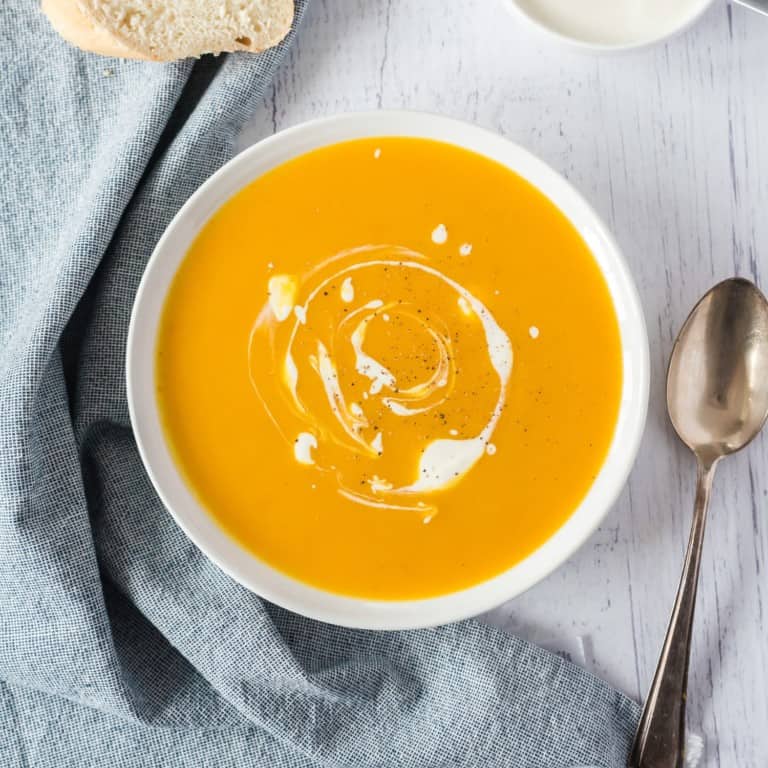 Pumpkin Poke Cake (with real pumpkin!)
This easy pumpkin poke cake recipe is the ultimate fall dessert oozing with sweet cinnamon filling and smothered with tangy cream cheese frosting.
Check out this recipe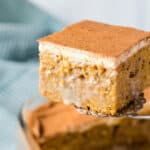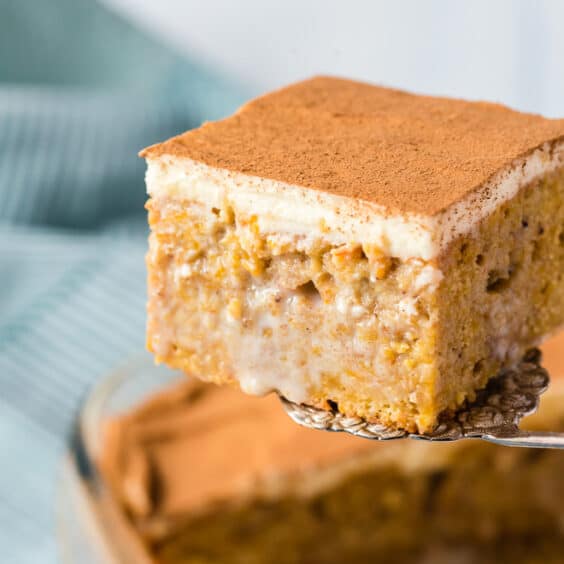 Vegetarian Tacos with Delicata Squash and Black Beans
Flavorful vegetarian tacos are stuffed with hearty roasted delicata squash slices, black beans, pickled red onions, avocado, and queso fresco.
Check out this recipe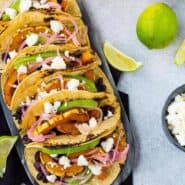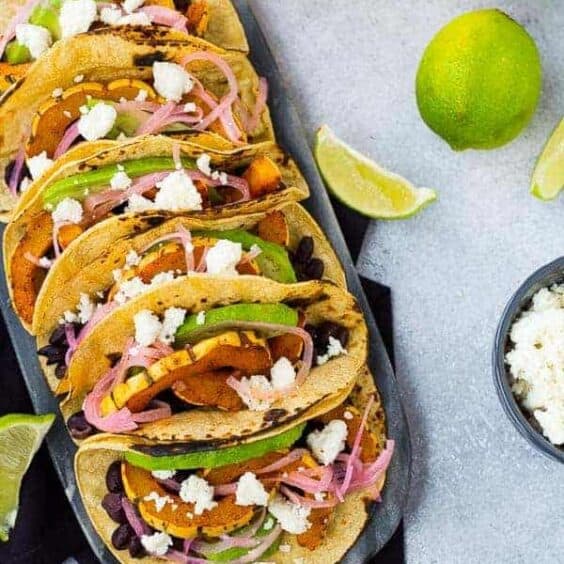 Kabocha Squash Soup
Savor the sweet tang of apple cider along with just a hint of warm ginger and cinnamon in this creamy and delicious kabocha squash soup.
Check out this recipe