Whether it's Christmas, Mother's Day or a birthday, cake calls for celebration, so I've rounded up 25 awesome vegan cakes from around the internet!
Although I love any dessert, there is something special about a beautifully decorated one the cake. It's like an elegant present, waiting to be wrapped (and devoured).
But plant-based cakes can be a challenge. Without eggs, butter, or milk, they can often be dry as cardboard, too thick, or simply lacking in flavor.
That's why I've not only collected some excellent, well-reviewed vegan cakes, but also answered some frequently asked questions to make sure you absolutely slay your next cake baking adventure.
Choose from a range of special occasion layer cakes and casual sheet cakes, along with several gluten-free options.
Happy baking!
Frequently Asked Questions
How do you replace eggs in vegan cakes?
There are several options, though my personal favorite is aquafaba, the liquid from a can of chickpeas. When it is lightly whipped, it mimics the texture of beaten eggs quite well. It adds a light, airy texture, which is perfect in cakes, which should generally be light and fluffy.
If you'd like to read more, I've got a whole blog post on egg substitutions in baking.
How do you replace butter in a vegan cake?
Fortunately, replacing butter is much easier than replacing eggs, as there are a growing number of high-quality vegan butters that bake just as well as dairy-based butters.
If you live in the US, the Earth Balance Buttery Stick is a widely available option that works really well.
How do you substitute milk, yogurt or cream in vegan cakes?
This one is pretty simple. I like to use oat milk or soy milk in baking because they have somewhat similar proteins and fats to dairy milk. Always use full-fat or creamy varieties, not low-fat varieties. Cakes, and most baked goods in general, need enough fat to avoid a dry cardboard-y mouthfeel.
I find that oat milk leads to baked goods that are the brownest (probably from the natural sugar content), whereas soy milk curds when mixed with an acid like lemon juice or apple cider vinegar, so it's a great buttermilk sub.
For cream, canned coconut milk and coconut cream are usually the best options for their fat content. A chilled can of coconut milk + sugar is all you need for dairy-free whipped cream; You can find my easy recipe in my Strawberry and Cream Sheet Cake Recipe below.
If a cake recipe calls for yogurt or sour cream, it's probably because the creaminess keeps the cake moist. Look for plain-flavored vegan yogurts that are relatively creamy but not too thick. For sour cream, I like Kite Hill Foods, Follow Your Heart, and Tofuty brands (the latter is quite thick, so you may need to thin it with water).
Refined sugar vegetarian?
It depends. If you live in the US, most regular Sugar is not vegetarian, as it is refined by digesting animal bones. However, all refined sugar is labeled organic In the US they are vegetarians, because they cannot contain animal products. So if you buy organic cane sugar, organic brown sugar, or organic powdered sugar, you are safe.
There are a few brands of non-organic sugar in the US that are certified vegan, including Julka Morena and Whole Foods 365 Fair Trade Certified Vegan Sugar.
Does vegan cake contain gluten?
Generally, yes. Gluten comes from wheat, which is a plant-based product so most vegan cakes contain gluten. The gluten in the flour provides quite a bit of texture to vegan cakes, which lack some texture due to the absence of eggs.
However, I've included several gluten-free vegan cake recipes in this roundup, so if you have an allergy, just bold"gluten freeNote in the recipe description.
Do vegan cakes need to be refrigerated?
It depends. A standard frosted vanilla or chocolate cake can be stored at room temperature, covered, for several days. Cakes with fruit or cream cheese icing, however, should be refrigerated.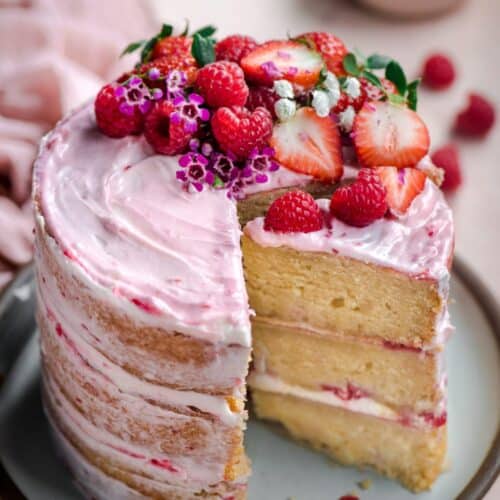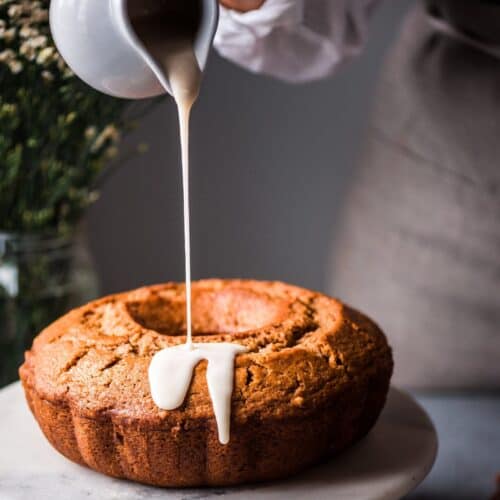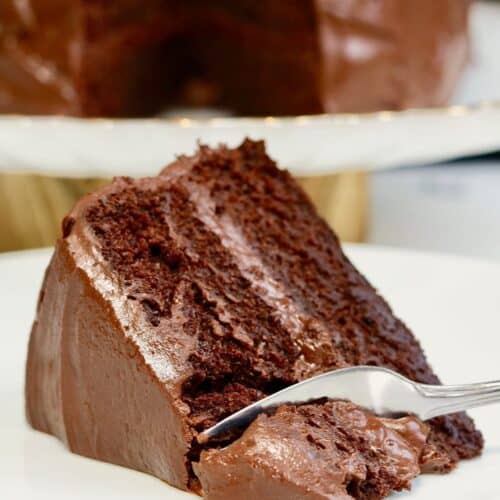 Lemon Olive Oil Cake
My Vegan Lemon Olive Oil Cake is sweet-yet-tart, rich, zingy and extremely lemony and so tender and moist it practically melts in your mouth. It's easy to make and only requires 10 ingredients! Serve as a sweet snack or breakfast, or garnish with strawberry compote.
Check out this recipe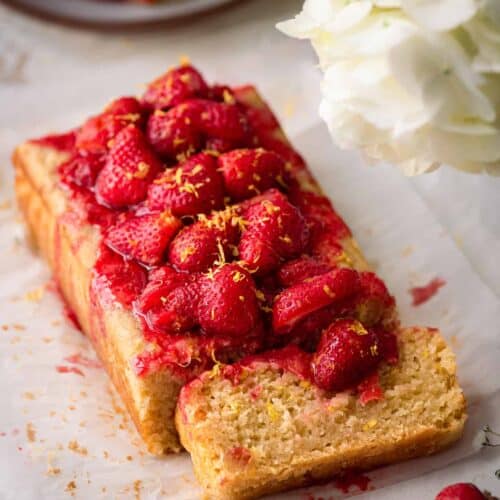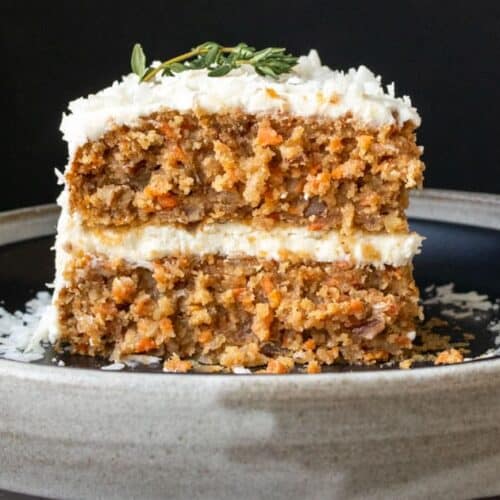 Vegan Cinnamon Roll Cake
Imagine a giant cinnamon roll you don't have to wait for the dough to rise and it's easy to make! This is my vegan cinnamon roll cake! Buttery and rich yet light and fluffy thanks to some secret ingredients and tricks!
Check out this recipe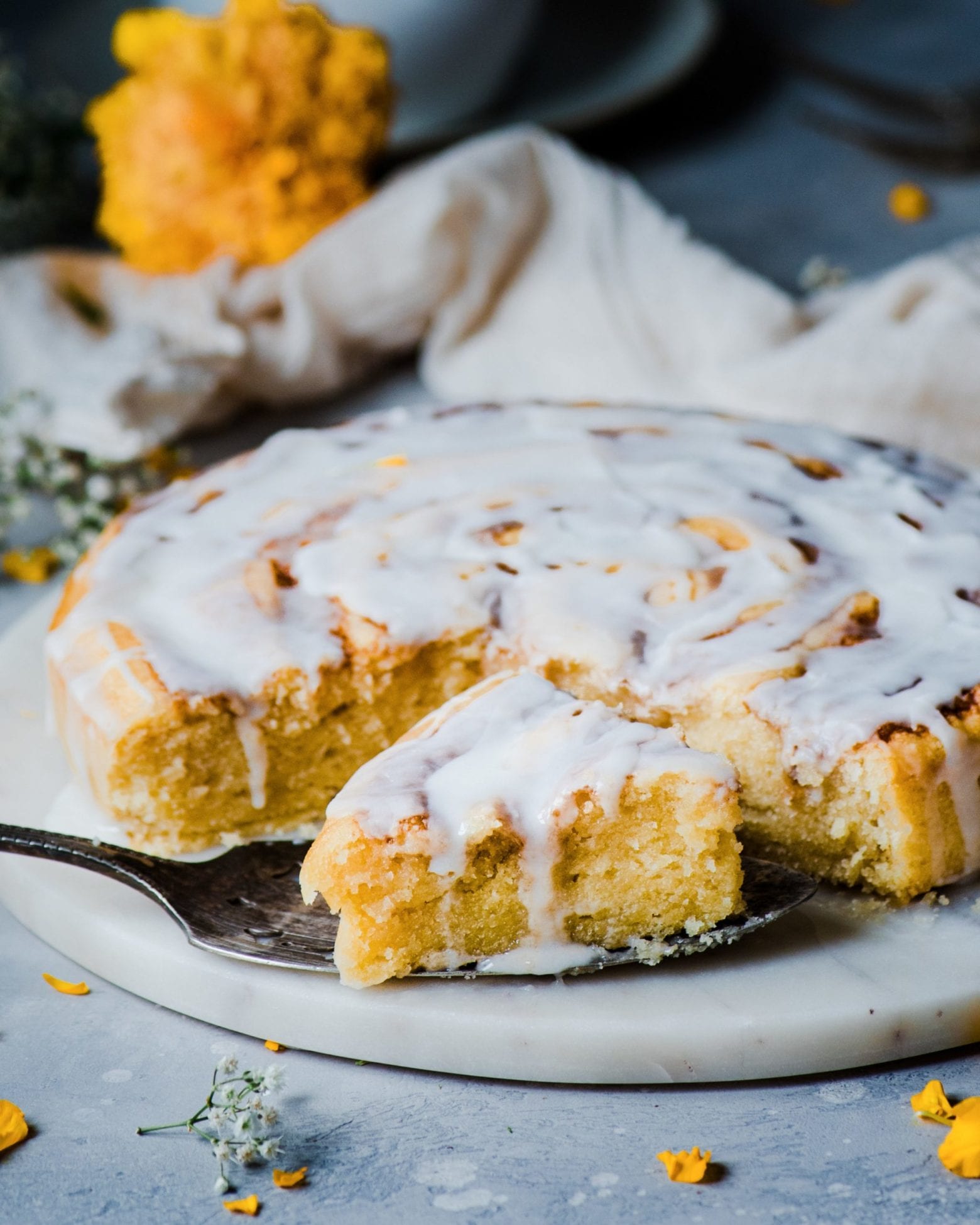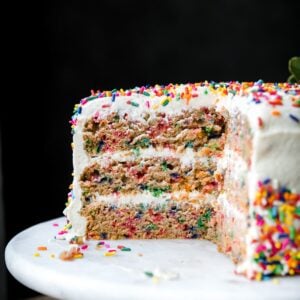 Baked Vegan Chocolate Cheesecake
My Baked Vegan Chocolate Cheesecake is a crowd-pleasing chocolate cheesecake that no one would ever guess is vegan! As rich and thick and creamy as traditional cheesecake, this chocolate cheesecake is dairy-free, vegan and gluten-free.
Check out this recipe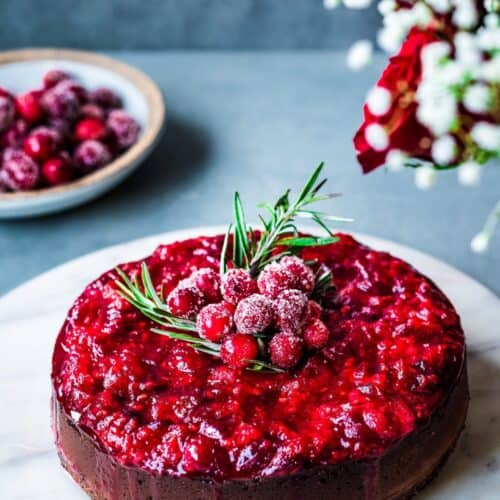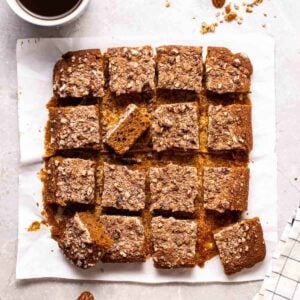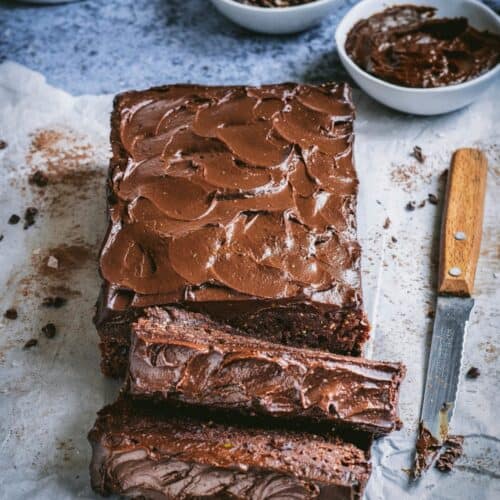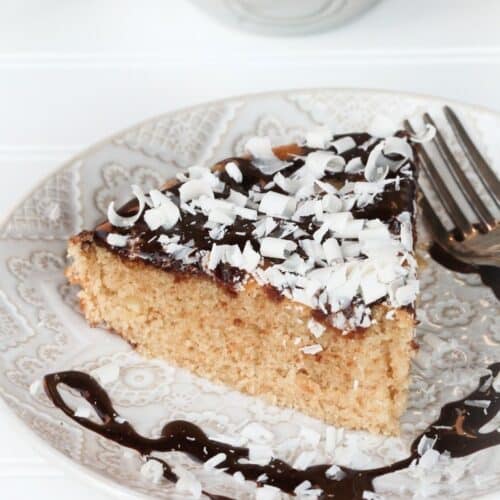 Vegan Lemon Poppy Seed Layer Cake
My Vegan Lemon Poppy Seed Layer Cake is light, moist and tender and an absolute show stopper. A fluffy vegan layer cake with layers of tangy blackberry ginger jam and a decadent vegan cream cheese frosting. Perfect for holidays and special occasions!
Check out this recipe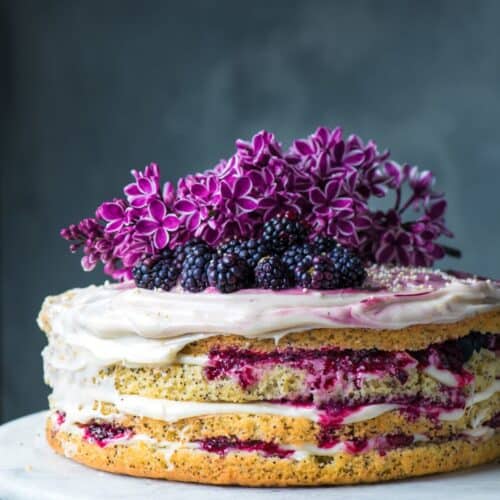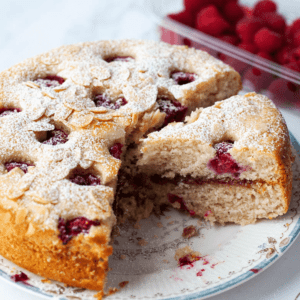 No-Bake Vegan Cheesecake
This no-bake vegan cheesecake from Christina of Addicted to Dates features a buttery no-bake base and creamy vanilla cheesecake filling. This is the perfect summer dessert for when you don't want to turn on the stove! GF option.
Check out this recipe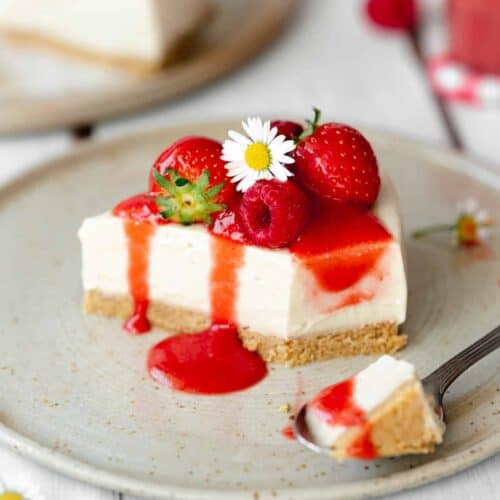 Berry Cornmeal Cake
this gluten free Berry Cornmeal Cake from Rachel's Bakery is soft, fluffy, gluten-free, and vegan! Use your favorite berries for this simple summer cake recipe. Ready in 30 minutes!
Check out this recipe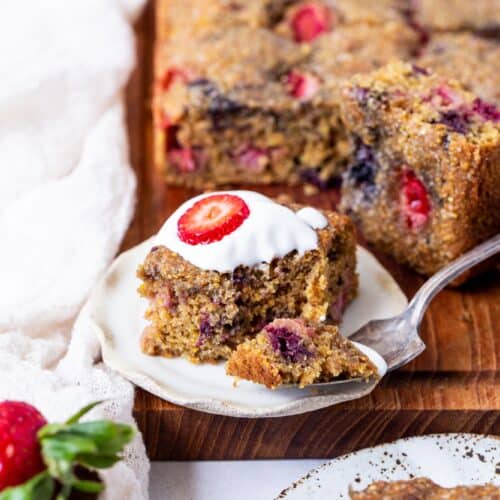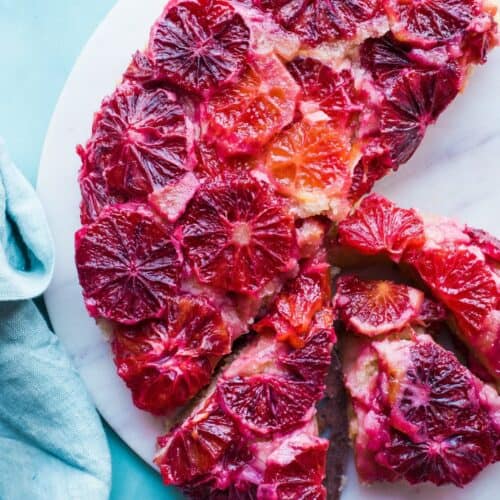 Vegan Gluten-Free Chocolate Cake
Here's a recipe for vegans gluten free Gwen's Chocolate Cake from Delightful Adventures is rich, moist, delicious and perfect for any celebration. It's super easy to make and can be frosted with any type of buttercream you like.
Check out this recipe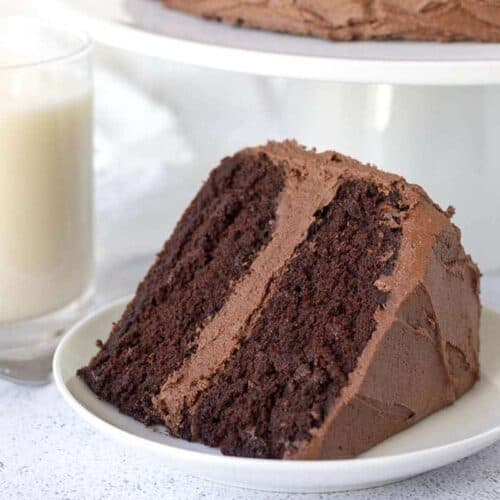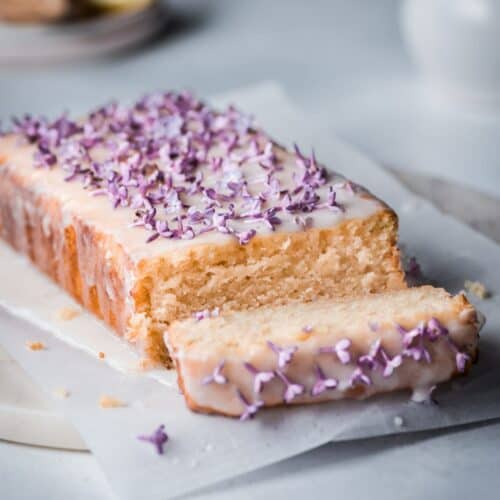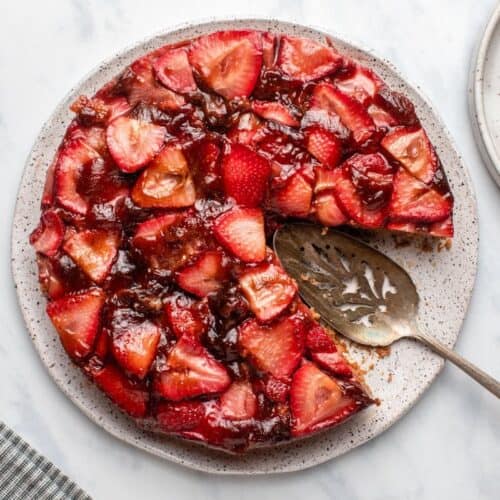 Vegan Hummingbird Cake
A deliciously spiced layer cake bursting with pineapple, banana and pecans and then sandwiched with decadent cream cheese frosting by Melanie, a virtual vegan. Your friends and family will be circling it like little hummingbirds!
Check out this recipe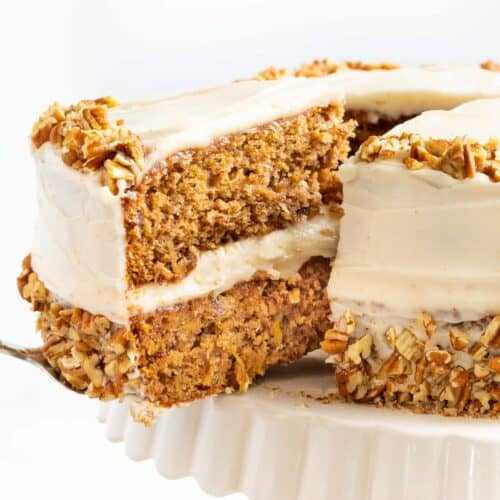 Vegan Mango Cake
Fluffy and soft vegan mango cake packed with flavor with fresh mango and Rainbow Nutrition Anthea! This easy cake uses less than 10 ingredients and comes together in one bowl.
Check out this recipe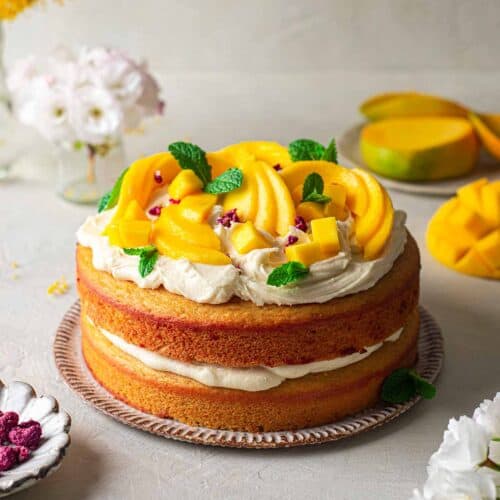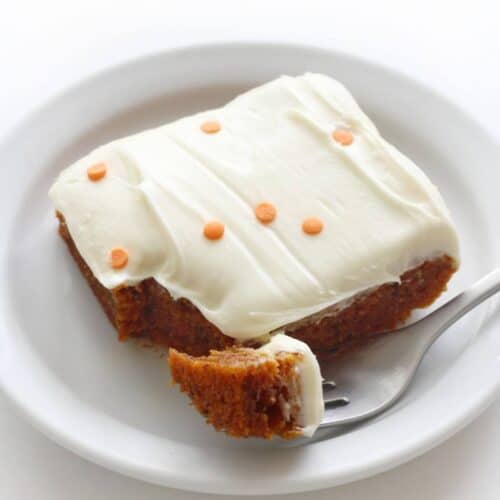 Vegan Strawberry and Cream Sheet Cake
Made with fresh strawberries and a 2-ingredient coconut whipped cream, my vegan strawberry and cream sheet cake is light but indulgent and very flavorful. Made in a sheet pan so it's an easy, fuss-free dessert that will please the whole family!
Check out this recipe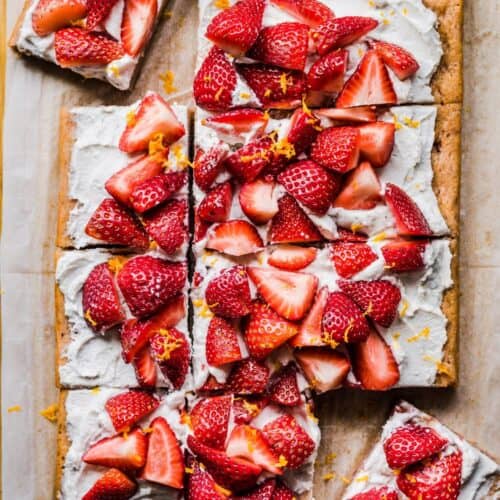 Vegan Salted Pretzel Cake
This salty pretzel cake from Holly of The Little Blog of Vegan is an absolute dream. It also has additional features Vanilla pretzel sponge cake, layer of salted caramel buttercream, caramel sauce and garnished with giant salted pretzels.
Check out this recipe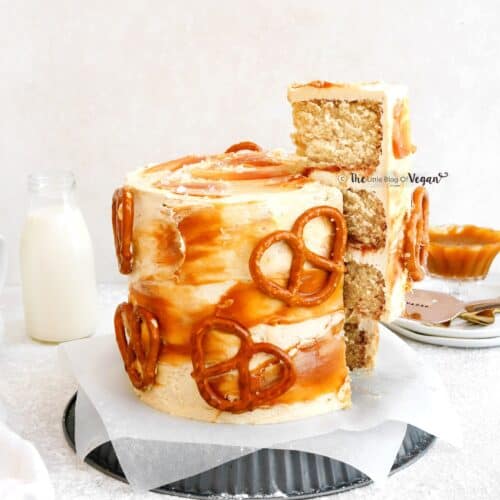 Fluffy Vegan Gingerbread Cake
Here are my best vegan gingerbread cake recipes for you to try! It's incredibly fluffy and tender, uses simple ingredients and has a homemade gingerbread spice blend and vanilla cream sauce that takes it over the top. A must do during the holiday season!
Check out this recipe