This roundup features 25 of the BEST vegan casserole recipes out there. From green bean casserole to scalloped potatoes to Shepherd's pie, there is something here for everyone!
Don't you love it when you can throw everything into a baking dish and call it a night? No crazy washing afterward or hours spent in the kitchen.
That's when our vegan casserole recipes come in handy! They're hearty and comforting and feel like a warm hug on a cozy winter night. Plus, you get to make a big batch and have leftovers for days!
These recipes pack plenty of plant-based protein, whole grains, and healthy fats. They're nutritiously balanced and so filling, and you can even serve them as a meal on their own.
Easy Vegan Casserole Recipes
In this list, you'll find ideas for easy weeknight meals, as well as vegan casserole recipes for special occasions like Thanksgiving and Christmas!
The best part is that they can be enjoyed by both vegans and meat-eaters, with plenty of gluten-free and nut-free options as well.
Vegan Green Bean Casserole
This creamy green bean casserole is a gluten-free, vegan twist on the classic dish and is the perfect addition to your holiday feast! It's easy to make and mushroom-free too. This dish is so tasty, even the omnivores will love it!
Check out this recipe
Vegan Shepherd's Pie
This hearty and nutritious vegan shepherd's pie is loaded with veggies and lentils smothered in a rich tomato-based gravy and topped with a layer of creamy mashed potatoes. This vegetarian version is also gluten-free, oil-free and lower in fat than the traditional. 
Check out this recipe
Vegan Casserole with Chickpeas and Butternut Squash
This creamy Vegan Casserole with Chickpeas and Butternut Squash is perfect for serving as a hearty side or starring as a meatless main! Although this chickpea-butternut squash casserole is infused with the signature fall flavors of sage and thyme, you will want to eat this dish all year long! Perfect for the holidays too!
Check out this recipe
Hall Family Roman Holiday Casserole with Lentils
This hearty pasta and lentil casserole features stewed tomatoes, carrots, celery, onion and a dairy-free cheese sauce. It's my vegan take on a family recipe for Roman Holiday that has been passed down through the generations.
Check out this recipe
Vegan Cauliflower Gratin by My Quiet Kitchen
This vegan cauliflower gratin will turn everyone into a cauliflower lover! It features a cheesy cashew sauce and a crispy breadcrumb topping that makes it truly irresistible! This lightened-up version is wholesome and made with healthy ingredients, yet it's still comforting and rich.
Check out this recipe
Vegan Breakfast Casserole by Strength and Sunshine
This vegan breakfast casserole is packed with vegetables like mushrooms, red bell pepper, spinach, and tomatoes, and topped with a generous amount of vegan cheese! It's the perfect way to start the day if you're looking for something hearty and high in protein!
Check out this recipe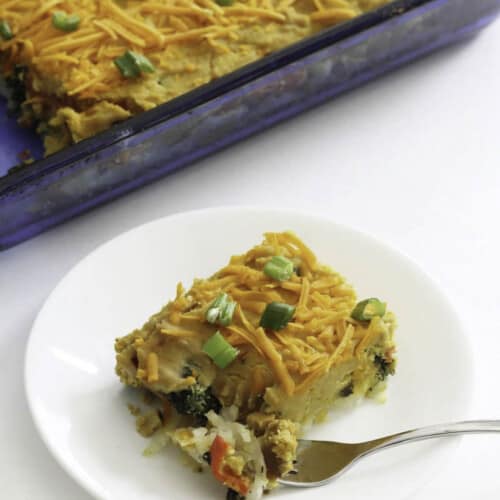 Vegan Enchilada Casserole by Veggie Fun Kitchen
This vegan version of the beloved enchilada casserole features black beans and red bell peppers stuffed in corn tortillas and smothered in enchilada sauce. It's a great recipe that the whole family can enjoy and perfect if you're following a vegan diet!
Check out this recipe
Easy Vegan Tamale Pie by Courtney's Homestead
This vegan tamale pie features black beans coated in a rich tomato sauce and seasoned with hearty spices like cumin, chili powder, and cayenne pepper. Everything is topped with a fluffy tamale-style crust for a Mexican-inspired vegan casserole!
Check out this recipe
Vegan Sausage Casserole by Vegan Punks
If you're looking for a cozy vegan meal that's packed with protein, flavor, AND is easy to make, this recipe is for you! This vegan sausage casserole is a rich and delicious family-friendly dish that has 23g of protein per serving.
Check out this recipe
Vegan Butternut Squash Casserole by Steph Sunshine
This savory vegan casserole is abundant and bursting with fall flavors! It has butternut squash, kale, leeks, thyme, and pecans, all coated in a creamy cashew sauce and topped with vegan cheese.
Check out this recipe
Vegan Tater Tot Casserole by Plant.Well
This one-pan vegan tater tot casserole has everything you need- a layer of saucy tempeh, beans, and corn, followed by a generous amount of vegan cheese, and crispy tater tots on top! It's delicious and easy to prep, and you'll need just 10 ingredients to make it!
Check out this recipe
Vegan Baked Spaghetti Casserole by Sunglow Kitchen
If you hate washing dishes, you need this 1-pan vegan baked spaghetti in your life! All you have to do is throw everything in a baking dish (including the raw pasta) and bake it until the pasta is al dente and the vegan cheese is golden and bubbly!
Check out this recipe
Easy Vegan Penne Pasta Bake by Veggies Save The Day
This vegan penne pasta bake is a great family-friendly weeknight dinner as it's ready in under an hour and makes a big batch! It's a classic comfort food made with 7 simple ingredients.
Check out this recipe
Vegan Squash Casserole by The Hidden Veggies
This vegan squash casserole reminds me of scalloped potatoes, but with fewer carbs and all of the flavor! It's a classic southern-style casserole that is super cheesy and creamy, yet it's made without any dairy in it.
Check out this recipe
Vegan Scalloped Potatoes by Eat Something Vegan
Vegan scalloped potatoes are one of the most comforting vegan side dishes out there! Layers and layers of thinly sliced potatoes are coated in a cheesy, creamy, and garlicky sauce. Serve this recipe at your next family dinner and watch everyone fall in love!
Check out this recipe
Tomato and White Bean Casserole by Rainbow Plant Life
This tomato white bean casserole is inspired by the Italian salad Panzanella. It features crispy cubed bread, cherry tomatoes, shallots, and white beans, all topped with cashew parmesan and parsley gremolata. It's a great side dish, but can be served for lunch or dinner as well!
Check out this recipe
Green Beans Potatoes and Sausage Casserole by Our Plant-Based World
This casserole with green beans, potatoes, and vegan sausage is a delicious and versatile recipe that can be served both as a weeknight dinner, as well as a Thanksgiving side dish. It has plenty of plant-based protein and fiber and is made with 6 simple ingredients.
Check out this recipe
Vegan French Toast Casserole by Rainbow Nourishments
This vegan french toast casserole uses a stale loaf of bread and turns it into the most delicious breakfast! The bread is cubed, then soaked in a rich egg-like custard, and baked until golden perfection.
Check out this recipe
Vegan Potato Casserole by Healthy Taste of Life
Vegan doesn't mean boring and this cheesy potato casserole proves just that! The secret sauce gives a creamy texture to the dish and the potatoes make it filling and hearty. The addition of mushrooms, leeks, and vegan feta cheese takes the humble potato casserole to a whole new level.
Check out this recipe
Sweet Potato Casserole with Black Beans, Kale and Quinoa by Happy Kitchen
This sweet potato black bean casserole is a great way to use any leftover vegetables in your fridge! It's a nutritiously balanced recipe consisting of fiber, protein, and plant-based fats. It can be served both for special occasions or as a weeknight dinner.
Check out this recipe
Vegan Sweet Potato Casserole by A Sweet Alternative
This vegan sweet potato casserole is the perfect easy holiday side dish! It has all of the classic flavors you love, but with a fun twist- a sage, chives, and garlic topping over the creamy sweet potatoes.
Check out this recipe
Easy Vegan Broccoli Casserole by Hurry The Food Up
What is cheesy and comforting, yet healthy and wholesome? You guessed it, it's this broccoli quinoa casserole! It's soy-free and nut-free, featuring a cheesy sauce made from coconut milk and nutritional yeast.
Check out this recipe
One Pan Butternut Squash and Chickpea Casserole by Avocado Skillet
This 1-pan vegan casserole is made with wholesome ingredients like chickpeas, mushrooms, cashews, and nutritional yeast! It's a balanced meal packed full of protein, fiber, and healthy fats, and can be served both as a weeknight dinner and as a holiday main dish!
Check out this recipe
Vegan Tuna Casserole by Vegan Dollhouse
If you miss the classic tuna casserole with all of its nostalgic flavors, you'll love this vegan tuna casserole! It's made entirely from plant-based ingredients and doesn't compromise on flavor but leaves you going for seconds!
Check out this recipe
Cheesy Vegan Zucchini Sausage Casserole by Planty of Eats
When you need a quick dinner that comes together in 30 minutes, this vegan zucchini sausage casserole comes to the rescue! It's made with 6 simple ingredients and is super hearty and comforting!
Check out this recipe
Now that we've covered everything, I am curious to know which recipe are you making first.
There are so many great ideas here, definitely let me know in the comments what stood out for you and made you feel hungry and excited!
More Vegan Recipe Roundups
©Watch Learn Eat. All content on this page is copyright protected and will not be used or republished without prior permission. Images shown in this post are used with permission from the owner(s).