Wondering what to serve to vegan guests? Even though eggs, dairy, and other animal products are no longer on the table – there are still plenty of delicious options! In this post, you'll find over 30 of the best vegan brunch recipes for both sweet and savory brunch options from muffins to quiche.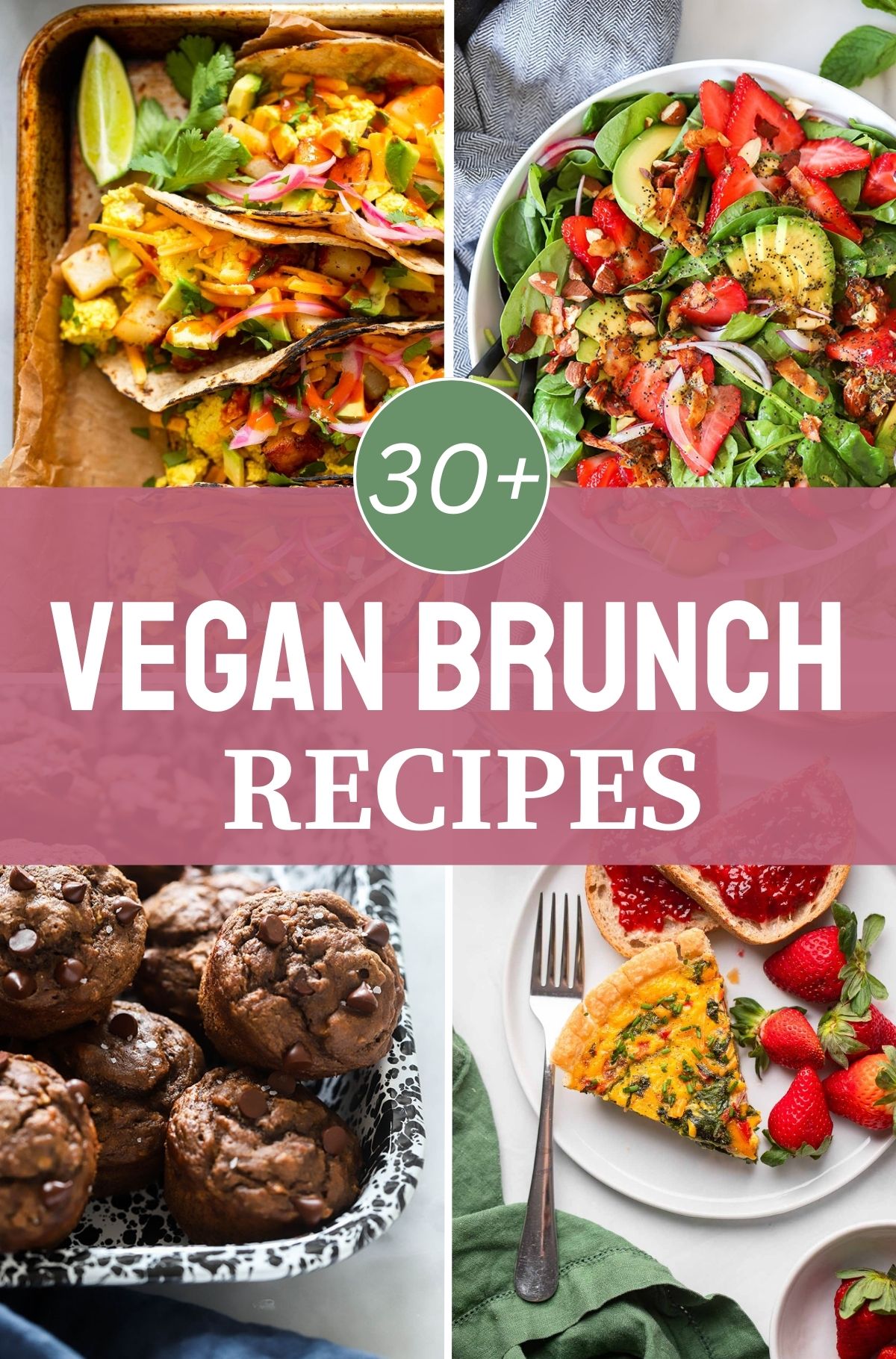 Who doesn't love getting together with friends or family for brunch? Now that spring is here, it feels like there are even more reasons to invite people over for brunch: Easter, Mother's Day, baby showers, bridal showers, first birthday parties…. the list of special occasions could go on and on!
Wondering what to serve to vegan guests or plant-based eaters? Or maybe you are hosting a brunch for the first time since going vegan? Even though eggs, dairy, and other animal products are no longer on the table – there are still plenty of great options! In this post, you'll find over 30 easy vegan brunch recipes that all your guests are sure to love (not just the vegans 😉).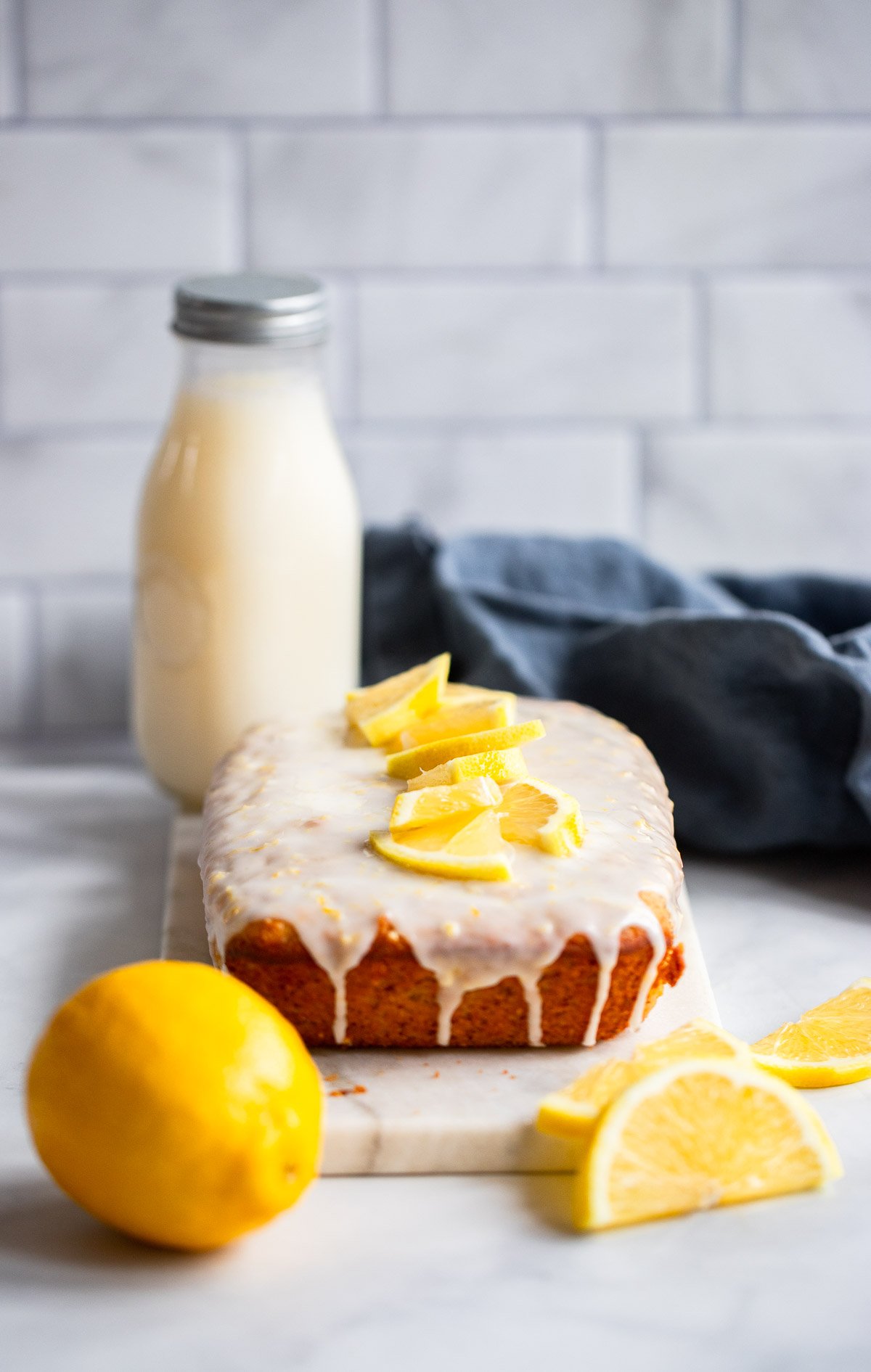 How do you plan a vegan brunch menu?
If you are stuck on how to get started with planning what dishes to serve for a vegan brunch party, here are a few tips on how I approach menu planning.
Prep Ahead: add a couple of recipes that to your menu that can be prepped in advance. That will take some of the stress out of hosting since you'll have some dishes that just need to be reheated or plated on the day of the party. Plan for a few simple sides like fruit salad, store-bought vegan sausage, or avocado toast.
Include a Mix of Sweet and Savory Recipes: try to balance out your menu with some sweet and some savory dishes. Don't get me wrong, I love vegan cinnamon rolls or vegan donuts, but it's also nice to have some vegan quiche to balance out all the sugar!
Make it Special: why not use a weekend or holiday brunch gathering as chance to go the extra mile and make that yummy sweet treat like a cinnamon roll or scone recipe that you bookmarked ages ago. The great thing about baked goods is that they are easy to make in advance so there's less work on hosting day.
Include a Signature Drink: include a fun cocktail or mocktail recipe for the day. I've included a few of my favorites in the roundup below. If you don't want to make your own, I have been really impressed with some of the new non-alcoholic drinks on the market! Just add a fun garnish like fresh fruit or a sprig of mint – it's the perfect way to make it feel more special when serving.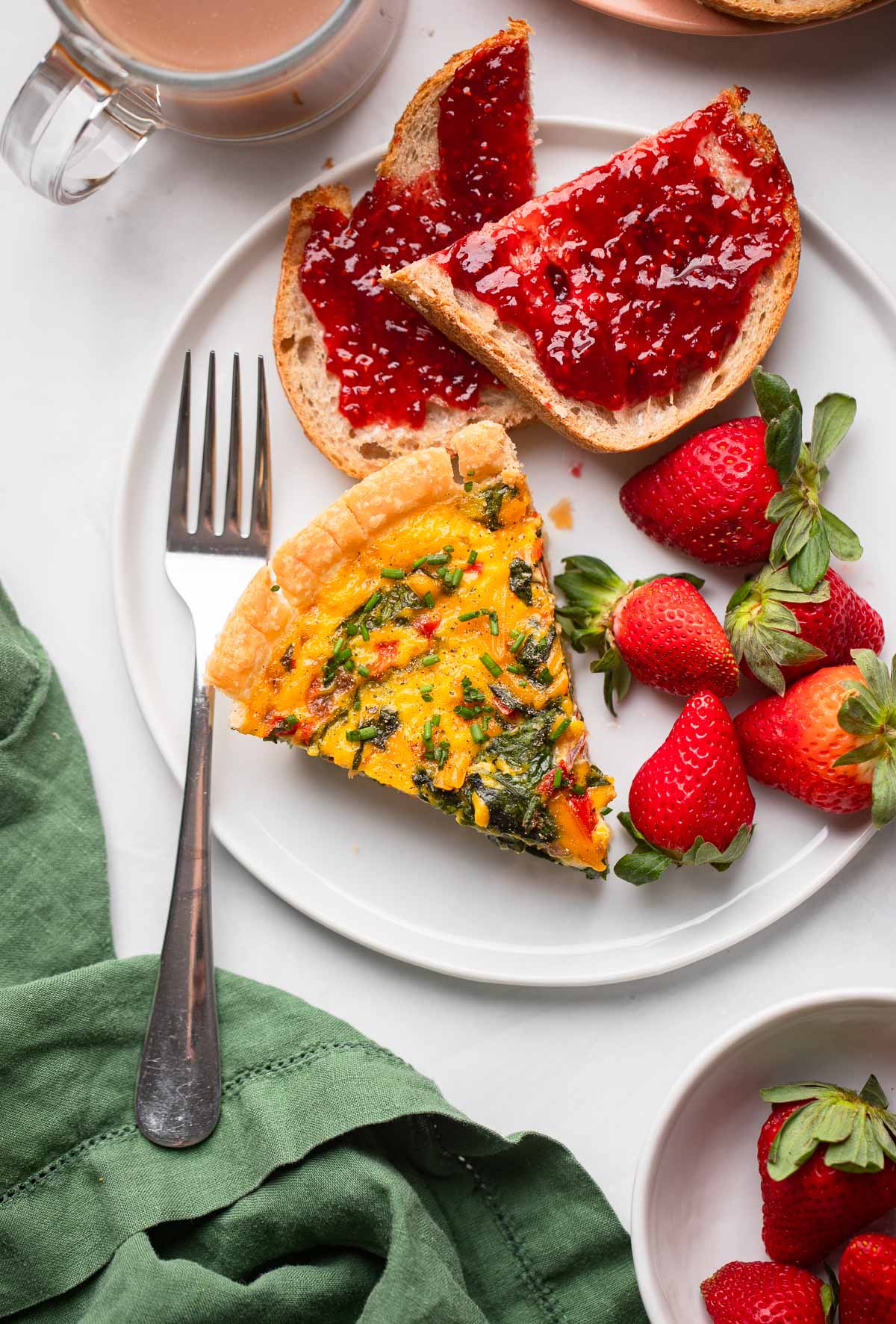 Themed Vegan Brunch Ideas
Sometimes it's easier to plan a brunch menu or party around a theme! If you are getting friends or family involved in the food preparation, adding a theme makes it much more cohesive.
Bagel or Fancy Toast Brunch Board: create an epic bagel or fancy toast spread with an assortment of homemade or fresh bread from the bakery and/or bagels. Lay out a bunch of different spreads and toppings like: vegan cream cheese, jams, vegan butter, nut butters, vegan carrot lox, capers, slices of avocado, fresh veggies, fresh fruit, etc. You could also add a couple savory spreads like hummus or this roasted red pepper dip (which also makes a great spread!).
Vegan Yogurt Bar: there are so many delicious vegan yogurt options on the market now! Pick up a few containers of plain & unsweetened or vanilla plant-based yogurt. Set those out with a bunch of different toppings so people can mix up their own yogurt bowls. Some delicious topping suggestions include: fresh fruit, granola, jams, nuts, seeds, nut butter, and some homemade fruit sauces like this strawberry rhubarb compote or this peach compote.
Tex Mex or Mexican-Inspired Brunch: make these vegan breakfast tacos or vegan breakfast burritos and serve them alongside salsa and guacamole. You can even have people make their own vegan breakfast burrito bowls if you don't want to wrap them. Just make all the burrito fillings in the recipe as well as rice and refried beans for serving.
Vegan Egg Party: just because you aren't eating eggs, doesn't mean you can't enjoy a vegan egg dish like scramble or quiche! You'll find some of my favorite vegan egg dishes below like this easy tofu egg scramble or my vegan spinach quiche. If you don't love tofu as an egg replacement, Just EGG makes a delicious option for vegan eggs.
Vegan Brunch Recipes
Sweet Recipes

Double Chocolate Banana Muffins
Start your morning off right with one of these vegan double chocolate banana muffins and a cup of coffee. Vegan, dairy-free, and naturally sweetened – a perfect snack!
Get The Recipe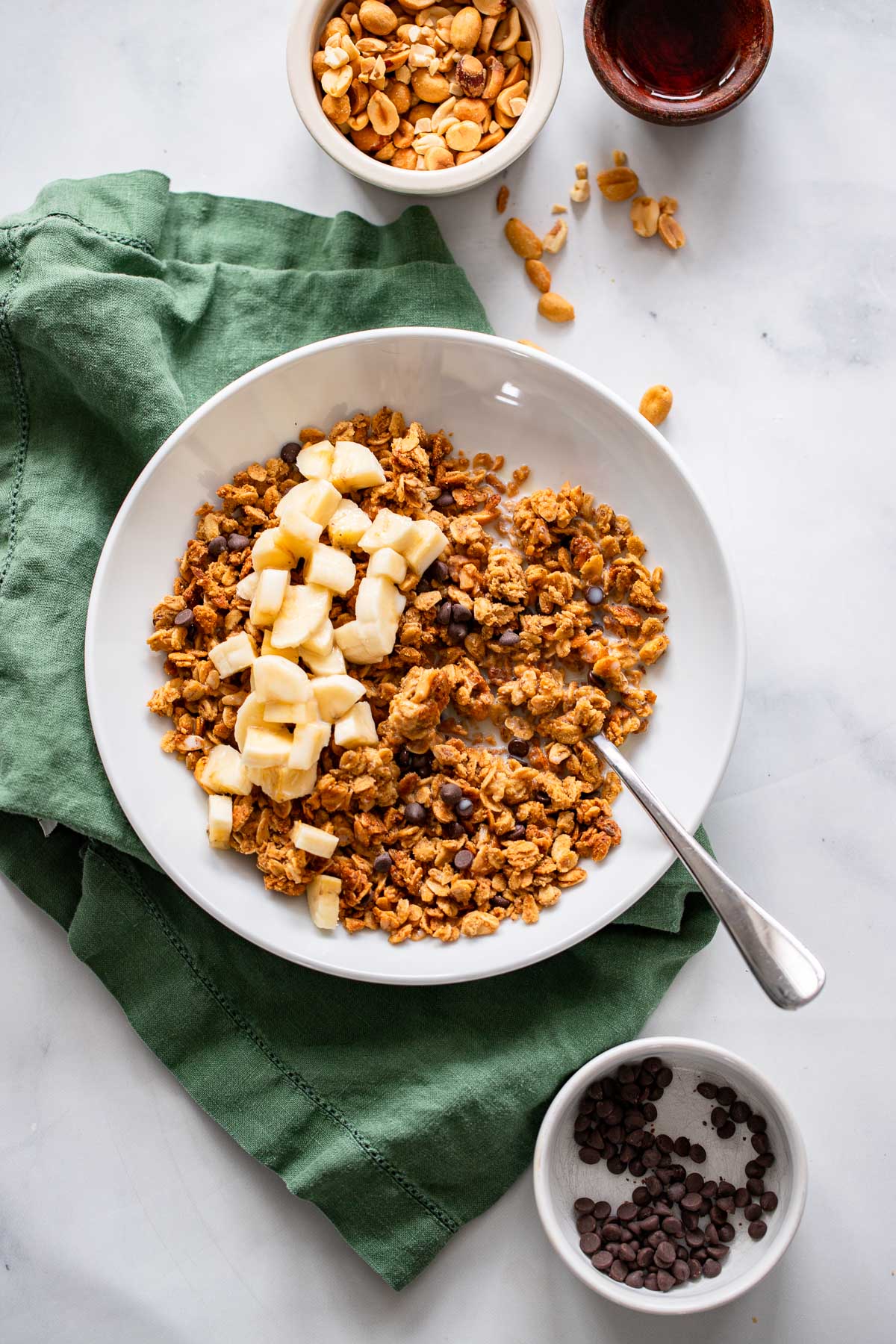 Healthy Peanut Butter Granola
No one can resist this healthy peanut butter granola with cocoa nibs, coconut, and hemp hearts. Serve with granola and fresh fruit for breakfast.
Get The Recipe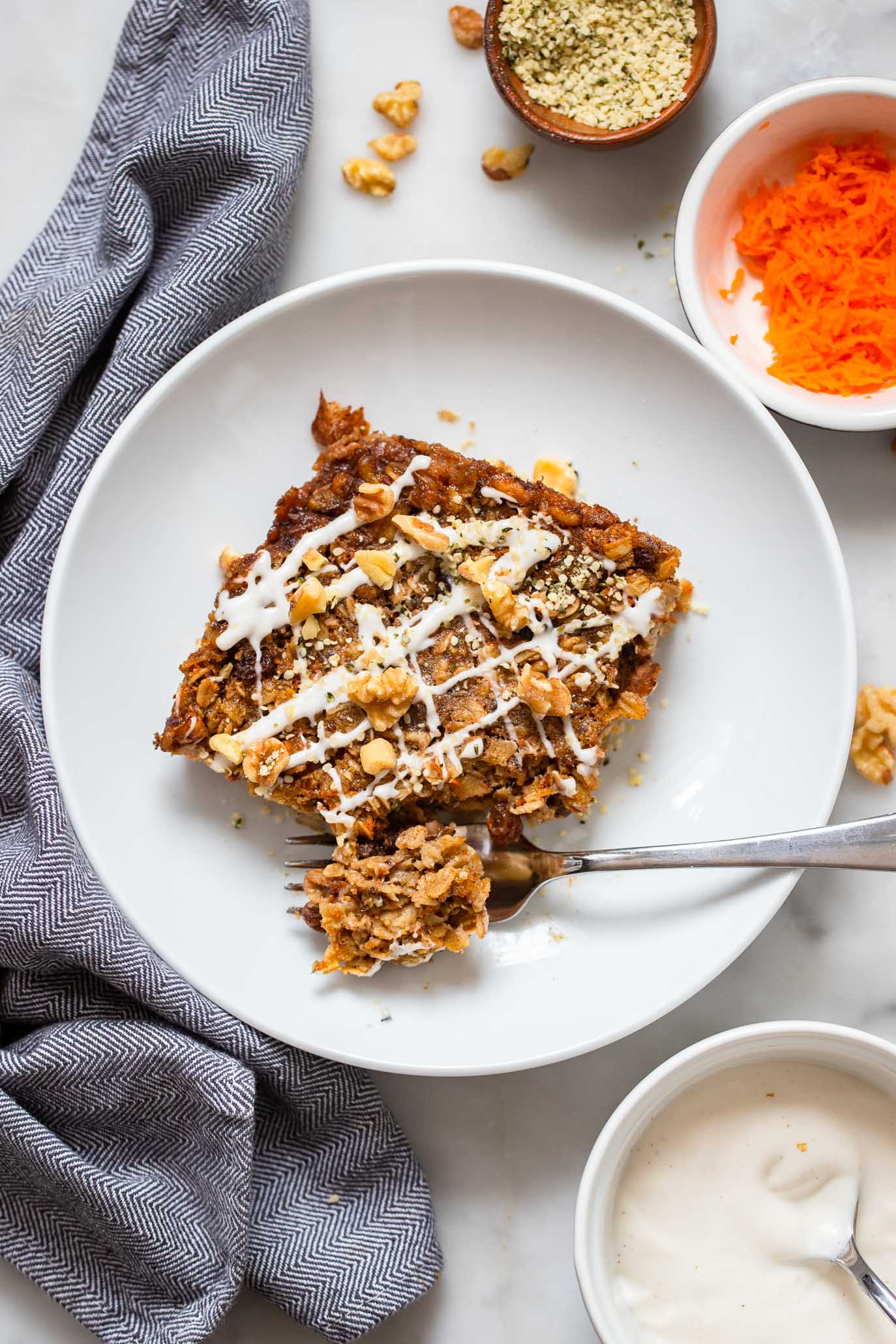 Carrot Cake Baked Oatmeal
This delicious vegan carrot cake baked oatmeal recipe has all the warming spices and grated carrot you'd find in the classic dessert baked into a healthy breakfast. Baked oatmeal recipes like this one are my favorite for meal prepped healthy breakfasts for the week. 
Get The Recipe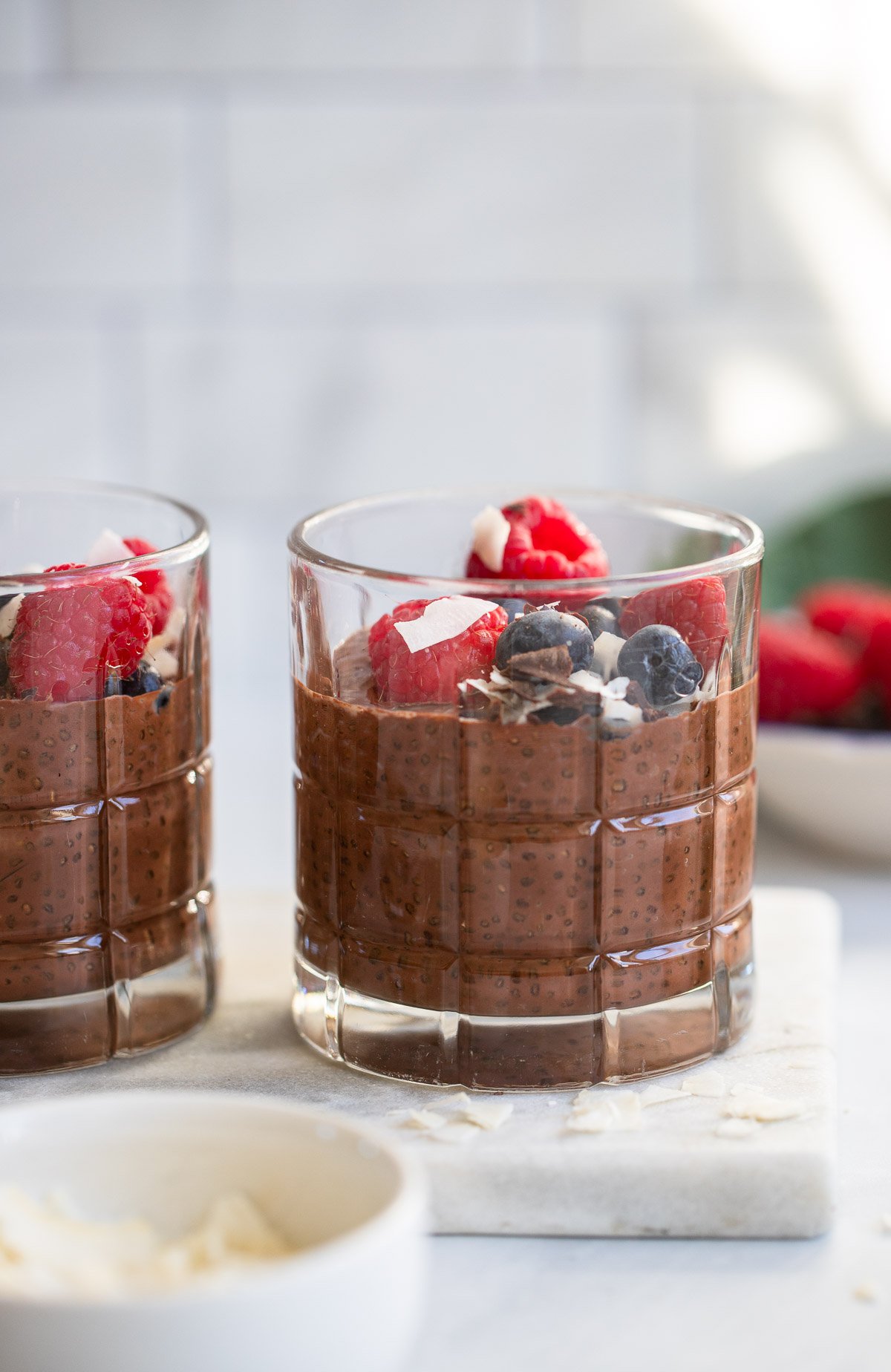 Chocolate Chia Seed Pudding
This chocolate chia seed pudding combines two of my favorite things, coffee and chocolate, to create a healthy breakfast that tastes like a decadent dessert.
Get The Recipe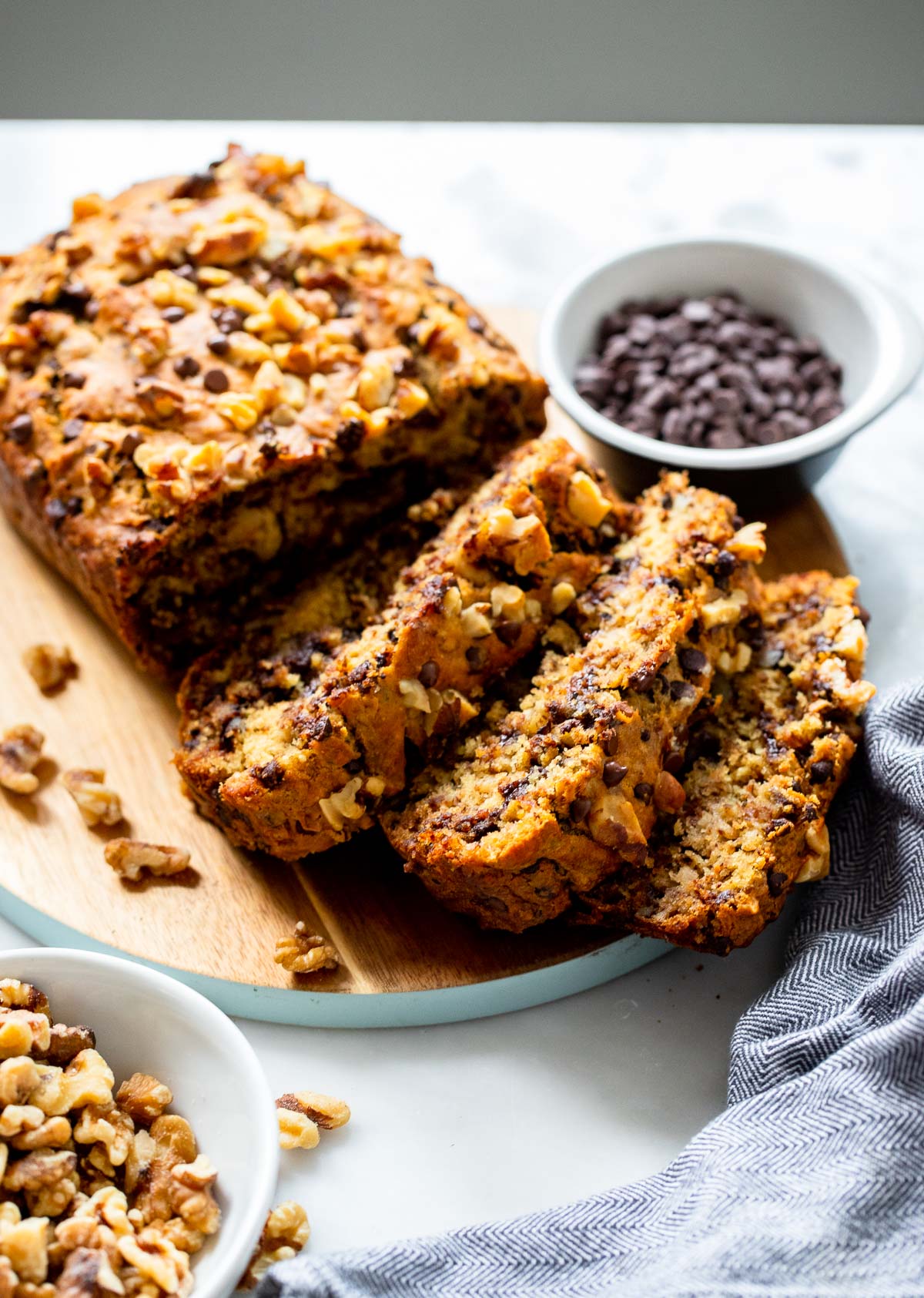 Chocolate Walnut Banana Bread
Anytime I have a few extra bananas, I love whipping up a recipe like this banana bread. This vegan chocolate walnut banana bread is so simple to make and chock full of mini chocolate chips and walnuts. 
Get The Recipe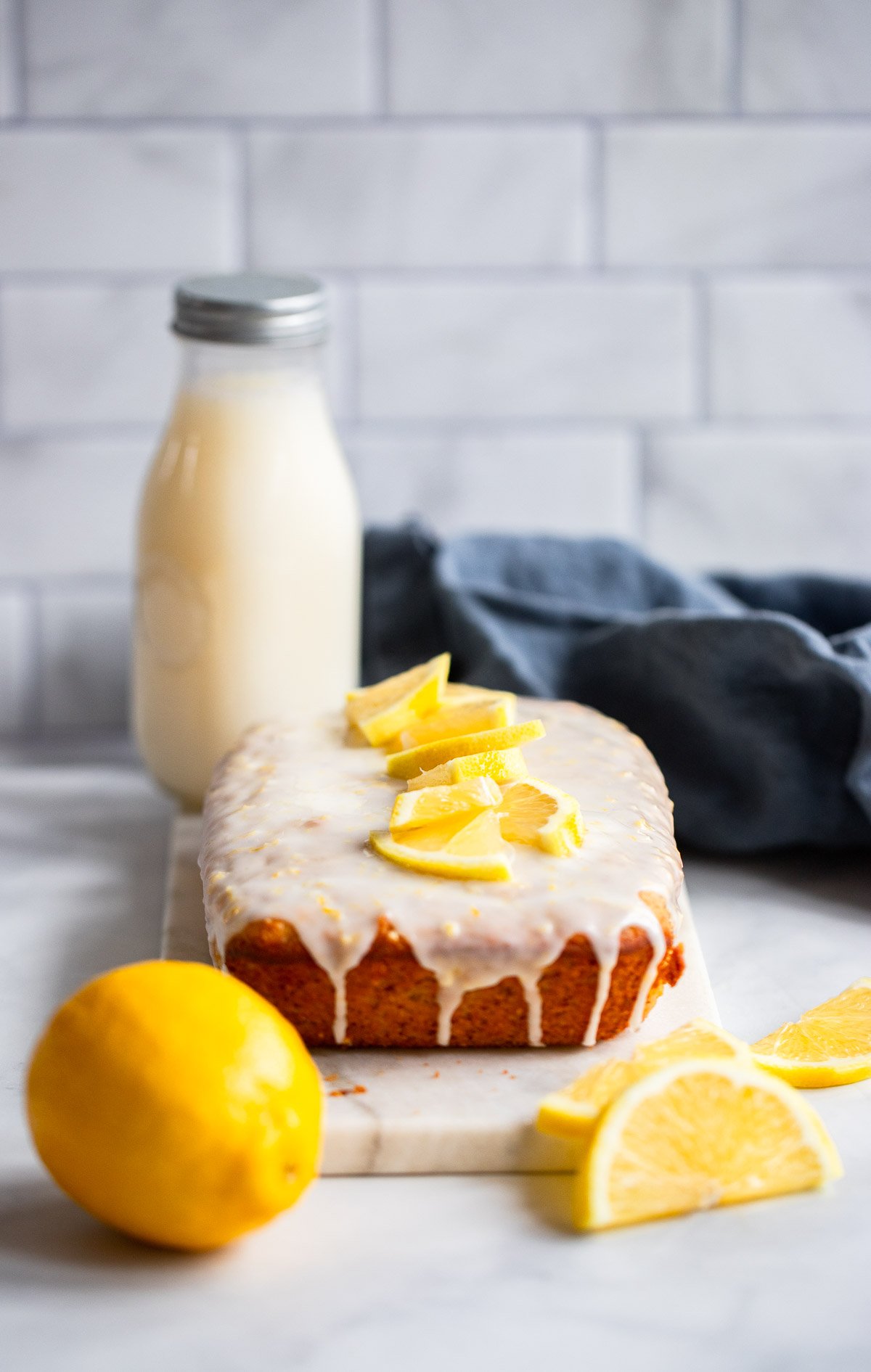 Vegan Lemon Loaf
This vegan lemon loaf is moist, tender, and bursting with lemon-y flavor. The loaf is naturally sweetened with maple syrup to balance out the sweetness of the lemony glaze on top. Pair with a cup of coffee as an afternoon treat!
Get The Recipe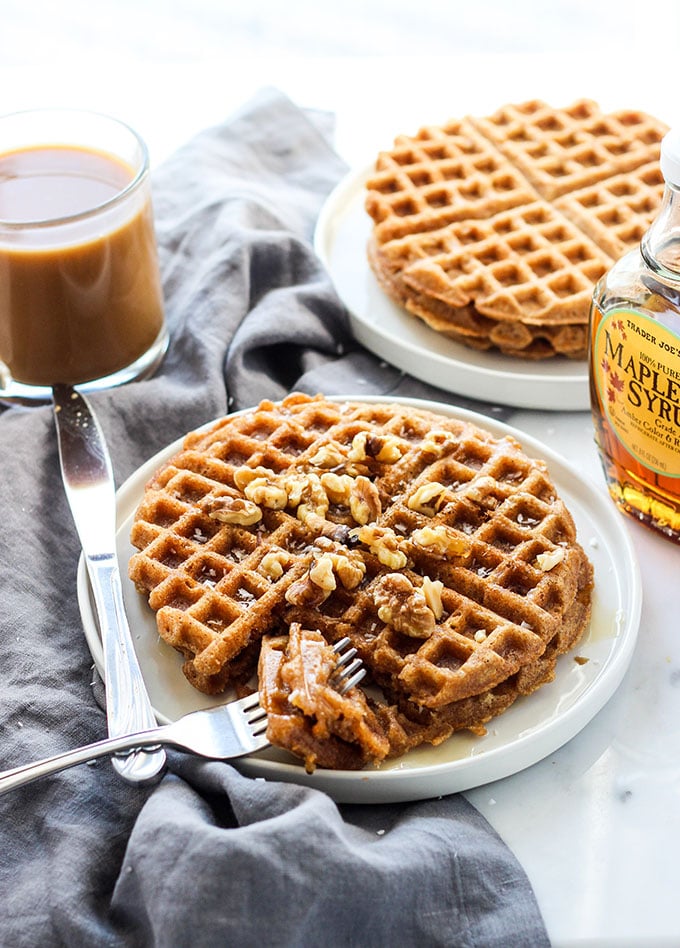 Vegan Carrot Cake Waffles
Make your Saturday morning breakfast extra special with a batch of these tasty vegan carrot cake waffles.
Get The Recipe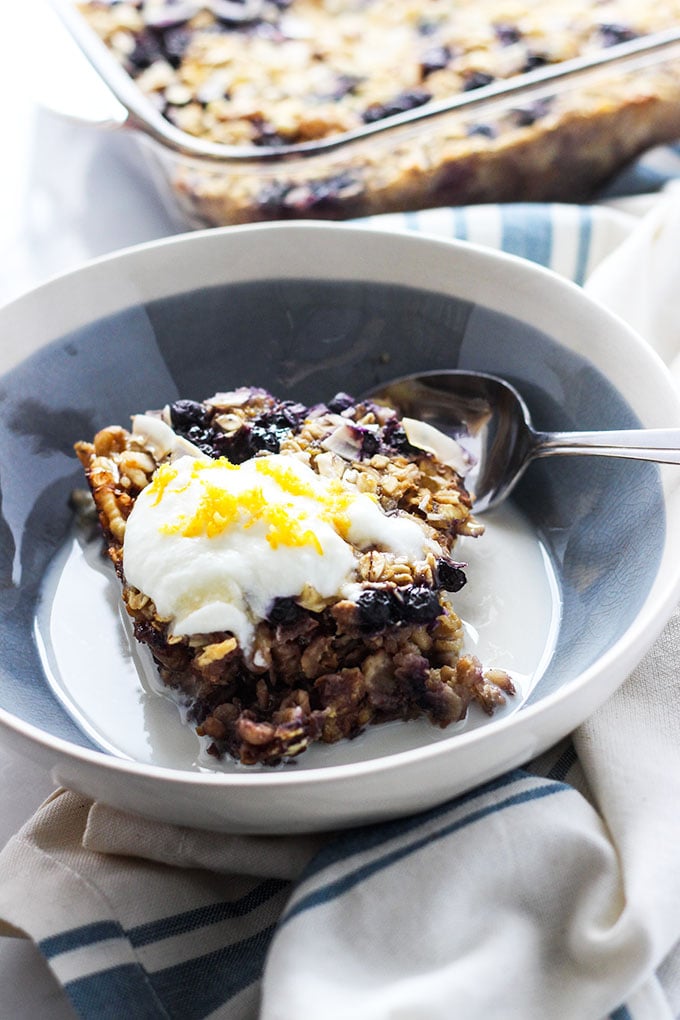 Vegan Lemon Blueberry Baked Oatmeal
Invite your friends over for this vegan lemon blueberry baked oatmeal that is perfect for spring! Serve with almond milk or a dollop of whipped coconut cream.
Get The Recipe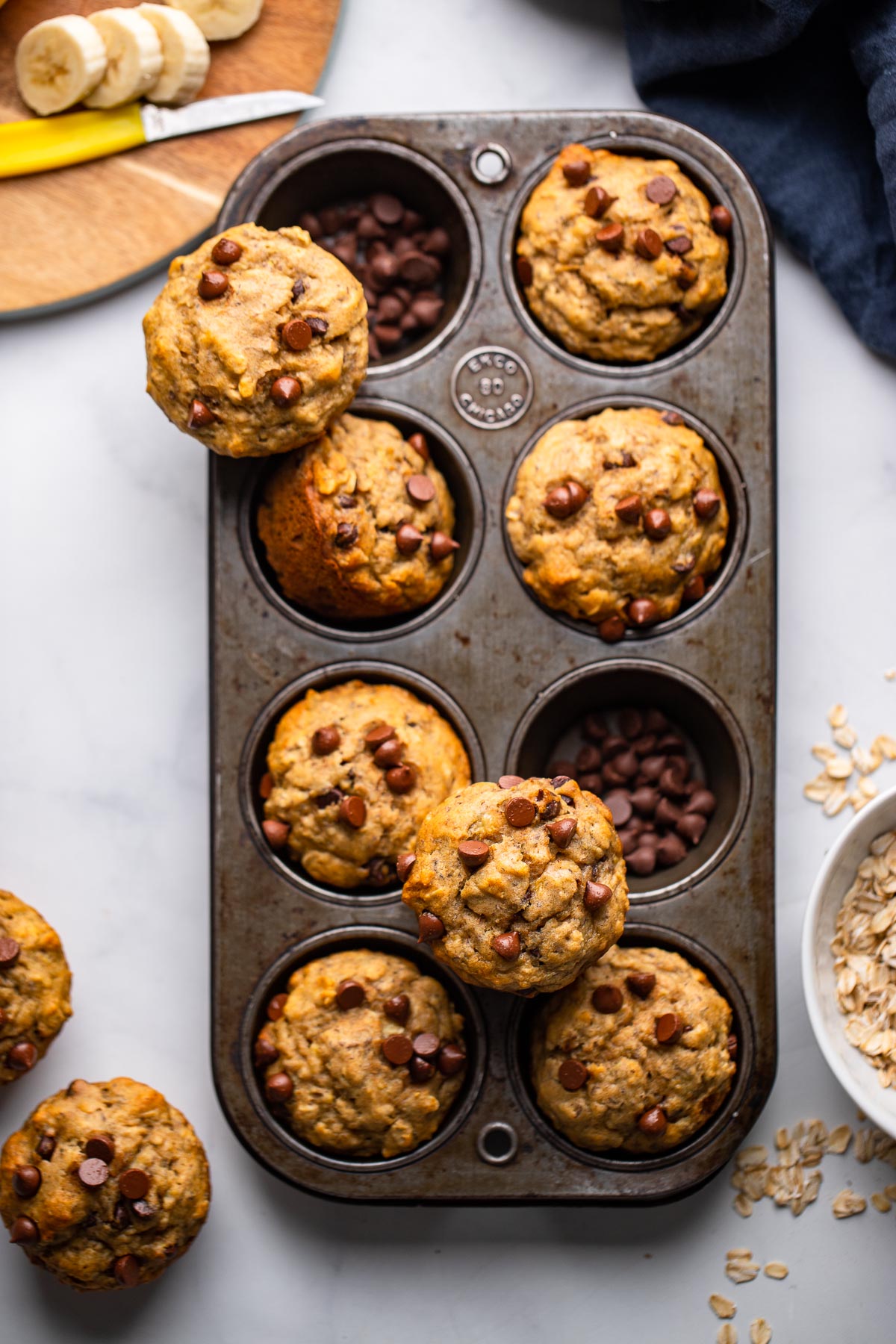 Banana Oatmeal Chocolate Chip Muffins
These healthy banana oatmeal chocolate chip muffins are super simple to whip up with a few basic pantry ingredients and are naturally sweetened with the ripe banana and maple syrup.
Get The Recipe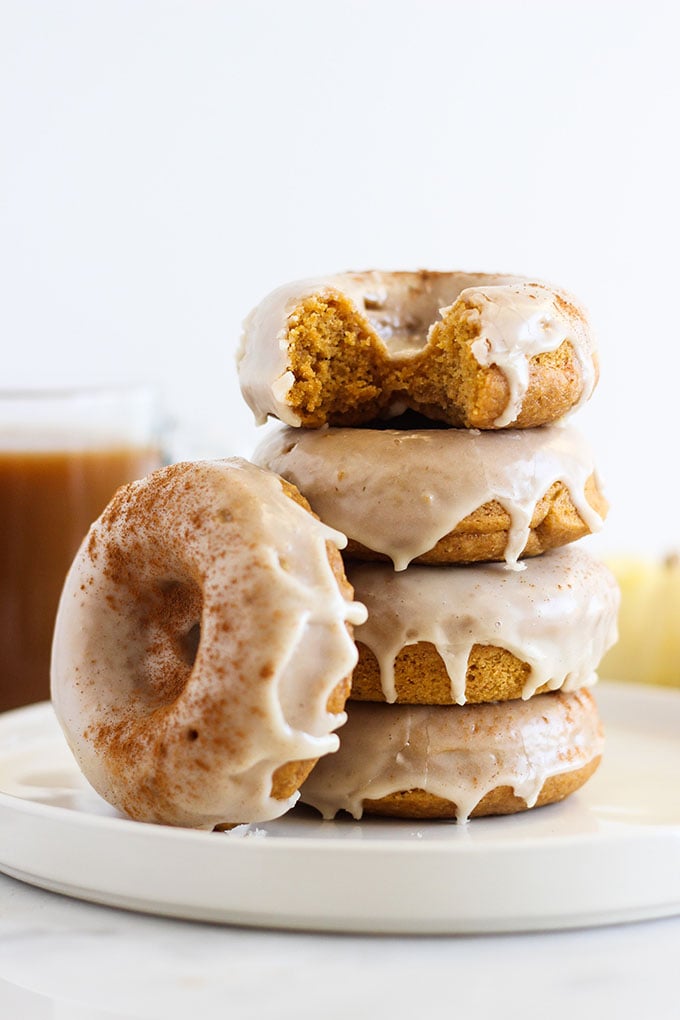 Vegan Baked Pumpkin Donuts
Is there anything better than sitting down with a cup of coffee and a homemade treat? These vegan baked pumpkin donuts with maple frosting or cinnamon sugar are just the thing for treating yourself on a lazy weekend morning.
Get The Recipe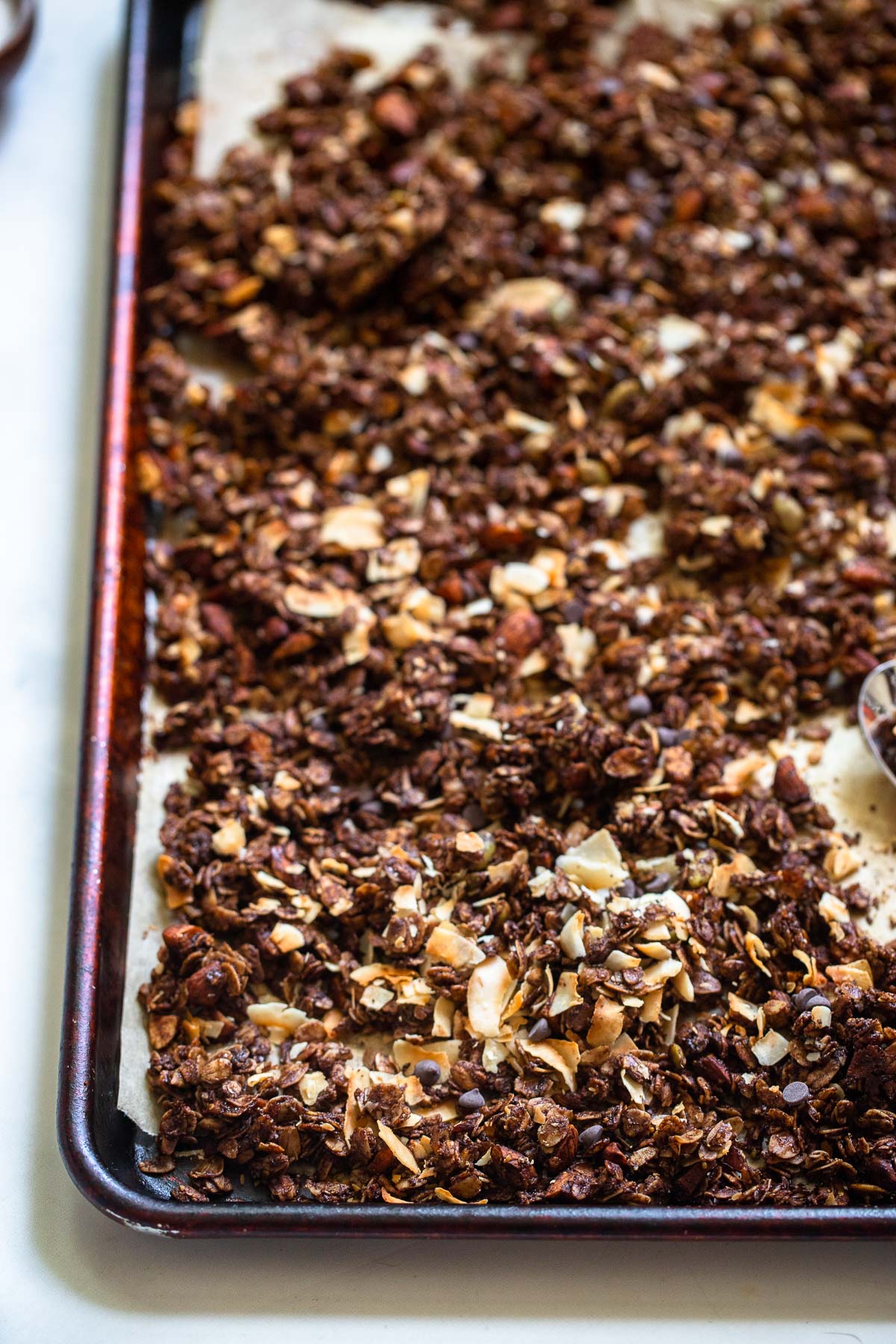 Homemade Chocolate Granola Cereal
Who says you can't have chocolate for breakfast? This healthy homemade chocolate granola cereal served with a bit of soy milk or on top of yogurt is a great way to start your morning. 
Get The Recipe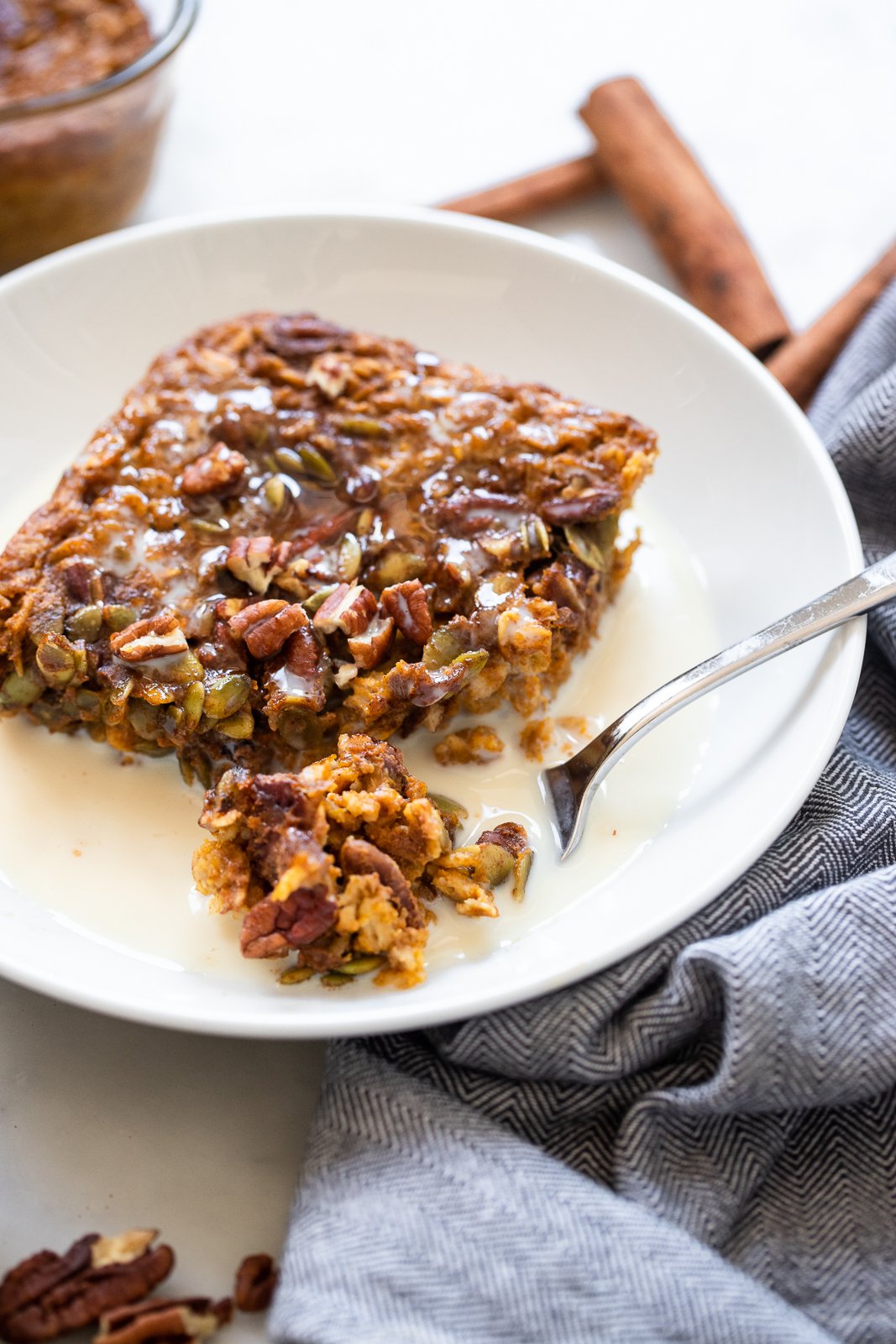 Vegan Pumpkin Baked Oatmeal
Vegan pumpkin baked oatmeal is a simple, make-ahead breakfast that is delicious when paired with a cup of coffee on a crisp fall day. All you need to create this recipe at home is a few simple pantry ingredients like oats, canned pumpkin, pumpkin pie spice, and pecans.
Get The Recipe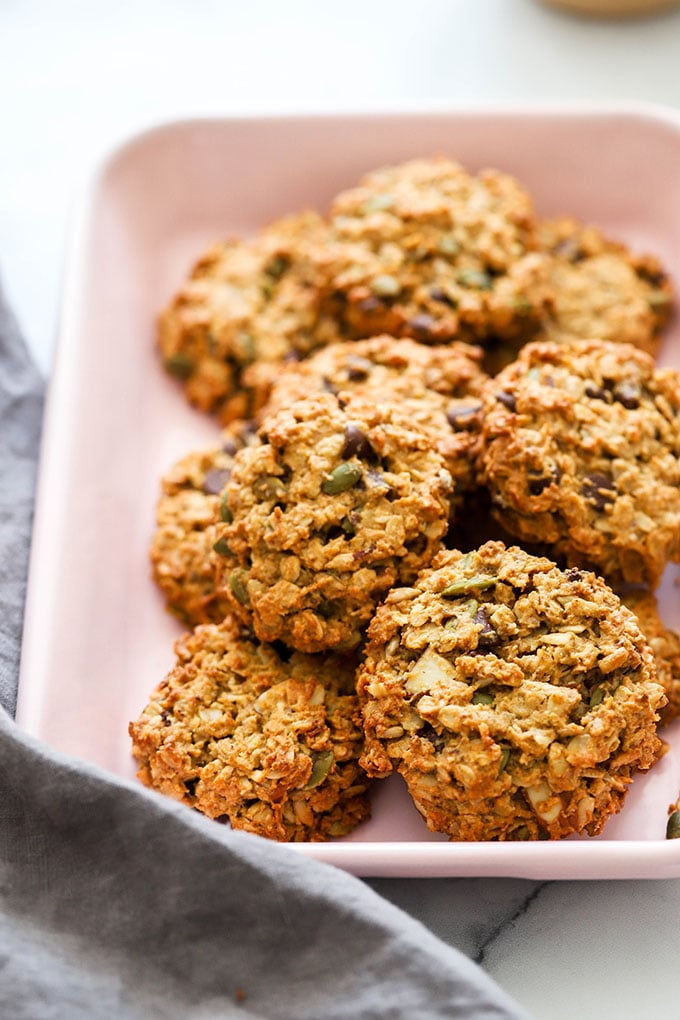 Vegan Breakfast Cookies
Who says you can't eat cookies for breakfast?! These vegan breakfast cookies are loaded with wholesome ingredients like oats, almonds, pumpkin seeds, and coconut and naturally sweetened with maple syrup. Pair one of these with your morning smoothie or coffee for tasty pantry-friendly breakfast treat. 
Get The Recipe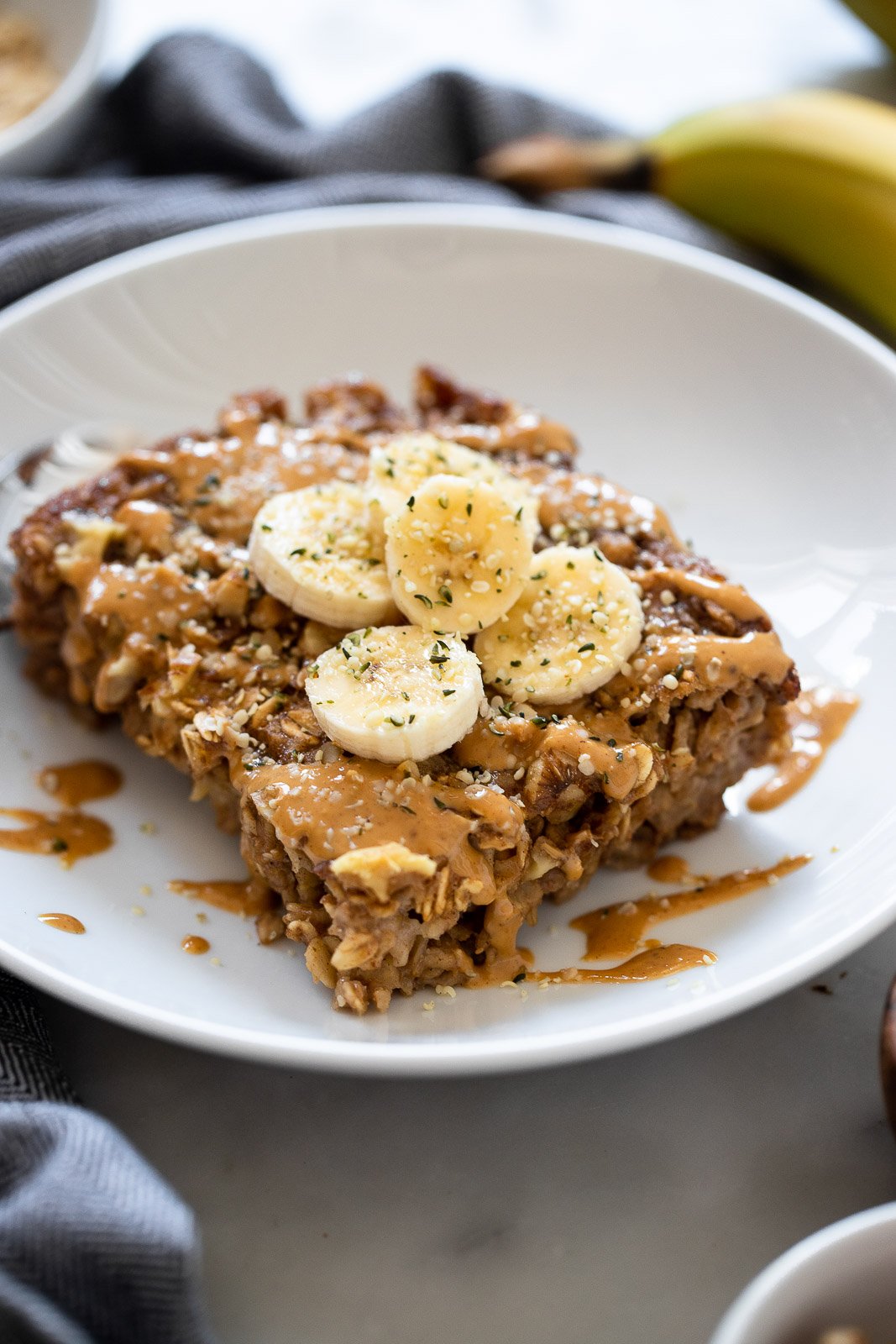 Vegan Banana Bread Baked Oatmeal
Have some extra brown bananas that need to be used up? Why not whip up a batch of this vegan banana bread baked oatmeal instead of another loaf of banana bread? It makes for a great make-ahead breakfast option!
Get The Recipe
Savory Recipes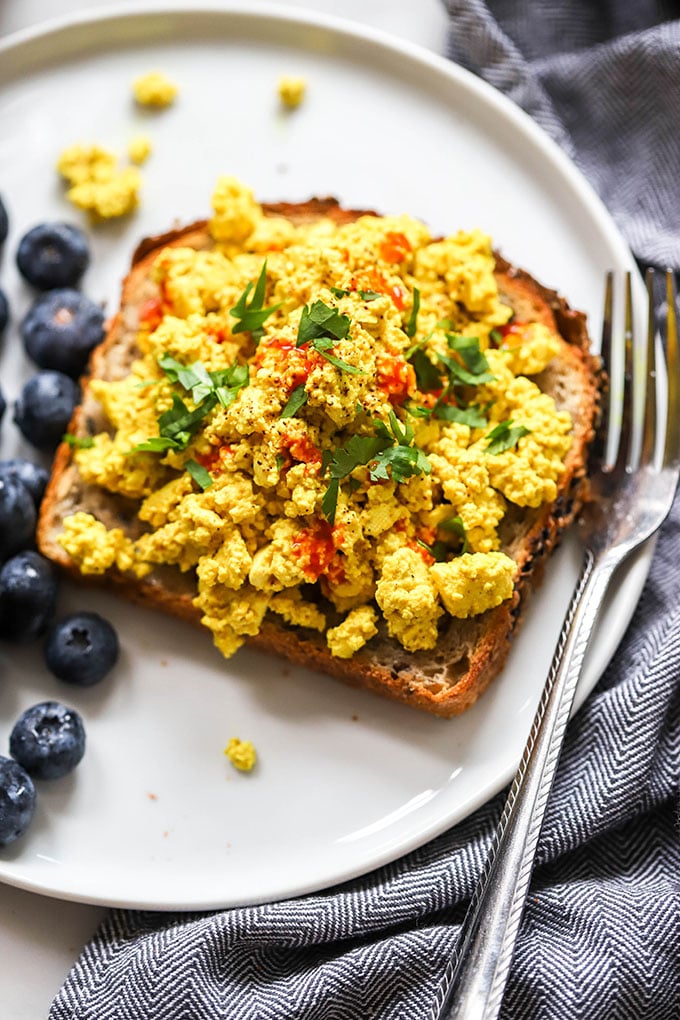 Easy Vegan Tofu Scramble
This easy vegan tofu scramble can be whipped up in a matter of minutes from a few ingredients so you can make it whenever the craving hits. 
Get The Recipe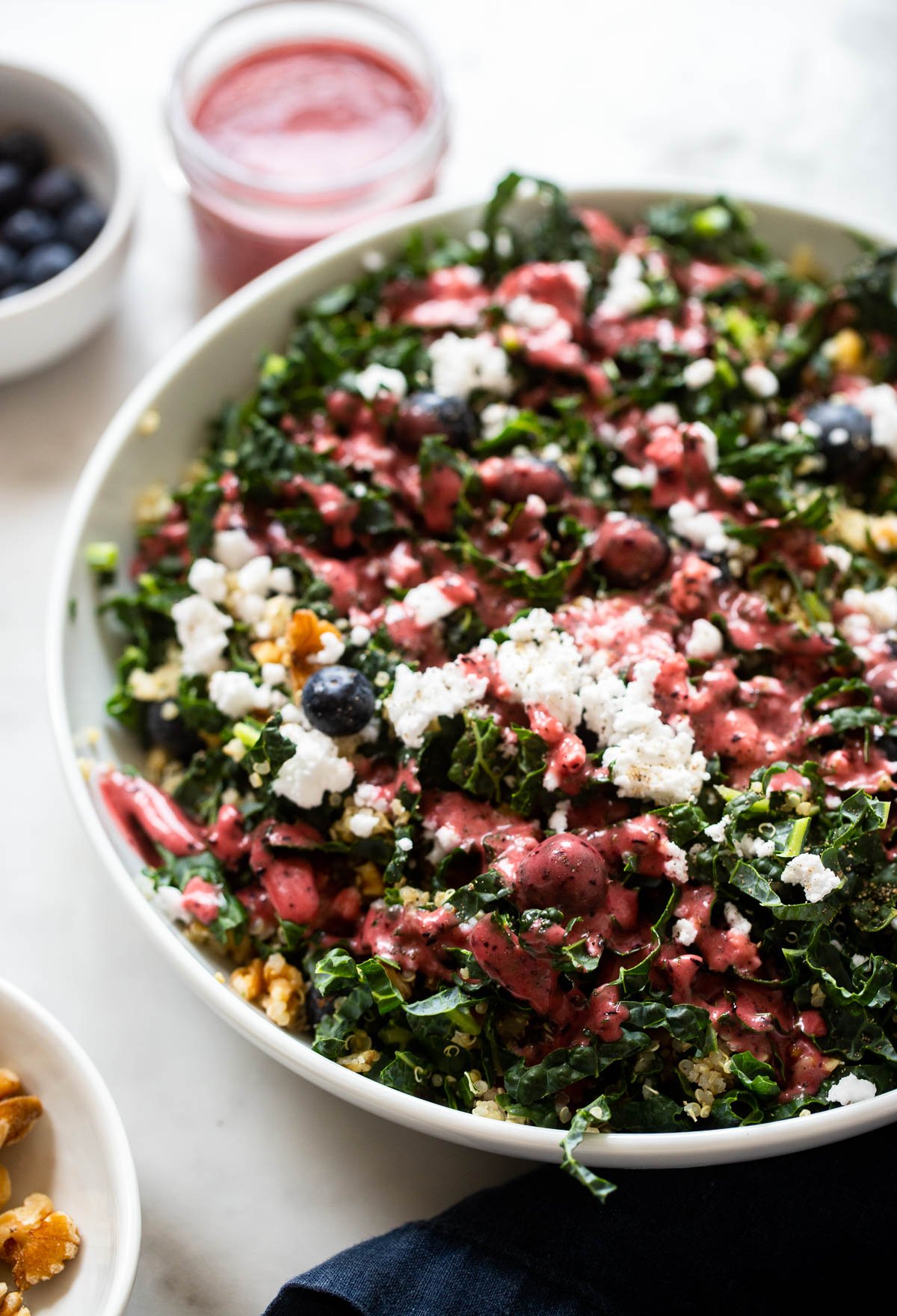 Blueberry Summer Kale Salad
Blueberries, kale, and walnuts pair perfectly in this delicious vegan blueberry summer kale salad that is packed with antioxidants. Topped with a simple blueberry vinaigrette that you'll want to add to every salad this summer.
Get The Recipe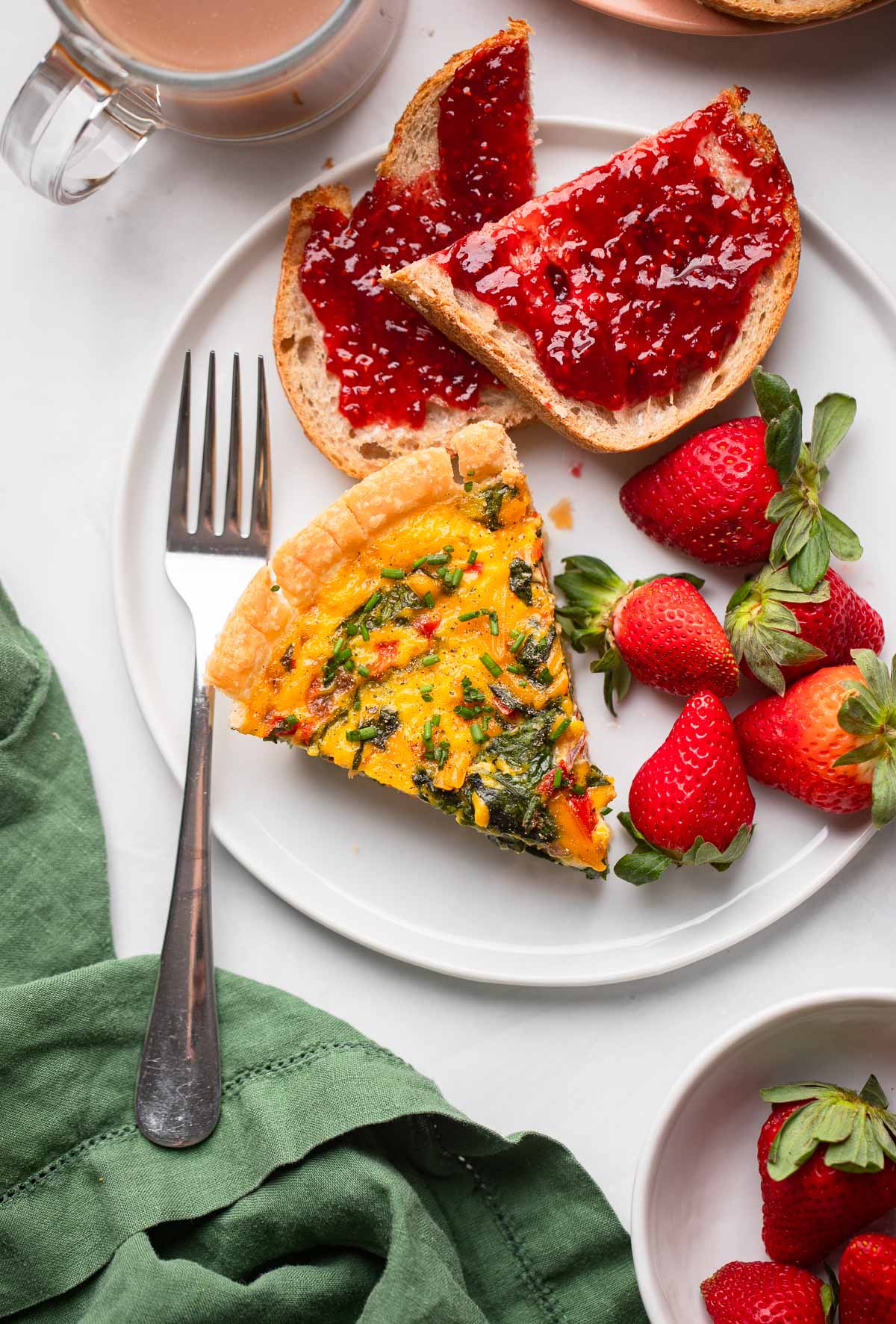 Vegan Spinach Quiche (with Just Egg)
Looking for a delicious, savory breakfast option for brunch? This vegan spinach quiche with JUST Egg is my new favorite way to start the day with my cup of coffee! This easy recipe is packed with plant-based protein, fiber, and flavor.
Get The Recipe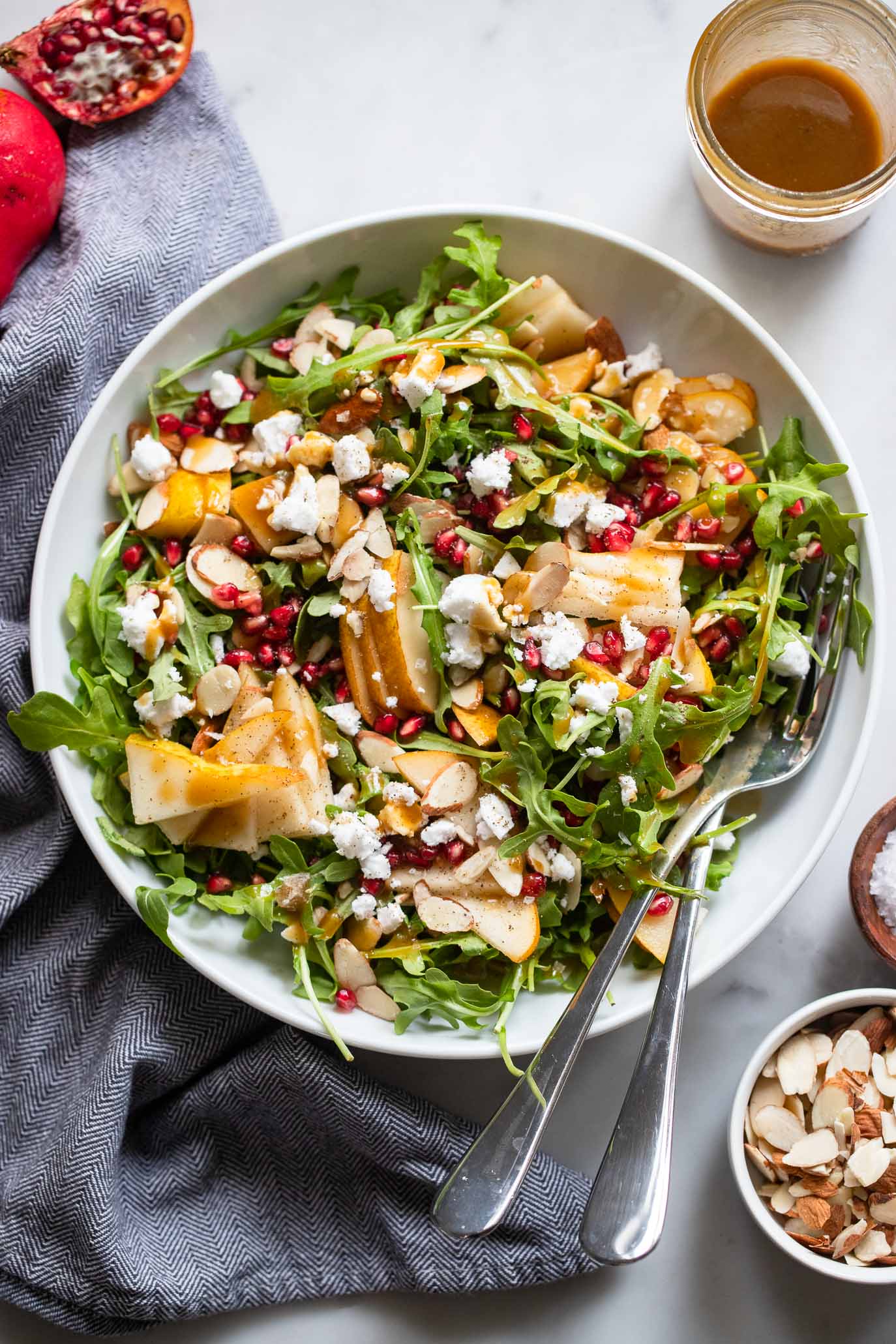 Pear Arugula Salad with Balsamic Dressing
This delicious pear arugula salad is one of my favorite recipes for the winter season when fruit like pomegranate is at its best. It is super simple to whip up and a delicious side for any cozy winter meal.
Get The Recipe

Vegan Breakfast Burrito
This hand-held vegan breakfast burrito with tofu scramble will fill you up with sustaining protein and fiber. Dress it up with lots of salsa, avocado, and/or hot sauce.
Get The Recipe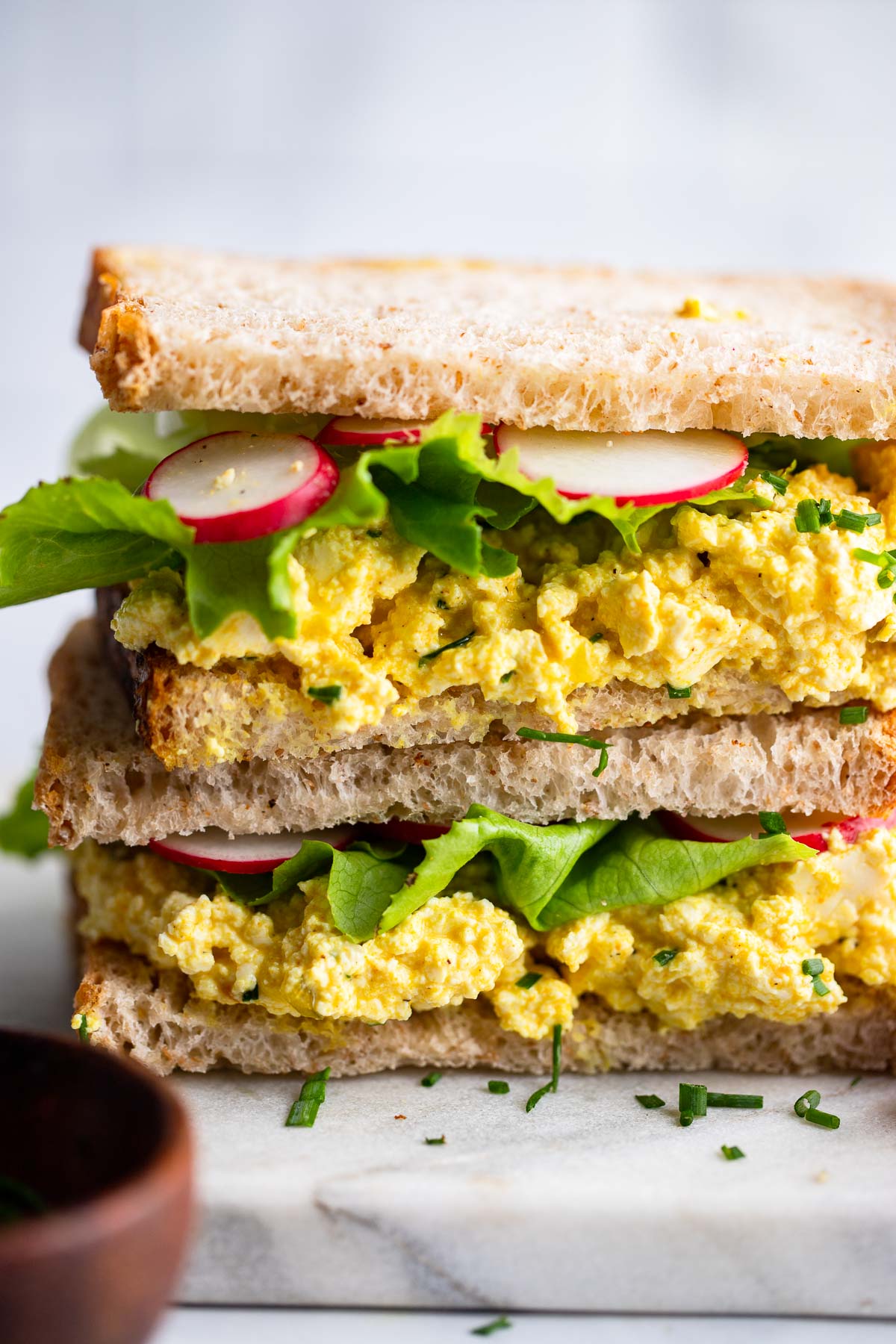 Simple Tofu "Egg" Salad
Switch out your typical sandwich filling for this delicious and simply tofu "egg" salad made with tofu, mayonnaise, mustard, and relish.
Get The Recipe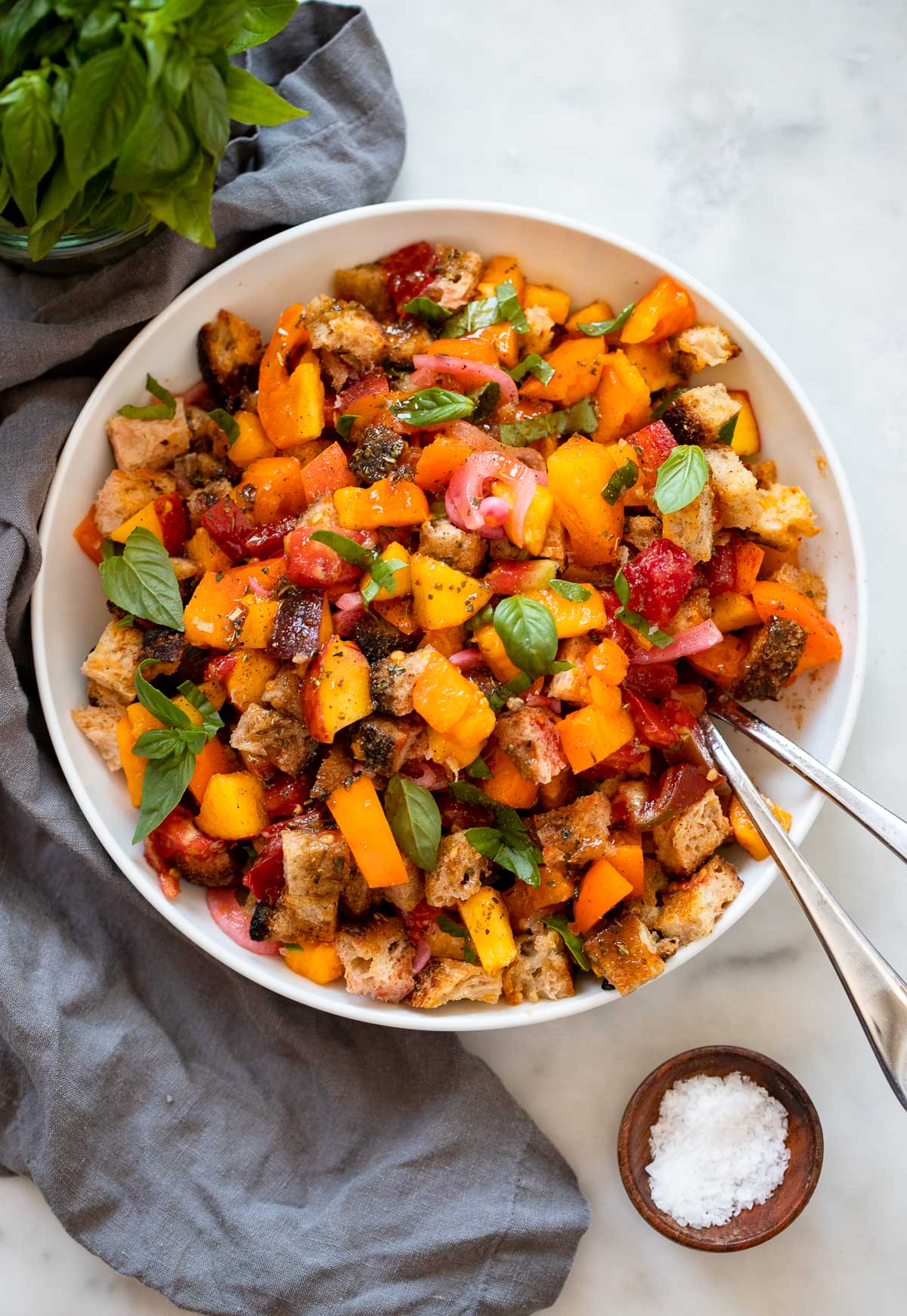 Peach and Tomato Panzanella Salad
This simple peach and tomato panzanella salad is the best way to enjoy the best of summer produce before it's gone!
Get The Recipe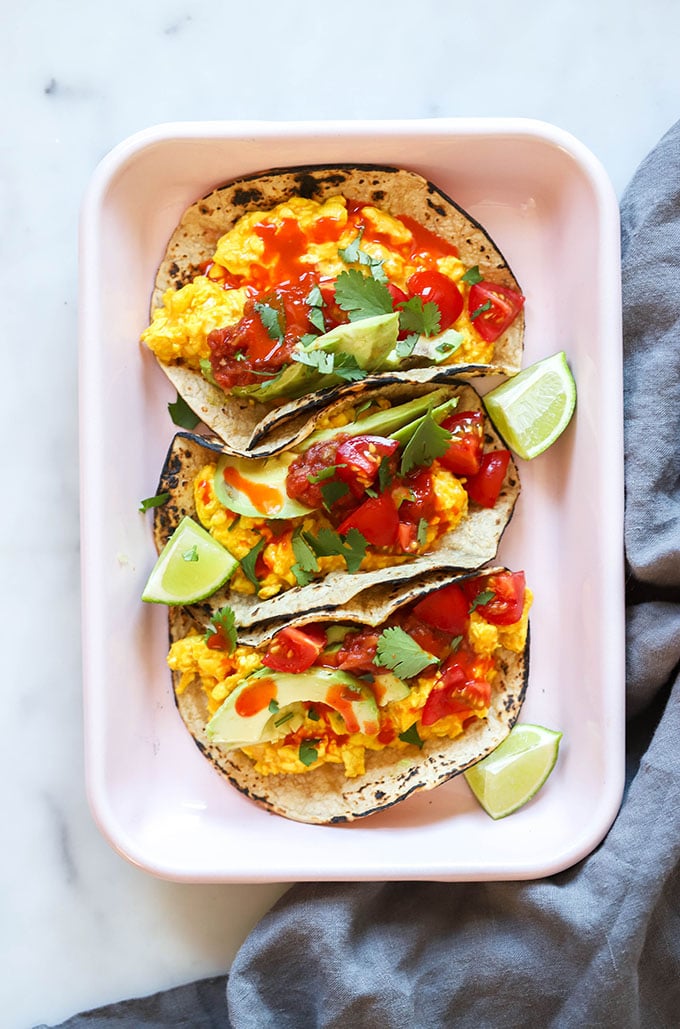 Easy Vegan Breakfast Tacos
These easy vegan breakfast tacos take just a few minutes to make from soft tofu which creates a soft, fluffy tofu scramble you can't resist. 
Get The Recipe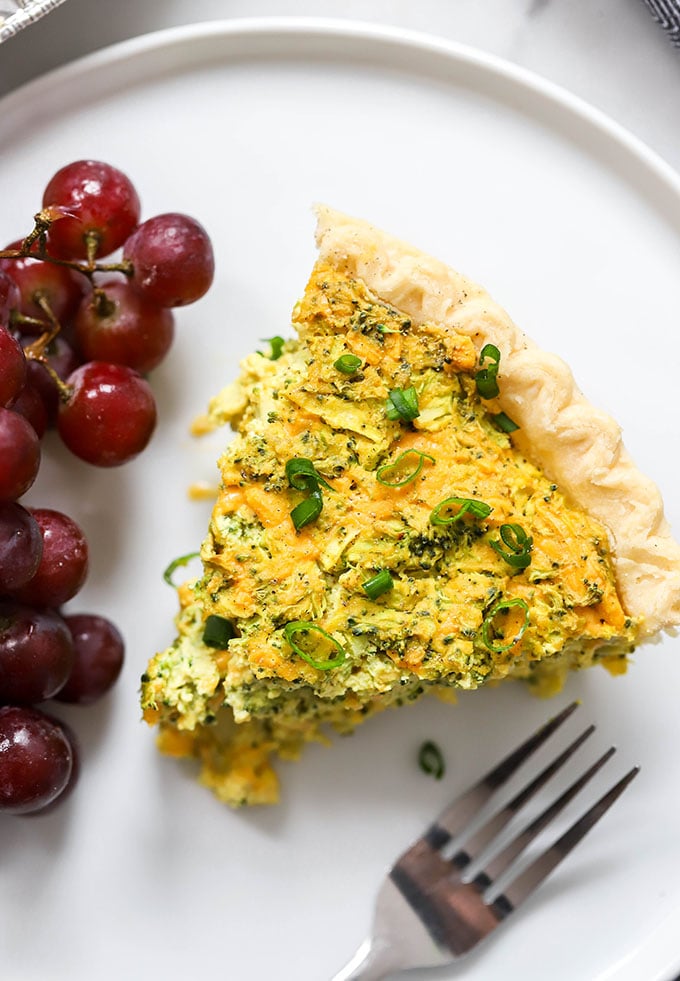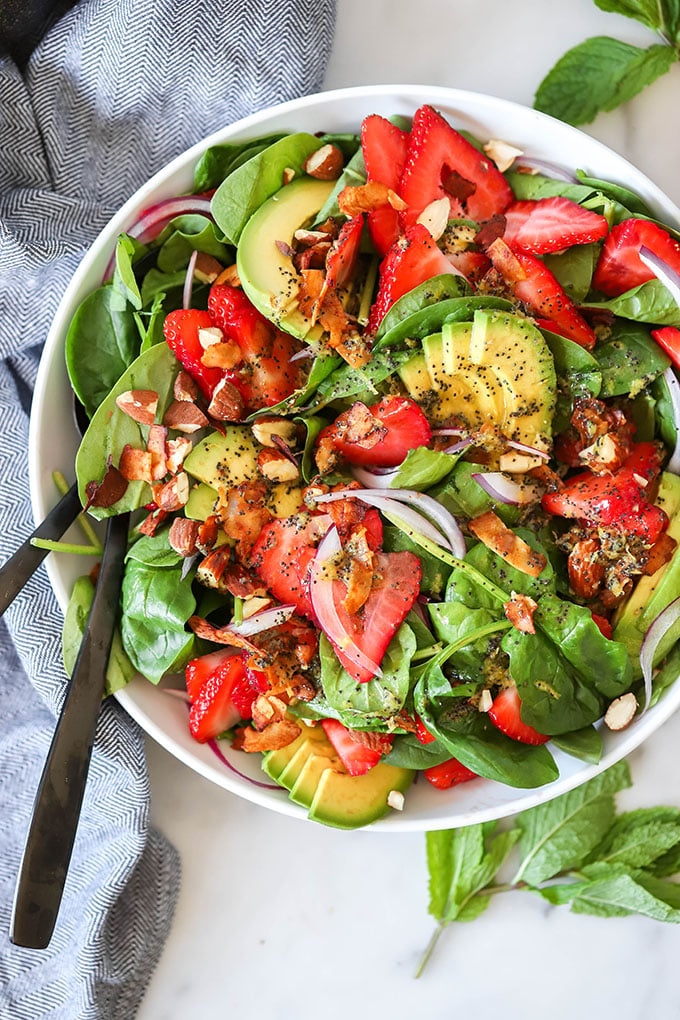 Strawberry Spinach Salad with Lemon Poppyseed Dressing
Savor the flavors of summer with this vegan strawberry spinach salad with lemon poppyseed dressing and coconut bacon. You'll want to make it on repeat all summer!
Get The Recipe
Drink Recipes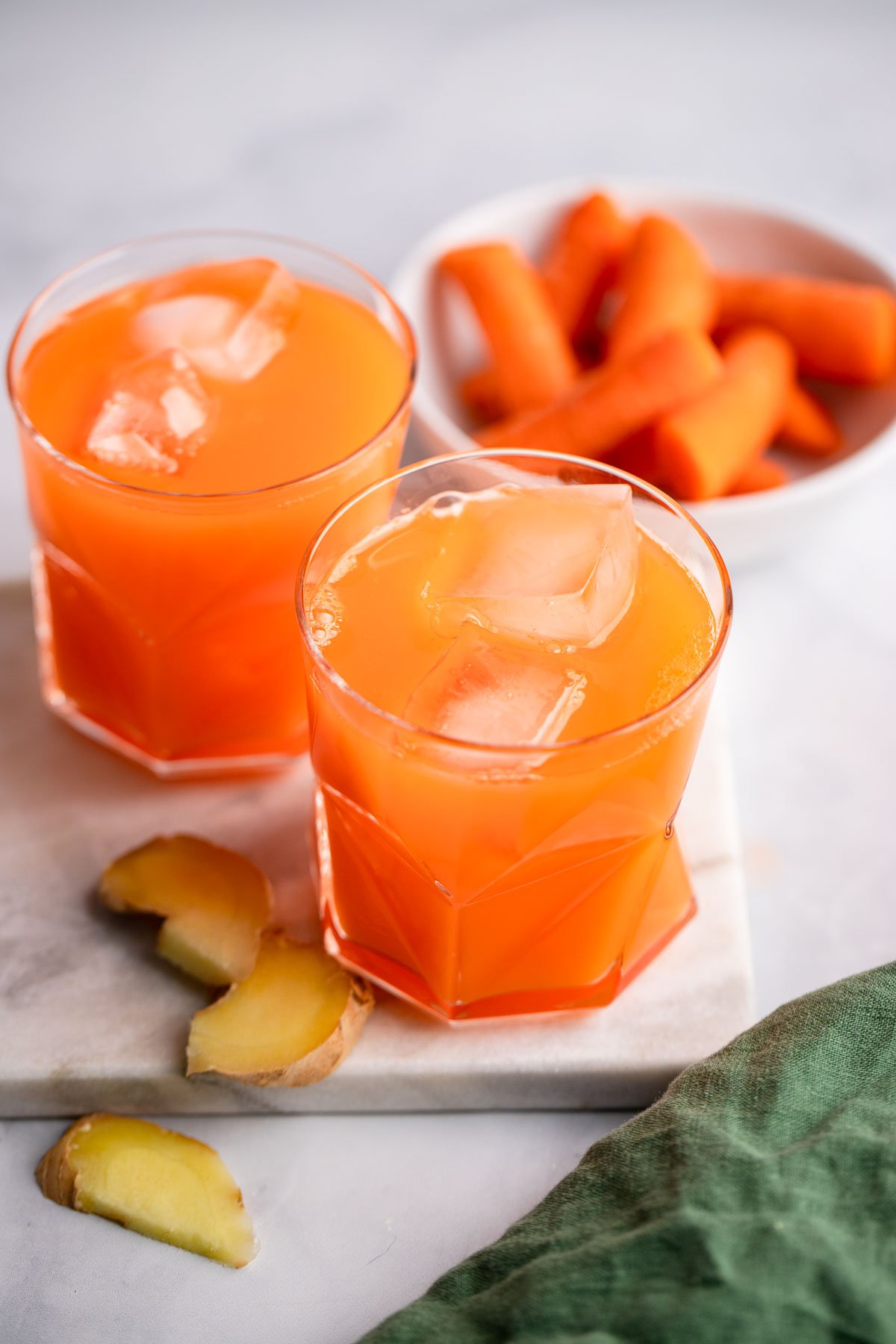 Carrot Ginger Juice (Blender)
Add this delicious and simple carrot ginger juice made in the blender to your morning for a bit of sunshine in a glass! Pair with your favorite breakfast entree like oats or eggs for a healthy balanced breakfast.
Get The Recipe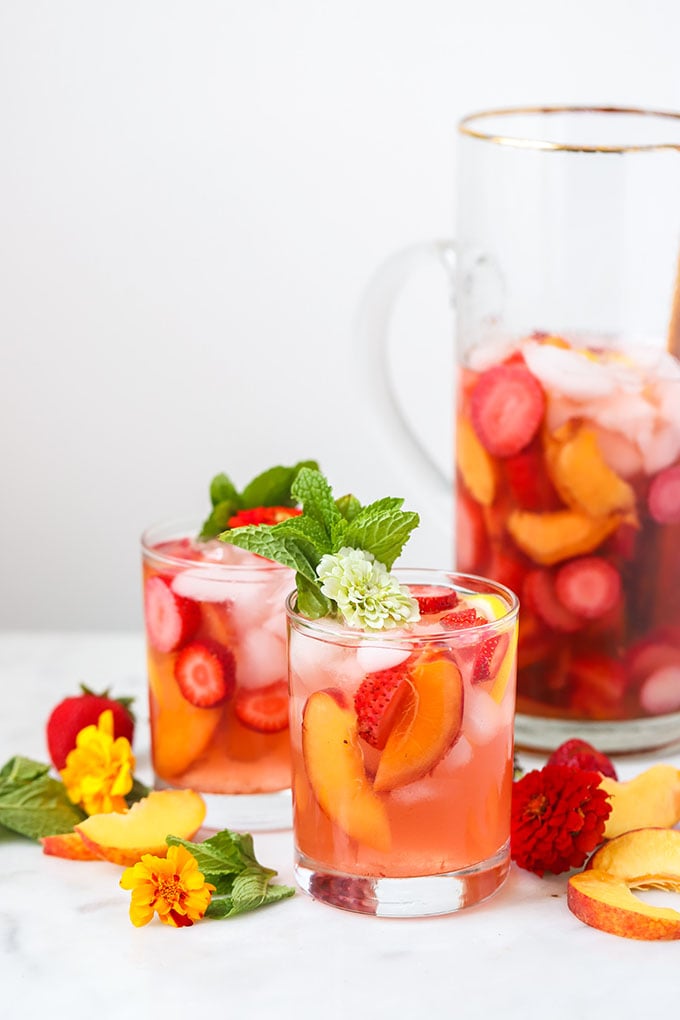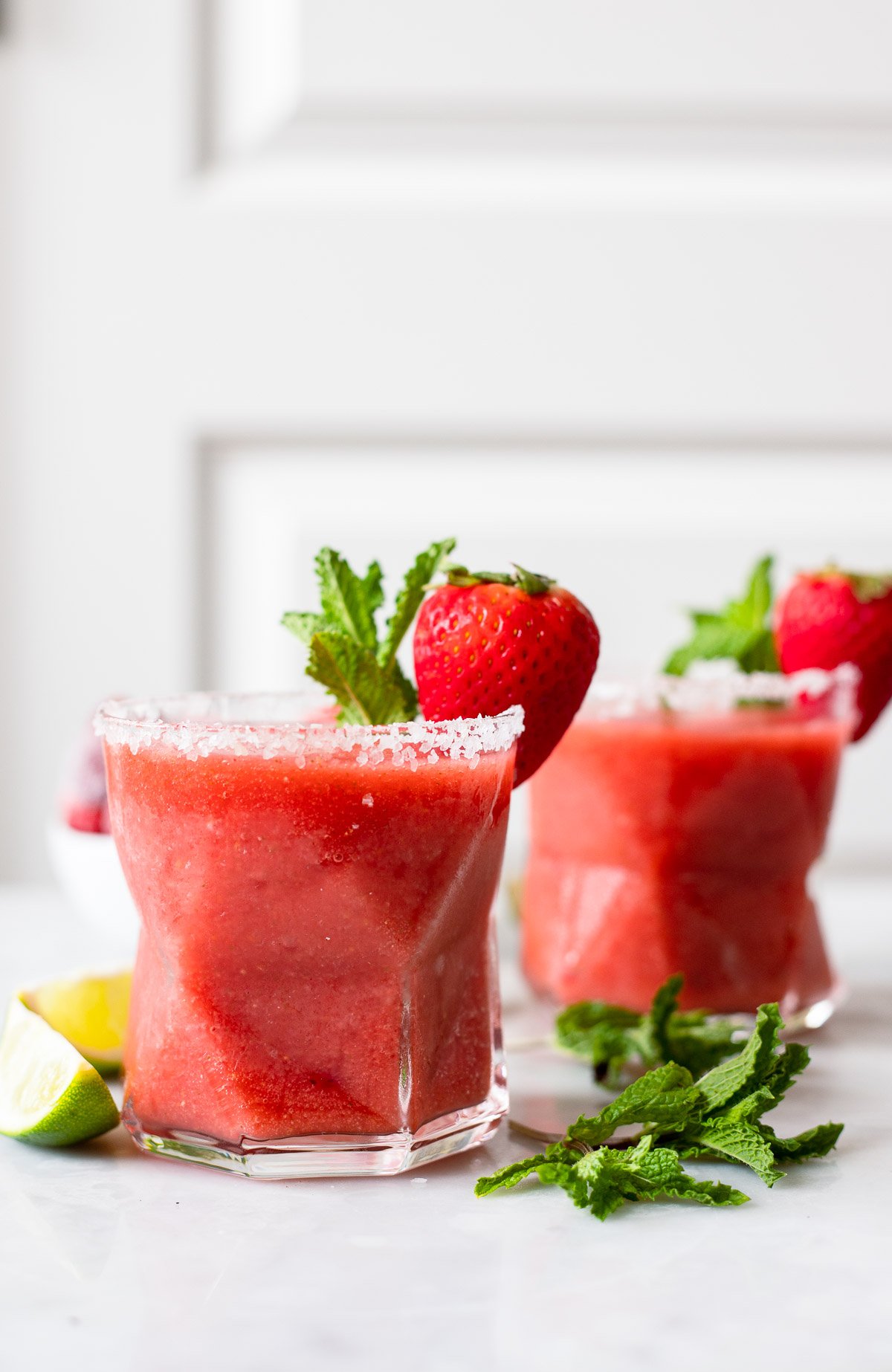 Strawberry Mint Margarita
These delightfully refreshing strawberry mint margaritas are a fruity treat for hot summer days. The fresh mint adds a bright pop of flavor that pairs so well with the strawberry.
Get The Recipe

Blender Beet Juice
Want to add beets to your diet but don't know where to start? Try this delicious beet juice recipe made in the blender – no juicer required! Beets are packed with antioxidants and other good-for-you nutrients.
Get The Recipe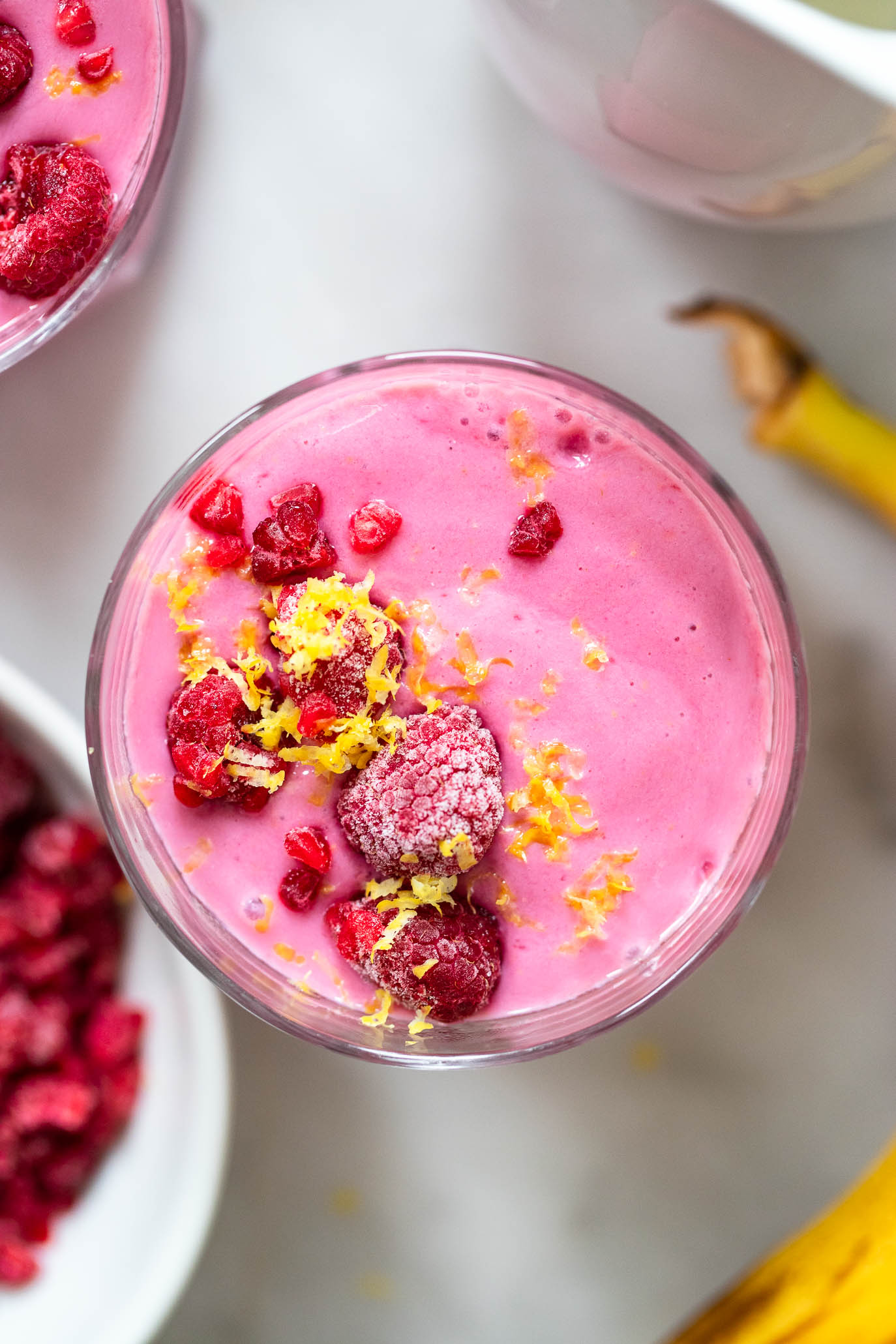 Lemon Raspberry Smoothie
This pretty pink lemon raspberry smoothie is sure to wake up your taste buds! Fresh lemon juice and zest add a punch of flavor that pairs well with the raspberry. Frozen cauliflower rice sneaks in some extra fiber and makes this smoothie so creamy.
Get The Recipe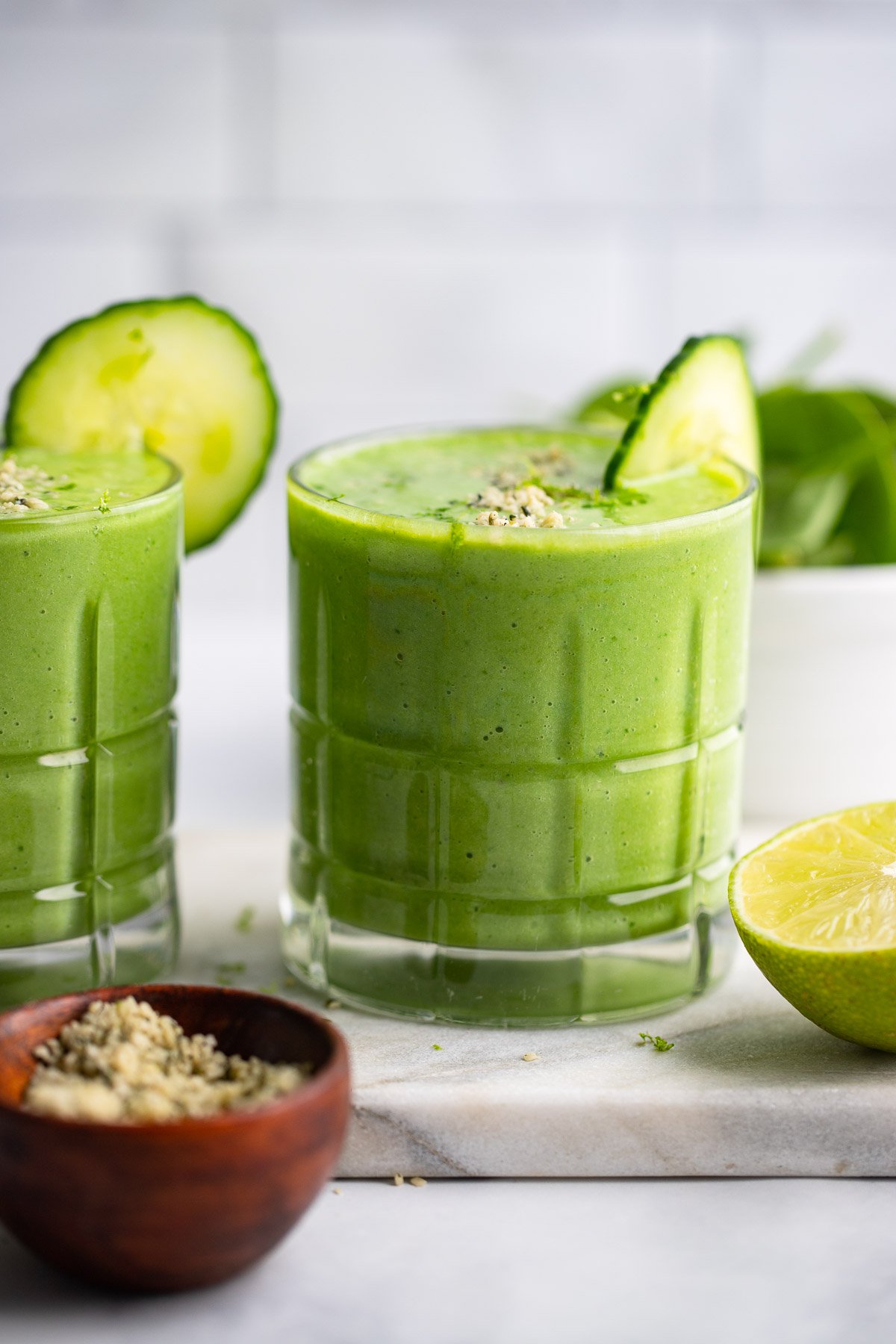 Pineapple Cucumber Smoothie
Adding veggies to your morning smoothie can be a great way to make sure you have at least 5 servings of fruits & vegetables that day. This pineapple cucumber smoothie is a delicious option for a healthy breakfast or snack.
Get The Recipe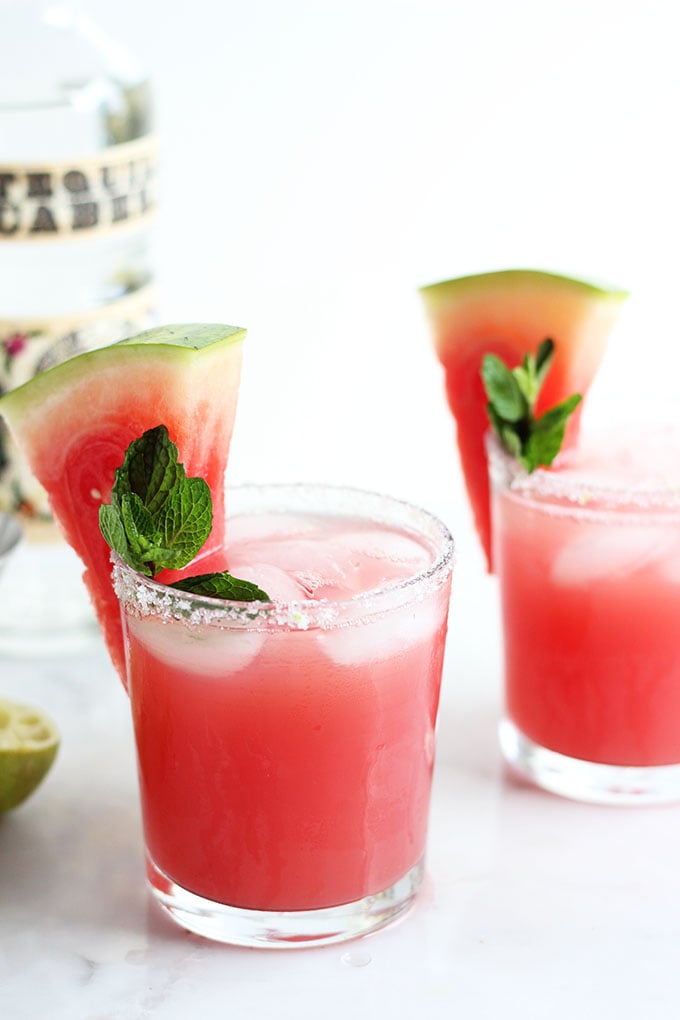 Cucumber Watermelon Margarita
These cucumber watermelon margaritas are light, refreshing and perfect for summer. Take advantage of fresh watermelon before they are gone!
Get The Recipe