Introducing the Rainbow Plant Life 31 Day Vegan Challenge!
As the new year approaches, interest in plant-based cooking is on the rise skyscraper. Soooo many people are looking for healthy and delicious vegan meal ideas to start the year off on the right foot.
To celebrate and help you on your journey, we've created 31 Days of Vegan Challenge.
What is the 31 Day Vegan Challenge?
Every day in January, we'll share a vegan recipe with those who sign up for the challenge. Every recipe is a fan favorite (4.9 star rating or better!) and 100% vegetarian.
To make things more fun, We are giving some away amazing reward.
In a nutshell, here's how it works:
You sign up for the challenge.
Create any recipe you like on our email list.
You enter to win prizes.
We are giving away prizes on a weekly basis and we have an incredible grand prize that we will be giving away at the end of the month. The more recipes you make, the more chances you have to win.
I tell you, This is not just any award. I'm talking about kitchen tools that you actually want to use every day – a Vitamix, high quality dutch oven, my favorite spices and more.
Grand Prize – A $1000+ Value!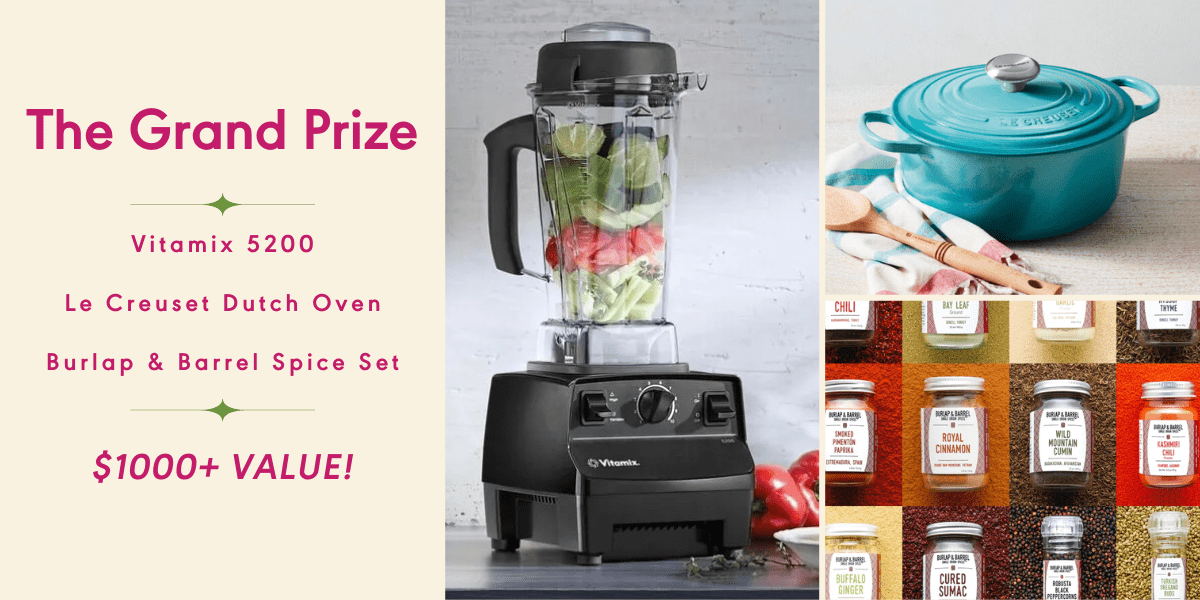 The Grand Prize Package consists of three parts:
How to Enter to Win Grand Prizes
Sign up for the email series (see form above).
Make any of the recipes featured in the January email series, snap a photo, and email it to me at contest@rainbowplantlife.com anytime during January (must be before January 31st, 2023 at 11:59 PT).
Each recipe you make counts as one entry (eg, if you make 5 different recipes and send photos of each, that will count as 5 entries).
Weekly Rewards
In addition to the grand prize, we're giving away prizes every week exclusively on Instagram!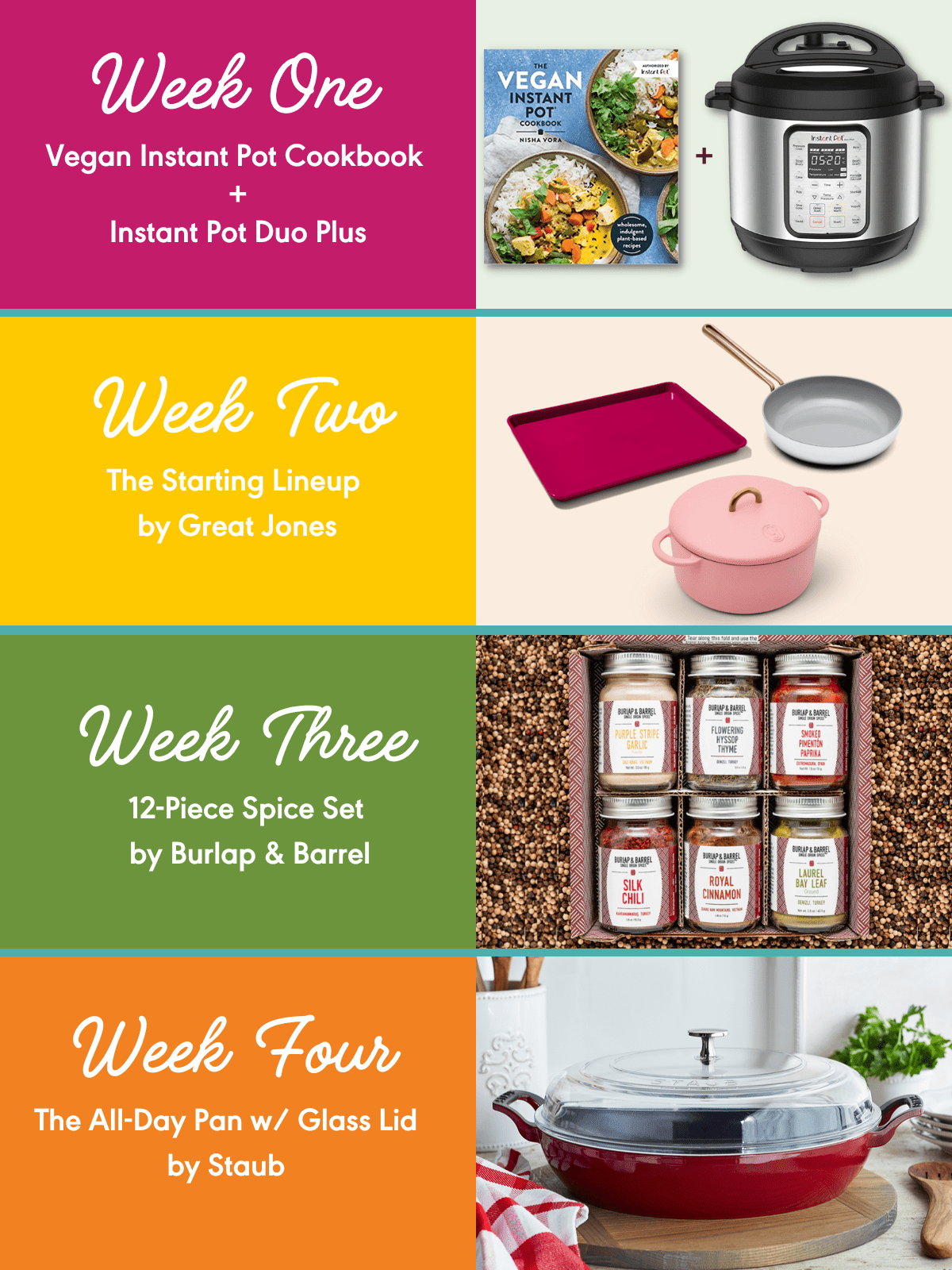 Here are the prizes on offer:
Instant Pot Duo Plus + The Vegan Instant Pot Cookbook (signed by me, the author!)
Great Jones Starting Lineup (Sheet Pan, Mini Dutch Oven, and Saute Pan)
Burlap and Barrel 12-Piece Spice Set
Stub the pan throughout the day with a glass lid
How to enter to win weekly prizes
Follow me on Instagram @rainbowplantlife
Make one of the recipes featured in this email series
Share a photo of your recipe on your IG feed (must be public) and add the hashtag #RPLVeganChallenge.
We will be doing four drawings in January. The more entries you make, the more likely you are to be selected. And you can use the same photo for the weekly prize and the grand prize, so be sure to enter for both!
Frequently Asked Questions
Who can participate in the challenge?
We welcome everyone to sign up for the email list and start receiving amazing vegan recipes in their inbox.
However, due to excessive shipping costs, we can only ship these prizes to addresses in the 48 contiguous United States. Sincere apologies to our Alaskan, Hawaiian and international friends!
What kind of recipe are we talking about?
Each recipe is a Rainbow Plant Life fan favorite (4.9 rating or higher) and 100% vegetarian.
Whether you're a longtime vegetarian or just curious about plant-based eating, you're sure to find inspiration. You'll find everything from hearty soups and stews to light and refreshing lettuce wraps, as well as delicious snacks and breakfast ideas.
Should I eat vegan for the whole month or be vegan?
No! You have to be willing to try some vegan recipes.
But even if you're already a vegetarian, you'll find plenty of exciting and fun recipes in this challenge.
Can I adapt the recipe(s) to meet my nutritional/dietary needs?
Of course, as long as you keep the spirit of the recipe and keep things vegetarian 🙂
How do I know you received my photo(s) via email?
Email any time you like contest@rainbowplantlife.comYou should receive an automated email reply that says "Thank you for submitting your photo entry!" Say something to its effect.
Be sure to check your Spam, Promotion, and Junk folders and double check that you sent it to the correct email address.
Remind me how I can sign up for this challenge?
Enter your information in the form below to receive 31 Days of Vegan Recipes and be entered to win some amazing kitchen prizes.