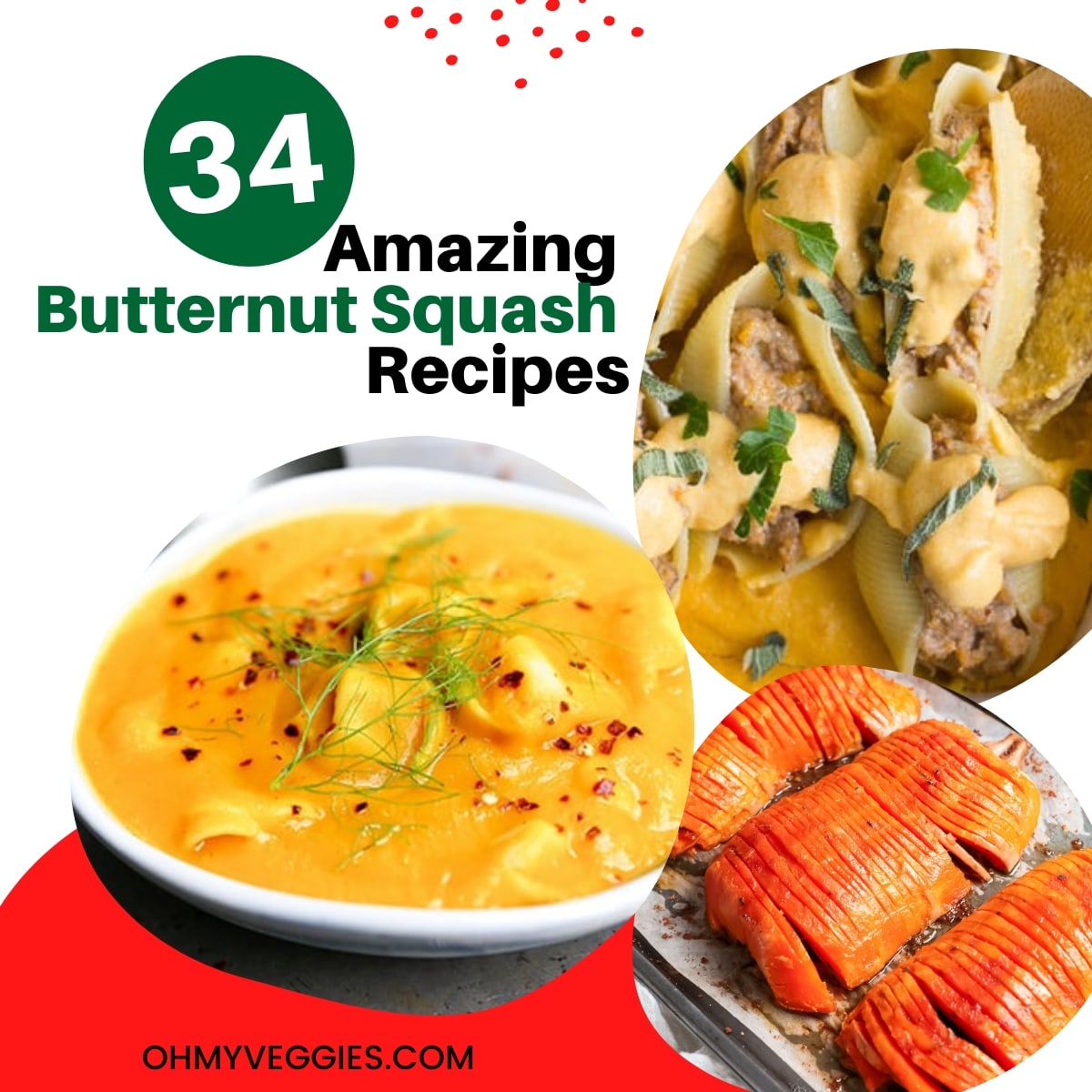 34 Amazing Butternut Squash Recipes
Our Hasselback Butternut Squash recipe makes a divine entree or sweet and savory side dish. The dish itself looks absolutely exquisite, with the squash bursting with bright orange hues throughout the smorgasbord of spices. Hasselback Butternut Squash is a warm, comforting, buttery dish that will have everyone at your table wanting seconds.
Get the recipe
Vegan Butternut Squash Risotto is a delicious comfort food. It makes for an impressive date night dinner or a comforting, cozy, chill day type meal. Our vegetarian butternut squash risotto has a thick, creamy texture and is filled with healthy vegetables. In addition, our delicious risotto is ready in just forty minutes!
Get the recipe
If you're looking for a delicious, wholesome, healthy dish to add to your weekly dinner menu, look no further. Our Butternut Squash Mac and Cheese with Tofu is super flavorful and has a satisfying texture. We bet everyone will go back for seconds!
Get the recipe
Love pasta but not a fan of the heavy yucky feeling that often follows? Well, you can do whatever you want with our Vegan Butternut Squash Pasta recipe! It is healthy, easy to make and budget-friendly.
Get the recipe
Spicy Butternut Squash Soup makes a comforting hug-in-a-bowl kind of meal. It is ready in just forty five minutes and has a great hint of spice. Finally, this soup is gluten-free! It's a bowl of healthy goodness that will warm your belly and fuel your body all at once.
Get the recipe
Our Butternut Squash and Caramelized Onion Flatbread is an easy, flavorful and healthy meal. It's a great dinner for a busy work week and is full of delicious veggies.
Get the recipe
Vegan Butternut Squash Pot Pie makes for a festive meal. However, although it looks fine, it is quite simple and stress-free. Our Butternut Squash Pot Pie is made with delicious healthy ingredients like garlic, red onion and carrots. It's a healthy, gluten-free, delicious dish that everyone at your table will love.
Get the recipe
Get ready for a meal at its best with our Vegan Eggplant Butternut Squash Curry. This dish is rich, creamy and gluten-free, full of delicious and healthy ingredients. The flavors of eggplant, mushrooms, garlic, spinach and more danced in bite after bite.
Get the recipe
Our Baked Sriracha Butternut Squash Fries are sweet, spicy and addictive, so make sure you make some extra. They are a healthy take on a traditional favorite. Baked in the oven, perfectly seasoned and insanely delicious, our Butternut Squash Fries are going to be your new favorite.
Get the recipe
Butternut Squash Kale Salad is a wonderful blend of some of our favorite ingredients. Roasted butternut squash, kale, and lentils combine to make this hearty salad. It's healthy, packed with nutrient-dense ingredients and tastes great.
Get the recipe
If you're looking for a different, unique, and delicious sandwich, Ta-Da! You found it. Our Roasted Butternut Squash Panini is made with fresh mozzarella cheese, sage and roasted butternut squash, sandwiched between delicious crusty bread. It's quick to throw together and makes a filling lunch.
Get the recipe
Our recipe for Spinach Roasted Garlic and Butternut Squash Grilled Cheese Sandwiches is a fresh, protein-packed take on the iconic grilled cheese. In the middle of the bread is a delicious, creamy mixture of butternut squash, baby spinach, garlic and pepper jack. Our Spinach Roasted Garlic and Butternut Squash Grilled Cheese Sandwiches are vegetarian, easy to make, and look and taste amazing.
Get the recipe
On a cold, frosty day, there's nothing better than cuddling up with your favorite blanket and a bowl of our butternut squash soup with crispy Brussels sprouts. Our soups are rich, creamy, velvety, and satisfying. Enjoy the flavors of apples, butternut squash, carrots, garlic, and onions in this flavorful soup! Even better, this soup is ready to enjoy in just an hour! So we bet you'll be repeating this recipe.
Get the recipe
These butternut squash stuffed shells are a divine and vibrant blend of cashew ricotta, roasted butternut squash and crunchy walnuts. They are 100% vegetarian friendly and make an exquisite dish. Our Butternut Squash Stuffed Shells make for a filling and healthy meal.
Get the recipe
Butternut Squash Rolls make a great appetizer or side dish as well as a great main entree. They are made with brown sushi rice, butternut squash, garlic, green onions and a few other simple yet delicious ingredients. Butternut Squash Rolls are packed with flavor.
Get the recipe
Soup is always a perfect meal, no matter the situation. It's warm, cozy and feels like love in a bowl. This particular soup is satisfying, delicious and filling. It takes only ten minutes to prepare and is ready to enjoy in just one hour. Our Roasted Butternut Squash and Fennel Soup with Cheese Tortellini will be your new favorite soup recipe.
Get the recipe
Persian Rice Stuffed Butternut Squash is a festive, filling dish. Imagine butternut squash stuffed with ingredients like dried cherries, pistachios and rice. It tastes great and is protein-packed. This Persian Rice-Stuffed Butternut Squash is comfort food at its best!
Get the recipe
Our Baked Butternut Squash and Champagne Risotto is creamy, thick and festive. It has a lovely velvety texture and takes just fifteen minutes to prepare. Our comfort food is made with butternut squash, mushrooms, spinach and a few other simple ingredients. It is not only easy to prepare but also packed with nutrients and vitamins.
Get the recipe
Our Butternut Squash Casserole with Parmesan-Panko Topping is a satisfying and comforting meal. It's made with delicious roasted butternut squash, fresh sage, a pinch of nutmeg, Parmesan cheese and a handful of other simple ingredients. So, imagine the fragrance! Not only does this casserole smell fantastic, it tastes just as good. Better yet, it only takes ten minutes to throw together. Then, toss it in the oven to bake and enjoy the aroma that fills the room.
Get the recipe
This butternut squash recipe is comforting, satisfying, festive, and versatile. You can pair it with anything, serve it as an appetizer, or display it in a spread. It looks beautiful and tastes even better. (We didn't think it was possible, but it is!) Our butternut squash and parsnip tart starts with a buttery tart for the crust. Then, a top, you get a creamy ricotta spread all over and roasted butternut squash and parsnips on top. This is a light, tasty and festive option.
Get the recipe
These Butternut Squash and Spinach Polenta Bowls are a flavorful dish. The dish combines the delicious flavor of roasted butternut squash with the satisfying texture of creamy polenta. Not only is it mouth-watering, it's also super healthy! This butternut squash and spinach polenta bowl has about 29 grams of protein and is a nutritious meal under 500 calories.
Get the recipe
Is there anything better than a good mac and cheese? It's a comforting, delicious meal that takes very little effort. Our Butternut Squash Mac and Cheese recipe puts a healthy flair on the iconic dish and creates a hearty, satisfying and nutritious mac and cheese that we bet you'll love.
PS This butternut squash mac and cheese is packed to the rim with protein so you can indulge in guilt-free comfort food.
Get the recipe
Our Vegetarian Pasta Carbonara with Roasted Butternut Squash is a delicious meatless Italian dish. It takes almost no time to prepare and is packed with nutrients as it is vegetable-based.
Get the recipe
Whole Wheat Penne with Butternut Squash and Roasted Red Pepper Sauce is a vibrant, flavorful dish. It is easy to make and your house will smell absolutely delicious. This pasta dish is healthy, hearty, thick, creamy and delicious.
Get the recipe
Butternut Squash Burritos with Black Beans and Kale make a delicious and nutritious meal. It has a smoky Mexican flair mixed with lots of veggies, all held together with ooey gooey melted cheese. These burritos are healthy, packed with protein (thanks to the addition of hearty black beans), and easy. And, for those not confident about rolling up a burrito, don't worry! We're sharing some secrets that will instantly level up your burrito skills!
Get the recipe
If you're anything like us, you use your slow cooker so often that it has a permanent place on the counter. And this particular slow cooker recipe tastes great and makes your home look amazing. With our Slow Cooker Butternut Squash Chili Porter Simmer, the flavors sink deep into the chili. It makes for a delicious, comforting and enjoyable meal.
Get the recipe
Our Penne with Butternut Squash and Kale is a bright, bold and colorful dish. This is a simple pasta dish and is sure to be delicious. The flavors of the pen dishes are varied. Enjoy roasted butternut squash, caramelized onions, kale and pecorino cheese in every bite.
Get the recipe
One pot meals are best. They're perfect for busy days, lazy days, and days when you just need a healthy, nutritious meal without all the hassle. Our One-Pot Quinoa Curry with Butternut Squash and Chickpeas will use up your freezer's worth of veggies. It is light, tasty and ready to enjoy in just forty minutes.
Get the recipe
This stew recipe only takes 15 minutes to toss together. It is boiled and ready to enjoy within an hour! Perfect for a busy day! Our Seitan Kale and Butternut Squash Stew combines the flavors of celery, butternut squash, kale and a few other simple ingredients to create a heavenly, comfortingly warm stew.
Get the recipe
This recipe features lasagna noodles topped with vegetables, tofu, and a delicious butternut squash sauce. It has a great meaty texture while being meatless the whole time. Cauliflower and Tofu Lasagna with Butternut Squash Sauce offers the same comforting, warm, delicious feeling while being packed with protein and nutrients. Our lasagna is packed with flavor and provides a satisfyingly delicious meal!
Get the recipe
Creamy, delicious, and perfectly spiced. The first three words that come to mind when you think of our delicious Thai Pumpkin Soup with Coconut Milk. It is easy to make and tastes great. It has a velvety texture and when topped with smooth coconut flakes and smoky red chili peppers, its' flavor is completely flat.
Get the recipe
I'm sure we can all agree that there is no greater comfort food than mac and cheese. It's creamy, gooey and basically feels like a hug for your insides. But it is heavy and high carb. So there's that. With this vegan mac and cheese, you can enjoy all the comfort and banish the guilt. This recipe is packed with hidden veggies and has the same creamy texture you already know and love.
Get the recipe
Get ready for the iconic taste of Indian spices with this recipe. With butternut squash as the main ingredient, you can basically guarantee hearty, healthy goodness. The flavors simmer and blend beautifully.
Get the recipe
Our Easy Cheesy Potatoes with Brussels Sprouts is a great, versatile dish. It makes for a nice, nutritious side dish or a light and tasty entree. The flavors of red chili peppers, fresh garlic and smoky cumin dance together with every bite. This golden-kissed dish is oil-free, gluten-free and packed with veggies!
Get the recipe
Reader interaction