This post may contain affiliate links. As an Amazon Associate, I earn from qualifying purchases. Please read my disclosure.

Let's continue our A-Z food list with this post highlighting food that starts with the letter Y. There are foods that start with Y in every category from fruits and veggies to meals, desserts, and beverages. Continue reading to learn about 44 foods that start with the letter Y!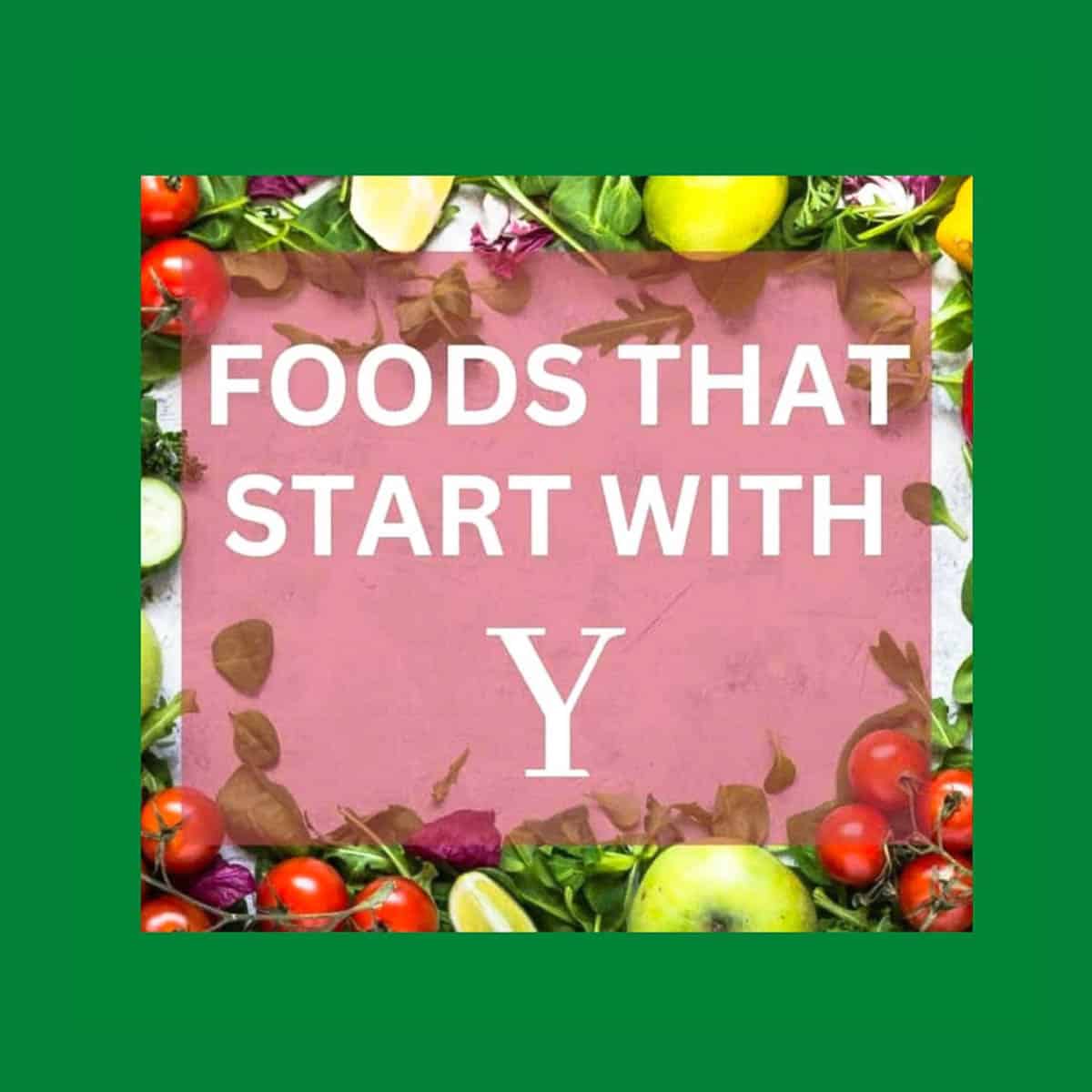 🍎 Fruits That Start With Y
We'll begin with fruit that starts with Y. There are 9 different fruits beginning with Y, some you'll recognize and others that are exotic that you may have never heard of. 
1. Yali Pear
WHAT ARE YALI PEARS?
Yali pears (or Ya Li Pear) are an Asian variety of pears. This food beginning with y is light green on the outside with a white inside. They are larger and a bit rounder in shape than a regular pear.
WHAT DO YALI PEARS TASTE LIKE?
These fruits that start with a y don't start ripening until after they are picked. Once they're ripe, they have a crisp, juicy, sweet flavor like an apple.
ARE YALI PEARS HEALTHY?
Yes! These Chinese white pears are very healthy. They are a great source of vitamin C and copper. They are also high in fiber, potassium, antioxidants, and vitamin K.
Recipe To Try!
You can use yali pears in most recipes that require pears! Here's one to try: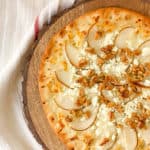 Pear Gorgonzola Pizza
With just five easy ingredients, this Pear Gorgonzola Pizza with Walnuts is guaranteed to be a crowd pleaser! Gooey fontina cheese, fresh pears, savory gorgonzola cheese, and crunchy walnuts all on top of whole-wheat pizza dough makes for a mind-blowing delicious meal! 
View this recipe
2. Yangmei
WHAT IS YANGMEI?
Yangmei is a fruit that starts with y, also called Chinese bayberry or Chinese strawberry. It's a subtropical fruit grown in a yangmei tree. 
WHAT DOES YANGMEI TASTE LIKE?
The yangmei fruit has a slight herbal taste with a flavor similar to a strawberry or raspberry. 
IS YANGMEI HEALTHY?
Yes! This fruit with the letter y that boasts many health benefits and contains many micronutrients, including a high amount of anthocyanins and flavonols which are reported to have anti-inflammatory, and anti-oxidative properties. It was historically used in Chinese cuisine to aid digestion as well.
Recipe To Try!
Try yangmei instead of strawberries in this healthy juice recipe!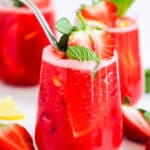 Strawberry Juice
Make the most of peak-season strawberries with sweet and refreshing strawberry juice recipe! With just two ingredients, this hydrating drink is jam-packed with antioxidants and feel-good nutrients. Vegan, gluten-free, and refined sugar-free!
View this recipe
3. Yellow Apple
WHAT ARE YELLOW APPLES?
Yellow apples are also known as golden delish apples. It's one of the 15 most popular apple cultivations in the United States, and is a common ingredient in many apple based recipes. Yellow apples are large, round and have a golden colored, yellow skin.
WHAT DO YELLOW APPLES TASTE LIKE?
Yellow apples are the sweetest of all varieties of apples. They are very soft in texture, and have a "melt in your mouth" quality to them.
ARE YELLOW APPLES HEALTHY?
Yes! Yellow apples are a good source of dietary fiber, potassium, iron, and zinc. This fruit beginning with y is also high in antioxidants like polyphenols and carotenoids. 
RECIPE TO TRY!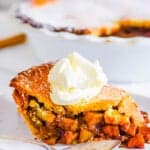 Keto Apple Pie (Low Carb, Gluten Free)
Craving the comfort of a warm slice of pie? This keto apple pie is every bit as delicious as a traditional apple pie, but without all the carbs and sugar! You won't believe what the secret ingredient is, which, when combined with the right spices and scrumptious almond flour crust, has the same taste and texture as an apple pie! Gluten-free and easy to make too!
View this recipe
4. Yellow Bell Pepper
WHAT ARE YELLOW BELL PEPPERS?
Yellow bell peppers are one of the common colors of mature bell peppers. The difference in color between green, red, orange, and yellow bell peppers is just maturity and ripeness. Green peppers are unripe, red is the ripest bell pepper, and yellow falls somewhere in the middle. 
WHAT DO YELLOW BELL PEPPERS TASTE LIKE?
Yellow bell peppers have a fresh, slightly sweet, and crisp flavor.
ARE YELLOW BELL PEPPERS HEALTHY?
Yellow bell peppers are great for you! These foods with y have so many vitamins and are low in calories. They're a good source of vitamins A and C, potassium, fiber, folate, and iron. 
RECIPE TO TRY!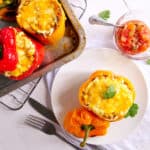 Healthy Stuffed Vegetarian Peppers
These stuffed vegetarian bell peppers are full of Mexican flavors and are perfect for a weeknight meal. They are gluten-free and can easily be made vegan too!
5. Yellow Mango
WHAT ARE YELLOW MANGOES?
Yellow mangoes are also called honey mangoes. They are a small, bright yellow mango known for it's flavor and butter-soft texture. Its texture makes it ideal for blending in foods like smoothies.
WHAT DO YELLOW MANGOES TASTE LIKE?
Yellow mangoes are known for their super sweet taste and honey-like, tropical flavor. They're soft in texture and less fibrous than other mangoes.
ARE YELLOW MANGOES HEALTHY?
Yellow mangoes are healthy! They contain some B vitamins along with vitamins A, C, K, and E. These vitamins help boost immunity. 
Recipes to try!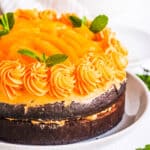 Chocolate Mango Cake
This chocolate mango cake features a moist chocolate cake with a light yet decadent mango frosting! Top this sweet cake with fresh mango and enjoy a slice for dessert.
View this recipe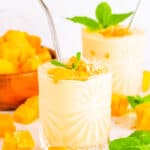 Mango Protein Smoothie
This creamy, tropical fresh mango protein smoothie recipe with no added sugar is a delicious nutrient powerhouse that will brighten up your morning in just 5 minutes!
View this recipe
6. Yellow Passion Fruit
WHAT IS YELLOW PASSION FRUIT?
Yellow passion fruit is an evergreen perennial vining plant. It blooms beautiful aromatic flowers and produces a small bright yellow round or oval-shaped fruit. These trees are popularly grown in California, Hawaii, and Florida. 
WHAT DOES YELLOW PASSION FRUIT TASTE LIKE?
Yellow passion fruit has a sweet citrus flavor with a mild floral taste. 
IS YELLOW PASSION FRUIT HEALTHY?
Yellow passion fruit is very healthy! With very low calories, zero fat, and vitamins that boost immune health, this is a great food to add to your diet. 
Recipe to Try!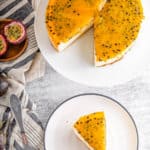 Passionfruit Cheesecake
This baked passionfruit cheesecake is the best and perfect for warm spring and summer evenings. Made with passionfruit pulp, vanilla extract, and cream cheese and paired with a gluten-free buttery crust, this lemon and passion fruit cheesecake is out-of-this-world delicious and subtly sweet with hints of tart flavors that create the perfect dessert combination.
View this recipe
7. Yellow Pepper
WHAT ARE YELLOW PEPPERS?
The yellow pepper, or banana pepper, is a member of the chili pepper family. They are typically bright yellow but they can start to change to green, red, and orange as they ripen. These are often eaten pickled but are also eaten raw.
WHAT DO YELLOW PEPPERS TASTE LIKE?
Yellow peppers have a mild, tangy taste, similar to a pepperoncini, but not as spicy.
ARE YELLOW PEPPERS HEALTHY?
Banana peppers are high in fiber and full of important nutrients like Vitamin C. They also contain capsaicin which may help improve digestion and metabolism.
8. Yellow Plum
What is a Yellow Plum?
Yellow plums are a type of fruit also known as the lemon plum, commonly grown in South America. This stone fruit is smaller than a regular plum and has a bright yellow color.
What do yellow plums taste like?
Yellow plums have a dense, sweet flesh, and slightly tart skin. They can be eaten as is, or added to desserts, jams, jellies and more.
Are yellow plums healthy?
Yes! These fruits that start with the letter y are super healthy for you. They are high in fiber, antioxidants, and vitamin c.
9. Yellow Watermelon
WHAT IS YELLOW WATERMELON?
Yellow watermelons have been growing in Africa for nearly 5,000 years. They are a summer fruit and are not as widely available as the familiar watermelons with red flesh. They have bright yellow flesh and grow in the summer. 
WHAT DOES YELLOW WATERMELON TASTE LIKE?
Yellow watermelons usually taste just like red watermelons, but sometimes can have a more honey-like sweet flavor.
IS YELLOW WATERMELON HEALTHY?
Yellow watermelon is high in vitamins A and C so it's good for your skin health and immune system. It has more antioxidants like beta-carotene than red watermelon. Beta-carotene is good for eye health and cancer prevention.
10. Youngberry
WHAT ARE YOUNGBERRIES?
Youngberries are a hybrid berry between raspberry, blackberry, and dewberry. They can be eaten fresh or used to make jam, juice, and other recipes.
WHAT DO YOUNGBERRIES TASTE LIKE?
Youngberries are juicy with a delicate texture. They have a raspberry like flavor, and are even sweeter than blackberries.
ARE YOUNGBERRIES HEALTHY?
Youngberries are great for our health. They help eyesight, and digestion, and improve bone and heart health. They are also high in vitamin C.
Recipe To Try!
Try youngerries instead of blackberries in this simple syrup recipe!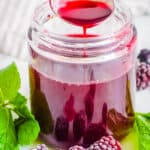 Blackberry Simple Syrup
You'll need just 15 minutes and 4 simple ingredients to make this mouthwatering blackberry simple syrup recipe. Use it in your favorite cocktails (or mocktails), in teas and sodas, in place of maple syrup on pancakes, over vanilla ice cream, and more!
View this recipe
11. Yuzu
WHAT IS YUZU?
Yuzu is a round, yellow citrus fruit that looks like a lemon and is usually used as a flavoring in vinegars, marinades, jellies, marmalades, desserts, and even tea. It is cultivated mainly in Asian countries – specifically Japan, China, and Korea.
WHAT DOES YUZU TASTE LIKE?
Yuzu tastes similar to a combination of lime, lemon, and grapefruit. It has a super sour and tart flavor, so it's not typically eaten as is, but instead is added to other dishes for acidity and flavor.
IS YUZU HEALTHY?
Yes! Yuzu is very healthy and is rich in vitamins, minerals, and fiber. It's high in carotenoids, flavonoids, and limonoids – which are antioxidants that help reduce inflammation and promote heart health. It's also a good source of vitamin C and vitamin A.
🥬 Vegetables That Start With Y
There are so many great fruits and vegetables that start with y! Here we have 10 vegetable foods that start with a Y. Several of these veggies that start with y are probably unfamiliar and would be great to try in a new recipe! 
12. Yacon
WHAT IS YACON?
Yacon is a root vegetable beginning with y whose plant produces sunflower-like flowers. The yacon looks like a sweet potato or sunchoke but with a different flavor. They have a crisp and fresh texture like water chestnuts or jicama.
WHAT DOES YACON TASTE LIKE?
Yacon taste like a combination of apple, watermelon, celery, and pear. 
IS YACON HEALTHY?
This y letter vegetable is good for digestive issues, reduces cholesterol, and helps promote healthy weight.
13. Yam Bean
WHAT ARE YAM BEANS?
Yam beans, also known as jicama or a Mexican turnip, is a starchy root vegetable that starts with the letter y. It has a brown skin and white flesh on the inside. But keep in mind, even though the root is safe to eat, the rest of the plant is toxic. The yam bean is often eaten raw because it has such a refreshing and crispy taste. 
WHAT DO YAM BEANS TASTE LIKE?
Yam beans have a fresh, slightly sweet and nutty flavor resembling a pear and potato flavor combined. 
ARE YAM BEANS HEALTHY?
Yam beans are low in calories, high in fiber, and high in essential nutrients like vitamin c and potassium, making them a very healthy choice. 
Recipe To Try!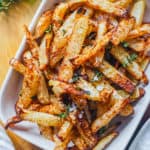 Jicama Fries (Air Fryer Recipe)
Air Fryer Jicama Fries are crispy, easy to make, and the perfect side dish. These jicama fries are seasoned with fresh rosemary, garlic powder, and fresh thyme. Cut out the splattering oil by using the air fryer instead! 
View this recipe
​​14. Yam
WHAT ARE YAMS?
Yams are stem tubers from the tropical regions of Africa and Asia. They are a type of sweet potato although they don't taste the same. Yams tend to be a little starchier than sweet potatoes, making them higher in calories. Sweet potatoes have an orange color while yams are white on the inside.
WHAT DO YAMS TASTE LIKE?
Yams taste more like a white potato than a sweet potato and have a starchy flavor as well.
ARE YAMS HEALTHY?
Yams are a good source of fiber, copper, manganese, potassium, and antioxidants. These foods that start with y are associated with health benefits like brain health, reduction of inflammation, and improved blood sugar control.
Recipe To Try!
Try yams instead of sweet potatoes in this curry recipe!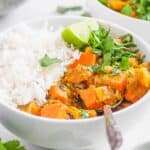 Sweet Potato and Chickpea Curry
This wholesome, comforting sweet potato and chickpea curry is crave-worthy and delicious. You can whip it up in just 40 minutes and you will end up with a fantastic dinner that will keep you warm and satisfied. Naturally gluten-free and vegan too!
View this recipe
15. Yardlong Beans
WHAT ARE YARDLONG BEANS?
Yardlong beans, also known as asparagus beans or the Chinese long bean, are a legume and a variety of cowpea. The yardlong bean plant is a climbing plant that can grow as tall as 12 feet. These elongated beans can grow up to about 18" long, and are often cultivated for their edible green pods.
WHAT DO YARDLONG BEANS TASTE LIKE?
Yardlong beans taste just like green beans. They are mild, fresh, and slightly starchy.
ARE YARDLONG BEANS HEALTHY?
Yardlong beans are a very good source of vitamin C and some B vitamins. 
Recipe To Try!
Try yardlong beans instead of green beans in this roasted veggies recipe!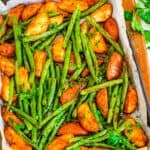 Roasted Green Beans And Potatoes
Oven roasted green beans and potatoes are a delicious side dish that will keep your family coming back for more! With just one sheet pan, you'll have a healthy, vegan and gluten free well-rounded side to pair with almost any main dish. The best part? It's ready in just 35 minutes!
View this recipe
16. Yautia
WHAT IS YAUTIA?
Yautia (also known as malanga coco) is a tropical plant that is grown in America for its edible tubers and even its leaves. It's in the same family as taro root, and has a brownish reddish "hairy" skin with a cream, light yellow or even purple flesh. It's commonly used in Caribbean cuisine.
WHAT DOES YAUTIA TASTE LIKE?
A yautia has an earthy taste and is similar to a potato, but with a nutty flavor.
IS TAUTIA HEALTHY?
Yautia is a great source of fiber, potassium, iron and B vitamins. It helps with maintaining blood sugar, overall health, and digestive health.
17. Yellow Beet
What is a yellow beet?
The yellow beet (or yellow beetroot, or golden beet) is similar to its relative – the red beet. It's a root vegetable that originated in the Mediterranean Region.
What do yellow beets taste like?
Yellow beets have an earthy, nutty, slightly sweet flavor. They're milder and sweeter than red beets.
Are yellow beets healthy?
Yes! Golden beets are a good source of dietary fiber, calcium, iron, magnesium, vitamin c, and potassium. They are also high in phytonutrients called betalains which gives them anti-inflammatory properties.
​​18. Yellow Eye Beans
WHAT ARE YELLOW EYE BEANS?
Yellow eye beans are related to kidney beans. They are a large ivory and mustard-colored bean. Yellow eye beans are heirloom beans with a firm texture. They look a lot like black-eyed peas but are much larger in size. 
WHAT DO YELLOW EYE BEANS TASTE LIKE?
Yellow eye beans taste much like other beans like northern beans or kidney beans. They are mild and creamy in flavor and texture.
ARE YELLOW EYE BEANS HEALTHY?
Yellow eye beans are very healthy food that starts with y. They're a great source of fiber as well as folate, protein, and iron.
Recipe To Try!
Try yellow eye beans instead of black eyed peas in this recipe!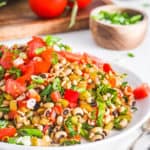 Vegetarian Black Eyed Peas Recipe
This vegetarian black eyed peas recipe for Hoppin' John is a healthy and meatless version of the southern classic. Onions, bell pepper, celery, and kale are sautéed in spices with black eyed peas and a smoky finish served with brown rice. It's a complete meal in one pan!
View this recipe
19. Yellow Moong Dal
WHAT IS YELLOW MOONG DAL?
Yellow moong dal refers to whole moong beans that have been skinned and split revealing a delicate legume that goods quickly. It's often used in Indian cuisine as one of the main ingredients in dahls (or dals), which is a spicy version of lentil soup or split pea soup.
WHAT DOES YELLOW MOONG DAL TASTE LIKE?
Yellow moong dal has a nutty, salty, mild bean flavor. It will often take on the flavors of what it's cooked with, which is why it's a great plant based option to add to soups and stews.
IS YELLOW MOONG DAL HEALTHY?
Yellow moong dal is packed with nutritional value. It is high in dietary fiber and an excellent source of protein, making this a healthy choice for vegans, vegetarians, and omnivores alike. It is also rich in certain vitamins and minerals like potassium and magnesium.
Recipe To Try!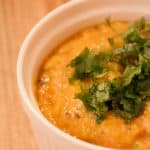 Simple Slow-Cooker Yellow Dal
Essentially, it is spiced lentil stew. Rich, warm spices like turmeric, cumin, and coriander fill my kitchen when I'm cooking dal. And the husband always loves it.
View this recipe
20. Yellow Squash
WHAT IS YELLOW SQUASH?
Yellow squash, or summer squash, is harvested when they're immature and the rind is still tender and edible. It can be eaten raw or cooked. It belongs to the same family as zucchini, pumpkins and other squashes.
WHAT DOES YELLOW SQUASH TASTE LIKE?
Yellow squash has a mild roasted nut flavor, which is more evident when it's cooked. It's tender in texture, even when it's raw – and cooking only makes it more tender and delicate.
IS YELLOW SQUASH HEALTHY?
Yellow squash is a very healthy source of vitamin C, vitamin B6, and manganese.
Recipe to Try!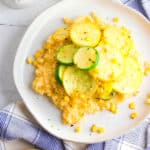 Gluten Free Cheesy Polenta with Squash and Herbs
This gluten free polenta recipe allows you to enjoy creamy and cheesy polenta without any of the guilt! Served with squash, corn and fresh herbs, this dish is easy, fresh, tasty and full of flavor.
View this recipe
21. Yellow Wax Beans
What are yellow wax beans?
Yellow wax beans are similar to green beans, but they don't have chlorophyll, which is why they are yellow instead of green!
What do yellow wax beans taste like?
Yellow beans taste similar to green beans, and have a slightly earthy, buttery and nutty taste.
Are yellow wax beans healthy?
Yes! This vegetable starting with the letter y is high in fiber, vitamin C and folate.
22. ​​Yuca
WHAT IS YUCA?
Yuca, also known as cassava, is a very versatile vegetable. The starchy flesh of the yuca root is a light white or cream color with a grainy texture similar to potatoes. It works well in recipes fried, boiled, and smashed. This food is often confused with yucca, which is an ornamental plant and not good for food.
WHAT DOES YUCA TASTE LIKE?
Yuca has a meaty flesh that tastes mild, sweet and a little nutty.
IS YUCA HEALTHY?
Yuca is a good source of manganese and vitamin C. It's high in carbohydrates and low in saturated fat, cholesterol, and sodium, making it a healthy choice!
23. Yukon Gold Potatoes
WHAT ARE YUKON GOLD POTATOES?
Yukon gold potatoes are definitely one of the most most popular foods starting with y. These potatoes have a thin, smooth, yellowish skin with yellowish flesh. These foods starting with the letter y are the most commonly used potatoes because their flavor and texture are great for a wide variety of recipes.
WHAT DO YUKON GOLD POTATOES TASTE LIKE?
Yukon gold potatoes have that familiar potato taste but with a little bit of a buttery flavor and very smooth texture. 
ARE YUKON GOLD POTATOES HEALTHY?
Yukon gold potatoes are starchy vegetables with lots of health benefits. One small potato meets half of your daily vitamin C requirements. 
Recipe to try!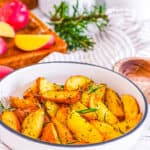 Vegan Roasted Potatoes
These oven-baked, easy vegan roasted potatoes with rosemary are a tasty, delicious side dish. They're crispy on the outside, creamy on the inside, packed with flavor and are the perfect accompaniment for any meal!
View this recipe
🥨 Snacks, Condiments, And Spices That Start With A Y
There aren't as many condiments, spices, and snack foods starting with Y, but they are just as interesting and you'll probably learn something new in these.
24. Yeast
WHAT IS YEAST?
Yeast is a fungus that grows as a single cell. It is used for baking as a leavening agent, and making alcoholic beverages. The most common bread yeast is saccharomyces cerevisiae, and is typically added to bread recipes with sugar, flour and water – the sugar helps the yeast grow and makes the dough rise. Yeast both provides flavor and creates carbon dioxide in the dough, causing it to stretch and expand. Warm water is added to the dough because yeast thrives in warm temperatures. 
WHAT DOES YEAST TASTE LIKE?
Yeast has a wheaty and nutty flavor. 
IS YEAST HEALTHY?
The right amount of yeast in your body can help keep your gut healthy, but too much can cause digestive issues. Yeast is part of a healthy mix of bacteria in your gut. 
Recipe to try!
Use yeast when making this delicious buckwheat bread recipe!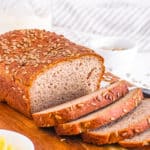 Buckwheat Bread Recipe
Baking bread from scratch doesn't have to be intimidating! Even beginners can make this fluffy buckwheat bread. Buckwheat flour gives this hearty loaf a nutrient boost and a nutty flavor! It's naturally vegan with a gluten-free option!
View this recipe
25. Yellow Cornmeal 
WHAT IS YELLOW CORNMEAL?
Yellow cornmeal is finely ground corn. It is used to add flavor, texture, and volume to a dish.
WHAT DOES YELLOW CORNMEAL TASTE LIKE?
Cornmeal is made with the whole corn kernel, so it has a strong corn flavor. 
IS YELLOW CORNMEAL HEALTHY?
Yellow cornmeal has a lot fiber and selenium among other essential nutrients. It's good for cholesterol and overall heart health. 
Recipe to try!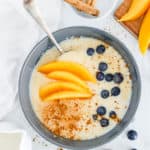 Cornmeal Porridge
Enjoy a hearty and creamy bowl of cornmeal porridge for breakfast. This delicious and easy porridge originated in the Caribbean islands. It tastes delicious and it's simple to make. Top with fresh fruit and nuts or dunk bread into it for a filling breakfast that will satisfy you all the way to lunch!
View this recipe
26. Yogurt
WHAT IS YOGURT?
Yogurt is one of the most popular snacks that start with y. It is made by bacterial fermentation process of milk (the bacteria used are called yogurt cultures). These y foods have a creamy and smooth texture and come in hundreds of different varieties. Plain yogurt and Greek yogurt are two of the most common.
WHAT DOES YOGURT TASTE LIKE?
Yogurt can be sweet, sour, savory, and/or rich, depending on the type of yogurt you're eating.
IS YOGURT HEALTHY?
This dairy product is high in protein and calcium, but some of its main health benefits come from the bacteria used to make yogurt. It contains live bacteria or probiotics that are beneficial to your gut health. 
Recipes to try!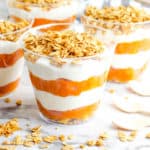 Pumpkin Greek Yogurt Parfait Recipe
These Pumpkin Yogurt Parfaits are incredible, and are just what you need this fall. Old fashioned oats, cinnamon, pumpkin spice, vanilla, pumpkin puree, and honey give you a perfect breakfast, snack or dessert!
View this recipe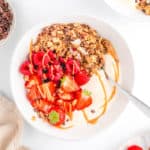 Peanut Butter Yogurt Bowl
Tangy Greek yogurt, creamy nut butter, lightly sweet stevia, and a plethora of crunchy and juicy toppings come together to create these scrumptious peanut butter yogurt bowls. A perfect breakfast, dessert, or healthy snack recipe, these yogurt bowls are super delicious and so good for you too!
View this recipe
27. Yolk (Egg Yolks)
WHAT ARE EGG YOLKS?
Egg yolks are found in the eggs of animals that produce eggs. It's the nutrient-bearing portion of the egg and its primary function is to provide nutrients for the development of the embryo of the animal. If it's unfertilized, eggs are edible and the egg yolk is the yellow center of the egg. 
WHAT DO EGG YOLKS TASTE LIKE?
Egg yolks have a rich fatty flavor and are the main source of flavor in an egg, with egg whites having almost no flavor.
ARE EGG YOLKS HEALTHY?
A lot of the egg's nutritional benefits are contained in the egg yolk. It contains vitamins A, E, D, K, folate, and vitamin B12. It's also high in saturated fat, which should be consumed in moderation. The egg white is low in fat and high in protein.
Recipe to try!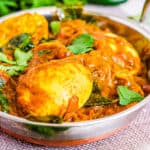 Kerala Egg Roast
Kerala egg roast is an Indian breakfast dish with boiled eggs simmered in an aromatic tomato-based curry sauce! Enjoy this saucy dish with a traditional side dish like appam, puttu, or a side of steamed rice. Naturally dairy-free & gluten-free.
View this recipe
28. Yorkshire Teacakes
WHAT ARE YORKSHIRE TEACAKES?
A Yorkshire teacake is a large bread roll, either brown or plain white, made with dried fruits in it and is about 9 inches in diameter. It's usually split, toasted, buttered, and served with tea. These can be found in Yorkshire cafes for breakfast and mid-morning snacks. This is the only food on the list that can be categorized as breakfast food that starts with y!
WHAT DO YORKSHIRE TEACAKES TASTE LIKE?
Yorkshire tea cakes are light and sweet yeast-based buns that also have traces of the flavor what whatever sweet dried fruit is in them.
ARE YORKSHIRE TEACAKES HEALTHY?
Teacakes are a little high in calories and have zero fiber, so they are best enjoyed in moderation. They might be more considered as "junk food that starts with y".
🍲 Foods That Start With Y: Side Dishes
We've only got two Y food in the side dishes category, but they're probably new to most people!
29. Yamarita
WHAT IS YAMARITA?
This food that begins with y is a boiled yam that is coated in egg, flour, ginger, garlic, and salt and then fried. This is a popular food in Nigeria.
WHAT DOES YAMARITA TASTE LIKE?
Yamarita tastes similar to our potato fries in America. 
IS YAMARITA HEALTHY?
Yams are healthy on their own, but breading and frying increase both calories and fat substantially. These are best eaten in moderation.
30. Yorkshire Pudding
WHAT IS YORKSHIRE PUDDING?
This food with y is a British side dish and not a dessert, even though that's what it sounds like. It's a baked pudding made from a batter of eggs, flour, and milk and is often served with an onion gravy.
WHAT DOES YORKSHIRE PUDDING TASTE LIKE?
Yorkshire pudding tastes like an eggy pancake with a crispy outside.
IS YORKSHIRE PUDDING HEALTHY?
Yorkshire pudding is mostly fat and not a healthy side dish, but delicious and fine to enjoy in moderation.
🌿 Vegetarian Dishes That Start With The Letter Y
Vegetarian dishes are also limited to one food starting with the letter Y. I bet you haven't heard of this one!
31. Yakhnet Batata
WHAT IS YAKHNET?
Yakhnet or Yakhnet Batata is a Lebanese potato stew made with potatoes, beans, spices, and served with white rice and/or vermicelli noodles. This main dish is also common in the Middle East and Northern Africa. The stew's recipe is pretty simple, including a vegetable and protein simmered in a flavored garlic tomato sauce. Meat is sometimes added, but doesn't have to be.
WHAT DOES YAKHNET TASTE LIKE?
This stew is savory and flavored with garlic, tomato, onion, and herbs. 
IS YAKHNET HEALTHY?
Yakhnet batata is a healthy whole-food stew that is rich and fiber and protein.
🍖 Meat Dishes That Start With A Y
There are 10 meat dishes with Y food names. Most of them are ethnic dishes that would be fun to try for the first time. Check out these dishes that start with y!
32. Yabby
WHAT IS YABBY?
Yabby is an Australian freshwater crustacean. These letter y foods looks like a lobster but smaller, with a bluish-grey color. 
WHAT DOES YABBY TASTE LIKE?
Yabby taste very similar to lobster but with a bit of a richer and more buttery kind of flavor.
IS YABBY HEALTHY?
Yes, this small crayfish is virtually fat free and can be a healthy option as a protein in your meals.
33. Yakhni Pulao
WHAT IS YAKHNI PULAO?
Yakhni pulao is a Kashmiri recipe that's often served as a party recipe. It's made using rice, meat, and Indian spices. Traditionally, it's typically made with mutton (adult sheep), lamb, or beef, but can be made with chicken.
WHAT DOES YAKHNI PULAO TASTE LIKE?
Yakhini pulao has a rich, aromatic flavor. Its jasmine rice base provides floral hints while spices like rose petals, onions, fennel seeds, cumin seed, garlic pod, ginger, star anise, cardamom, cloves, cinnamon stick, coriander seeds and mace make it an extremely flavorful dish. 
IS YAKHNI PULAO HEALTHY?
Yahhni puloa is very high in refined grains, calories and fat. It can be made a little healthier by using chicken, lots of vegetables, and brown rice. 
34. Yakisoba
WHAT IS YAKISOBA?
Yakisoba is a Japanese noodle dish. Yakisoba means "fried noodle" and this dish is made with fried soba noodles made from buckwheat flour. 
WHAT DOES YAKISOBA TASTE LIKE?
This Japanese dish has a sweet, savory, and tangy flavor that comes from a mix of soy sauce, ketchup, Worcestershire sauce, and other seasonings.
IS YAKISOBA HEALTHY?
Yakisoba is not a healthy dish from Japanese cuisine, although it is very delicious. It is high in carbs and fat. 
35. Yakitori
WHAT IS YAKITORI?
Yakitori is Japanese skewered chicken that is grilled over a charcoal fire and then seasoned with salt or tare sauce. Tare is a mixture of soy sauce, sake, and sugar and/or honey.
WHAT DOES YAKITORI TASTE LIKE?
Yakitori seasoned with salt will have a smokey meat flavor. When it's seasoned with tare, it will have a salty and sweet flavor.
IS YAKITORI HEALTHY?
Yakitori is a pretty healthy food, the leaner meat you use the healthier it will be.
36. Yankee Pot Roast
WHAT IS YANKEE POT ROAST?
Yankee-style pot roast is cooked the same as a regular pot roast with the addition of root vegetables like carrots, potatoes, parsnips, and onions. 
WHAT DOES YANKEE POT ROAST TASTE LIKE?
Yankee pot roast has a slightly salty and beefy flavor from the beef itself and the gravy that is created during the cooking process. The vegetables will bring a mild flavor of their own but mostly take on the flavor of the gravy.
IS YANKEE POT ROAST HEALTHY?
Yankee pot roast can be high in fat, high in sodium, and overall high in calories. To make it healthier, try using a lean cut of meat and keeping the sodium content as low as possible with low sodium alternatives for the broth.
37. Yassa
WHAT IS YASSA?
Yassa is a popular dish is West Africa made with onions and marinated poultry, fish, or lamb and typically served with rice. Yassa means a stew that is flavored with lemon.
WHAT DOES YASSA TASTE LIKE?
This food with the letter y is a tangy, sweet, and spicy dish.
IS YASSA HEALTHY?
This food that starts with y is pretty healthy when it's made with lean meat. It's paired with vegetables and healthy spices and vegetables that have proven health benefits.
38. Yellowfin Tuna
WHAT IS YELLOWFIN TUNA?
Yellowfin tuna is a type of fish found in tropical and subtropical oceans worldwide. It is one of the more popular foods that start with the letter y. While it is readily available in grocery stores, it is usually marketed as Ahi tuna.
WHAT DOES YELLOWFIN TUNA TASTE LIKE?
Yellowfin tuna has a dense, beef-like texture and a very mild flavor compared to other types of fish.
IS YELLOWFIN TUNA HEALTHY?
Yes! This species of tuna is a very healthy type of fish to eat. It's high in protein and omega-3 fatty acids which are beneficial to heart health.
39. Yellowtail Fish
WHAT IS YELLOWTAIL FISH?
Yellowtail fish is commonly found in sushi restaurants and is usually confused with yellowfin tuna. It is actually Japanese amberjack, a fish that lives between Hawaii and Japan. 
WHAT DOES YELLOWTAIL FISH TASTE LIKE?
Yellowtail fish have a very mild fish flavor with a slight sweetness. Their flavor is a a cross between tuna and mahi-mahi.
IS YELLOWTAIL FISH HEALTHY?
Yellowtail fish is very high in protein and is one of the best sources of omega-3 fatty acids. It's a very healthy fish to eat.
40. Yiessas
WHAT IS YIESSAS?
This food that starts with a y is an African type of stew. The stew contains mainly cassava leaves, beef tail or oxtail, canned tomatoes, and salt.
WHAT DOES YIESSAS TASTE LIKE?
This yiessas has a rich umami flavor that makes it savory and delicious.
IS YIESSAS HEALTHY?
Yiessas can be high in fat and sodium and is best eaten in moderation.
41. Yiros
WHAT ARE YIROS?
Yiros, or gyros, pronounced "yee-ros," is a Greek food consisting of meat cooked on a vertical rotisserie, sliced, and served wrapped or stuffed in pita bread. They also sometimes include ingredients like tomato, onion, fried potatoes, and tzatziki. 
WHAT DOES YIROS TASTE LIKE?
This food starting with the letter y has a rich peppery lamb, chicken, or beef flavor along with a cool creamy dill flavor from tzatziki sauce and a warm, soft, floury flavor from the pita bread.
IS YIROS HEALTHY?
Yiros are fairly healthy but can be high in sodium. They are delicious meals to be enjoyed in moderation.
🍰 Desserts That Start With Y
Try one of these two desserts that start with Y.
42. Yodels
WHAT ARE YODELS?
This food with letter y are frosted, cream-filled cakes made by the Drake's company which are distributed mostly on the east coast of the country.
WHAT DO YODELS TASTE LIKE?
Yodels' flavor is very similar to Ho Ho's and Swiss Cake Rolls. They are sweet, soft and have a cakey texture.
ARE YODELS HEALTHY?
Yodels are not healthy foods beginning with y because they are high in calories, fat, and sugar and pretty much void of nutrition.
43. Yōkan
WHAT IS YOKAN?
Yokan is a jelly made of red bean paste, agar, and sugar. It's sold in a block and sliced for eating. It's usually chilled and eaten in the summer.
WHAT DOES YOKAN TASTE LIKE?
Yokan has a very strong sweet flavor.
IS YOKAN HEALTHY?
Yokan has both fiber and protein thanks to the bean paste, so as far as sweet treats go, this one is actually fairly healthy compared to most.
🍹 Beverages That Start With A Y
We found only one for the drinks that start with Y category, have you heard of it?
44. Yquem
WHAT IS YQUEM?
Yquem is a sweet white wine from the estate of Château d'Yquem in the Sauternes region of France.
WHAT DOES YQUEM TASTE LIKE?
Yquem has a rich notes of dried apricot, green mango, white peach, honeyed tropical fruits, and caramel flavor with an aftertaste of roasted nuts.
IS YQUEM HEALTHY?
Yquem is alcohol and although wine does have its antioxidant benefits, it is healthiest enjoyed in moderation.
💭 Final Thoughts
This eclectic list of foods that start with Y has introduced us to foods from around the world. There are so many foods out there that we may never know about, that's what makes these food guides so much fun. I hope they inspire you to try new things, especially foods that begin with y!
If you would like more inspiration on new and exciting foods to cook with, then take a look at some of our other food lists from A-Z!