Our Favorite Vegetarian Recipes for New Year's Eve – Vegan French Onion Dip. Buffalo Tofu Wings. Sweet Potato Sushi Roll. Vegan Cheese Ball. And more!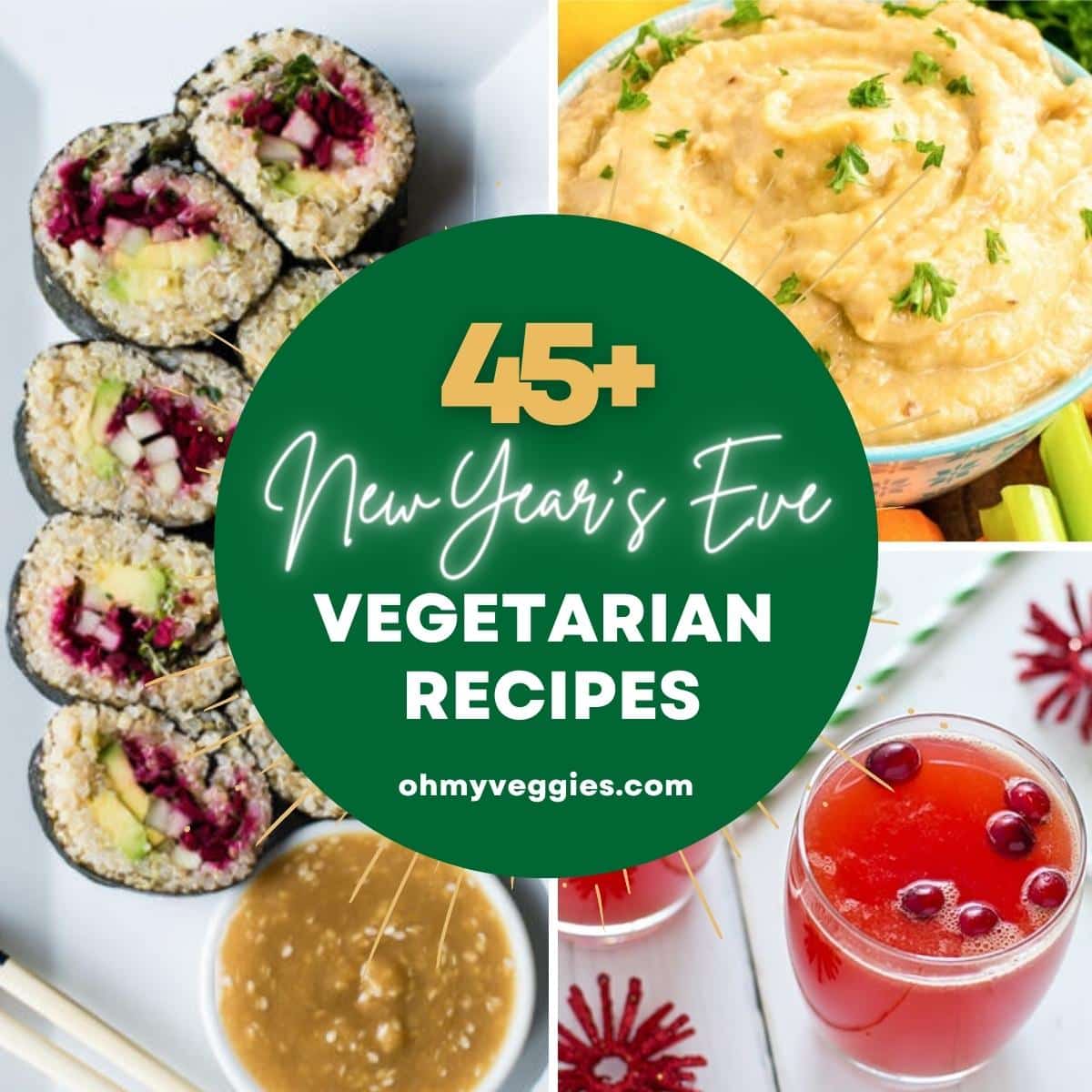 45+ Vegetarian Recipes for New Year's Eve
Our top favorite recipes for a vegetarian-friendly New Year's Eve.
Sweet potato rolls are delightful vegetarian sushi that is simple to make, delicious, and gluten-free. They can be made a little bit in advance and stored in the fridge, making them easier to fit into your party planning menu. In addition, they're made with a traditional seaweed wrap and topped with sesame seeds, giving these rolls the iconic look of sushi. Every New Year's Eve needs sushi, and our vegetarian sweet potato rolls fit the bill!
Our baked spinach artichoke dip is thick, creamy, and rich. It is made without mayo, is beginner-friendly, and guarantees deliciousness. The baked dip comprises superfood artichokes, spinach, and ooey-gooey cheese. It can be served warm and enjoyed for several hours. Dip crackers, chips, or fresh, crisp veggies, and enjoy our baked spinach artichoke dip.
Who can resist the spicy buffalo flavor? And with our buffalo cauliflower dip, no one has to! Our recipe is a vegetarian take on the classic buffalo flavor in the form of a sensational crowd-pleasing dip. Serve it with celery stalks, carrot sticks, pita chips, or your favorite thing to dip.
Our easy parmesan crisps are satisfyingly crunchy and make a great, light snack for New Year's Eve. They're easy to make and can be made with nearly any spice you're craving.
These cute three-ingredient cranberry brie bites are fantastic. They're straightforward to prepare and require just three ingredients. They have a mildly sweet flavor in a soft, creamy texture wrapped in a slight pastry crust. Our three-ingredient cranberry brie bites are ready to enjoy in less than half an hour!
Ring in the New Year with these vegetarian "wings ."A perfect finger food that is equally addictive as they are satisfying. These baked buffalo cauliflower bites offer a crispy texture that everyone will adore. Furthermore, feel free to adjust the spice factor. Step up the hot sauce for a spicier flavor or experiment with serving alongside different dipping sauces such as ranch creamy or blue cheese dressing.
Every New Year's Eve celebration needs a good hummus, and lucky for you, we have exactly that with this recipe. We swapped the chickpeas for roasted cauliflower, giving the hummus a unique, nutty flair. In addition, it takes just ten minutes to prepare and is ready to eat in under one hour. It makes a great appetizer/snack with your guests begging to know your recipe. Our veggie roasted cauliflower hummus tastes terrific with pita bread, tortilla chips, or fresh, crisp vegetables.
Our vegan cheese ball has a crunchy cranberry-pecan crust, making it smooth, creamy, and addictive. The cranberries add a wonderful sweet-tangy flavor, while the pecans offer a smooth, nutty flair. Our vegan cheese ball with cranberry-pecan crust makes a festive appetizer, making it perfect for New Year's Eve!
Every New Year's Eve gathering needs a good Buffalo wing. Something about the iconic spicy flavor brings a level of nostalgia. Our buffalo tofu wings have a terrific crispy exterior and a spicy, smokey flavor.
You'll need a solid cracker to serve alongside our baked spinach artichoke dip, buffalo cauliflower dip, or whatever else you're crafting up, and our jalapeno cheddar crackers should be the winner. They're perfectly crispy, cheesy, and taste excellent paired with anything or alone. They taste terrific and come together quickly.
Our hummus and cucumber bites are a tasty, convenient, and simple appetizer. They take barely any effort to make but look festive, pretty, and outright delicious. They are light, flavor-packed, and addictive. Change up the flavor by experimenting with different hummus flavors and enjoy a tasty and refreshing little appie.
Artichoke hummus dip can be enjoyed in a variety of ways. You can dip it or spread it, but we recommend dipping it for a New Year's Eve celebration. The dip is creamy and pops with flavor. Furthermore, it's packed with delicious, healthy nutrients, so enjoy as much as you like!
Peas, jalapenos, cilantro, and garlic blend smoothly in our lightened-up guacamole. It has a great consistency and makes terrific party food. Serve it alongside your favorite vegetables or dipping crackers.
Our tempeh meatballs are smothered in a satisfying pineapple-infused sweet and sour sauce. They're vegan and vegetarian-friendly and a breeze to make. They're ready in only thirty minutes and guaranteed to be a hit at your New Year's Eve gatherings. Simple, sweet, and with the perfect texture, your guests won't even realize how healthy these are. ˇˇ
Tangy caramelized onions dance with creamy cashews and silken tofu when you make this recipe. It's easy to make and can be stored in an airtight container afterward for a few days. But we bet there won't be much to store! Our vegan french onion dip has a thick, creamy texture making it equally satisfying as it is addictive.
Our carrot fritters with cumin-lime cashew cream make a delightful appetizer. They're packed with sweetness from fresh garden carrots and taste amazing with our spicy tart cashew cream.
Looking for a tiny appie that looks amazing and tastes even better? Our spinach artichoke mini quiche will fit the bill exactly! Tiny quiches are filled with creamy Fontina cheese, spinach, and artichoke, giving huge flavor and delicious vibes.
Our crispy baked coconut onion rings taste fantastic alongside our homemade sweet chile sauce. The onion rings are crispy with a slight coconut flair. The sweet chile sauce is a delicious blend of honey and sriracha. Our crispy baked coconut onion rings with sweet chile sauce are ready in less than one hour. They are sure to be a hit for New Year's Eve gatherings.
These little crispy quinoa cakes are a breeze to prepare and are a guaranteed crowd-pleaser. Whip them up for an easy appetizer or as an addition to another entree. The quinoa cakes contain delicious ingredients like grated parmesan cheese, red onion, and garlic. Bite after bite will be tasty, addictive, and satisfying.
Set these snap peas out and watch all your guests devour them! They're sweet, candied, vibrant, and have the perfect hint of sriracha. Sweet, smokey, and delicious! Our sriracha snap peas with red pepper are ready to enjoy in just five minutes. We suggest making a double batch because these sriracha snap peas are terrific! They're addictive and satisfying.
What New Year's Eve celebration would be complete without a savory hummus recipe? And our edamame hummus definitely fits the bill! It's flavorful, less oily than Trader Joe's edamame hummus, and has the perfect amount of creamy to tart ratio. It's a delight to serve and is always gobbled up quickly.
Our creamy eggplant dip is a breeze to make. It's completely beginner-friendly and has a satisfying whipped texture. Serve our eggplant dip along with fresh veggies, pita chips, or your favorite crackers.
Spicy cauliflower with peanut dip is flavor-packed and easy. You can even adjust the spice in the recipe, turn it up for extra heat or step it down for a more mild flavor. Spicy cauliflower with peanut dip makes a terrific light appetizer.
Our cauliflower wings will please even the pickiest meat eaters! They're gluten and oil-free with a crispy exterior and soft inside. Our cauliflower wings with almond dip are simple to make and flavorful. The recipe is versatile, and the flavor can be adjusted to suit your guests.
Our homemade churros will take center stage at your New Year's Eve gatherings. They have a satisfying crispy texture with a soft, fluffy inside. Enjoy our churros with some melted chocolate, fresh fruit, or plain. They're simple to make and require only seven ingredients!
Vegan queso is the perfect addition to nachos and tacos, which every New Year's Eve celebration needs. It's cheesy, flavor-packed, and entirely vegan-friendly.
Sticky sesame cauliflower makes a light and tasty appetizer. The cauliflower is sticky, coated with vibrant flavor, and the entire dish comes together in less than thirty minutes. It's a fantastic appetizer packed with sweet-smoky-spicy flavor.
Zesty potato wedges taste great. They have a fantastic zesty flavor and great texture and are simple to put together. Set them alongside our basil sauce and watch your guests flock to the table.
Our baked banana wontons are sweet and satisfying. They make a fantastic New Year's Eve snack. They're vegan, and when you serve them with our coconut caramel sauce, they're addictive. They're simple, delicious, and unique.
Our corn salsa stuffed avocados make for a bright appetizer. They're juicy and look quite pretty on a spread. Your New Year's Eve party will be leveled up with these corn salsa-stuffed avocados. The best part is that they take only five minutes to prepare.
Simple stuffed mushrooms make for an exquisite appetizer. They'll give the impression of being prepared by a professional chef while being simple to make. Our simple stuffed mushrooms are packed with fresh flavor from sun-dried tomatoes, black olives, and ooey, cheezy goodness.
Our sun-dried spinach tomato and smoky almond stuffed mushrooms are an appetizer that looks elegant, tastes fantastic, and is a breeze to put together. Your guests will ooh and ahh over the creamy filling wrapped around the meaty mushroom.
Our vegan cannoli bites with cashew-tofu bowls make for a delicious light appetizer. They're creamy, packed with flavor, and simple to make.
Serve our garlic and herb vegan cheese with bread, buns, or crackers at your New Year's Eve party. It's spreadable, dairy-free, and packed with fresh flavor. Not only is our garlic and herb vegan cheese tasty, but it also smells incredible. It has a perfect texture and taste.
Ring in the New Year with our smokey sweet pineapple jalapeno granita! Its golden color looks festive. Our pineapple jalapeno granita tastes impressive and will surely be a hit for all your celebrations. It's made with a combination of water, sugar, jalapeno, and fresh pineapple giving fresh flavor and a beautiful fragrance.
Every celebration needs a good sparkling lemonade! It has a soft sweetness matched with an illuminating tartness. Our lightly sweetened sparkling Meyer lemonade takes only five minutes to make. It tastes fantastic, and it's simple to make.
Our coconut horchata makes for a warm and fuzzy holiday drink. It's a sweet blend of white rice, coconut milk, and cinnamon spice. Though this dessert/beverage takes some time to prepare, we promise it's worth it. Our coconut horchata is sprinkled with ground cinnamon and smells and tastes fantastic. We bet it will be a favorite for your New Year's Eve celebrations.
A festive mocktail that everyone will want a second glass of. That's what you'll get when you make our cranberry orange spritzer. It's a delicious combination of fresh cranberries, fresh orange juice, sugar, ginger, and bubbly sparkling water. Furthermore, it even looks pretty! It's a holiday-infused red shade with fresh cranberries for garnish.
Our crispy vegetable buns have a satisfying texture. They're crispy on the outside and with a perfect meaty texture on the inside. In addition to this, they're filled with a tofu and veggie filling. It's a terrific plant-based bun that tastes fantastic. They are satisfying, flavorful, and look nice too.
If you're a fan of Mozza sticks, then you must try our fried halloumi for your New Year's Eve gatherings. They're gluten-free, oven-baked, and delicious. Our fried halloumi is simple to make and super tasty!
These eggplant fries have a great crispy outside with a tender, soft inside. They make for an excellent finger food option for your New Year's Eve parties. Also, they're simple to make and come together in only one hour. Serve them alongside our curried cashew aioli made with delicious ingredients for the full taste.
Serve our vegetarian firecracker cauliflower instead of shrimp, and see how quickly it disappears! It's made with a satisfying breadcrumb mixture and fantastic seasonings. Our vegetarian firecracker cauliflower is fantastic and makes for a great finger food option. It's even kid-approved!
Vegetarian stuffed peppers are bright, colorful, and tasty. They're effortless to make and are packed with delicious fresh flavor. Our vegetarian stuffed peppers are stuffed with rice and green onion and seasoned with smokey, spicy chili powder and ground cumin. They taste great and look beautiful.
We love all things mini. And our mini vegetable lasagnas are definitely top of the list! Imagine ooey-gooey cheesy with pesto and vegetables wrapped up in a crispy wonton wrapper. The best part? They're ready in only 40 minutes. They taste terrific and look great due to their cute mini-nes.
Our sweet potato fritters have an addictive texture. They're crispy, salty and taste amazing served with our herb dip. Our herb dip is made with fresh dill, chives, and basil, giving it an excellent garden-fresh scent and taste! Our sweet potato fritters with herb dip are a laid-back appetizer that is ready in just thirty minutes.
It's always time for meatballs, and New Year's Eve wouldn't be complete without a terrific meatball recipe. Our broccoli parmesan meatballs fit the bill exactly. They have a great meaty texture and are super healthy. Broccoli, raw almonds, parmesan cheese, and garlic combine to cook in a mini muffin tray and become tasty, nutritious, and effortless.
Our quinoa sushi rolls taste terrific, and when you serve them with our miso-sesame dipping sauce, you'll find it incredibly delicious, addictive, and satisfying. It's made with healthy fresh veggies, white miso, lime juice, honey, freshly grated ginger, and sesame seeds for flavor and texture.
Our broccoli poppers have a terrific crispy texture. They're a perfect finger food for any New Year's Eve celebration as they're simple to make, delicious and addictive. In fact, you should make a double batch.
Reader Interactions