When it gets cold, there's nothing more comforting than a warm soup. Soups are the perfect way to warm up on a chilly day. You can cook them in different ways for every taste. Here are 5 of our favorite comforting winter soups. Not only are they easy to make, but they can also be very filling and satisfying. Each of these soups has its own unique flavor and you can make variations to suit your individual tastes.
For these soups you need a single pot, put everything together and let it simmer for a few minutes. This makes them perfect for busy families or those who want a comforting meal without spending a lot of time in the kitchen.
Our top 5 comforting winter soups
This hearty Cream of Red Lentil Soup is a comforting and delicious dish that's packed with protein and flavor. It's perfect for a leisurely meal on a cold day. It is also very easy to prepare and will please the whole family.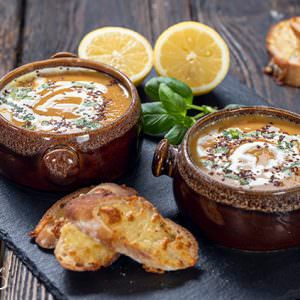 Cream of lentil soup
This easy Lentil Cream Soup recipe is a comforting dish, especially on cold days, for either lunch or dinner. It's creamy and full of flavor, ideal to be served hot, with some cheese toast, cream, chilli flakes and some lemon wedges on the side.
Check out this recipe
This fish fillet soup is a delicious and healthy dish that's perfect for a light but filling meal. This fresh fish fillet soup is a great way to enjoy the flavor and nutritional benefits of seafood.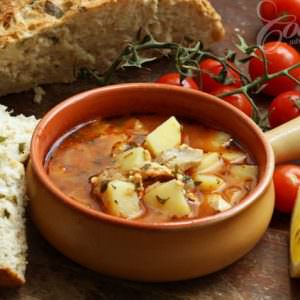 Minestrone soup is a classic Italian dish. It uses a variety of vegetables, beans, and pasta in a flavorful tomato broth. It's a comforting, hearty, and nutritious meal that makes it perfect for winter days.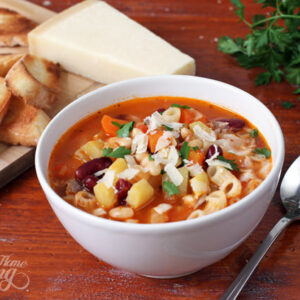 minestrone soup
Minestrone soup is one of the most famous Italian soups. It's a thick soup made of beans, lots of fresh vegetables and noodles. It is probably one of the tastiest soups. It's served with pasta and parmesan, which makes it just wonderful.
Check out this recipe
This Roasted Carrot Ginger Soup is a warming and flavorful dish made with roasted carrots, ginger and spices. Perfect for a cozy and healthy meal, easy to prepare and sure to taste.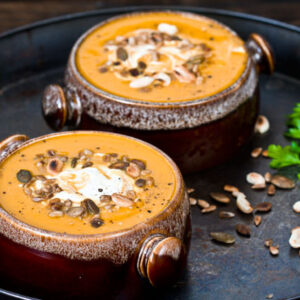 This healthy and creamy Spicy Pumpkin Soup is packed with flavor and very easy to make. Roasting the squash beforehand makes everything a lot easier. It's a warm and comforting dish that's perfect for cold fall and winter days.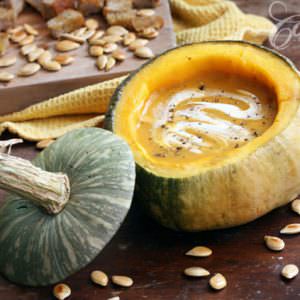 Soups are a great option for those looking for a warm and comforting meal on winter days. You can customize each of these soups to suit your individual tastes and are a great way to keep warm during the colder months.
Let me know if you try any of these 5 comforting winter soups. Don't forget to tag me on Instagram if you do. Check out our collection of soup recipes for more inspirational ideas.