This is the best peanut sauce you'll ever want to use on everything and it only takes 5 minutes! Easy to make with everyday ingredients, it has a rich, nutty flavor and a subtle spicy kick. Perfect for dipping spring rolls and drizzling over noodle dishes and Buddha bowls!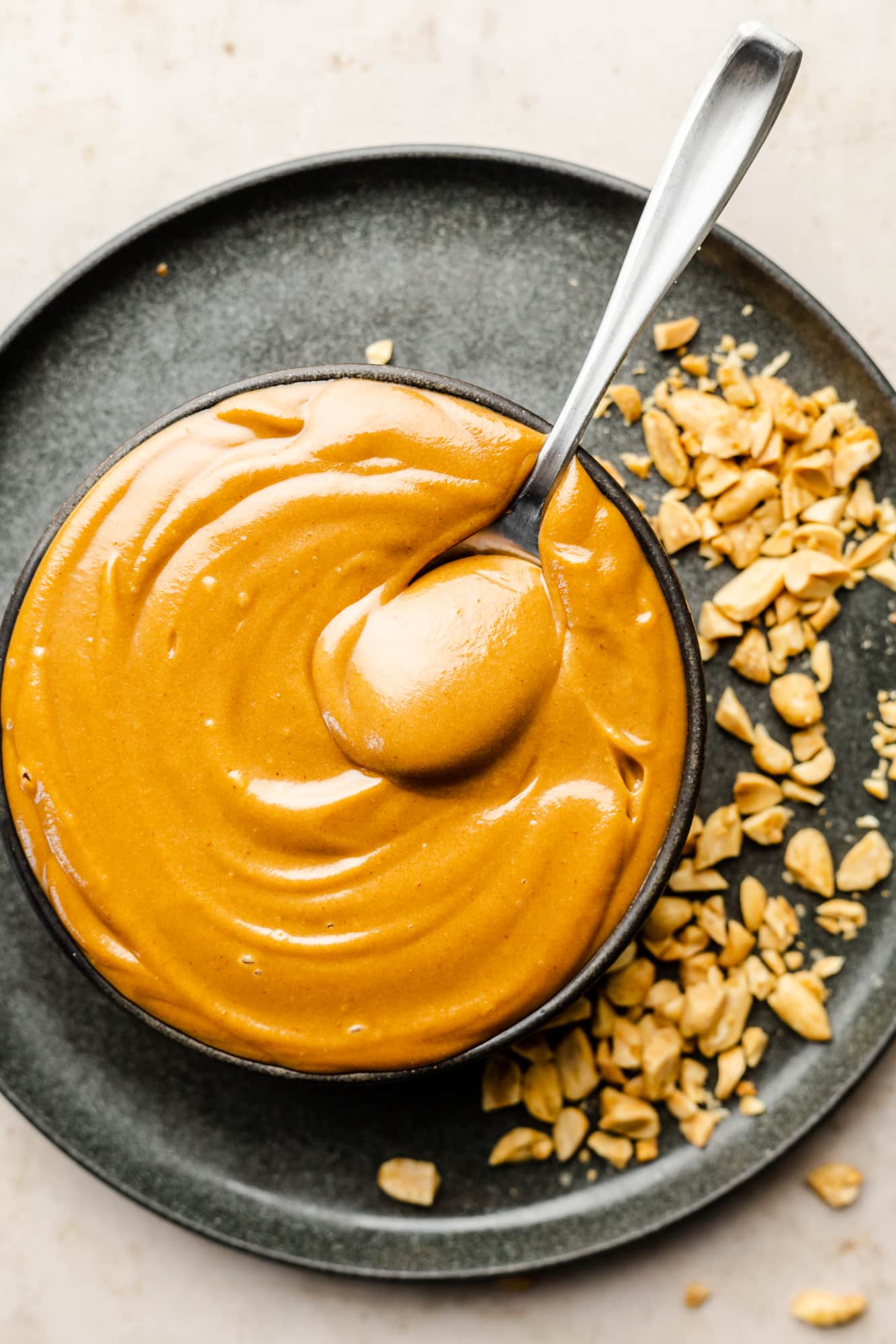 If there was one sauce I could eat for the rest of my life, it would be this vegan peanut sauce. It's layered with nutty, tangy, salty, and sweet flavors that enhance everything you use it for! You'll always find a batch of peanut sauce in my fridge (and freezer).
Not only does this peanut sauce recipe have bold flavors that make my taste buds dance, but it's also easy to make! No blender, food processor, or special equipment required. Simply add all the ingredients to a bowl, stir until smooth, then enjoy!
Like my chipotle sauce and ranch dressing, you'll want to pair this sauce with everything. Have a bowl at the party with a dish of crisp vegetables, fried tofu and spring rolls for dipping, or pour it over a bowl of rice, noodles or vegetables. It is sure to become a new staple in your kitchen!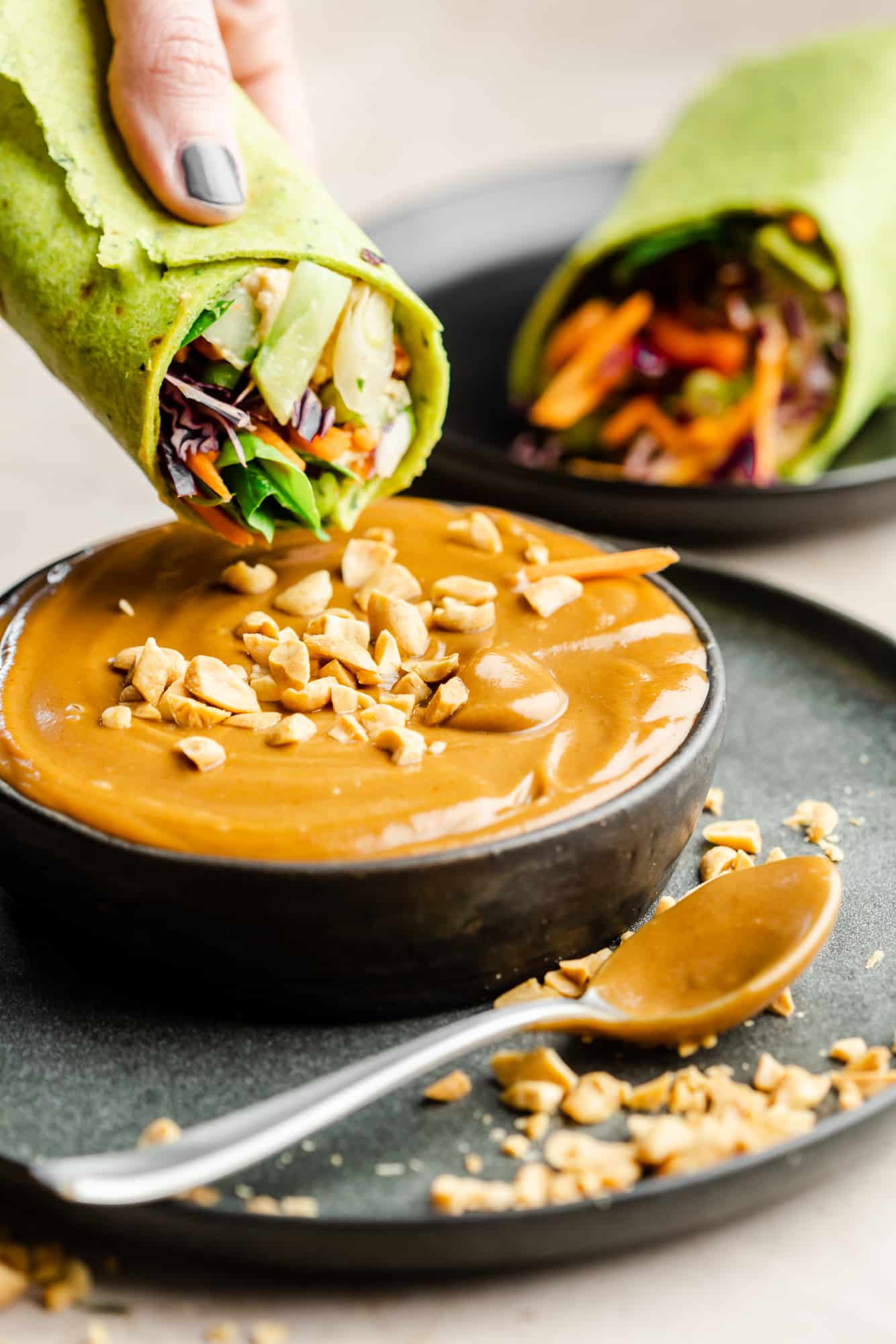 Required components (including substitutions)
Creamy peanut butter – Any kind of creamy peanut butter will work, whether it's natural or the no-steer variety. This recipe works just as well with almond butter, cashew butter, or sunflower seed butter, although the flavors will change slightly.
Rice vinegar – for a bright tanginess that balances the rest of the sauce. If you don't have rice vinegar, use lime juice.
I am Willow – It gives the sauce a rich, savory and umami flavor.
Maple syrup – Warm and sweet maple syrup is crucial for balance! You can also substitute brown sugar or agave.
ginger – While fresh ginger has the best flavor, ginger works in a pinch.
Sriracha hot sauce – It adds just a subtle heat that hides behind the peanut butter and coconut milk. If you don't like spicy food, feel free to skip it.
Coconut milk or water – I usually just use water and the sauce becomes very creamy, but to take it to the next level, use a little coconut milk (from a can or carton) until you reach the desired consistency.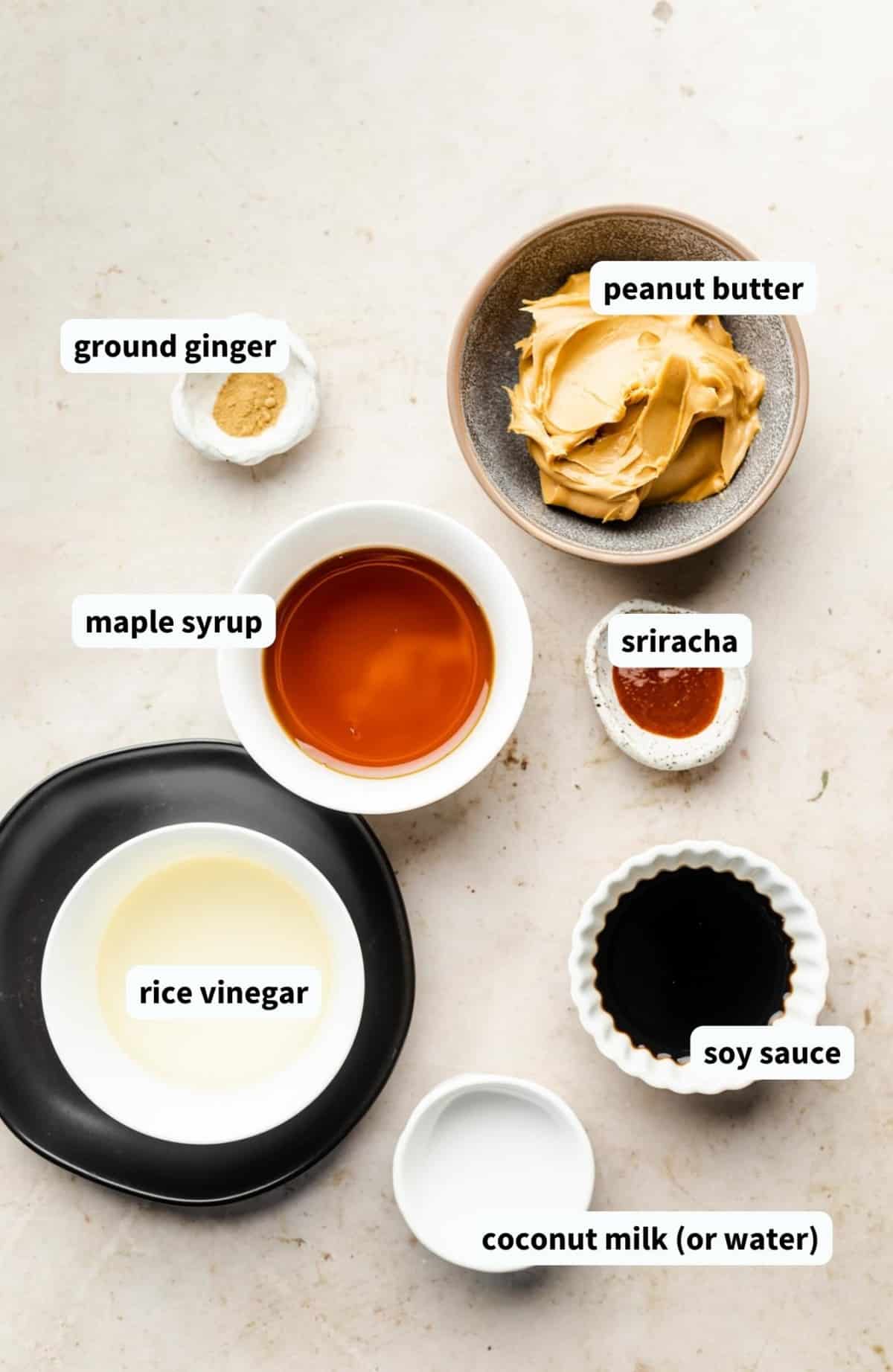 How to Make Peanut Sauce
Find the full recipe with measurements on the recipe card below.
Add all peanut sauce ingredients (except coconut milk/water) to a medium-sized bowl.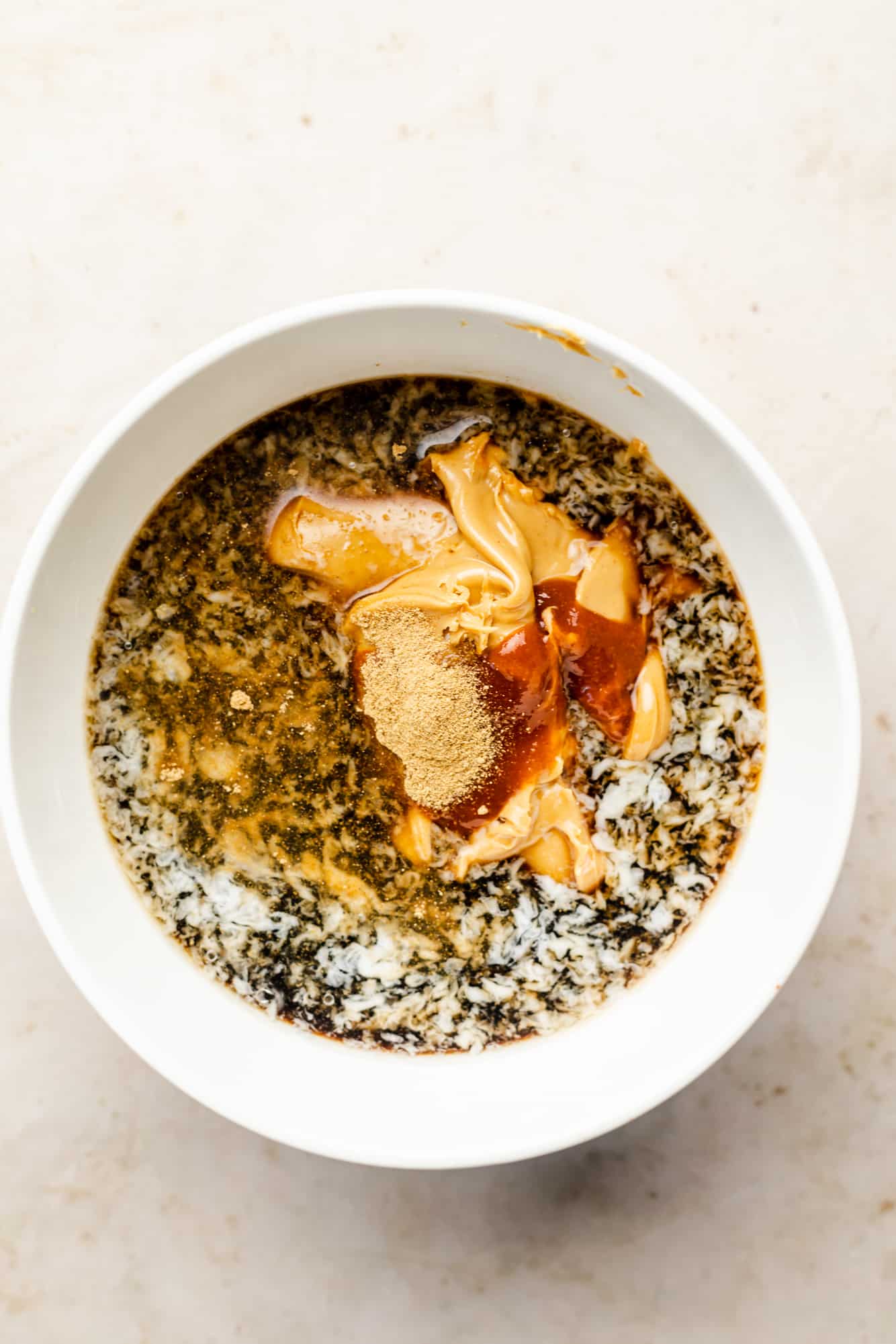 Whisk in 2 tablespoons coconut milk, then add more to achieve your desired creamy consistency.
Tip: A whisk is my tool of choice because it almost always gives the smoothest sauce consistency. However, to make this recipe even easier, blend the sauce in a blender or in a bowl with an immersion blender.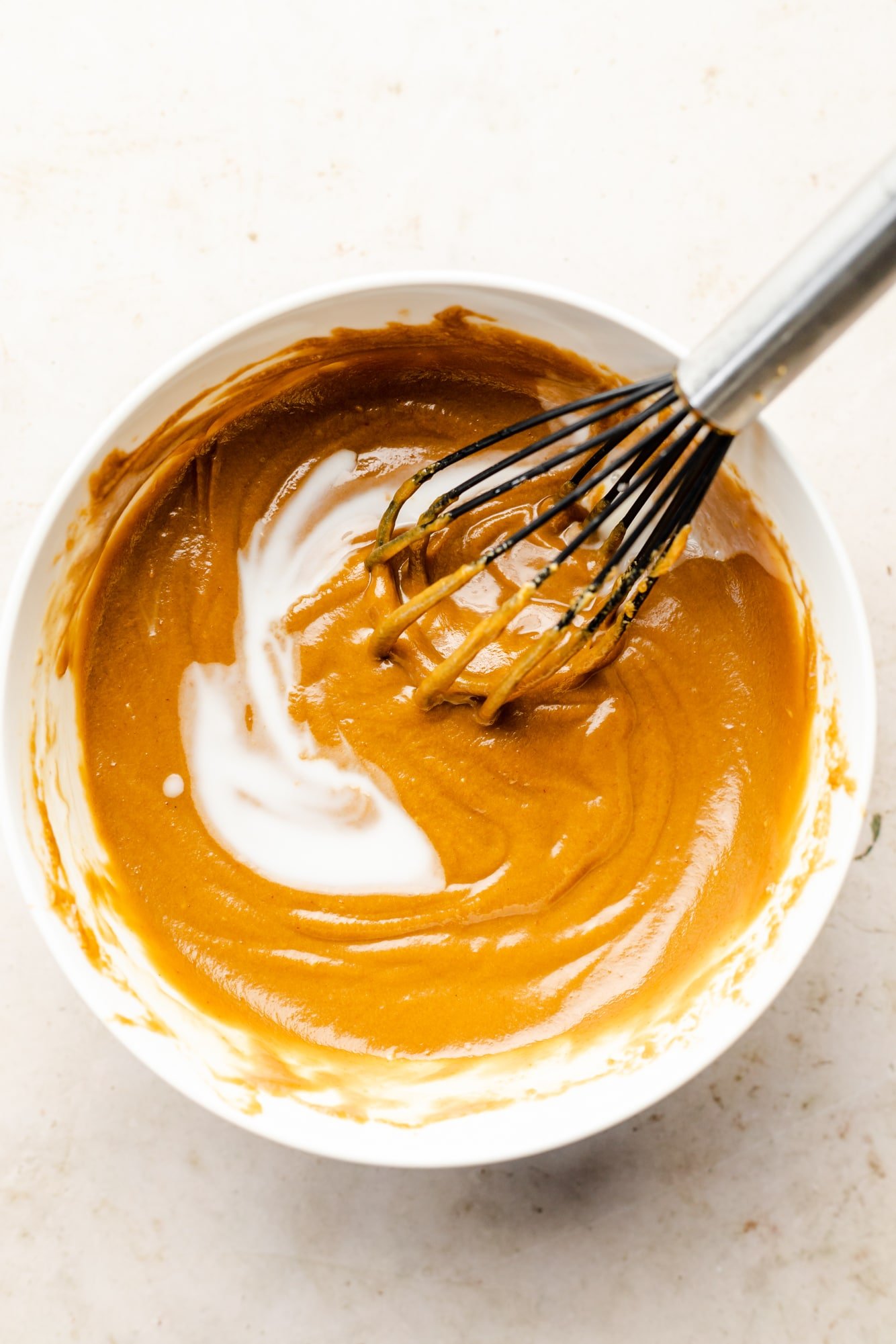 Keep stirring until you have a smooth sauce, then enjoy!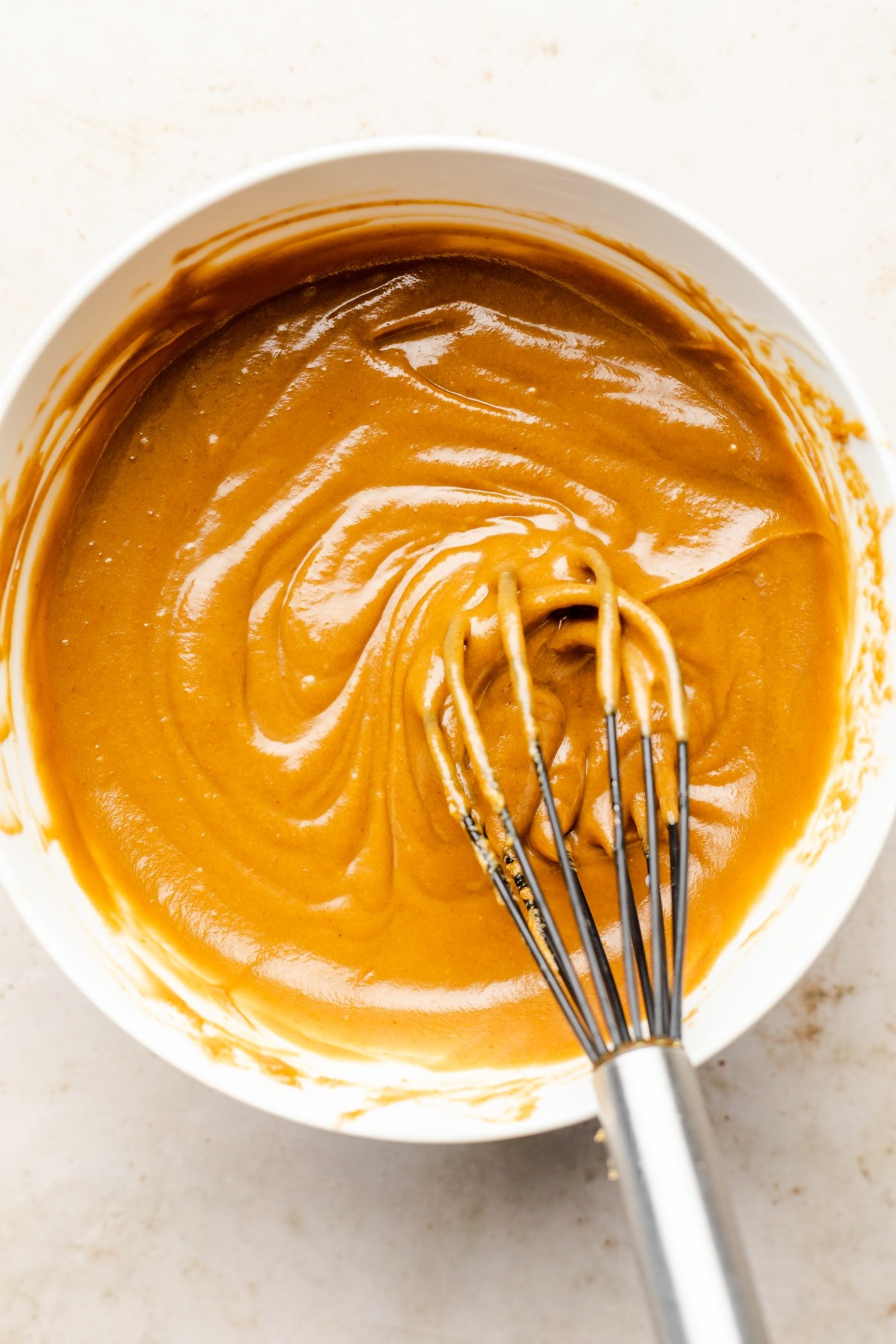 Serving advice
There are two amazing ways to use peanut sauce: (1) as a dipping sauce and (2) as a dressing! Use these ideas for inspiration when thinking about how to serve the sauce:
Jumping sauce – Take out a bowl of sauce garnished with peanuts and surround it with chopped vegetables, fresh spring rolls, tofu satay, marinated tofu, vegetable wraps, fried tofu and more.
dressing – Drizzle sauce over tofu and rice bowls, noodles and vegetables, stir-fries, Buddha bowls, salads, lettuce cups and more.
variety
Make it spicy – Add an extra teaspoon of Sriracha or a pinch of red pepper flakes to increase the heat.
less sugar – If you want the sauce less sweet, use only ¼ cup maple syrup.
Instead of peanut butter – Use cashew butter, almond butter, sunflower seed butter, or your favorite nut or seed butter!
gluten free – Use tamari instead of soy sauce to make gluten free peanut sauce.
to save
Whether you make it ahead of time or finish with extra, the sauce will stay creamy and fresh in an airtight container in the fridge for up to 1 week. It will thicken as it cools but you can thin it with water or more coconut milk.
It also freezes well! My favorite way to freeze peanut sauce is in ice cube trays. Once the cubes are firm, transfer them to a freezer bag and freeze for up to 3 months. Thaw the cubes or pop them in the microwave before serving.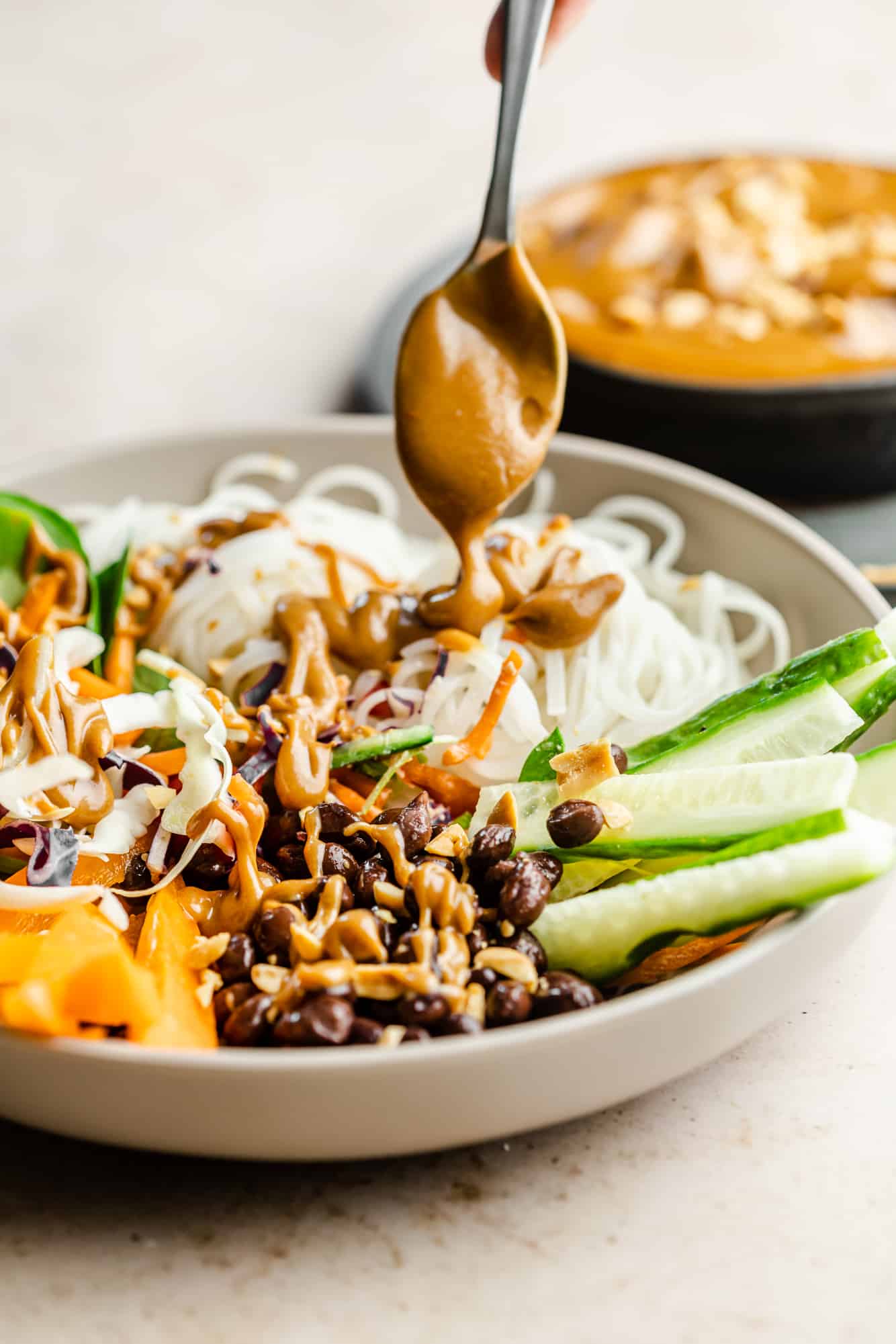 Want more homemade sauces?
In a medium-sized bowl, whisk all ingredients together until smooth. Start with just 2 tablespoons of coconut milk or water and add more as needed to thin the sauce.

If serving as a dip, sprinkle with crushed peanuts. The sauce also goes well with cooked vegetables, noodles, Buddha bowls, fresh spring rolls, tofu and salads.

Store in a covered container in the refrigerator for up to 1 week. It can be frozen in a freezer safe container.
Can use unstirred or natural peanut butter.
Allergic to peanuts? Use almond, cashew or sunflower seed butter.
You can use lime juice instead of rice vinegar.
Gluten free? Be sure to use gluten free tamari instead of soy sauce.
For extra liquid, I usually just use water, but coconut milk will take it to the next level of creamy and delicious!
Worship: 1bhajana | Calories: 193kcal | Sugars: 15g | Protein: 7g | Fat: 13g | Saturated Fat: 3g | Sodium: 392mg | Potassium: 211mg | Fiber: 2g | Sugar: 11g | Vitamin C: 1mg | Calcium: 26mg | Iron: 1mg