Weeknight dinners are all about quick and easy recipes that should be a breeze, especially when you've got a hungry family waiting. Whether you need kid-friendly recipes that please even the pickiest eaters or wholesome family dinner recipes to feed a large crowd, we've got your back. We are sharing over 55 Easy Family Dinner Ideas from delicious one-pot wonders and simple sheet pan dinners, to comforting casseroles and pasta, to healthier takes on classic favorites, and everything in between. So set the table, gather 'round, and bring a smile to the everyone's faces with these tasty family dinners.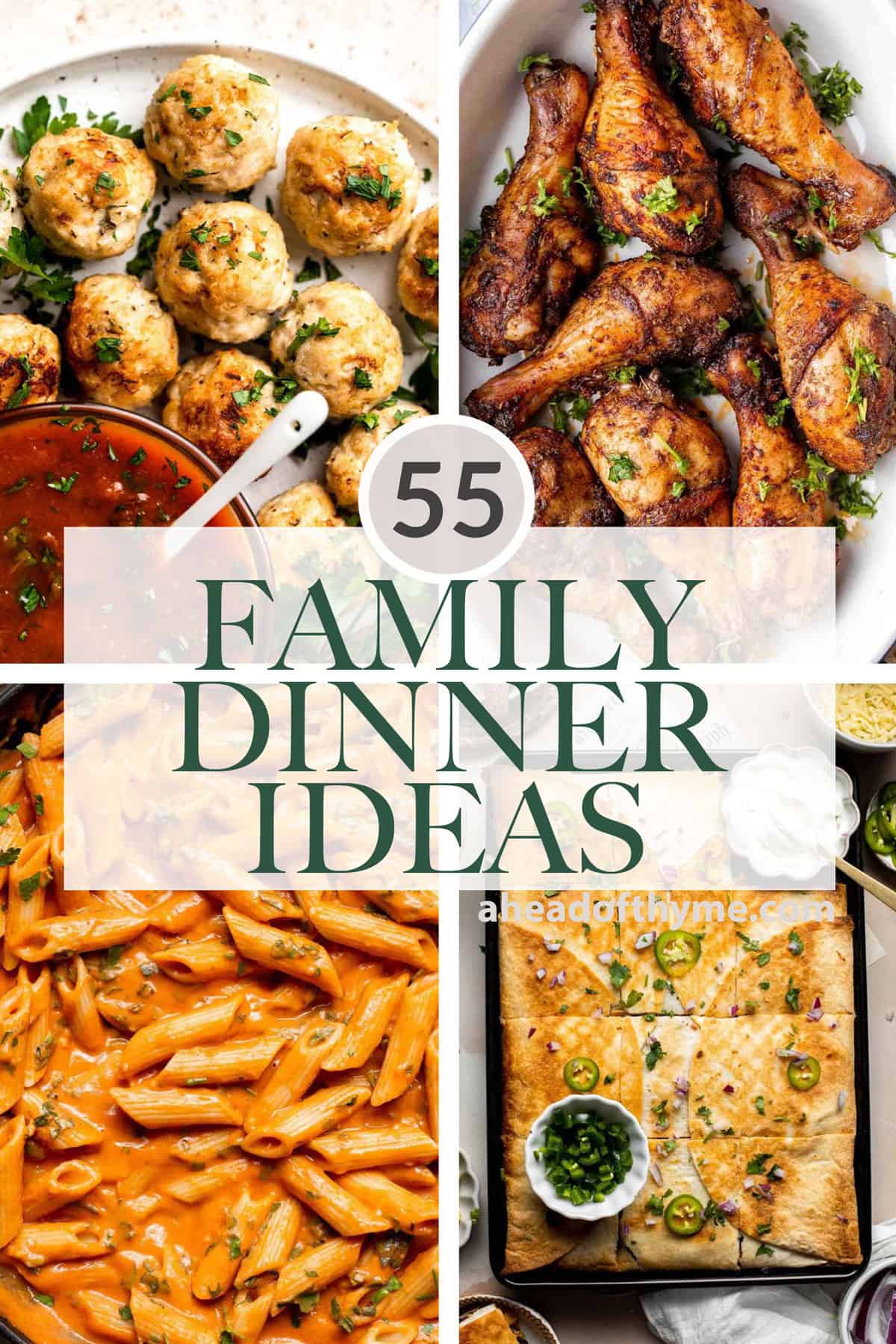 Easy Family Dinner Ideas
Baked Chicken Drumsticks
Baked Chicken Drumsticks are ideal for busy weeknights. Marinate inexpensive chicken legs with everyday spices and bake until crispy, tender, and flavorful.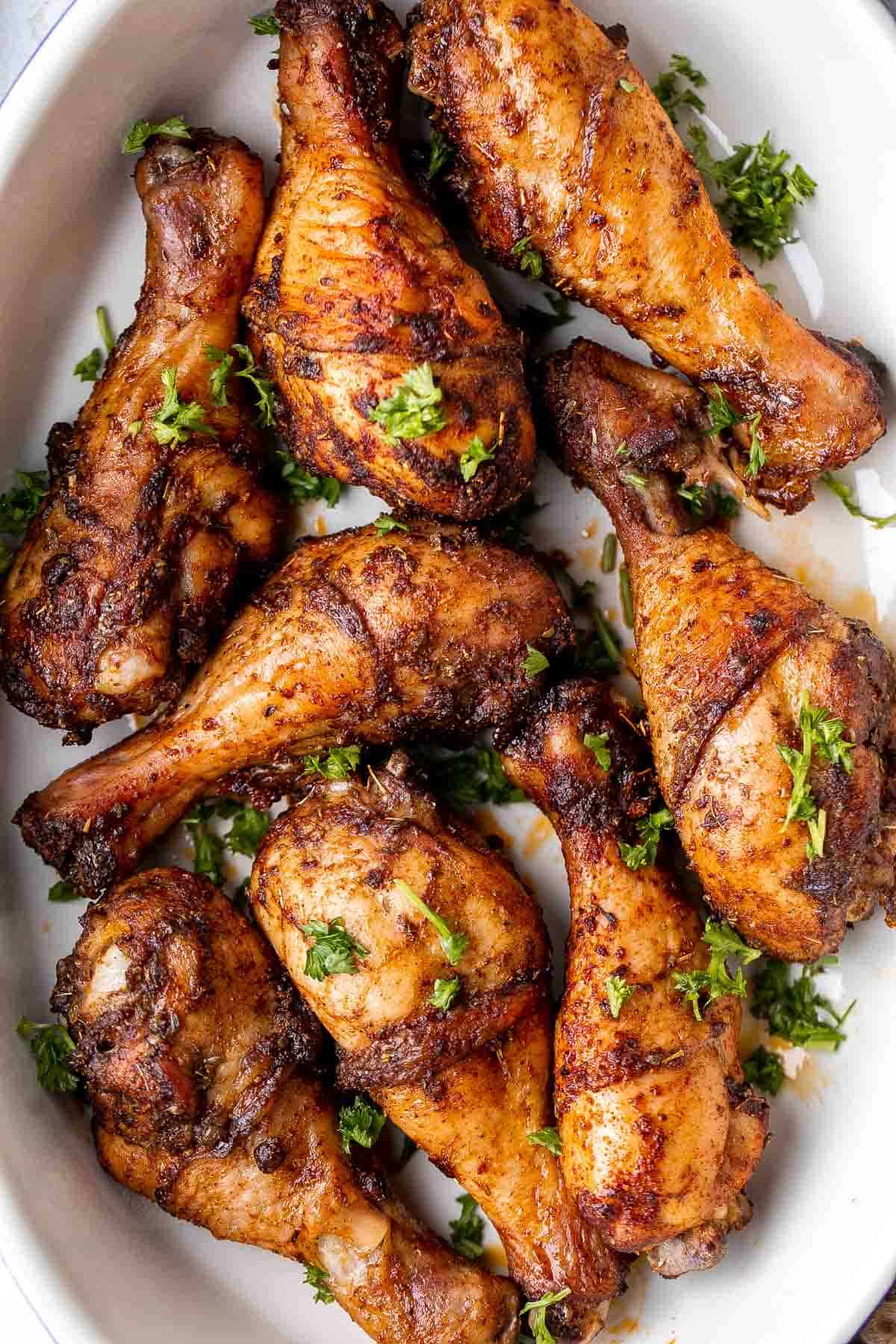 Homemade Hamburger Helper
Homemade hamburger helper is a family favorite but you can make a cheaper, healthier, and way tastier version at home, ready in just 30 minutes.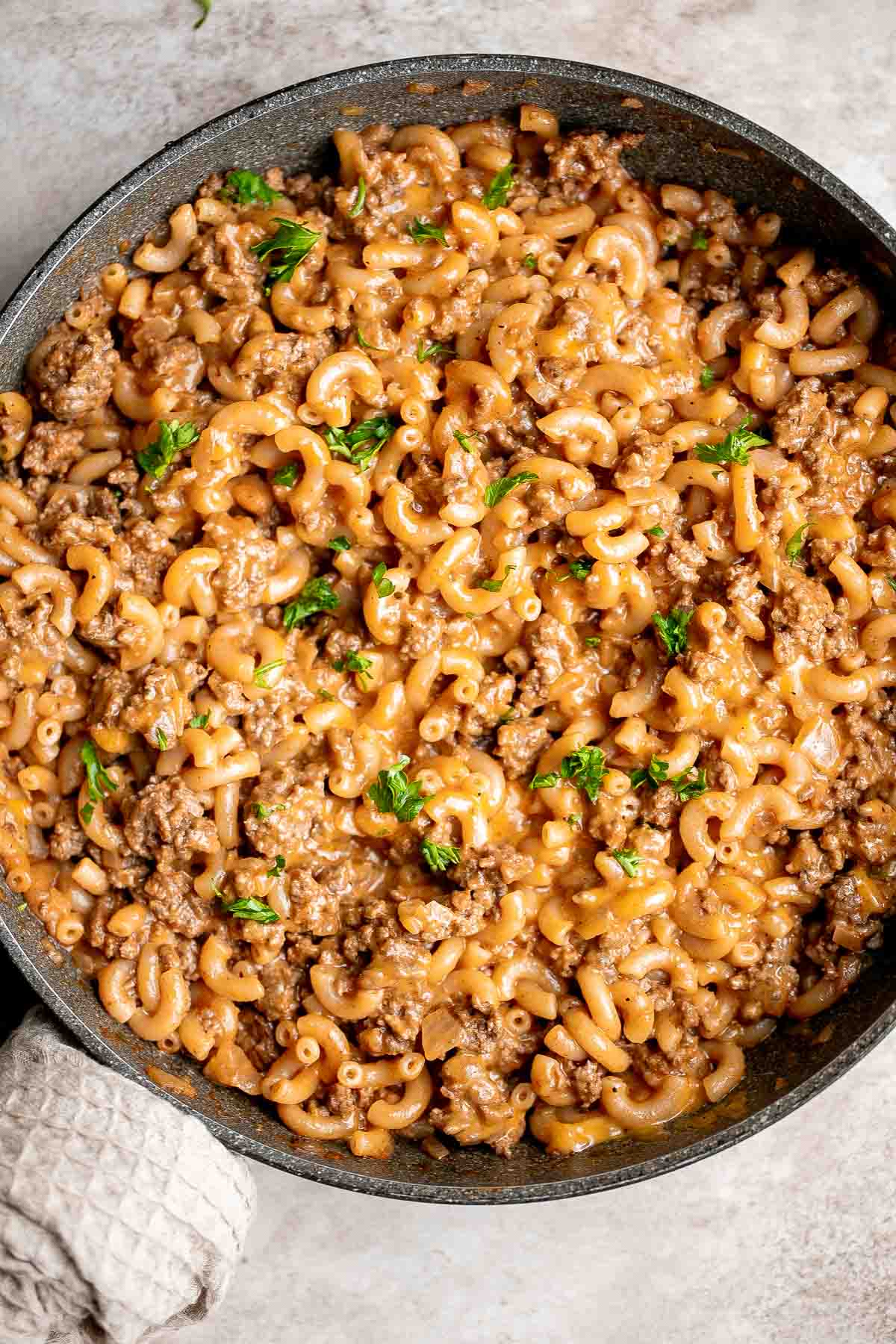 Italian Meatballs
Meatballs are probably my favorite of all ground beef recipes. These quick, easy homemade Italian meatballs are juicy, flavourful, and delicious, simmered in a rich and savoury tomato sauce. Make them in just 30 minutes.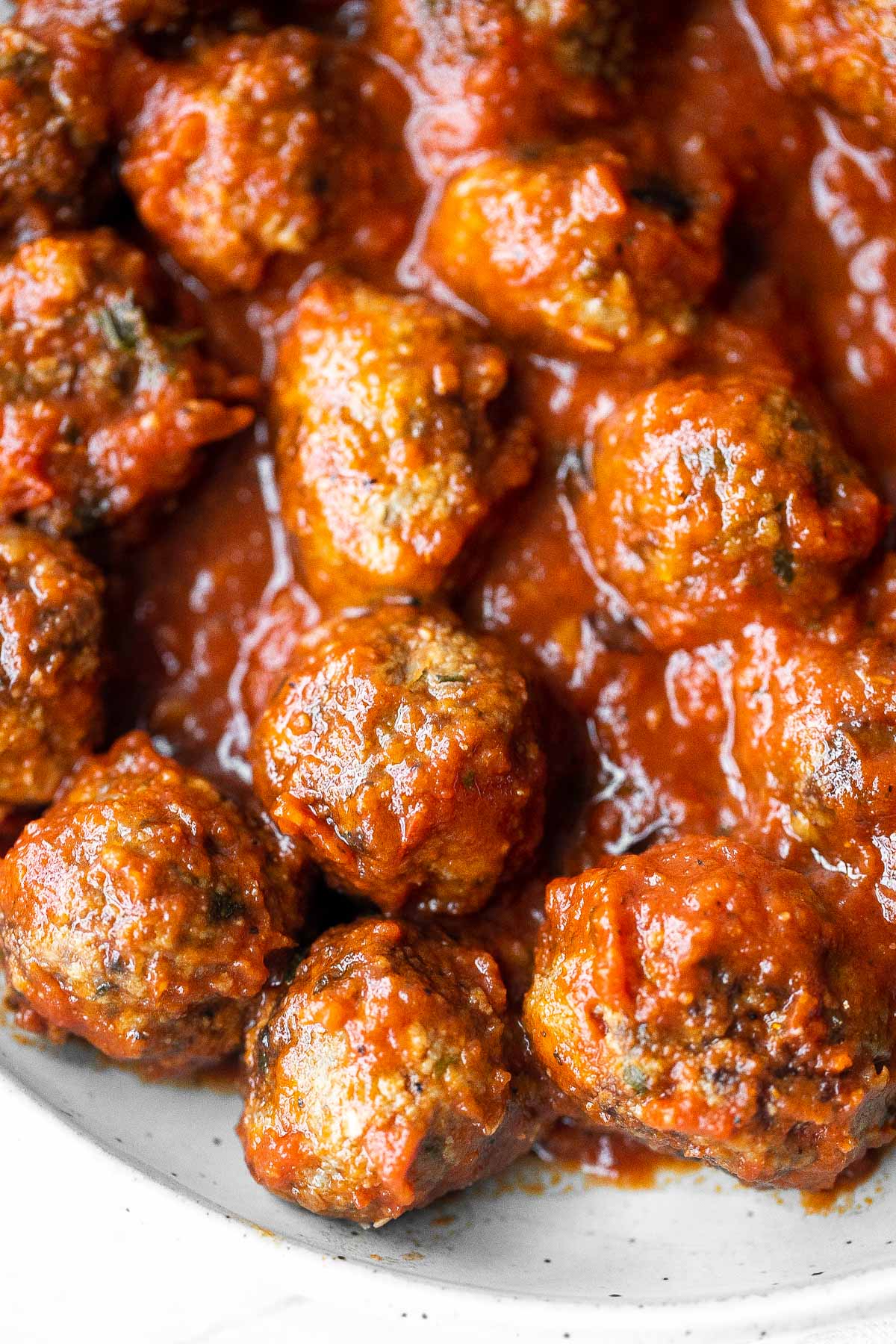 Tater Tot Casserole
Tater Tot Casserole is classic comfort food that incorporates delicious layers of crispy tater tots, melted cheese and a creamy beef and vegetables mixture.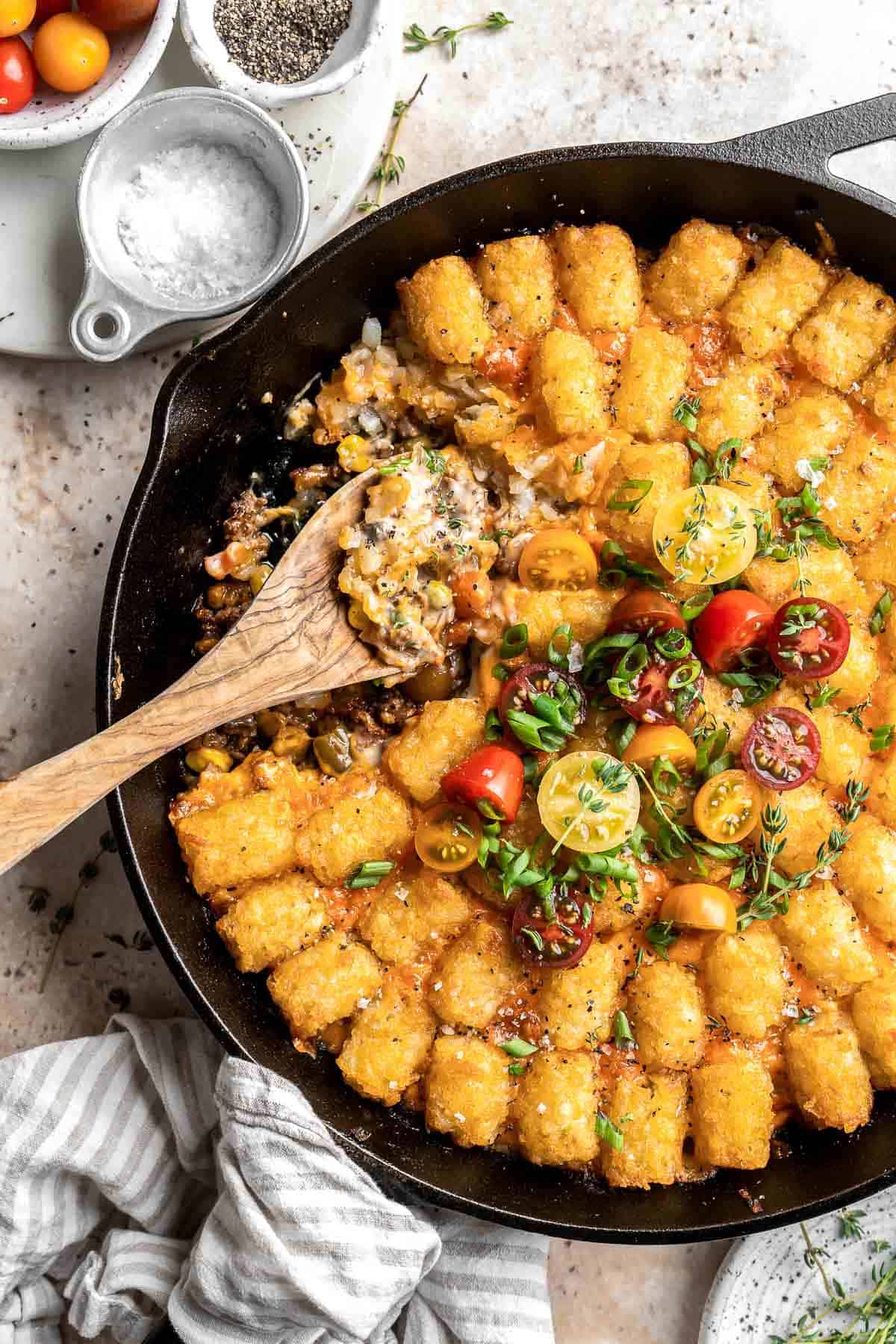 Garlic Butter Salmon
Tender, flaky, flavorful garlic butter salmon is well-seasoned, seared to perfection, and basted until juicy. Quick and easy to make in 20 minutes.
Potato and Cheese Perogies
Homemade Potato and Cheese Perogies are comforting, delicious, and satisfying. These cheddar pierogi from scratch as easier to make than you think!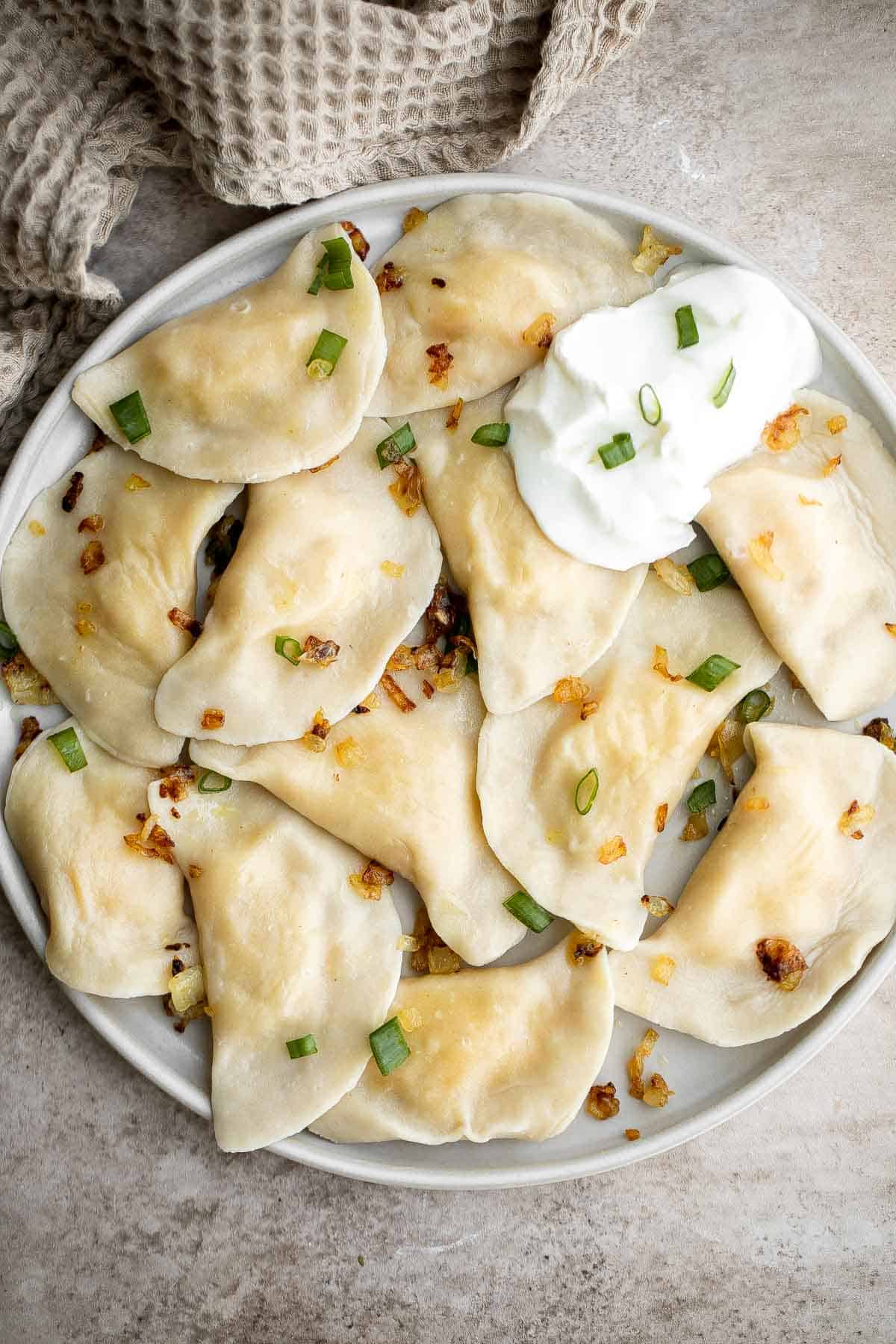 Creamy Tomato Pasta
This Creamy Tomato Pasta is a simple and delicious meal made from scratch in 25 minutes with a cream and tomato based sauce that is rich and silky smooth.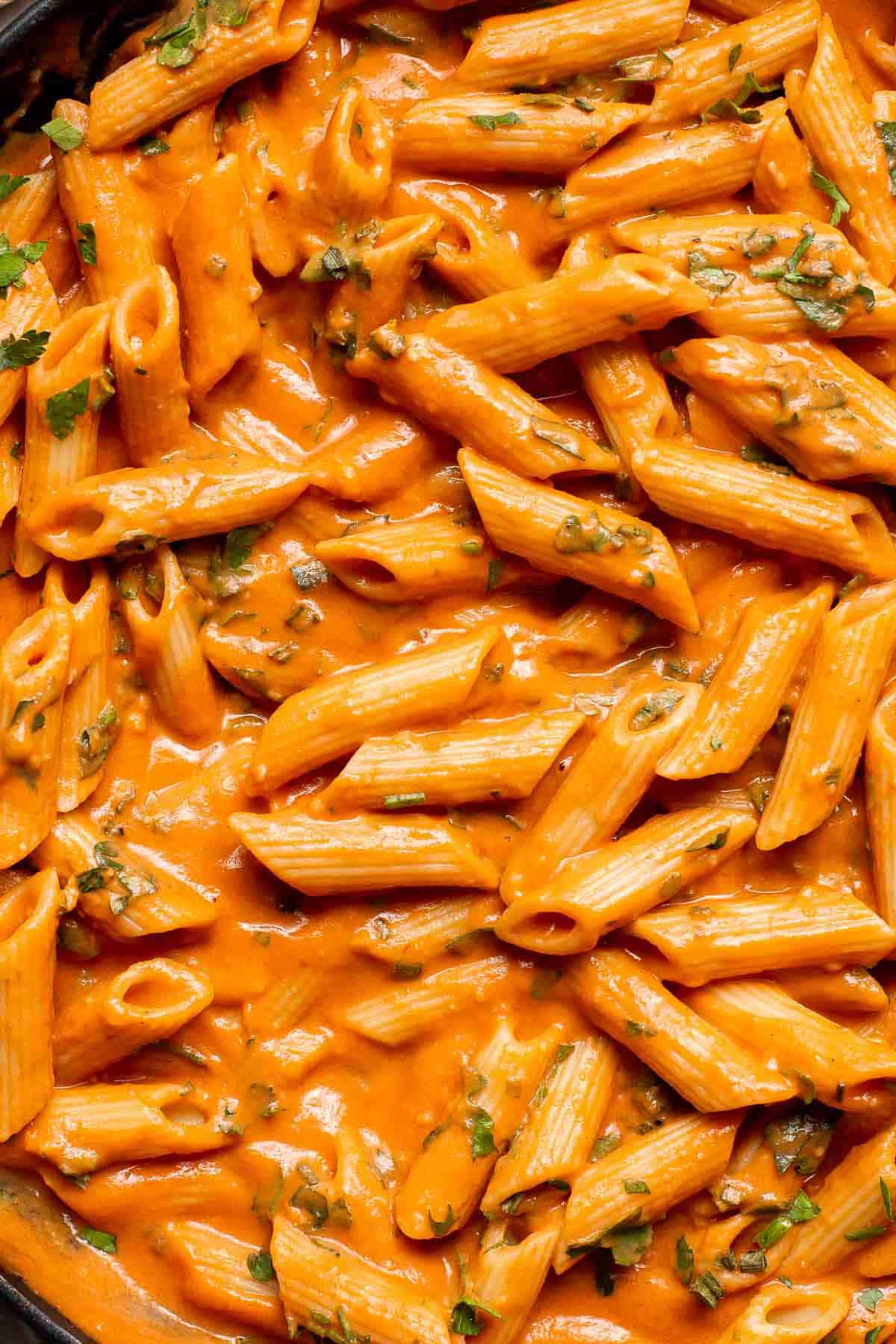 BBQ Chicken Pizza
Forget delivery and make sweet, tangy, and smoky BBQ chicken pizza from the comfort of your own home in under 30 minutes. The easiest weeknight dinner.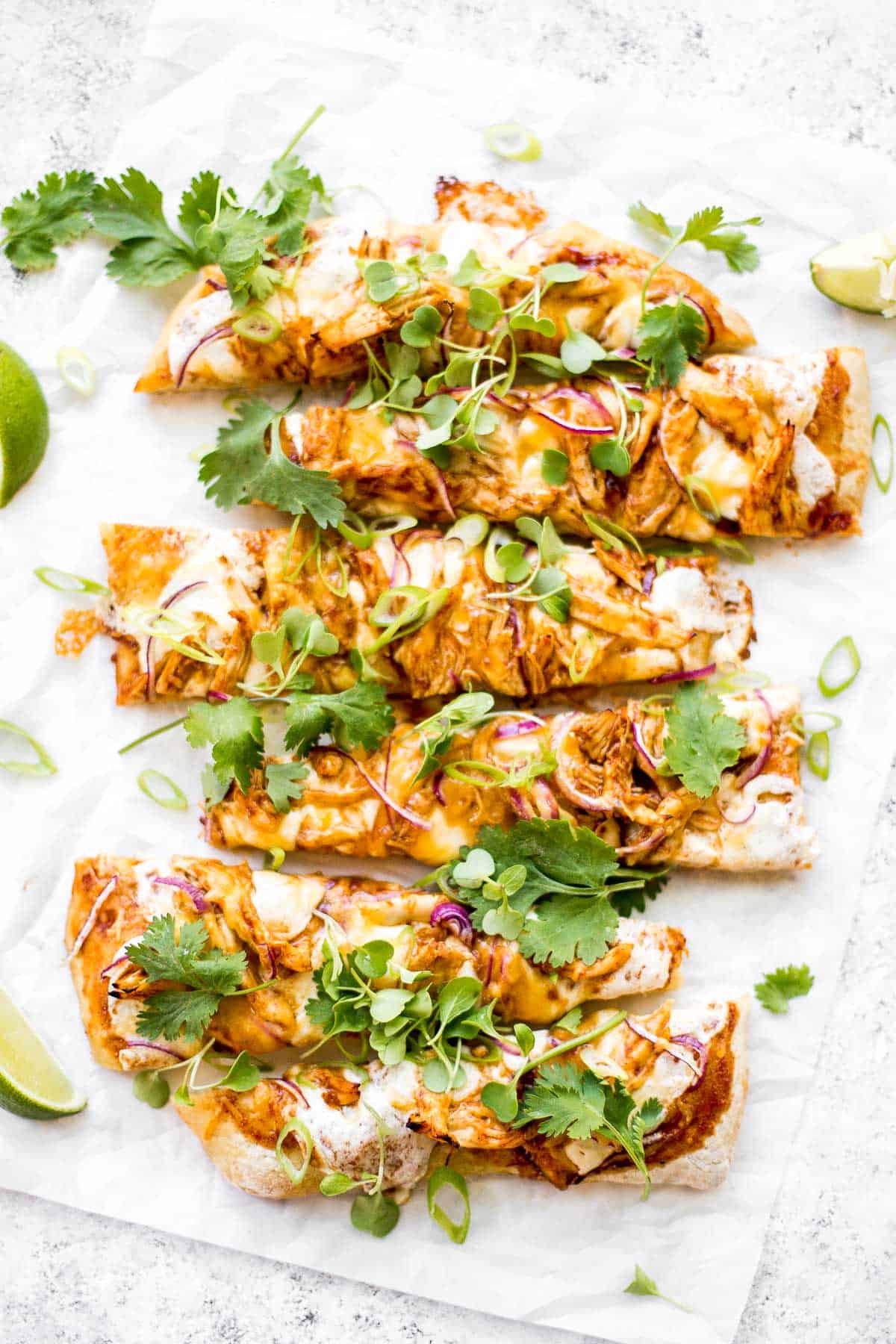 Alphabet Soup
Homemade Alphabet Soup will quickly become a family favorite with its hearty vegetables and fun alphabet noodles. It's quick and easy to make in 30 minutes.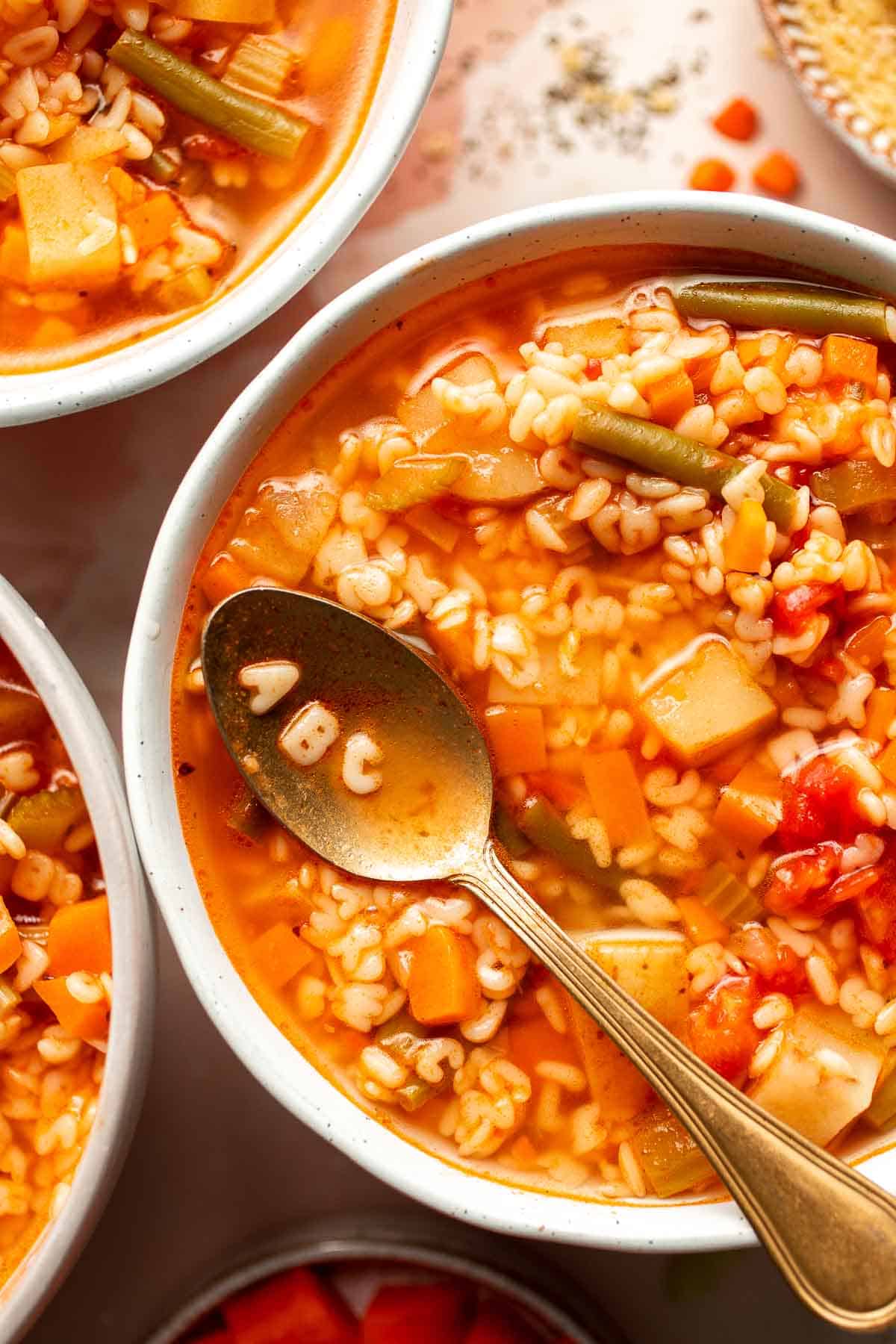 Sheet Pan Quesadillas
These Sheet Pan Quesadillas are loaded with veggies and gooey cheese, baked in the oven until crispy, and made to feed a crowd in just 30 minutes.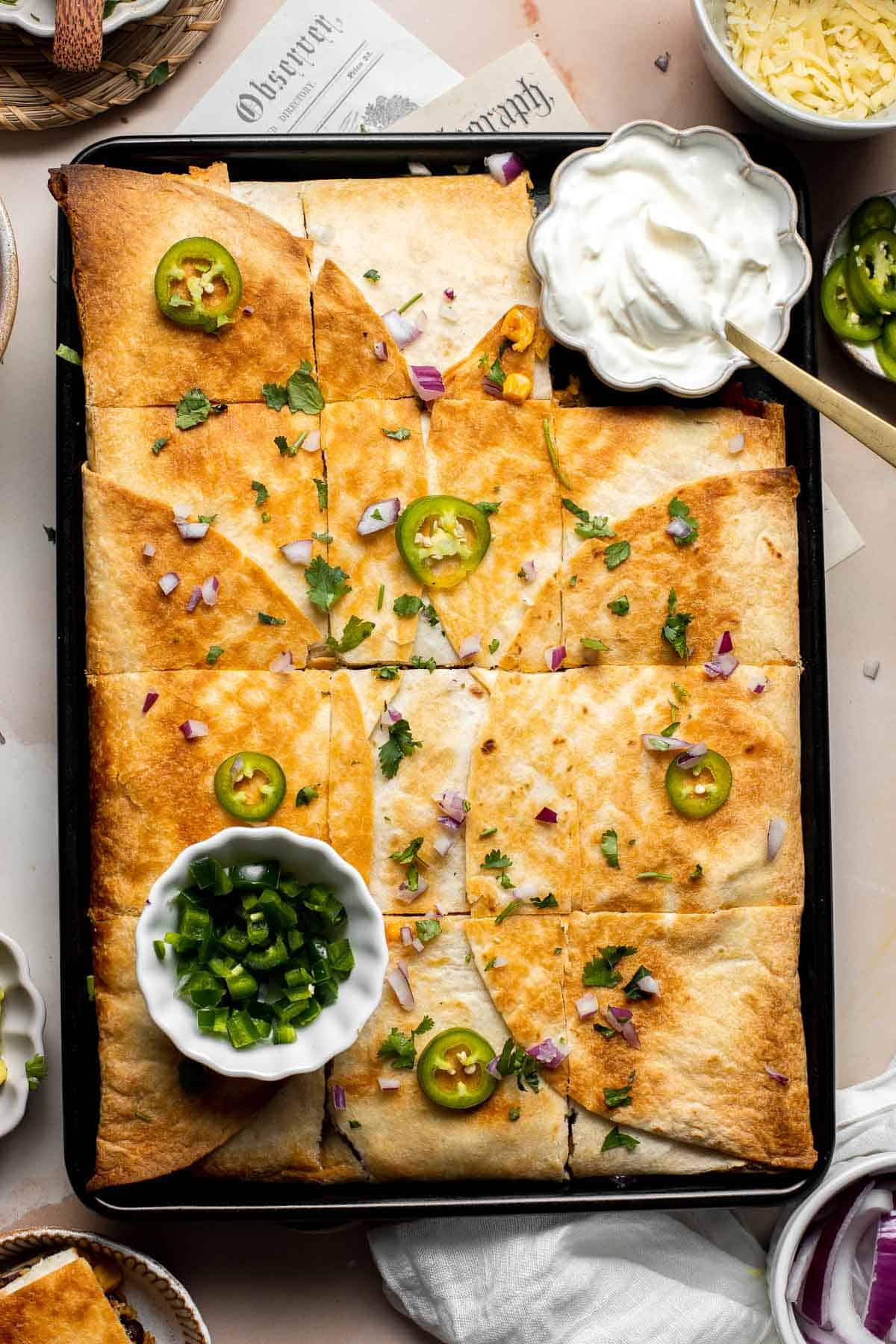 20-Minute One Pot Lentils
Easy 20-minute one pot lentils is vegan, gluten-free, and packed with protein. It's immune boosting properties makes it the perfect comfort food. It's one of the best vegan dinners.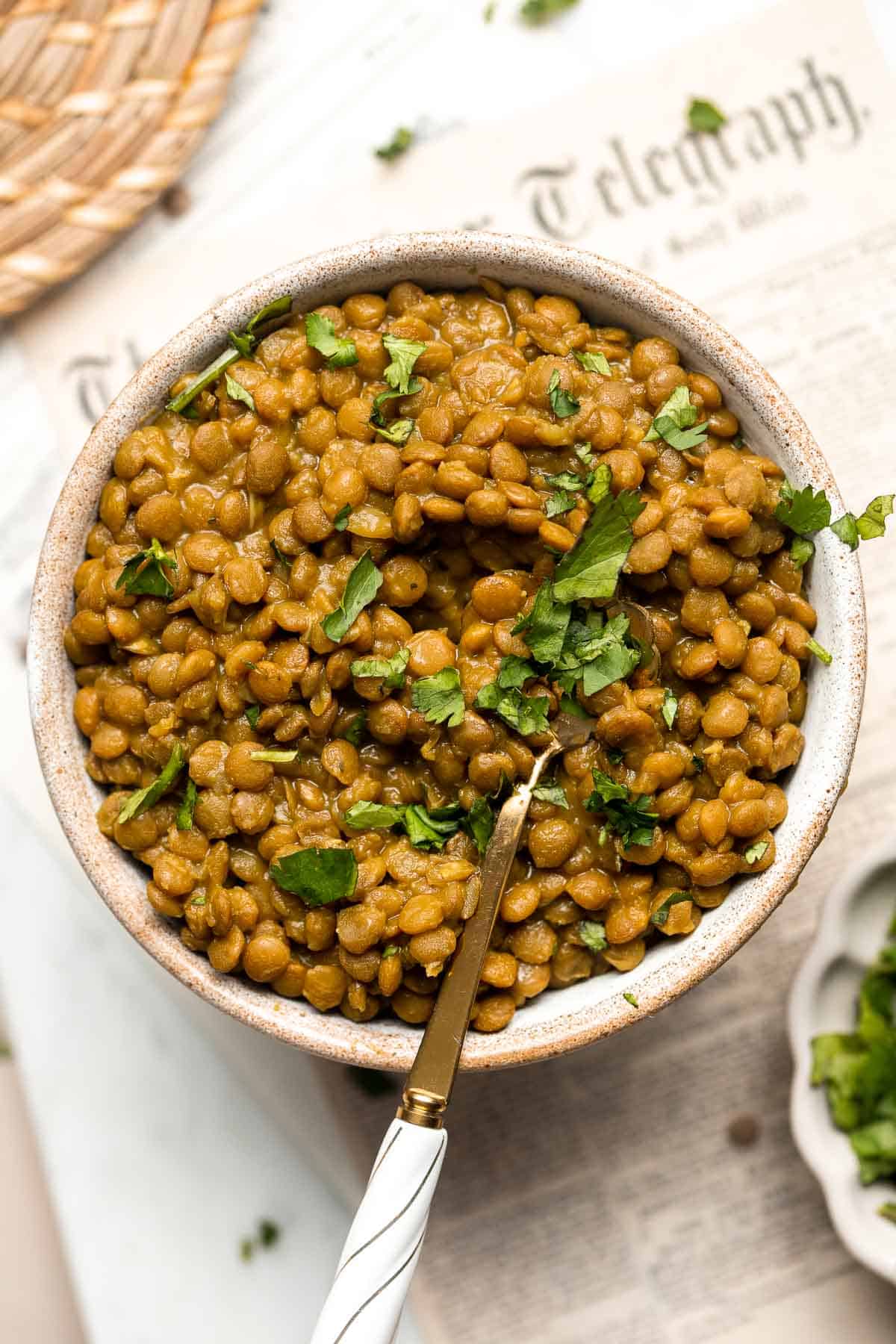 Instant Pot Whole Chicken
Instant pot whole chicken with gravy is tender, juicy, and flavorful. It's the fastest way to cook a whole rotisserie chicken for dinner in just 40 minutes.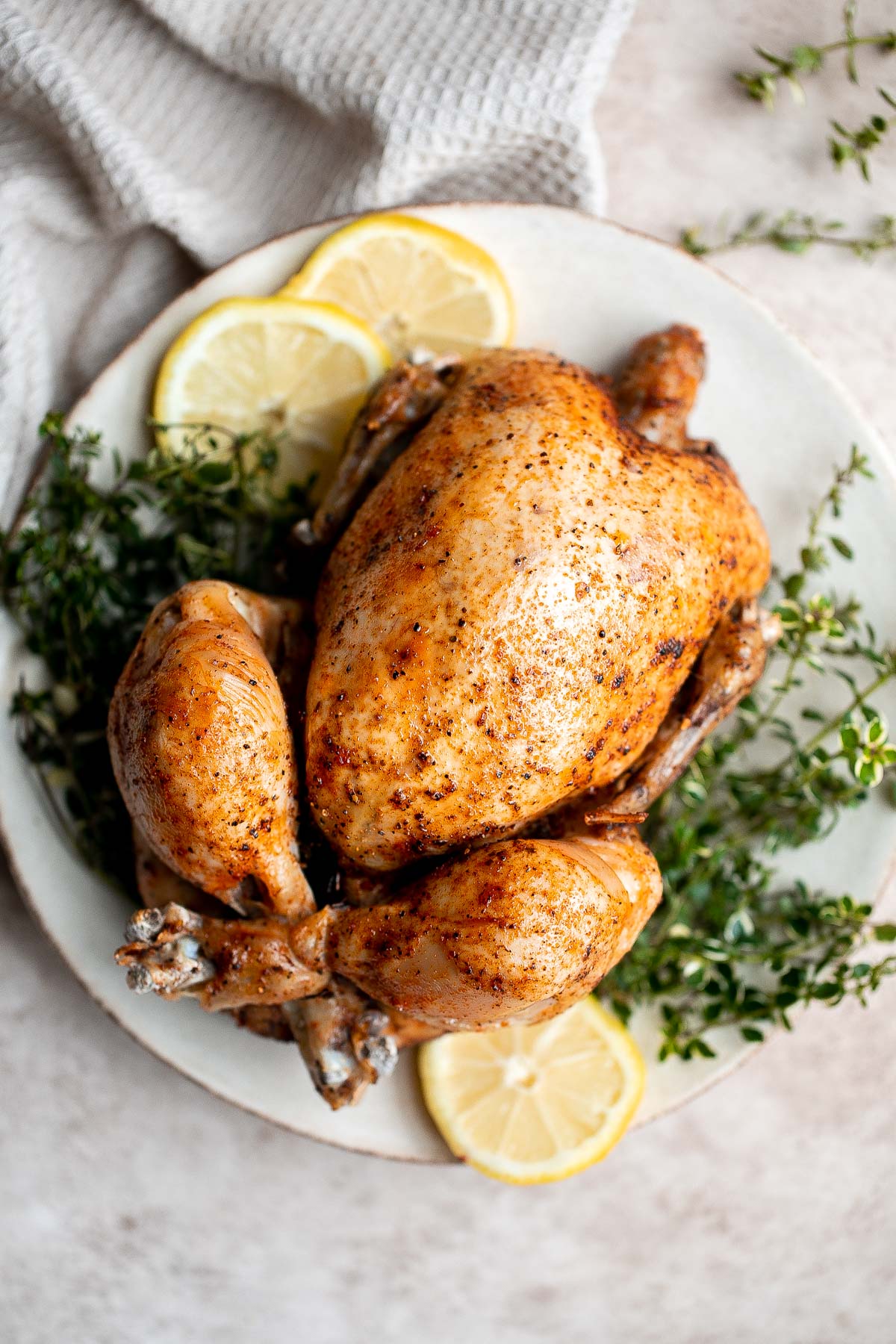 Stovetop Mac and Cheese with White Cheddar
Quick and easy, creamy stovetop mac and cheese with white cheddar is a delicious and comforting one pot 20-minute meal packed with three types of cheese.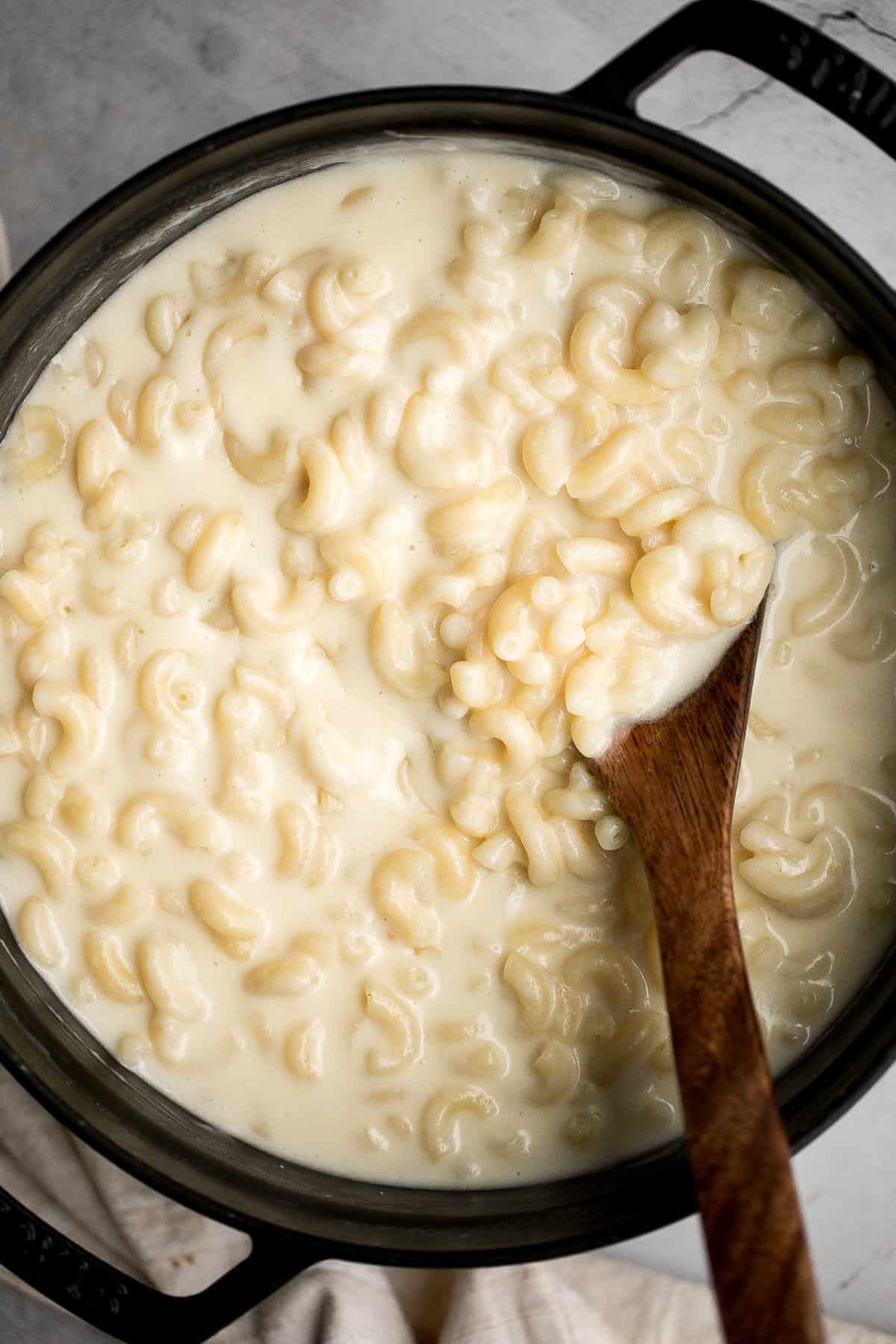 Garlic Butter Steak Bites
Garlic Butter Steak Bites are tender, juicy, and flavorful. This quick and easy appetizer or weeknight dinner takes just 15 minutes to make in one skillet.
Chicken Enchilada Casserole
Chicken Enchilada Casserole is cheesy, saucy, and packed with layers of enchilada classics like chicken and beans, tortillas, and cheese. A family favorite!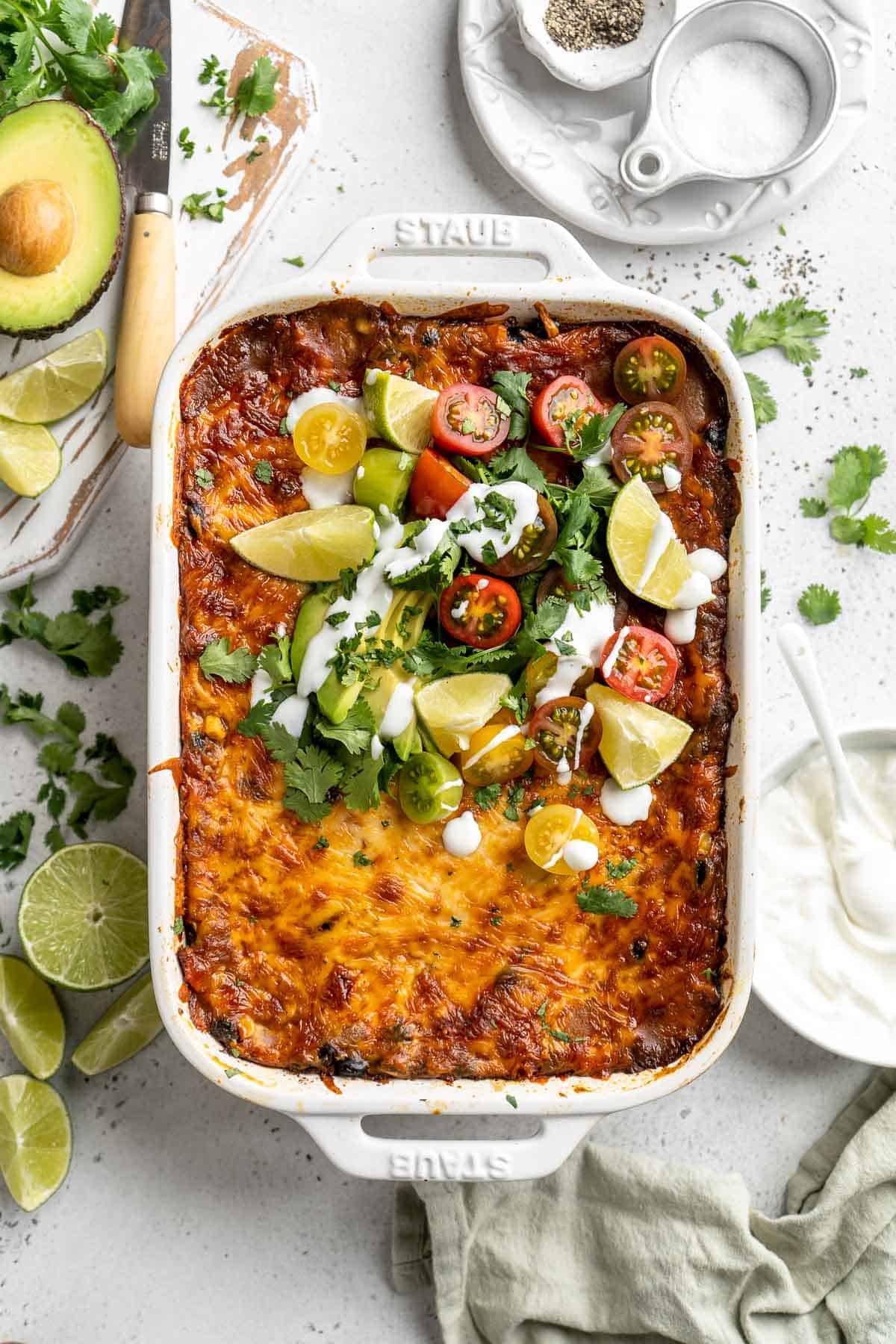 Homemade Fish Sticks
Quick easy baked homemade fish sticks are crispy on the outside, tender and flaky on the inside, and packed with flavor. Kid-friendly + freezer-friendly.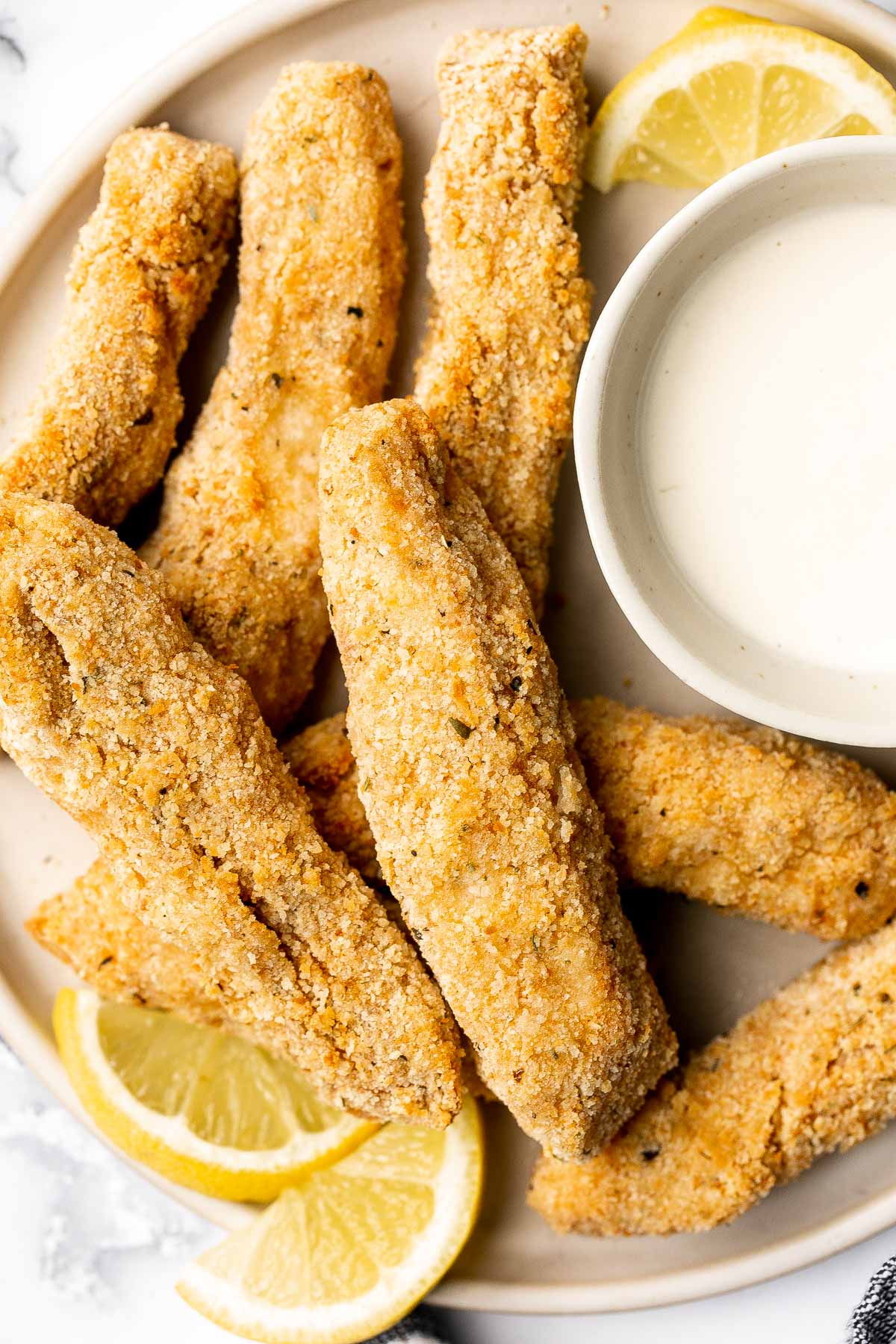 Skillet Neapolitan Margherita Pizza
Quick and easy skillet Neapolitan margherita pizza has an iconic thin and soft crust with a perfectly crisp exterior, and simple and fresh toppings.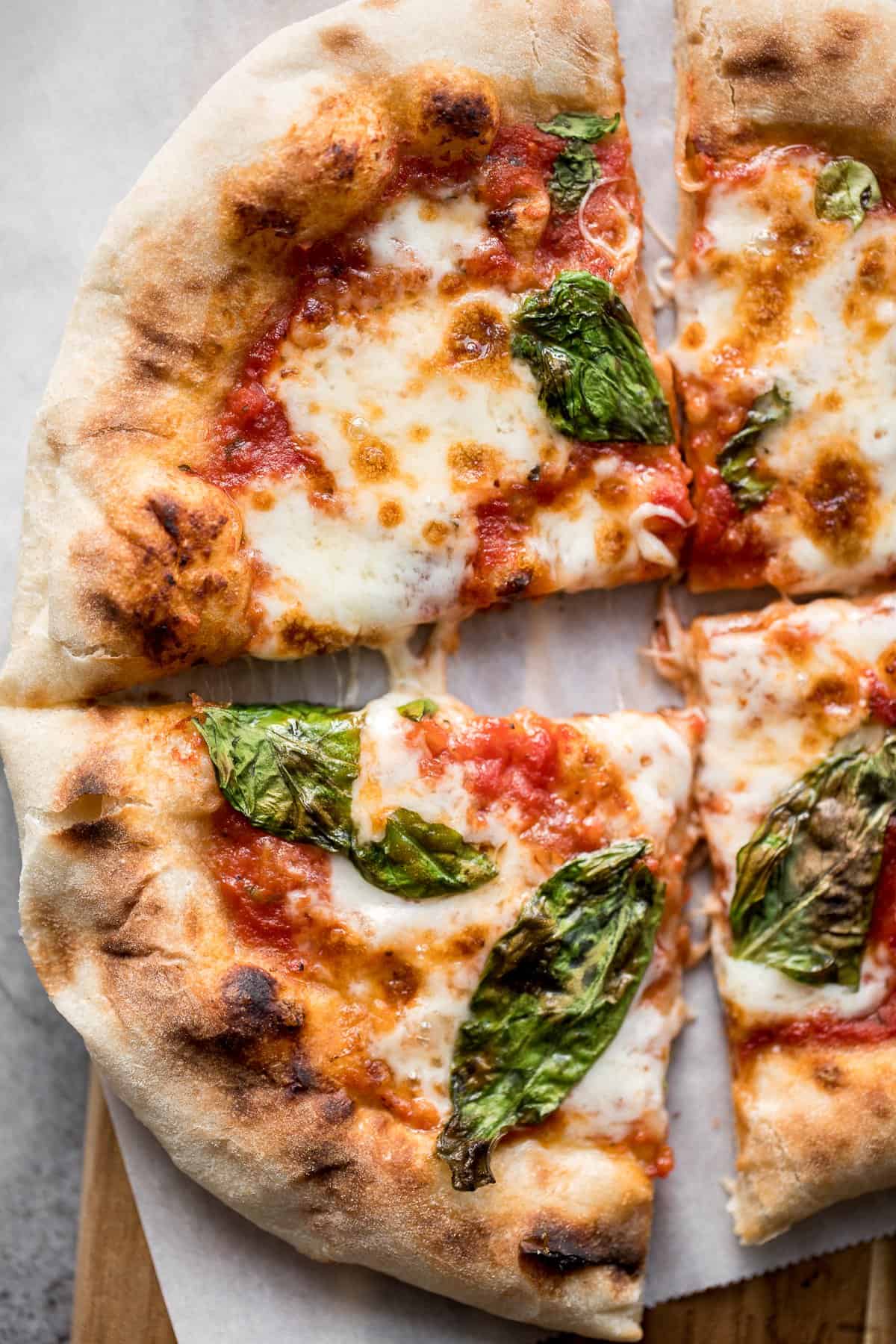 Hamburger Soup with Macaroni
Hamburger soup with macaroni is a quick and easy weeknight dinner that's wholesome, filling, comforting and nutritious. Prep, cook and serve under an hour.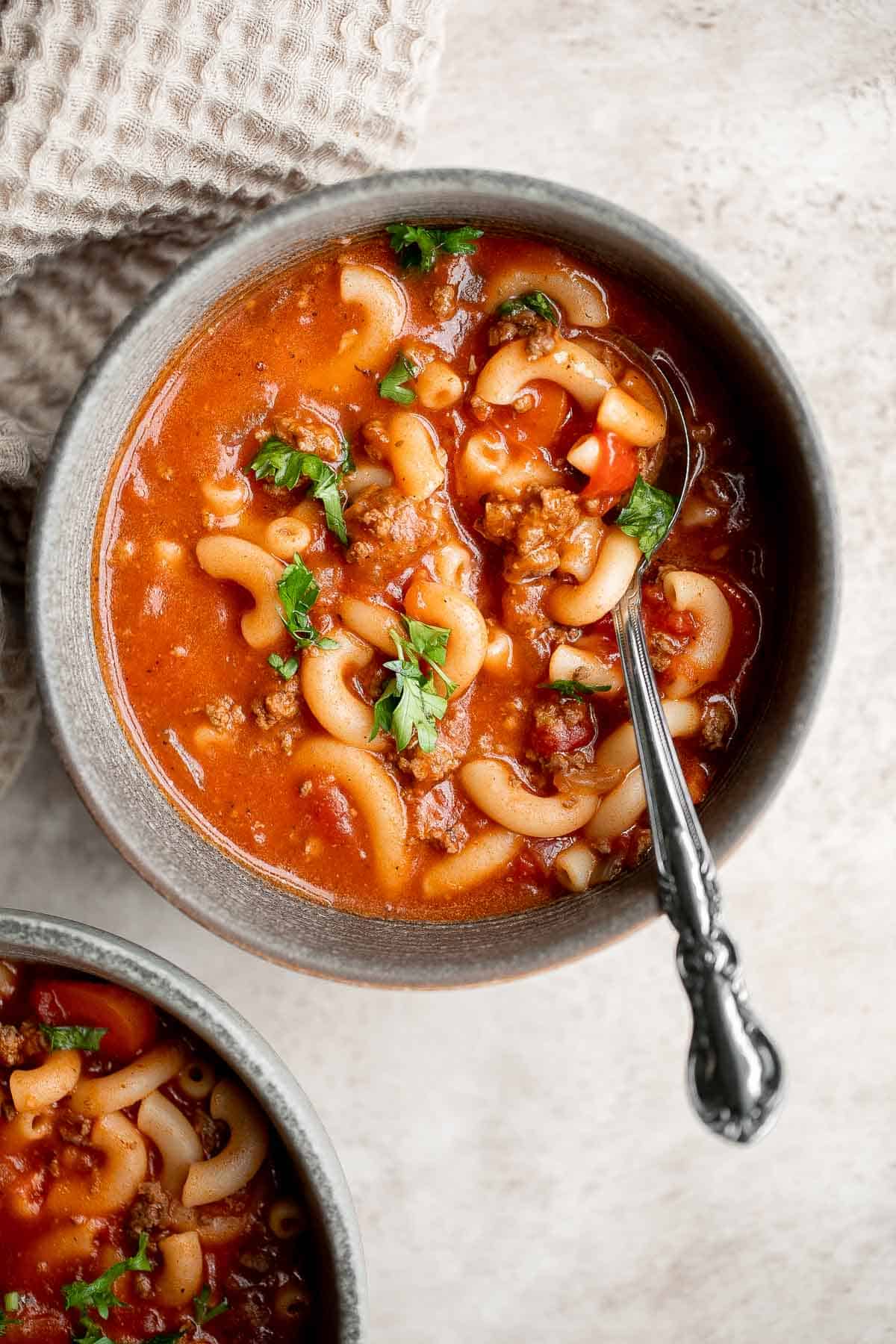 Pizza Fries
Baked Pizza Fries are loaded with a rich marinara sauce, melted cheese, and crispy pepperoni — transforming ordinary fries into the ultimate finger food.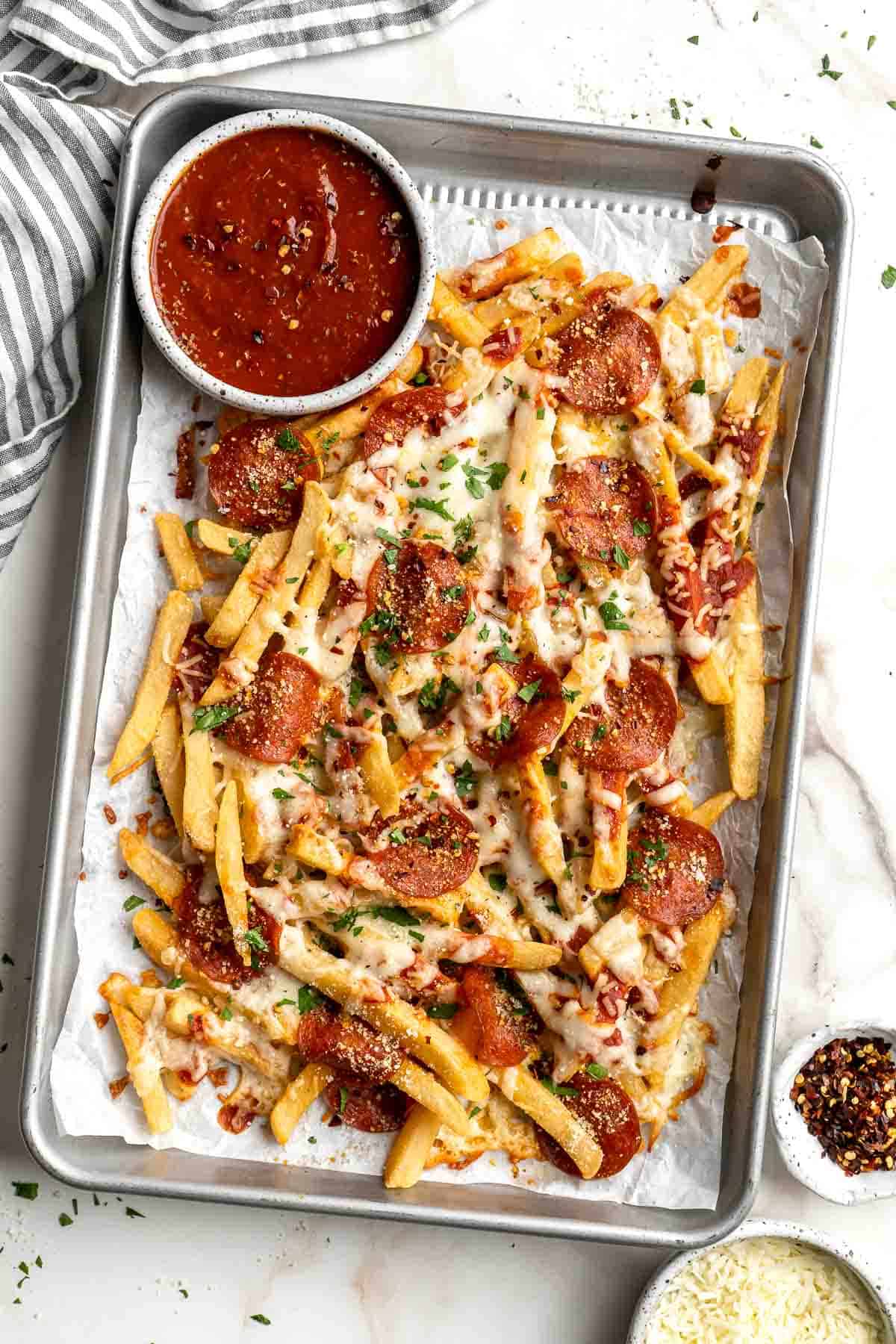 Chicken Chow Mein
Chicken Chow Mein is a classic Chinese noodle dish that is quick and easy to make at home in 20 minutes — faster, healthier, and better than takeout.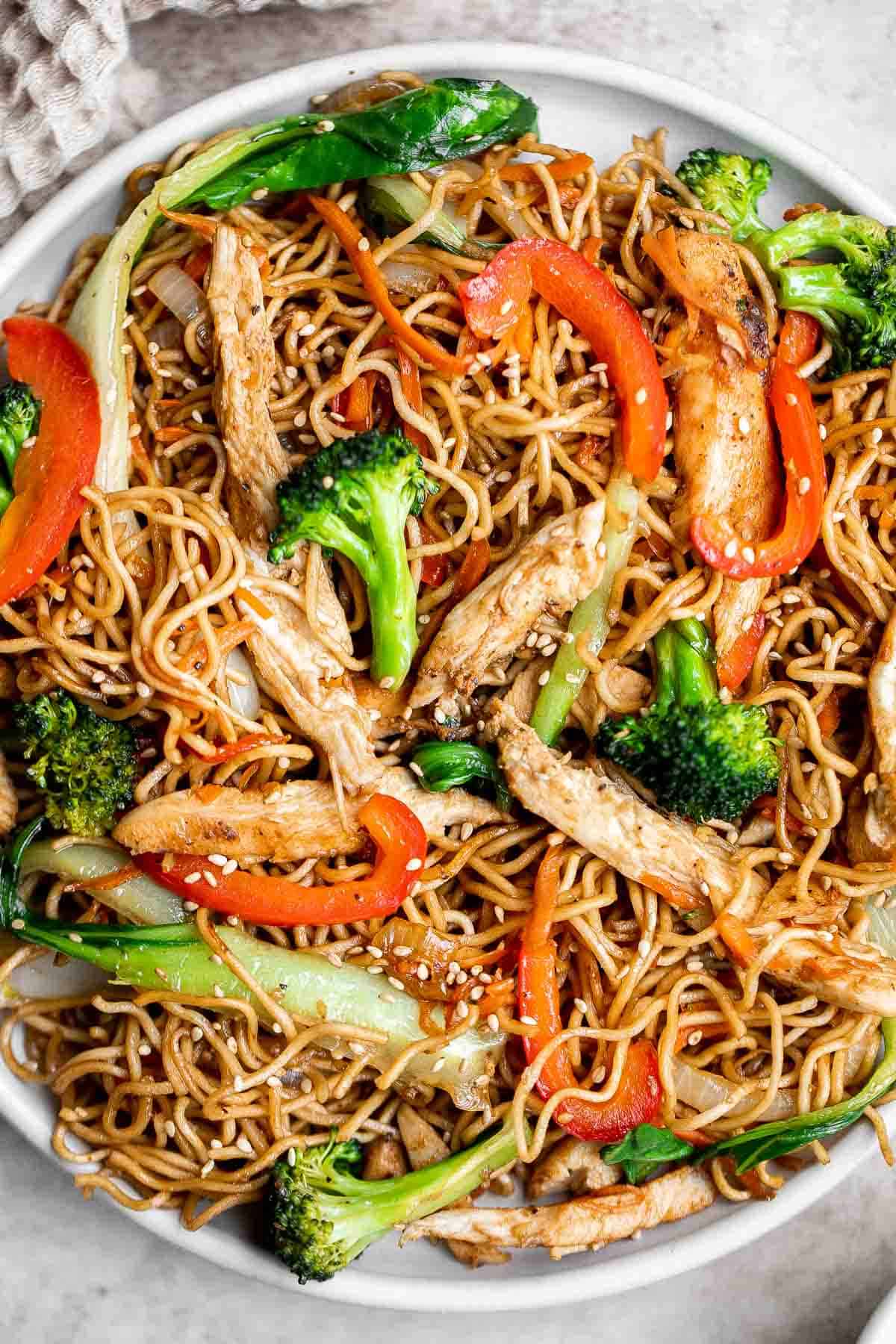 Pasta Bake with Sausage (Baked Ziti)
Pasta bake with sausage (baked ziti) is a lazy day lasagna with layers of pasta tossed in a rich meat sauce, layered with mozzarella, and baked.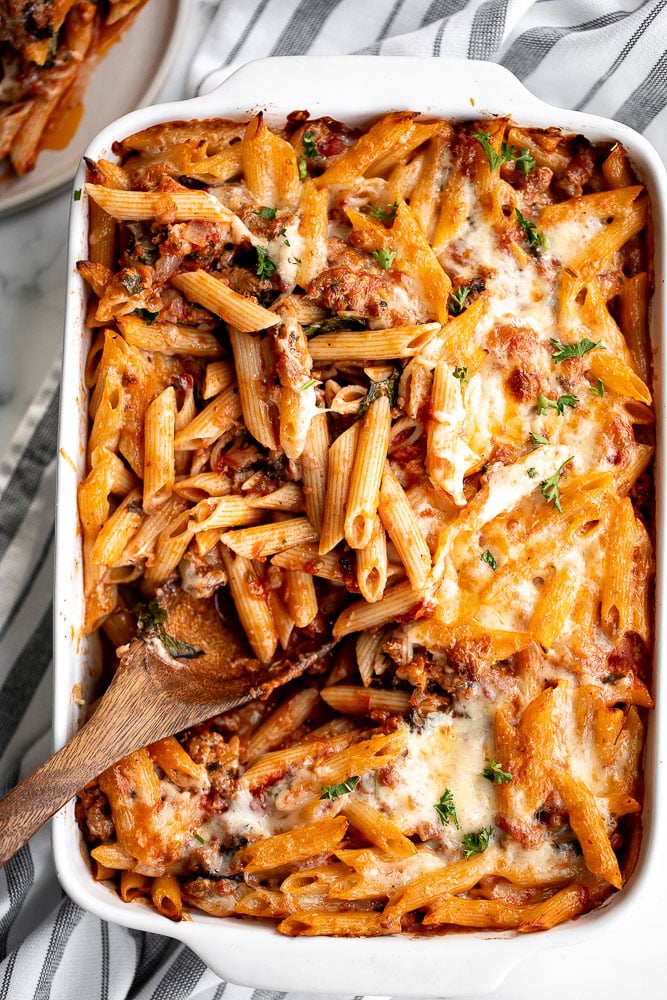 Creamy Parmesan (No Wine) Risotto
Creamy Parmesan (No Wine) Risotto is a rich, creamy, and comforting classic Italian dish that may be intimidating but is actually quick and easy to make.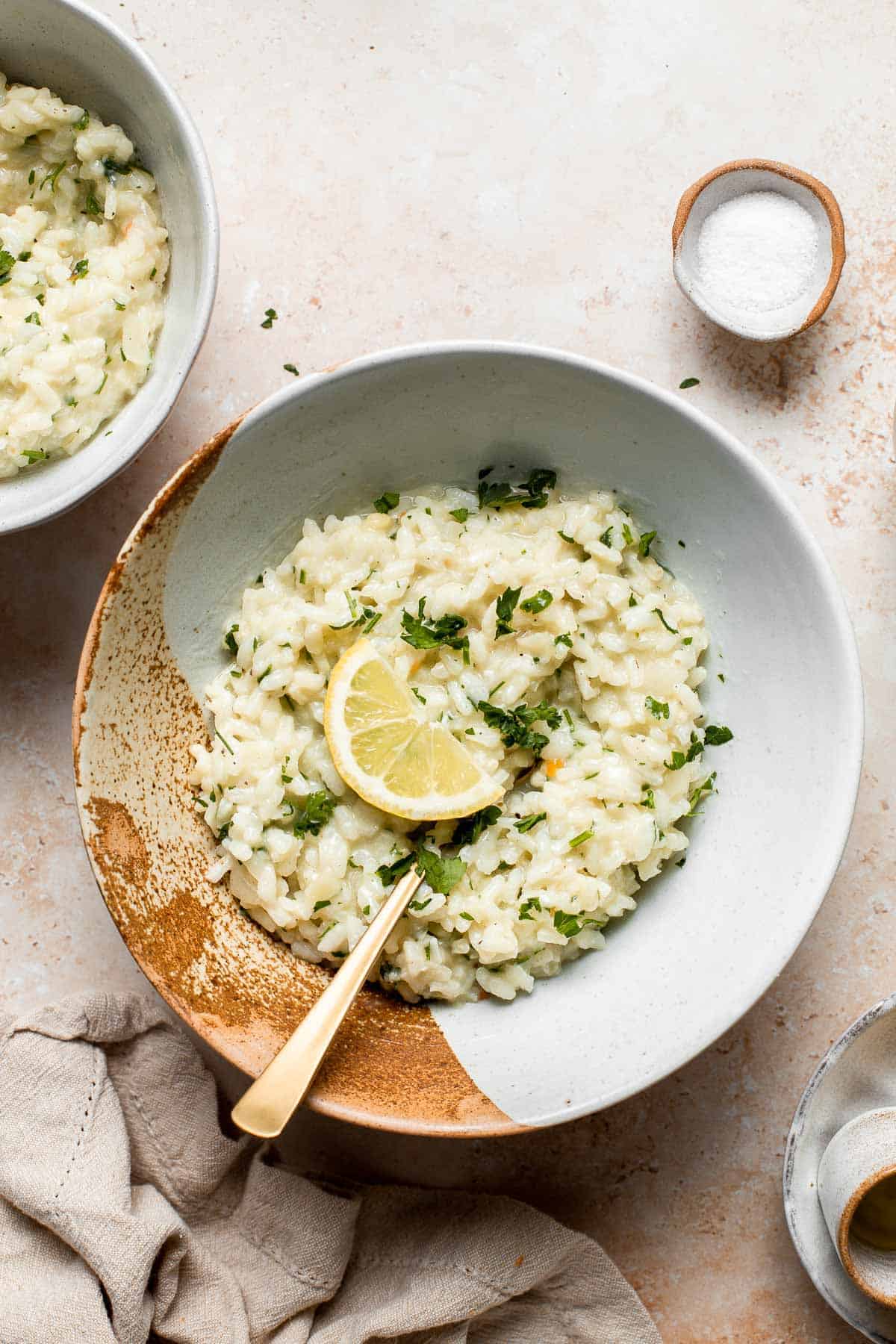 Pecan Crusted Chicken
Pecan Crusted Chicken is a simple, delicious, and flavorful, quick and easy dinner ready in 40 minutes that can be baked in the oven or air fryer.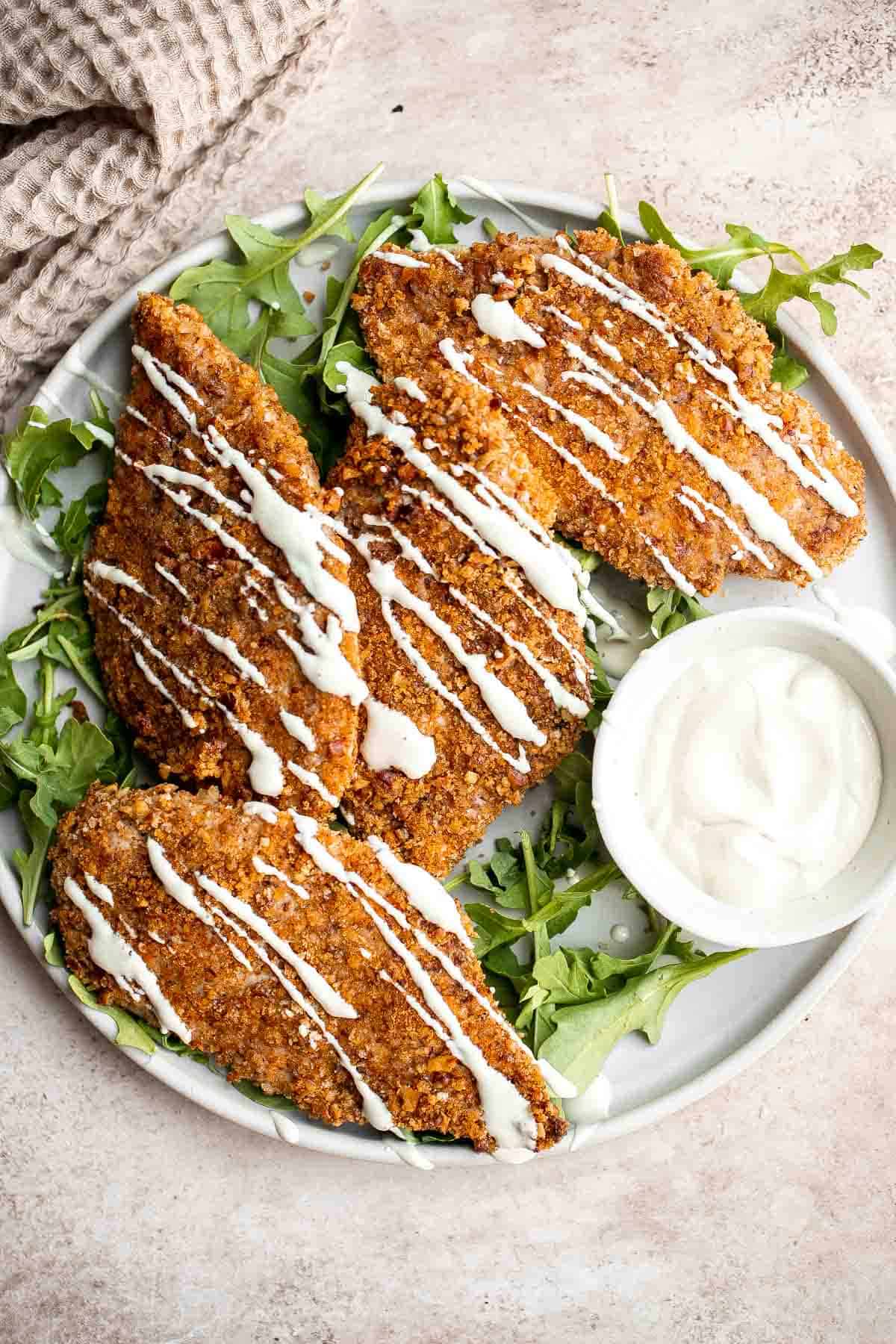 Baked Gnocchi
Cheesy Baked Gnocchi is quick and easy comfort food made all in one pot with chewy bites of gnocchi, a simple tomato-based sauce, and gooey melty cheese.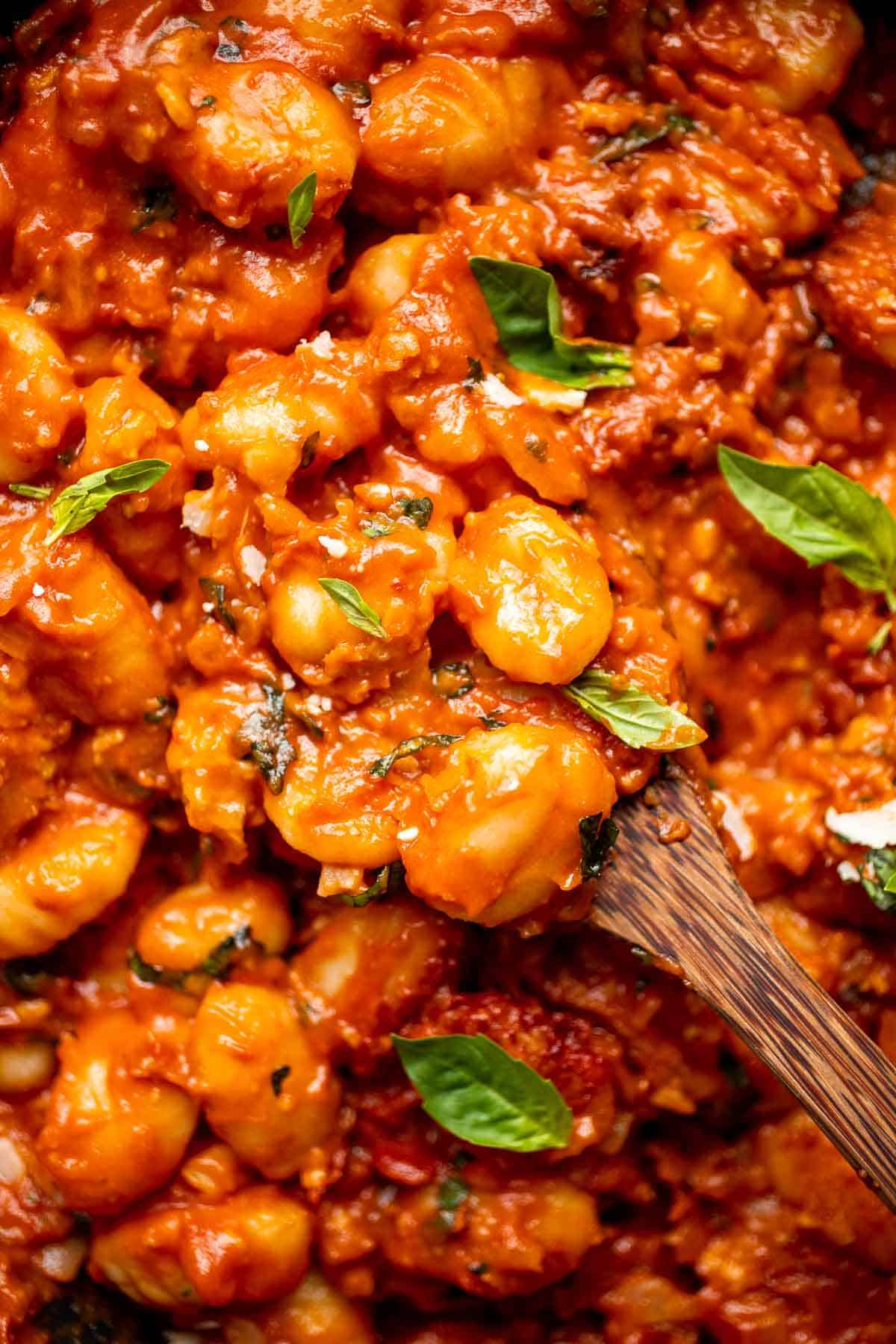 Turkey Chili
Turkey chili is hearty, filling, flavorful, and delicious. It's warm and cozy, quick and easy to make in one pot, and can be made faster in the instant pot.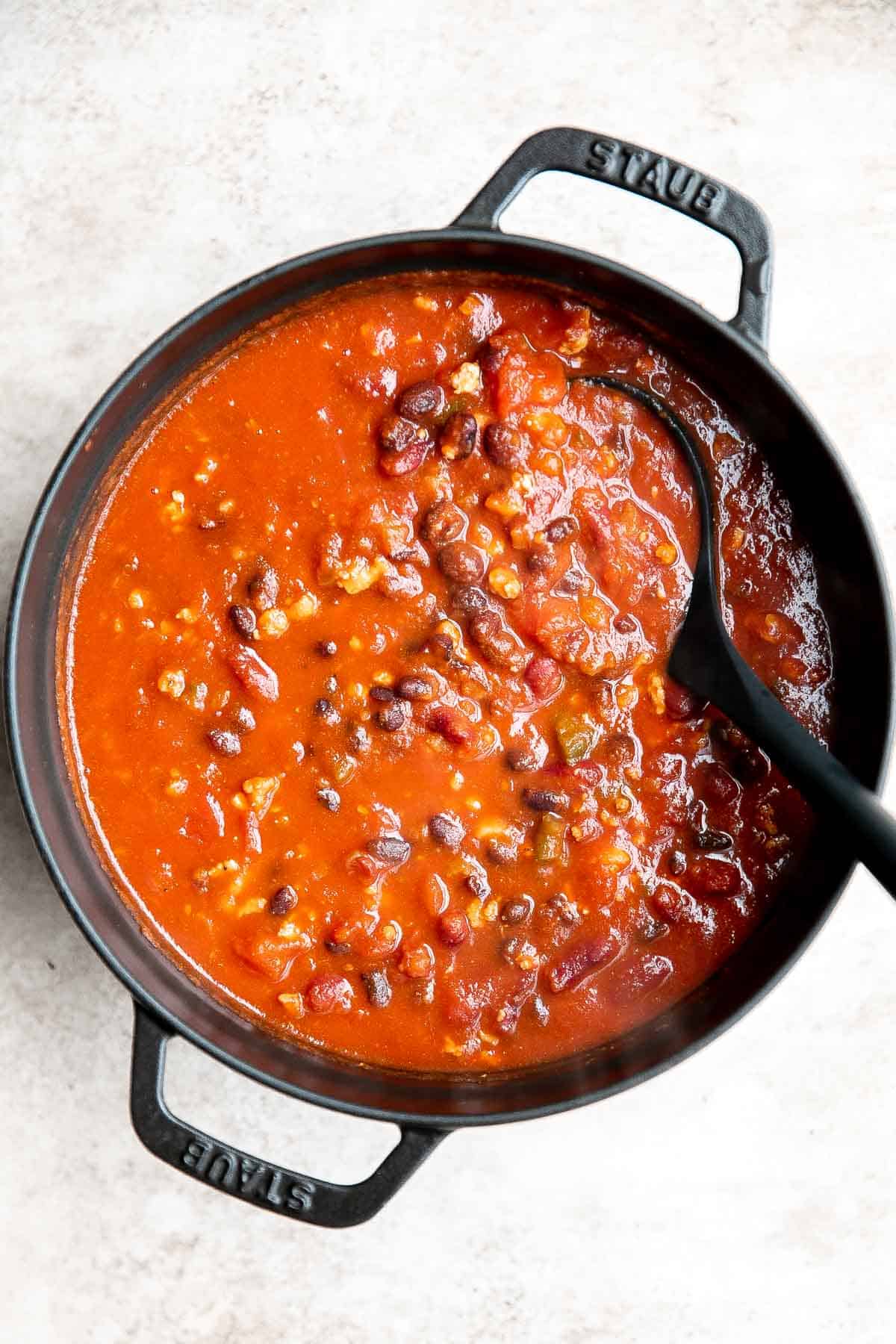 Easy Meat Lasagna
Classic easy meat lasagna is the ultimate Italian comfort food with layers of tender lasagna, meaty tomato sauce, cheese filling and melted cheese on top.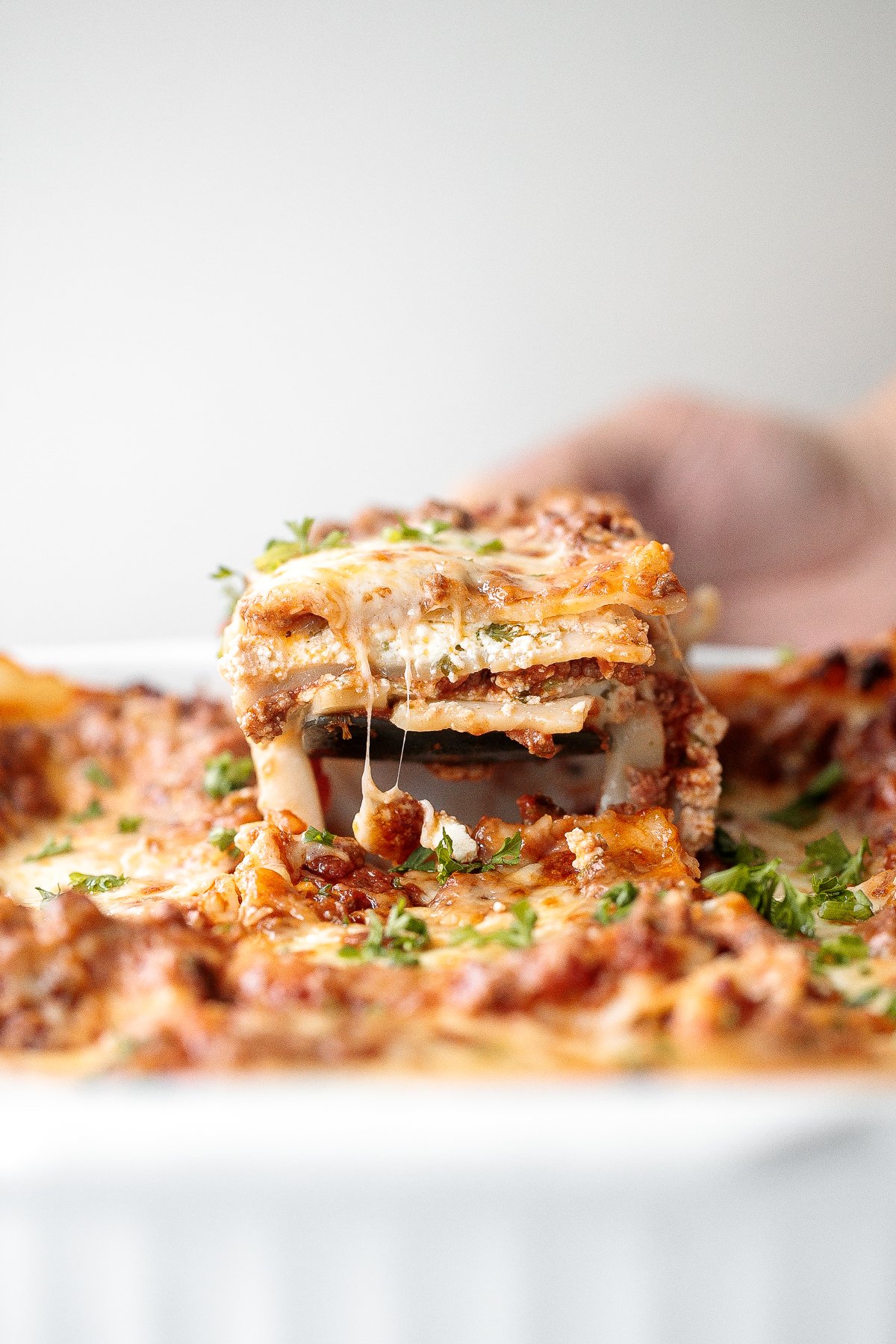 Chicken Noodle Soup
Homemade chicken noodle soup is classic, comforting, simple, quick, and easy to make at home. Plus, you can use leftover rotisserie chicken to save time.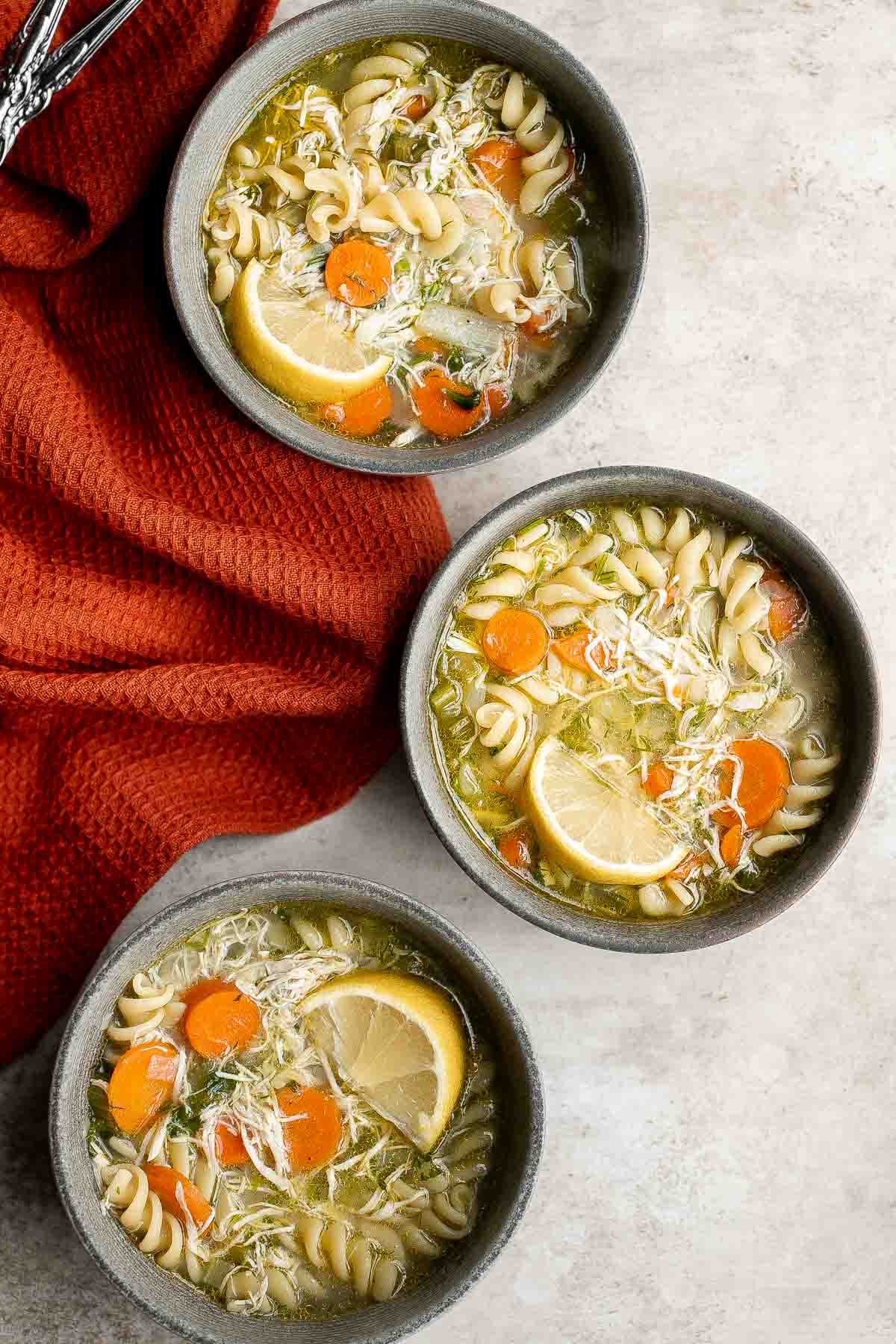 Salmon Bites
Salmon Bites are flavorful and delicious bite-sized pieces of salmon cooked until tender with crispy, golden edges and coated with an homemade sticky glaze.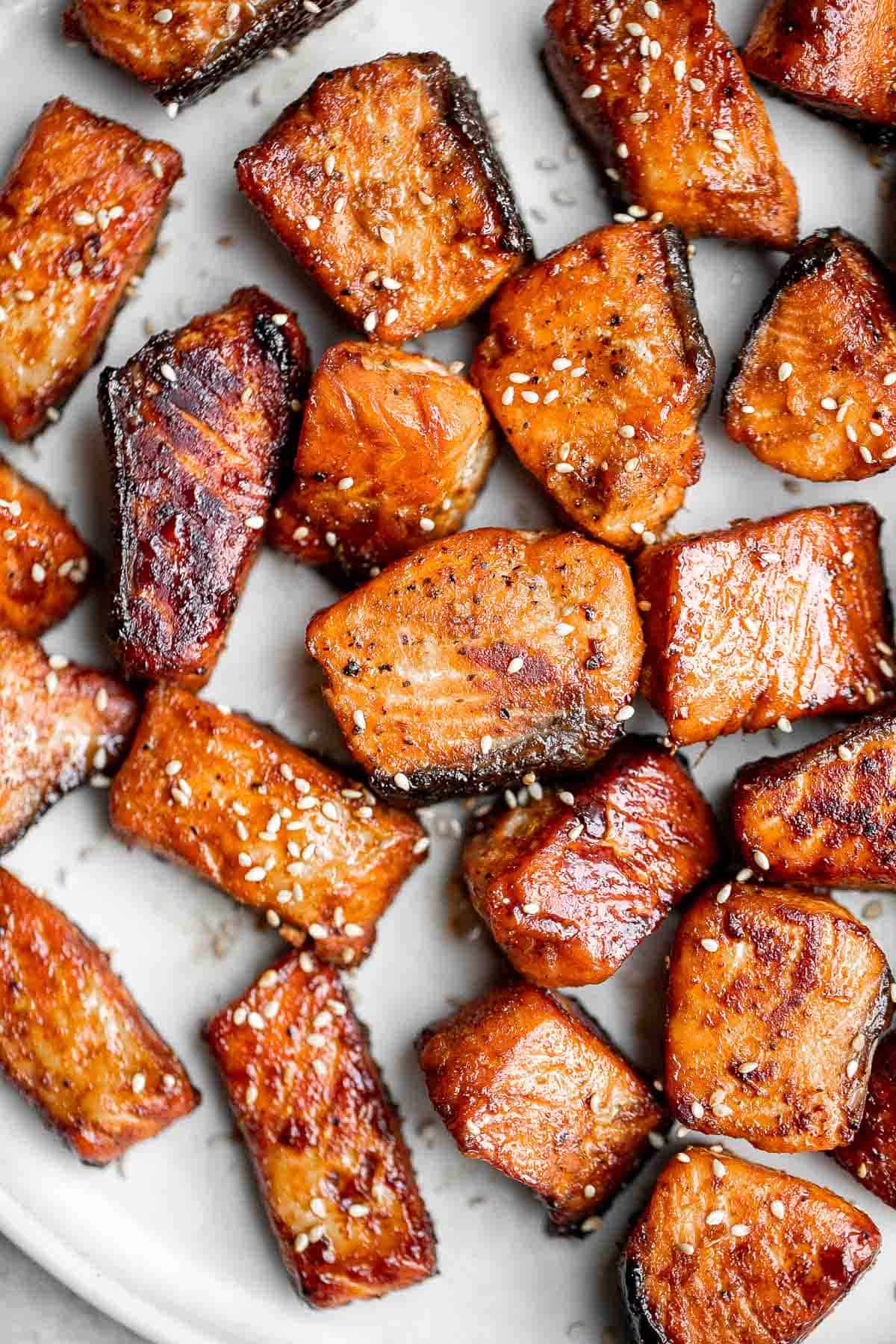 Caprese Frittata
Caprese Frittata is light and fluffy, laced with fresh basil and topped with melted mozzarella cheese and blistered balsamic tomatoes. Ready in 10 minutes!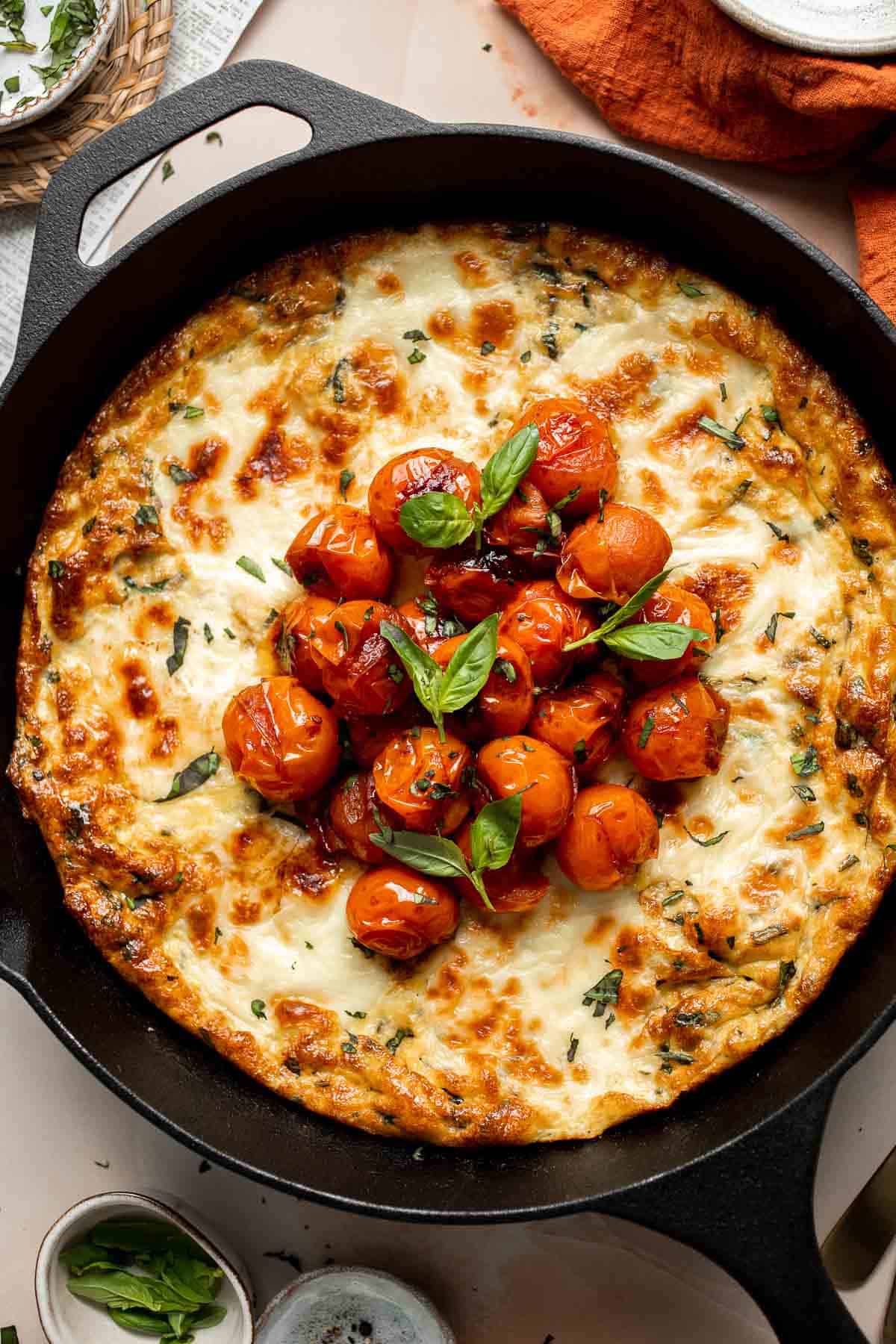 Chicken Penne Pasta
Chicken penne pasta is a quick and easy dinner that is delicious, rich, creamy, and flavorful. It's a family favorite that's ready in under 30 minutes.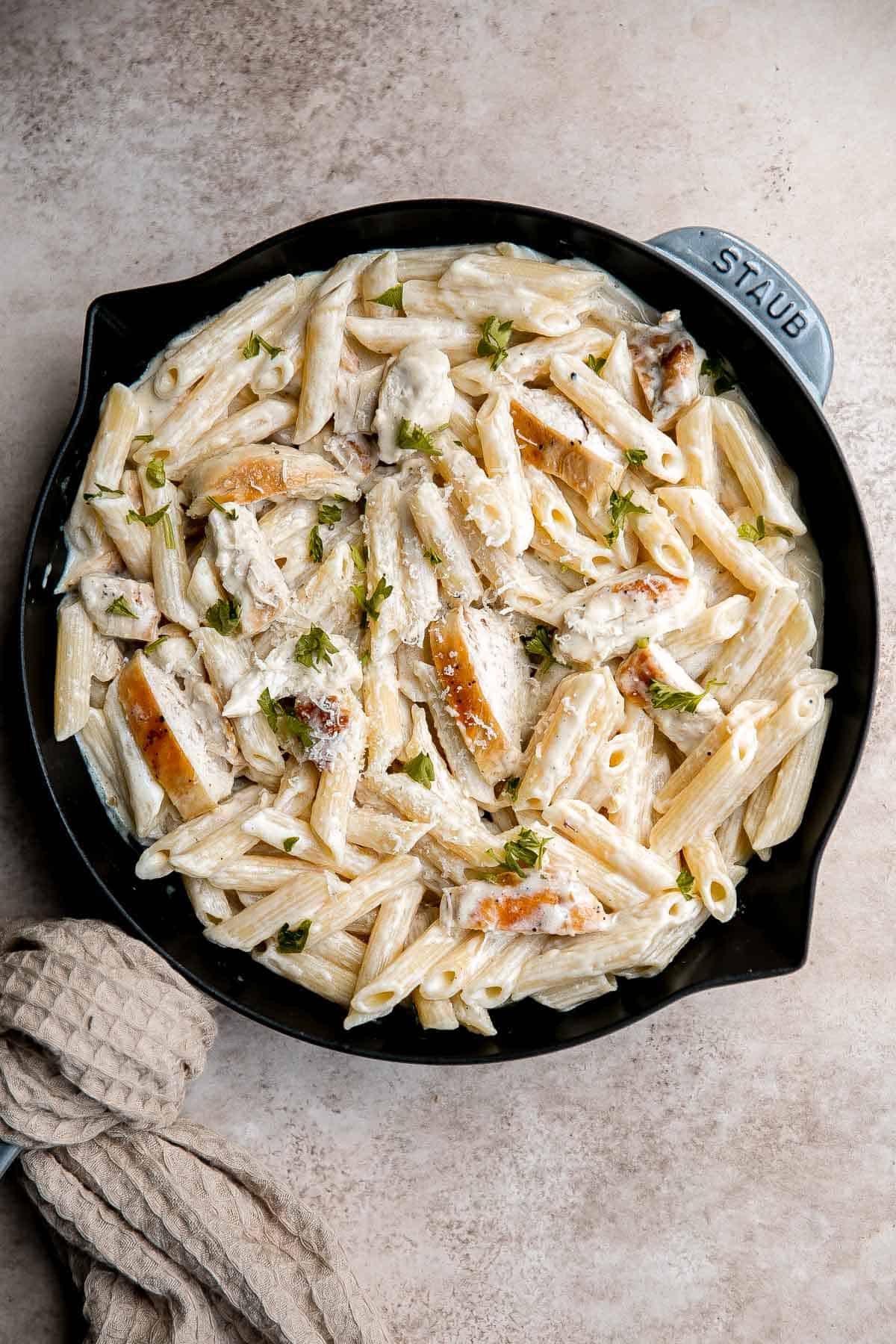 Homemade Taquitos
Homemade Taquitos are crispy, delicious and flavorful. These rolled tacos are filled with seasoned ground beef and melty cheese — and can be fried or baked!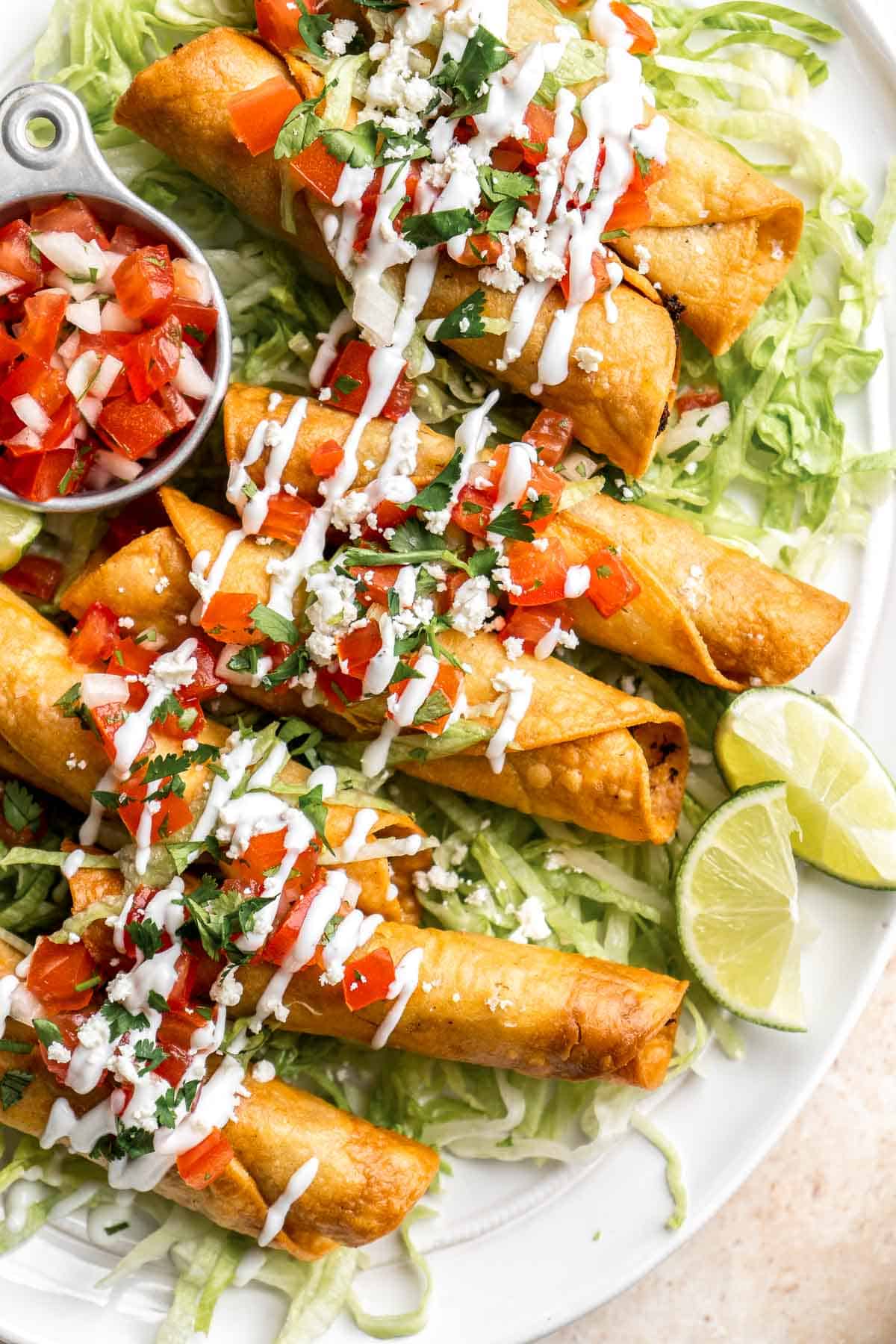 Air Fryer Chicken Thighs
Air fryer chicken thighs are the crispiest, tastiest, and juiciest chicken you'll eat. They take just 25 minutes to cook — perfect for busy weeknights.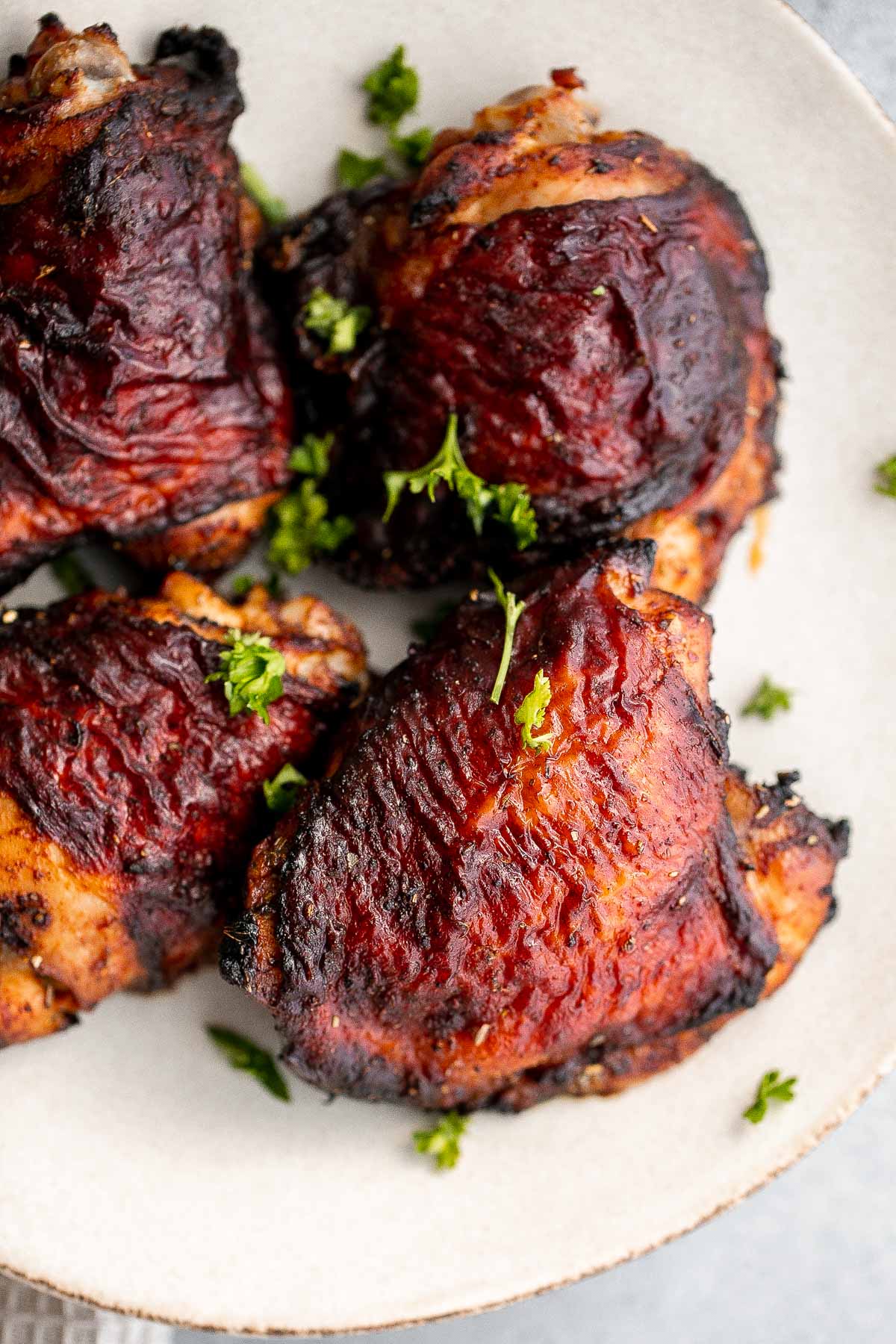 Baked Feta Pasta
Baked Feta Pasta is a quick and easy weeknight dinner recipe that is creamy, delicious, and flavorful — the whole family will love this Tiktok pasta!
Thai Turkey Meatballs in Coconut Curry
Thai turkey meatballs in coconut curry are the perfect weeknight dinner when you want something delicious, healthy, flavorful, and satisfying.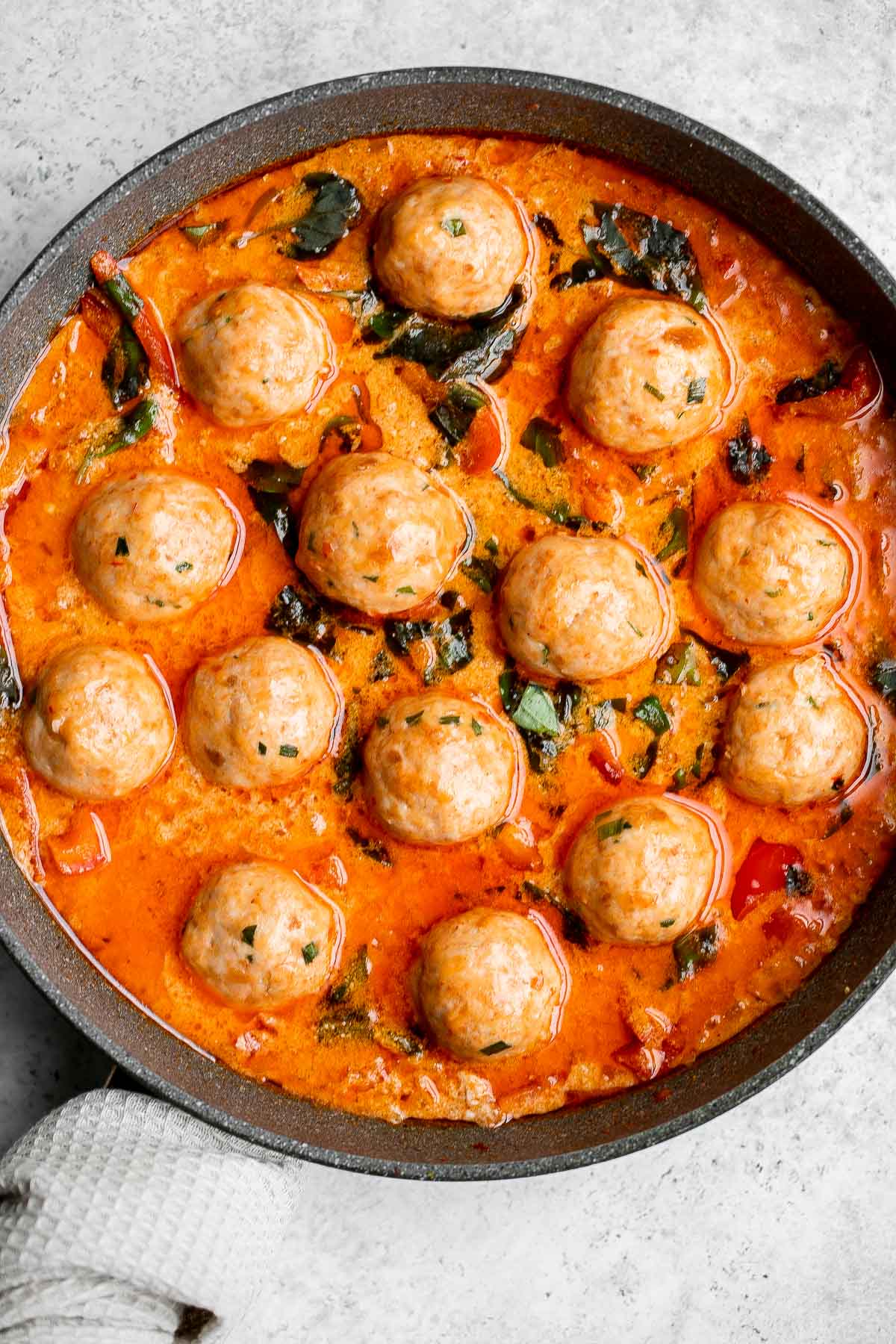 Sheet Pan Nachos
Oven-baked loaded sheet pan nachos are a crowd pleaser for an easy weeknight dinner or a crave-worthy appetizer to serve on Cinco de Mayo.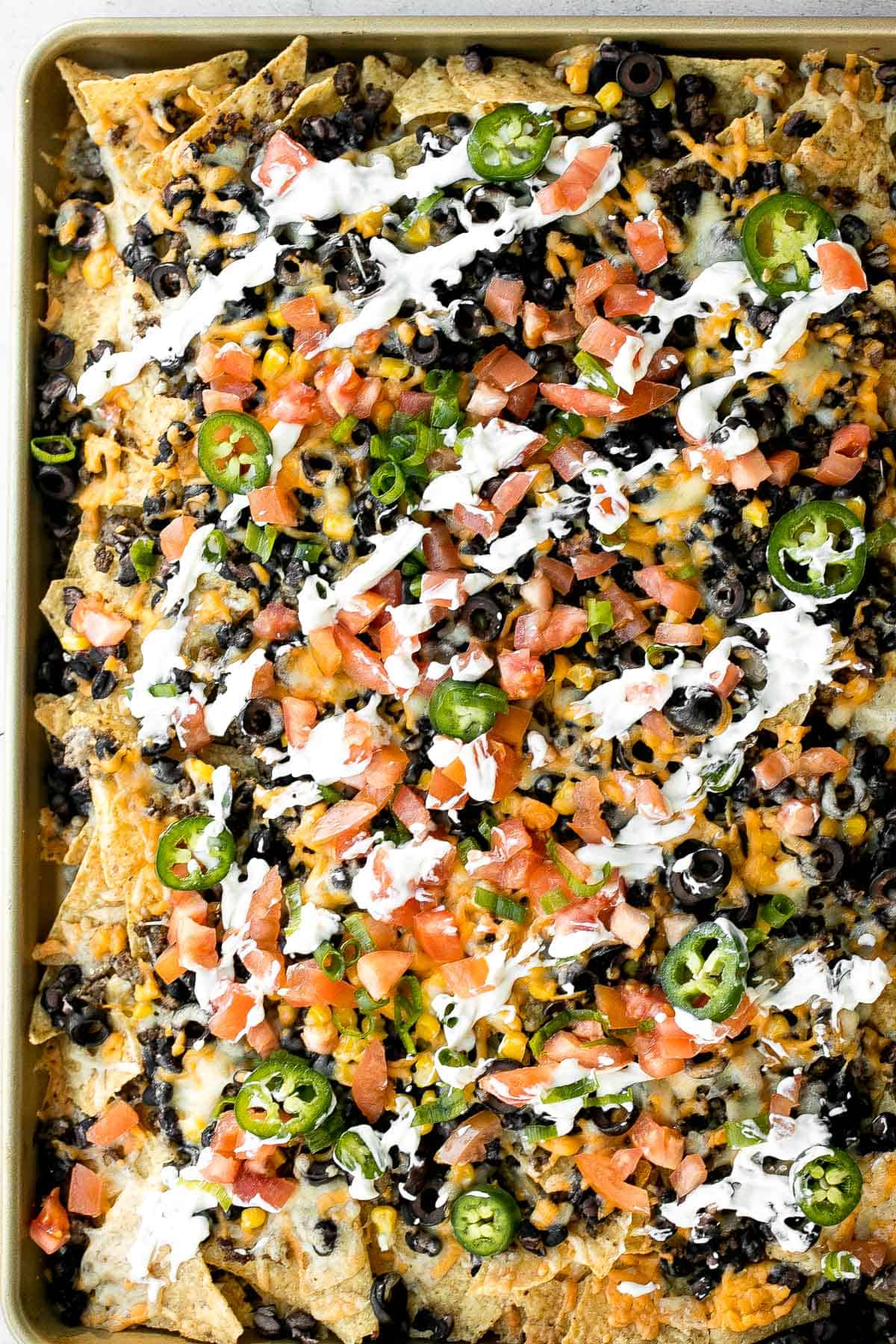 Garlic Butter Shrimp
Garlic butter shrimp is a quick and easy dinner ready in just 10 minutes! It's loaded with flavor and perfect for busy weeknights and special occasions.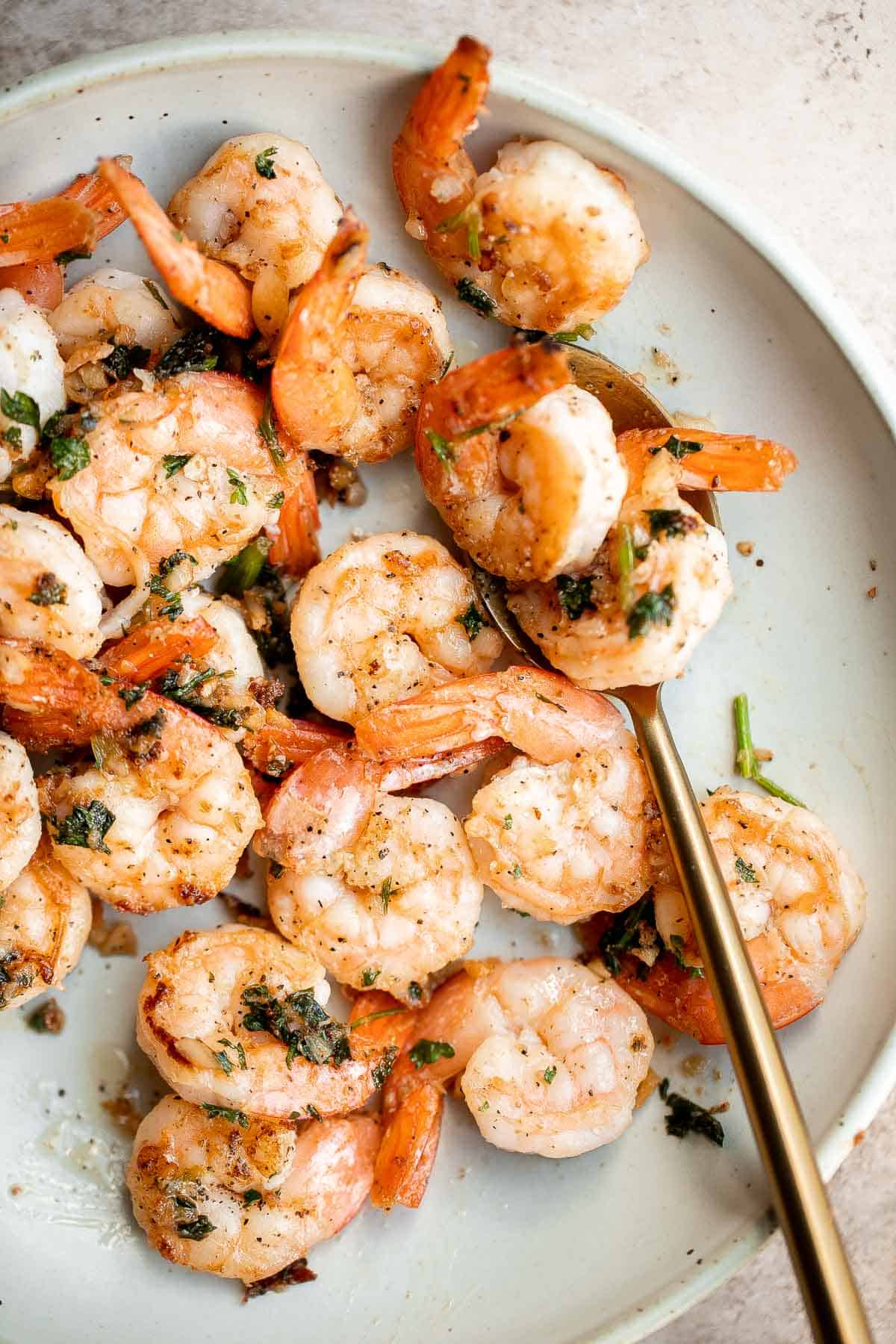 Mediterranean Chicken Patties
Delicious, moist and juicy Mediterranean chicken patties have everything you want in one bite: protein, veggies, herbs, and they're quick and easy to make.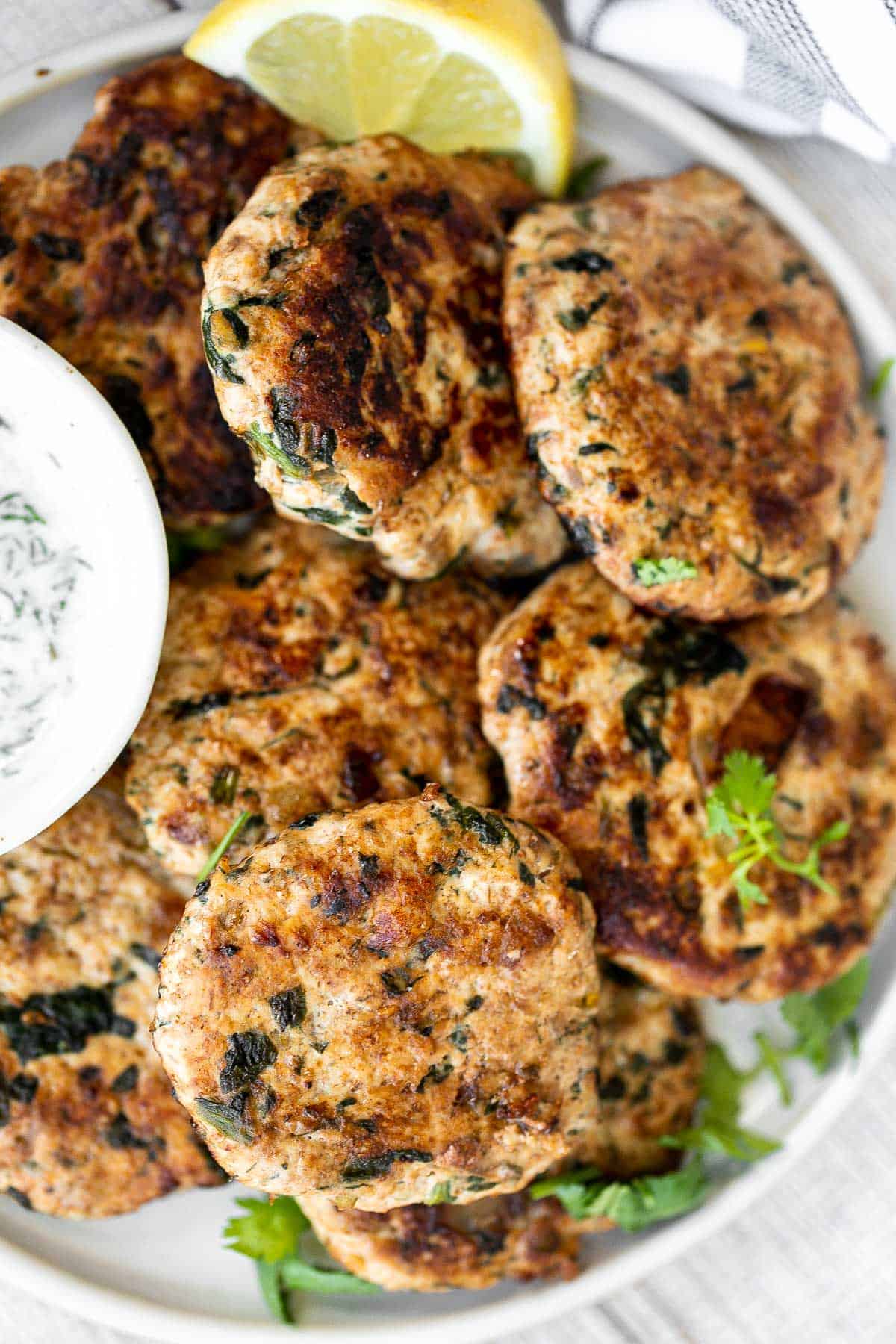 Tomato Basil Soup
Homemade tomato basil soup is comforting, rich, and smooth. This cozy soup is easy, flavourful, and nourishing, making it so much better than canned.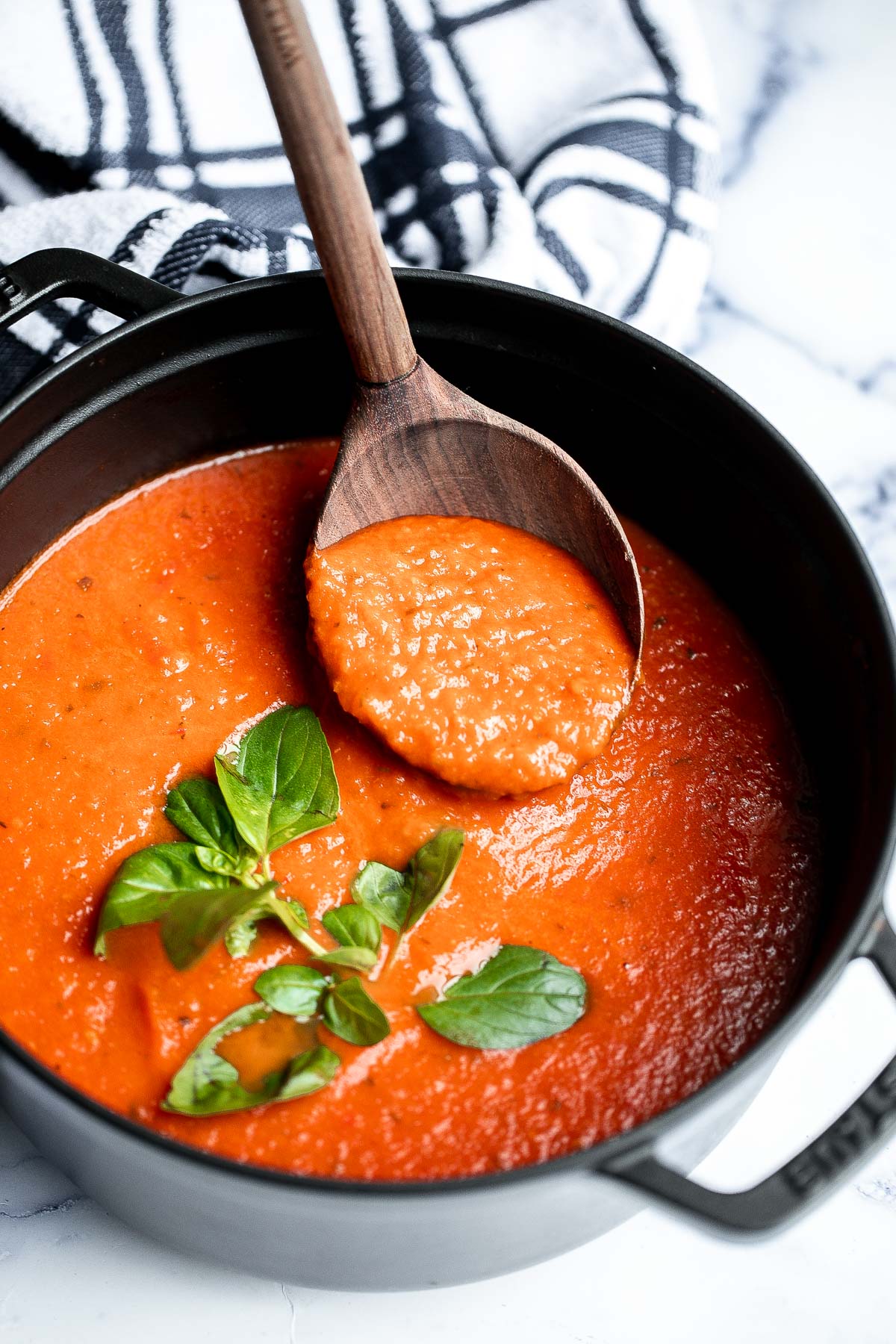 Toasted Ravioli
Toasted Ravioli is a classic Italian appetizer that is crispy and golden on the outside, and tender and gooey on the inside. Ready in less than 30 minutes!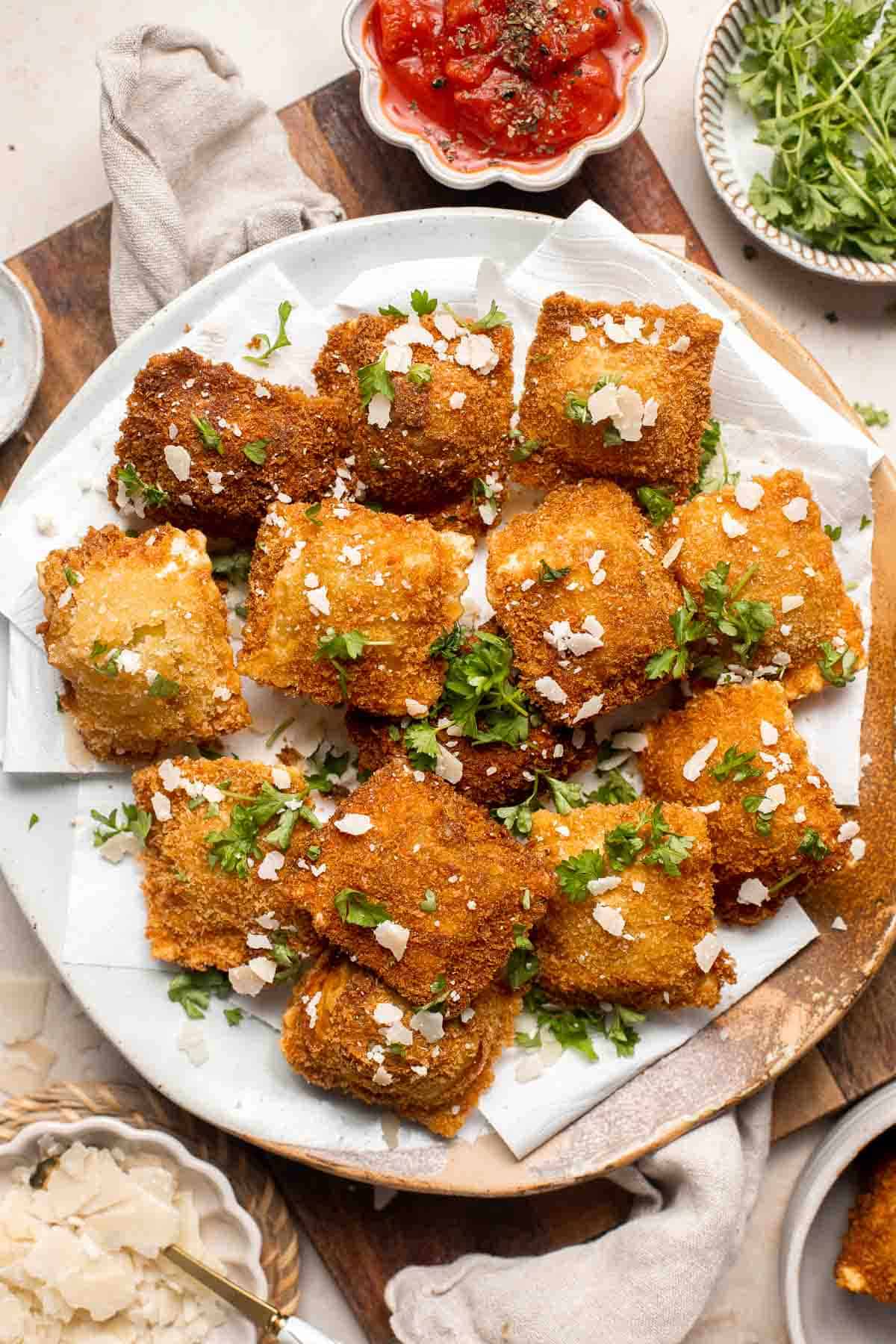 Turkey and Cheese Sliders
Turkey and Cheese Sliders are quick and easy, made with deli meat and Swiss cheese filled inside soft Hawaiian dinner rolls topped with a buttery sauce.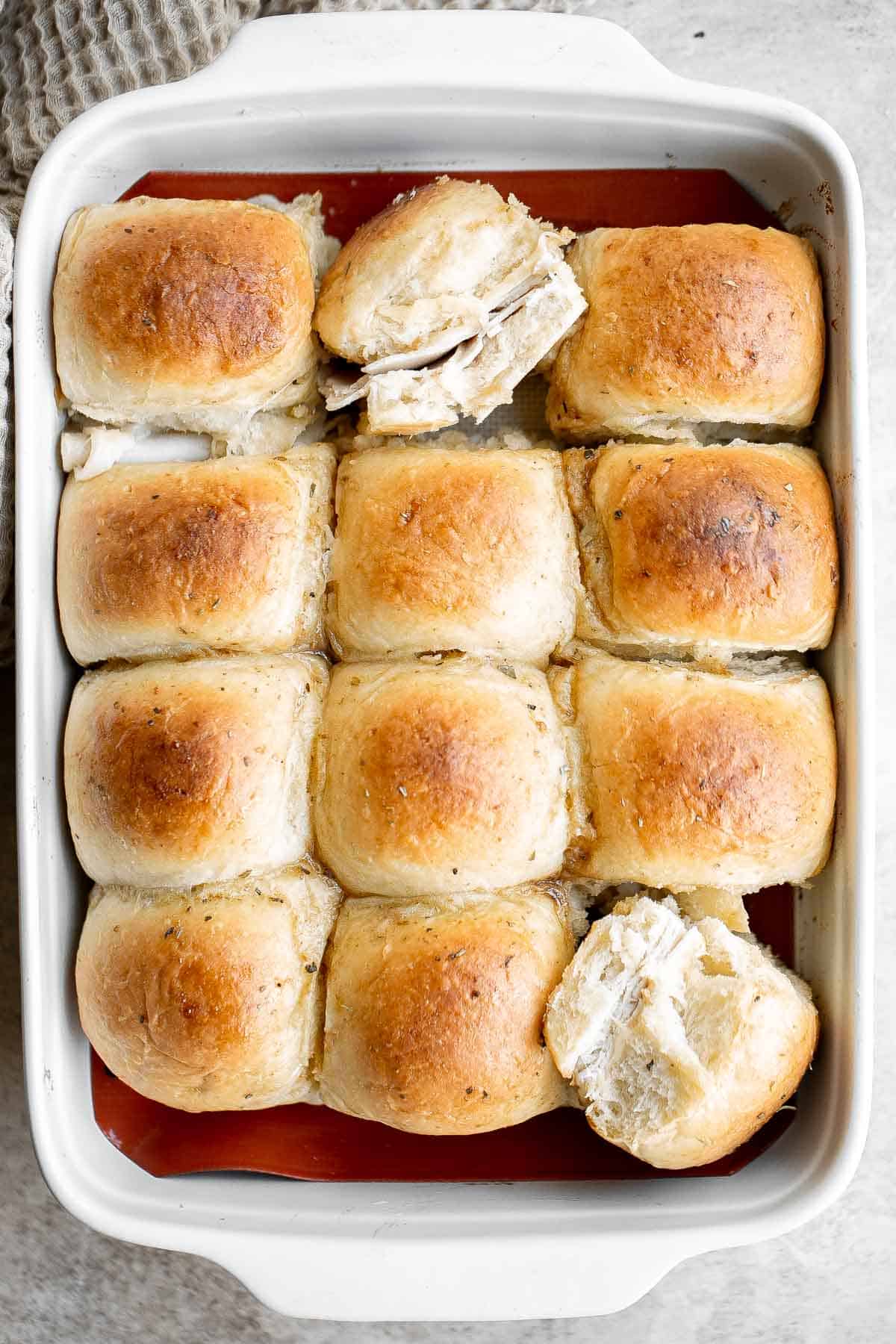 Teriyaki Chicken
Teriyaki chicken is a quick easy chicken stir fry that is delicious, flavorful, healthy, and better and faster than takeout. Perfect for busy weeknights.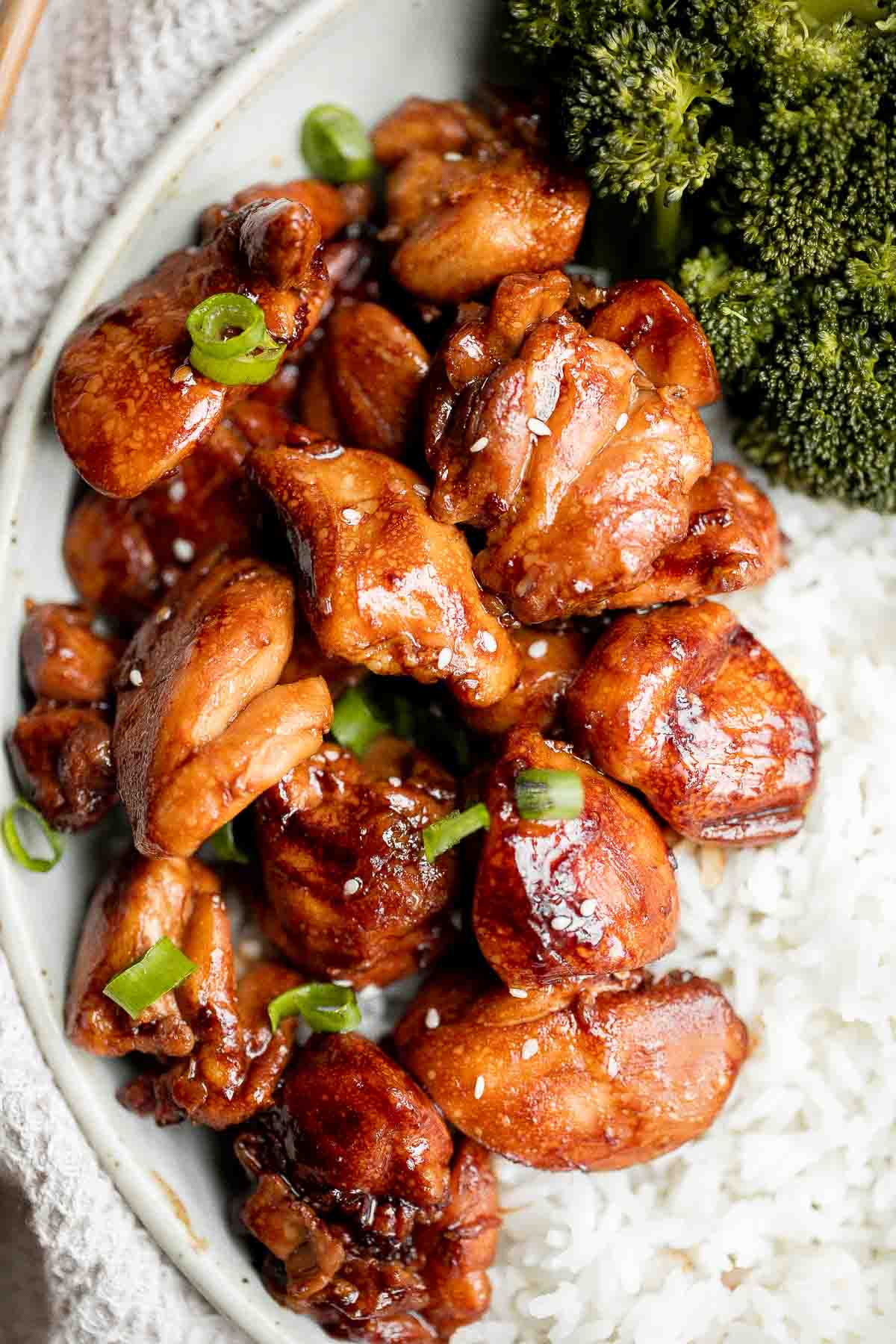 Shrimp Alfredo
Shrimp Alfredo is creamy, garlicky, and delicious! This quick and easy, under 30-minute recipe is a go-to for busy nights and a year-round family favorite.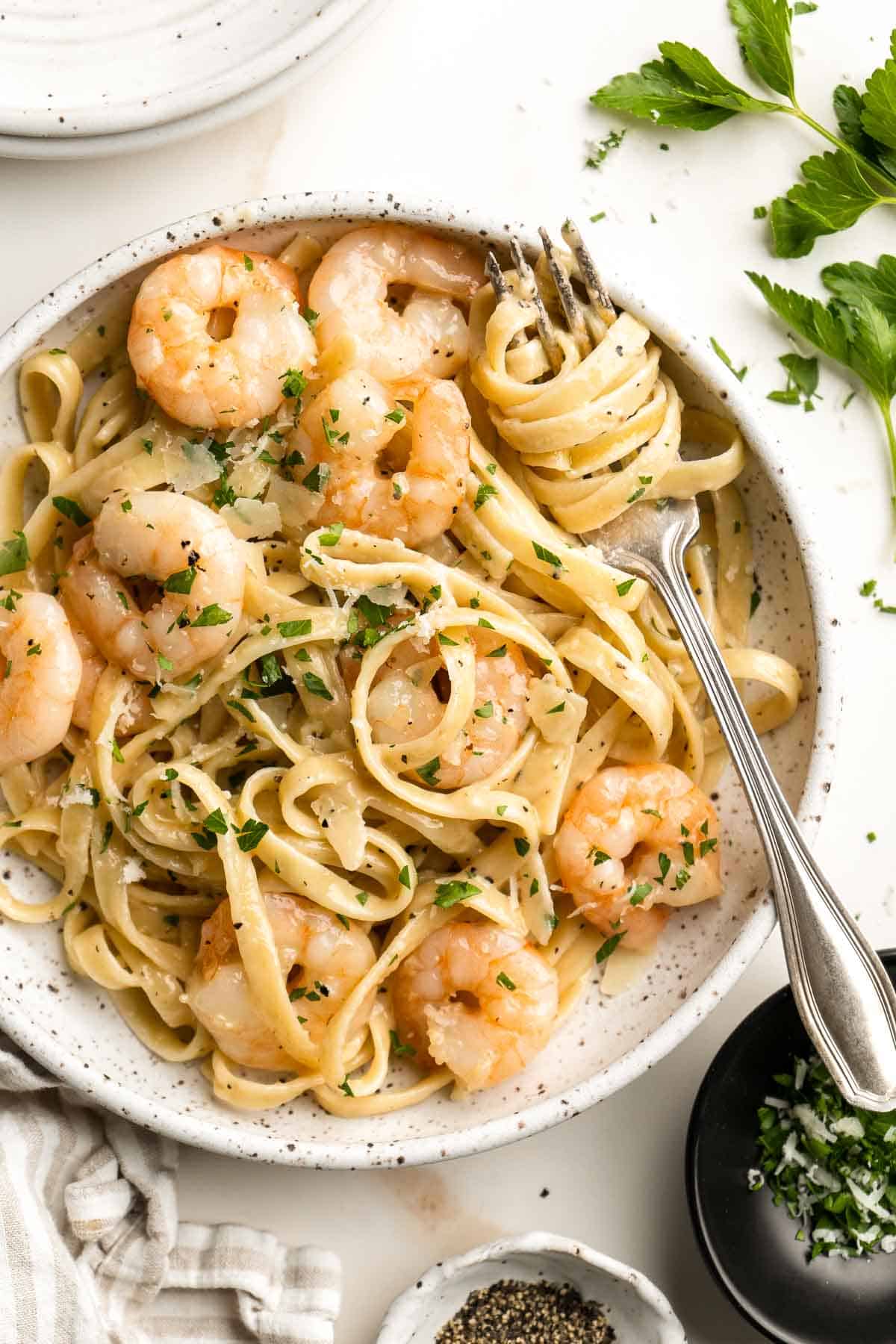 Swedish Meatballs
Delicious, comforting homemade Swedish meatballs are seared and smothered in a creamy gravy sauce and taste so much better than IKEA meatballs.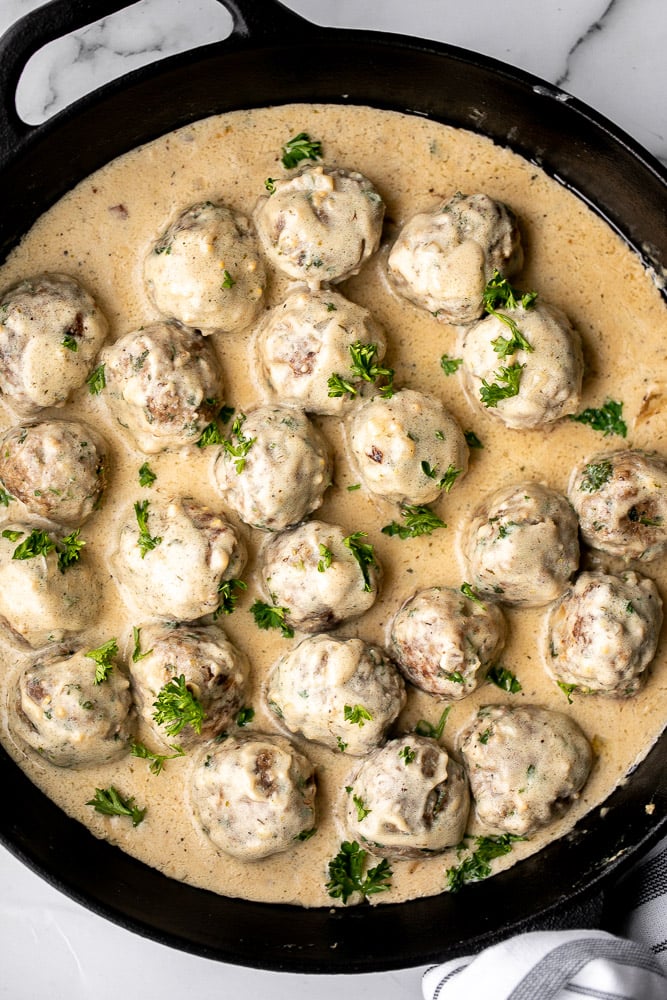 Chicken Enchiladas
Easy baked chicken enchiladas brings the taste of authentic Mexican food into your kitchen — saucy, spicy, and savoury. Perfect for a Mexican fiesta on Cinco de Mayo.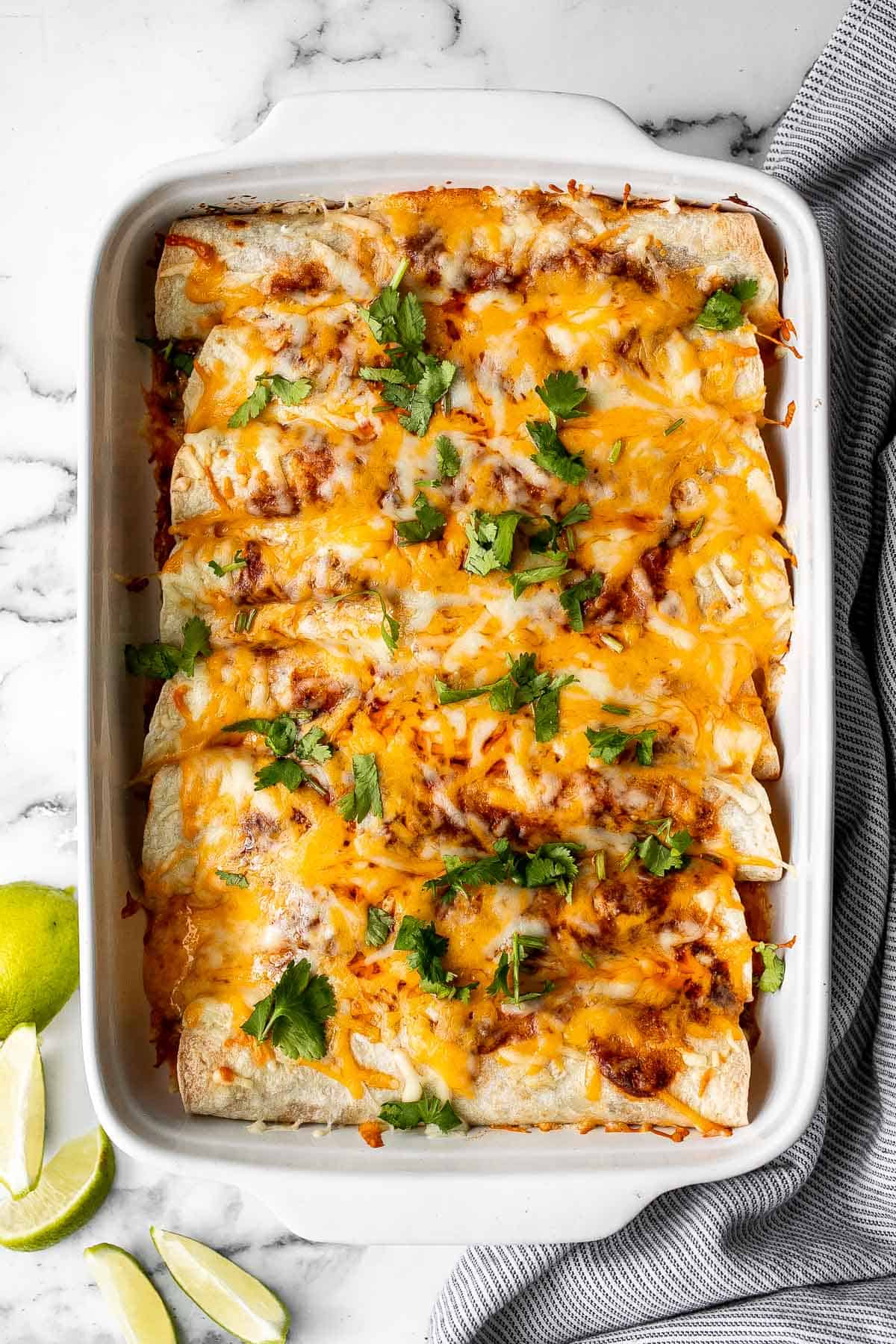 Beef Taco Soup
Beef taco soup is a delicious take on tacos, transforming it into a hearty, wholesome, filling soup topped with all the taco fixings. Ready in 30 minutes.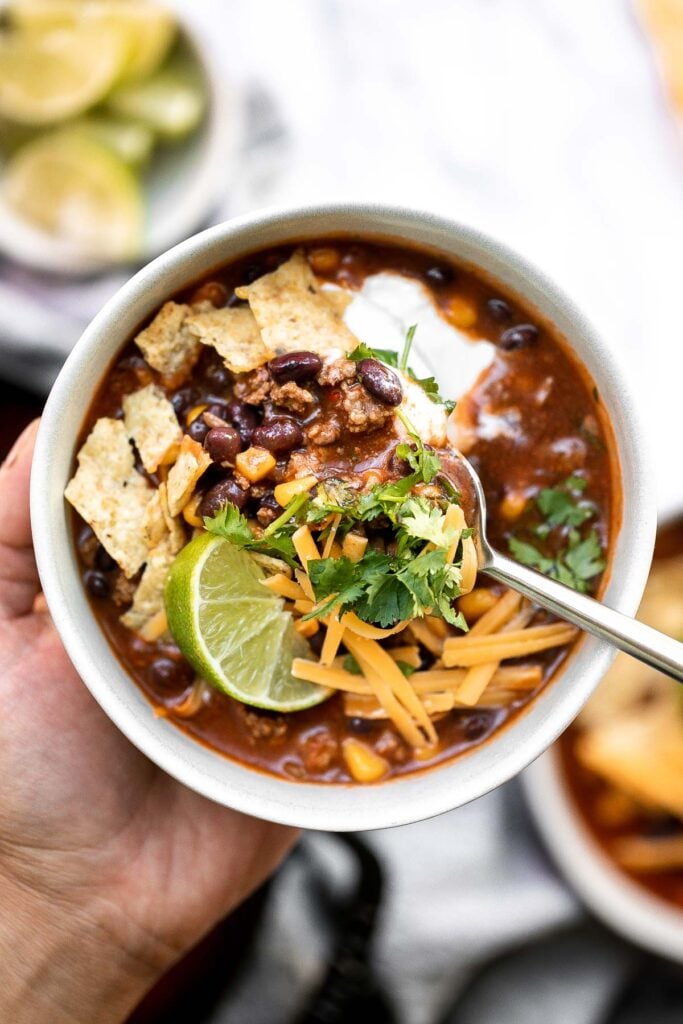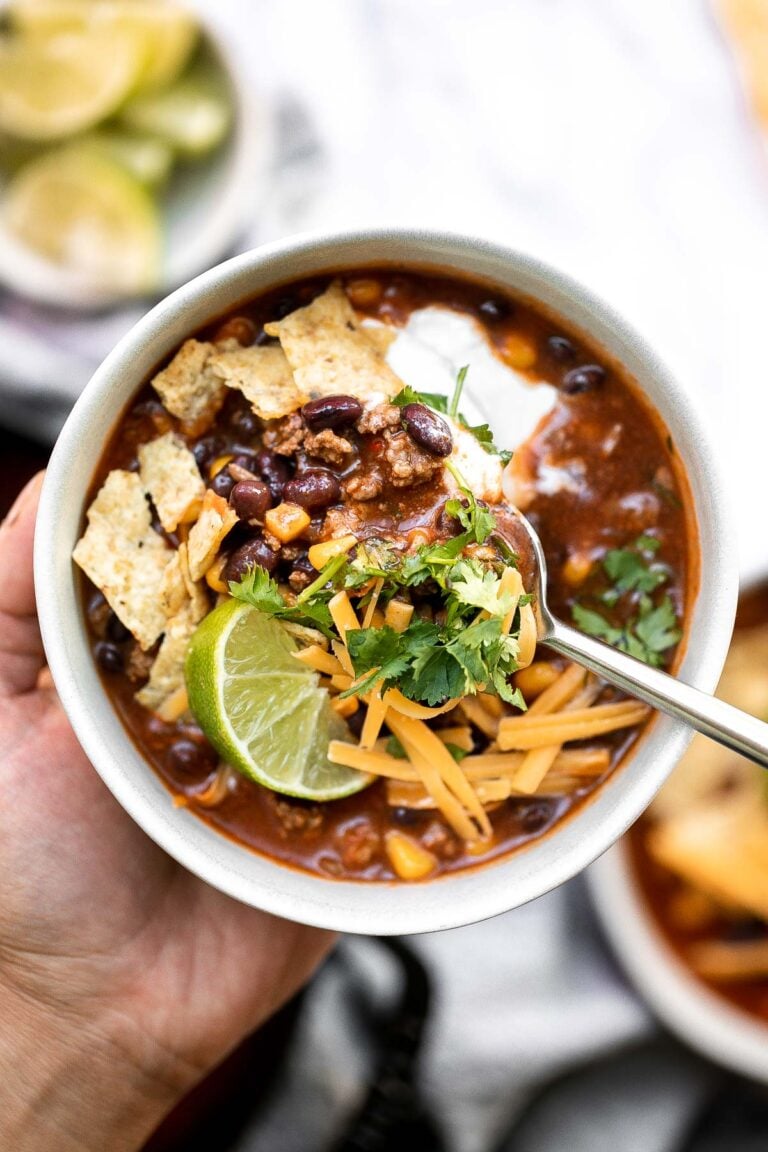 Broccoli Cheese Casserole
Broccoli cheese casserole is creamy, cheesy, and delicious — the most comforting side dish. It's crispy on the outside but soft and tender inside.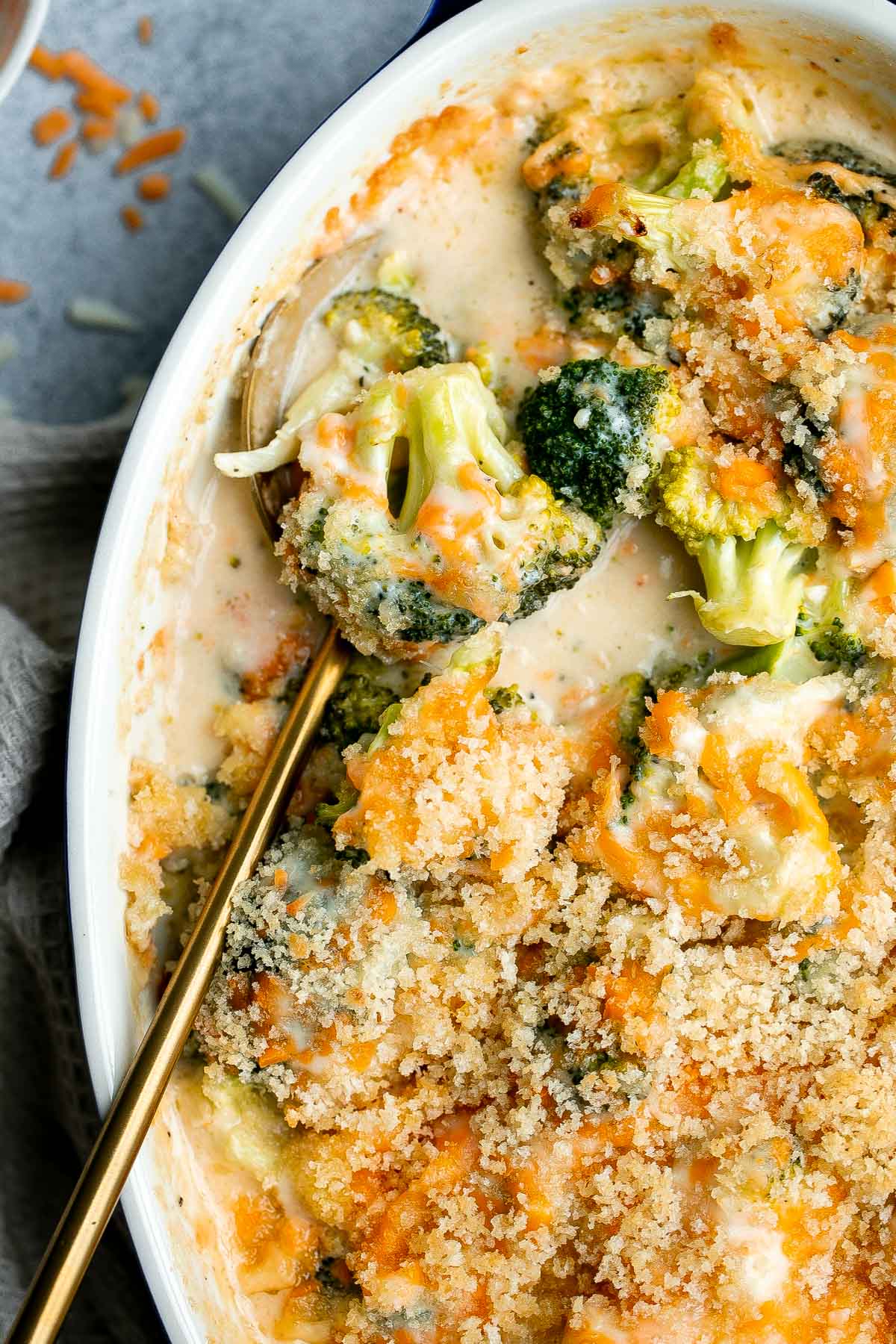 Spaghetti Bolognese
Quick easy spaghetti bolognese with a rich, thick, delicious and flavourful meat sauce is a family favourite ready in 30 minutes. Best weeknight dinner.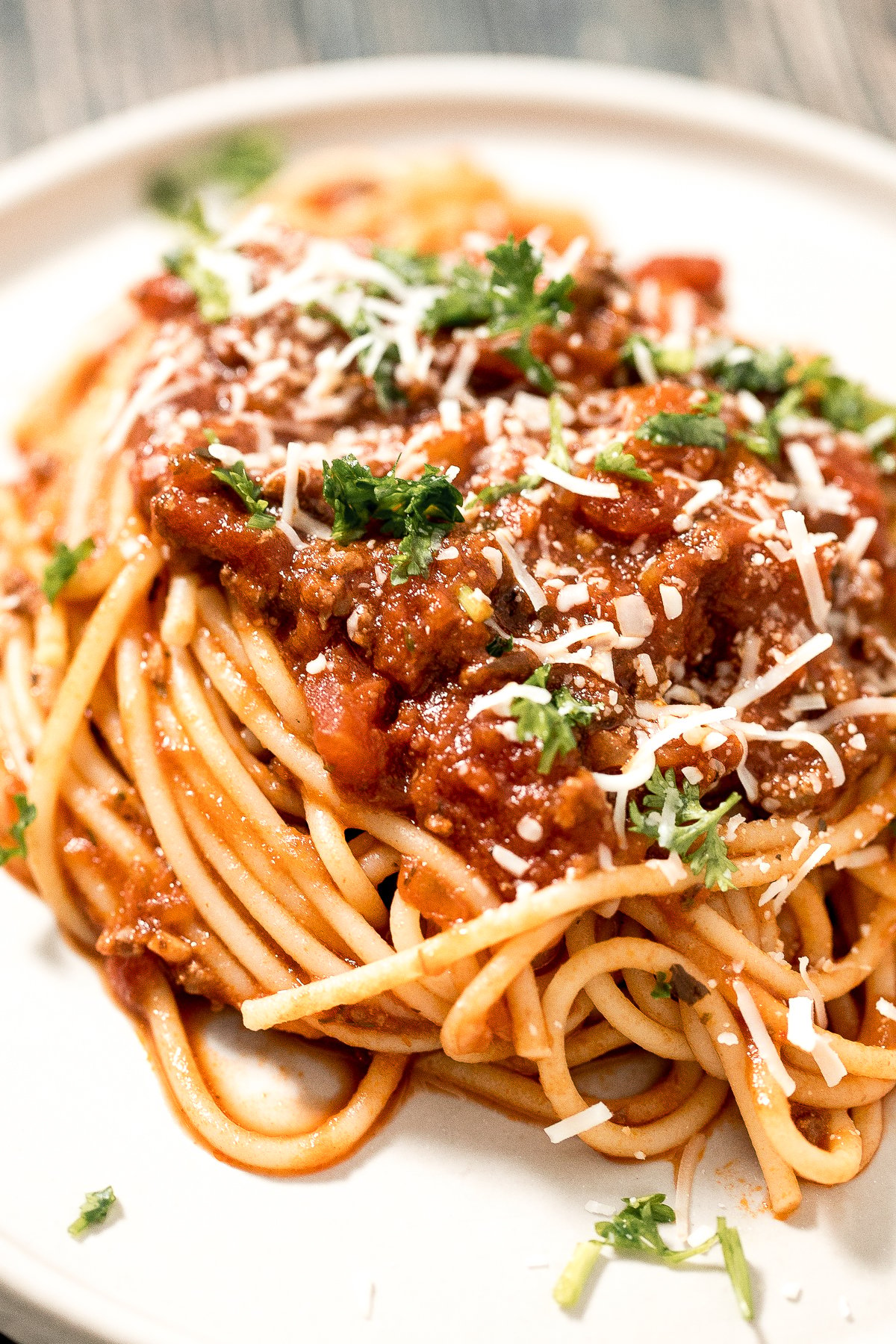 Creamy Tuscan Chicken
Creamy Tuscan chicken with sun-dried tomatoes and spinach is a quick and easy 30 minute Italian chicken dinner that is delicious, flavorful, and comforting.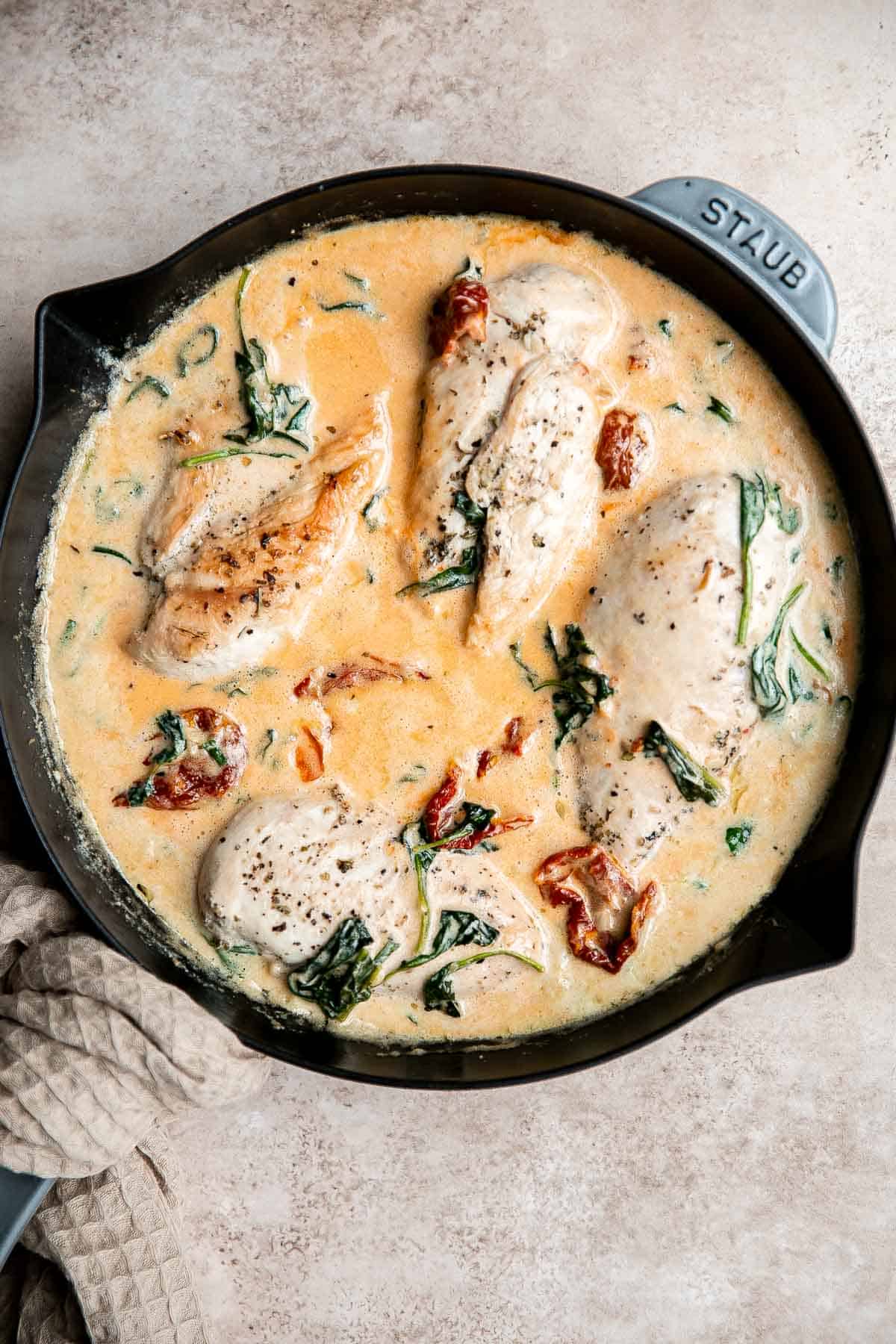 Tagliatelle Pasta
Creamy Mushroom Tagliatelle Pasta is a quick and easy, restaurant-worthy vegetarian dinner that is ready in just 30 minutes! Elevated comfort food at home.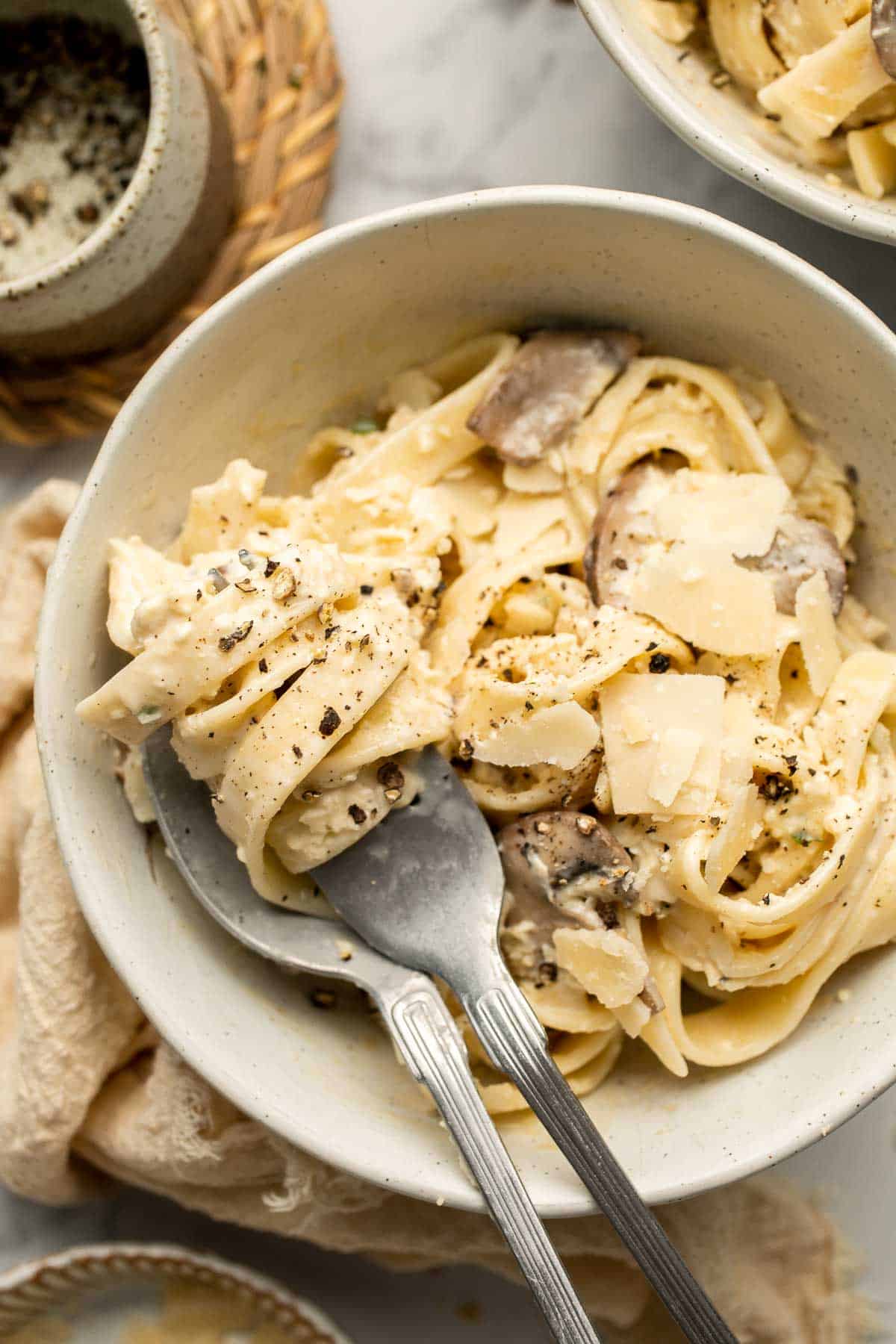 Honey Garlic Glazed Salmon
Sticky and sweet, easy honey garlic glazed salmon is one of the best salmon recipes to add to your weeknight dinner rotation. Ready in under 25 minutes.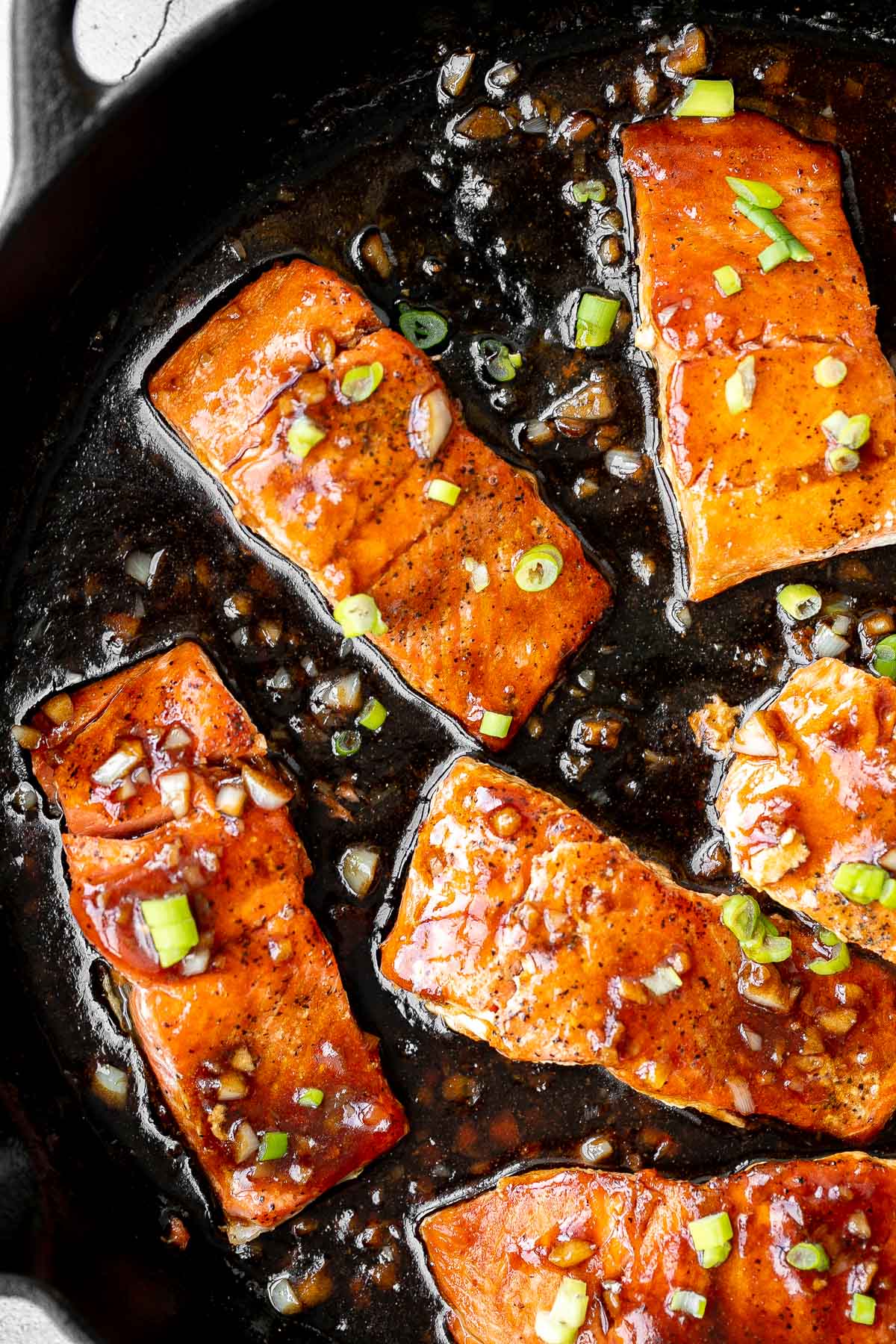 Air Fryer Chicken Breast
Air fryer chicken breast is crispy on the outside, juicy and tender inside, and packed with flavor in every bite. Quick and easy dinner on busy weeknights.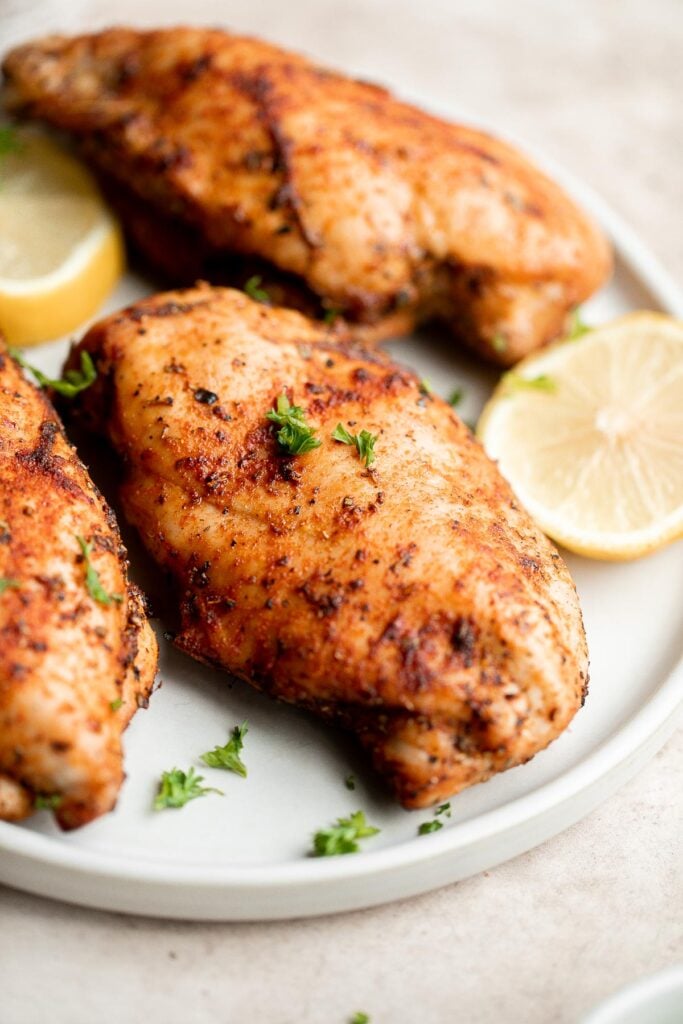 Baked Ravioli
Baked Ravioli is simple delicious comfort food that is perfect for a weeknight family dinner or for entertaining. It's hearty, comforting, and kid-friendly.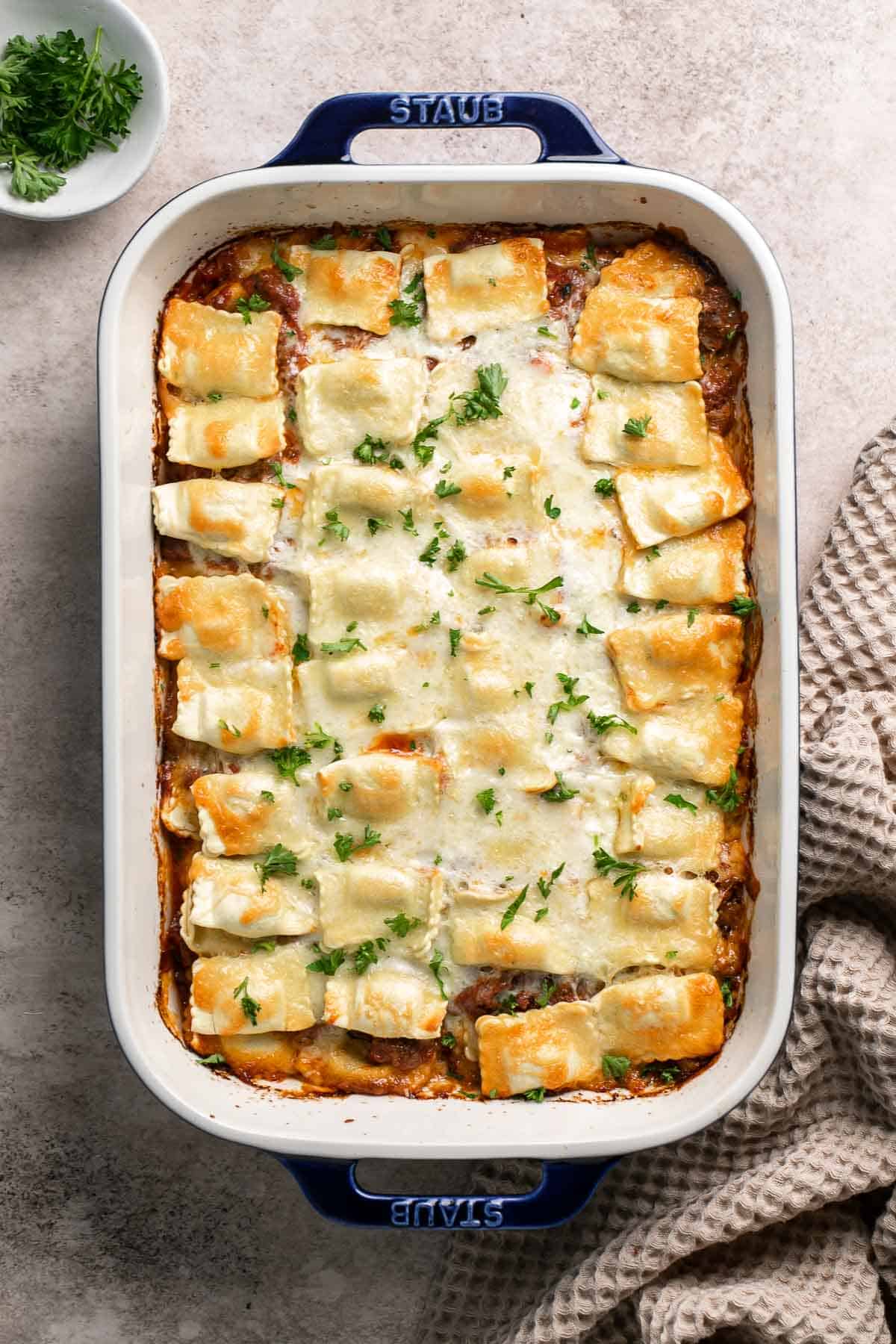 Cheesy Potato Soup
Cheesy Potato Soup is creamy, delicious, and comforting. This recipe takes everyday ingredients and transforms them in 30 minutes to a rich, luscious soup.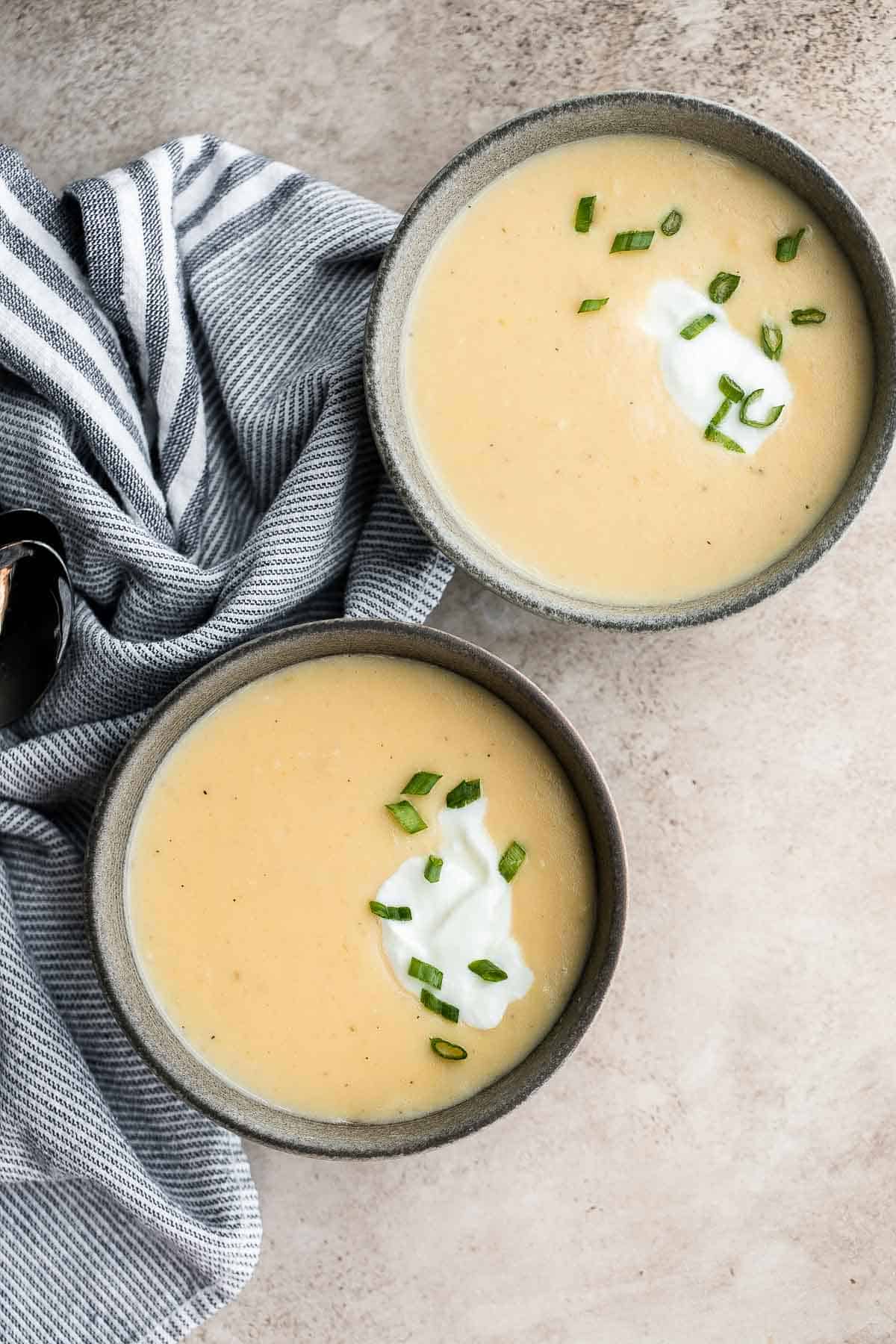 Baked Chicken Quesadillas
Baked Chicken Quesadillas are cheesy, crispy, flavorful, and delicious. This family-friendly recipe is quick and easy to make in just 30 minutes!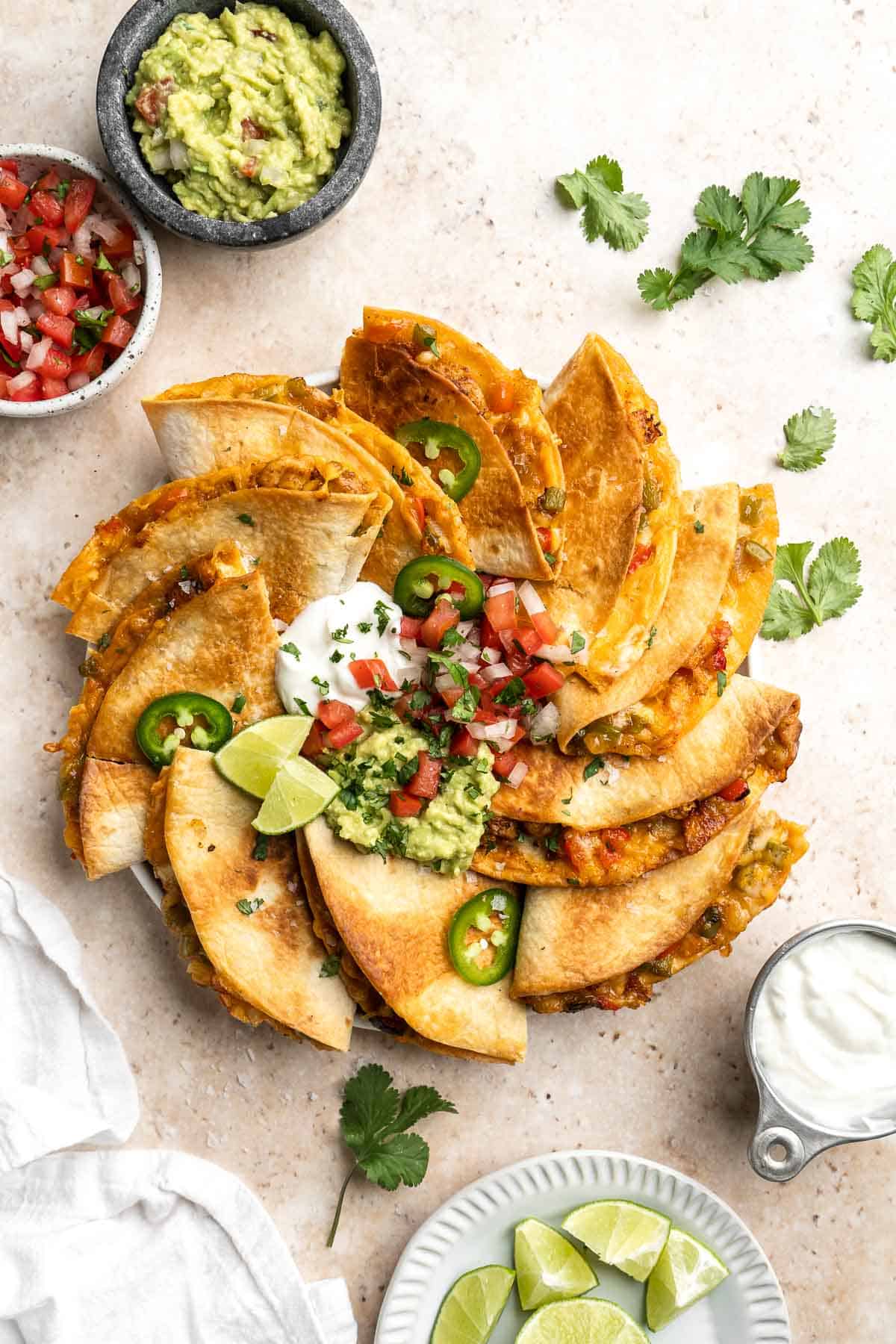 Cheesy Tortellini and Sausage Bake
Quick and easy, cheesy tortellini and sausage bake is a delicious 30-minute dinner packed with flavour. A family-favourite comfort food for busy weeknights.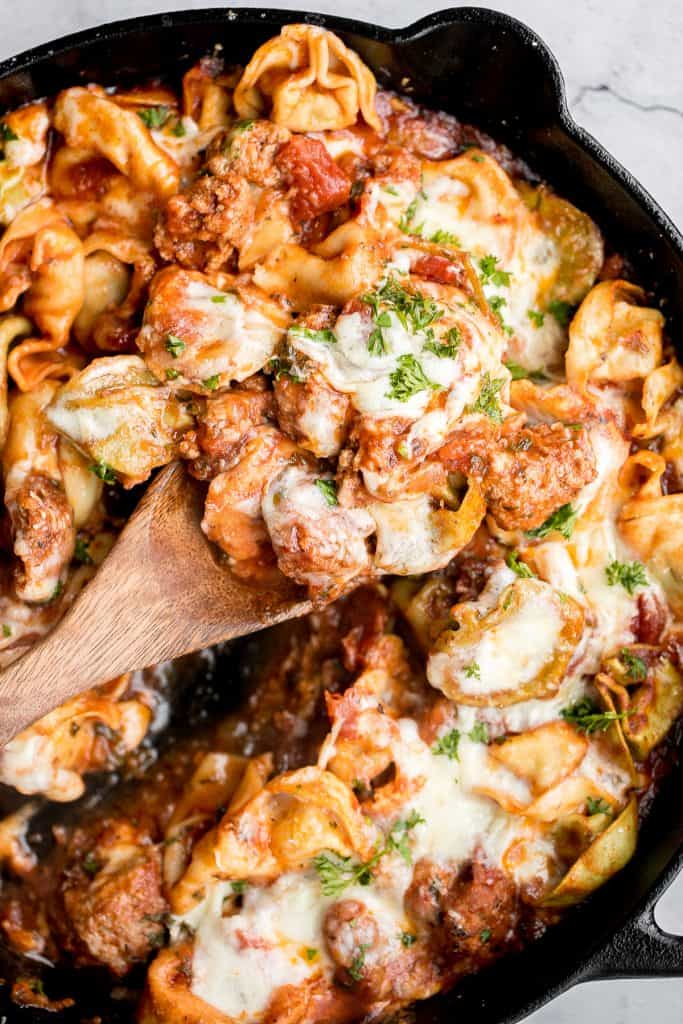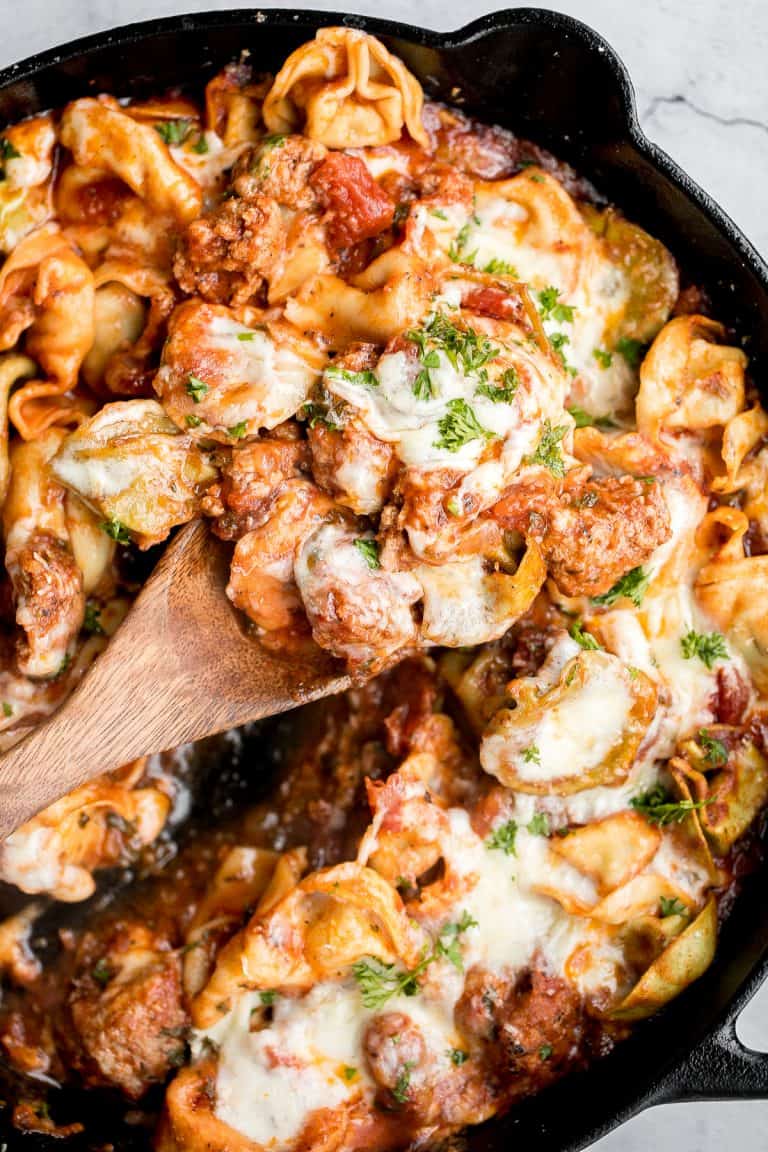 Chicken Meatballs
Baked Chicken Meatballs are tender, juicy, and flavorful (no dry meatballs here!). Made in just 45 minutes using simple ingredients. So quick and easy!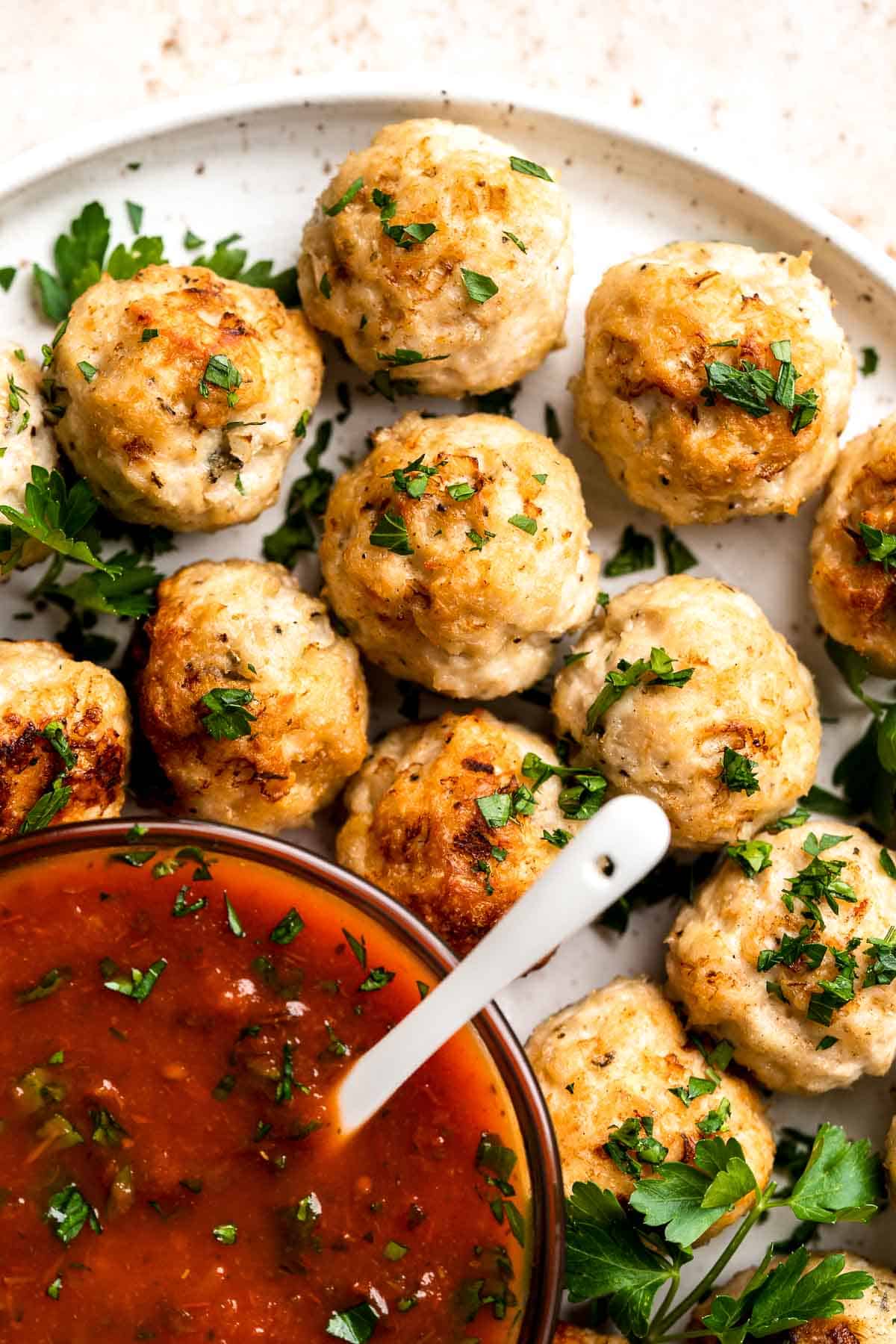 What to Serve with Dinner
Homemade chicken soup is delicious served on its own, or paired with some of my favorite soup sides including:
More Dinner Recipes
Did You Make Any of These Family Dinner Recipes?
Please leave a comment and rating below, and let me know what you thought of this round up of easy family dinner ideas. Be sure to snap a picture and tag me on Instagram @aheadofthyme or share it on the Pinterest pin so that I can follow along.
HUNGRY FOR MORE? Don't forget to sign up for my email newsletter so that you don't miss any recipes. You can also follow along on Instagram and Pinterest for more recipe updates
Print
Recipe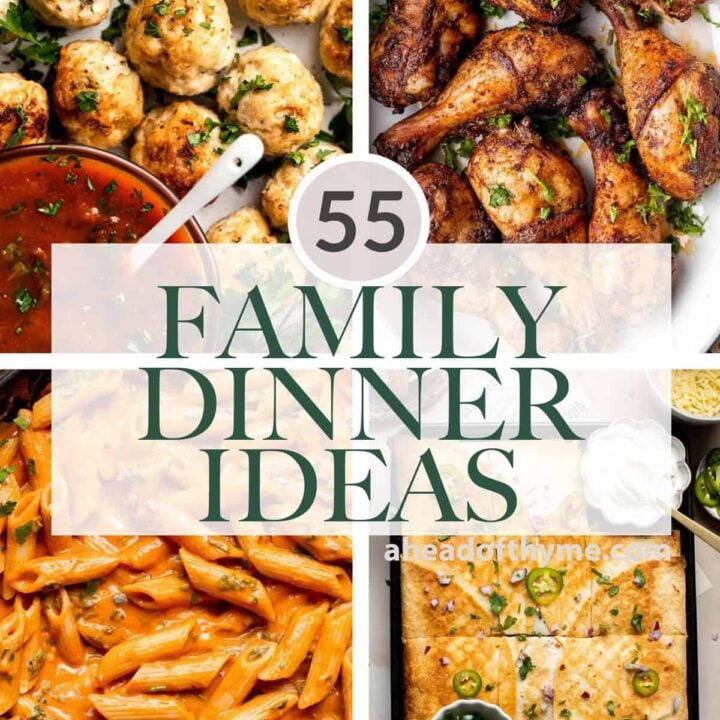 55+ Easy Family Dinner Ideas
---

Author:

Total Time:

55 minutes


Yield:

8 drumsticks


Diet:

Gluten Free
Description
Over 55 Easy Family Dinner Ideas including delicious one-pot wonders, sheet pan dinners, comforting casseroles and pasta, kid-friendly dinners, and more. One of my family dinners are these Baked Chicken Drumsticks.
---
---
Instructions
Use a paper towel to pat the chicken drumsticks completely dry.
Place the drumsticks into a large Ziploc bag or bowl. Add the oil and all the seasoning including paprika, allspice, Italian seasoning, garlic powder, onion powder, salt, and pepper. Press the air out of the bag and seal tightly. Press the seasoning around the chicken drumsticks to coat evenly. Let the drumsticks marinate for at least 1 hour or refrigerate overnight.
Preheat the oven to 400 F.
Arrange the marinated chicken drumsticks on a 9×13-inch casserole pan or a large baking sheet lined with parchment paper.
Bake for 40-45 minutes until the skin is crispy and the internal temperature for the chicken reaches 165 F, as read on a meat thermometer.
Optionally, turn on broiler on HI and cook for another 5 minutes until nicely charred. Keep a close eye on the drumsticks to make sure they don't burn as things can burn quickly under the broiler.
Brush the drumsticks with pan juices, if desired, and serve immediately.
Prep Time:

10 minutes

Cook Time:

45 minutes

Category:

Chicken

Method:

Bake

Cuisine:

American
Keywords: easy family dinner ideas, family dinners, family dinner recipes, kid-friendly dinner