This post may contain affiliate links. As an Amazon Associate, I earn from qualifying purchases. Please read my disclosure.

Indulge in some delicious and healthy Italian cuisine with these 60 must-try easy vegetarian Italian recipes! From classic Italian pasta dishes like spaghetti aglio e olio to creative takes on traditional favorites like eggplant parmesan, there's something for everyone in this collection. Whether you're a seasoned cook or just starting out, these recipes are easy to follow and packed with flavor. With so many amazing options to choose from, you'll never run out of inspiration for healthy and delicious meals.
Easy Poolish Pizza Dough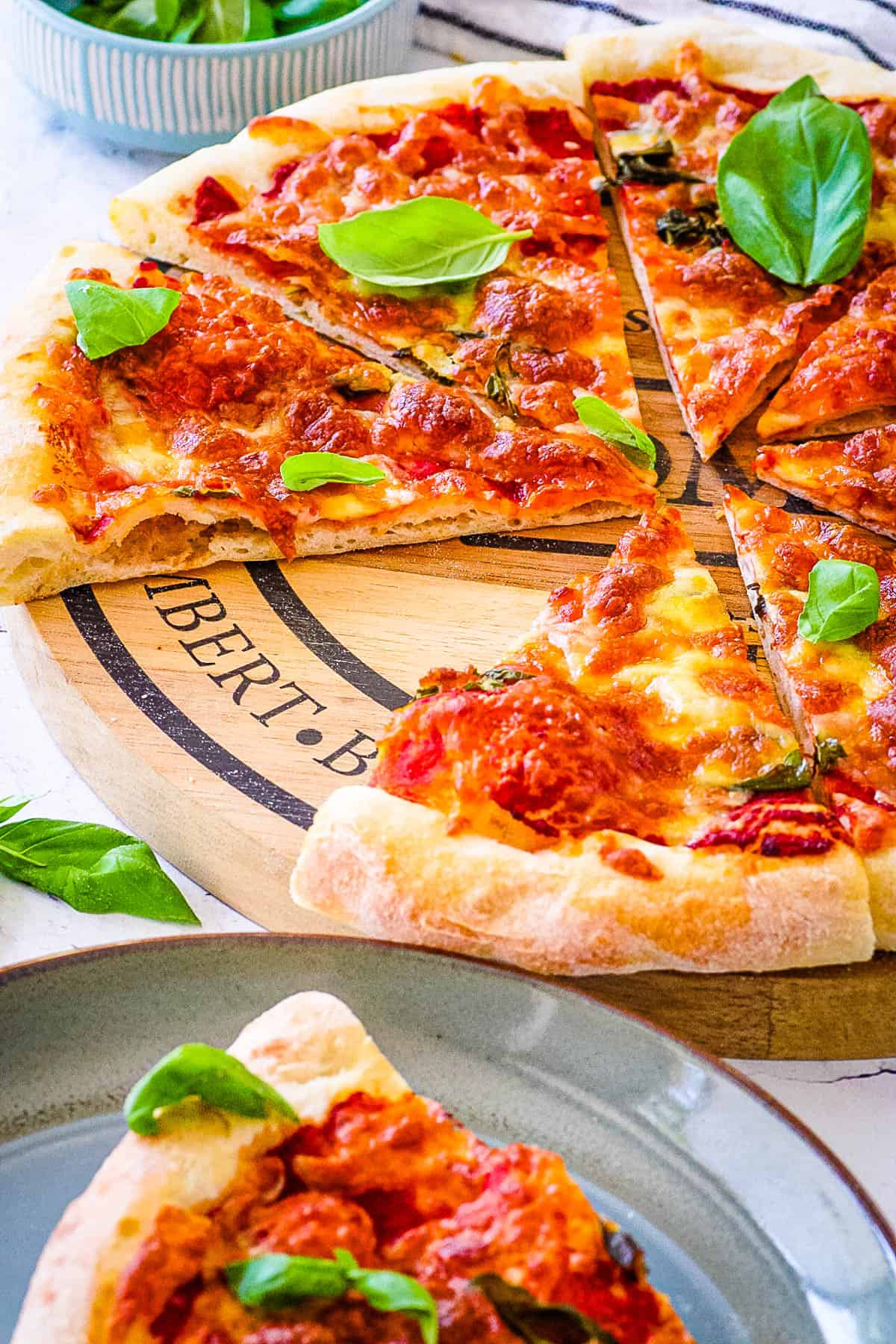 This pizza dough has a light and airy texture that will leave your taste buds begging for more. And the best thing? This veg Italian dish is naturally dairy-free and can be easily made vegan, too! Get this poolish pizza dough here.
Florentine Pizza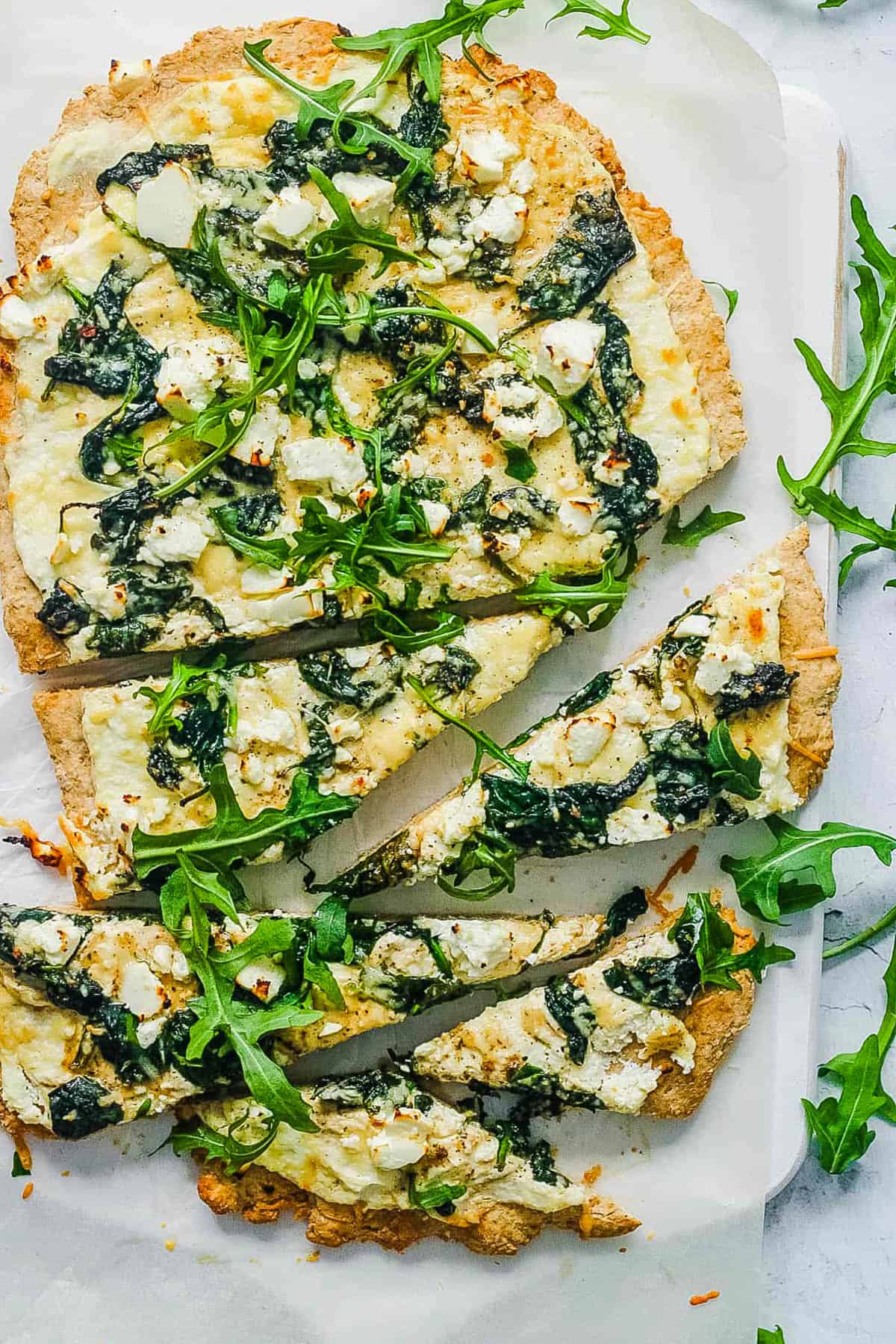 Pizzas are some of our favorite Italian veg dishes because they can be customized in so many ways! This cheesy white pizza sauce combined with sautéed garlicky spinach and an easy homemade no-rise crust is the perfect dish for a quick weeknight dinner or a lazy weekend brunch. Get this spinach pizza here.
Low Carb Pizza Bowl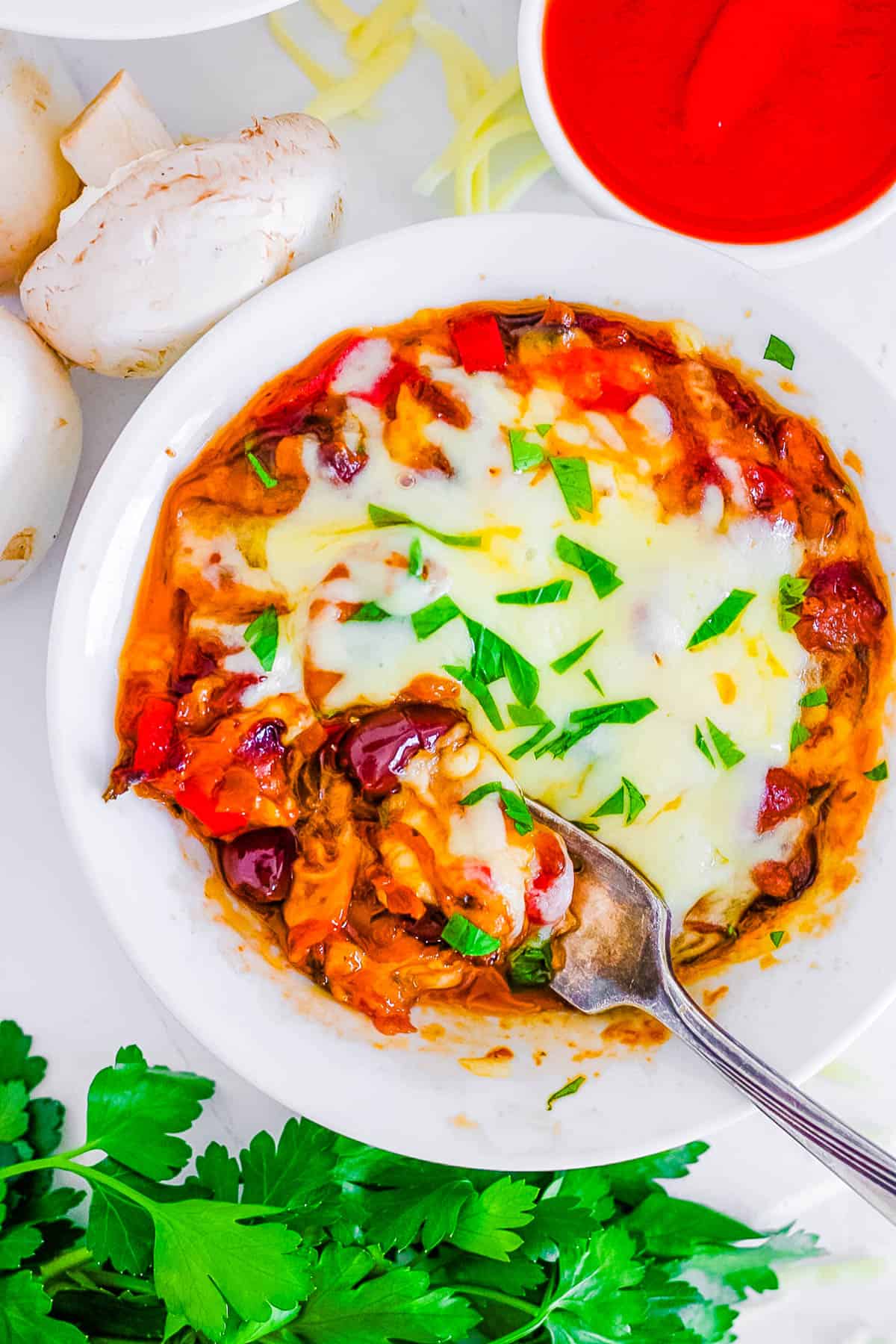 If you're looking to cut down on carbs but don't want to miss out on all the cheesy goodness, this recipe is for you. Packed with fresh vegetables and loaded with flavor, this saucy bowl of goodness will satisfy your pizza cravings in no time. Get this keto pizza bowl here.
Mushroom Flatbread Pizza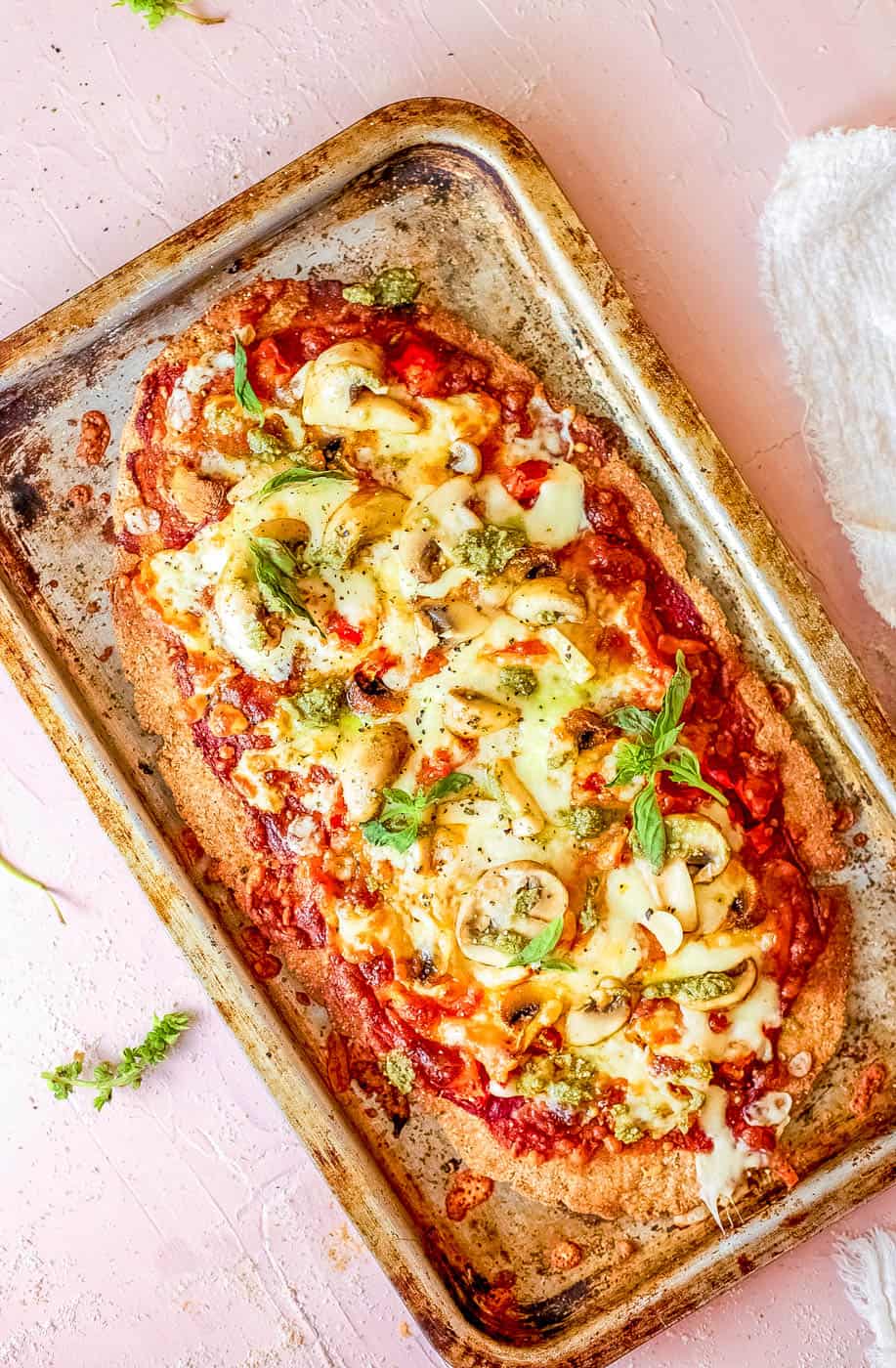 This is not your average pizza – it's an artisan flatbread pizza that will rival anything you'd order in a restaurant! It's also a family-friendly meal that can be enjoyed any day of the week. The crispy crust is made from whole wheat flour, perfect for your next vegetarian Italian dinner party! Get this mushroom flatbread here.
Homemade Vegetarian Pizza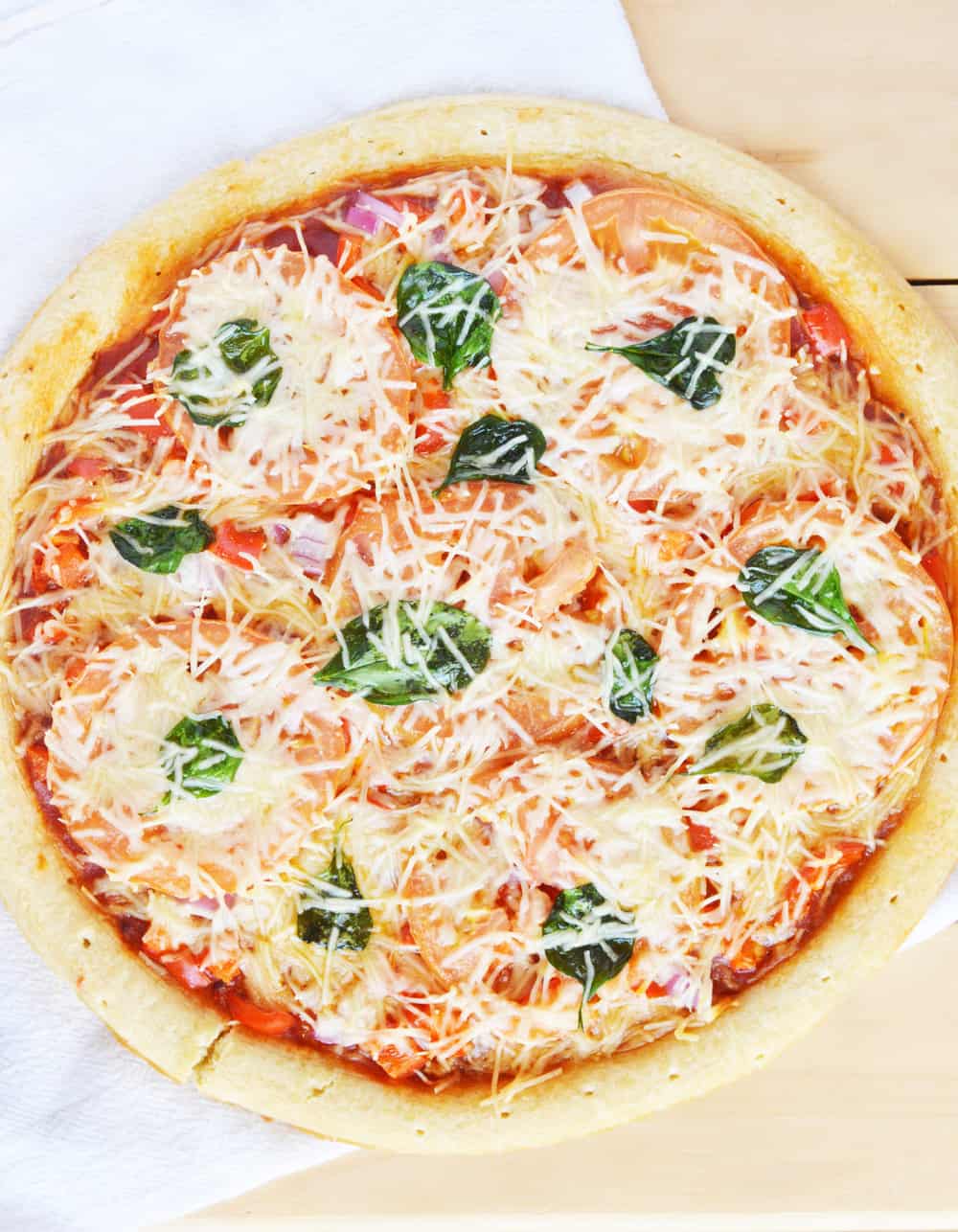 Loaded with colorful veggies and made with a whole-grain crust, it packs a nutritious punch without sacrificing flavor. And let's not forget about the gooey mozzarella and parmesan cheese – they take this pizza to the next level of cheesy goodness. One of my favorite vegetarian Italian recipes! Get this homemade pizza here.
Pita Pizza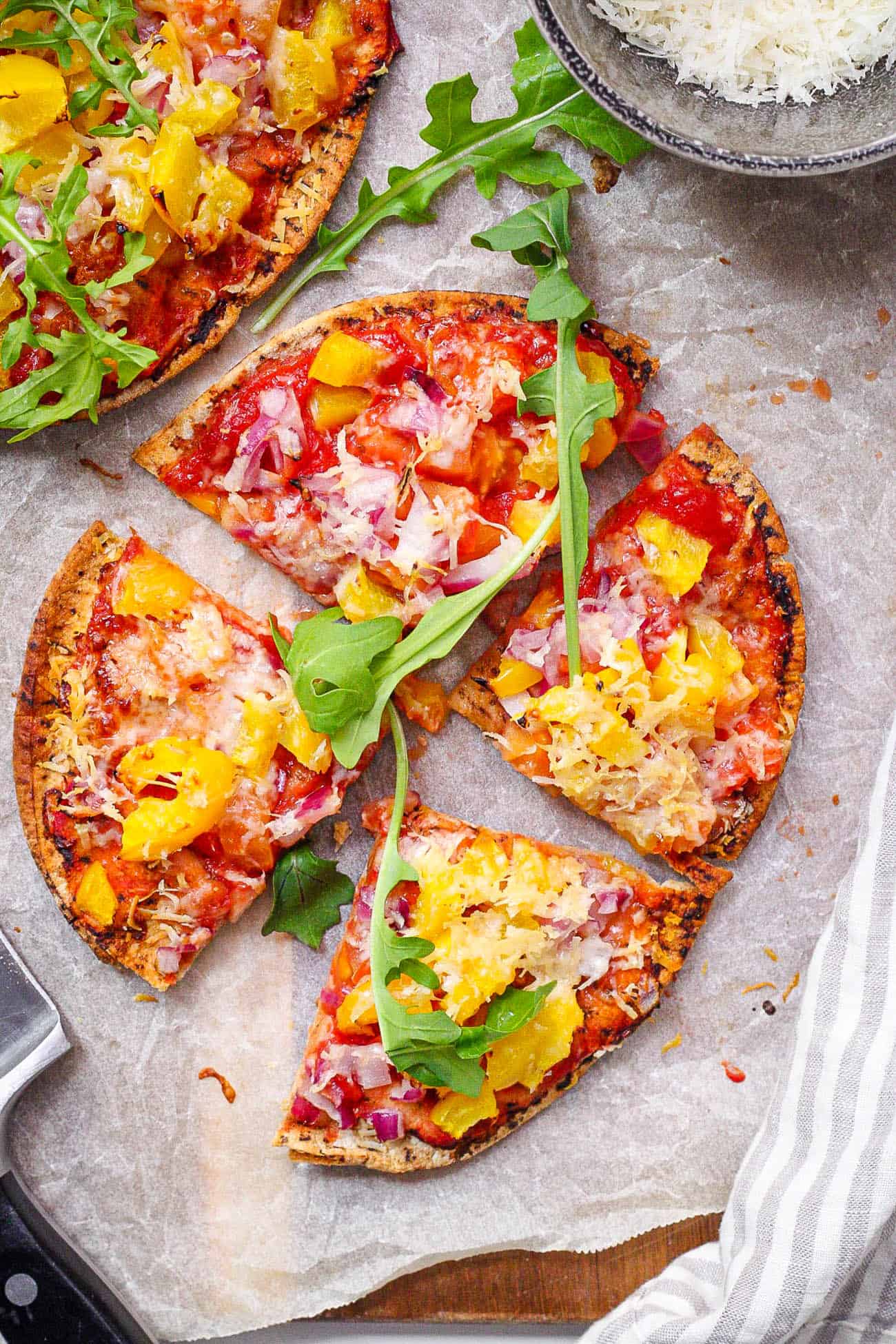 Get ready for a healthy and delicious meal that can be whipped up in just 15 minutes! This amazingly easy pita bread pizza recipe is the perfect comfort food for any occasion. The whole wheat pita bread serves as a sturdy base, topped with tomato sauce, fresh veggies, and gooey cheese. An easy, family-friendly, simple recipe. Get this pita pizza here.
Easy Veggie Pizza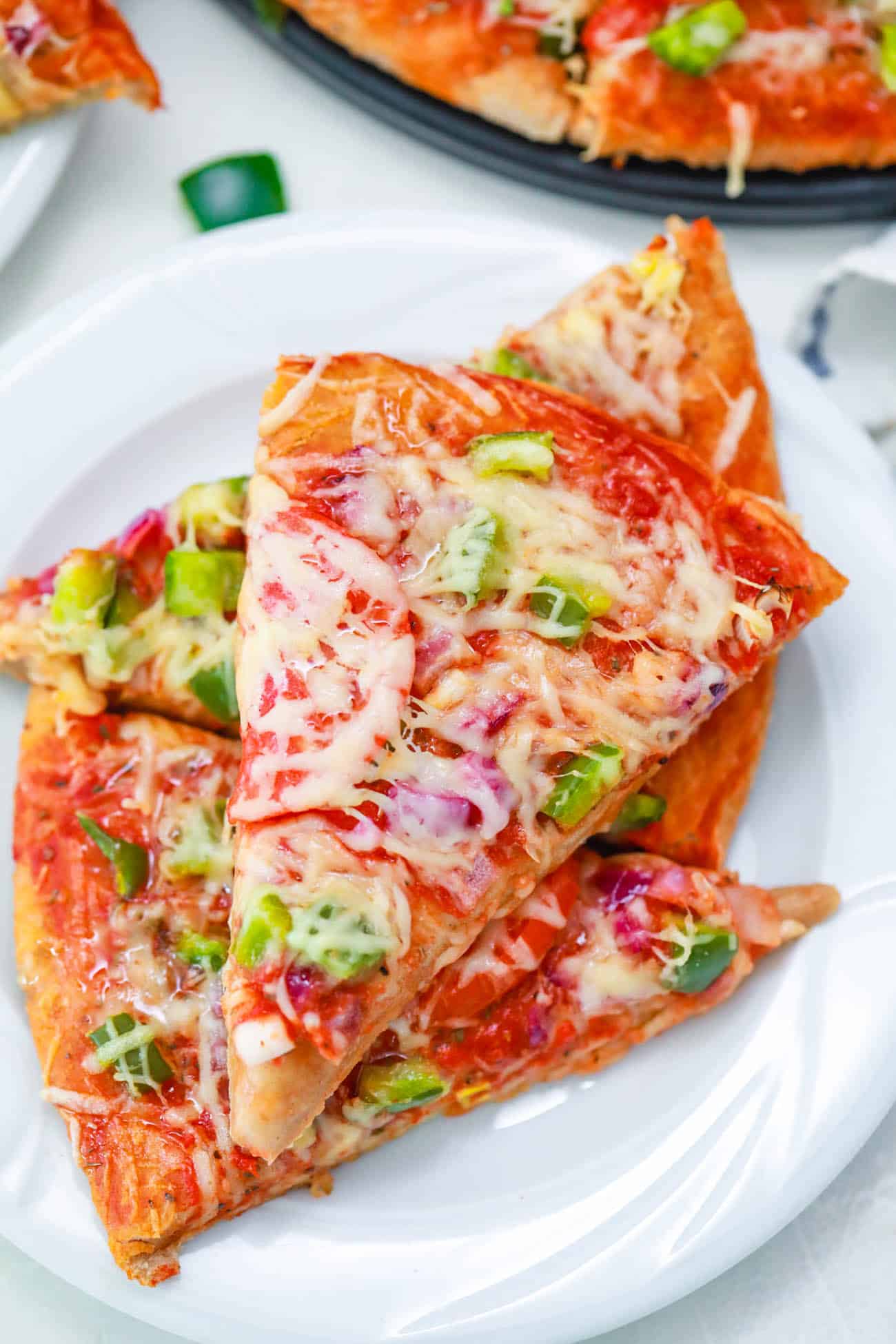 Made with melted gooey cheese and tender fresh vegetables such as red onion and green bell pepper, this savory and yummy pizza is perfect when you're looking for something tasty, satisfying, and ready in just 30 minutes! Get this veggie pizza here.
Pizza Margherita Flatbread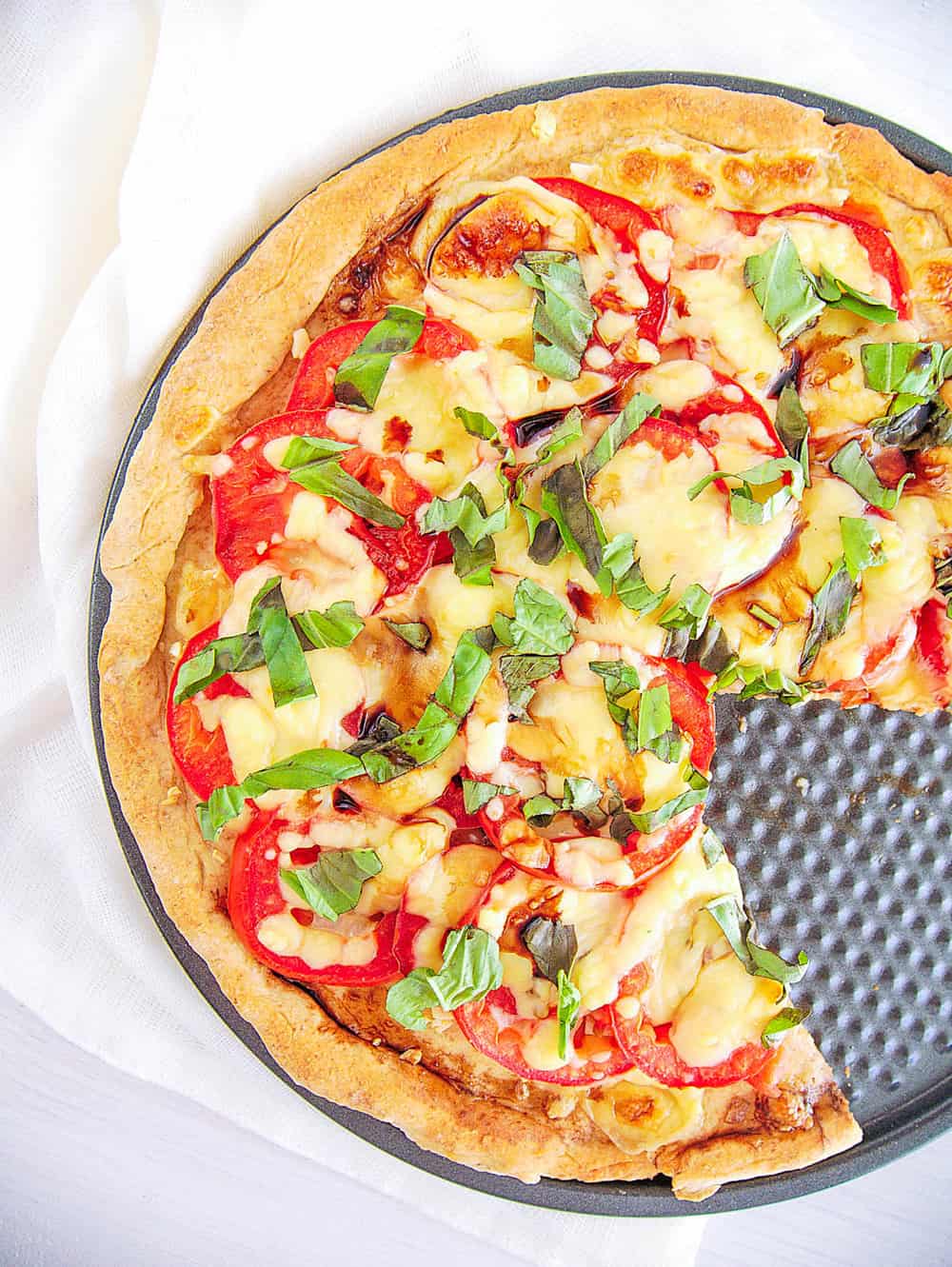 This dish offers all the deliciousness of traditional pizza but with a fresh and healthy twist. Topped with juicy tomatoes and fragrant basil, this flatbread is bursting with flavor that'll leave your taste buds dancing. This might become one of your favorite vegetarian Italian recipes! Get this Margherita flatbread here.
Homemade Air Fryer Pizza Rolls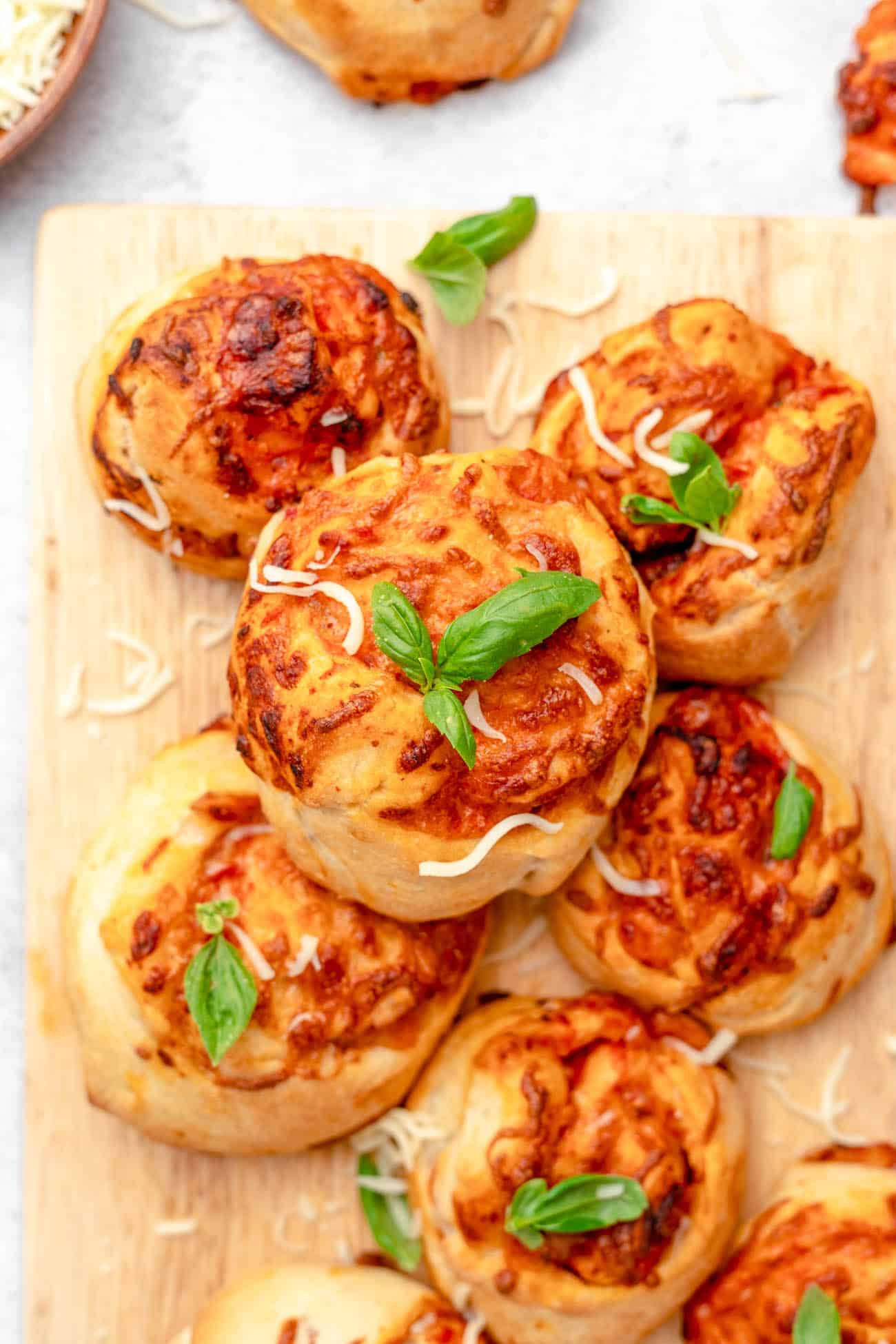 These doughy, cheesy bites are the perfect canvas for your favorite toppings. Add some zucchini, fresh mushrooms, green or red pepper, red onion, and olives to make them even more flavorful and nutritious. Italian food that will keep you wanting more. Get these pizza rolls here.
Italian Panini Recipe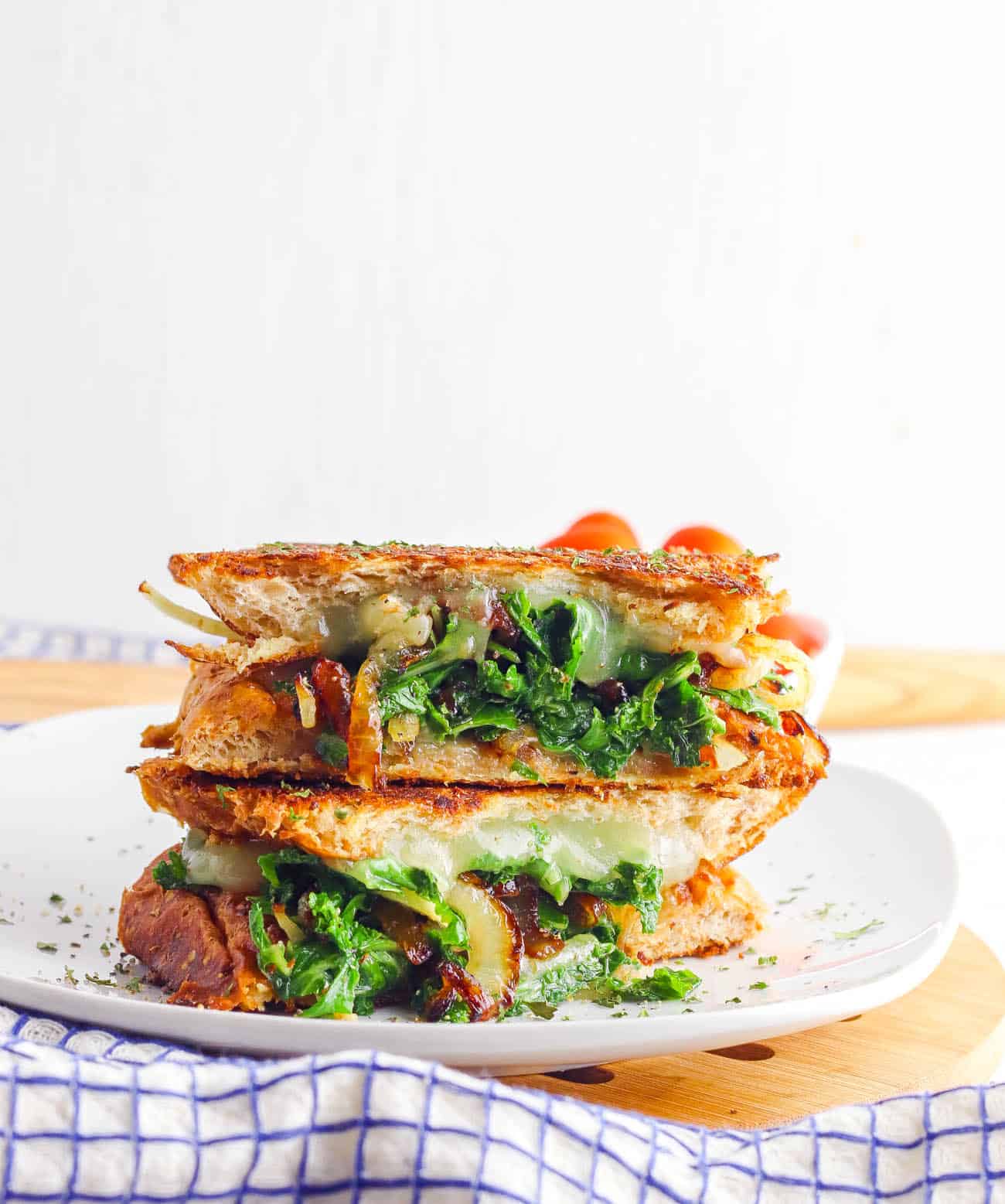 This hearty vegetarian Italian food is packed with flavor and can easily be made vegan or gluten-free to suit your dietary needs. Load up your favorite Italian bread with any of your favorite toppings, and in a few minutes you'll have a healthy and hearty Italian sandwich that's sure to satisfy. Get this vegetarian Italian sandwich recipe here.
Healthy Mac And Cheese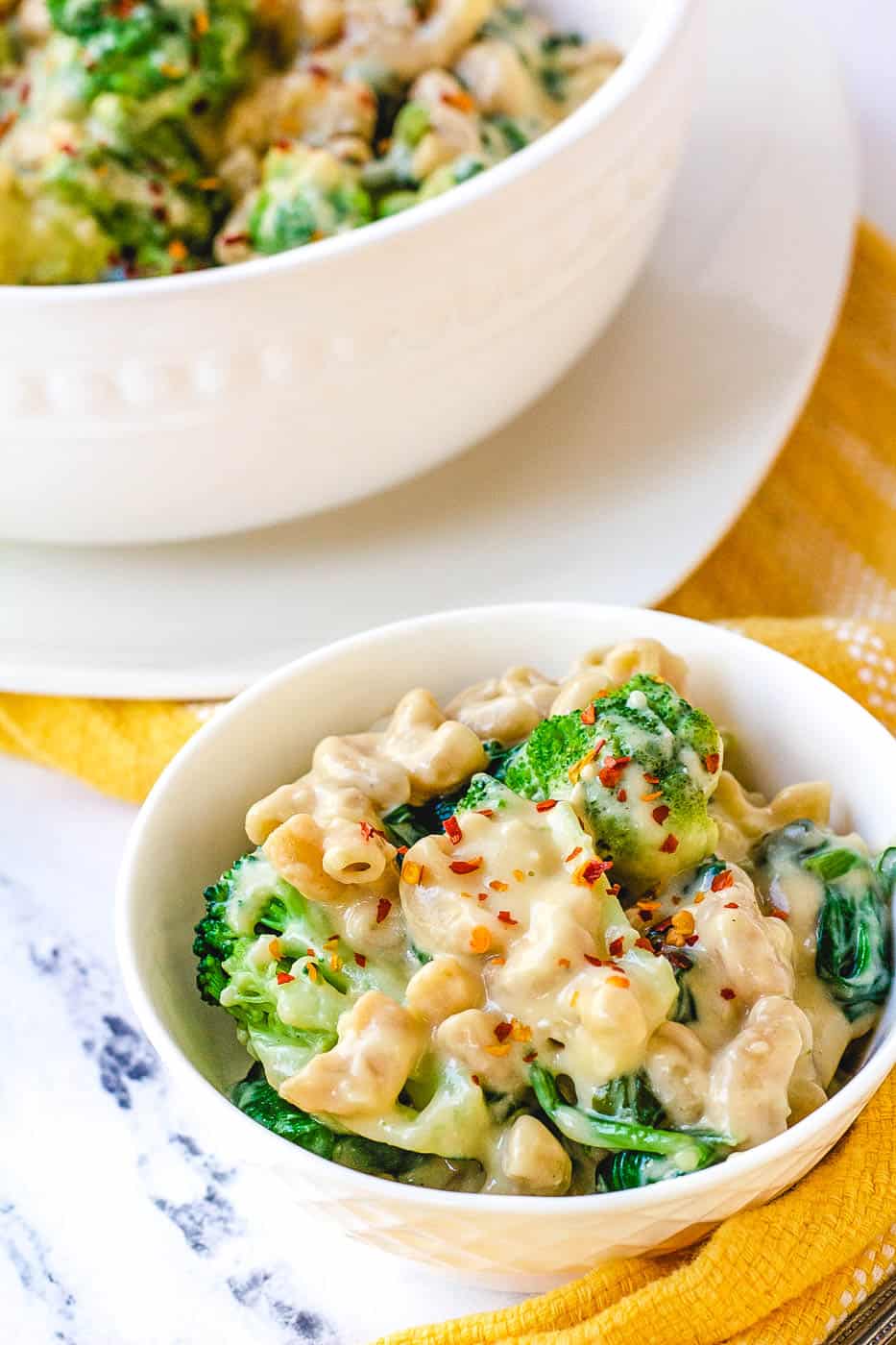 Mac and cheese is the ultimate comfort food, but it doesn't have to be a guilty pleasure! Healthy mac and cheese is not only possible, but it's also downright delicious, and technically is a vegetarian Italian dish. This version of the classic dish is made with whole wheat macaroni and packed with veggies to add some extra nutrition. Get this healthy mac and cheese here.
Lentil Pasta Recipe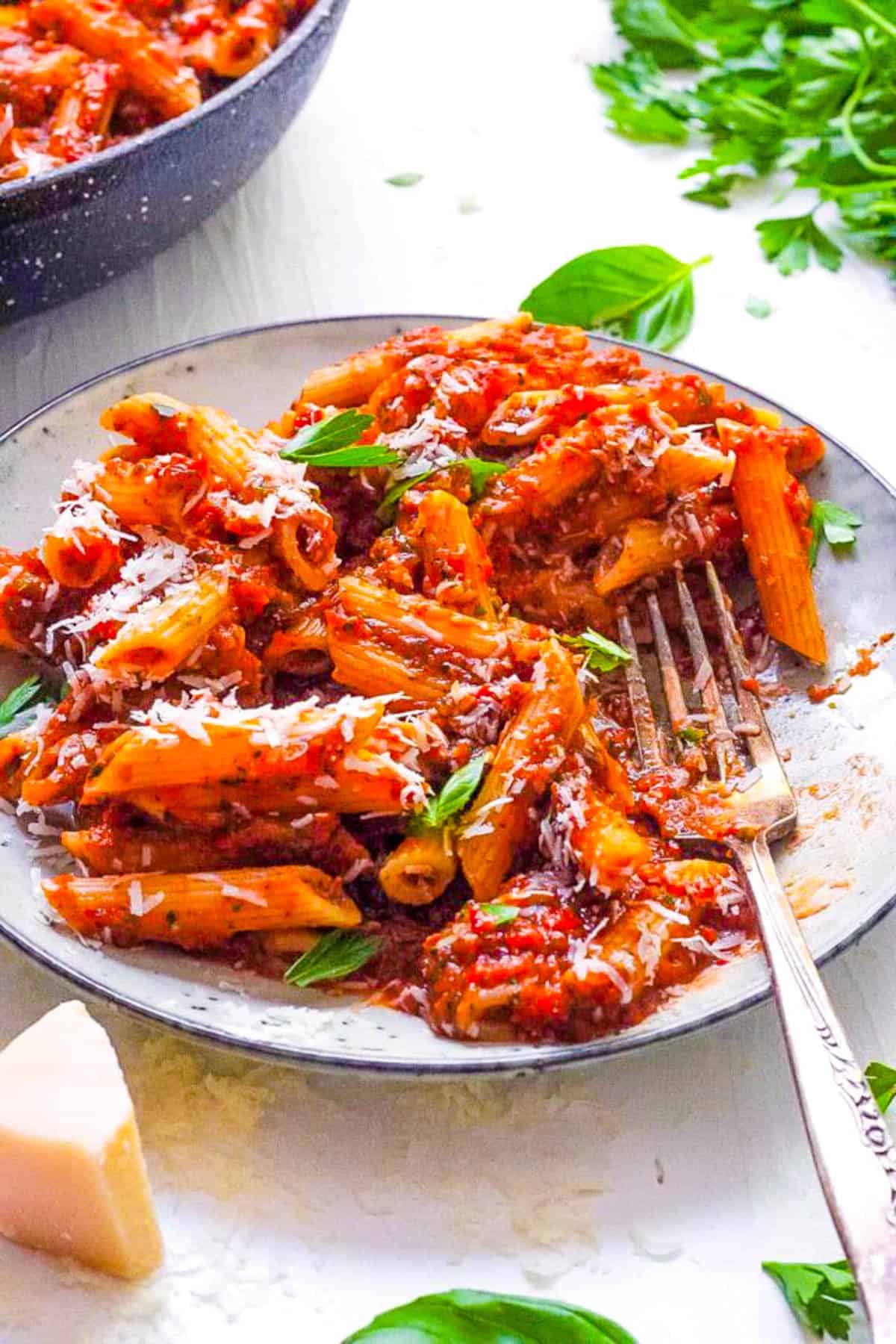 In just 30 minutes, you can whip up a delicious and nutritious meal that's perfect for the whole family. The secret is in the rich marinara sauce, which is mixed with tender vegetables to create a wholesome, balanced dish that's naturally gluten-free. A vegetarian Italian pasta that you will surely enjoy! Get this red lentil pasta here.
Vegetarian Pasta With Pesto Sauce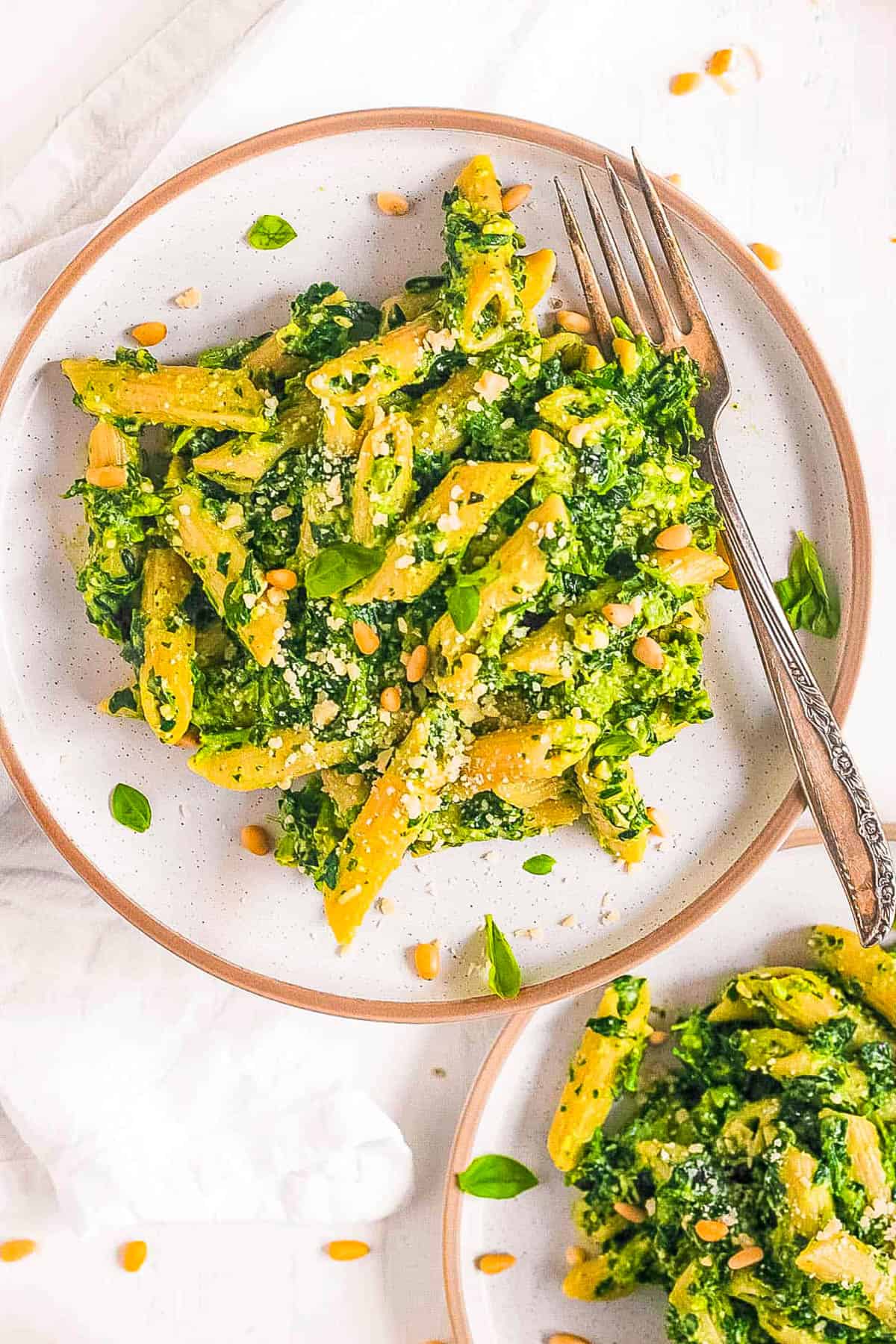 With creamy ricotta, flavorful basil, and crunchy pine nuts, this giant bowl of pasta is sure to please even the pickiest eaters. And with frozen spinach, it's easy to get your daily dose of veggies without any fuss. Experience Italian cooking directly from your kitchen with this recipe! Get this pesto pasta here.
Pasta with Sun-Dried Tomato Pesto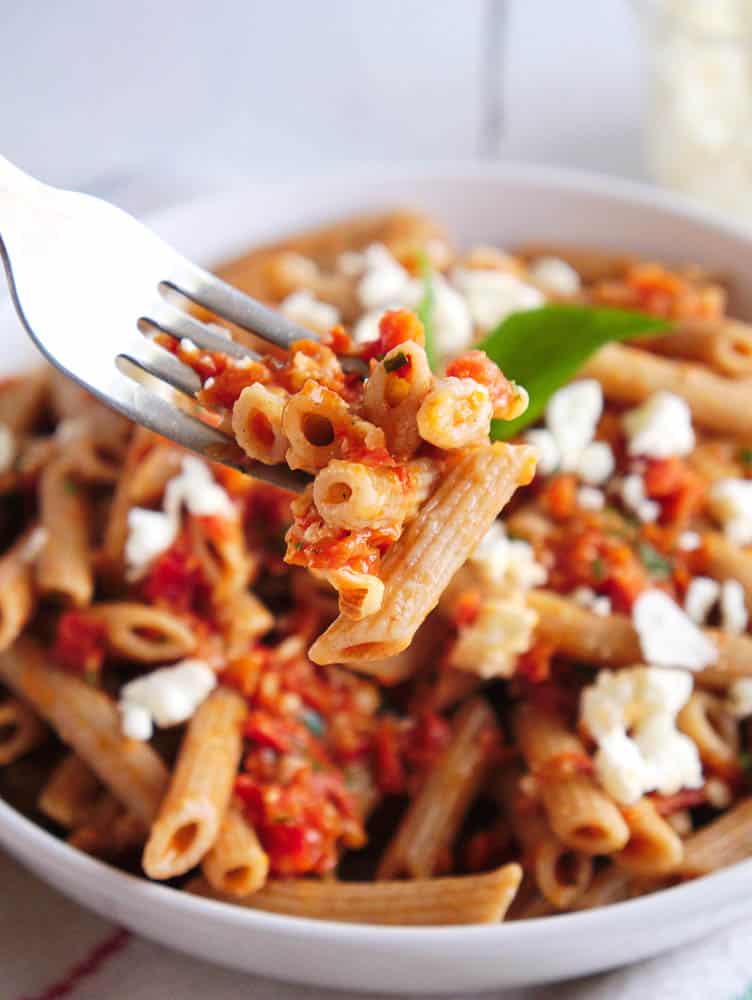 Pasta is a great base for all kinds of Italian veggie dishes. And this scrumptious whole wheat pasta dish is made with a mouthwatering sun-dried tomato pesto and topped with crumbled feta cheese. Not only is it packed with flavor, but it's also easy and quick to make, making it the perfect healthy weeknight meal for busy families on the go. Get this sun-dried tomato pesto pasta here.
Mushroom Pasta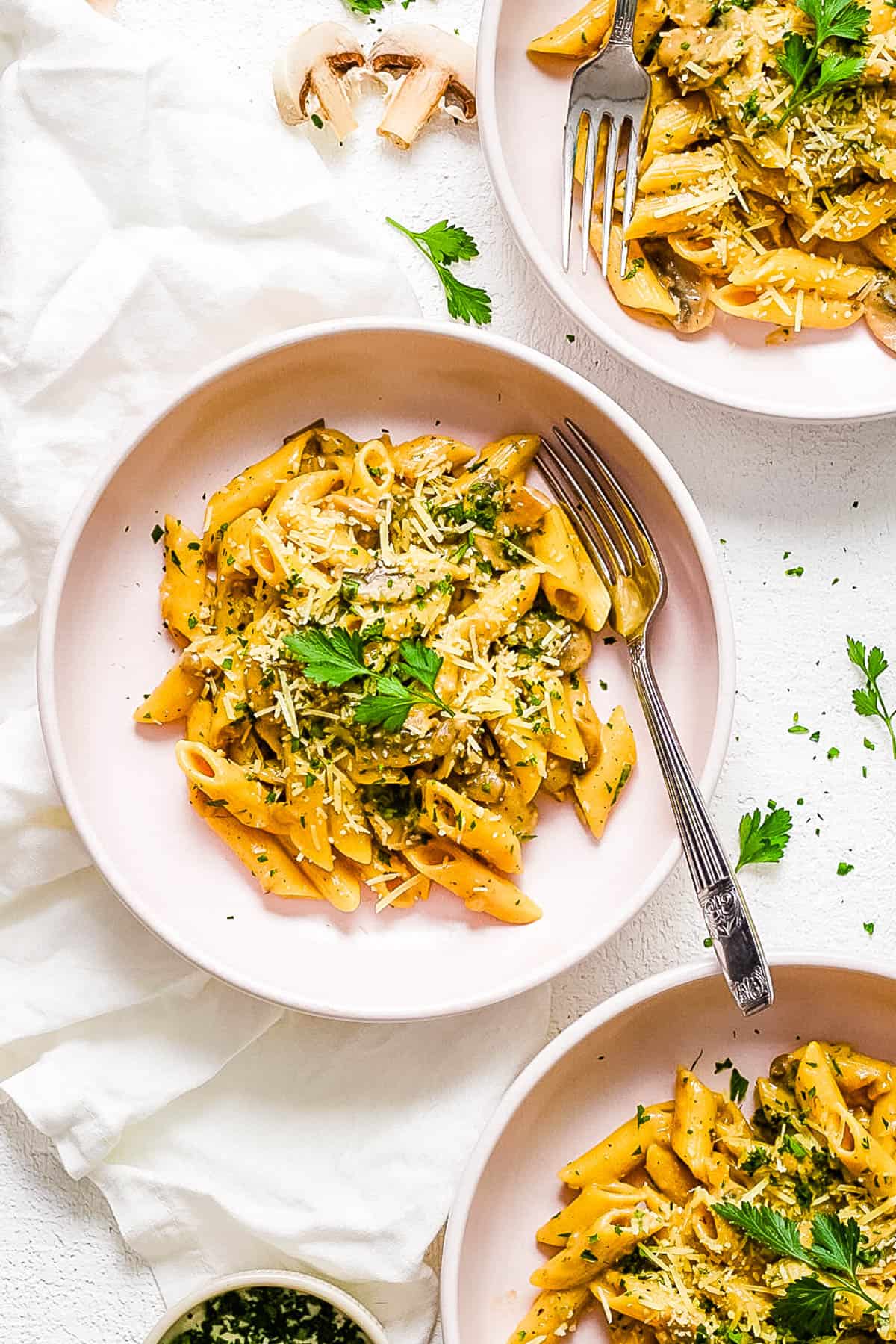 If you're looking for a comforting and satisfying vegan pasta recipe, look no further than this creamy pasta with fresh mushrooms! Not only is it hearty and warming, but it's also a healthy and easy recipe that can be made in under 30 minutes. Get this mushroom pasta here.
Italian Veggie Pasta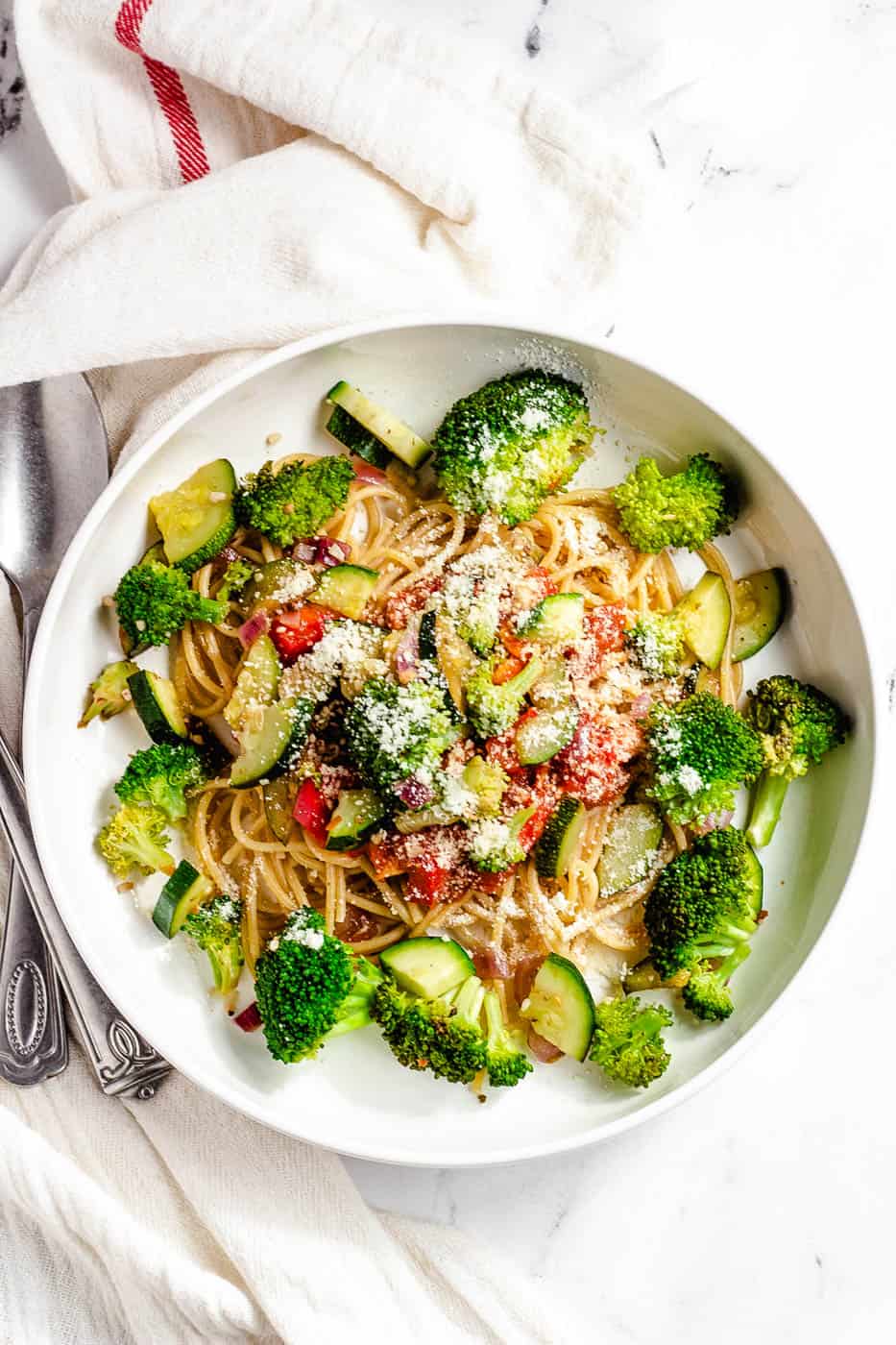 This easy Italian dish is not only delicious but also guilt-free. Loaded with seasonings and topped with parmesan cheese, it's a flavor explosion that's perfect for a vegetarian diet and will leave you wanting more. Get this veggie pasta here.
Pasta Primavera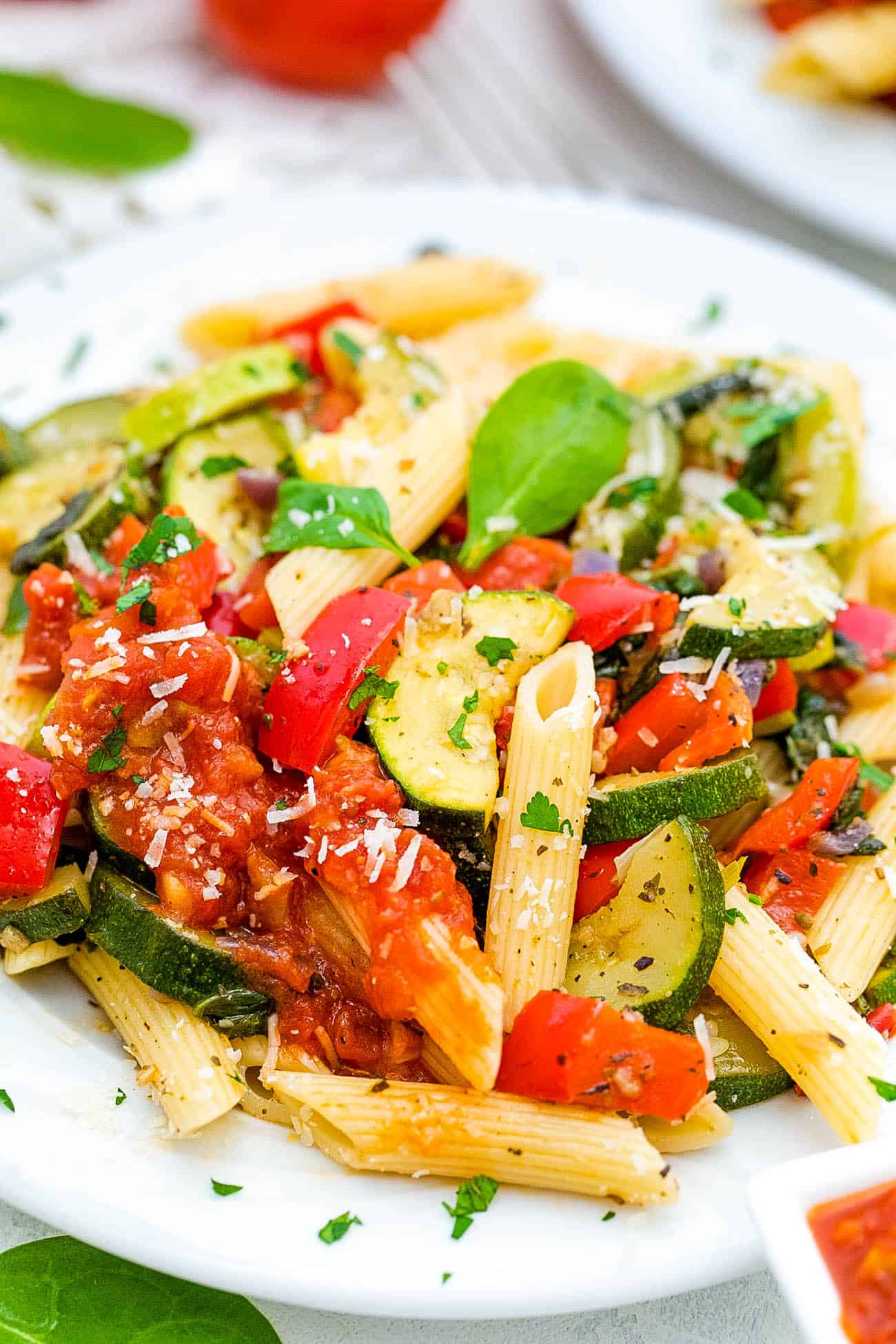 This is one of those healthy authentic Italian recipes that is bursting with fresh flavors, thanks to its combination of fresh pasta and loads of colorful veggies like bell peppers, zucchini, and cherry tomatoes. Get this pasta primavera here.
Whole Wheat Pasta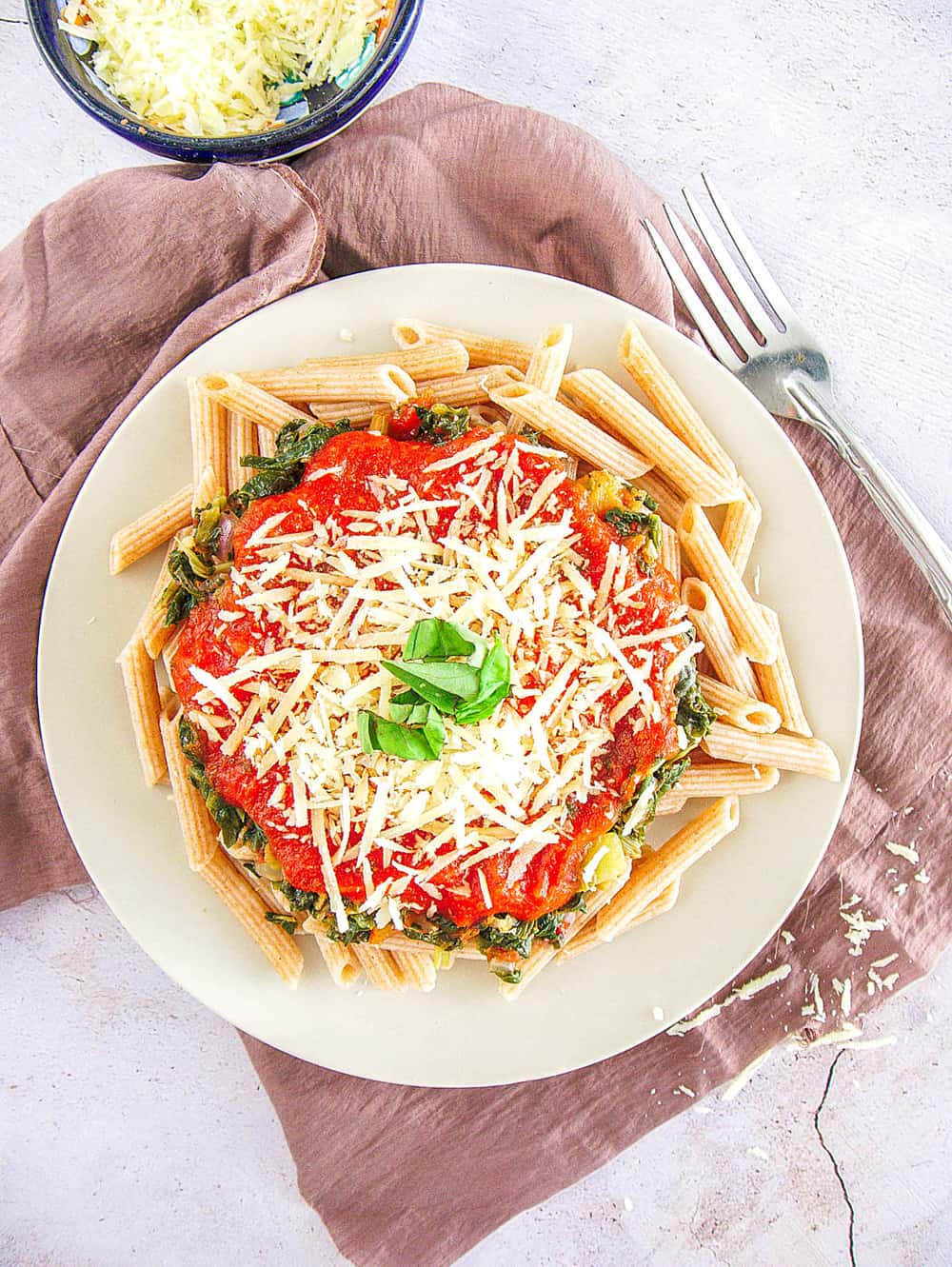 Made with wholesome main ingredients like whole grain pasta and fresh veggies, this Italian vegetarian recipe is sure to become a family favorite in no time. Get this whole wheat pasta here.
Vegetarian Spaghetti Sauce With Whole Wheat Pasta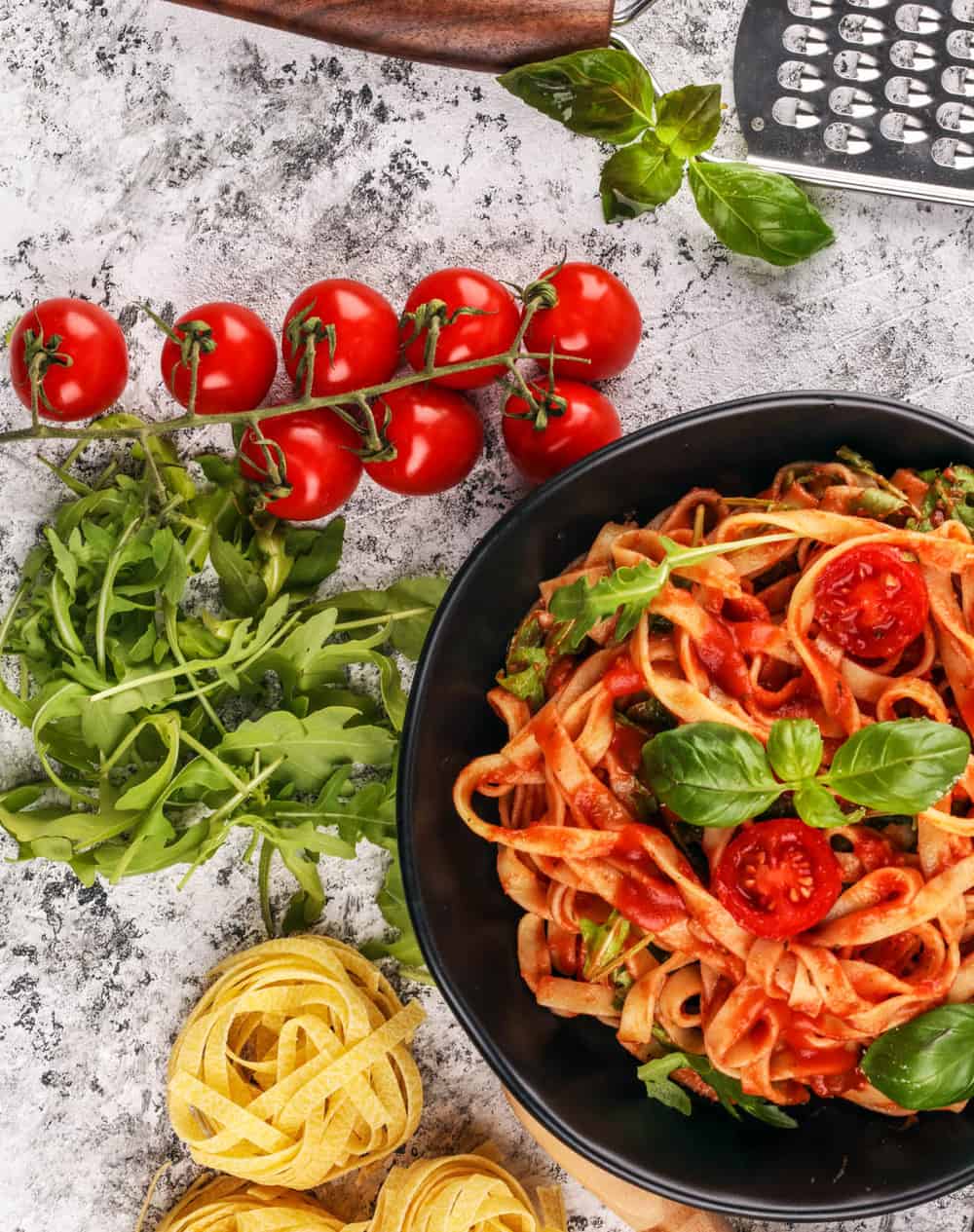 With a combination of savory spices and fresh vegetables, this spaghetti sauce is sure to become a staple on your dinner table! Toss it with your favorite pastas and veggies to create a variety of different healthy Italian dinner recipes that are ready in minutes! Get this vegetarian spaghetti sauce here.
Bean Stew With Whole Wheat Pasta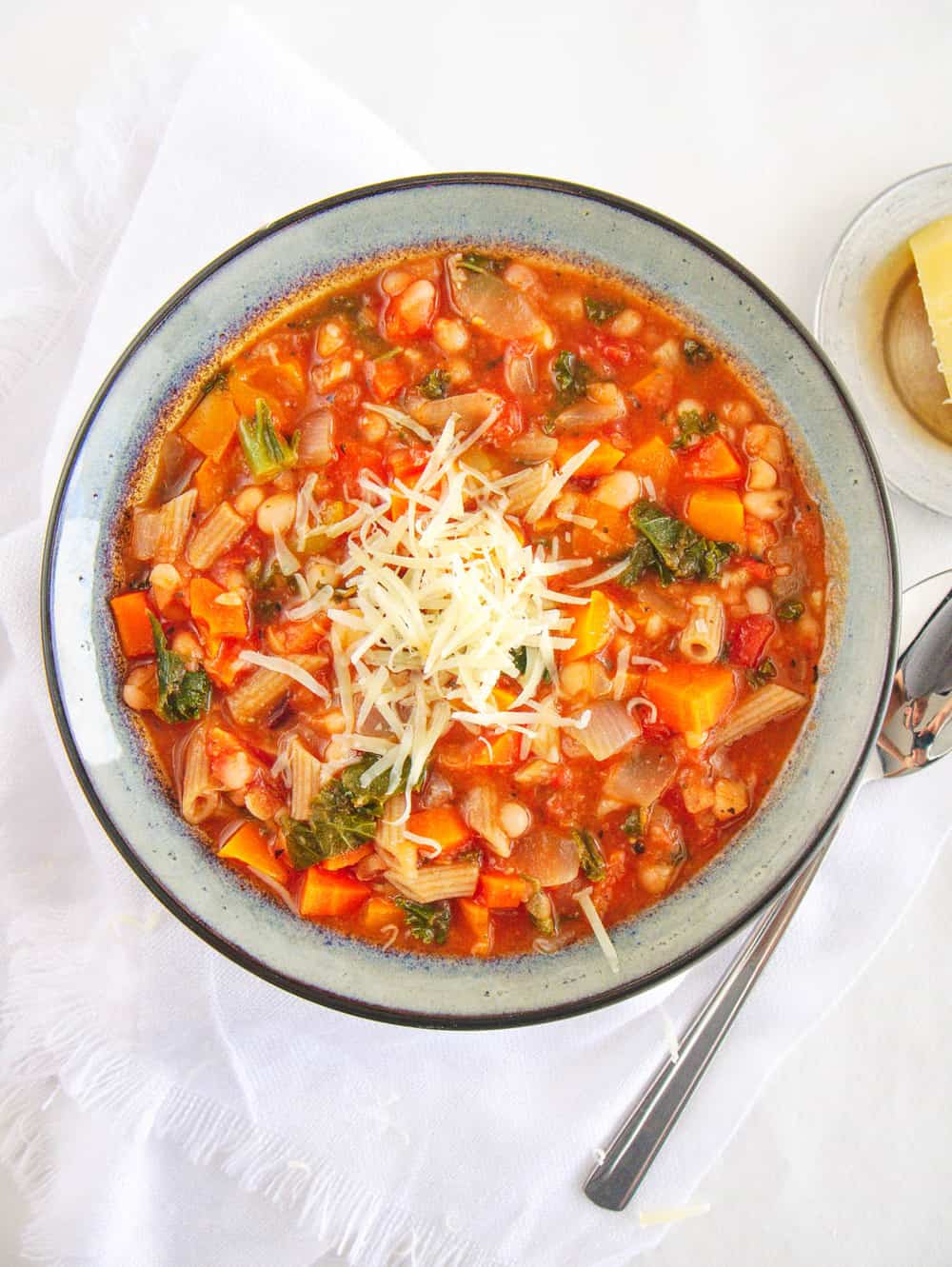 Packed with hearty veggies, flavorful beans, and nutritious whole wheat pasta, this dish is not only healthy but also satisfying. One of the easy italian recipes that is delicious and simple to make! Get this bean stew with pasta here.
Alfredo Sauce Without Heavy Cream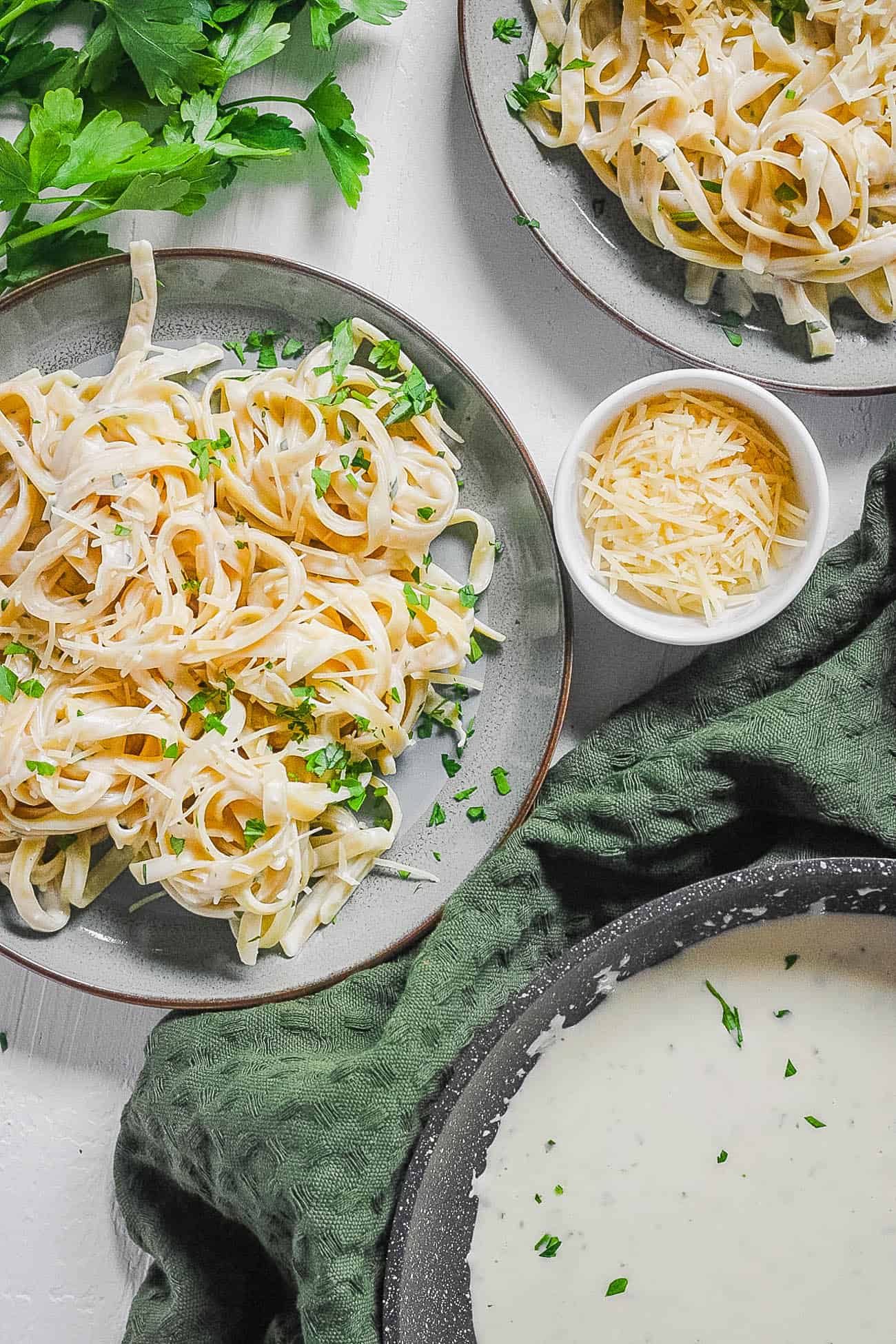 If you're a fan of fettuccine alfredo, then this Italian classic alfredo sauce recipe without heavy cream is a must-try! Made with parmesan cheese, black pepper, skim milk, and garlic powder, this creamy sauce is the perfect complement to your favorite pasta. Get this Alfredo sauce here.
Pesto Without Pine Nuts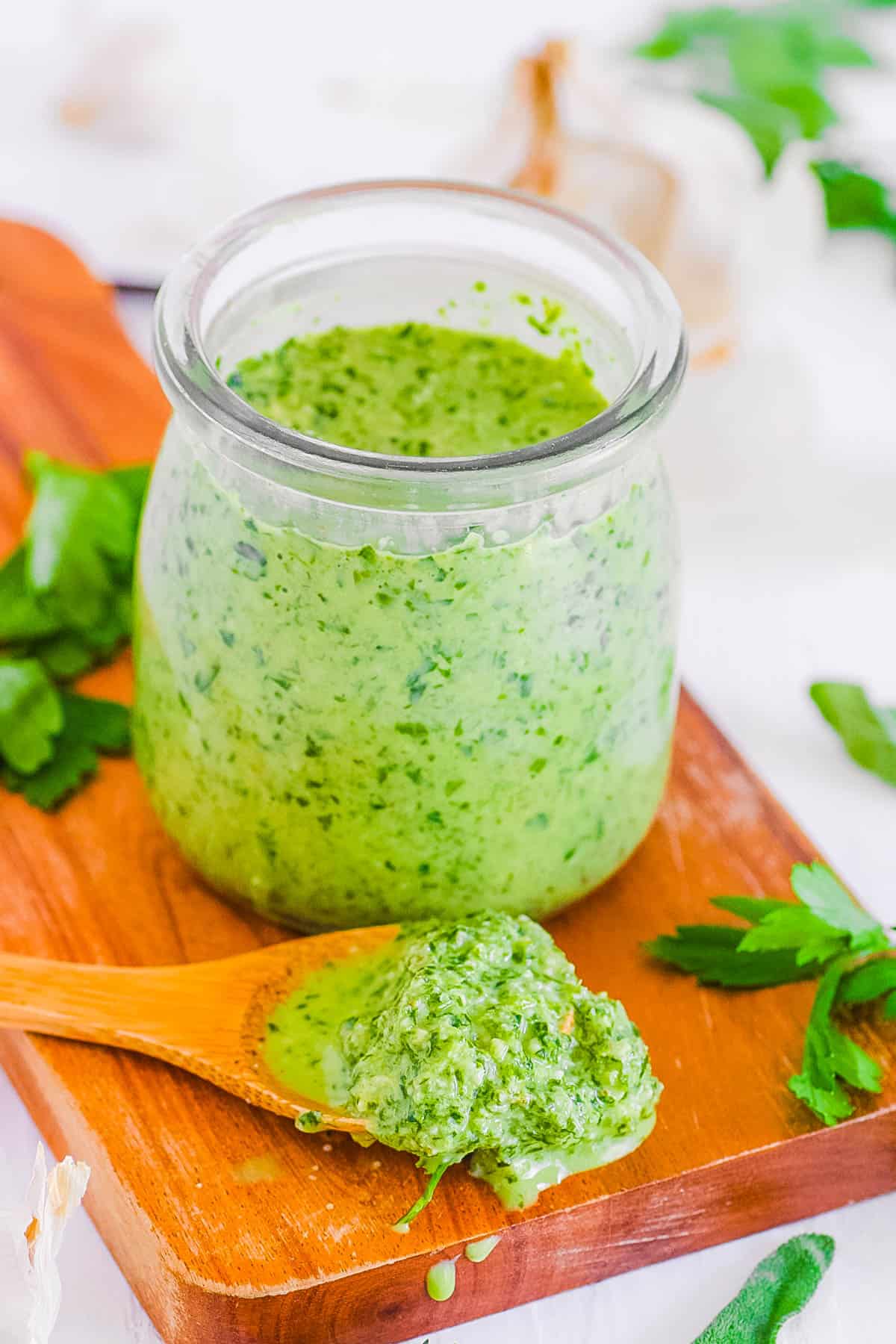 The secret to this tasty pesto is the use of walnuts instead of pine nuts. Walnuts are a great source of protein and healthy fats, which makes them a perfect addition to any diet. And with the addition of fresh sage, garlic, parmesan cheese, and olive oil, this pesto packs a punch in terms of flavor. Use vegan parmesan to turn this into one of the best vegan Italian recipes you'll find! Get this walnut sage pesto here.
Low Carb Marinara Sauce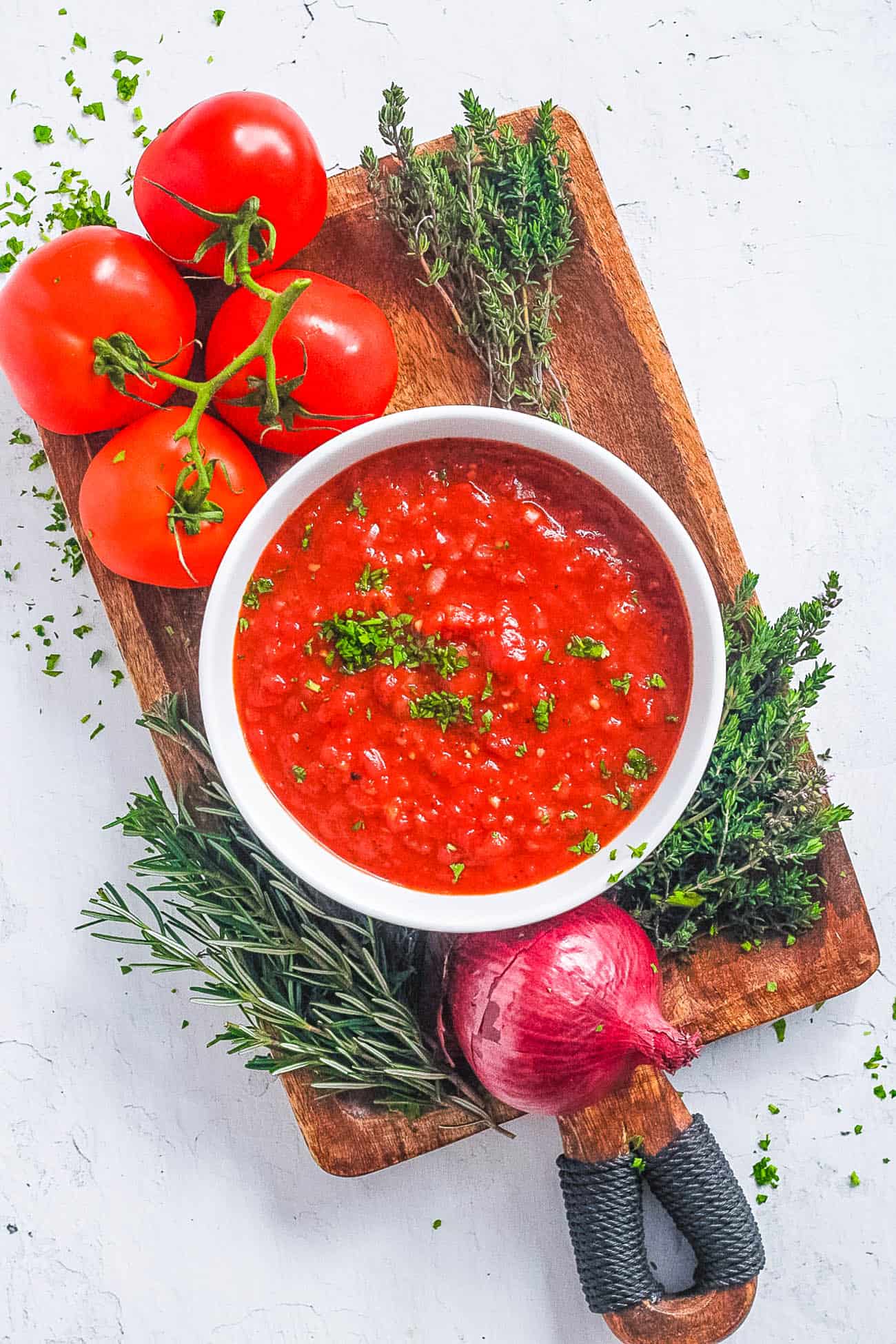 Made with fresh plum tomatoes, onion, garlic, and Italian seasoning, this smooth sauce is the perfect complement to pizza or pasta dishes! Get this marinara sauce here.
Italian Vegetarian Lasagna Recipe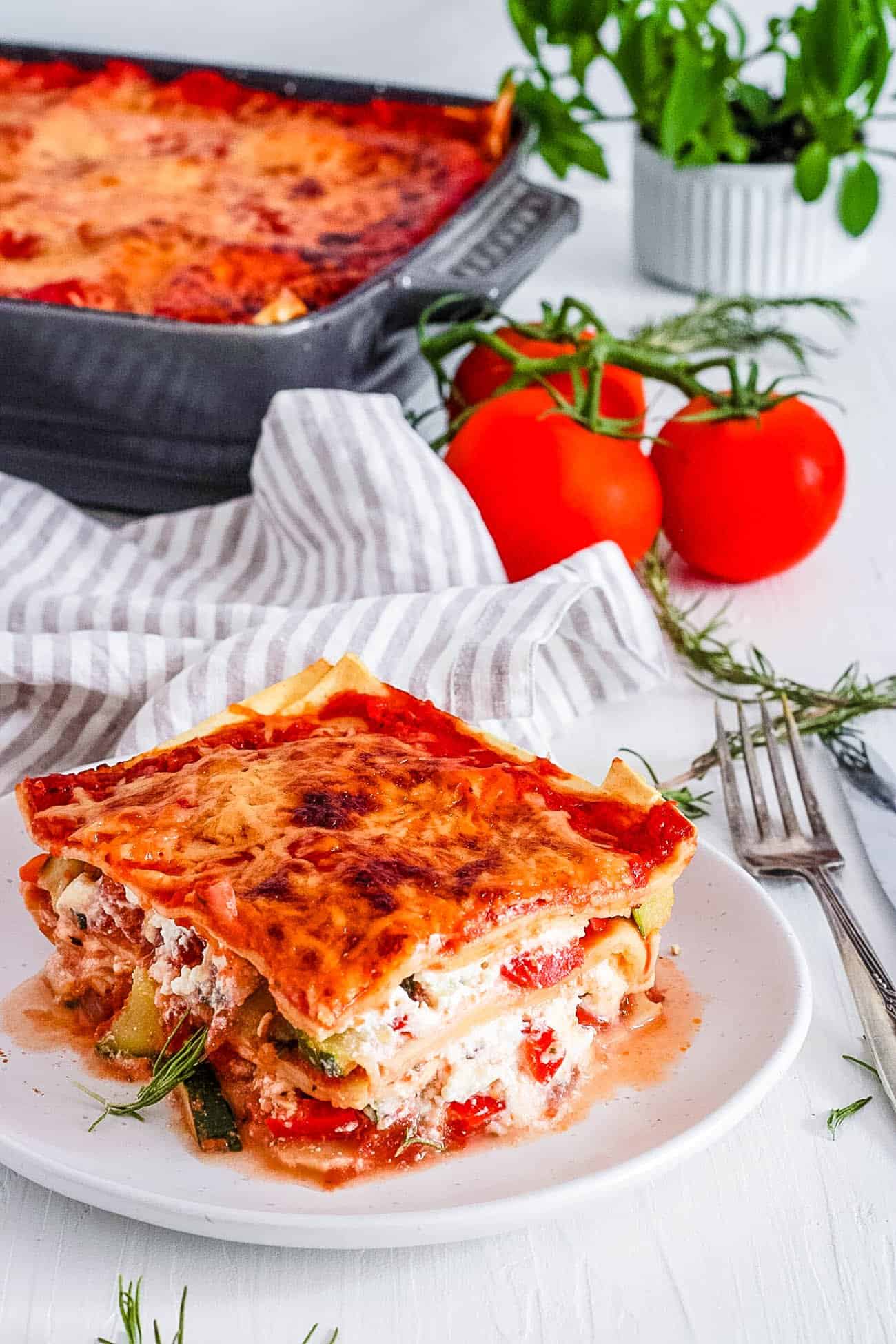 One of the vegetarian Italian recipes that you shouldn't miss out on. This lasagna recipe is made with whole wheat noodles, and fresh herbs, and packed with veggies and a mixture of cheeses, this one-dish meal is sure to become a favorite among your family and friends. Get this vegetarian lasagna here.
Zucchini Lasagna Recipe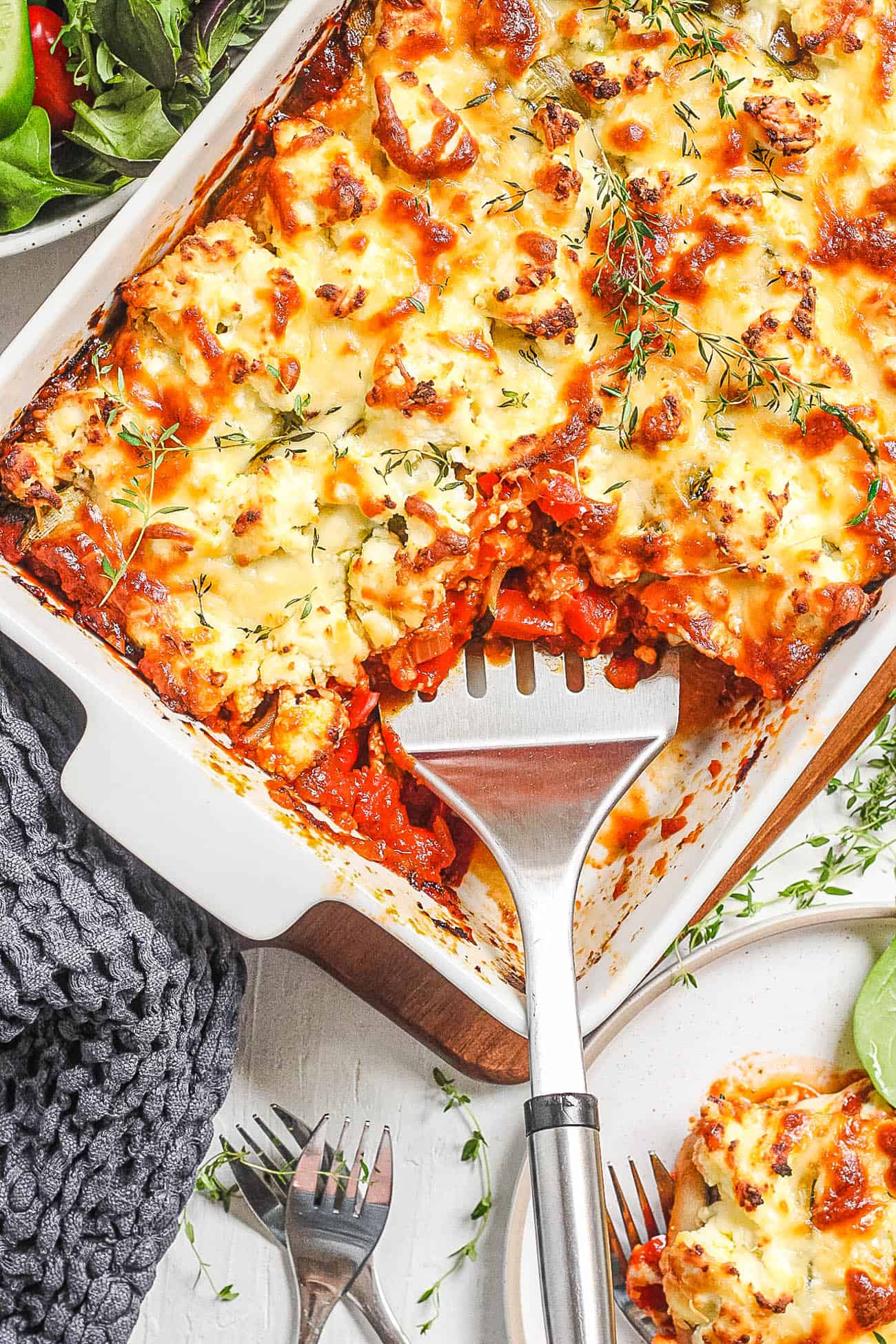 It's the perfect dish for those who are looking for a healthier alternative to traditional lasagna. This no-noodle 'pasta' dish is simple to prep and full of all the flavors you would expect from a classic lasagna recipe. Get this zucchini lasagna here.
Lasagna Rolls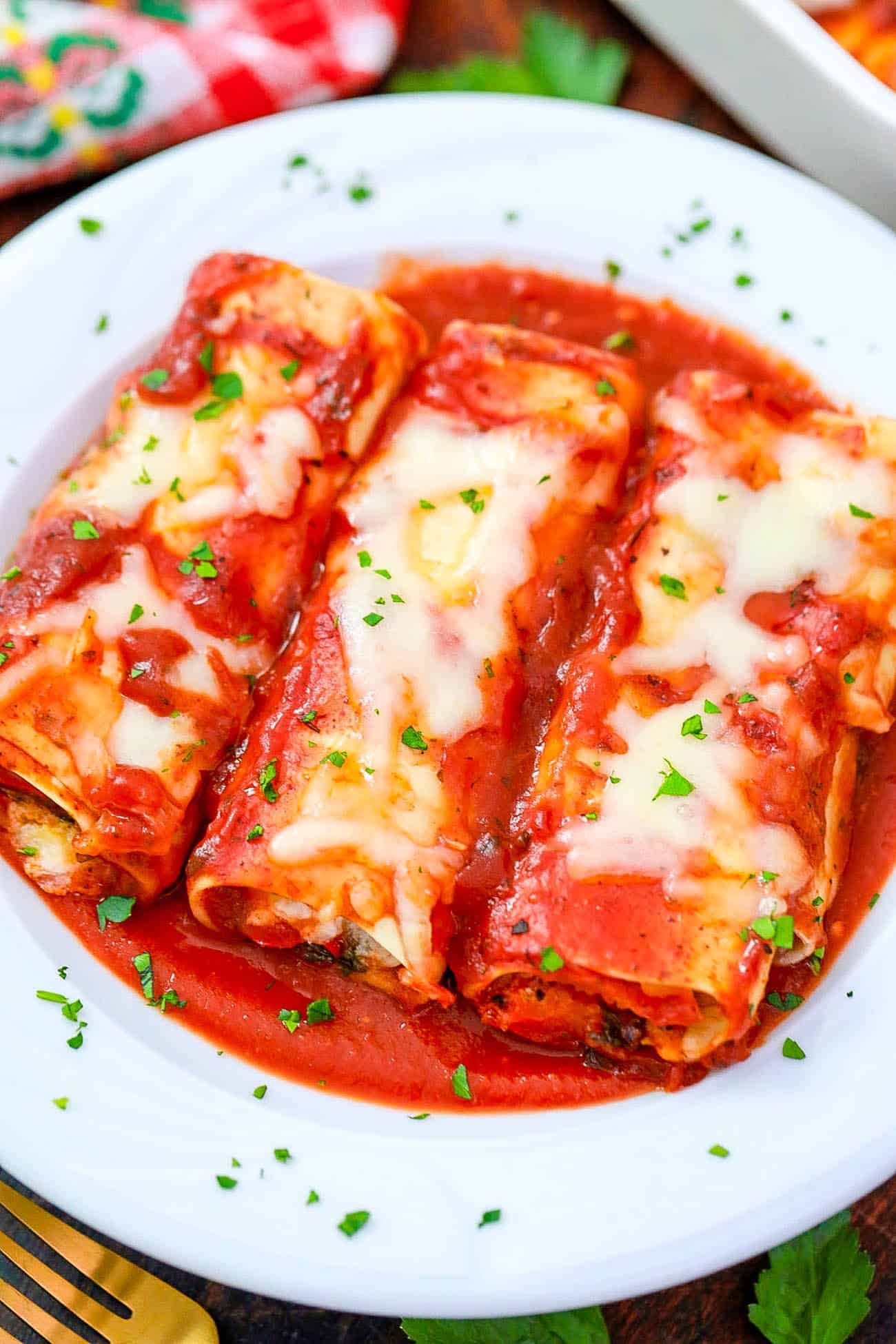 If you're a fan of lasagna but want a healthier and quicker option, then this Italian meatless lasagna is perfect for you! Packed with all the classic flavors of traditional lasagna, these rolls are covered in a delicious Pomodoro sauce that will have your taste buds dancing. Get these lasagna rolls here.
Lasagna With Polenta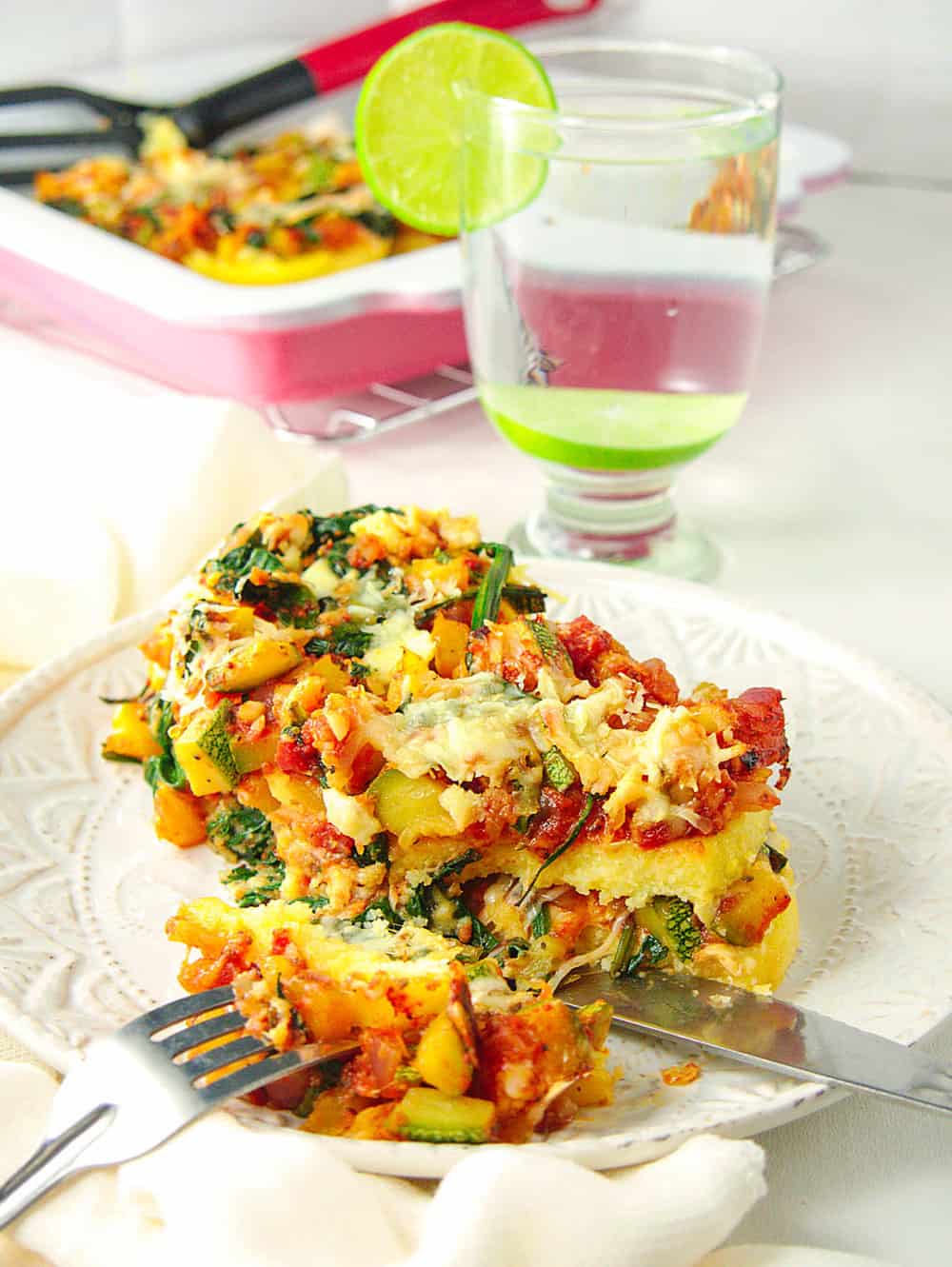 Polenta replaces traditional lasagna noodles in this recipe, adding a unique texture and flavor to the dish. It's also easy to prepare and can be customized to suit your tastes. It's unique compared to other Italian vegetarian pasta recipes but is still healthy and delicious! Get this lasagna with polenta recipe here.
Easy Vegan Tomato Soup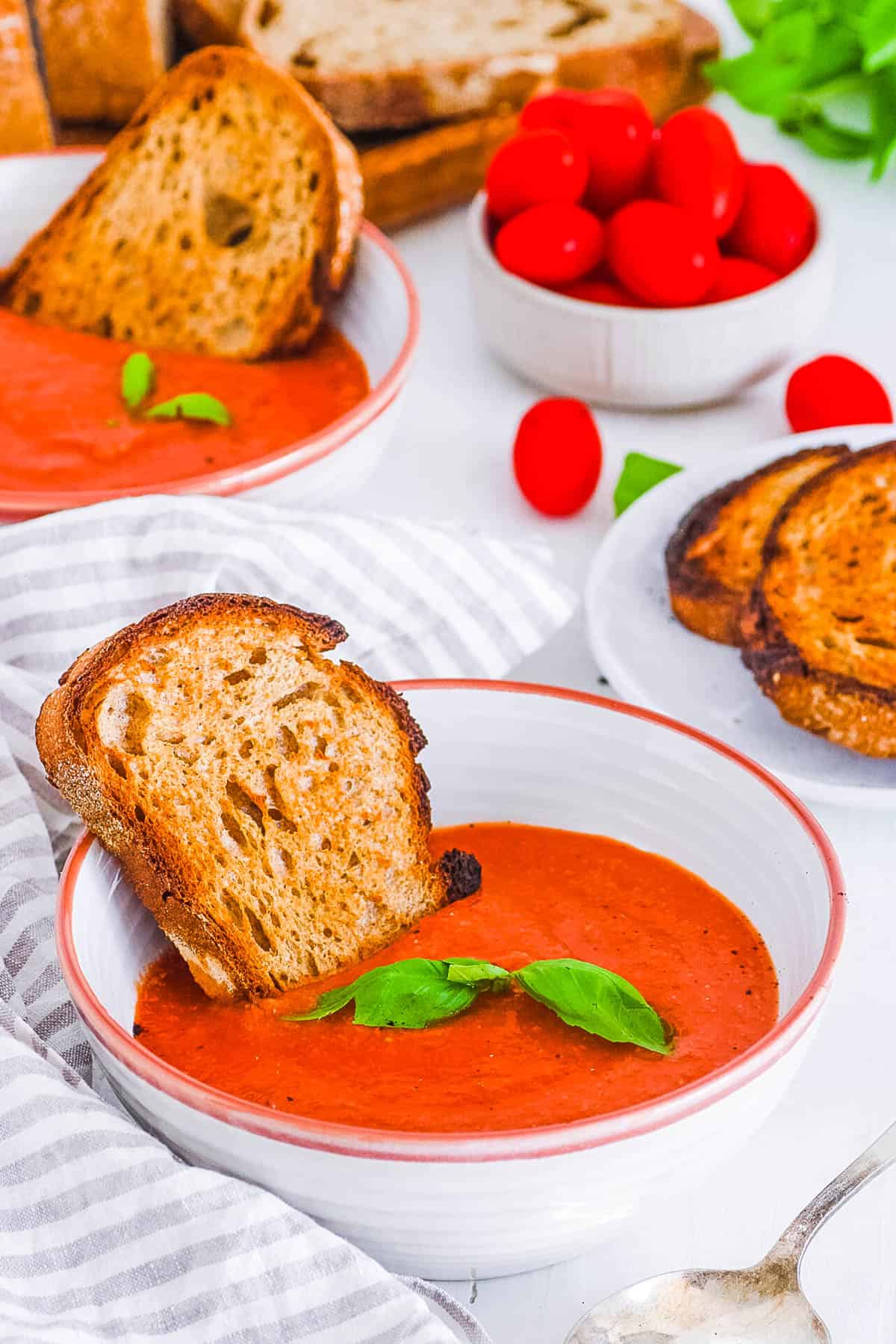 This creamy and satisfying Italian soup vegetarian recipe is packed full of sweet tomatoes and is thickened with brown rice instead of heavy cream. Not only is it scrumptious, but it's also a great way to get in your daily dose of veggies. It's versatile and can be cooked either on the stovetop or in the slow cooker for easier meal prep too! Get this tomato soup here.
Chickpea Soup With Tomato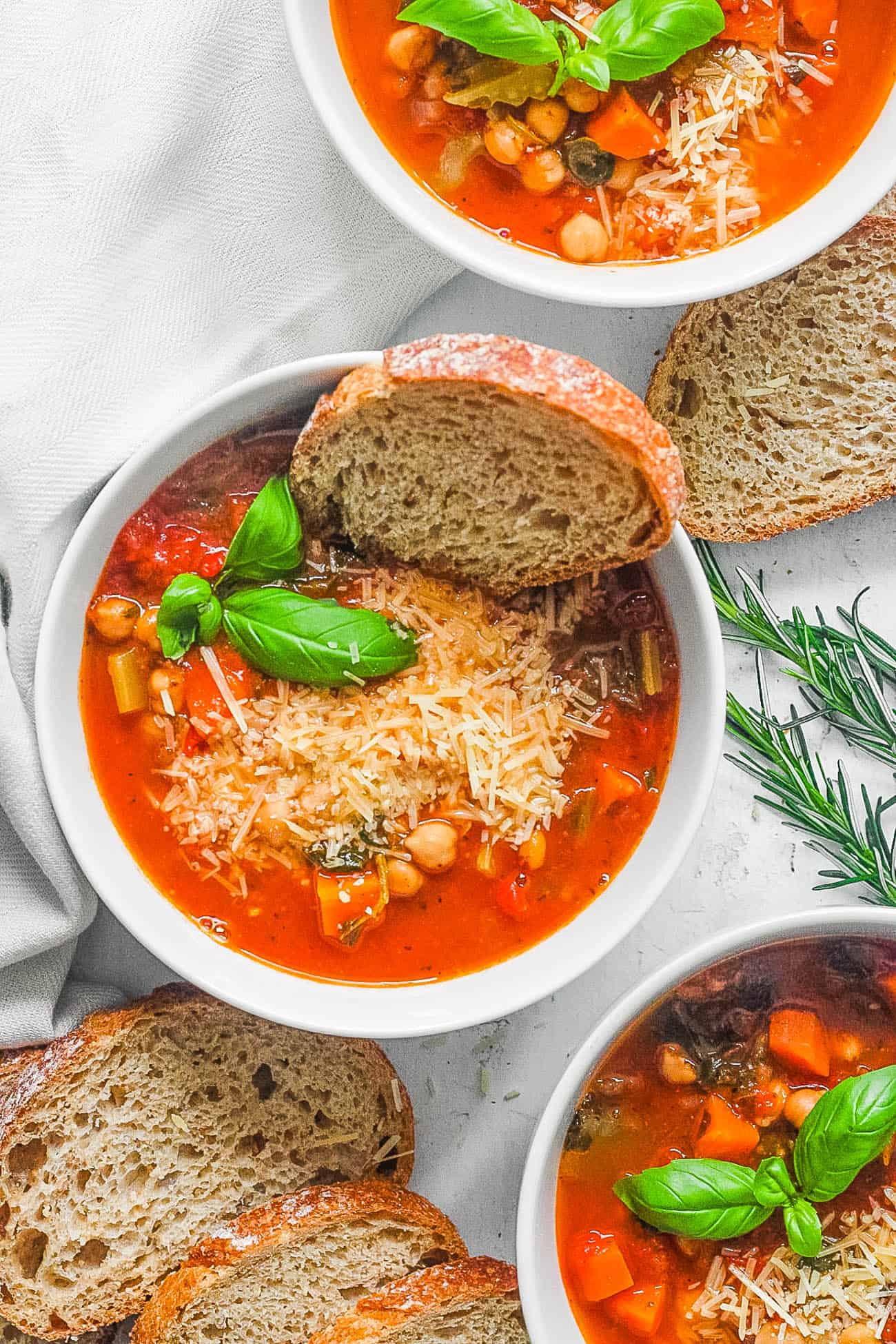 This simple Italian chickpea soup is not only healthy and nutritious but also comforting and easy to make. A great addition to your list of vegetarian Italian recipes! Best served with a side of crusty bread. Get this Italian chickpea soup recipe here.
Garbanzo Bean Soup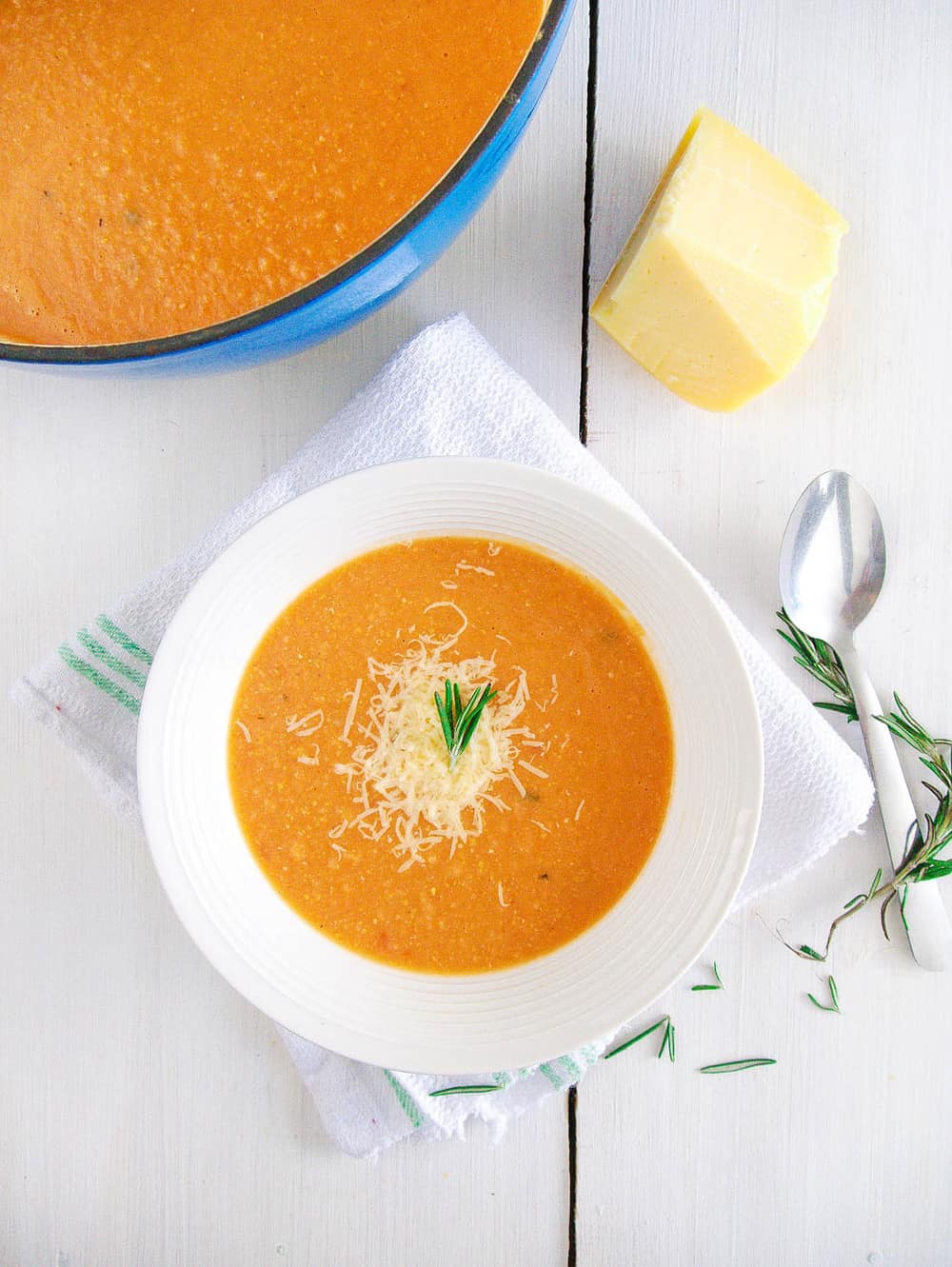 This simple recipe is bursting with wonderful Tuscan flavors that will leave you feeling satisfied and nourished. A great option for a one pot meal, and a delicious and easy way to enjoy your chickpeas! Get this Tuscan chickpea soup here.
Meatless Minestrone Soup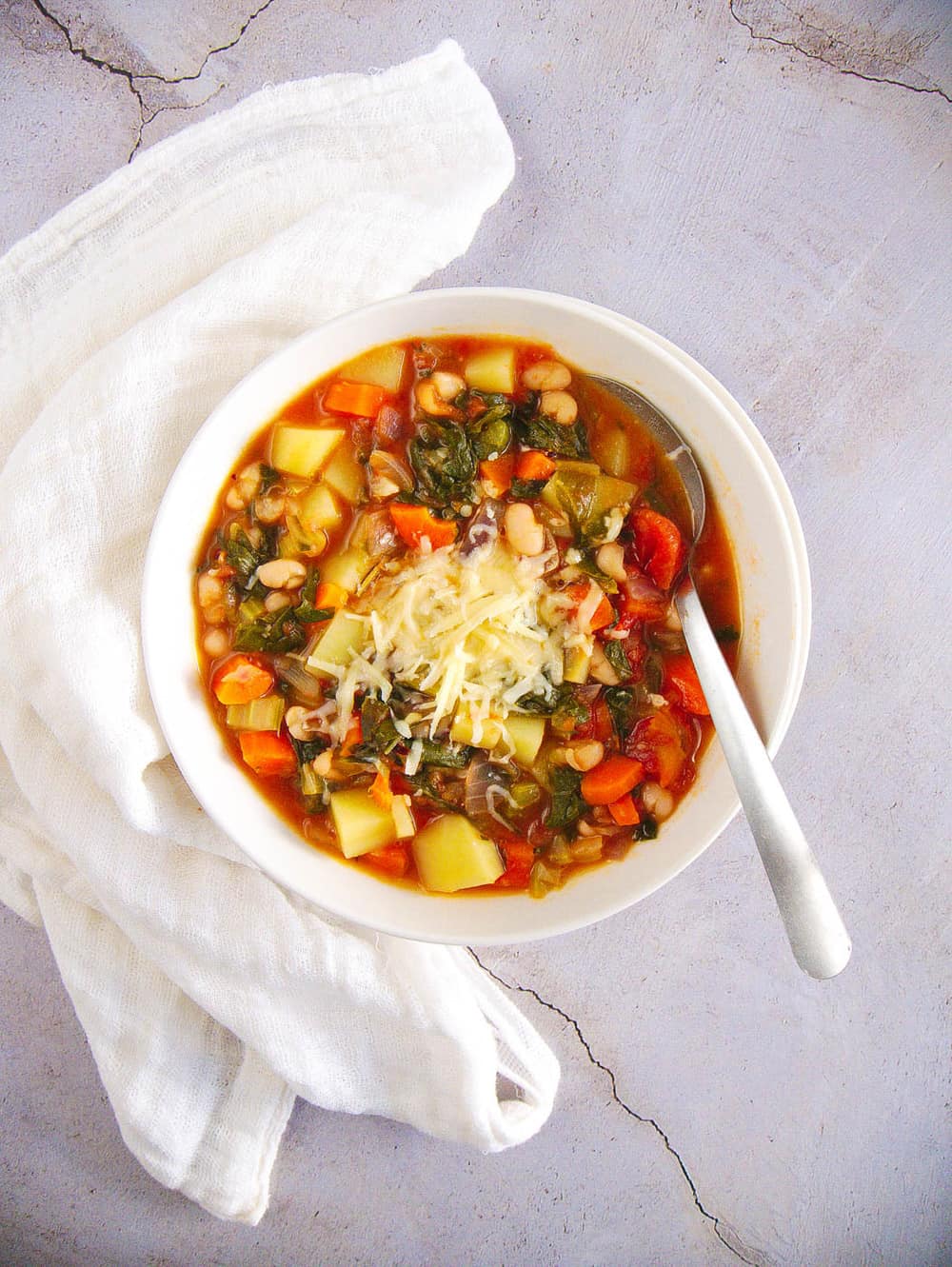 This Italian classic is packed with veggies and spices that will fill you up and warm you from the inside out. Not only is it delicious, but it's also incredibly nutritious, thanks to the abundance of vegetables that are included. Get this minestrone soup here.
Navy And Cannellini Beans Kale Soup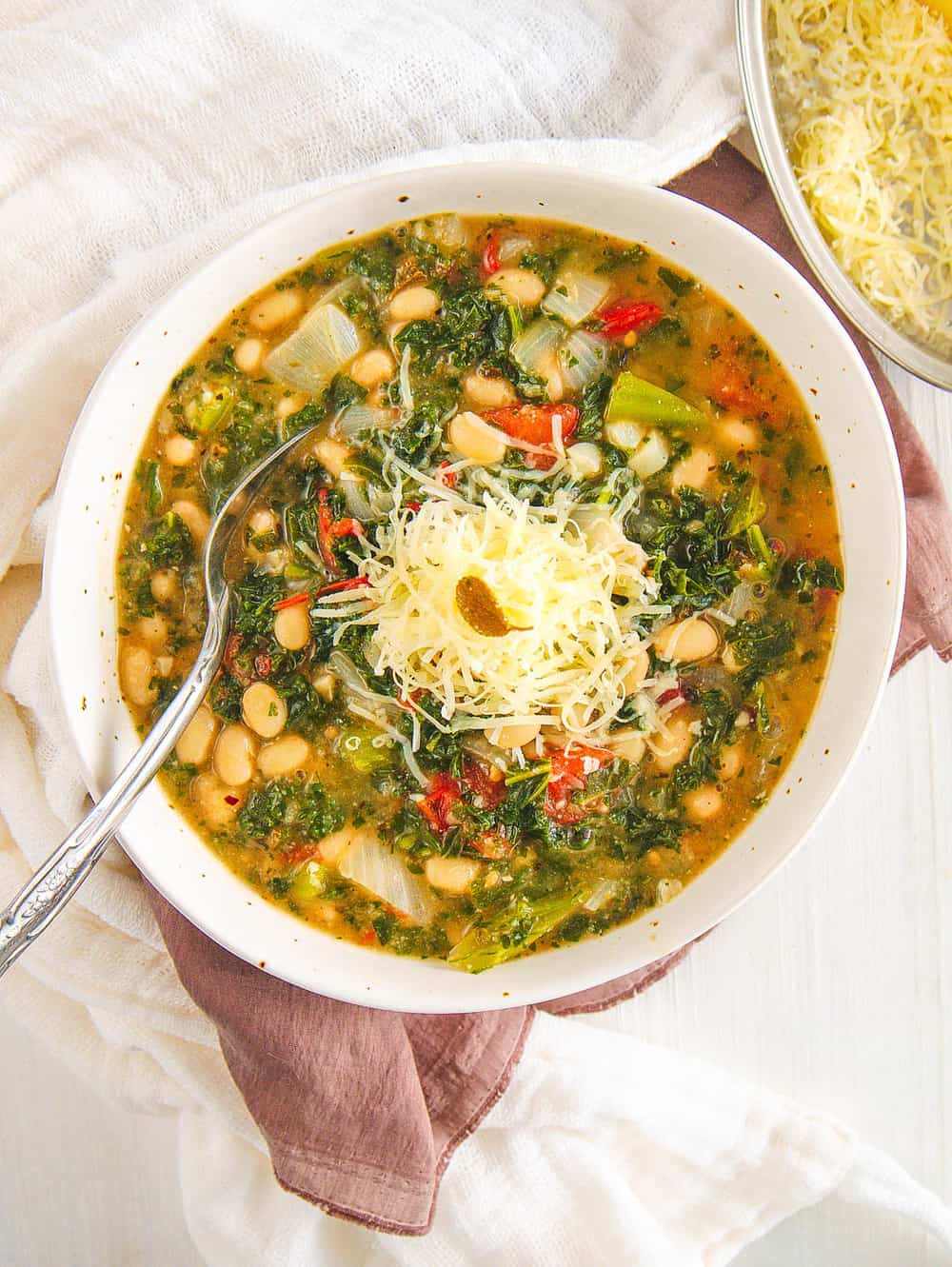 This soup is the perfect side dish, but it's also filling enough to add to your list of healthy vegetarian Italian main course recipes. Packed with protein from the white beans, and bursting with flavor thanks to the Parmesan cheese and kale, it's sure to become a family favorite in no time. Get this white bean kale soup here.
Easy Pinto Bean Soup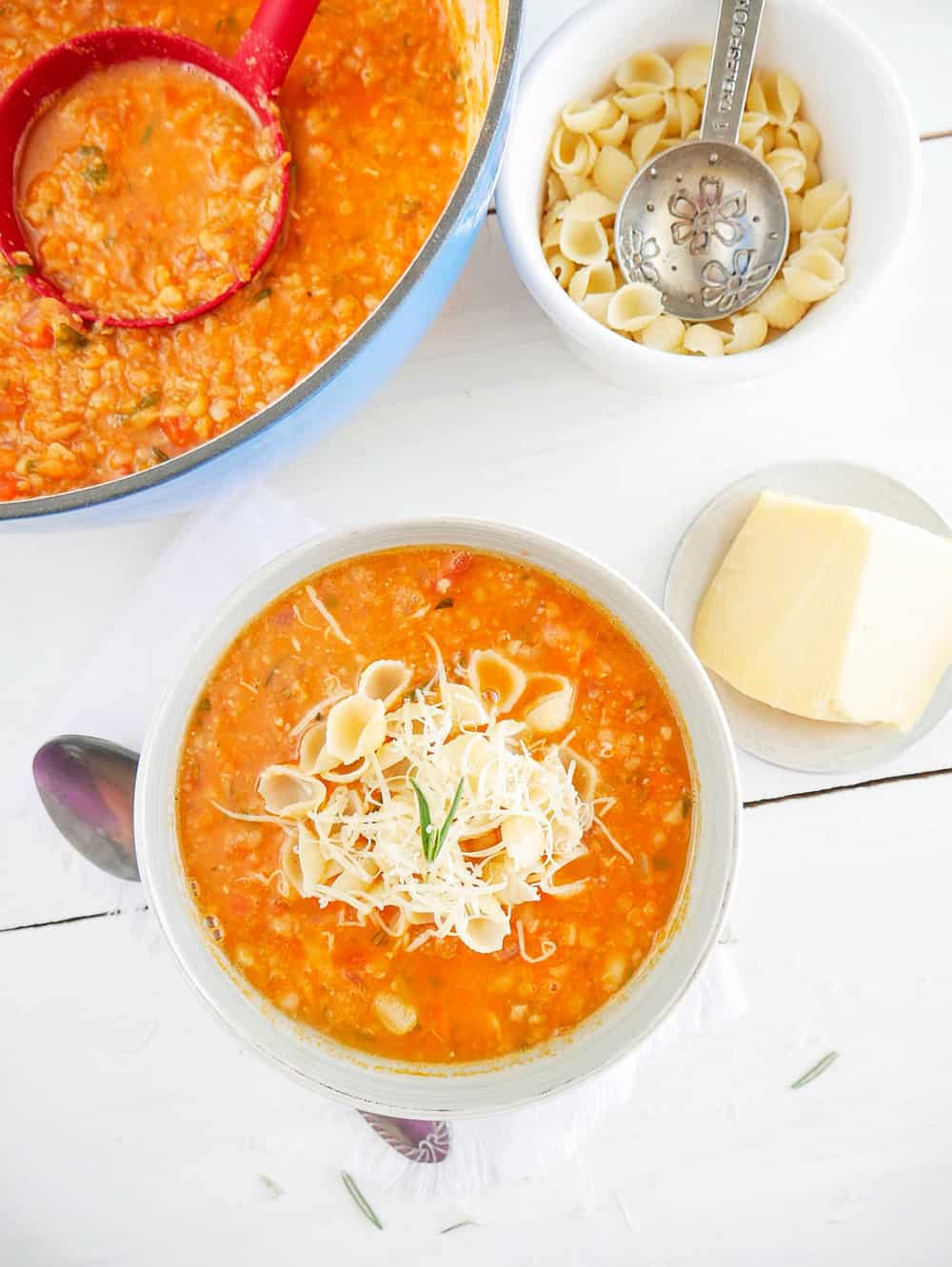 This vegetarian comfort food is perfect for those cozy nights in or as a quick lunch option. It's loaded with tons of flavor thanks to the combination of savory spices and fresh ingredients. Make it with white beans, or pinto beans, or even garbanzo beans. It's one of those easy healthy Italian recipes you'll keep coming back to again and again. Get this pinto bean soup here.
Squash Casserole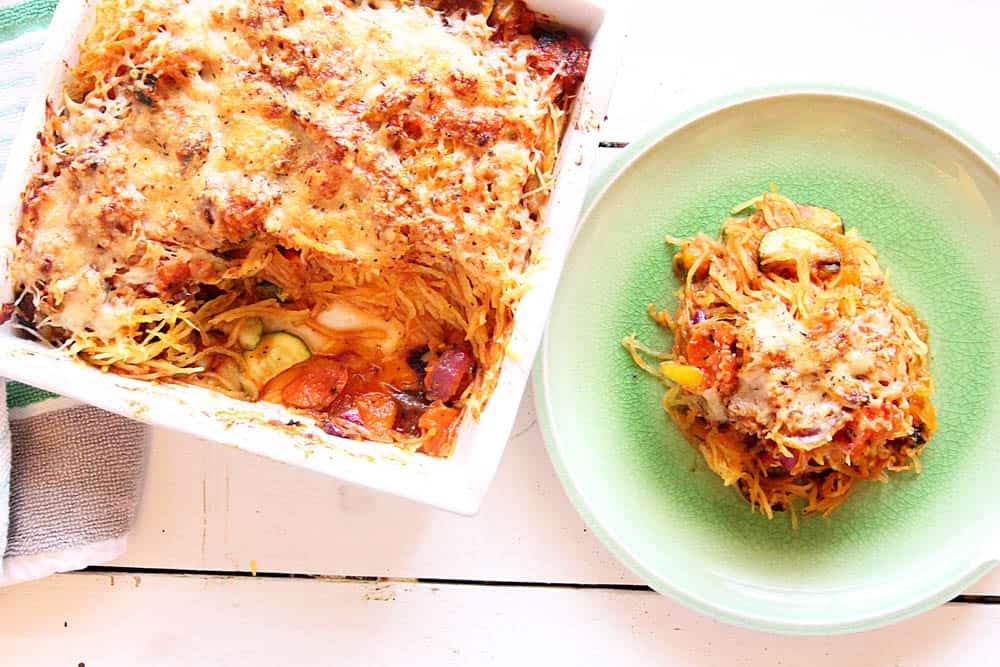 An easy-to-make meal packed full of nutritious ingredients that will delight your taste buds and make your family smile. This dish is a great way to sneak in some extra veggies without compromising on great taste. Spaghetti squash is loaded with fiber, vitamins, and antioxidants, making it a nutrient-dense alternative to traditional pasta. Get this spaghetti squash casserole here.
Healthy Vegan Bolognese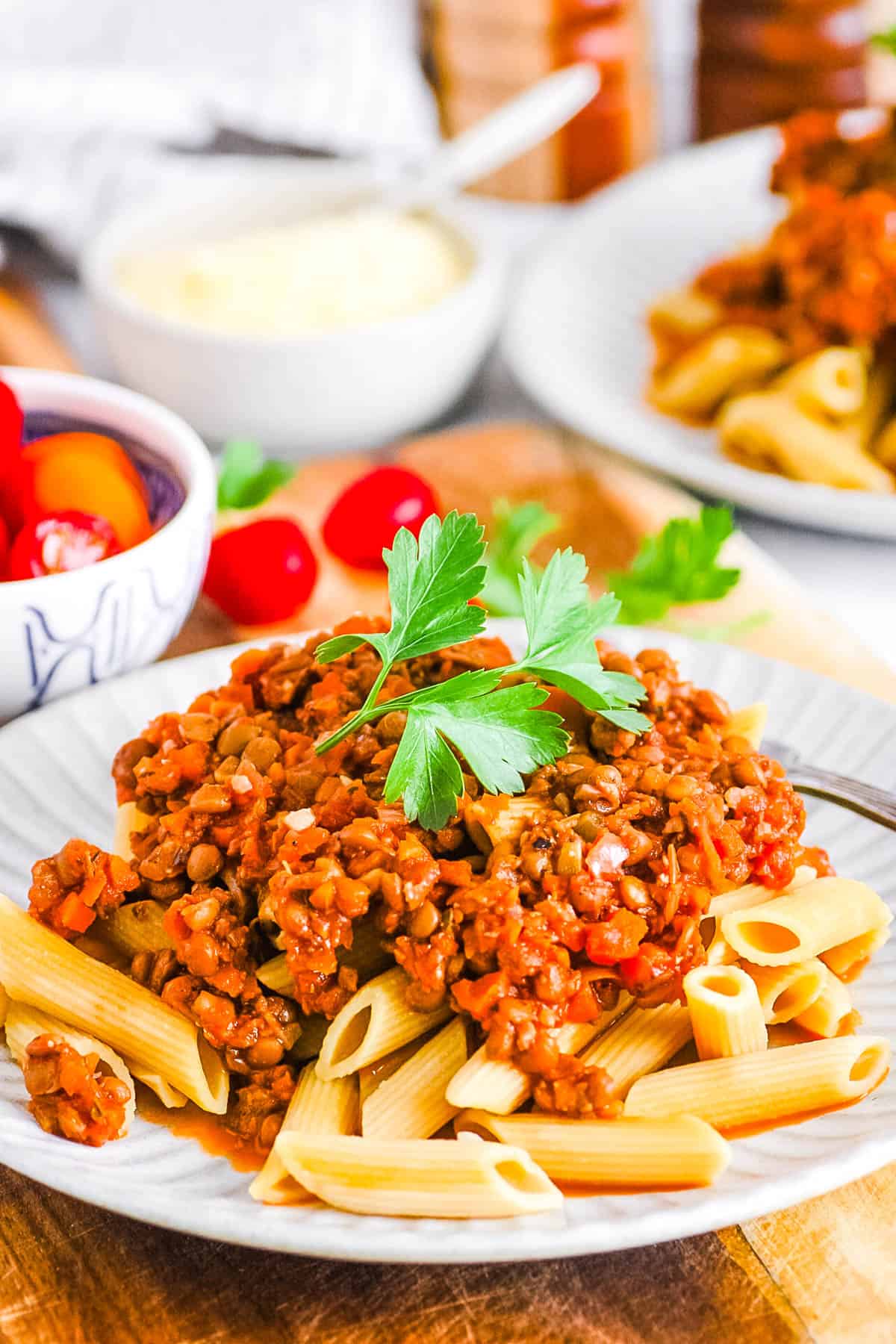 This recipe combines lentils, walnuts, and celery to create a meaty texture that will have you forgetting that there's no actual meat in it. This is one of our favorite Italian vegan recipes because it is so simple to make, even on the busiest of weeknights. Get this vegan bolognese here.
Pillowy Gnocchi With Spinach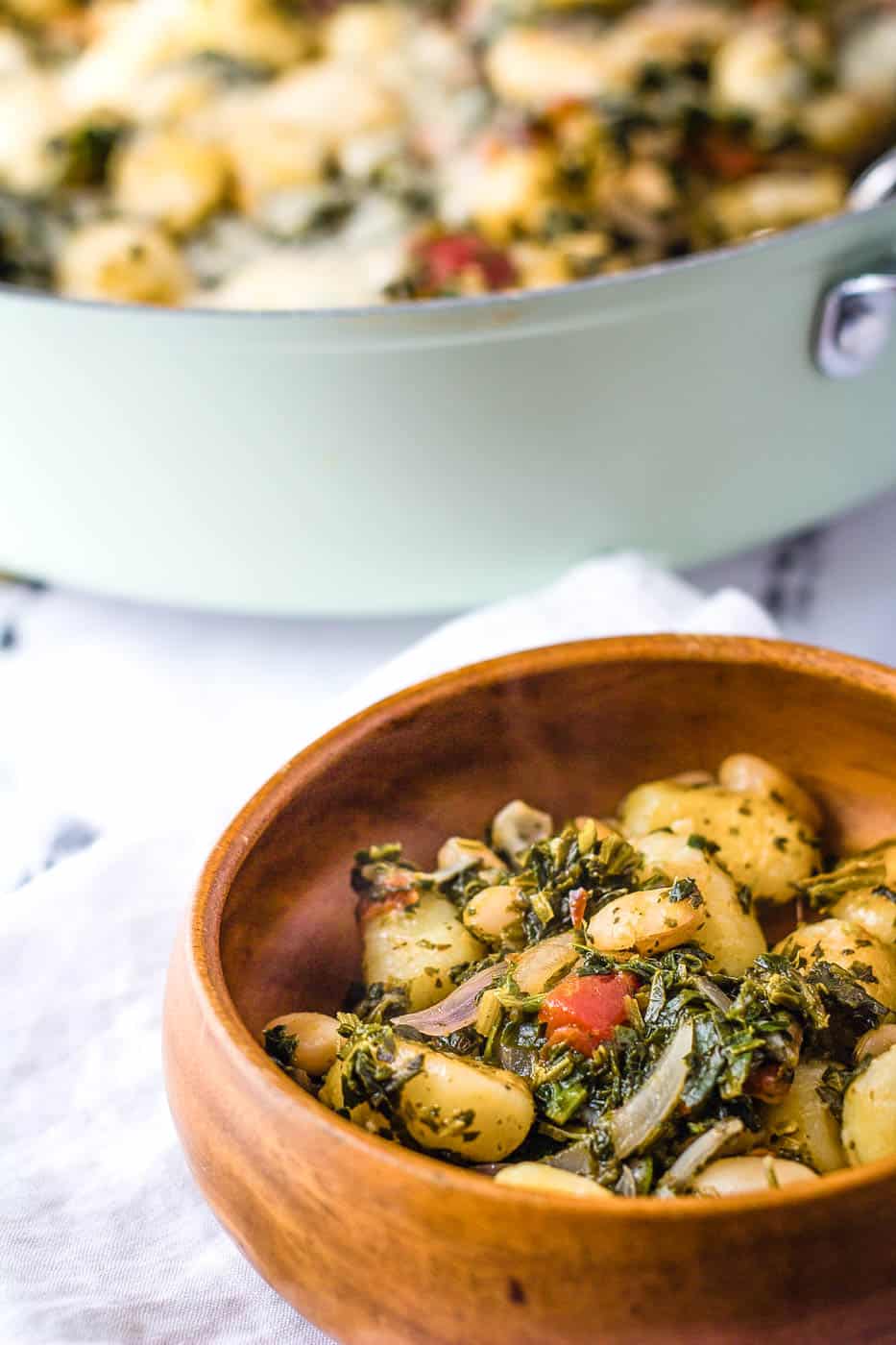 Gnocchi is a great alternative to traditional pasta, as it is made with potatoes and flour, making it lighter and healthier. The addition of spinach and white beans not only adds a delicious flavor but also provides an extra boost of antioxidants and protein. This potato gnocchi is one of the best vegetarian Italian recipes. Get this tender gnocchi with spinach here.
Homemade Tagliatelle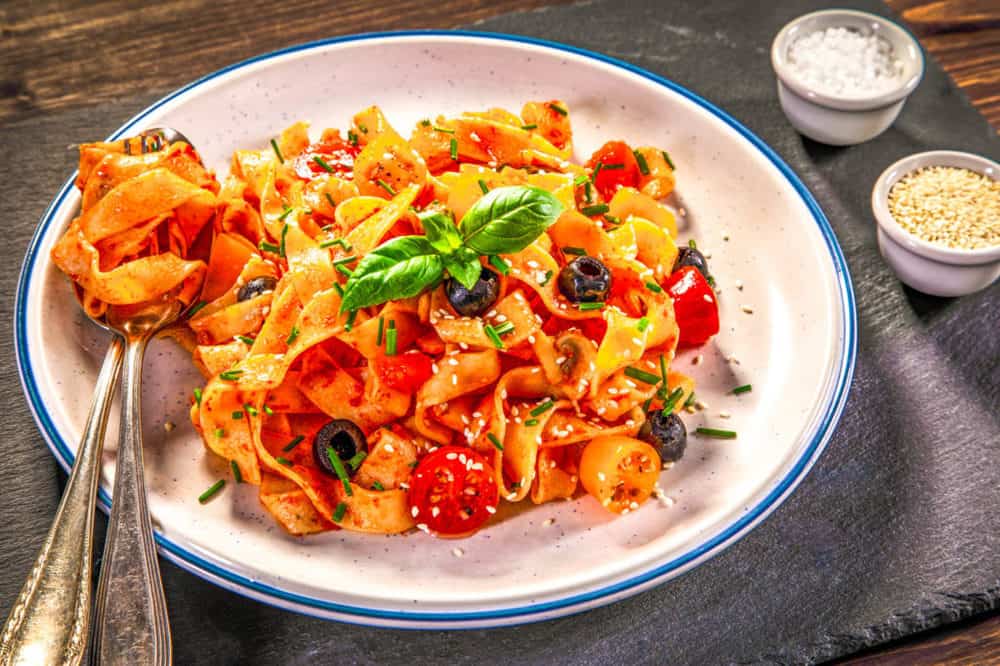 You don't even need a pasta machine to make it! This recipe will walk you through the steps to create your own mouth-watering pasta from scratch. All you need is flour, eggs, a rolling pin, and a little bit of elbow grease. One of the best authentic Italian vegetarian pasta recipes that you'll surely enjoy! Get this homemade tagliatelle here.
Easy Vegan Eggplant Parmesan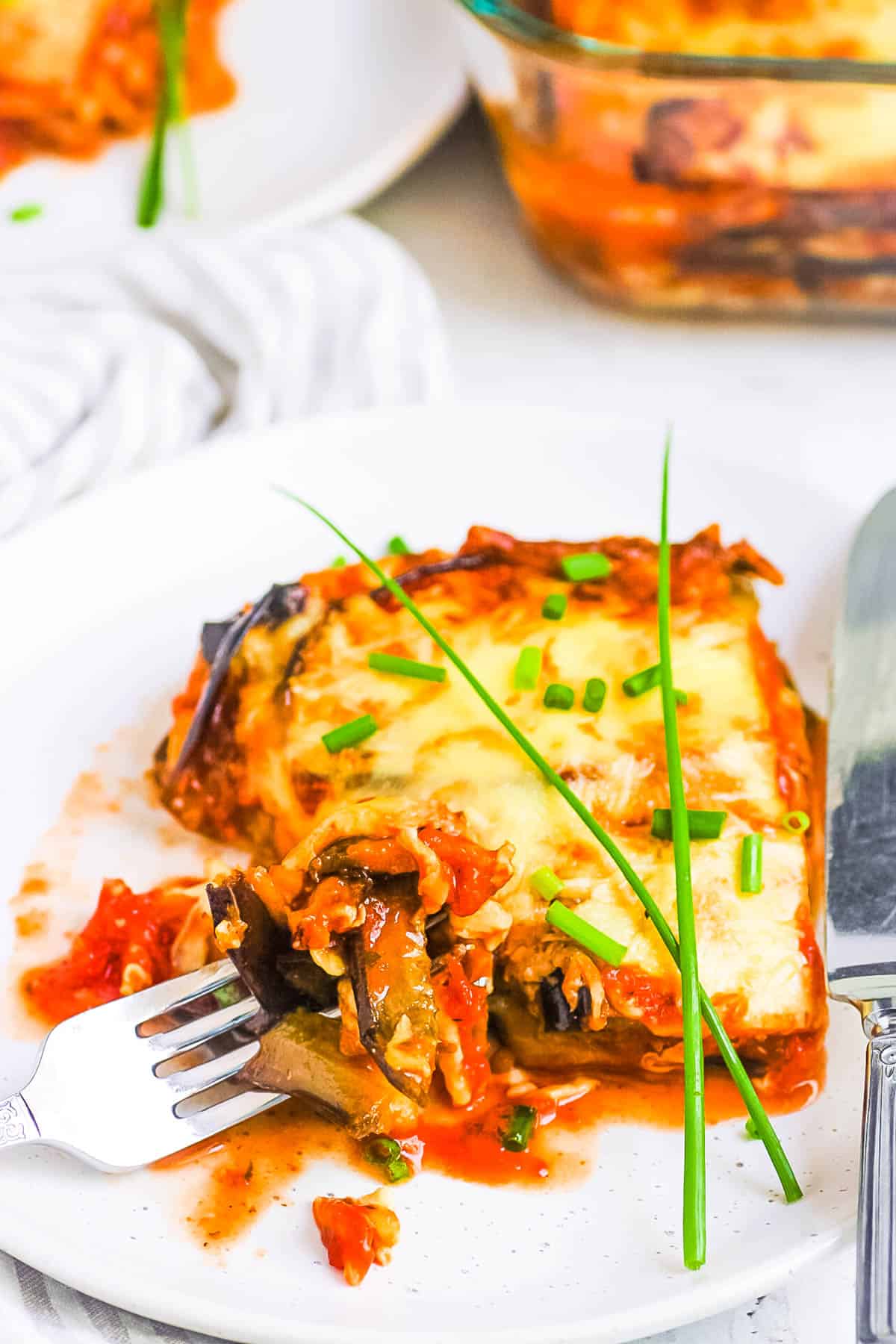 Get ready for a taste of Italy with this easy vegan eggplant parm recipe! This recipe is loaded with layers of tasty plant-based cheese, marinara sauce, oven-fried eggplant slices, and fresh basil. And the best part? There's no need for bread crumbs! Get this eggplant parmesan here.
Vegetable Creamy Polenta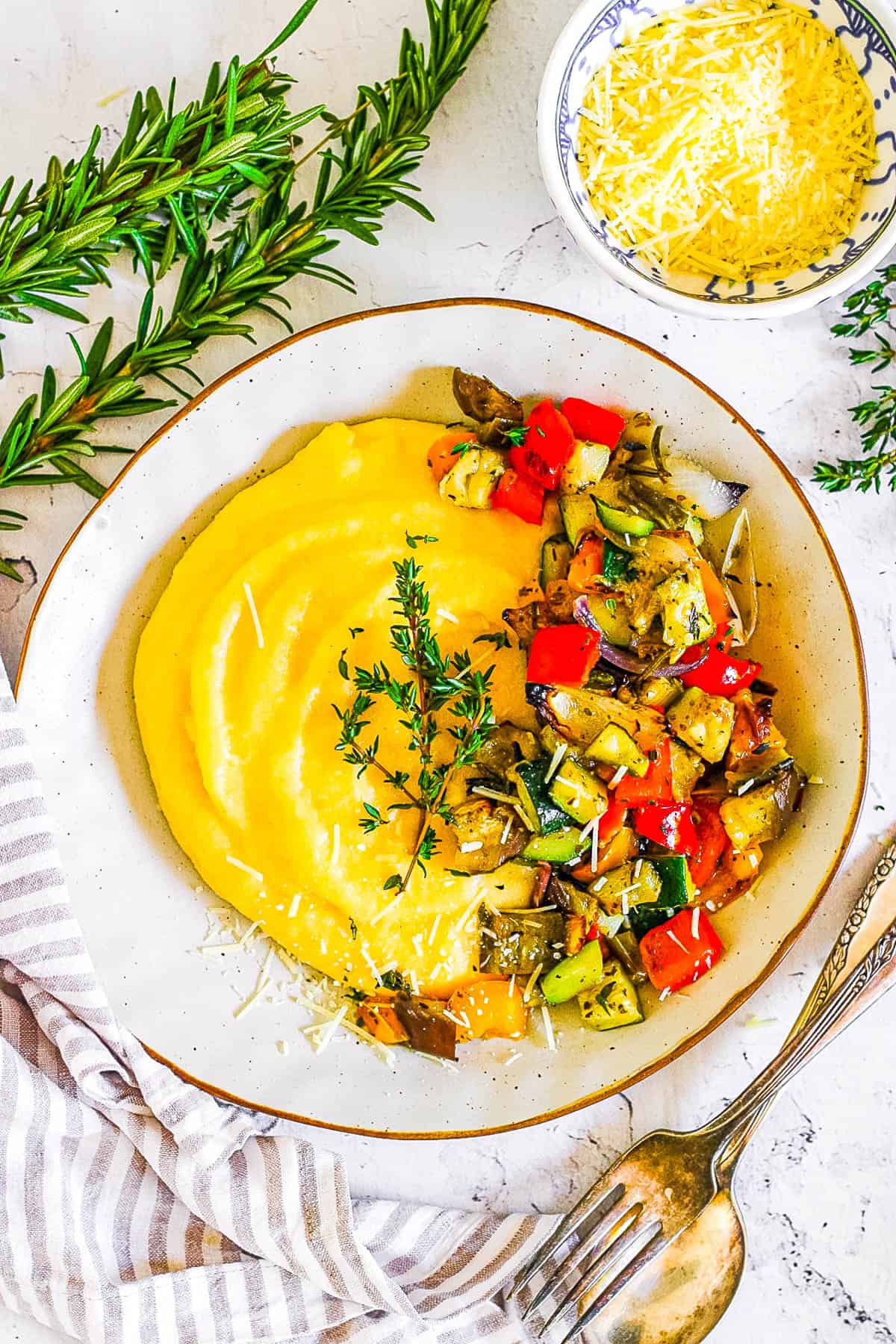 Indulge in a rich and creamy vegetable polenta that will tantalize your taste buds! Made with parmesan and savory roasted vegetables, this main dish is one of the Italian dishes that is perfect for dinner and is sure to satisfy the whole family. Get this vegetable polenta here.
Spinach Ravioli With Fresh Basil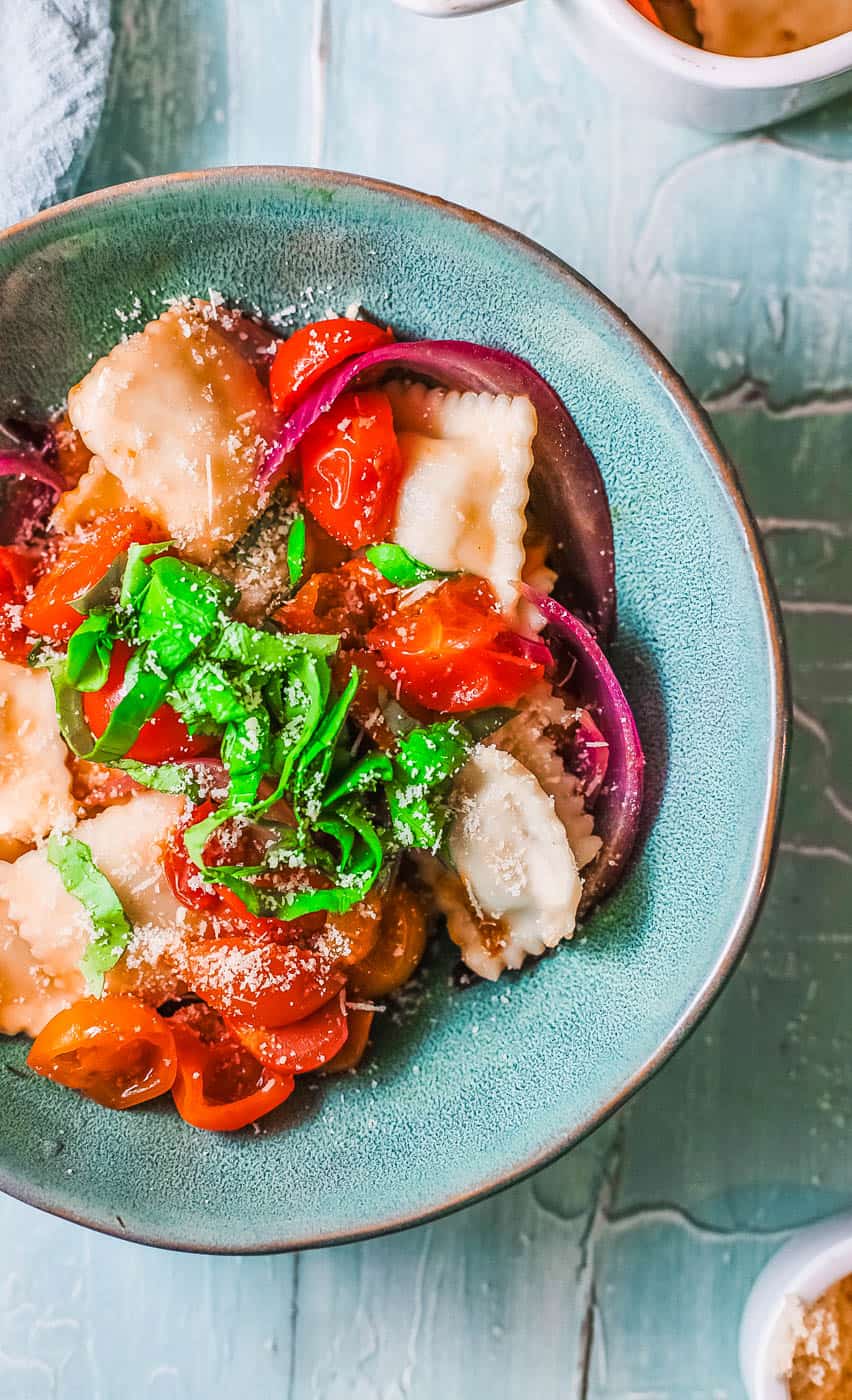 With a little help from some store-bought spinach ravioli and a few simple ingredients, you can whip up a delicious and satisfying dinner in no time. Simply dress up the ravioli with a delicious roasted tomato sauce and fresh herbs, and voila! You've got yourself a restaurant-quality meal that's perfect for any weeknight and best paired with a glass of white win Get this spinach ravioli here.
Butternut Squash Ravioli
The homemade sauce is both creamy and cheesy, perfectly complementing the savory flavor of the ravioli. And best of all, it only takes 15 minutes to prepare! Get this butternut squash ravioli here.
Roasted Artichoke Hearts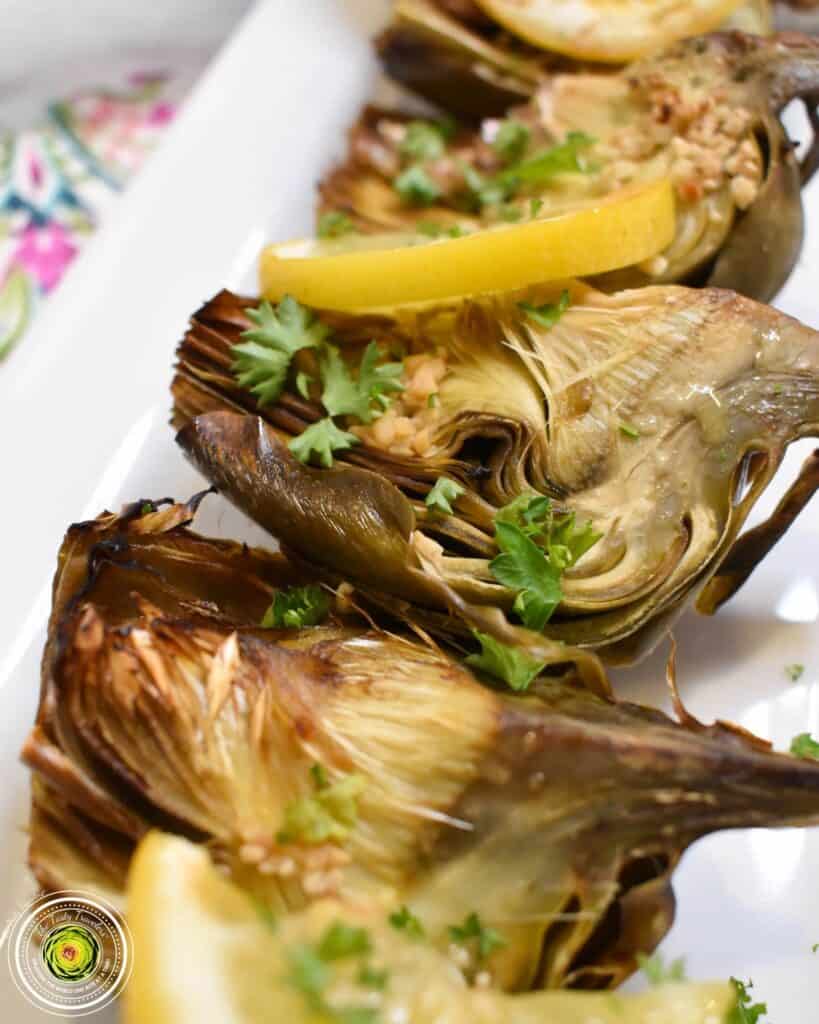 Roasted artichoke hearts are a delicious and healthy addition to your vegetarian Italian meals. Not only is this Italian vegetarian dish packed with nutrients, but it also has a unique and satisfying flavor that is sure to please your taste buds. Get this roasted artichokes recipe here.
Toasted Ravioli Recipe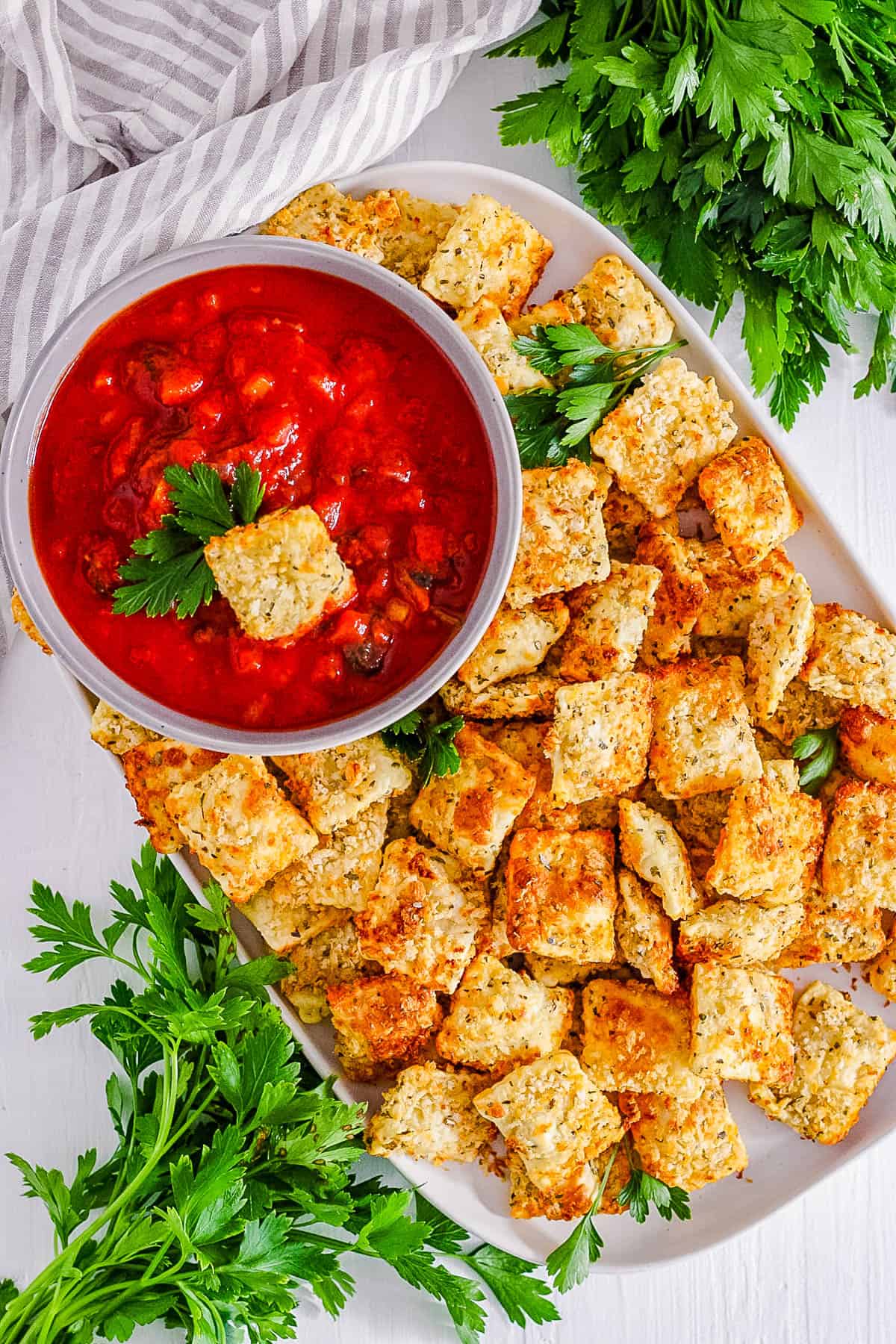 An Italian-inspired meal that's easy to make and healthy too! This air fryer ravioli filled with spinach and ricotta are the perfect addition to your list of Italian vegetarian recipes. Get this air fryer ravioli here.
Stuffed Zucchini Pizza Boats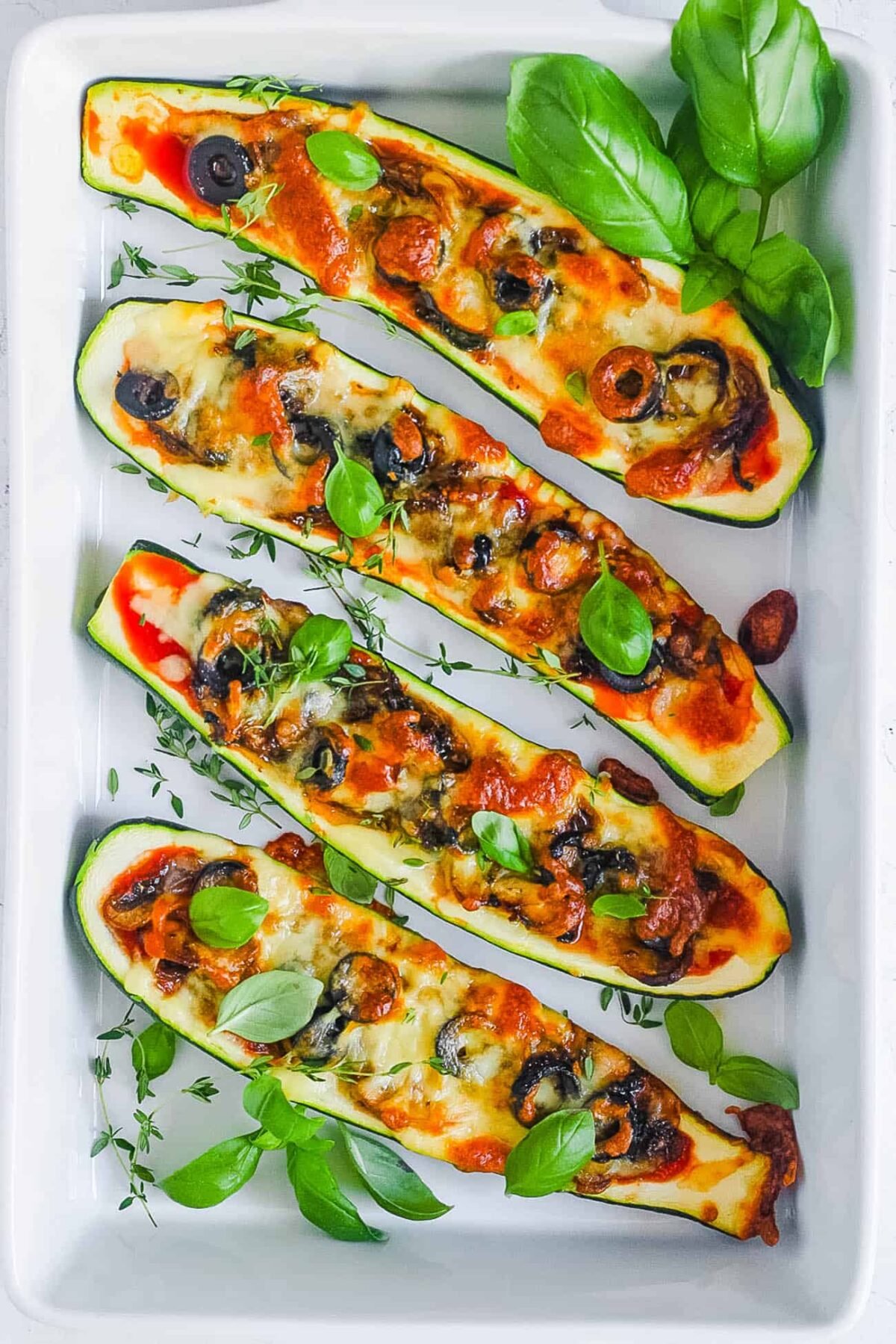 This healthier alternative to traditional pizza is loaded with tangy marinara sauce, perfectly seasoned veggies, and gooey fresh mozzarella cheese. Not a fan of zucchini? You can make this into a vegetarian stuffed peppers Italian recipe using red bell peppers instead of zucchini as the base! Get this zucchini pizza boats recipe here.
Italian Ratatouille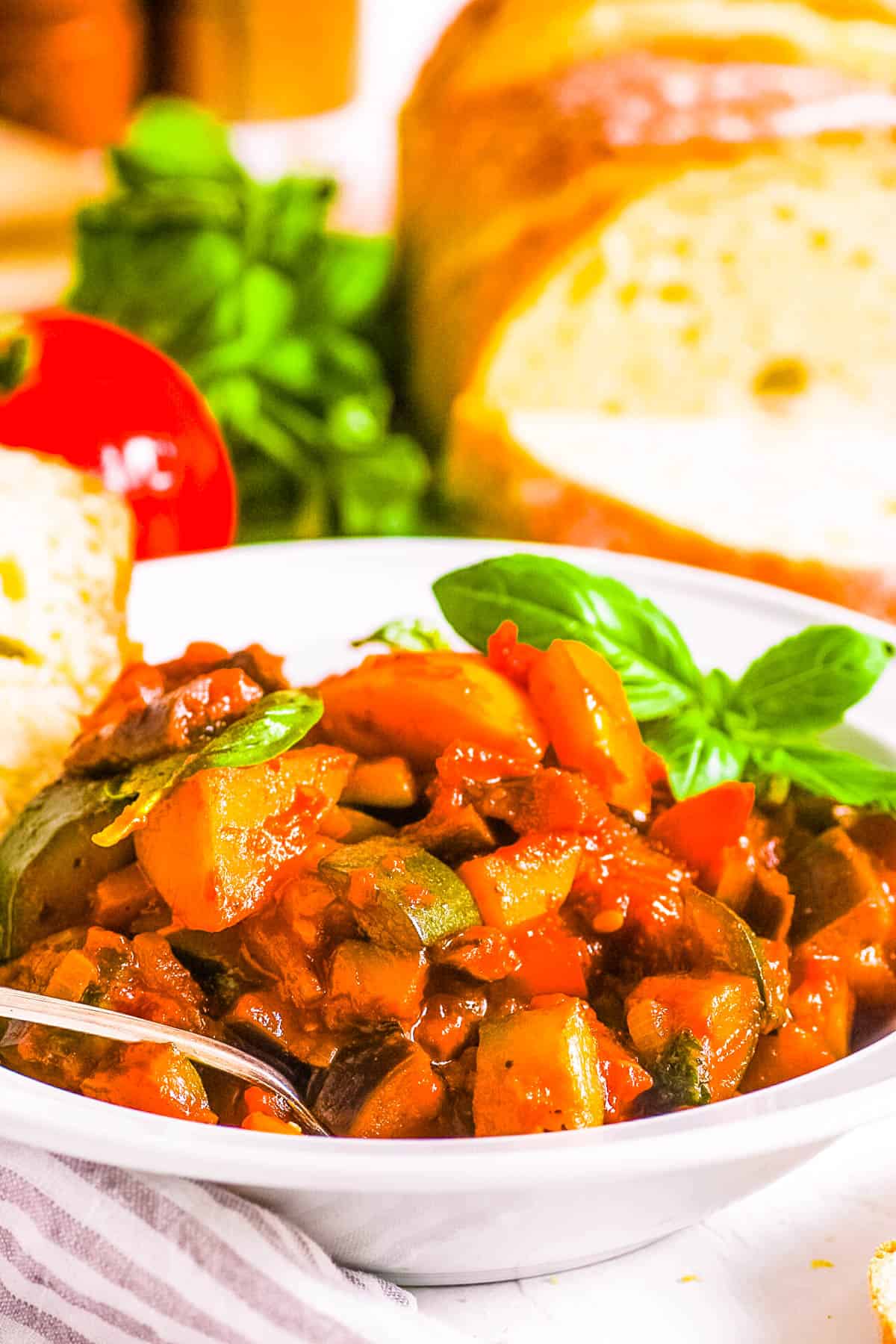 Traditionally a French dish, this Italian twist on the classic recipe (known as Ciambotta) adds potatoes to the mix, along with all the traditional veggies that a lot of people know and love. It's one of the best vegan Italian recipes you'll find, and is super easy to make too! Get this ratatouille here.
Vegetarian Instant Pot Risotto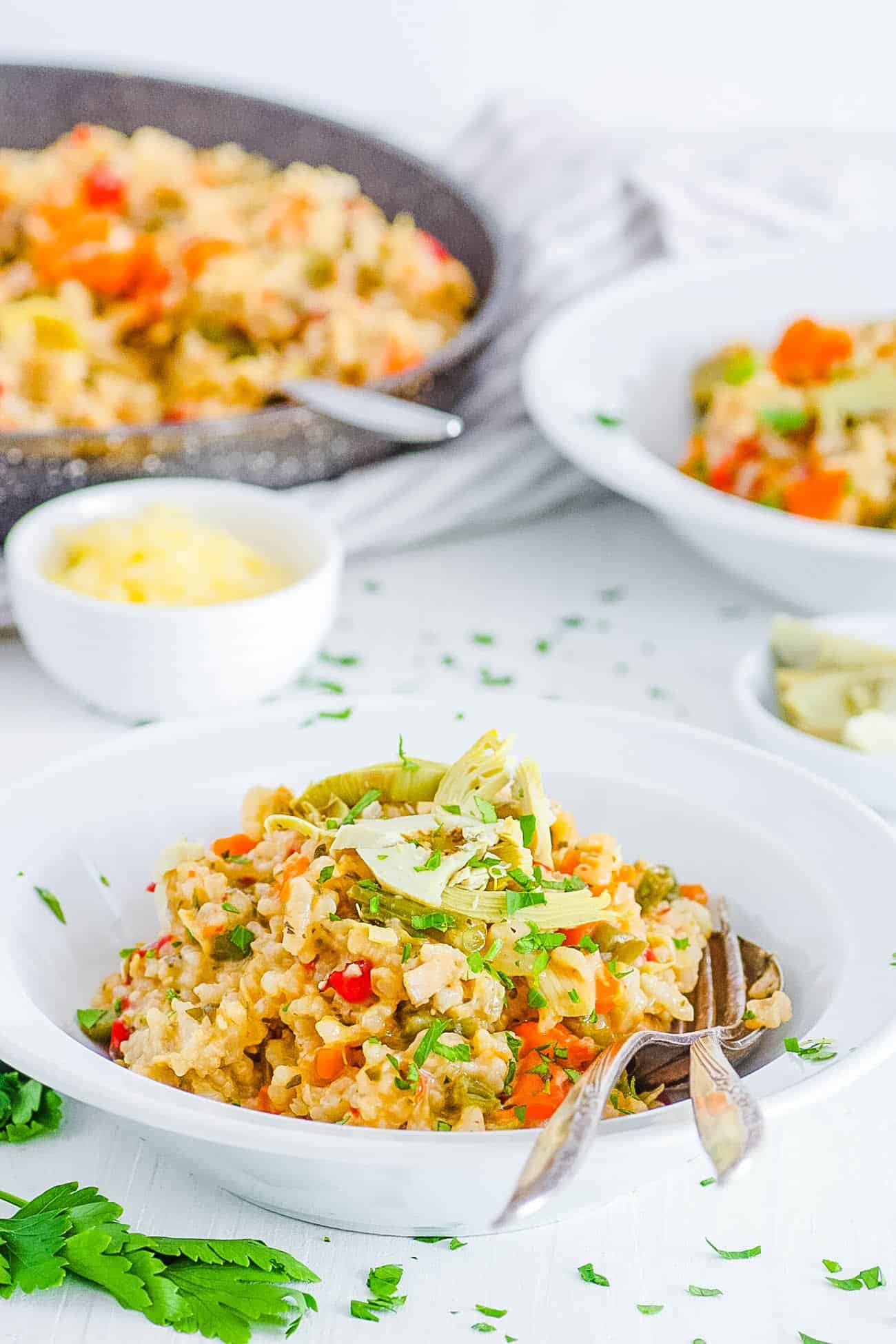 This thick, creamy healthy risotto is bursting with Italian flavors that will make you feel like you're dining in the heart of Tuscany. One of the must-try vegetarian Italian recipes! Get this healthy risotto here.
Vegan Bruschetta Recipe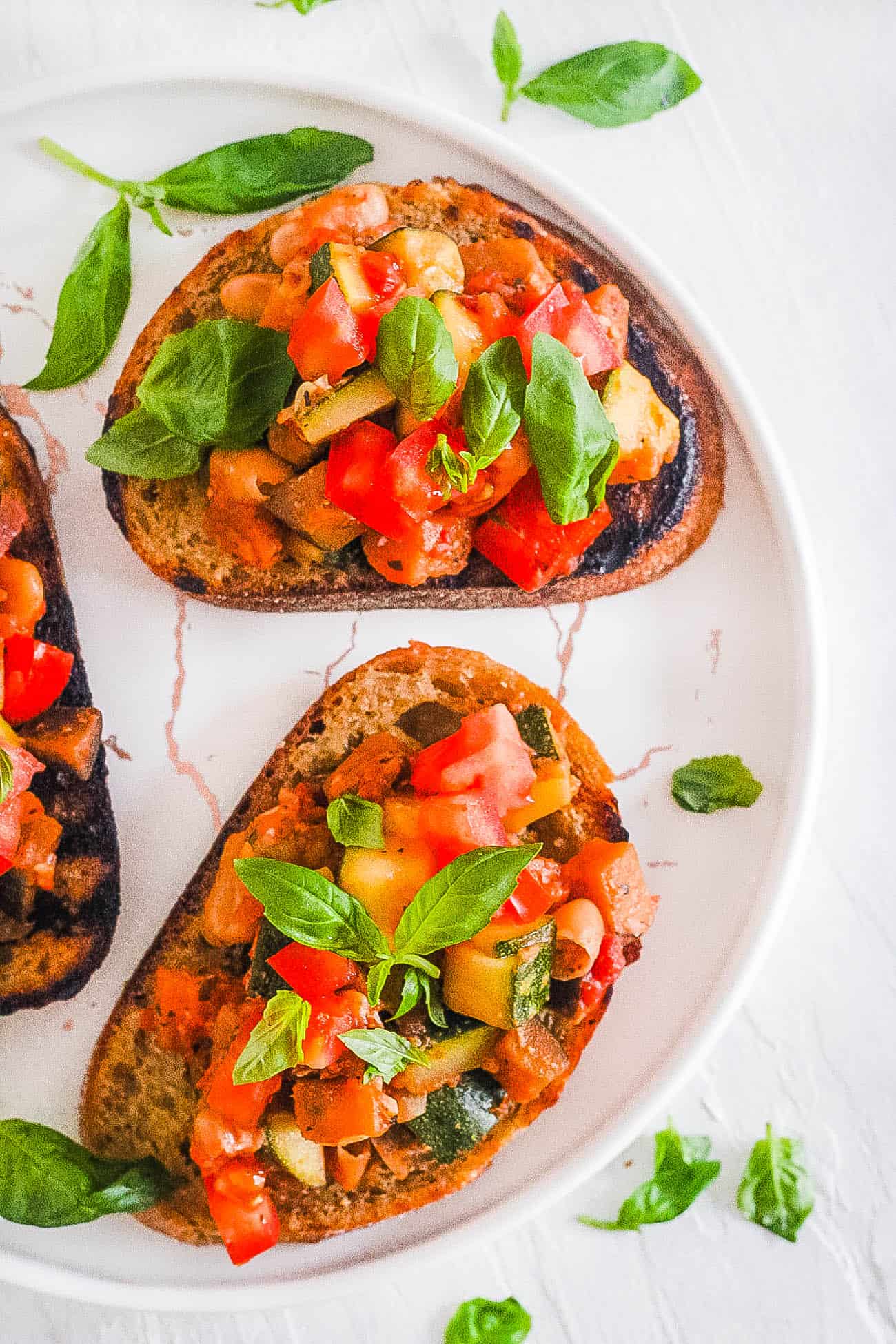 One of the most popular dishes in Italian cuisine gets a vegan twist with this vegan bruschetta! With white beans and tomatoes instead of cheese, this is the perfect dish for an easy appetizer or side. It's a delightful twist on the classic recipe and a great addition to your vegetarian Italian meals! Get this vegan bruschetta here.
Focaccia Bread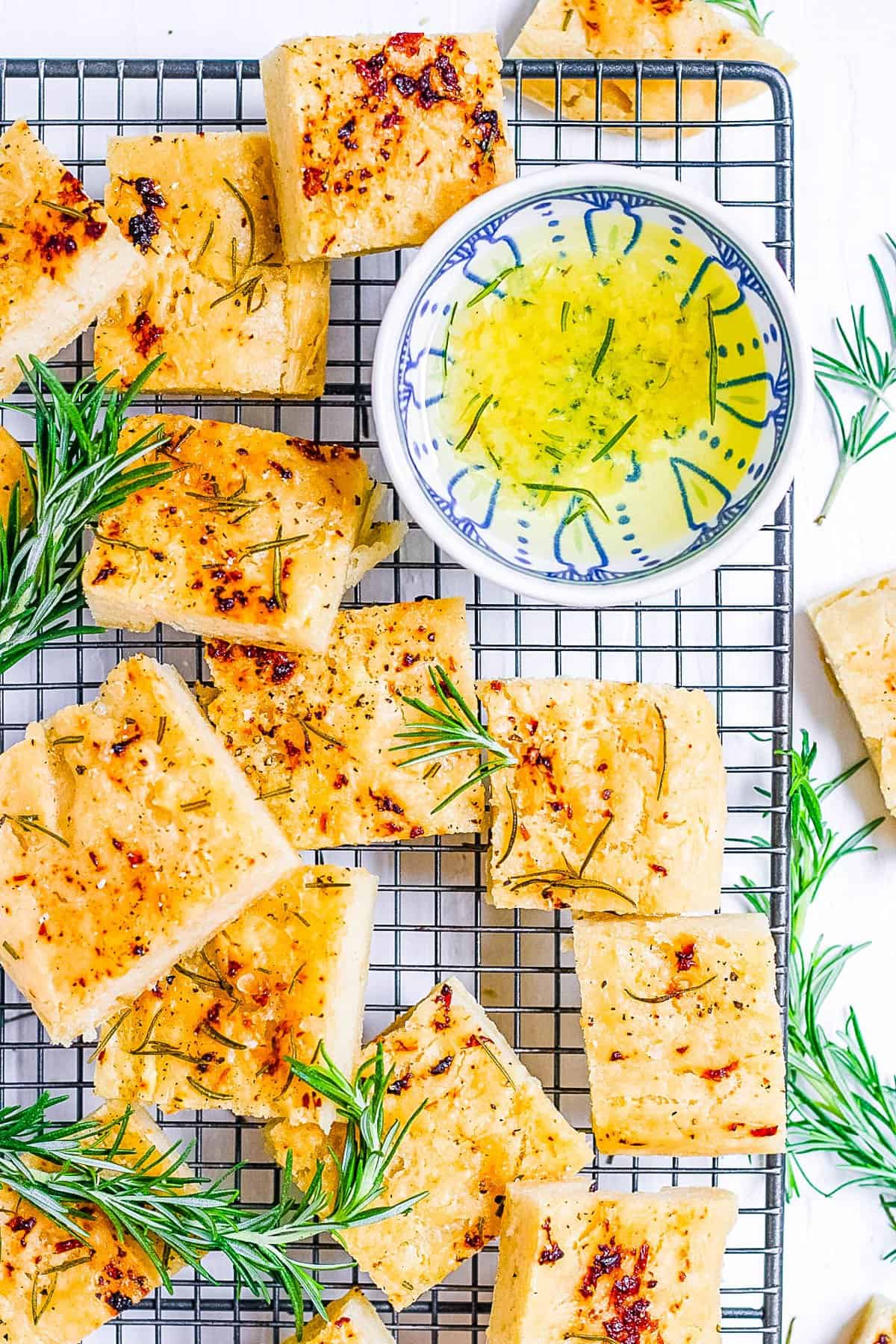 Making homemade gluten-free focaccia is easier than you might think. And with this foolproof recipe, you'll be able to enjoy fluffy and crisp focaccia with all the classic flavors of garlic, fresh rosemary, and cracked black pepper. Get this focaccia here.
Vegan Garlic Bread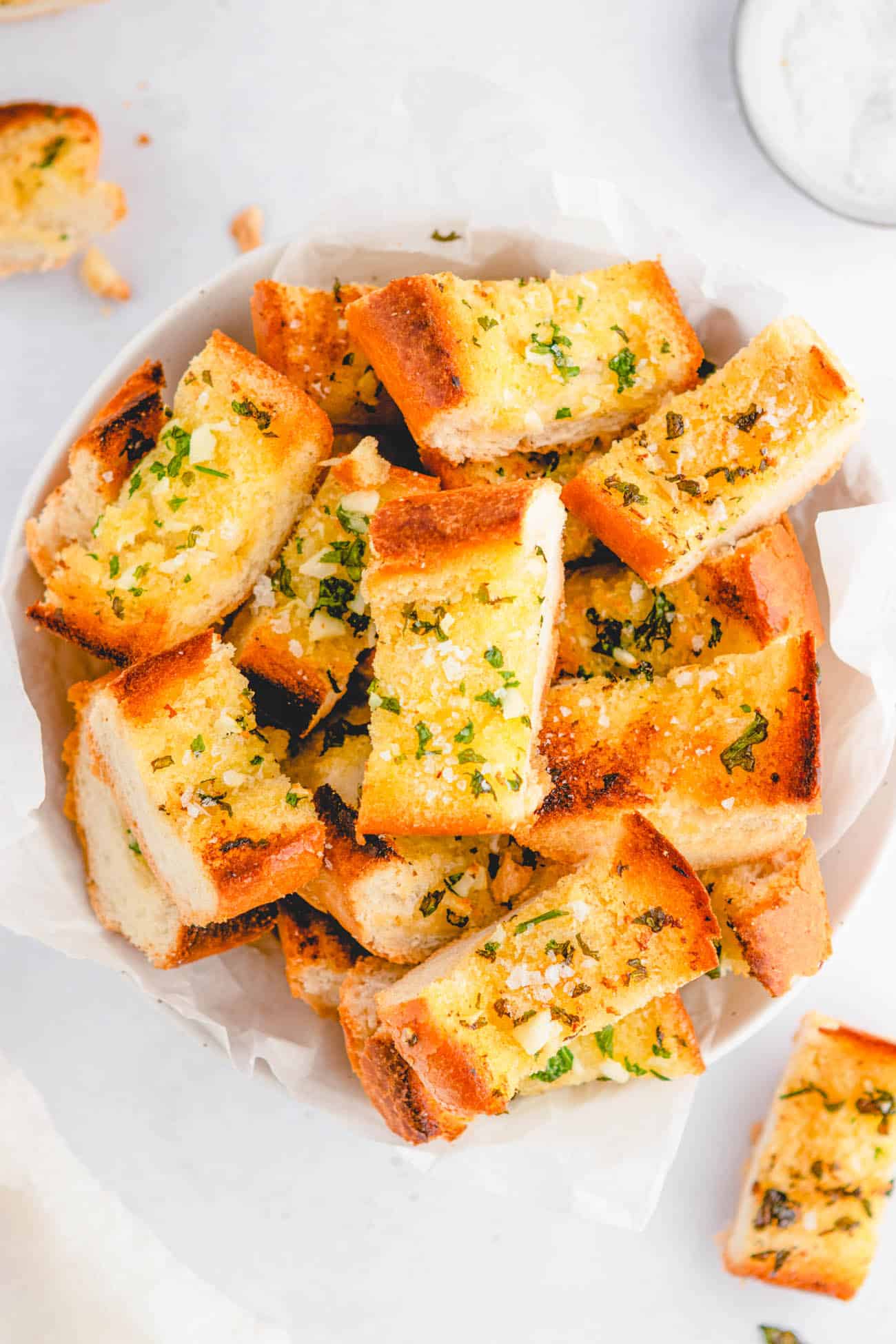 Indulge in a mouth-watering, garlic-filled experience with this 20-minute air fryer vegan garlic bread! This easy-to-make side dish requires just four simple ingredients and also pairs well with any vegan Italian wedding soup! Get this garlic bread here.
Flatbread With Zucchini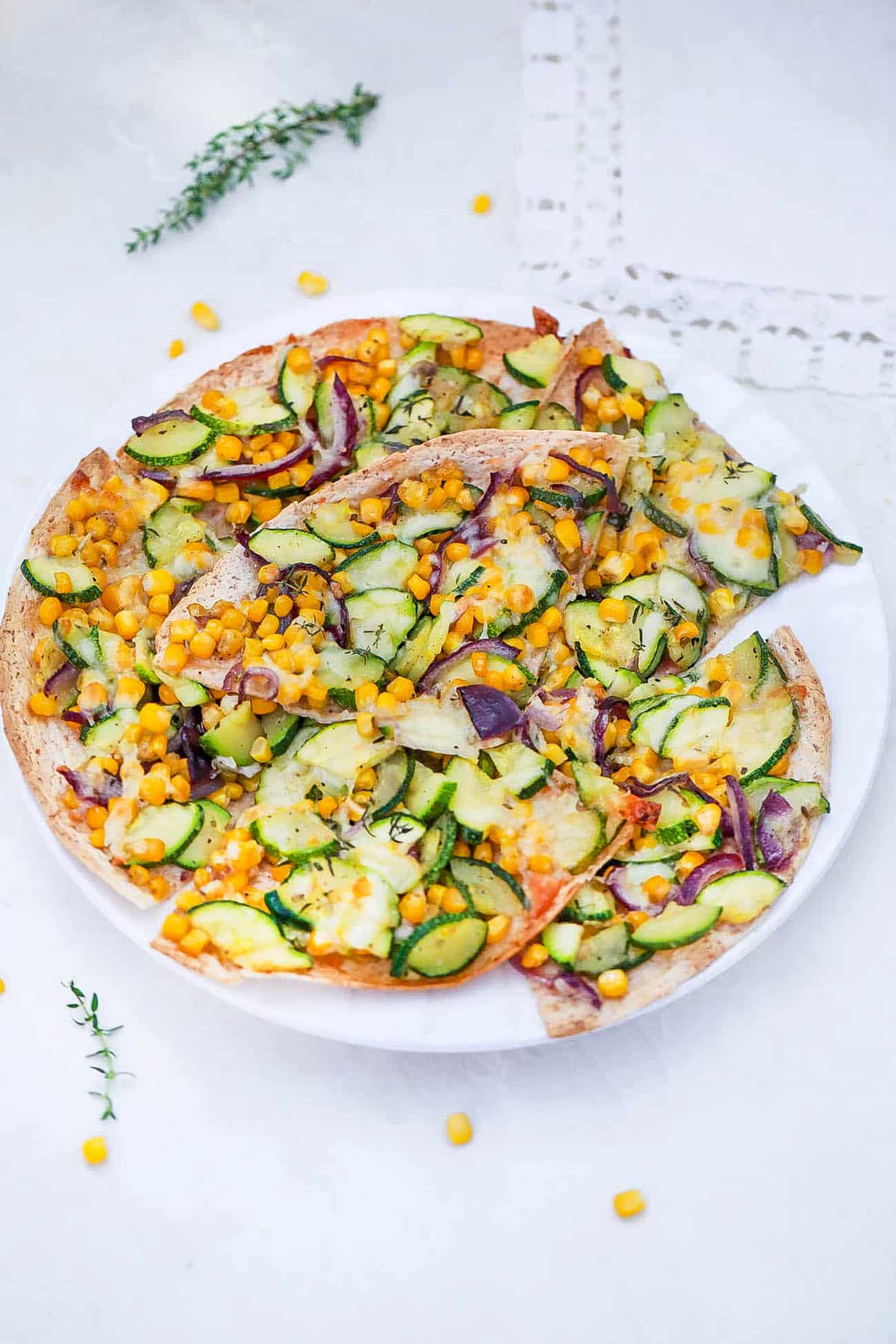 Loaded with fresh corn and veggies, it's a complete and healthy meal that can be made in under 30 minutes. Get this zucchini flatbread here.
Italian Salad Dressing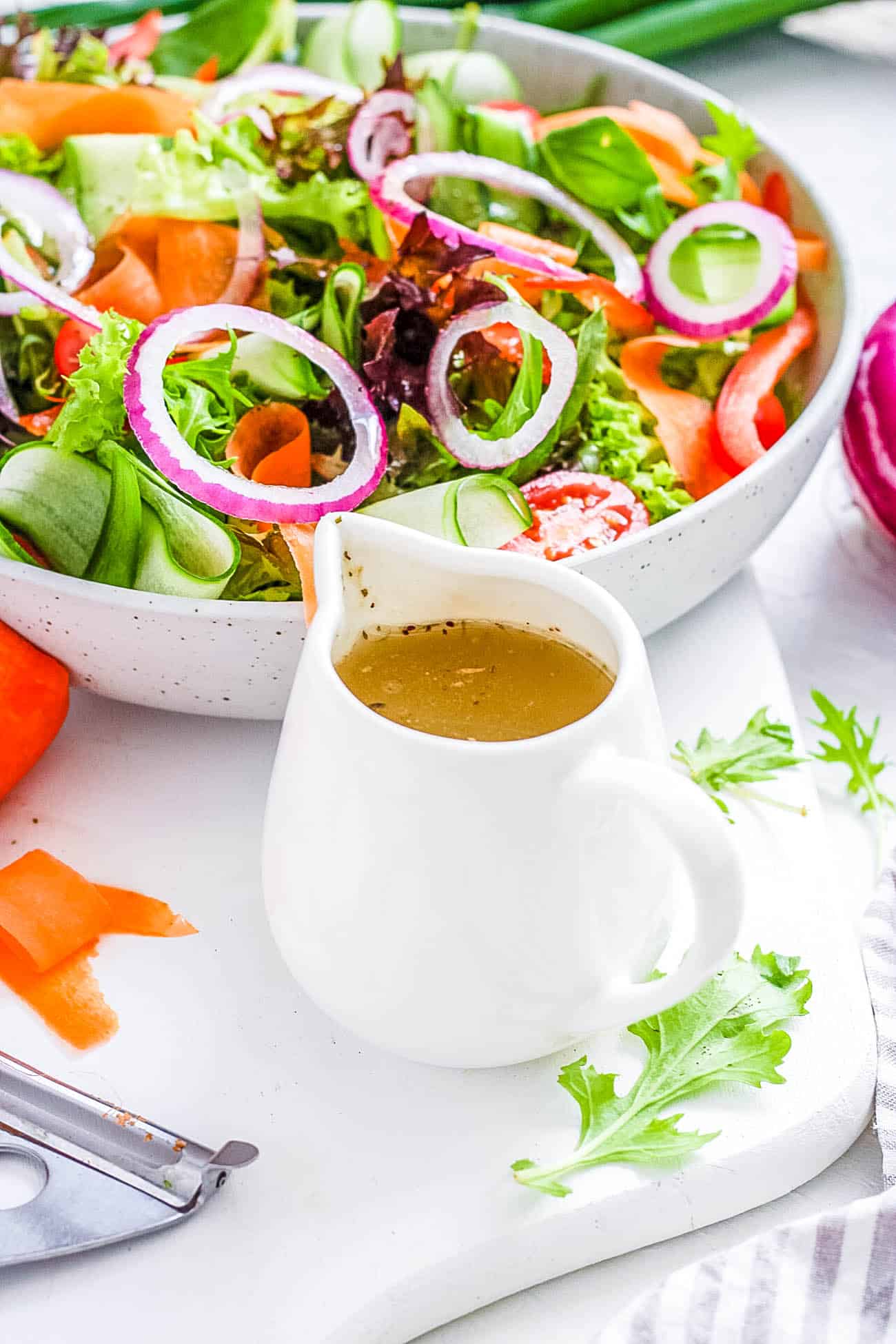 If you're looking to take your Italian veggie salad to the next level, homemade salad dressing is the way to go. And this creamy vegan Italian dressing is no exception! Get this Italian dressing here.
Caprese Salad With Cherry Tomatoes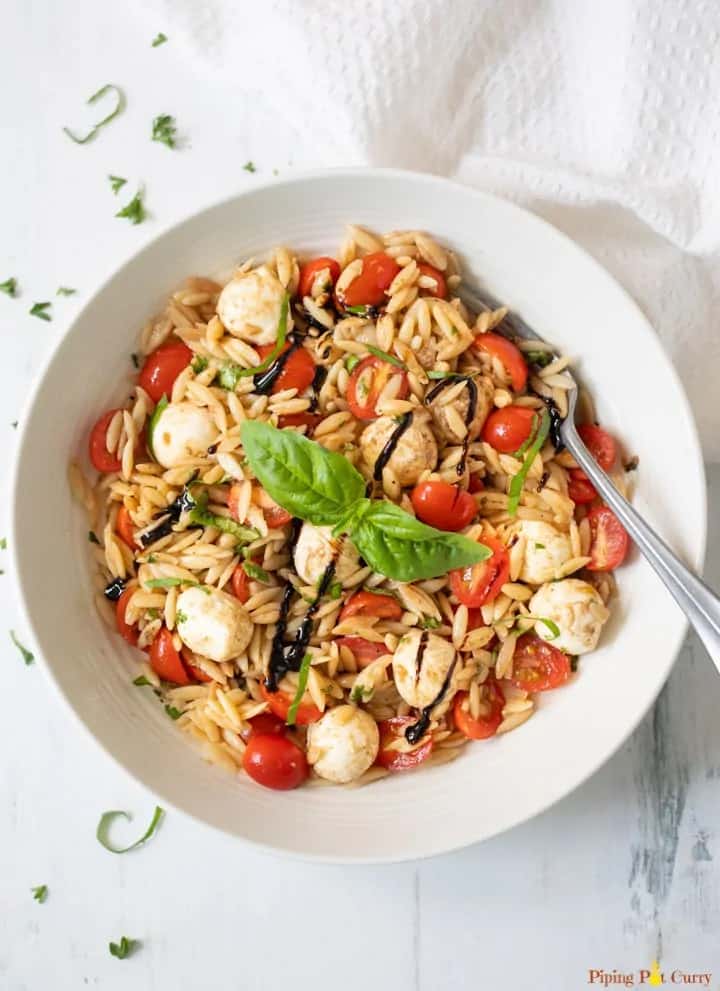 This classic Italian salad typically consists of fresh mozzarella, juicy tomatoes, and fragrant basil, all drizzled with olive oil and balsamic vinegar. This twist on the traditional version is made with orzo pasta, grape tomatoes, mozzarella and fresh basil. This easy orzo pasta salad super easy to make and great for a light lunch or dinner! Get the caprese orzo pasta salad recipe here.
Italian Pasta Salad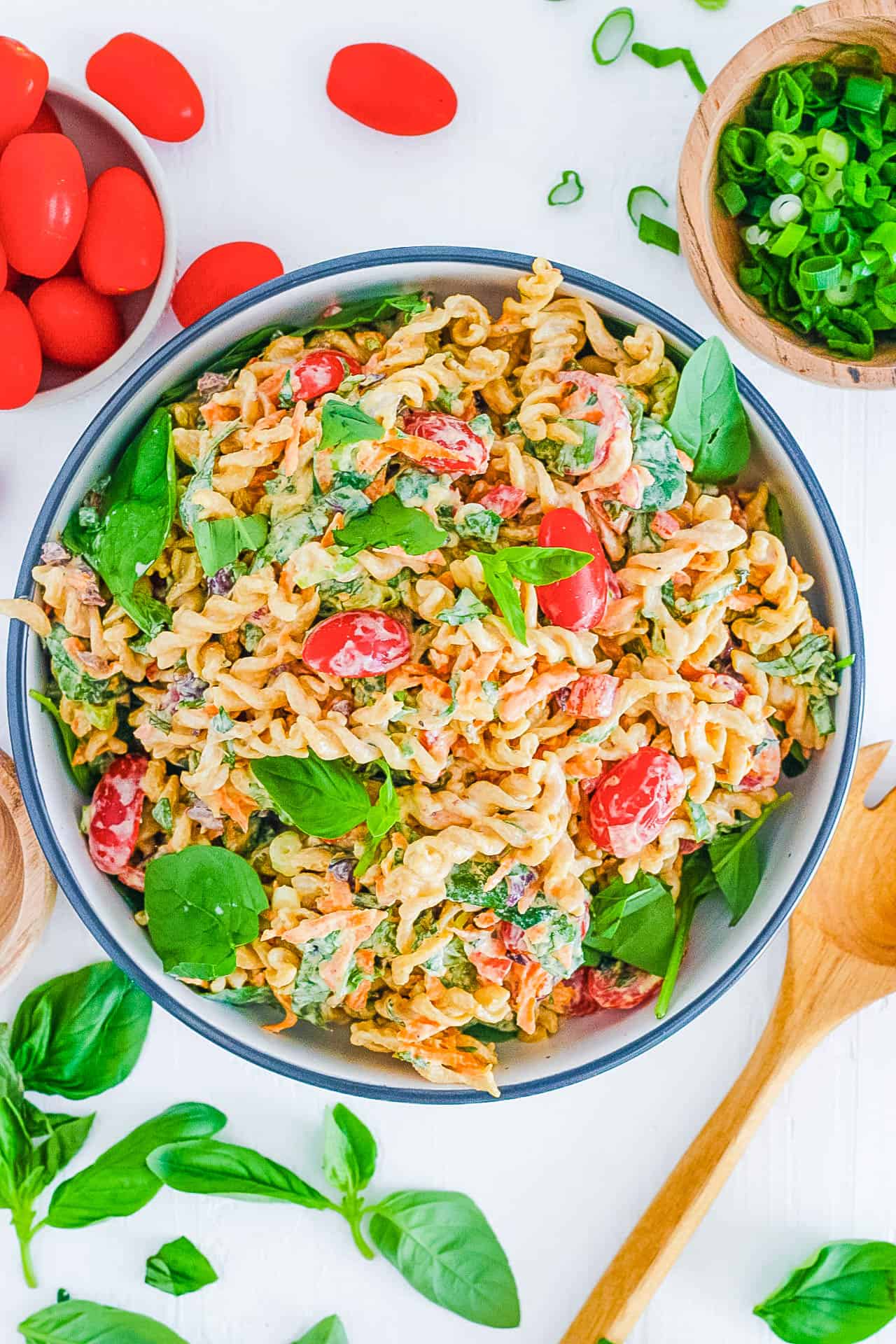 One of our favorite refreshing and satisfying healthy recipes that's perfect for lunch or dinner. Plus, it's a great way to introduce your taste buds to the delicious flavors of Italy! Get this gluten free pasta salad recipe here.
Margarita Recipe With Amaretto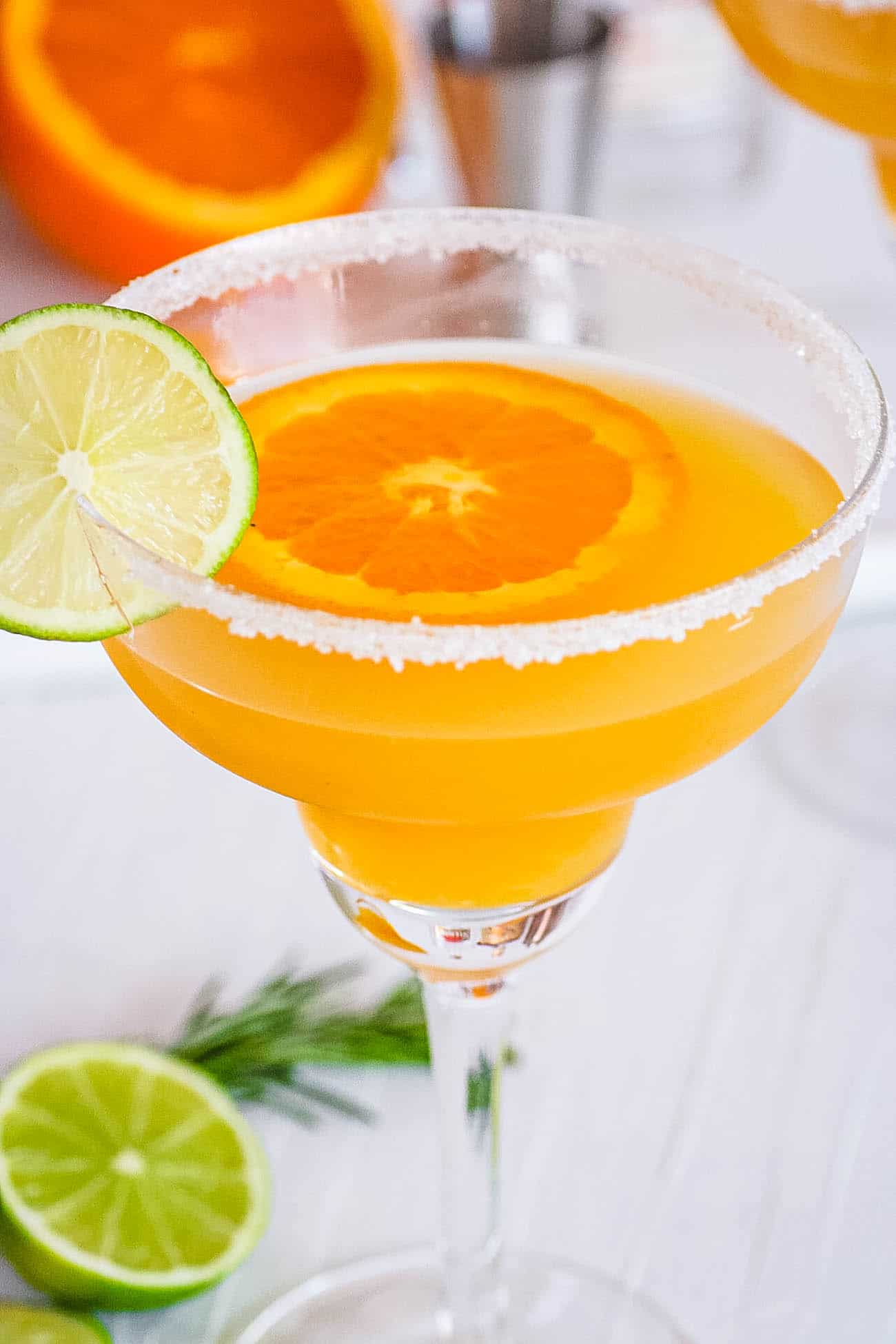 This sweet and tart drink is the perfect combination of Amaretto, Tequila, fresh citrus juices, and a touch of sugar, creating a classic cocktail with a crisp flavor that will leave your taste buds dancing. Get this  Italian margarita recipe here.
Stuffed Zucchini Flowers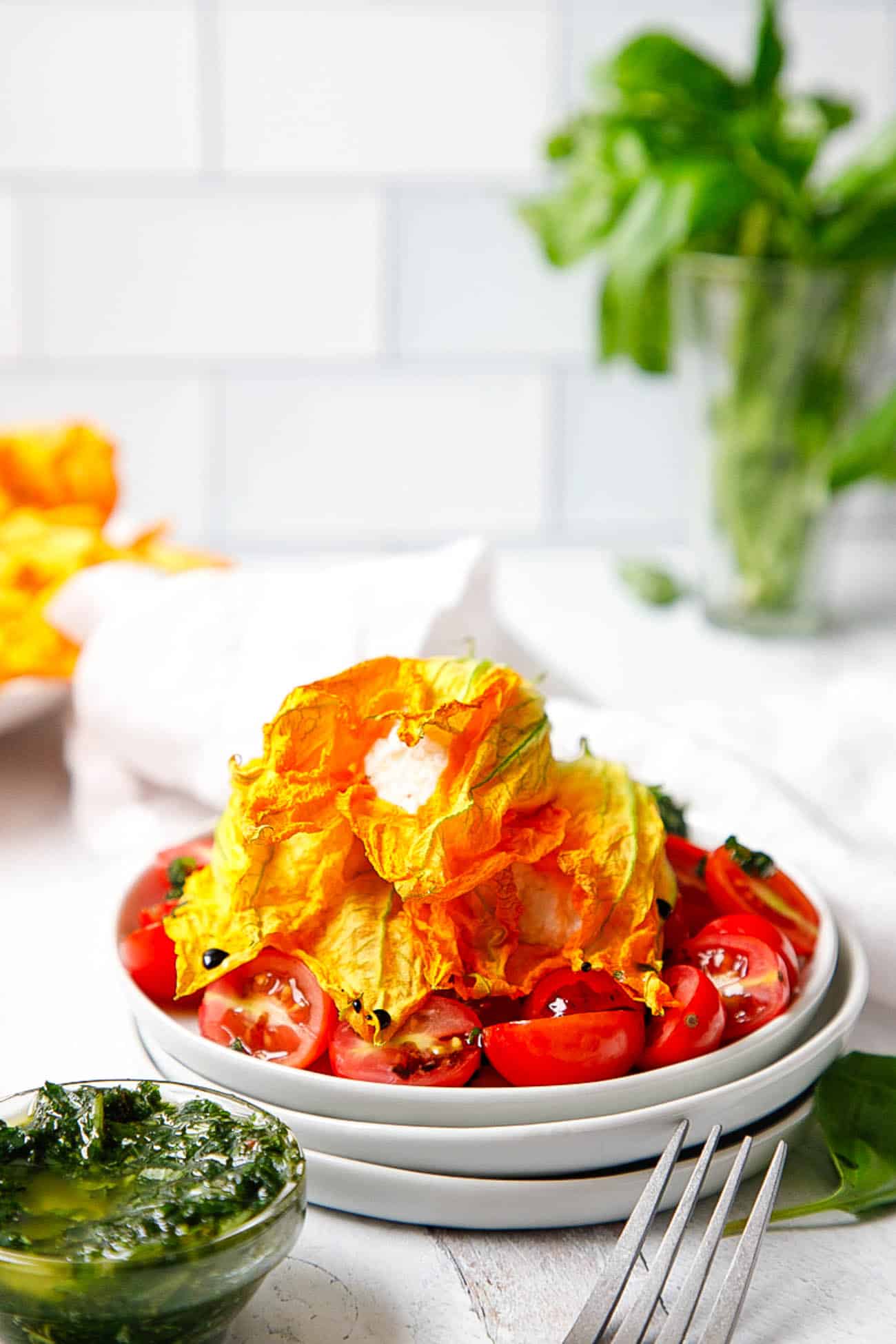 This classic Italian dish is a great way to introduce your family to the delicious and unique flavor of zucchini blossoms. One of my favorite and highly recommended Italian appetizers vegetarian recipes! Get this  stuffed zucchini flowers here.
Air Fryer Mozzarella Cheese Sticks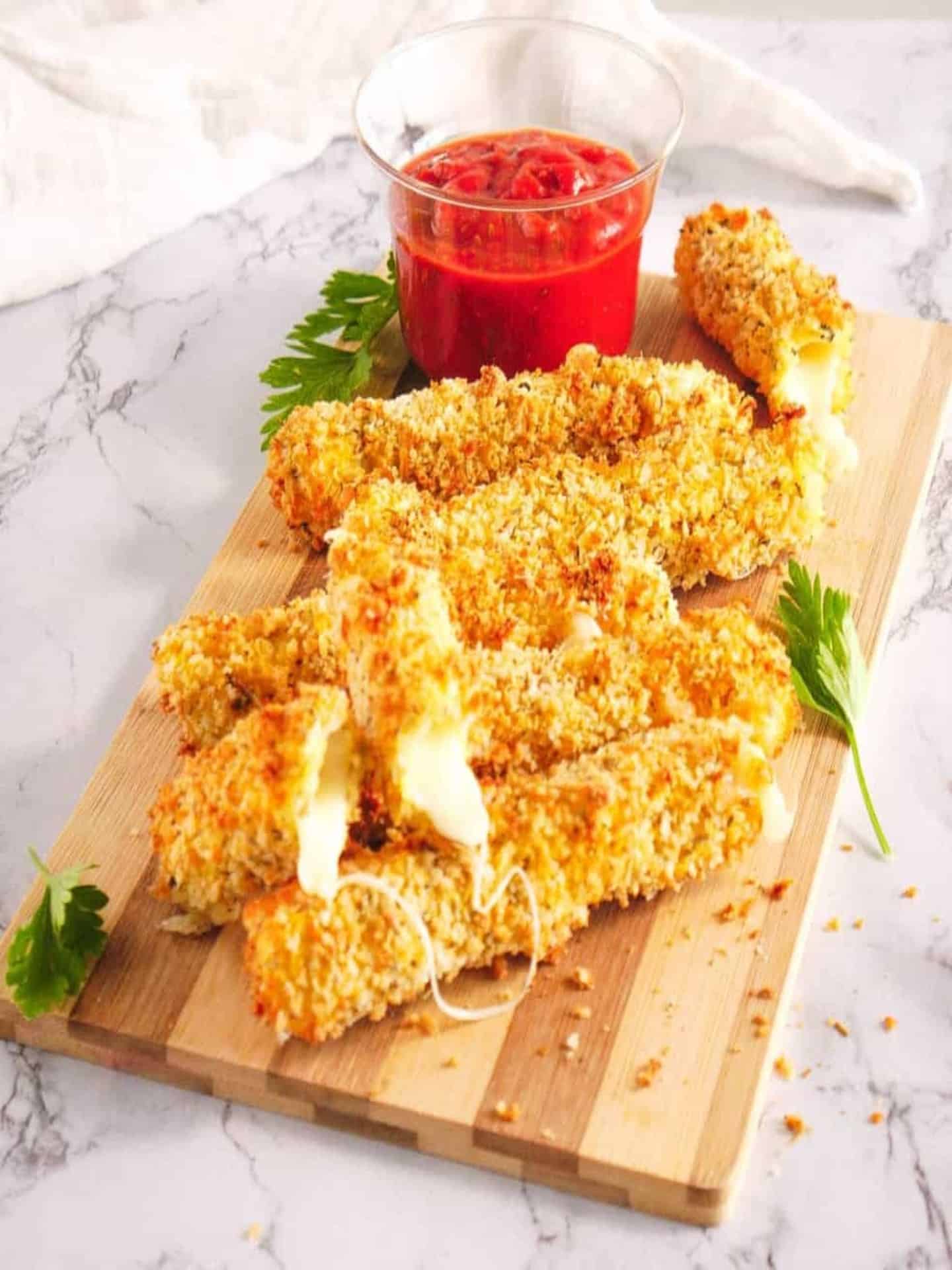 Who doesn't love a good mozzarella stick? These air fryer mozzarella sticks are so easy to make and packed with delicious flavor. These vegetarian dishes make the perfect snack or appetizer for any occasion, whether you're hosting a happy hour, game day party, or just looking for a tasty treat. Get these mozzarella sticks here.
Homemade Vegan Nutella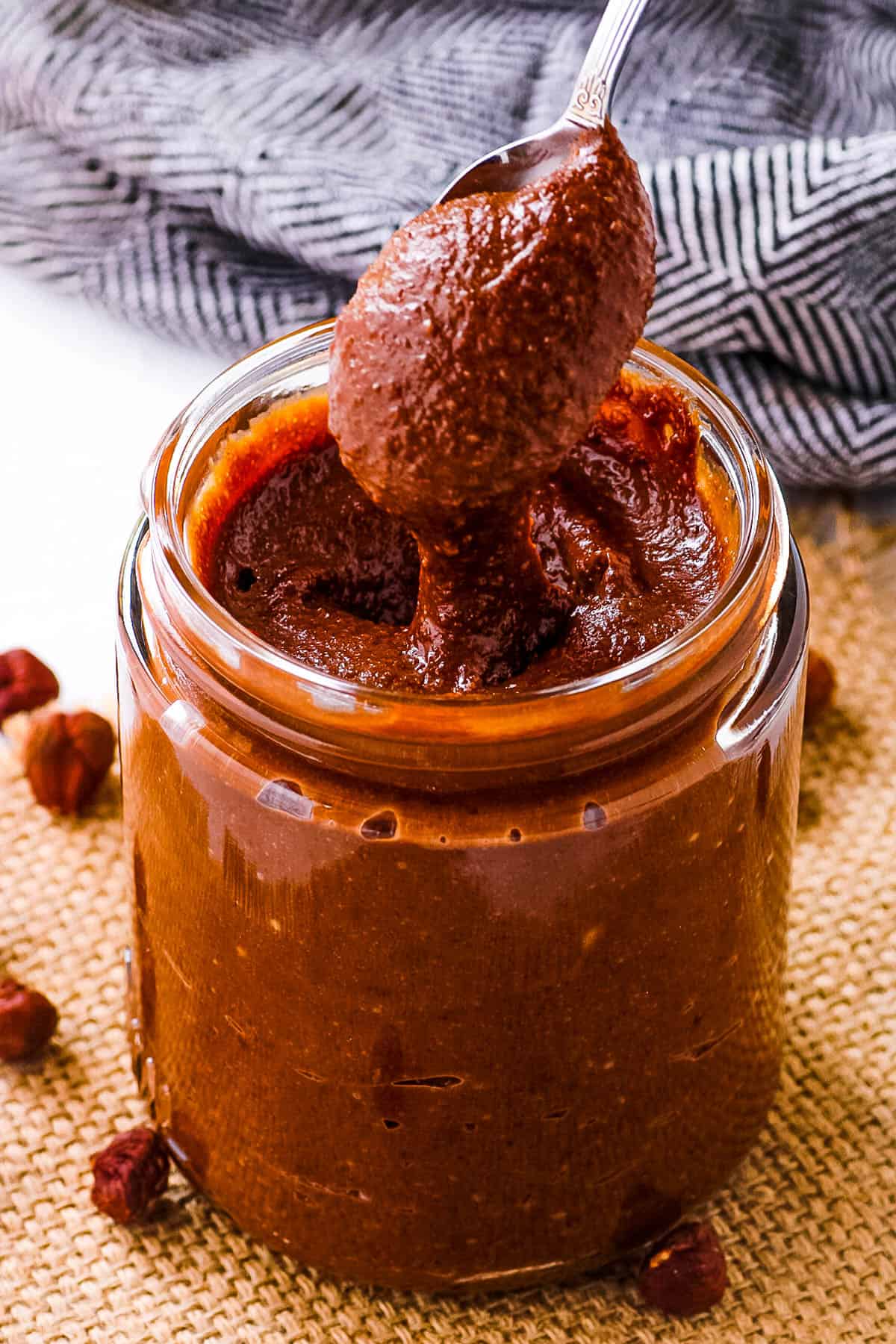 Get ready to indulge in a creamy and rich vegan dessert that is not only delicious but also healthy! Made with raw hazelnuts, and dark chocolate, and naturally sweetened with maple syrup, this homemade treat is perfect for dipping fruit or slathering over pancakes, toast, and more. Get this vegan nutella here.
Biscotti With Apricots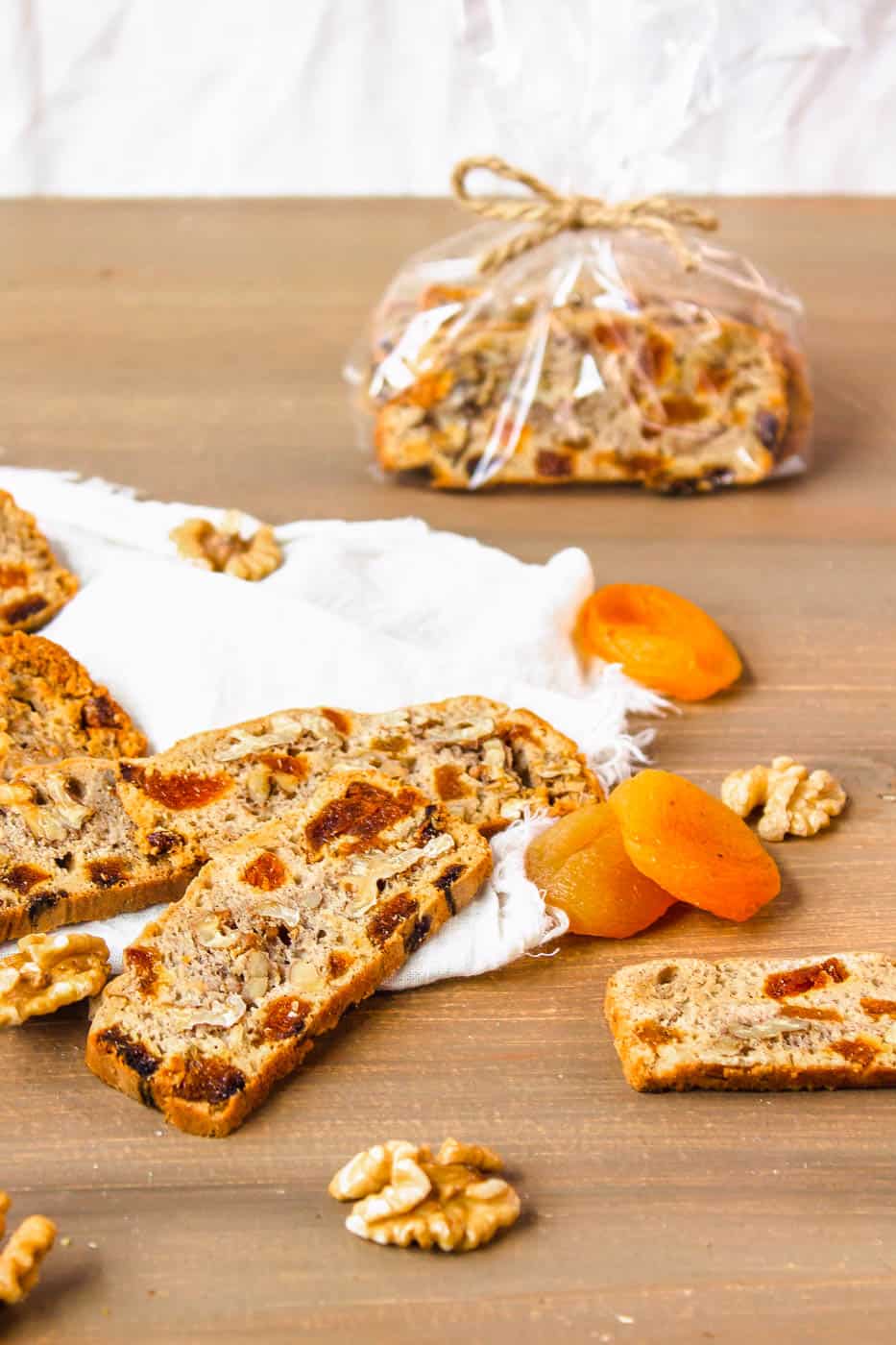 These cookies are made with a blend of gluten-free flour, ginger, cinnamon, walnuts, and dried apricots, creating the perfect balance of flavors and textures. Get this biscotti cookies here.
Ricotta Pie With Dark Chocolate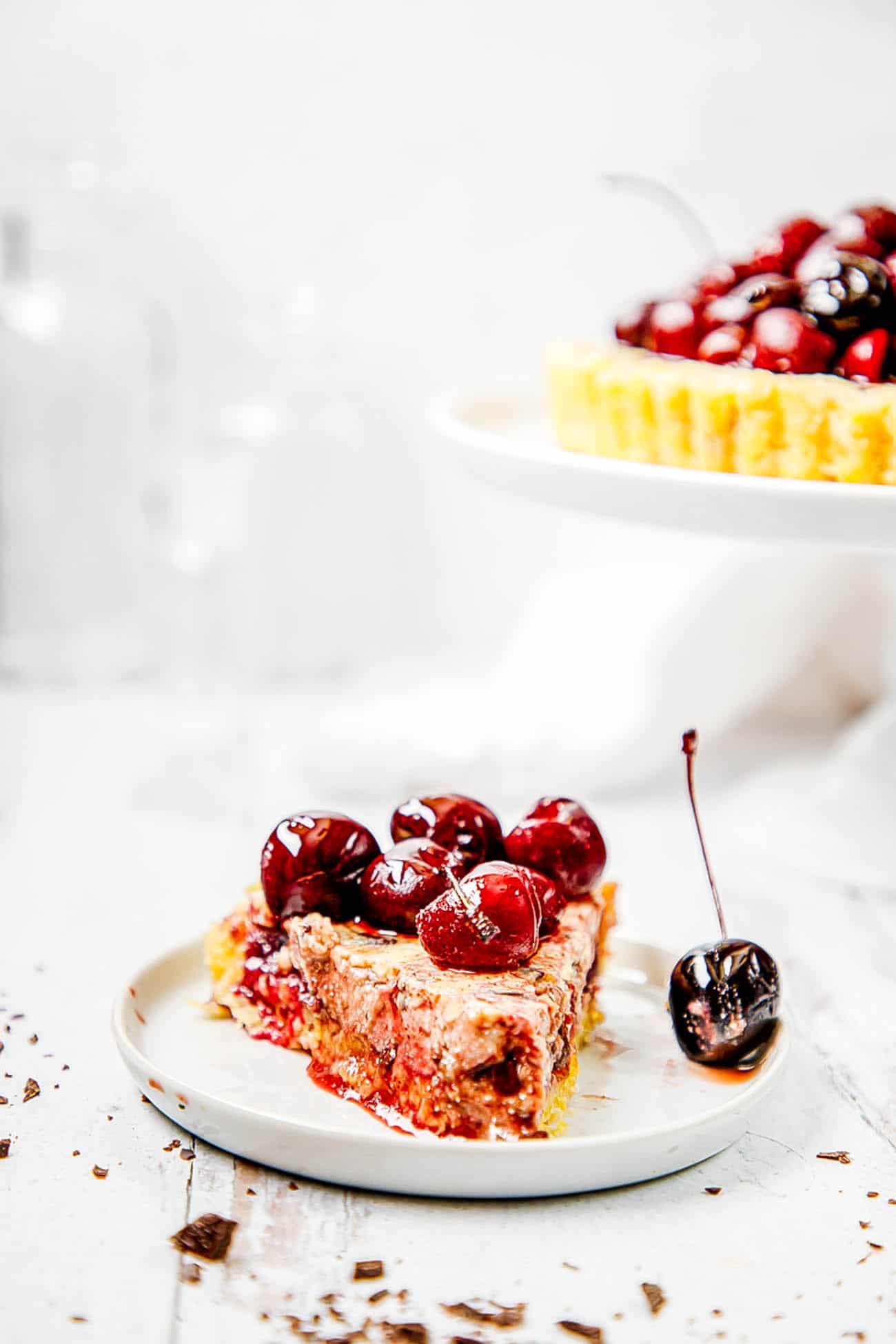 Ricotta pie is one of those traditional italian vegetarian dishes that's a classic! This pie is infused with hints of citrusy lemon, chunks of rich dark chocolate, and a layer of sweet cherry preserves that perfectly complement the buttery crust. Get this ricotta pie here.
Hazelnut Chocolate Bites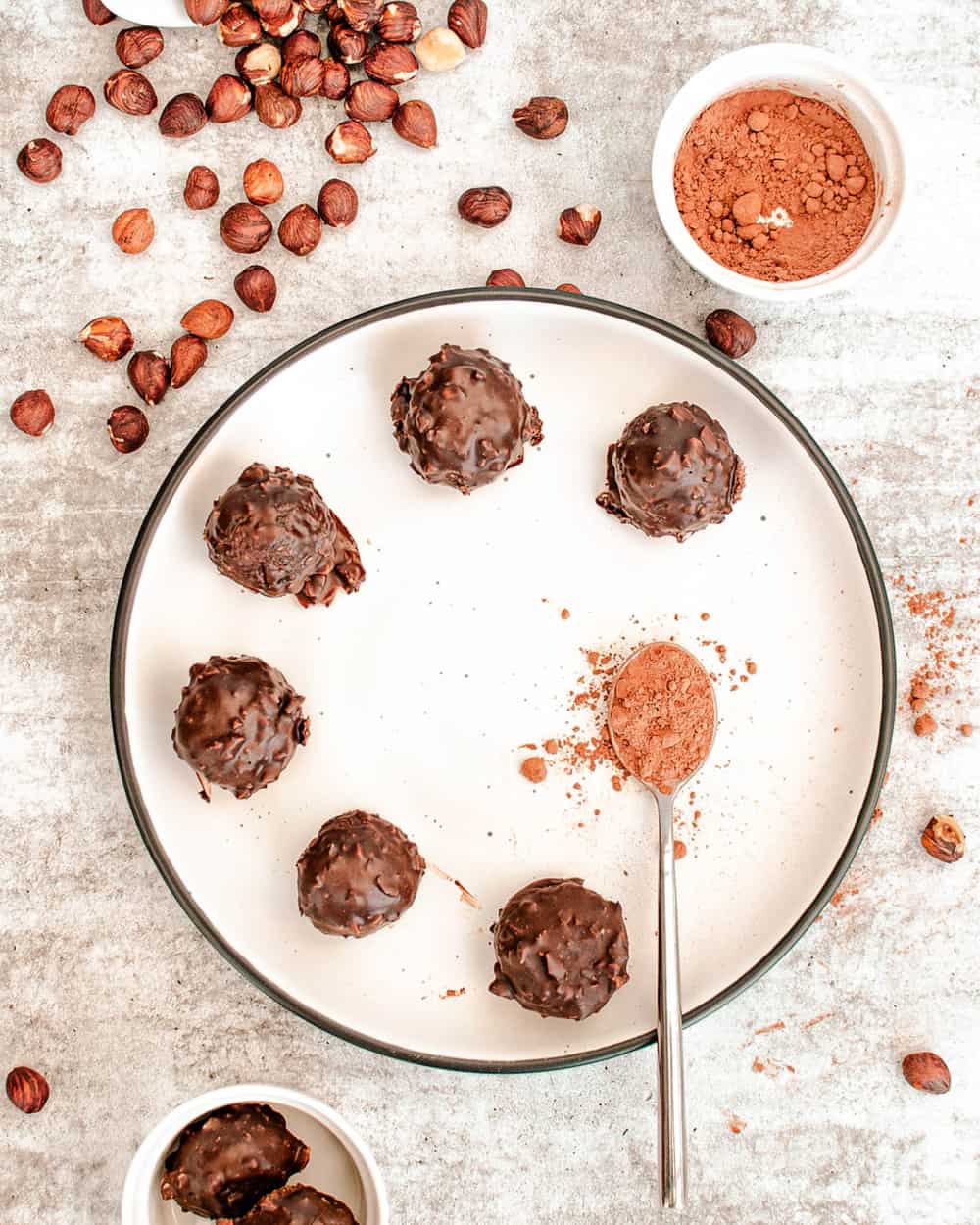 They're a delicious, guilt-free alternative to the classic Ferrero Rocher, and they're surprisingly easy to make. With under 10 ingredients and less than 30 minutes of prep time, you can whip up a batch of these chocolatey, nutty treats any night of the week. Get this homemade Ferrero Rocher here.
Vegetarian Italian Recipes FAQs
Is Italian food vegetarian friendly? Are Italian dishes mostly vegetarian?
Italian food is very vegetarian friendly! While the majority of traditional Italian dishes actually include meat, you can find vegetarian versions of those dishes throughout Italy. Italian cuisine features a wide variety of dishes that are plant-based or can be easily modified to be vegetarian. Italian cuisine emphasizes the use of fresh ingredients, including vegetables, fruits, grains, legumes, and cheese. Many classic Italian dishes are based on these vegetarian-friendly ingredients including pasta, pizza, salads and more!
What Are The Staple Ingredients In Vegetarian Italian Recipes?
When you're stocking your pantry to create easy Italian cuisine at home, you'll need some main ingredients. This will help you create these healthy Italian vegetarian recipes in no time at all, without having to make a special trip to the grocery store.
Extra Virgin Olive Oil: A good quality EVOO is in virtually every Italian recipe. It is used to sauté vegetables, make vinaigrettes, drizzle over grilled vegetables, you name it, it's in everything.
Balsamic Vinegar: Balsamic vinegar originates from Italy. It is used to create marinades and dressings.
Pasta: Instead of keeping the typical white pasta on hand, I suggest keeping whole wheat pasta, lentil, or chickpea pasta in your pantry. These pastas are higher in fiber and nutrients. Lentil and chickpea pasta also have the added benefit of added protein, which is a great addition when you're making vegetarian recipes.
Canned Tomatoes: Canned tomatoes in the form of diced, crushed, or whole, will help you make tomato-based sauces in no time at all.
Fresh Tomatoes: Just like canned tomatoes, fresh tomatoes are also good to keep at the ready. Although, fresh tomatoes are not in season all year. However, when in season, fresh tomatoes can be used to make sauces, chopped fresh for bruschetta, or sliced on top of pizza. Consider using cherry tomatoes, heirloom tomatoes, and vine ripened tomatoes.
Onions: Another staple vegetable, onions add a great deal of flavor to sauces.
Mushrooms: Many vegetarian Italian recipes use mushrooms both in their sauces and sautéed.
Tomato Sauce: If you don't have time to make your own marinara sauce, having a good quality authentic jarred Italian sauce is good to keep in your pantry. You can quickly sauté some vegetables, cook some whole wheat pasta, and toss it together with your pre-made pasta sauce.
Vegetable Broth: Many Italian soups call for chicken broth. Simply substitute chicken broth for vegetable broth to make it vegetarian-friendly.
Italian Cheeses: Parmesan cheese is the most widely used cheese that is grated on top of pasta and other Italian dishes. However, some other Italian cheeses to consider keeping in your fridge include pecorino, mozzarella, ricotta, mascarpone, and feta cheese. To make a vegan recipe simply leave out the cheese or use a vegan cheese alternative.
What Are The Typical Spices and Herbs Used for Vegetarian Italian Recipes?
These aromatic spices are ones you'll always want to have on hand when making vegetarian Italian dishes: garlic, basil, oregano, rosemary, capers, salt, black pepper.
Is all cheese vegetarian?
Unfortunately no, all cheese is not vegetarian friendly! Traditional cheese production involves the use of rennet, which is an enzyme derived from the stomach lining of animals. The good news is, it's pretty easy to find vegetarian friendly cheese – just look for cheese made with "microbial rennet" and not "animal rennet" on the ingredients list.
Is Italian food healthy? How do you make Italian recipes healthier?
Some Italian food is healthy – salads, pastas with vegetables, and more can all be healthy. Other Italian dishes (like creamy, cheesy pastas or meat based dishes) are higher in saturated fat and calories so they aren't as healthy for you. There are 4 main ways to make Italian recipes healthy and still just as delicious as the traditional versions:
1) Use less olive oil. Italian recipes call for quite a lot of olive oil. In my opinion, it's more than you need. While olive oil is a healthier oil to use compared to others, it is still dense in calories and fat. By reducing the amount of olive oil you use, you will drastically reduce the overall calories and fat in making healthy Italian recipes.

2) Don't use white pasta. There are so many nutrient rich pastas out there. Try whole wheat pasta, lentil pasta, chickpea pasta or others. These pastas are high in fiber, protein, vitamins and nutrients. Whereas, if you opt for white pasta you are just consuming empty calories.
3) Use lots of fresh vegetables. When cooking vegetarian, make sure that you're not just adding pasta and sauce. Load your pastas with fresh vegetables for added nutrients, and more density. The fiber in the added veggies will help keep you fuller longer too!
4) Reduce your portion size. When we go to Italian restaurants we get a huge heaping bowl of pasta which is probably meant to serve 4 not 1. Stick to portion control when it comes to the amount of pasta, or pizza, and load up on the vegetables. You can also use less cheese, or omit the cheese to make healthy vegan Italian recipes.
More Healthy Vegetarian Recipes!
Love this vegetarian Italian food list? Try some of these other vegetarian recipe round-ups!
I hope you were able to find some healthy vegetarian Italian recipes that you would like to make for your family!