Air Fryer Eggs – make the perfect soft to hard boiled eggs in your air fryer! Whether you like them a little tender in the middle or fully cooked, all the tips are here!
Making hard boiled eggs is one of the easiest things you can do. It's not exactly difficult or time consuming to get out a pot and boil water. But you have to watch them a little closely and can get broken eggs relatively easily.
Instant Pot Hard Boiled Eggs used to be my favorite way to cook them. I still think it makes the easiest eggs to peel. But the air fryer is just so quick and super easy to cook at different times depending on what your family likes.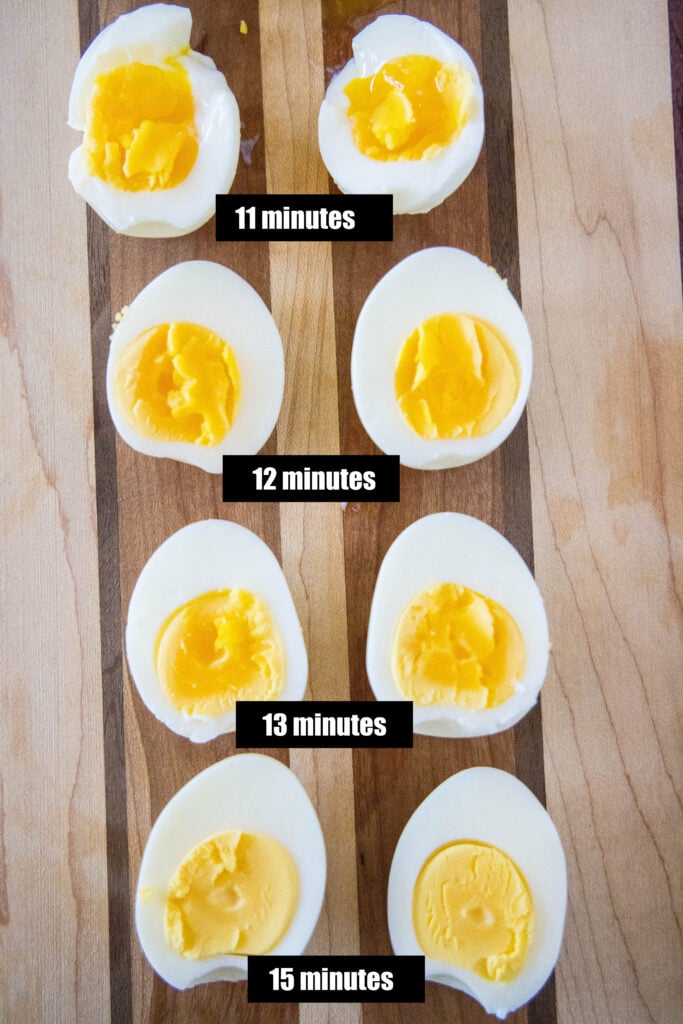 Your air fryer really can do more than just reheat your leftover pizza or make frozen french fries. So many people only use it to prepare pre-made foods from the freezer. Don't miss my Easy Air Fryer e-book with 15 recipes in one place.
You can cook perfectly cooked bacon in the air fryer, garlic bread, quesadillas stuffed with your favorite fillings, and more!
How to make Air Fryer Eggs
This is one of the few times I recommend Preheat your air fryer. You want it to be warm, similar to a pot of boiling water, when you add your eggs.
I set my air fryer to 280º F and let it preheat for 3 minutes. If your air fryer doesn't go that low, set it to 300º F and you'll only want to subtract about a minute from the egg's cooking time. However, every air fryer is a little different, so it may take some trial and error with your model to get exactly what you want.
For this recipe I used a Cosori 5.8 Qt Air Fryer. It's big enough to fit plenty of food, and the basket pops out so you can easily shake, stir, or flip whatever you're cooking.
Once the air fryer is hot it's time to add your eggs. I like to use a metal trivet (the one that came with my Instant Pot) to keep the eggs from rolling around while cooking. Then just cook until done.
cooking times
The beauty of the air fryer is that you really experiment with the times to get your perfectly cooked egg.
Soft boiled eggs: 10-11 minutes
jam eggs: 12-13 minutes
Hard boiled eggs: 15 minutes
ice bath
Once the eggs are done cooking, you want to carefully remove them and immediately place them in an ice water bath. All you have to do is fill a large bowl with ice and then add water. Adding the boiled eggs to the bath will stop the cooking immediately, giving you the perfect doneness every time.
Leave the eggs in the bath for 5 minutes. You want them to stop cooking and be refrigerated, but they don't have to be super cold. Cool just enough to handle so you can easily peel them.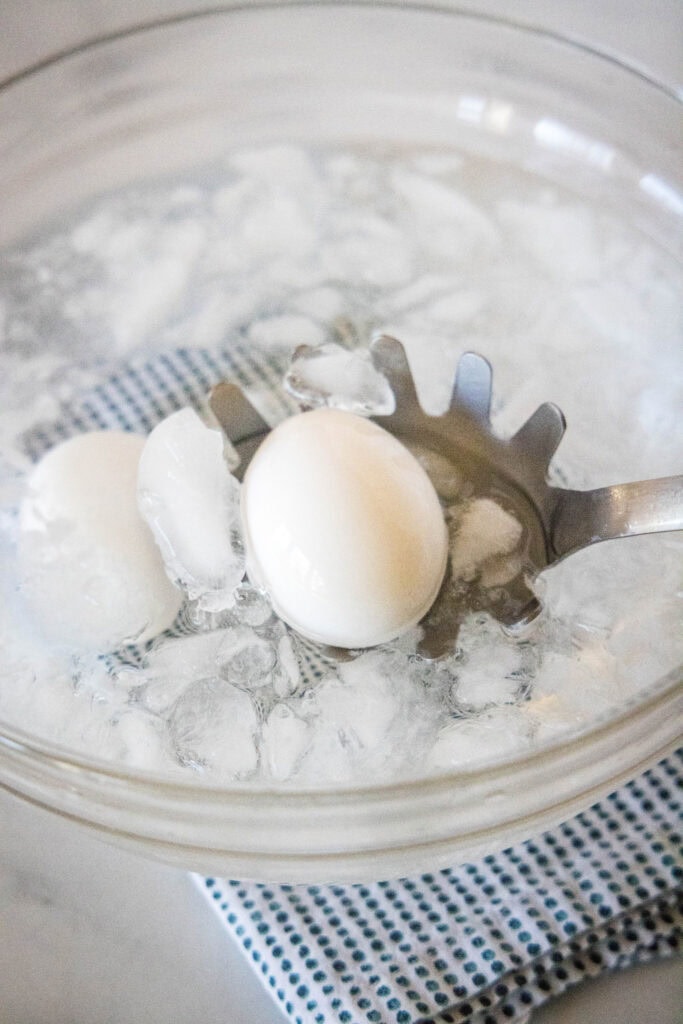 Recipe tips for air fryer eggs
Use something to keep the eggs from moving as the air circulates. Some air fryers are stronger than others, you don't want the eggs bumping into each other or the sides or they'll break. I use the metal trivet that came with my Instant Pot.
Don't overfill your basket. You want to leave space around each egg so it cooks evenly as air circulates. Typically 4-6 fit in a basket or up to 8 in a tray style air fryer.
Every air fryer is slightly different, so you may need to experiment with cooking times. Use the chart as a guide, no matter what air fryer you have, it should be within a minute of the time.
storage
Just like hard-boiled eggs, you should keep them unpeeled in the fridge until you're ready to serve them. They keep in the fridge for about a week.
How to Use Air Fryer Eggs
You can eat eggs as a snack or as part of a meal, we like to season them with Everything But The Bagel, but feel free to use salt and pepper or whatever you normally put on eggs.
Or you can use your eggs in a recipe!
More easy recipes
Airfryer eggs
Air Fryer Eggs – make the perfect soft to hard boiled eggs in your air fryer! Whether you like them a little tender in the middle or fully cooked, all the tips are here!
instructions
Preheat air fryer to 280º F.
Arrange the eggs on a coaster in the basket of the air fryer.
Cook to desired doneness
Soft boiled eggs: 10-11 minutes
jam eggs: 12-13 minutes
Hard boiled eggs: 15 minutes
Nutritional Information
yield
4
serving size
1
amount per serving calories 107total fat 7gSaturated Fatty Acids 2gtrans fat 0gunsaturated fat 4gcholesterol 279mgsodium 107mgcarbohydrates 1gdietary fiber 0gsugar 0gprotein 9g
Nutritional Disclaimer: All information on this website is for informational purposes only. I am not a certified nutritionist and any nutritional information shared on dinnersdishesanddesserts.com should be used as a general guide only.
I created a fun group on Facebook and would love for you to join us! It's a place to share YOUR favorite recipes, ask questions, and see what's new in dinner, dishes, and desserts (so you don't miss a new recipe)! If you want to try it, you can submit a request to join HERE.
Be sure to follow me Instagram and tag #dinnersdishes so I can see all the wonderful DINNER, MEAL AND DESSERTS recipes YOU make!
Follow me on my social media channels so you don't miss a post!
Facebook | Twitter | Pinterest | Instagram
Did you know that there is a SHOP for dinner, dishes and desserts? Check out all my e-books as well as branded items HERE!
OTHER RECIPES YOU MIGHT LIKE: