A post-hurricane perspective plus tips on feeding a family during a disaster. Always bake before a storm!
WWe are now on the other side of Hurricane Fiona, power has been restored and things are returning to normal. We made it.
It's time to reflect on how we could have prepared better AND what we did well and then save it as a reminder for next time. Save this post for reference ahead of an upcoming natural disaster in case you have time to prepare, which luckily we did.
I'm sharing a 24-hour timeline of our experiences and every life lesson we've learned along the way—as always, bake before a storm.
I would like to preface this post with three statements:
1. We love living in Atlantic Canada and will never leave. I'd gladly trade the hurricane risk for the quality of life and beautification we experience here every day. That means we live on a lake, we don't have the risks that come with living by the sea.
2. So many people have been hit a lot harder than we have. My heart goes out to them and we help in any way we can. If you are able, please consider making a donation to Fiona's relief effort.
3. I recognize that I have the incredible privilege of being able to prepare for a disaster. When the storm hit, I had the means to buy food and the time to cook it. I don't take any of this for granted.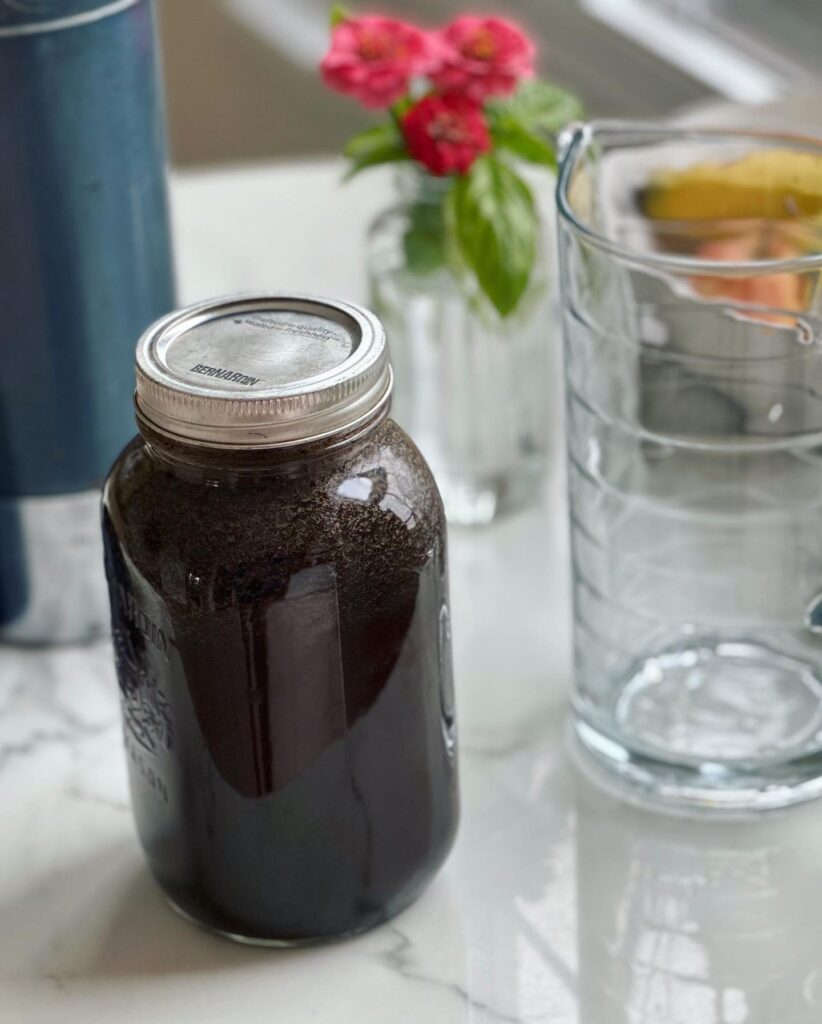 Our Hurricane Fiona timeline
That's how it all went, from our storm preparation to the aftermath.
For me, of course, it all started in the kitchen… Danny and the boys took care of securing our patio furniture, storing the watercraft and dismantling the trampoline.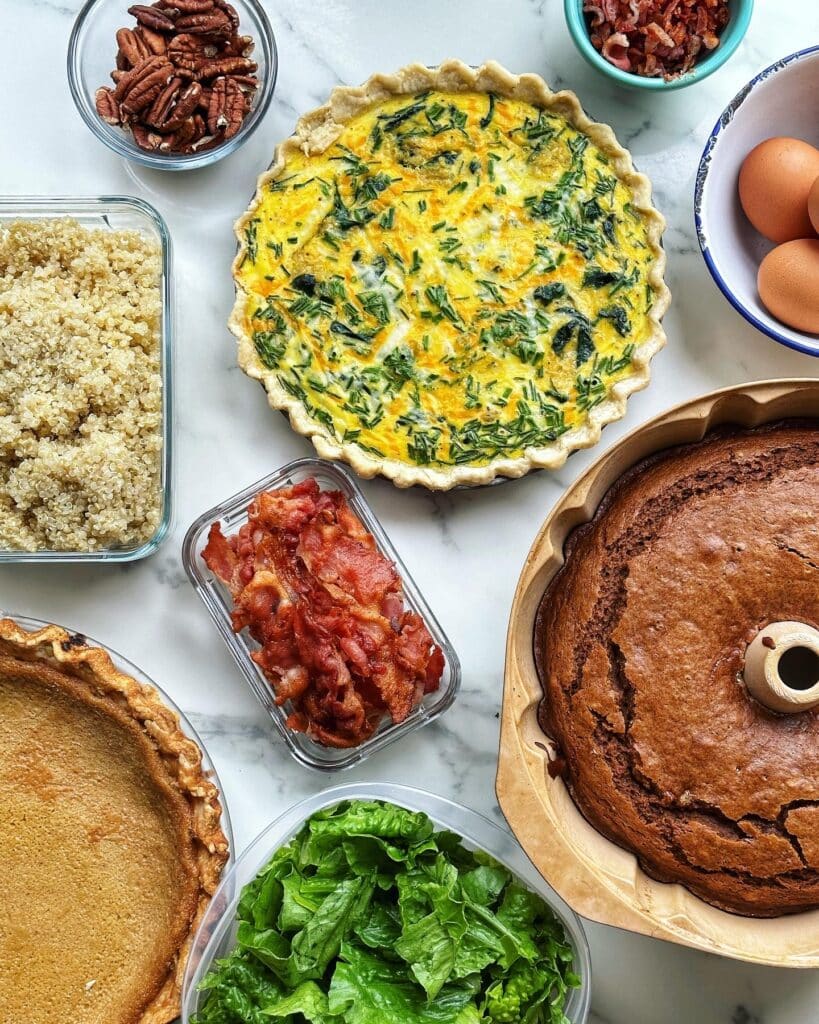 3:00 p.m.: Always bake before a storm
Life lesson: Preparing food before a power outage.
I'm in the kitchen preparing food for our family and friends in anticipation of our losing power. I know it's important to always bake before a storm! I have a family of five to support, plus friends, cousins ​​and neighbors. Here's what I did:
Quiche – Great for a cold brunch or lunch
Cooked quinoa for salads and breakfast
Boil eggs for wraps or snacks
Crispy bacon for BLT's, salads or snacks
Salad dressing, roasted nuts
pie and pumpkin pie
Cold brew coffee and ice tea in the fridge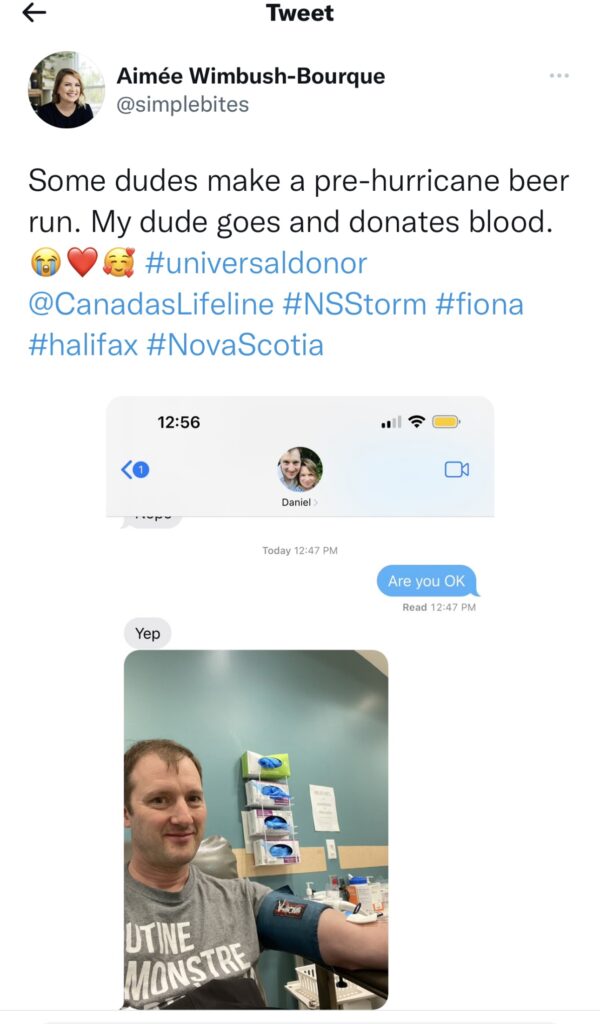 4:30 p.m.: Blood donation
Life lesson: Donating blood before a natural disaster saves lives
In the middle of our storm preparation, Danny goes to a blood collection clinic and donates blood. He is O-negative – a universal donor – and routinely donates. His selflessness is inspiring as it took precedence over a beer run.
9:00 p.m.: Last storm preparation
Life Lesson: Ignore the news cycle and read a good book before bed.
I did Not do this… and went to bed with fear gripping my chest. I scrolled Twitter until well after 1 a.m., silently freaking out as Clara dozed restlessly next to me. In hindsight, I should have read a new cookbook, sipped some herbal tea, and ignored my phone.
3:05 am: Check everything and everyone
Life lesson: Have a flashlight and a warm bathrobe ready.
I'm awakened by the bang of an exploding transformer. The house is black and the electricity is off. The wind is a howling wolf around the house. It's black outside, but I can see whitecaps on the lake. My apple tree is no more.
I check the windows and doors. The rain is coming in under the patio door, so I drop a couple of towels. I stay up for a while checking Twitter to see how people are doing in the hurricane.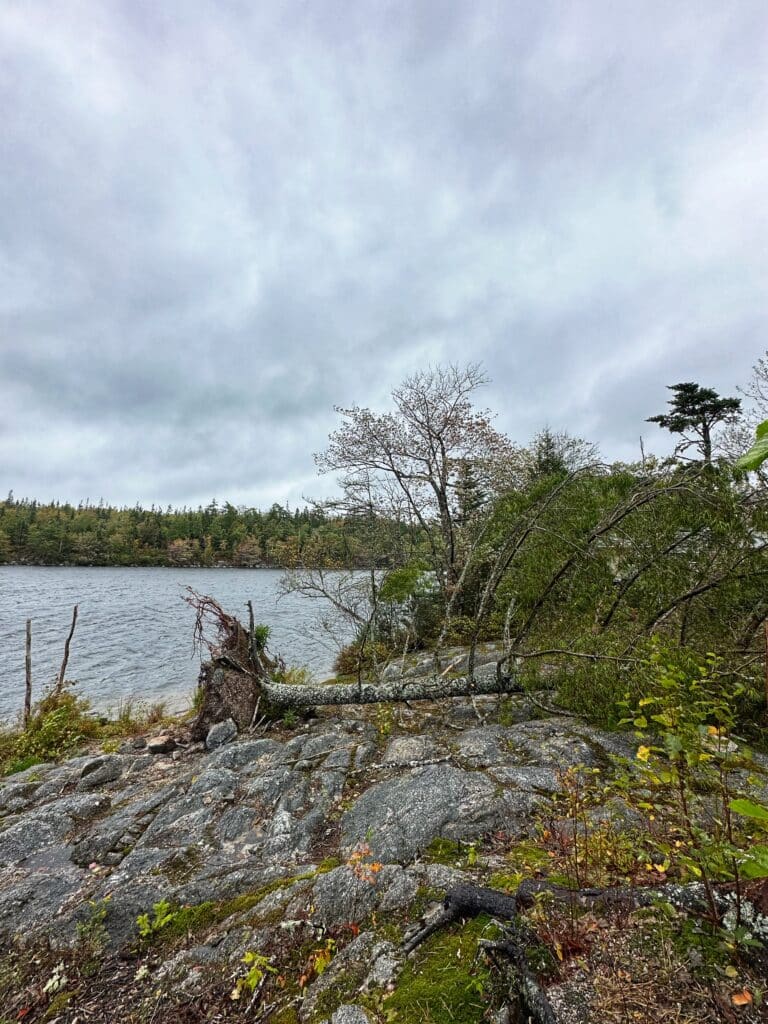 7:30 a.m.: Morning finally comes
Life Lesson: Make coffee before the storm and keep it in a thermos.
The dim morning light creeps in. We go from window to window to assess the damage. The power was off, but I pour hot coffee for Danny and myself from a thermos I made the night before. It's easier to face the damage when you've got a cup of coffee in hand.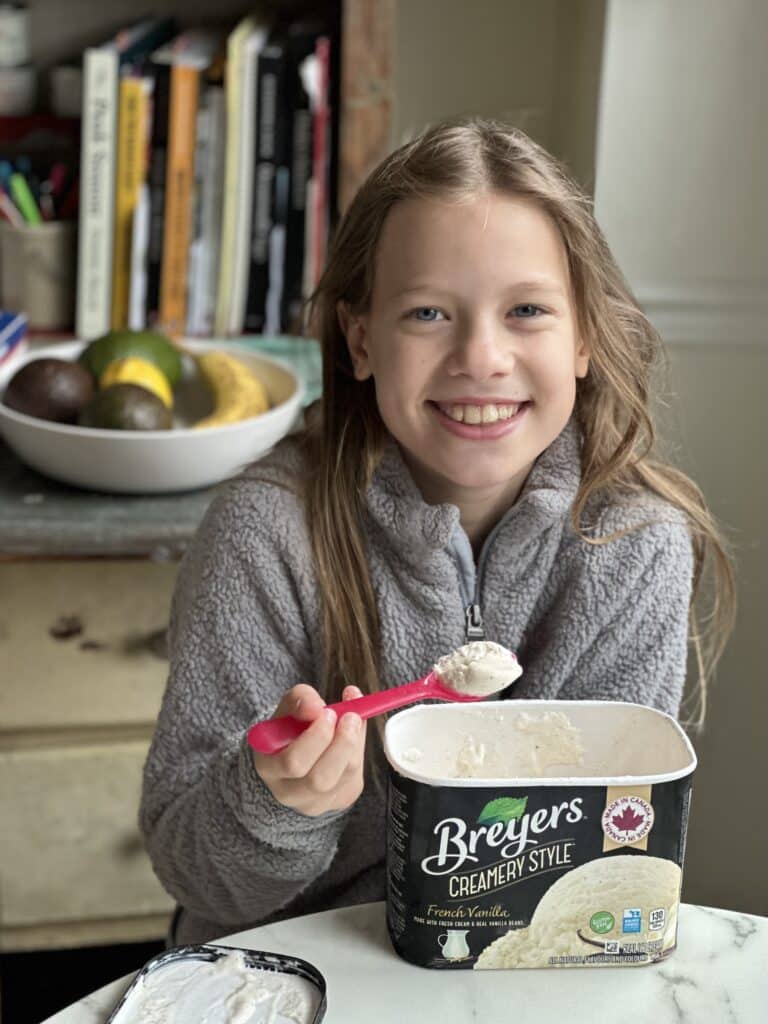 Clara has ice cream for breakfast because it always thaws first in a freezer in the event of a power failure. She is very happy about that!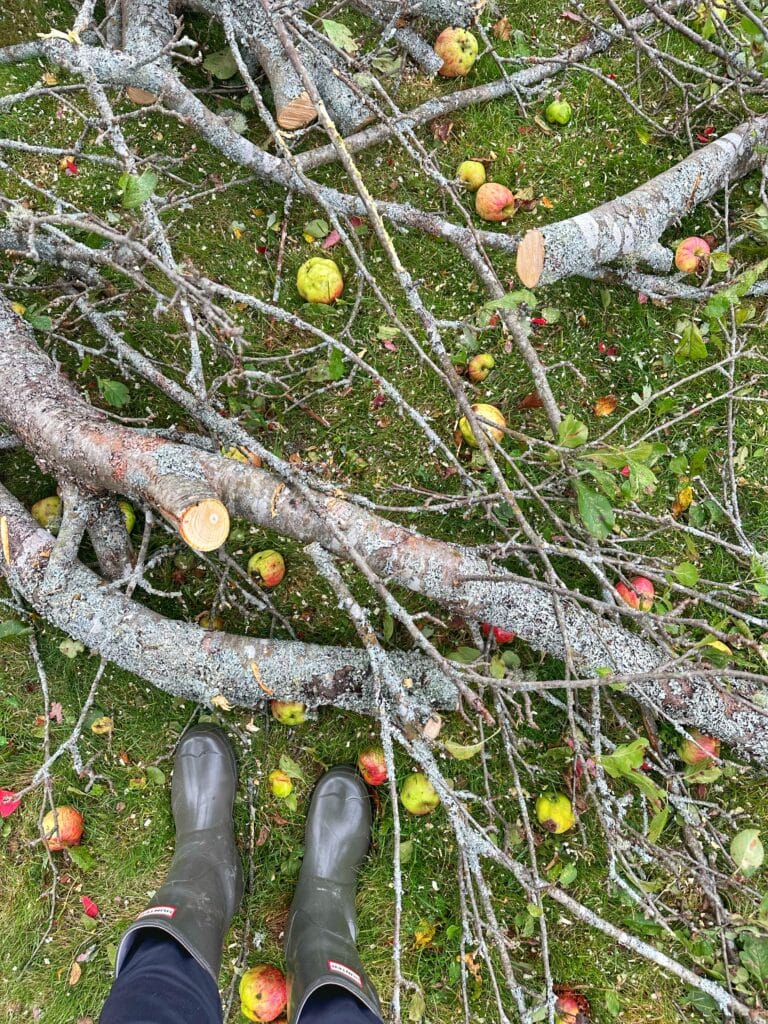 11:00 a.m.: Assessment of the damage
Life Lesson: Make sure you know your neighbors
When you tell the kids you're going to go pick all the apples… but really, it's just cleaning up after the hurricane. We lost several trees and spent most of the day clearing debris. Our nice neighbor offered his chainsaw service – thank God!
Lunch is cooked over a camp stove, and it's my Campfire One-Pot Mac & Cheese. My kids think I'm some kind of hero.
2:00 p.m.: Stay at home
Life Lesson: Have what you need to survive at home for a few days.
can i emphasize this After a natural disaster, do not leave home unless there is an emergency. Period. Keep the streets clear for emergency vehicles and cleaners.
After the hurricane passes, we spend an odd day with no power and limited cell service. Many cell phone towers were down and I can't even get local radio on my cell phone.
The neighborhood is filled with the sounds of chainsaws and generators punctuated by wailing sirens. So many sirens.
6:00pm: Cook dinner on the BBQ
Life Lesson: Have something essential to grill and share.
When the wind dies down and the rain stops, it's safe to fire up the outdoor grill. I have a giant ham that I'm cooking up in a Dutch oven on the grill (essentially this cider ham). We have seven people around the candlelit table that evening. I also pack up and send dinner to two neighbors.
TIP: Before a storm, stock up on grilled food—or at least enough for a feast. Our shops were closed for two days and there was nowhere to buy groceries. I was delighted with this ham!
8:05 p.m.: The Force returns
Life Lesson: Don't celebrate the return of the Force too soon
The power goes off and on a few times. We let the candles burn. We don't unpack the coolers or throw away the ice. Only when it has been running for a good hour do I start the dishwasher and run a bath.
I check on friends and family one more time while I charge my phone. Then I open a bottle of wine (the first drink of this natural disaster), cut myself a piece of cake and disappear to my room for the night.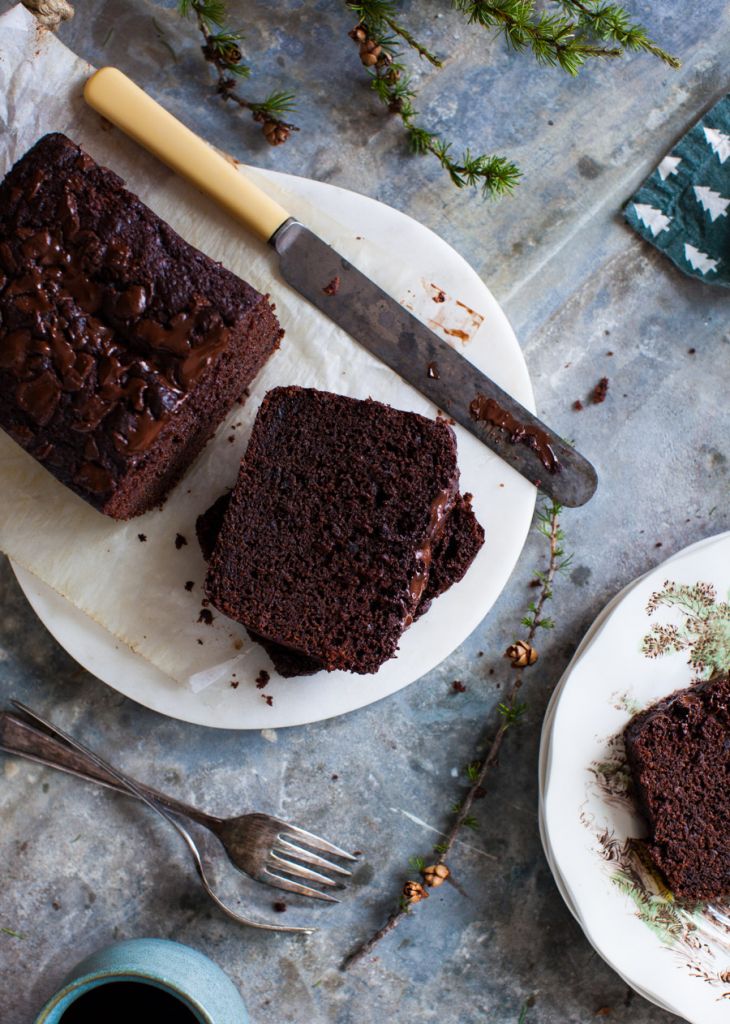 Why you should always bake before a storm
Let's get back to the part about cake. The day before the hurricane, I baked my Apple Cider Lebkuchen Bundt cake. Sitting on a cake stand under a newly renovated glass dome, it felt oddly soothing. Anyway, we're going to have cake.
Over the next two days, I cut up this cake, wrapped the pieces in wax paper, and gave them to family, friends, and neighbors. It's the least I can do – and it feels so good to do something.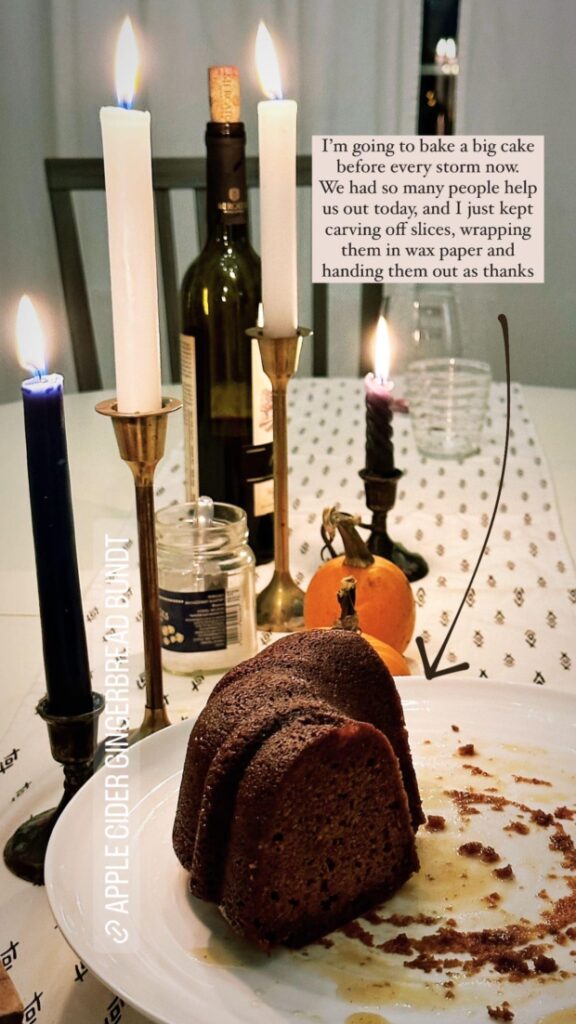 2 slices went across the street to the neighbors who brought us more hot coffee in the morning.
3 slices went to my teenage girlfriend's family to keep her happy. (Plus, it was a good excuse for him to go over and check on them.)
2 slices went to the neighbor who showed up with a chainsaw and ripped through our fallen trees.
3 discs for the friends who stopped by to check on us.
The last 2 slices went to the family along with a bag of ice cream to help them through the dark hours without electricity.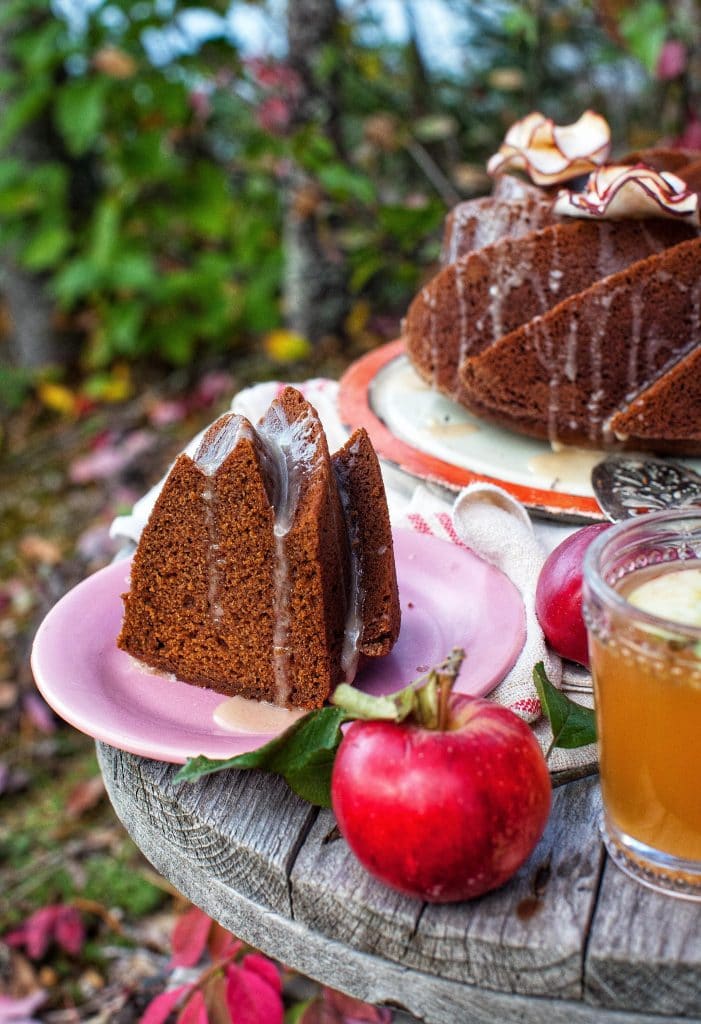 Make it a counter cake
Well, not just any cake is suitable for your disaster preparedness. First, You specifically want a cake that doesn't need to be refrigerated. We lost power for 16 hours and we barely cracked the door of our fridge. We had almost no loss of food.
So, while my feed-a-crowd chocolate cake is delicious, this dreamy cream cheese frosting is Not Ok to stay out for 2 or 3 days. No, you need a "counter cake" or "snack cake", as they have been coined in recent years. Here are some examples: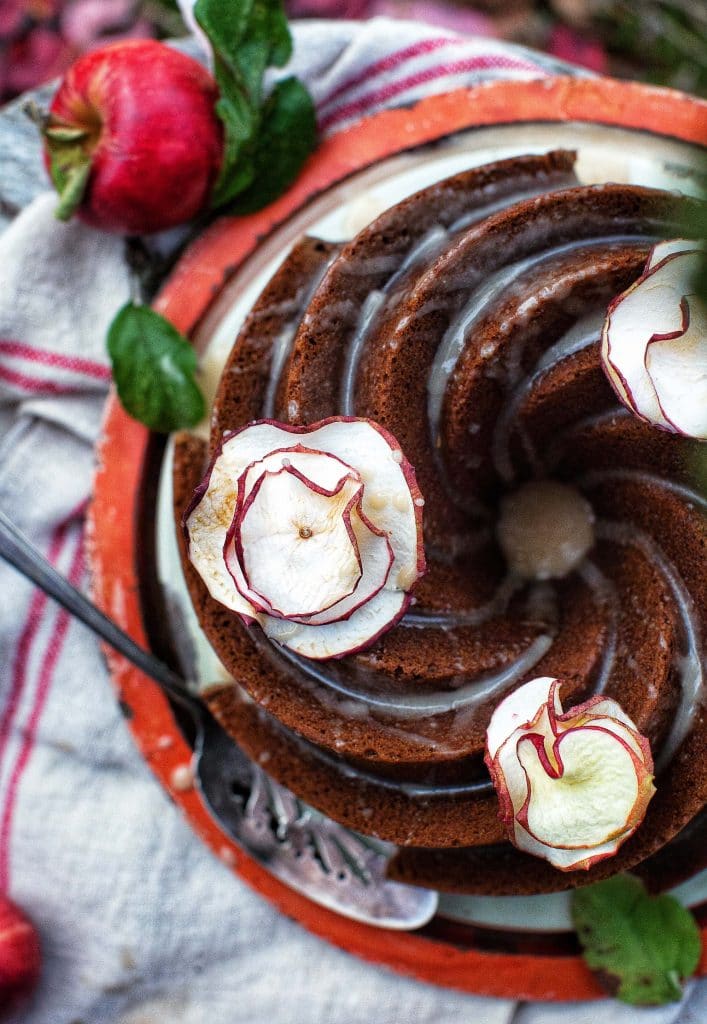 Choose a cake that gets better with age
Since you bake that storm cake long before inclement weather, it needs to be able to sit around for a while…and still tastes incredibly good when you give it away to the neighbors.
There must be a few cake recipes in any home baker's repertoire where the flavors deepen and improve with age. Yes, that's one thing! They are usually dark, heavily spiced cakes or sweet breads that contain molasses or chocolate.
Rest assured that I did the test and these are the cakes that are even better on the second or third day.
Thanks for reading my post-hurricane forays – I'm profoundly weary. I hope you will always bake before a storm or take something else from this story.
.And a heartfelt thank you to everyone who messaged and checked in with us during the hurricane. You truly are the greatest readers of all time.