This post contains affiliate links for which I may earn a commission (at no additional cost to you) if you make a purchase. As an Amazon Associate, I earn on qualifying purchases. Please see my disclaimer for more information.
This Apple Cinnamon Breakfast Smoothie is the perfect way to start your day! It's a healthy, green, vegan smoothie that's quick and easy to make.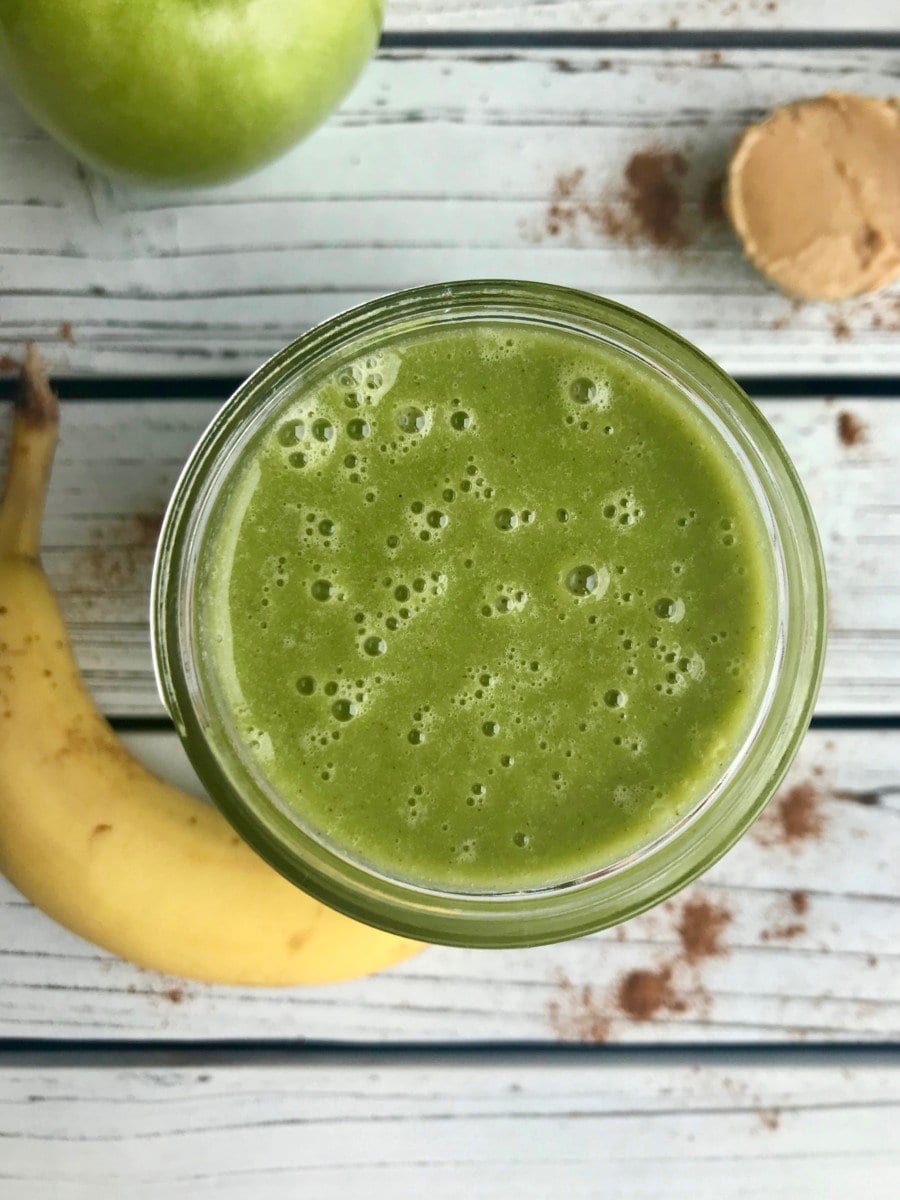 It can be very difficult to make a quick and nutritious breakfast in the morning.
I totally get it.
You're running, trying to get out the door, and maybe that sugary granola bar is all you have time to grab.
BUT, with just a few more minutes, you can make this delicious cinnamon apple breakfast smoothie. You can even prepare the ingredients the night before and pour your smoothie into a sealable cup to take in the morning!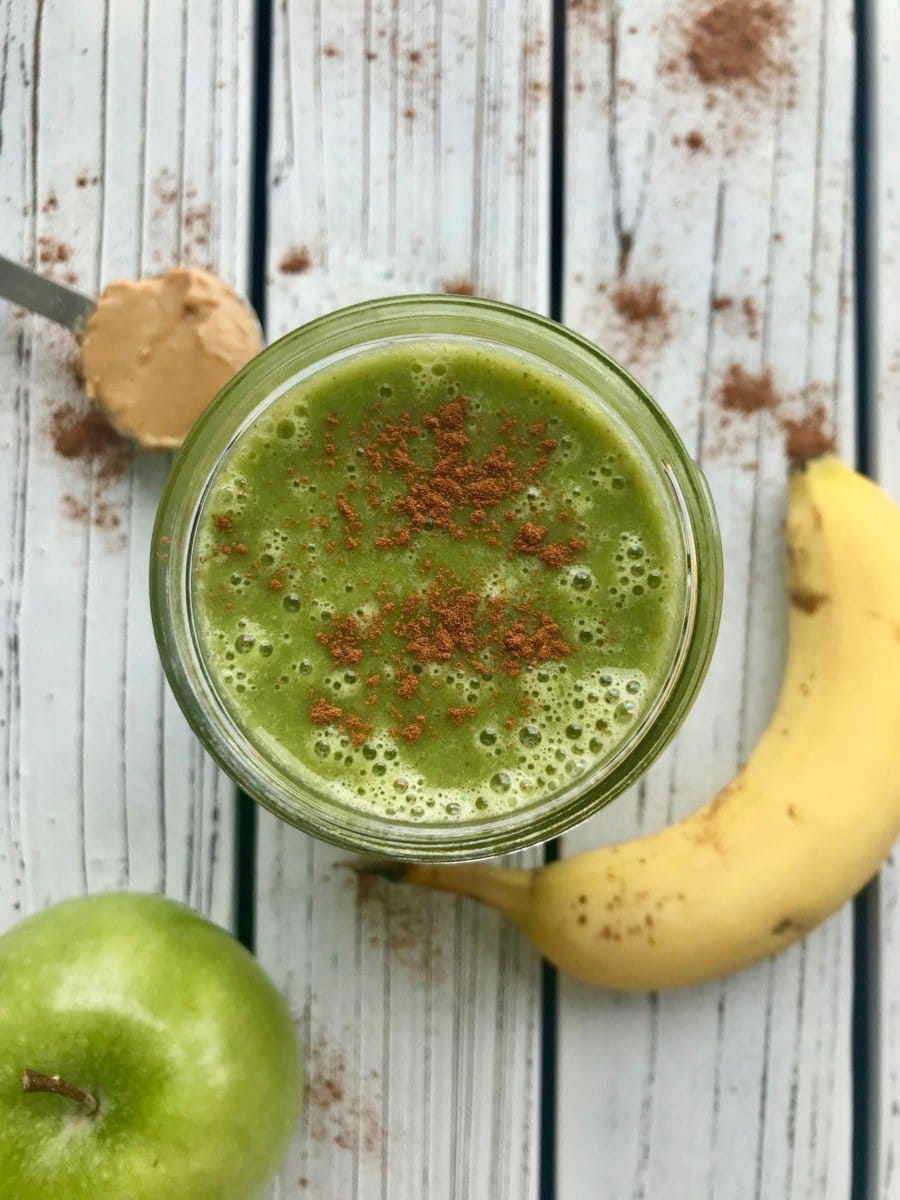 This smoothie is:
Perfect for breakfast
easy to do
green
healthy
vegan
What you need for this breakfast smoothie
This apple cinnamon breakfast smoothie is packed with nutrients. Here are the ingredients:
water
Spinach
Frozen banana
Granny Smith apple
maple syrup
Peanut butter
cinnamon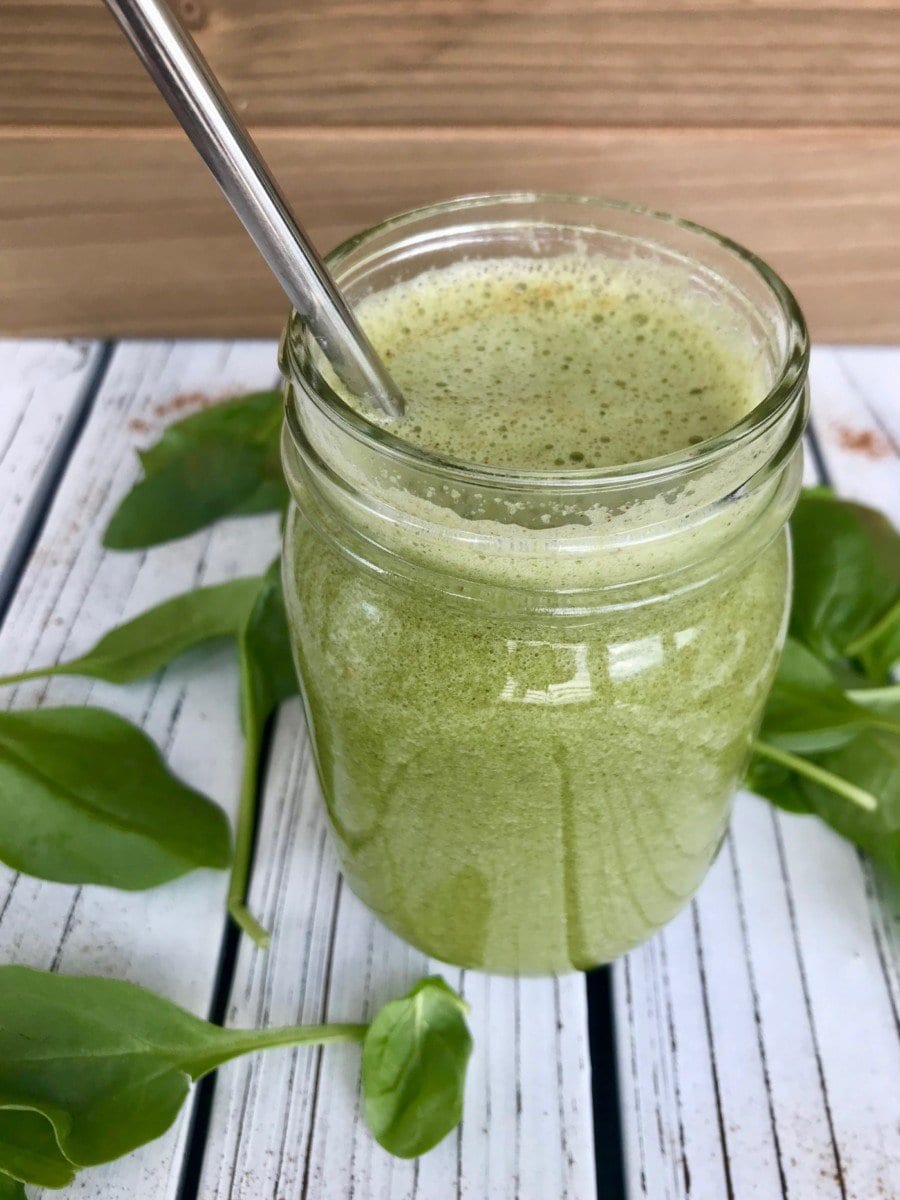 Preparing the ingredients
Be sure to freeze the banana ahead of time. You could use a thawed banana, but your smoothie wouldn't be as thick. I would also recommend adding ice to chill your smoothie if you are not using a frozen banana.
Before you freeze the banana, you should cut it into several pieces. How many pieces really depends on the power of your blender. If you have something like a Vitamix, blending large pieces will probably be fine, but for many blenders, smaller pieces of frozen fruit will work much better. If using small slices, be sure to place them in a container lined with parchment paper to separate each layer before freezing. Skipping this step could cause the banana slices to stick together during the freezing process and it could be difficult to separate them when you need them for your smoothie.
If you want to make this smoothie quickly in the morning, I also recommend slicing the apple the night before. You can peel it if you want a smoother texture, but I leave the peel on to add nutrients like fiber, vitamin A, and vitamin C.
Check out these other vegan smoothie recipes:
[convertkit form=988610]
Check out the recipe below for this delicious Apple Cinnamon Breakfast Smoothie!
Apple cinnamon breakfast smoothie
Rations: 1 milkshake
Calories: 339.68kcal
Ingredients
1

cup

water

1

cup

spinach

1

frozen banana*

1

granny smith apple**

(chopped)

2

teaspoon

maple syrup

1

spoon

peanut butter

¼

teaspoon

cinnamon
Instructions
Start by mixing the water and spinach.

If you don't have a very powerful blender, add the frozen banana and blend.

Add the rest of the ingredients and mix until smooth.
notes
*It's best to freeze bananas in chunks so they blend more easily.
**You can peel the apple if you want. I left the peel on to add nutrients, but make sure you wash it well if you do.
nutrition
Calories: 339.68kcal | Carbohydrates: 66.13g | Protein: 6.65g | Fat: 8.89g | Saturated fat: 1.88g | Sodium: 113.95mg | Potassium: 888.42mg | Fiber: 9.33g | Sugar: 43.35g | Vitamin A: 2986.9UI | Vitamin C: 27.07mg | Calcium: 55.88mg | Iron: 1.64mg