barley saladPacked with fresh juicy tomatoes, crunchy cucumber and chopped parsley is a healthy and filling summer salad. Serve as a side dish or as a main course salad.
Recipe overview

Why you will love it: The salad is simple and uncomplicated. It's holding up well so you can keep making it.
How long does it take: 15 minutes (boil the barley beforehand and let it cool down)
Equipment you will need: Bowl
Servings: makes 8 cups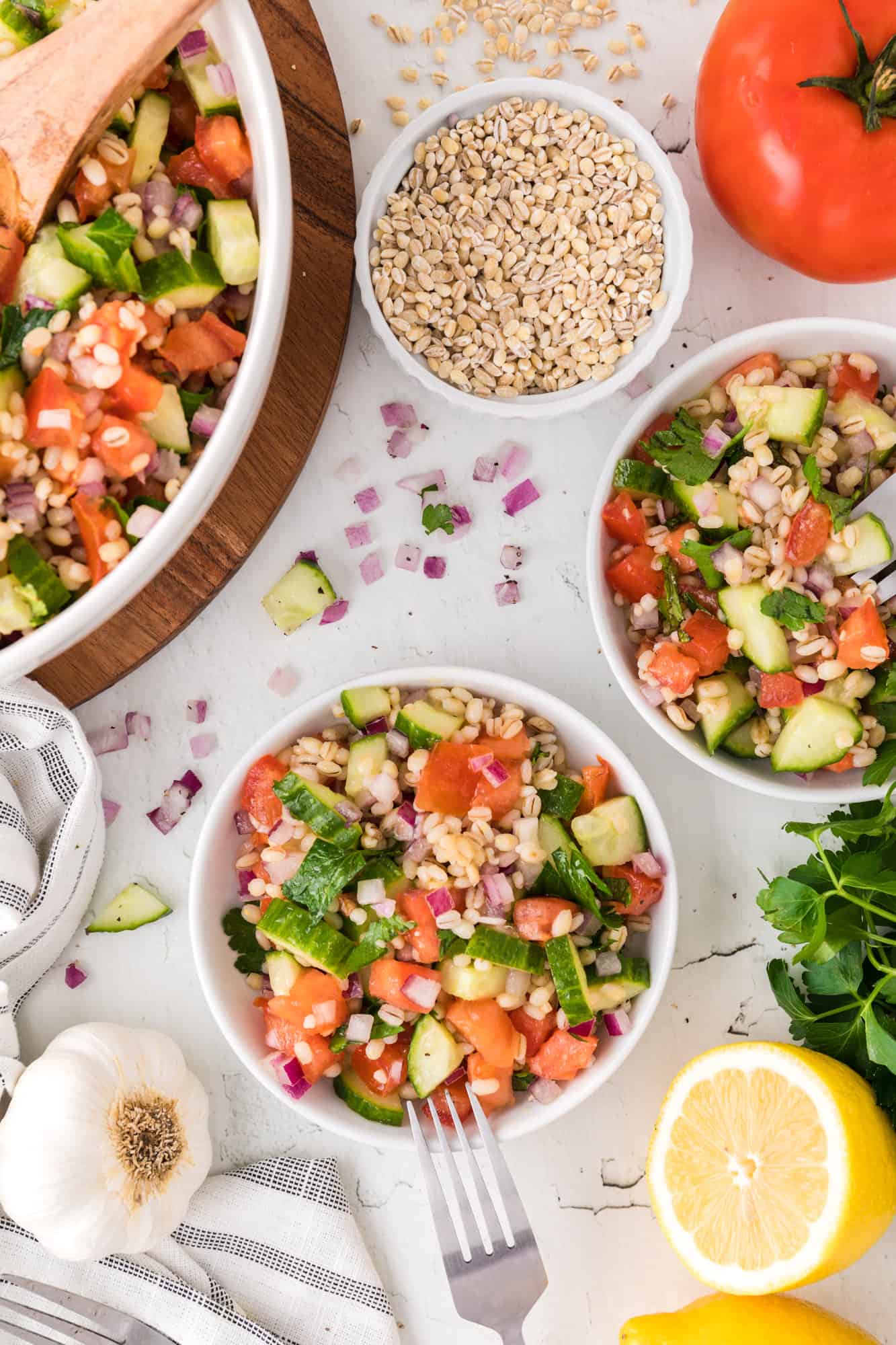 Lunchtime can be a bit chaotic and gets scarce at times. To avoid the stress of lunch, I prepare a large bowl of salad so my lunch is already prepared and waiting for me in the fridge.
Whether you have young children at home, take your lunch to the office, or just don't have time to prepare lunch, you'll appreciate having a healthy, filling salad ready to go.
I'm always on the lookout for main course salads that keep well. Lentil salad with feta, lemon and parsley or vegan quinoa salad with Brussels sprouts and pepitas are some of my favorites because they are filling and easy to prepare ahead of time.
I love Mediterranean-style salads like this chopped Greek salad or the Fattoush salad with simple vinaigrette dressing and lots of fresh herbs. This barley salad packs some of the same elements for a filling, healthy lunch or light dinner. It can also be served as a hearty accompaniment to grilled meats.
Why You'll Love This Barley Salad
Filling and healthy: Thanks to high-fiber barley, your stomach will feel full. It has a nutty flavor and chewy texture (I like Bob's Red Mill Pearl Barley).
Flavorful: This salad has a great fresh Mediterranean flavor with cucumber, tomato and parsley, finished with a light dressing of lemon juice and olive oil.
Holds well: Barley salad will keep in the fridge for up to three days. Pack it in individually sized containers for lunch to go.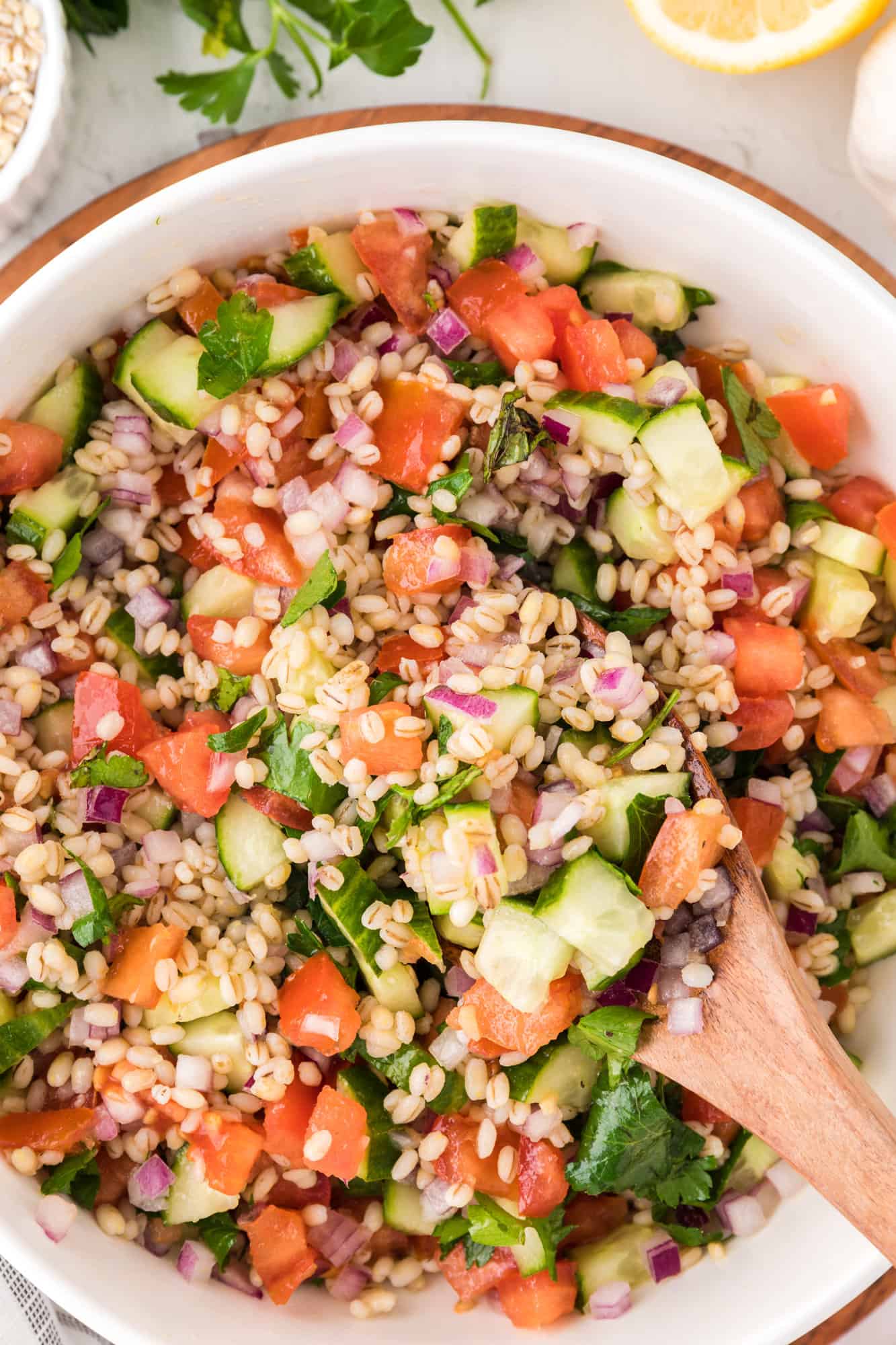 ingredients you need
Barley: Boiled barley forms the basis of this whole grain salad. I usually use pearl barley because it's more common and cooks faster than other types of barley (see the FAQ section below for more info on this grain). You will need 1 cup of uncooked barley, which makes 4 cups of cooked barley. It can be prepared at least a day in advance.
Tomatoes: Dice some ripe tomatoes, or if they're not available, cherry or grape tomatoes will do. Be sure to cut them in half so they can absorb some of the dressing.
English cucumber: This cucumber variety has a tender skin that is edible. The dark green skin provides additional nutrients and looks more attractive in the salad. Other types of cucumbers that do not require peeling, such as Persian cucumbers, salad cucumbers, greenhouse cucumbers, etc. work well.
Red onion: Any type of sweet onion is fine, but I prefer red onions in most salads because they look attractive and have a crunchy texture. To remove some of the hot onion flavor, soak the diced onions in ice water for 10 minutes and drain well before adding to the salad.
Fresh parsley: Flat leaf parsley (Italian parsley) has a stronger flavor and is easier to chop than curly parsley. You'll need a good handful of these; Don't skimp on the parsley because it adds so much flavor and color.
Fresh mint: You will love the touch of fresh mint. It's a subtle undertone that really enhances the salad.
Extra Virgin Olive Oil: For the most flavorful salad, it's important to use high-quality olive oil for the vinaigrette dressing. The bonus? Olive oil has many health benefits as it is rich in monounsaturated fats and antioxidants.
Freshly squeezed lemon juice: Look for lemons that feel heavy for their size because they contain a lot of juice. Fun Fact: Lemons that are at room temperature yield more juice.
Garlic: Start with a small clove, finely chopped or pressed through a garlic press. If you are a garlic lover, feel free to add more. If you prefer a more subtle garlic flavor, substitute a pinch of garlic powder.
Kosher salt and coarsely ground black pepperto flavor the vinaigrette.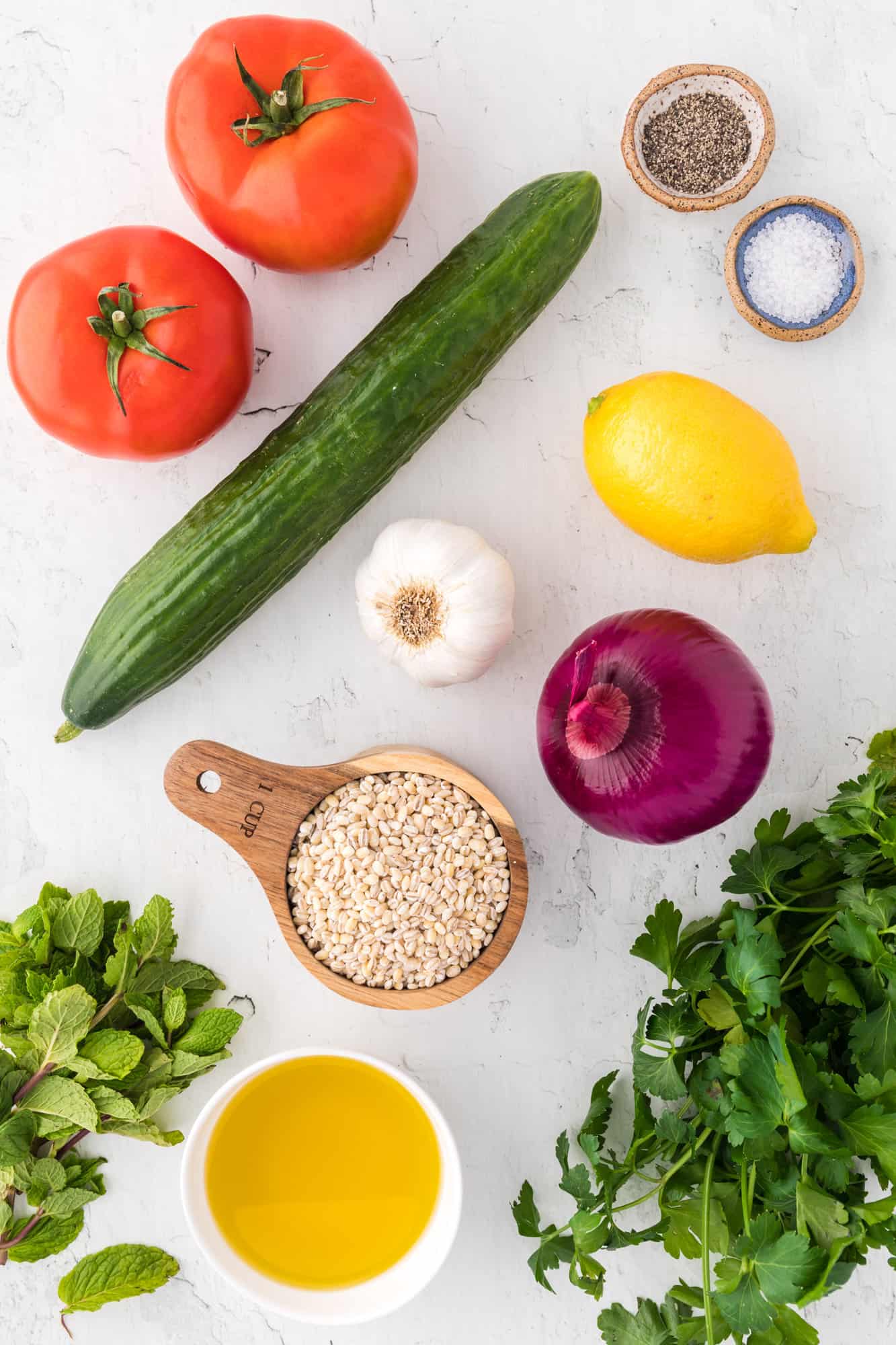 How to make barley salad
Cook the barley according to package directions and allow to cool to room temperature before preparing the salad. To speed up the cooling process, spread the cooked barley on a sheet or tray.
In a large mixing bowl large enough to hold the salad, whisk together the olive oil, lemon juice, salt, and pepper.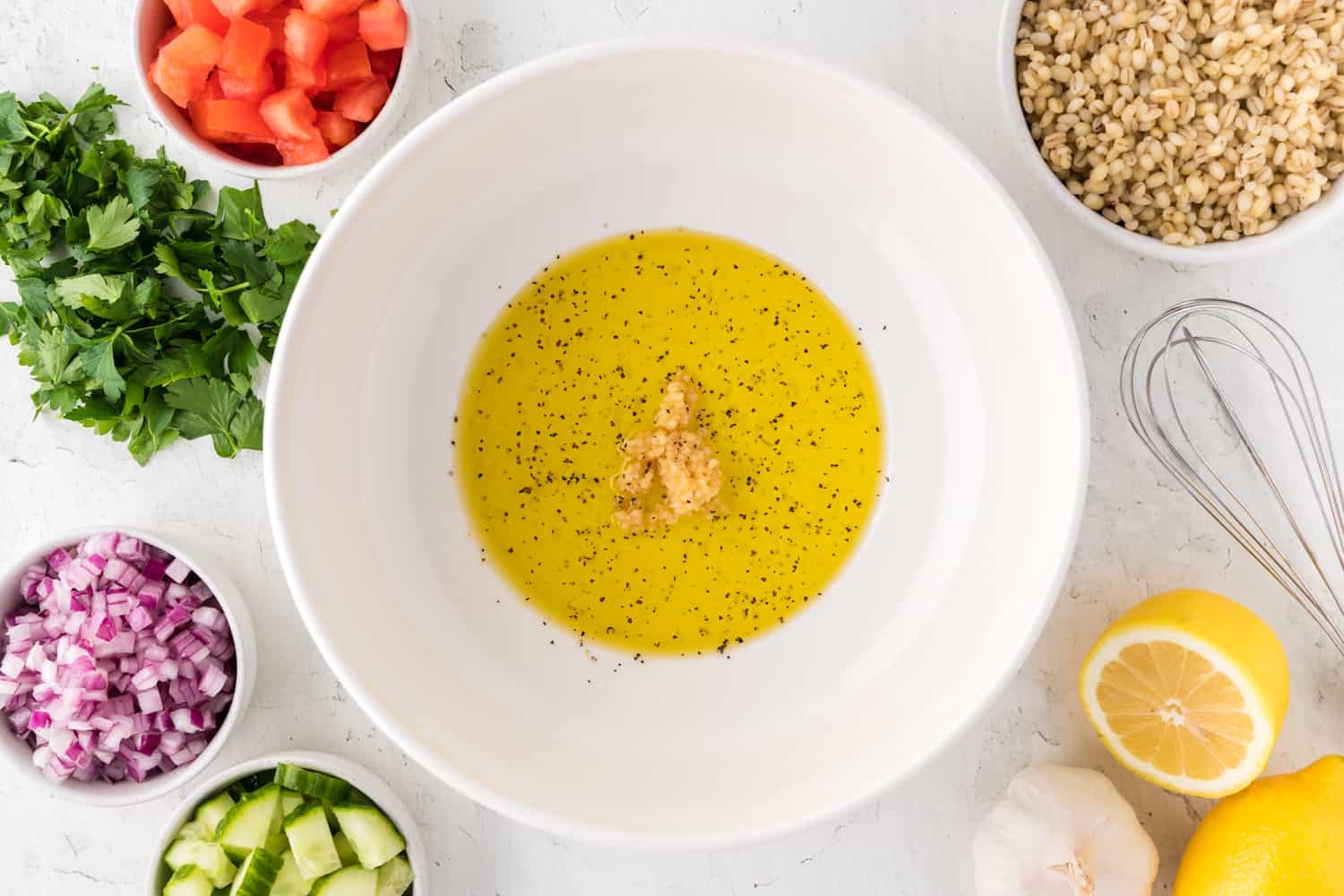 Stir in the barley until coated with the dressing.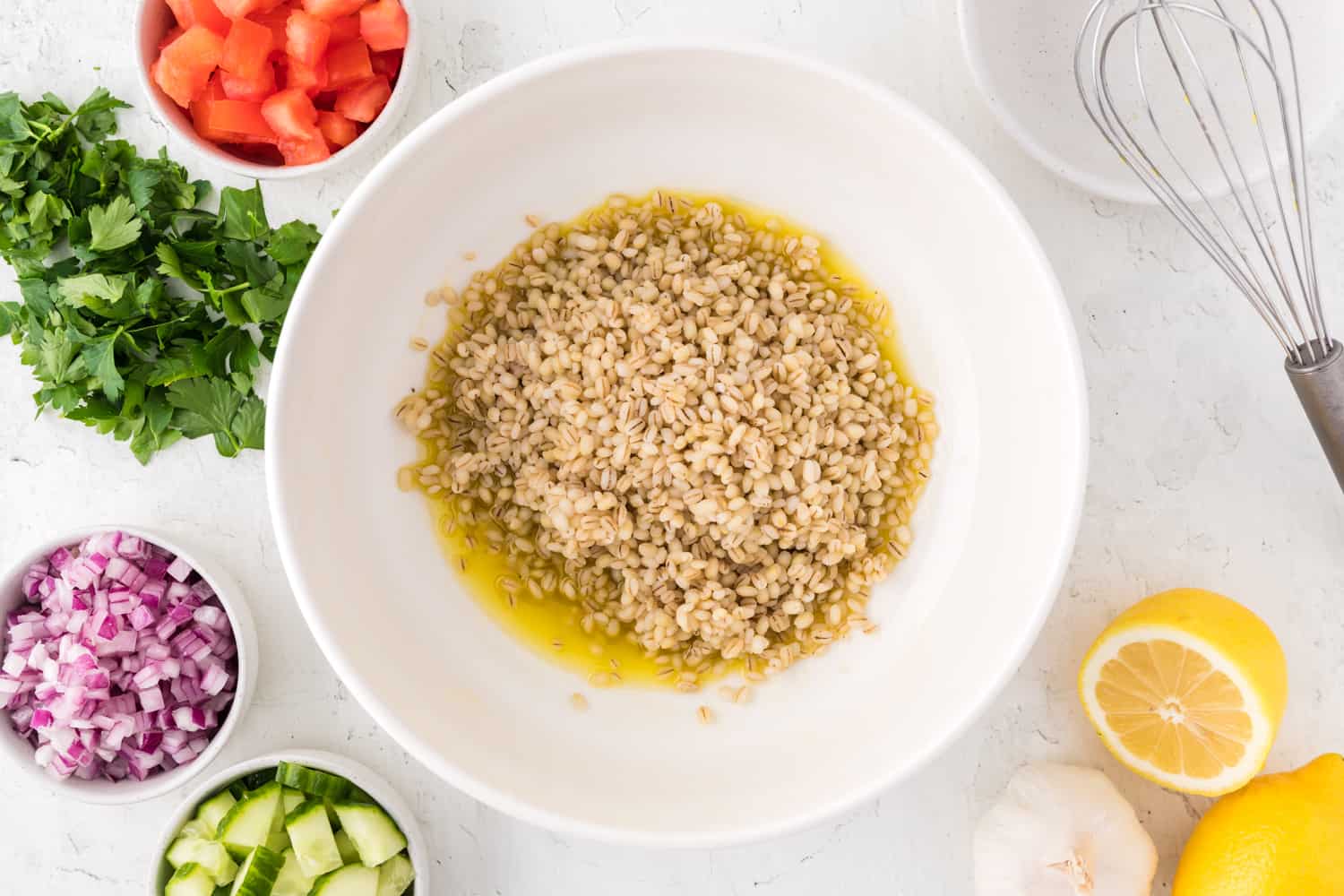 Prepare the tomatoes, cucumbers and red onions. Add them to the bowl along with the chopped herbs.
Stir gently, making sure the salad is well mixed.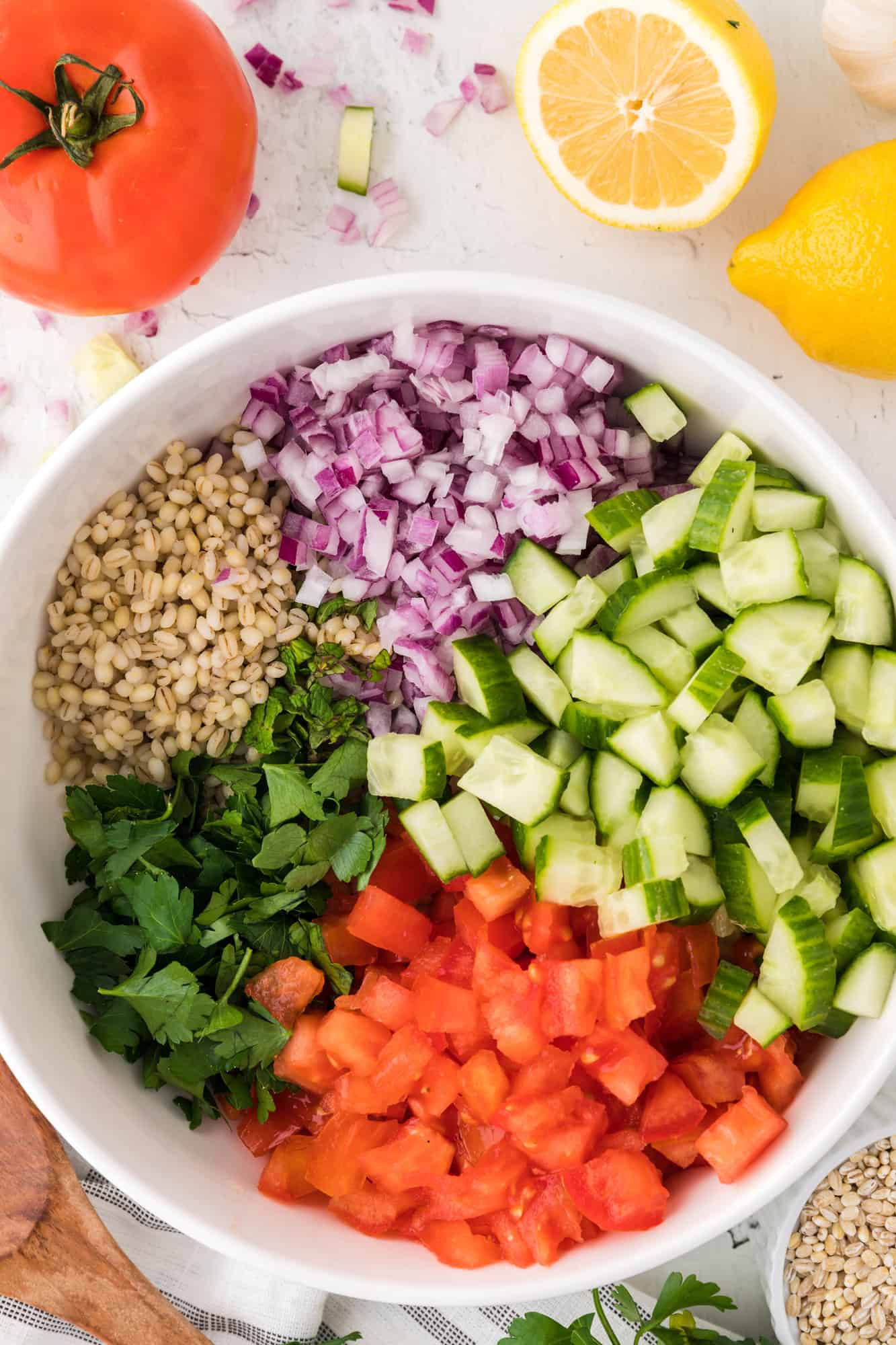 Serve immediately or keep in the fridge for later.
FAQs
Is barley healthy?
Barley contains 6.5 grams of fiber and 4 grams of protein per 1-cup serving (at least that's what my internet research tells me). Barley also contains many important minerals (healthline).
Which is better: peeled barley or pearl barley?
Hulled barley is considered a whole grain because it undergoes minimal processing. Pearl barley is polished, a process that removes part of the husk. It's healthier than some refined grains because the fiber is distributed throughout the grain, leaving some bran behind even after processing.
Pearl barley products can vary: the whiter the barley, the more polished it is.
You can usually find pearl barley in grocery stores. It cooks faster than peeled barley and is therefore more popular (Whole Grains Council).
How to store uncooked barley

Barley is a whole grain that can be stored in a glass or plastic container for up to a year. For long-term storage, and especially in warm weather, keep it in the fridge or freezer to keep the oils from going rancid. It is not necessary to thaw it before cooking.
Change it
add protein. Add chickpeas (chickpeas) or crumbled feta cheese for an extra protein boost. Chopped roasted almonds, pine nuts or pepitas combine with protein and fiber for a nice crunch.
Substitute for quinoa. If you're not a fan of barley or just have some quinoa around the house, you can use this salad to make quinoa salad instead of barley. The bonus? Quinoa cooks faster than barley.
Add more vegetables. You can easily replace or add vegetables to this salad. Try cherry tomatoes instead of chopped tomatoes. Peppers, radishes, or chopped onions are great options.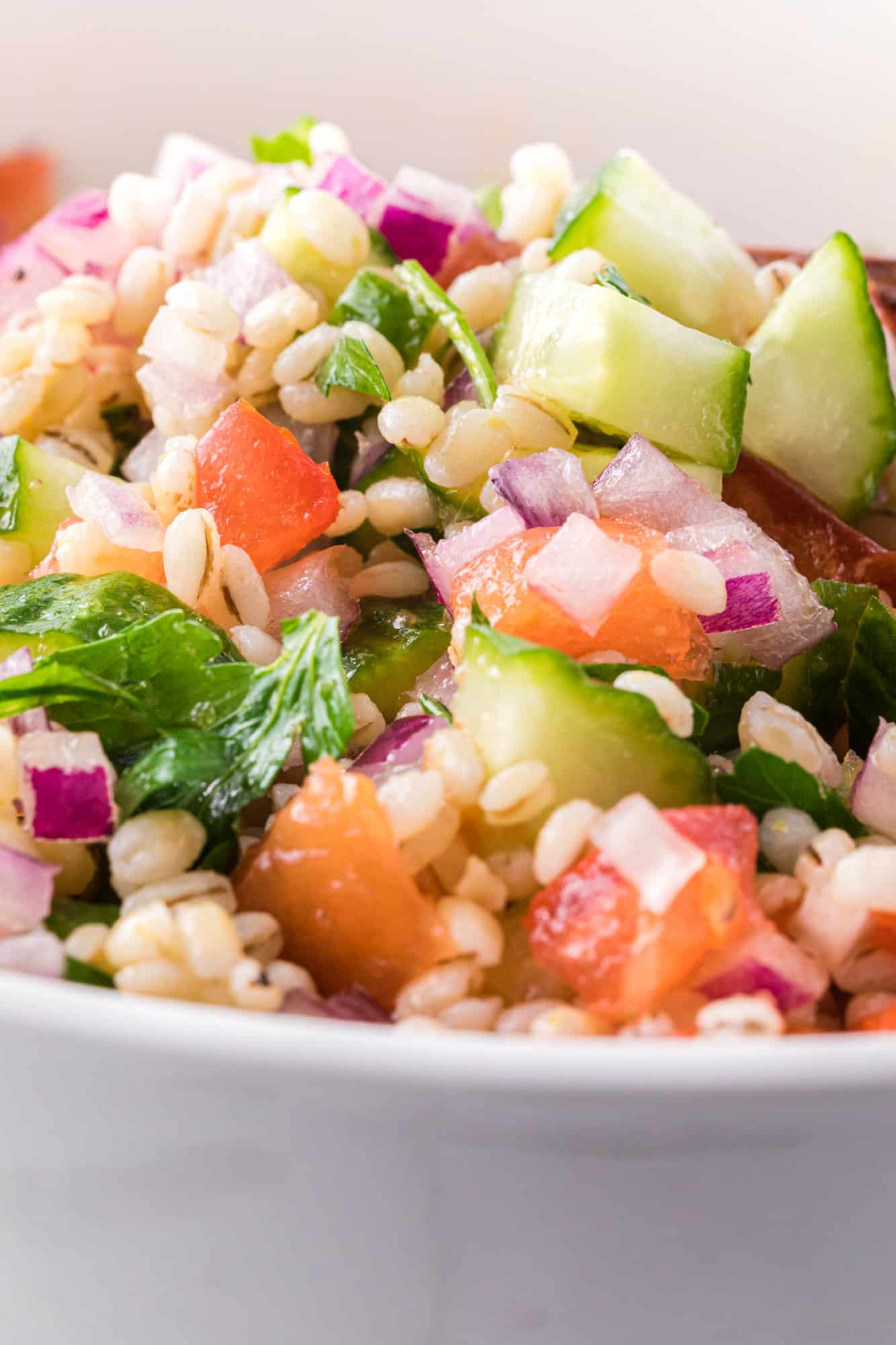 Make an idea in advance
Since the barley needs to be cooked and cooled before assembling the salad, cooking the barley ahead of time is a real time saver. Cooked barley can be refrigerated for three to five days or frozen for up to two months.
storage tips
Store the salad in an airtight container in the refrigerator for up to three days. I like to pack it in small containers that are easy to transport for lunch to go.
Did you do this? Be sure to leave a review below and tag me @rachelcooksblog on Facebook, Instagram or Pinterest!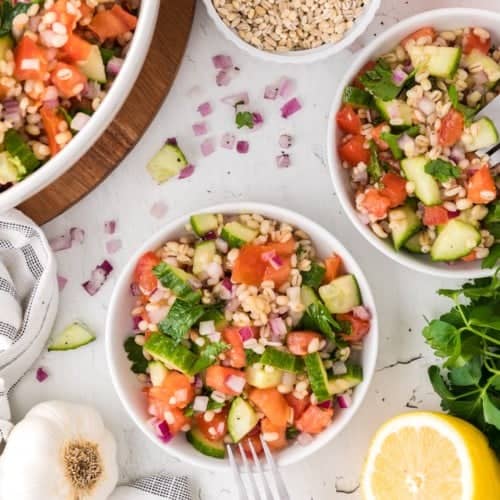 8th Side dishes
Prevent your screen from going dark
Barley Salad with fresh juicy tomatoes, crunchy cucumber and chopped parsley is a healthy and filling summer salad. Serve as a side dish or as a main course salad.
instructions
Cook pearl barley according to package instructions. Let cool for at least an hour or overnight.

In a large bowl, whisk together the vinaigrette ingredients: olive oil, lemon juice, garlic, salt, and pepper.

If necessary, fluff up the barley with a fork and separate into pieces. Pour into the bowl with the vinaigrette; Stir gently to combine. Add tomatoes, cucumbers, onions, parsley and mint to bowl; fold to combine. Taste and season if necessary.

Serve immediately or refrigerate overnight (see note).
Remarks
If you wish, you can cook peeled barley instead of pearl barley. Peeled barley is whole grain and takes longer to cook. Follow the package directions.
This salad will keep in the fridge for up to 3 days.
Barley tends to soak up the dressing if you make this salad ahead of time. Add additional dressing if needed, or reserve half of the dressing and stir in before serving.
Optional toppings: crumbled feta cheese, chickpeas (rinsed and drained), toasted almonds, pine nuts, or pepitas.
Nutritional Information
Portion: 1Cup, Calories: 176kcal, Carbohydrates: 27G, Protein: 3G, Fat: 7G, Saturated Fatty Acids: 1G, Polyunsaturated fat: 1G, Monounsaturated fatty acids: 5G, Sodium: 226mg, Potassium: 272mg, Fiber: 4G, Sugar: 2G, Vitamin A: 662IU, Vitamin C: 14mg, Calcium: 27mg, Iron: 2mg
Approximate nutritional information is provided on this website for convenience only. Nutritional data is collected primarily from the USDA Food Composition Database (where available) or other online calculators.