This braised Beef stew recipe it's so easy and so melt-in-your-mouth! It truly is the ultimate comfort food!
Be sure to try our beef stew recipe with short ribs and juicy beef stew.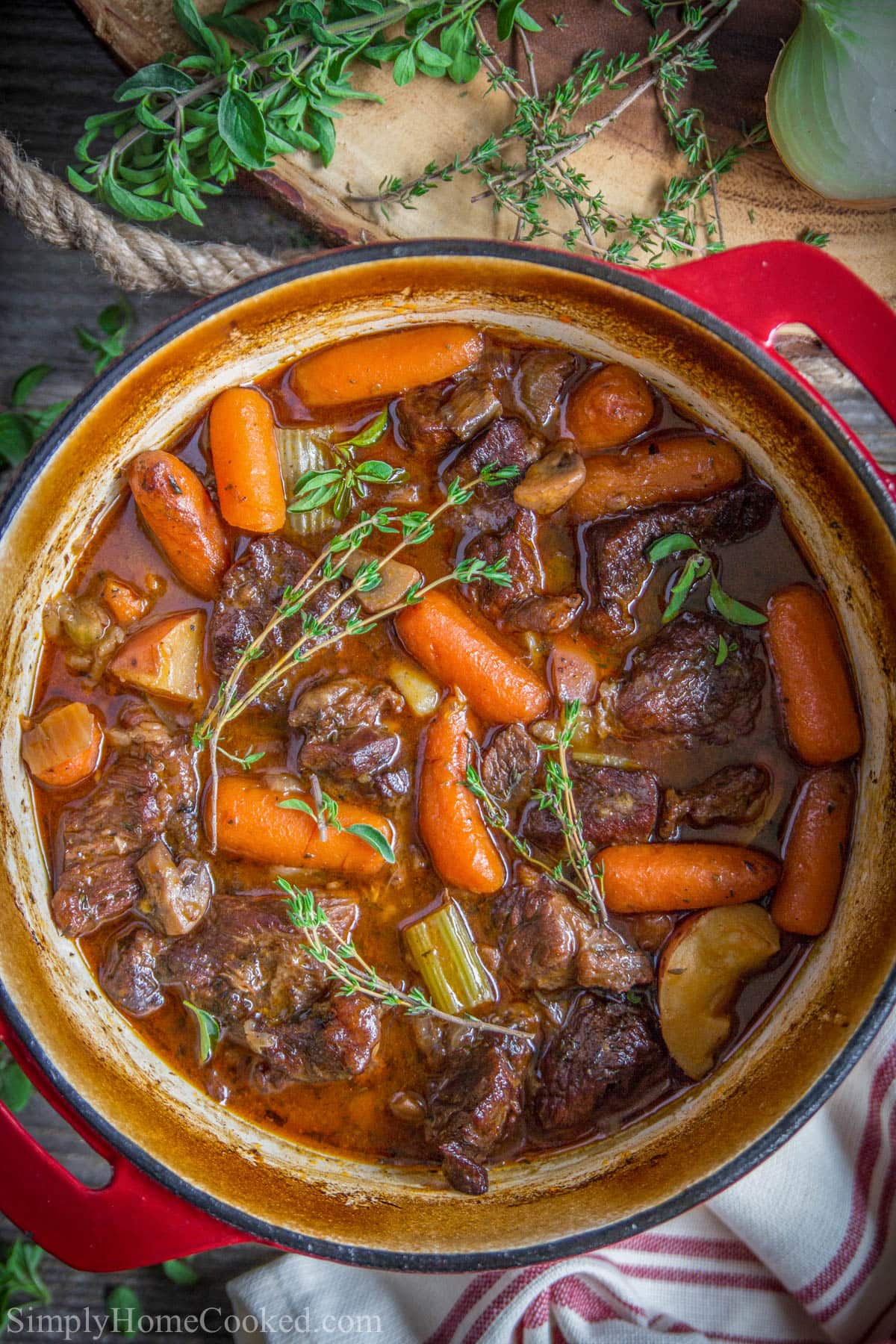 Table of contents
recipe details
At this time of year I prefer to serve home cooking. And this beef stew is the definition of hearty and filling comfort food, perfect for cold weather.
TASTE: Caramelized beef that is hearty and flavorful is paired with red wine and plenty of fresh herbs. This beef stew tastes absolutely delicious.
TEXTURE: It's made with succulent beef, tender veggies, and a thick broth that makes it so filling.
TIME: This recipe takes 2 hours and 45 minutes.
EASE: This is a really simple dish. You can use kitchen basics, make it a crock pot, and even cook it in the slow cooker so you can set it and work on other things.
what you will need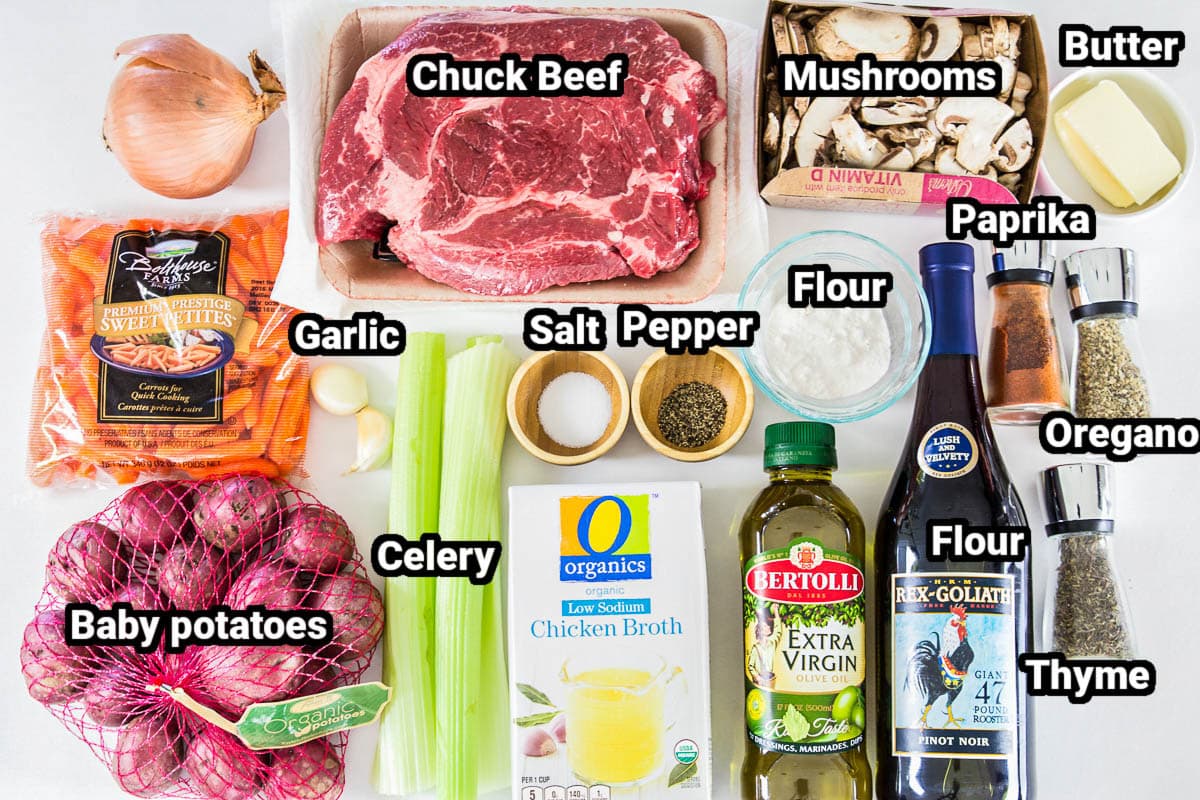 Notes on ingredients
Beef- You can use any cut of meat you prefer, but I like to use chuck roast because it's high in collagen and is a good slow cooker meat.
Vegetables- We use potatoes, mushrooms, onions, carrots, celery, and garlic to add great flavor and a bit of texture to the stew. The potatoes also add starch to thicken the broth.
herbs + spices Paprika, oregano, thyme, salt, and black pepper are great flavor enhancers. The fresh tasting herbs are a good complement to the savory flavors of the feeling.
Chicken soup- This provides the liquid for the beef stew. It gives a pleasant taste and thickens well.
flour + butter These combine to form a roux, which is combined with the broth to thicken it.
Red wine- The alcohol cooks off as the beef stew simmers, but it adds a rich flavor that's really delicious in this dish.
Add-Ins and Substitutions
Make it in a slow cooker- If you prefer to make this Braised Beef Stew recipe in a slow cooker, don't forget to brown the beef. It imparts great flavor and locks in juices for the long cooking process.
Substitute another cut of beef If you can't find chuck, you can also make this recipe with short ribs, sirloin, oxtail, or brisket.
Make it allergy friendly- This is a simple dish that can be used to avoid allergens. Just replace the butter with a plant-based version and use gluten-free flour.
skip the alcohol- If you don't want to use alcohol, you can skip this ingredient and just add extra broth. Or you can use a non-alcoholic red wine so that the taste is present without any trace of alcohol.
How to make beef stew
Braise the beef. First you want to stew or brown the cuts of beef in a large Dutch oven over high heat. Then remove the braised beef chunks and save for later.
Cook onion and garlic. In the same pot, sauté the chopped onion and chopped garlic until translucent.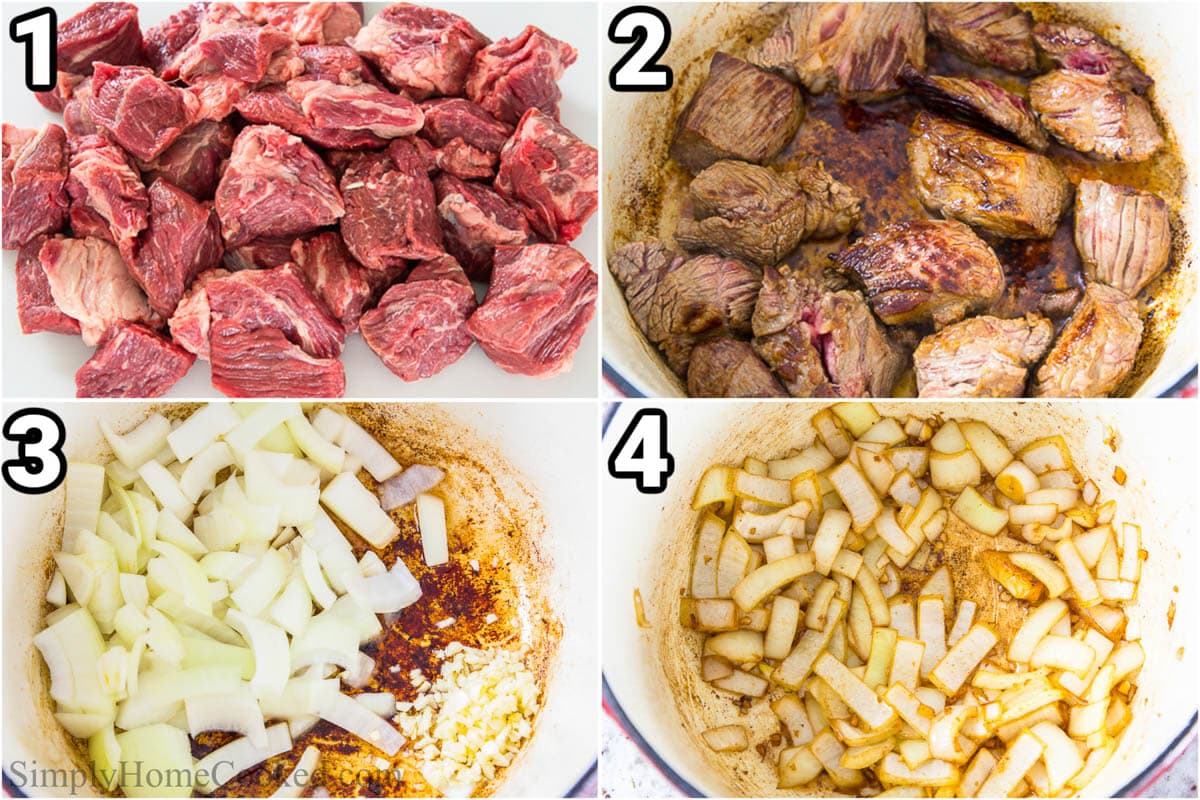 Add mushrooms and spices. Now add the sliced ​​mushrooms and cook. Then add the spices and let them simmer for about 2 minutes.
Add the remaining vegetables and beef. Next, add the celery, carrots, baby potatoes, and reserved braised beef cuts.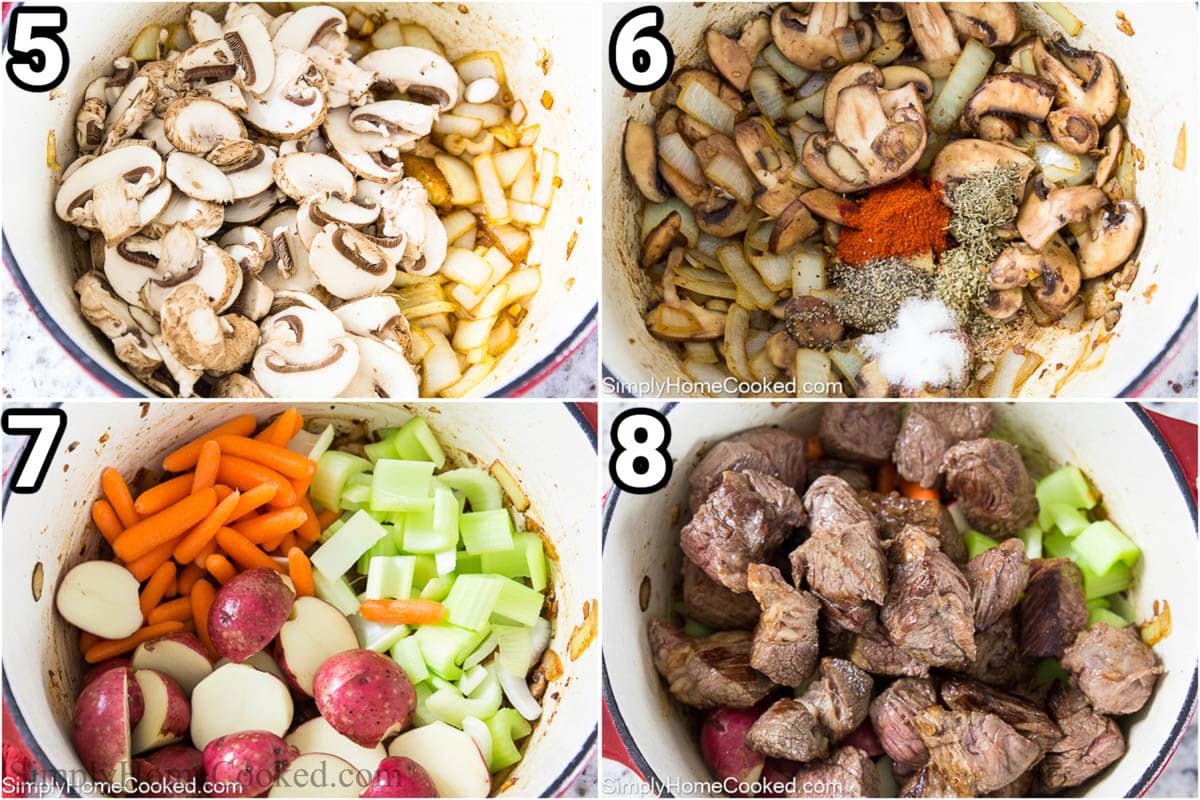 Pour in wine and bring to the boil. Add the red wine and chicken broth to the saucepan and stir. Now put the lid on and bring to the boil. Then cook the beef pot roast in the oven at 320 degrees Fahrenheit for 1 hour.
Make a roux. Meanwhile, mix the softened butter with the flour using a fork.
Thicken the beef goulash. After the beef has cooked for an hour, add the flour and butter roulades to the saucepan and cook for another hour with the lid back on. Surcharge.
Pro Tip: Give the roux a good stir to fully incorporate it into the pot. You don't want chunks of flour in your beef goulash.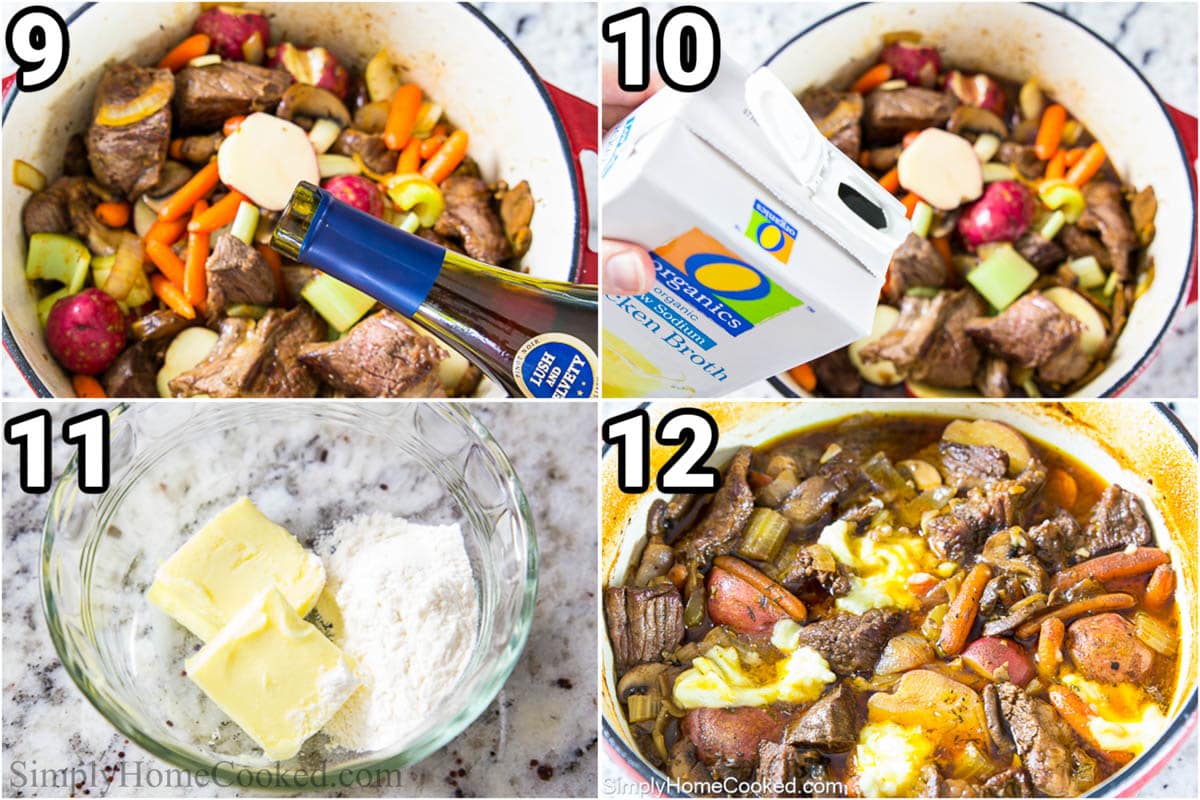 recipe tips
Cut the vegetables into similar sizes – When the ingredients are a consistent size, cooking will be more even throughout the cooking time. It also makes eating more enjoyable.
Don't make the cuts of beef too big- Whether you buy them pre-cut or make them yourself, it's important that they're roughly the size of the potatoes. Otherwise you don't get a little bit of everything on the spoon.
take it slow- Don't rush this dish. It takes time to break down the collagen that makes the meat tender and juicy. Cook it too fast and the muscle will become tough and tough.
Thicken beef goulash- If you like a thick beef stew, thicken the juice by mixing flour and softened butter in a small bowl and pouring directly into the stew. Then cover and cook for another hour.
frequently asked Questions
What's the secret to tender beef stew?
It is important to choose a good meat for your beef goulash, e.g. B. a roast beef. But the real secret is cooking it low and slow. Let the collagen break down by cooking the beef stew for at least 2 hours so it's nice and tender.
How long should you stew beef?
If you are preparing beef goulash in the oven, the cooking time should take about 2 1/2 hours. If you make it in a slow cooker, it takes 7 hours on low, 4 hours on high. If you decide to use the slow cooker, remember to sauté the beef chunks beforehand in a pan of hot oil over high heat, add the remaining ingredients (except flour and butter) and cook. Mix in the flour and butter sauce to thicken and cook on high for a further 30 minutes. Serve and enjoy!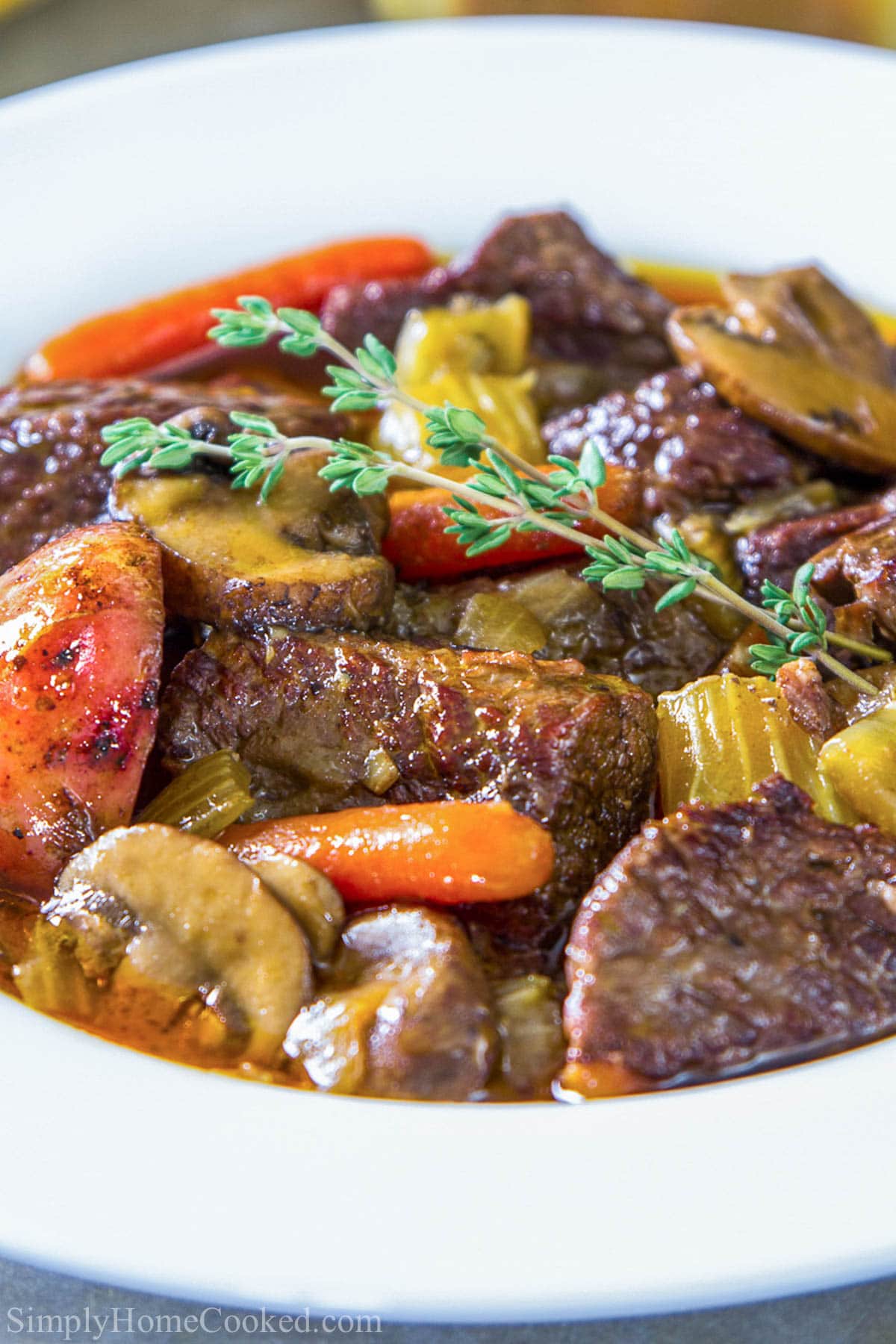 serving suggestions
Because this beef stew recipe is so versatile and complementary, it goes with anything. Here are some tasty ways to enjoy it.
salad: Start the meal off with a cucumber and radish salad, a spinach salad recipe, or a broccoli and cranberry salad.
Bread: Serve this beef stew with some focaccia bread, super soft brioche buns, cornbread muffins, or rustic bread.
Pages: Enjoy with a side dish like these scalloped potatoes, sautéed garlic asparagus, or crispy air fryer broccoli.
Dessert: End your meal with a cool-weather favorite, like Chocolate Creme Brulee, Tiramisu Cake (VIDEO), Pumpkin Cheesecake (VIDEO), or Homemade Apple Pie.
Make this recipe ahead of time
Get ahead: You can braise the beef ahead of time and keep it in the fridge until you're ready to cook it all together. Or you can make this beef stew and refrigerate after it has cooled to reheat later.
storage: Store in an airtight container in the refrigerator for up to 4 days.
Freeze: Freeze this beef stew recipe in gallon-sized ziplock bags for up to 3 months and thaw at room temperature. Then reheat in the microwave or oven.
More delicious stews and soups!
Do you love this recipe? Please leave a 5-star ⭐️⭐️⭐️⭐️⭐️ rating in the recipe card below ⬇️ and/or a rating in the comments section below.
Let's connect on social media! 😍 Find me on Instagram, Facebook, YouTube and Pinterest. And don't forget to tag me if you try any of my recipes!
Full Recipe Guide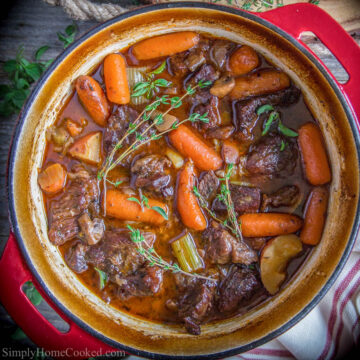 beef stew
The easiest and most delicious beef pot roast ever!
Print Pen rate
Servings: 10
Calories: 315kcal
instructions
Cut the beef into 2 inch pieces. Then add olive oil to a Dutch Oven Pot. Bring the heat up. Once the oil is almost smoking, add the beef chunks to the pot. Sear each side of the beef cuts evenly. Then remove from the pot.

Add the chopped onion and chopped garlic to the saucepan and stir over medium-high heat until the onion becomes translucent.

Add the mushrooms and stir until soft.

Then add 1/2 tsp thyme, 1/2 tsp oregano, 2 tsp paprika, 2 tsp salt and 1/2 tsp black pepper. Stir and cook about 2 minutes.

Place the celery, baby carrots, and red baby potatoes in the saucepan, then place the browned beef chunks on top. Give them a quick stir.

Pour in red wine and chicken broth.

Put the lid on the pot and bring it to a boil. Remove from the stovetop and place in a 320 degree Fahrenheit oven for 1 hour

Meanwhile, use a fork to mix 2 tablespoons softened butter with 2 tablespoons flour.

After the beef has cooked for 1 hour, add the butter and flour mixture to the saucepan and cook for another hour with the lid back on. This butter and flour mixture thickens the beef goulash liquids.
nutrition
Calories: 315kcal | Carbohydrates: 14G | Protein: 20G | Fat: 17G | Saturated Fatty Acids: 6G | Cholesterol: 70mg | Sodium: 668mg | Potassium: 714mg | Fiber: 2G | Sugar: 4G | Vitamin A: 6570ie | Vitamin C: 8.7mg | Calcium: 42mg | Iron: 3.1mg
This recipe was originally posted on January 31st, 2018, we've tweaked it a bit since then.