Start your day with this delicious superfood-packed blueberry smoothie recipe. Learn how to make the creamiest blueberry smoothie that will keep you full all morning.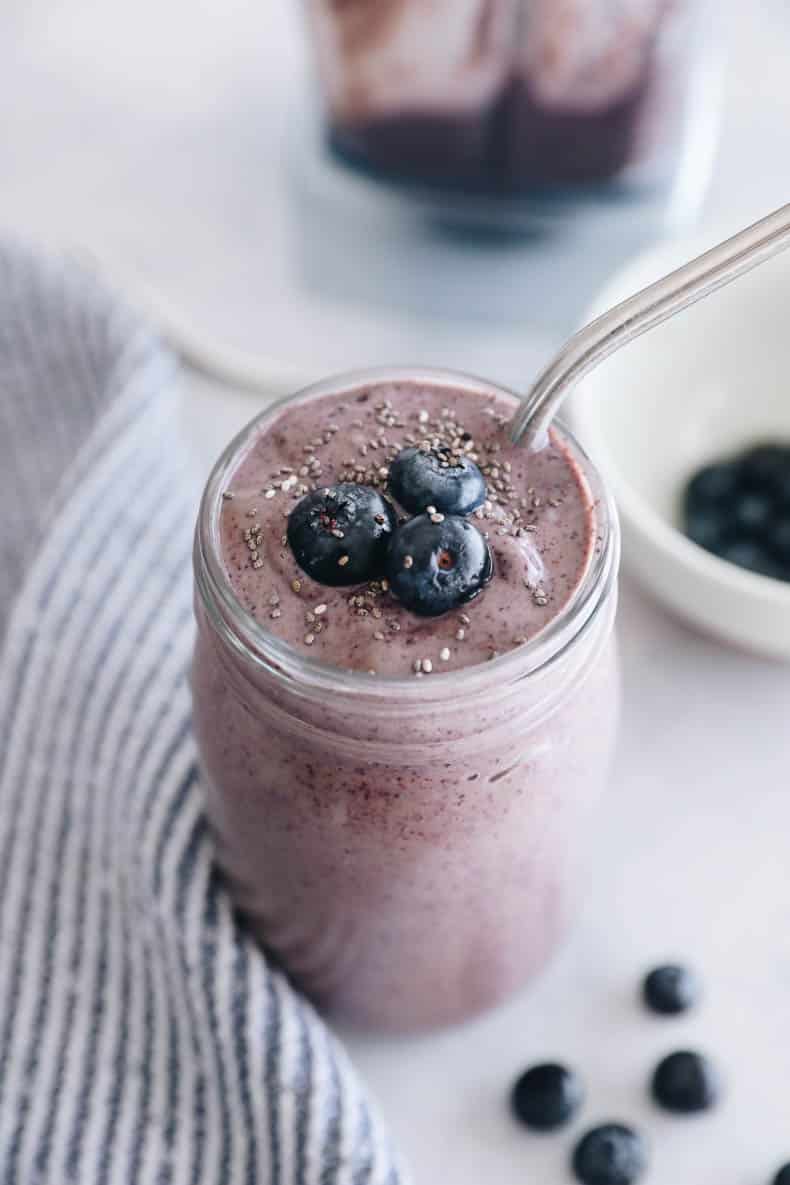 I mentioned in this post that my blueberry consumption has increased tenfold…in the middle of winter! Call it summer longing or maybe my 1 year old is obsessed but we've officially become a blueberry household! This blueberry smoothie has been repeated here lately. It comes together so easily, is packed with nutrients and my whole family is obsessed with it. I don't have to worry about what we're all going to have for breakfast because that's a group favorite.
You too will love this recipe!
Is a Blueberry Smoothie Good for You?
Yes! Blueberries are an incredibly powerful antioxidant superfood and mixed with all the healthy ingredients in this smoothie recipe I can promise you that this blueberry smoothie is a healthy addition to your diet.
This blueberry smoothie recipe has all the benefits of blueberries plus the healthy fats of avocado, the protein of protein powder, and the nutritional boost of spinach. For those of you who watch your sugar intake, blueberries are relatively low in sugar and you can omit the honey so no sugar is added either. If you're looking for a smoothie recipe that doesn't use a banana (or frozen banana), this blueberry smoothie recipe is for you!
Why start your day with a smoothie?
Honestly, I drink this blueberry smoothie every day. Not only do they taste amazing, but as I mentioned above, blueberry smoothies are good for you too!
Starting your day with a smoothie ensures you're getting a good dose of nutrients to fuel you through the morning (and the rest of the day!). Especially when paired with protein and fat, smoothies tend to have more staying power so you don't get a big sugar crash and hunger in the middle of the morning.
Ingredients in this blueberry smoothie recipe
Frozen Blueberries – I like to use frozen berries as they result in a creamier smoothie.
Ripe avocado – Avocado is the secret ingredient in this healthy blueberry smoothie! It adds a healthy dose of fat and keeps you full all morning while also giving it a creamy texture.
Protein powder vanilla – Combining your fruits with protein powder will help add more staying power to your smoothie. I like the ritual protein powder.
spinach – I use 1 cup (about 1 handful) of baby spinach. It doesn't affect the flavor but you do get a nice veggie boost. You can also replace it with kale.
coconut milk – I use the chilled kind (not the canned kind) but you can substitute any other non-dairy milk (almond milk, oat milk, rice milk, etc.) or even dairy milk if desired.
Honey – optional, but this adds a nice sweetness. You can also use maple syrup if you like.
Optional addons: Sprinkle with hemp seeds, chia seeds, or flaxseeds, which are great sources of fiber and omega-3 fatty acids.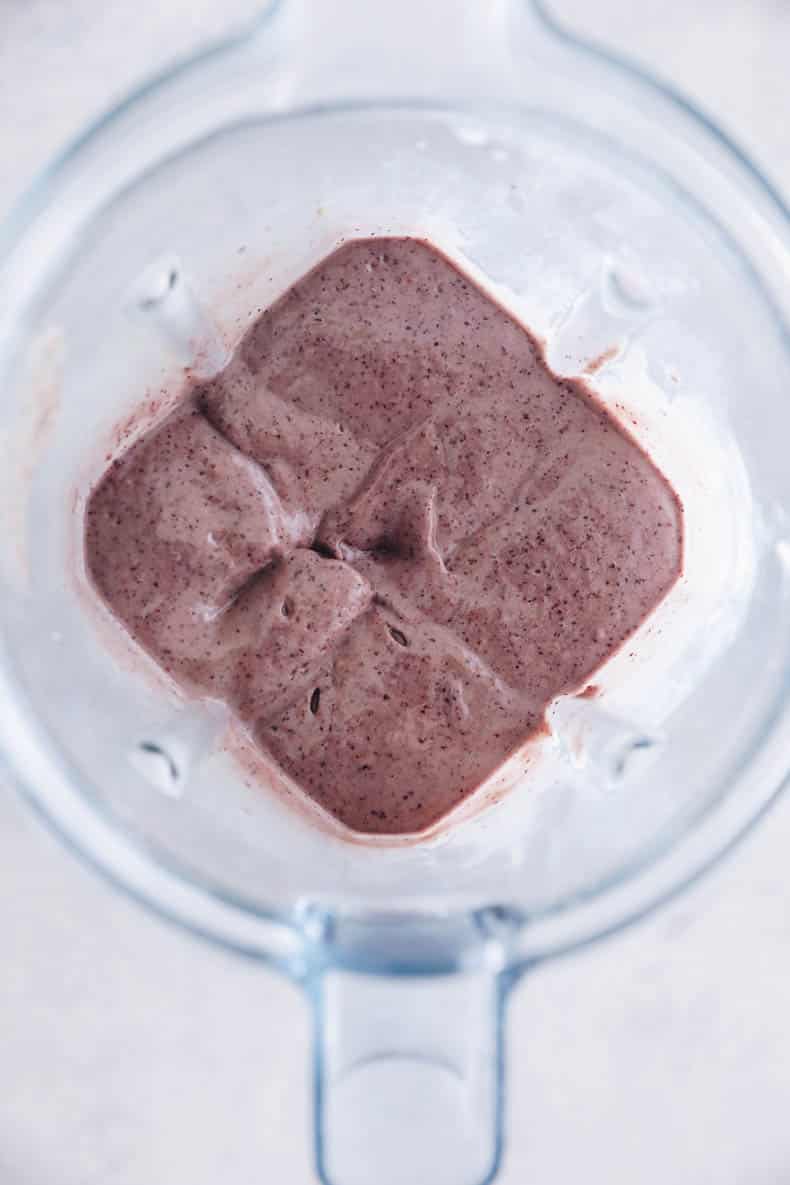 How to make the best blueberry smoothie
This blueberry smoothie recipe is pretty simple: add the ingredients to your blender and blend until smooth! But for my tips for making the best overall smoothies, here's what I suggest:
Use frozen fruit – Make sure your berries are frozen. Frozen fruit keeps your smoothie thick.
Try avocado – Don't miss out on the avocado! It helps thicken your smoothie.
Use protein powder – Almost all protein powders help thicken your smoothie.
Chia seeds – Chia seeds absorb liquid, so adding a tablespoon will help thicken your smoothie.
Try these smoothie variations!
I think this blueberry smoothie recipe tastes so delicious, but here are a few flavor enhancers you can add:
almonds – something like almonds + blueberries just tastes delicious. Add a scoop of almond butter, some crushed almonds, or even a teaspoon of almond extract.
Lemon peel – grate a whole lemon and put it straight into the blender! It gives it the true blueberry muffin flavor.
Cinammon – a pinch of cinnamon (or other spices) is always a good idea!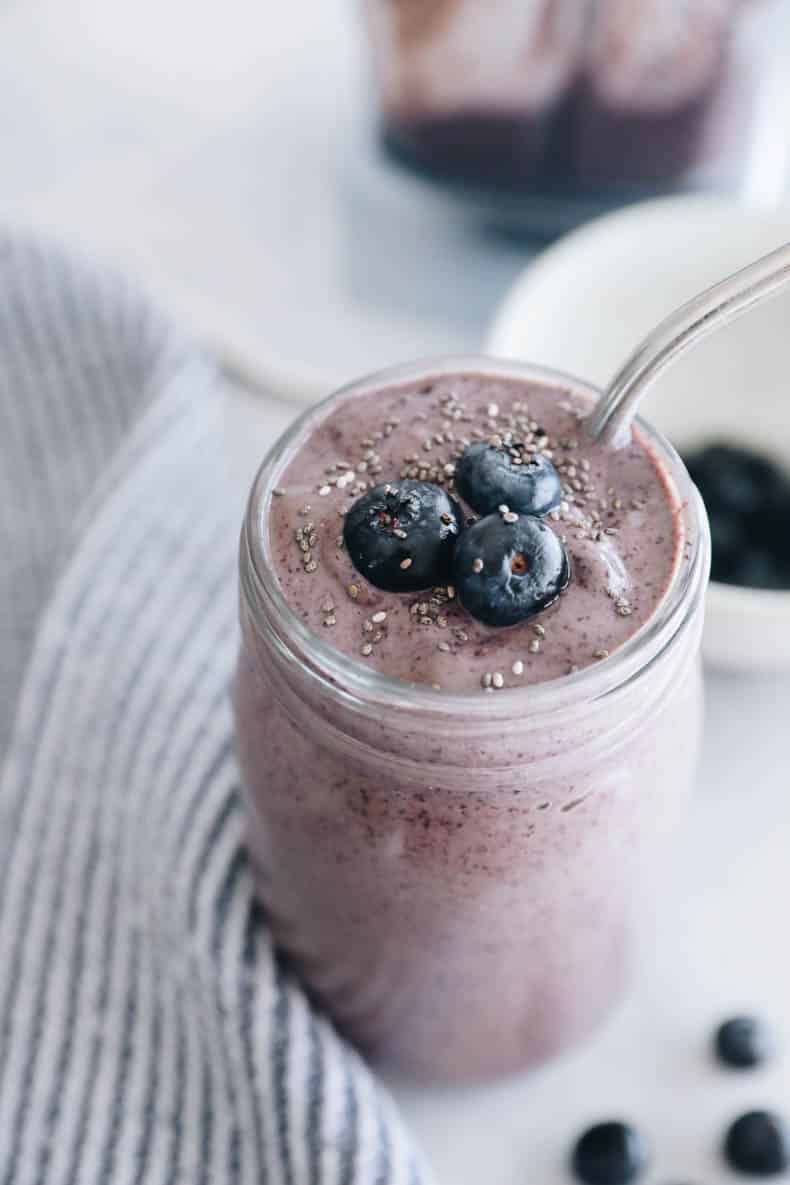 Frequently asked questions about smoothies
How long does this blueberry smoothie keep?
Honestly I would eat it in a heartbeat. I find that smoothies don't keep very well, but you can keep them in the fridge for a few hours if you need to.
Can I omit the honey/sweetener?
Yes! This blueberry smoothie recipe isn't too sweet, which is why I like to add some sweetener. However, if you like it a little less sweet or are watching your sugar intake, feel free to omit it.
Can I use other berries?
Absolutely! Instead of blueberries, other frozen berries or even other frozen fruits could work.
Can I omit the spinach?
Yes — you can definitely omit the spinach altogether, or substitute another green veg like kale.
More smoothie recipes you'll love
Press
Blueberry Superfood Smoothie
Start your day with this delicious superfood-packed blueberry smoothie recipe. Learn how to make the creamiest blueberry smoothie that will keep you full all morning.
Author: David Lederle
Preparation time:

2 minutes

Cooking time:

0 minutes

Total time:

2 minutes

Yield:

1

portion

1

X
Category:

Breakfast

Method:

mixture

Diet:

Gluten free
1 cup

frozen blueberries

1/2

a ripe avocado

1

Scoop vanilla protein powder

1 cup

spinach

1 cup

unsweetened coconut milk (or other plant-based milk)

1

–

2

tsp honey (if you don't like it so sweet, less)
optional: sprinkle with hemp hearts or chia seeds
Place all ingredients in a blender and blend until smooth.
Keywords: Blueberry Smoothie, Blueberry Smoothie Recipe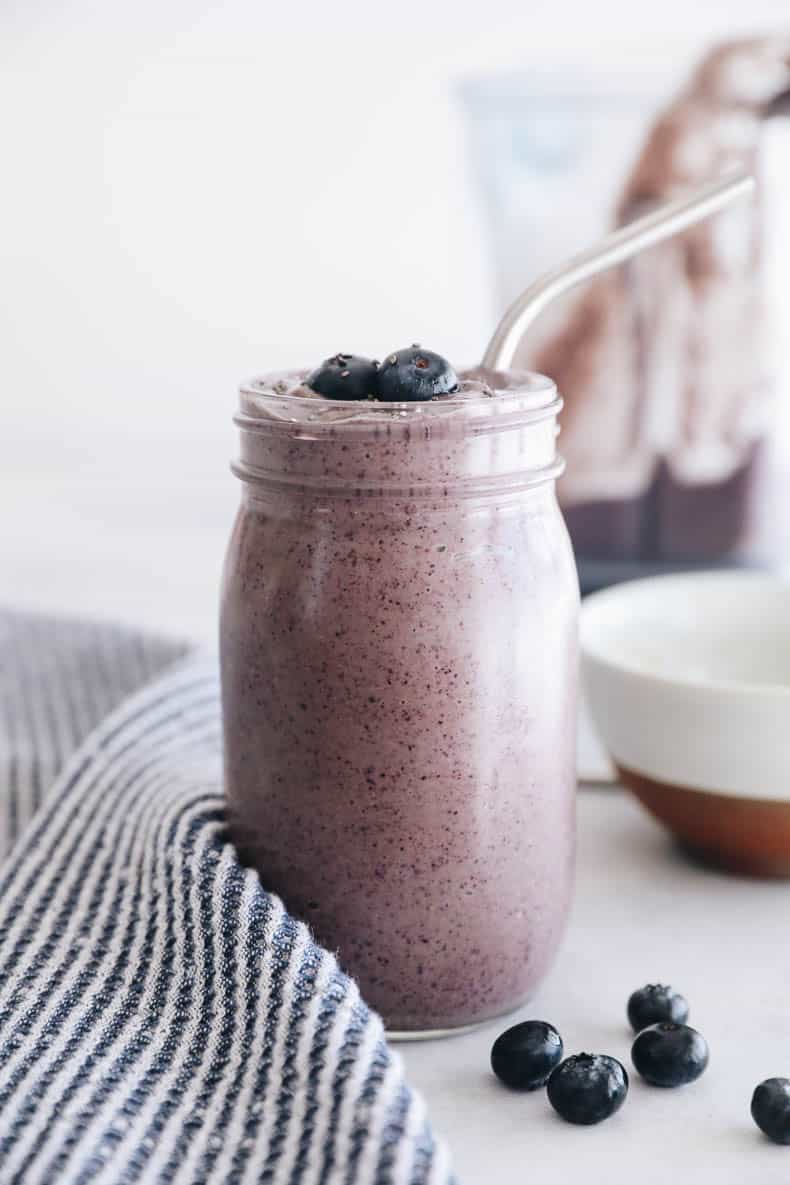 SUBSCRIBE TO THE THM NEWSLETTER
Join over 20,000 members of the THM community to get access to exclusive recipes, healthy lifestyle tips and behind-the-scenes news from our team!