As a former latchkey kid, a name given to those of my generation who spent time home alone after school because their parents were both at work and therefore had a key to get inside, snacks like frozen pizzas were often available.
Sure, pizza that comes in a box and needs to be cooked in your oven has as much in common with a fresh pizzeria pie as a fast-food roast beef sandwich with slow-smoked brisket. But once you acquire that flavor and appreciate it for its own merits, it can be quite satisfying.
Now most of the frozen pizzas served in our house were thin-crust style, with just cheese and a sweet tomato sauce, although sometimes a fancier version popped up. This would be the type of French bread that takes thick and tender slices of French bread and uses them as the base for the pizza instead of a crust. And since most frozen pizzas in the 1980s had a crust as exciting as cardboard, a fluffy, toasted slice of bread was quite an improvement.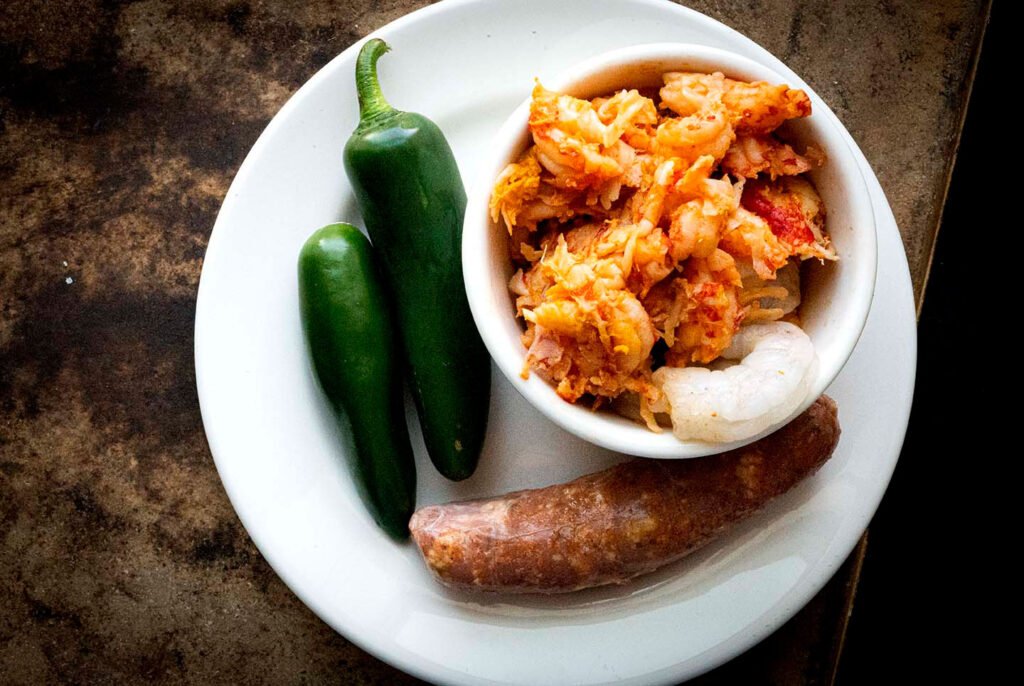 While unwrapping and baking a French bread pizza was exciting, it didn't take me long to find that making a pizza from scratch yielded equally delicious results once I started cooking myself. I know – it seems such a simple concept, but when you're first starting out with your baking skills, every discovery is exciting. And although I make fresh crusts for my homemade pizzas these days, sometimes the quick and easy appeal of a French bread pizza works.
When I lived in New York, one of my favorite pizzas I ordered was from a place called Two Boots. The concept was that the boots in question referenced Italy and Louisiana, and so there were some Cajun-Italian fusions on the menu, such as with their pizza called Bayou Beast.
Her homage to Cajun country, Bayou Beast was topped with crawfish tails, shrimp, and andouille sausage, along with jalapeños, melted mozzarella, and a lively tomato sauce with a kick of ginger and peppers. I loved this pizza and ordered it often as finding crawfish in New York was a challenge and Two Boots seemed to have a solid source.
I've long enjoyed making homemade pizzas, although I haven't recreated the Bayou Beast yet. With all the ingredients at hand, I decided to change that. I also had a fluffy French bread, not to be confused with a thin crusty baguette as French bread is wider and softer and makes a great garlic bread, and decided to shape my rendition of the Cajun pizza into a French bread pizza .
French loaves of bread with seafood and melted cheese are a tradition in Cajun cuisine, so adding tomato sauce and crawfish, shrimp and andouille wasn't too far-fetched. For my sauce I used a simple recipe with tomato paste, herbs and flavorings. To emulate the lively one from New York, I also added ginger and cayenne pepper.
Before layering the pizza toppings, I first brush the divided French bread with oil and a garlic salt mixture and toast it to enhance the final flavor and help mitigate any soggyness. The toppings were then added and the pizzas were baked until brown and bubbly. Finally, I sprinkled some herbs and Parmesan on top.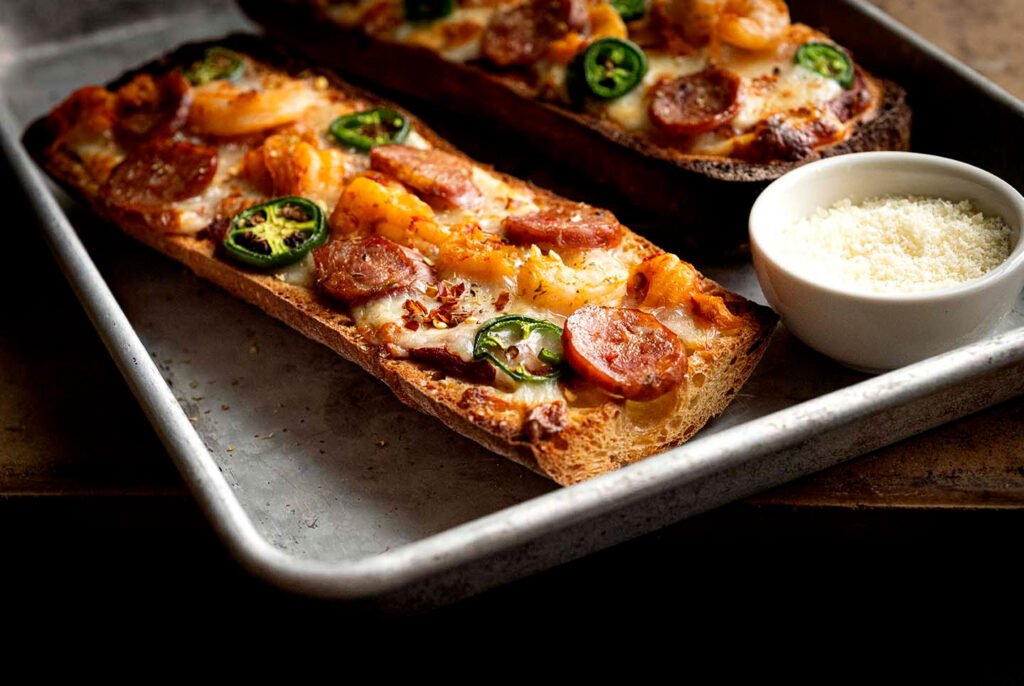 These cheesy pizza toasts are quick to make and have a fun dinner on the table in no time. Once you make the sauce, a fresh French bread pizza takes almost as long to make as it does to reheat a frozen one, making it a fun dish for a weekday or lazy weekend.
Cajun French Bread Pizza
portions 4
author Lisa Fain
For the sauce:
1

(6 ounces) can of tomato paste

½

Cup

Water

1

teaspoon

dried oregano

1

teaspoon

garlic powder

½

teaspoon

onion powder

½

teaspoon

dried basil

½

teaspoon

dried parsley

½

teaspoon

kosher salt

¼

teaspoon

ground ginger

¼

teaspoon

black pepper

prize

cayenne

½

teaspoon

sugar, optional
For the pizza:
1

(16 ounces) loaf of French bread

2

teaspoon

garlic powder

2

teaspoon

oregano

1

teaspoon

kosher salt

3

tablespoon

olive oil

1

tablespoon

lime juice

8th

ounces

small prawns, peeled and deveined

8th

ounces

Crawfish Tails

16

ounces

Mozzarella cheese, grated

2

Limb andouille sausage, cut into 1/4-inch rounds

2

Jalapenos, stemmed and sliced

Parmesan to serve

Ground red pepper for serving
For the sauce, put the tomato paste in a mixing bowl. Pour ½ cup of water into the can (it will likely fill the can), swirl around and pour the water into the mixing bowl. Add oregano, garlic powder, onion powder, dried basil, dried parsley, salt, ginger, pepper, and cayenne and stir until well combined. Taste and adjust the spices and add sugar if you feel it's too tart. This can be prepared up to 1 week in advance if kept in the fridge.

For the pizza, preheat the oven to 200°C and line a baking tray with foil.

Take the loaf and cut it in half crosswise, then cut each piece in half lengthwise. You now have 4 pieces. Place the bread on the sheet.

Stir together the garlic powder, oregano, and salt to make a garlic salt mixture.

Brush each piece of bread with ½ tablespoon olive oil, reserving the remaining tablespoon. Take half of the garlic salt and sprinkle it evenly over the bread. Place bread in oven and bake for 10 minutes or until just beginning to brown and crisp.

Meanwhile, place the shrimp and crawfish in a mixing bowl and toss with the remaining olive oil, garlic salt mixture, and lime juice.

Remove the toasted bread from the oven. Spread the pizza sauce evenly on each slice. Top each with the grated cheese.

Using a slotted spoon, lift the shrimp and crawfish out of the bowl to remove excess liquid, then layer the shrimp, crawfish, sausage and jalapeños on top of the cheese.

Place the tray back in the oven and bake for 8-10 minutes or until the cheese has melted. Turn on the grill, position a wire rack 6 inches from the heating element and grill the pizzas for 1-2 minutes or until browned and bubbling.

Serve immediately with Parmesan cheese, crushed red pepper, and more garlic and oregano if desired.