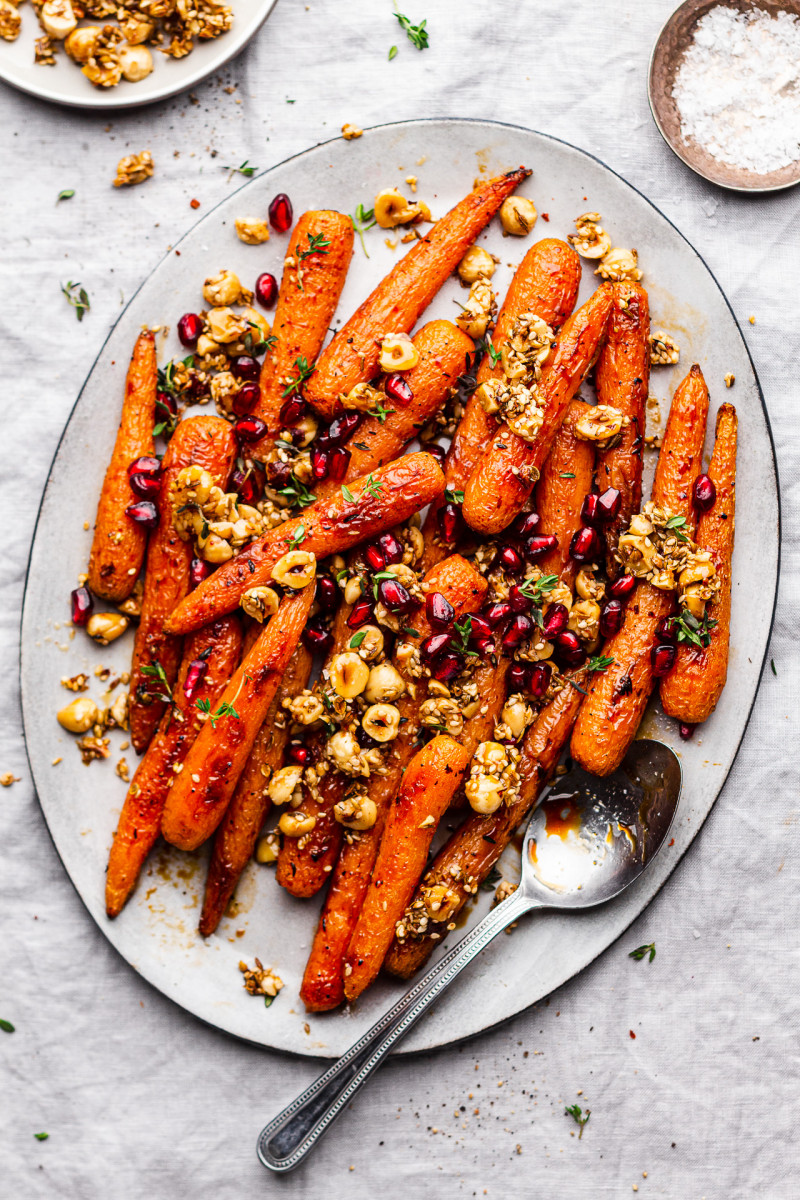 How are your Christmas preparations – assuming you even celebrate it – coming along? I've just recovered from Thanksgiving recipes and now I'm ready to throw myself into another festive frenzy – bring it on. I'm starting this collection of festive recipes with a simple yet delectable side because everyone needs them in their lives, right?
For today, I made a dish of glazed sticky roasted carrots in an addictive pomegranate molasses glaze topped with an even more addictive (I may or may not have eaten the whole portion while taking these photos…) dukkah brittle, which brings a lot of flavor to this dish. and interesting textures.
This dish is really easy to make but it looks like a picture, right? Carrots look all festive thanks to the addition of bright red pomegranate arils and fresh thyme. Here are some more details on the ingredients if you want to make some swaps.
More about ingredients
Whole Spices: I used a holy trinity of corinada seeds, fennel seeds and cumin seeds to make my dukkah brittle. I love how they contribute little pops of flavor here and there. If you have time, pan-roast them first in a dry frying pan for a few minutes – until golden and fragrant – as this simple step releases their oils and makes them taste better. If you don't have these spices on hand and still want to make this dish, why not check out their dry equivalents? Instead of adding them to the brittle, add them to the carrots when you first put them in the oven. Since ground spices are more concentrated, use about 50% dry rather than whole.
Hazelnuts: Hazelnuts offer a nice crunch and they work really well in this dish, but if you're allergic to nuts, for example, sub them with almonds. If you are also allergic to nuts, pumpkin and sunflower seeds will also work well.
Maple Syrup: The maple syrup is what binds the brittle together and it also helps caramelize the carrots and provides a nice counterpoint to the sour taste of the pomegranate molasses. If you want an alternative, date syrup – homemade or store bought – can be a great alternative or you can just use brown sugar – it will liquefy in the heat of the oven.
Carrots: You can use any carrots you like, but the key is that they need to be the same size so they cook at the same rate. If your carrots are really small (like the Chantenay variety here in the UK), you may want to lower the temperature to 20° C / 70° F otherwise their skinny edges will burn too quickly. If you have some large carrots among the smaller ones, halve them lengthwise for skinners. Keep a skewer or a sharp paring knife handy to check the carrots before coating them in the glaze.
Thyme: I've used fresh thyme here to add more flavor and garnish, but you can use a few pinches of dried thyme – it's more pungent when dry – and garnish with another herb, such as fresh parsley or even chopped carrot tops (they're bitter (Do not use so load or remove before use though)
Pomegranate Molasses: Pomegranate molasses is a thick syrupy spice that is a favorite of countries south of the Mediterranean Sea. In the UK, you can find it in well-stocked corner shops selling North African spices and ingredients. I have also seen it in large supermarkets. It tastes tangy-sweet (but mainly tangy) so you can substitute it with aged balsamic vinegar instead.
Pomegranate Arils: To continue the theme, I used fresh pomegranate arils to garnish this dish and make it festive. You can use dried cranberries soaked in warm orange juice instead, for example.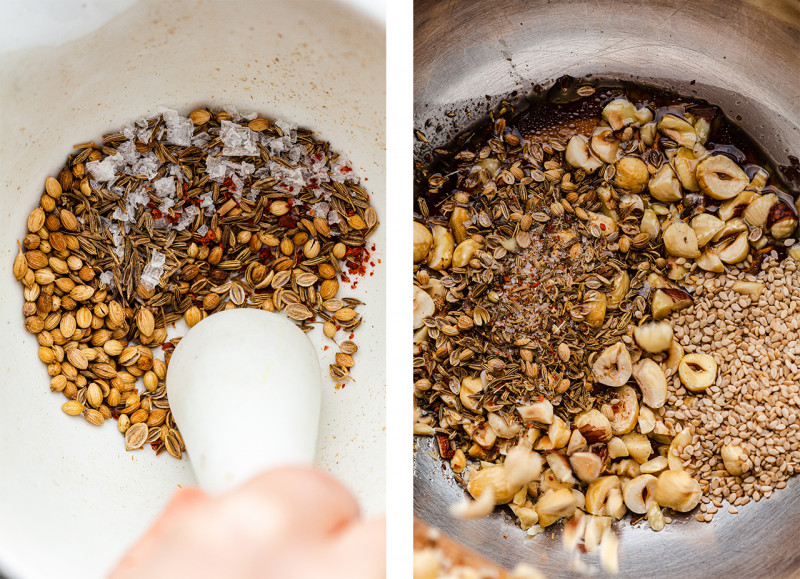 Start the brittle by grinding whole spices in a mortar and pestle and combining with ground hazelnuts, maple syrup and olive oil. If you have the time and inclination, I recommend gently toasting these spices in a dry frying pan first as this makes their flavor even more intense.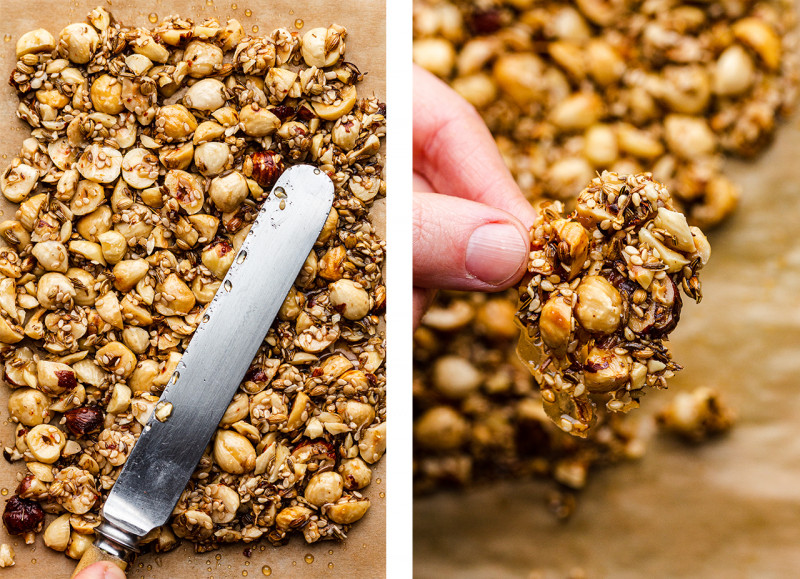 Once everything is well mixed, spread the mixture onto a paper lined baking tray and bake for 10-12 minutes. Once golden, remove from oven and do not touch until completely cool (I know, it's hard!!). It's worth it, trust me. Once cooled, you should be able to break the brittle with your hands like in my photo to the right.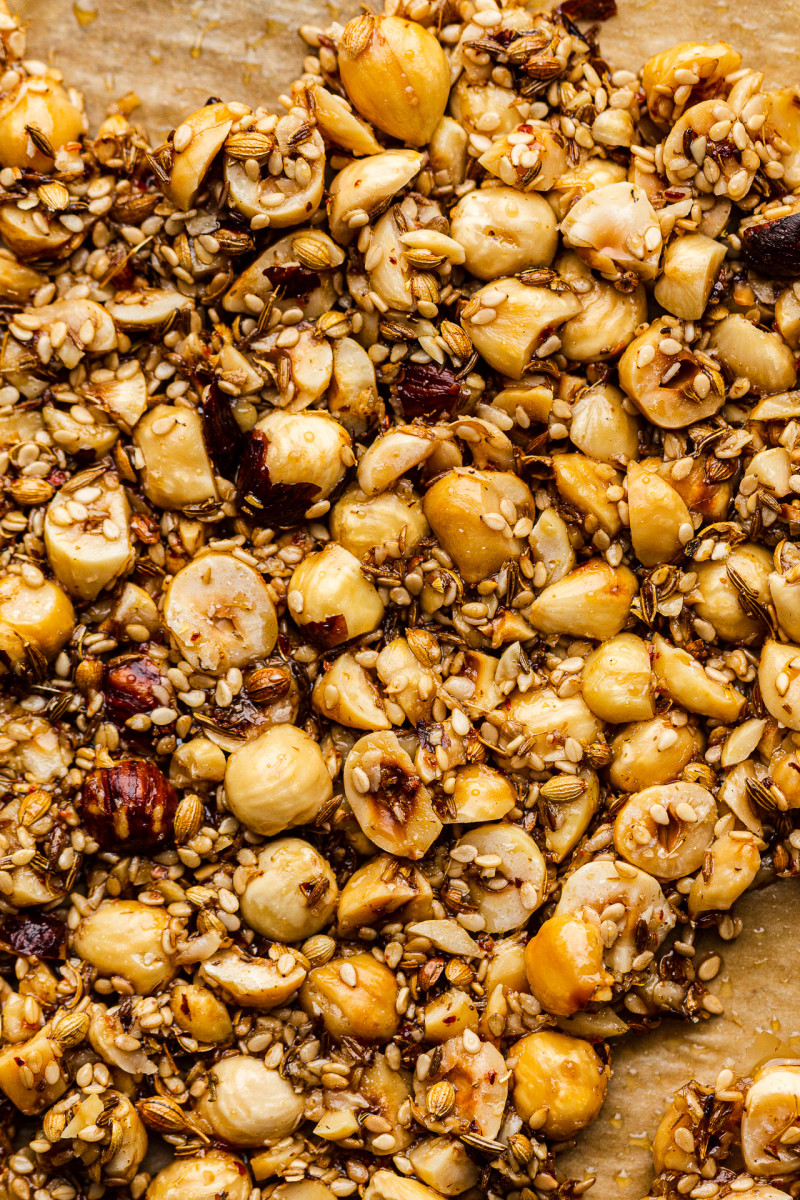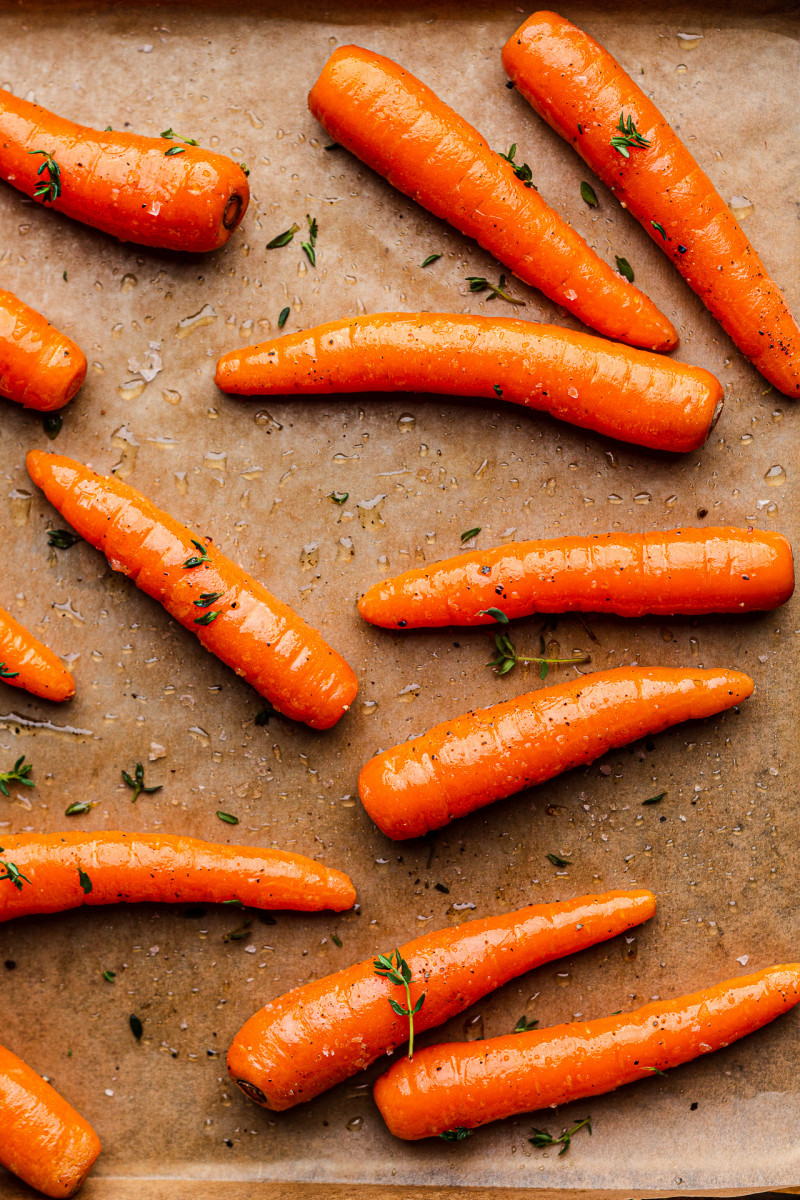 Once you've prepared your carrots, coat them in olive oil, season with salt, pepper and thyme and bake until cooked through – use a sharp pair of knives to test the thickest part of them. If some of the carrots are done and others are still a bit hard, remove them from the tray and continue roasting until the rest are cooked.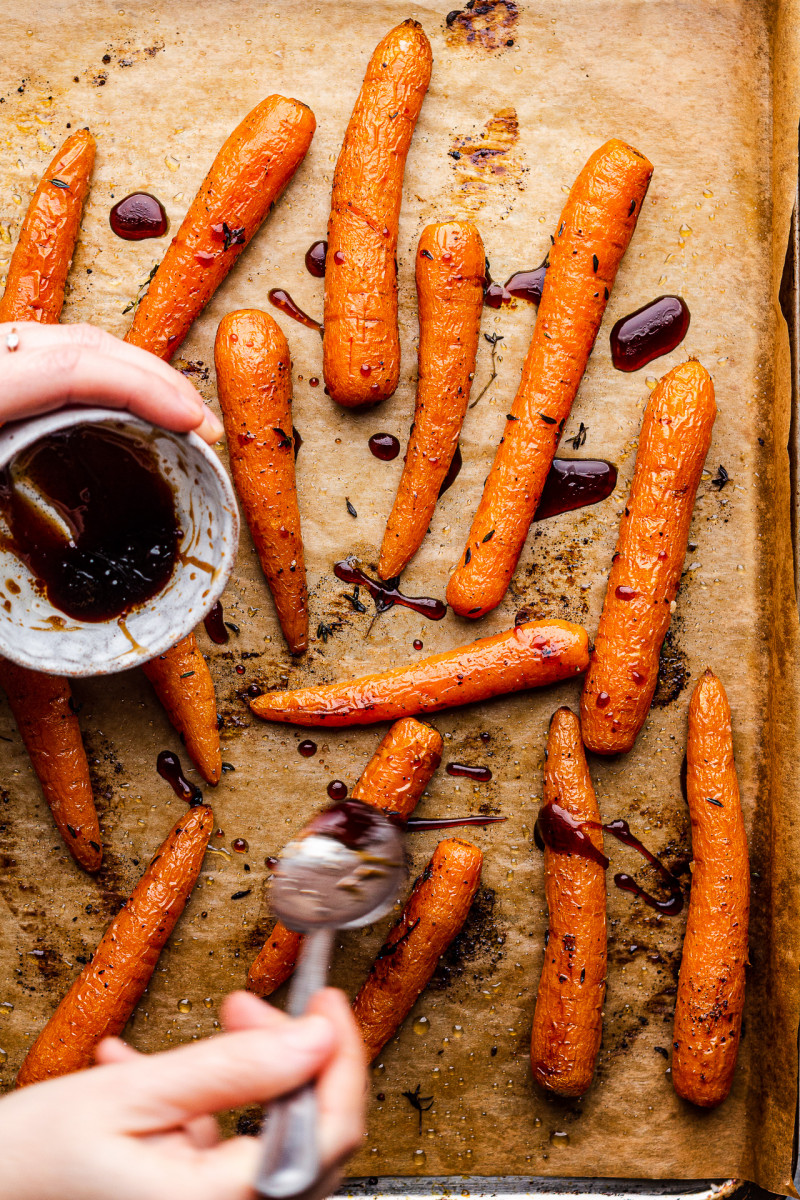 The next and final step is to coat the semi-fried carrots in sticky glaze and fry them some more. If you have extra glaze (you should), glaze them twice, baking the glaze for a few minutes each time. Then you are ready to plate and tuck.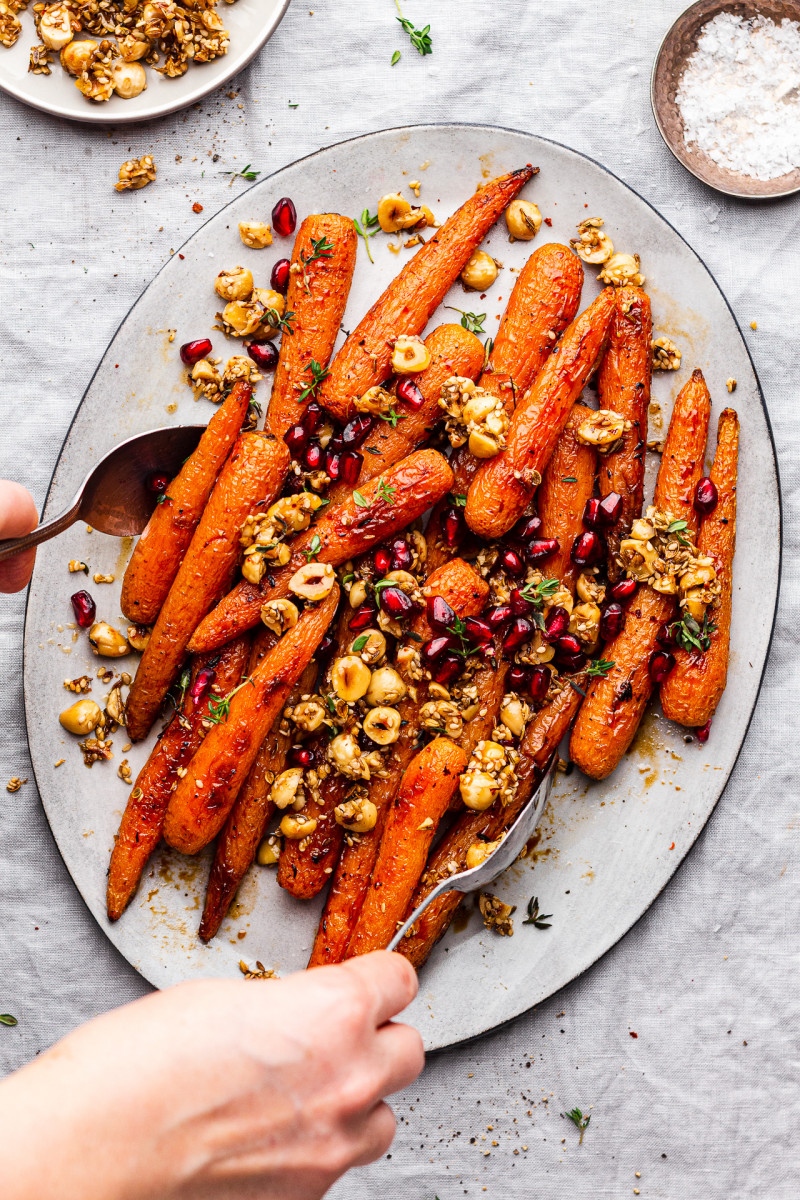 DUKKAH is fragile
3 grams / 1½ teaspoons coriander seeds
1 gram / ½ teaspoon fennel seeds
1½ grams / ¾ teaspoon cumin seeds
A pinch of chili (I use pulled pepper), optional
¼ teaspoon flaky salt, to taste
65 g / ½ cup blanched hazelnuts
1 tablespoon sesame seeds
30 ml / 2 tbsp maple syrup or date syrup
10 ml / 2 teaspoons olive oil
Roasted Carrots
750 g / 26.5 oz small uniform carrots*
20 ml / 4 tbsp olive oil
Adjust with ½ teaspoon flaky salt and 1/8 teaspoon pepper, to taste
5 sprigs thyme, leaves picked (extra for garnish)
30 ml / 2 tbsp pomegranate molasses
15 ml / 1 tablespoon maple syrup or date syrup
Aril forms ¼ pomegranate
method
DUKKAH is fragile
Set the oven to 160° C / 320° F (or 20° C / 70° F lower with fan) and line a baking tray with baking paper.
Optional: If you have time, dry-toasting until aromatic and golden intensifies their flavor. Cool if you do.
Place the coriander, cumin and fennel seeds in a mortar and pestle, along with a pinch of pepper (if using) and salt. Grind everything until coarse.
Coarsely chop the hazelnuts, you want some halved pieces and some small pieces into the mixture and place in a bowl with the sesame seeds and ground spices.
Mix in maple syrup and olive oil then try baking it into a solid slab.
Bake for 10-12 minutes or until golden, then allow to cool completely – it will crack as it cools – before using.
Roasted Carrots
Set the oven to 220° C / 430° F (or 20° C / 70° F lower with fan) and line a large baking tray with baking paper.
Wash and dry the carrots well. Trim the edges with green tops if necessary.
Coat in oil, sprinkle with salt, pepper, and thyme, and roast until the thickest part is cooked through—pierce with a pair of knives to check—about 20 minutes. If only a few are done, remove them from the tray and return the rest to the oven for another 5 minutes or so.
In a small bowl, combine the pomegranate molasses and maple syrup and coat the carrots in the mixture. Return them to the oven for another 5-7 minutes – until sticky and caramelised. If you have leftover glaze, glaze again after 4 minutes and return to the oven for a few minutes.
Arrange the roasted carrots on a serving platter, garnish with dukkah brittle, pomegranate arils and fresh thyme.
Comment
*Carrots: I used small, fairly uniform carrots. You can use any size but make sure they are uniform (halve if not) and adjust the oven temperature and time if necessary. Smaller carrots may not require as much heat and will cook faster.