The Gluten free Chicken Caesar Pasta Salad is the perfect prep lunch, BBQ or dinner for any night of the week. It's packed with grilled chicken, a non-dairy Caesar dressing, crispy romaine lettuce, bacon, and ripe summer tomatoes.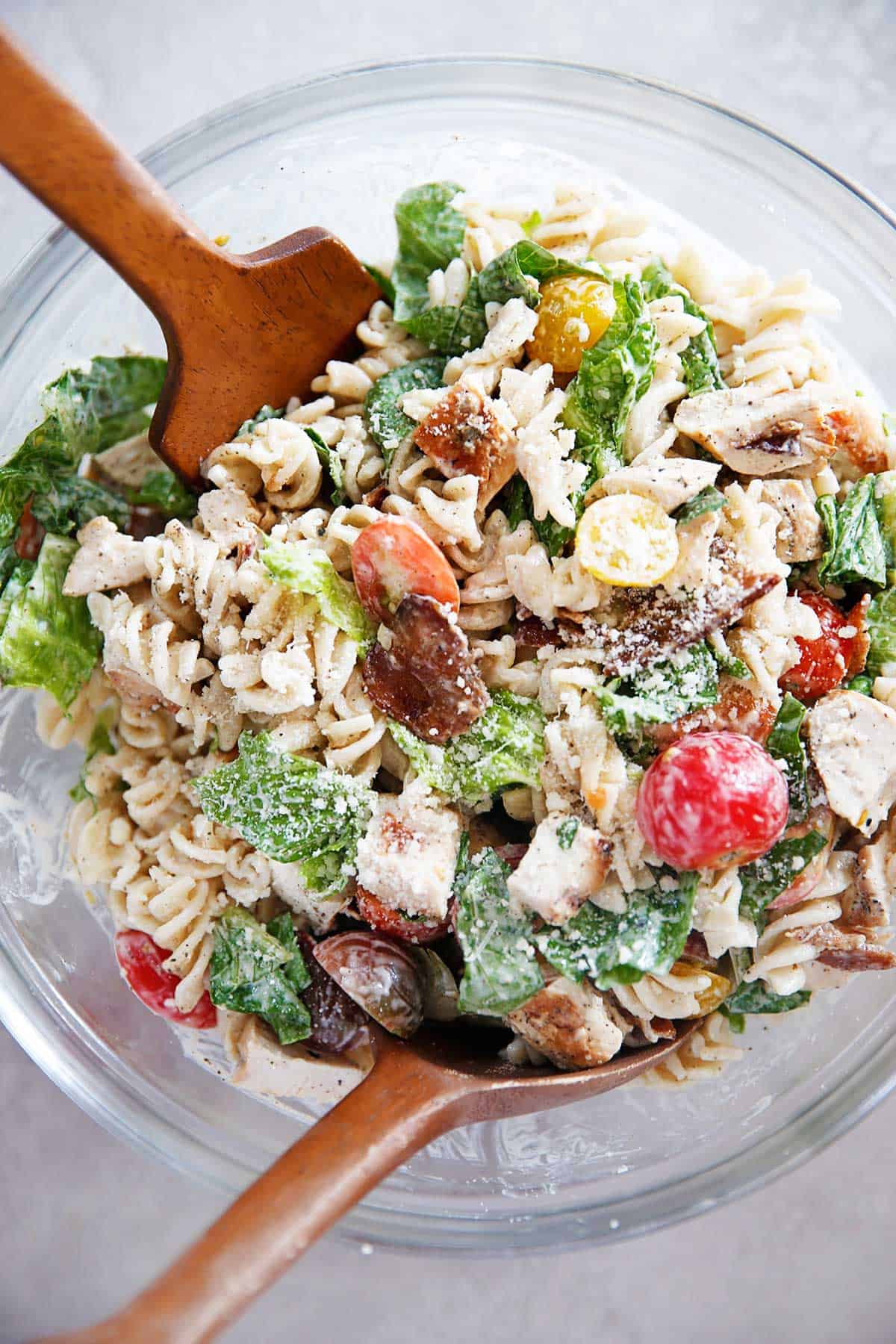 Easy gluten free pasta salad recipe
I've always loved a good Caesar salad. It's been one of my favorites since I was a kid. It's really all about that incredibly creamy Caesar dressing. Well, of course I wanted to turn the classic salad into a pasta dish! I also love my Chicken Caesar Quinoa Salad, Baked Chicken Caesar Salad Burgers, and Grilled Caesar Salad with Blackened Shrimp!
So that's exactly what I did.
This creamy dressing paired with crispy romaine lettuce, salty and crispy bacon, sweet summer tomatoes, perfectly grilled chicken and tender pasta – and you have the perfect meal.
Ingredients needed
Caesar Dressing: We make a homemade Caesar dressing with mayonnaise, olive oil, vinegar, Dijon, lemon juice, anchovy paste, garlic, salt and pepper.
Salt and pepper: a few simple seasonings for the chicken before grilling.
Bacon: You can cook the bacon however you like. I like to prepare it in the air fryer.
Chicken breast: I use boneless, skinless chicken breasts. I like to cook it on the grill, but you can also cook it your way.
lettuce: My favorite is romaine lettuce. Be sure to clean and chop the lettuce beforehand.
Pasta: Use your favorite gluten-free pasta variety. Or, if you're not gluten-free, use your favorite pasta.
Tomatoes: Halved cherry tomatoes are the perfect texture.
Lemon, Salt and Pepper: rounds off the Caesar pasta salad with a little more flavor.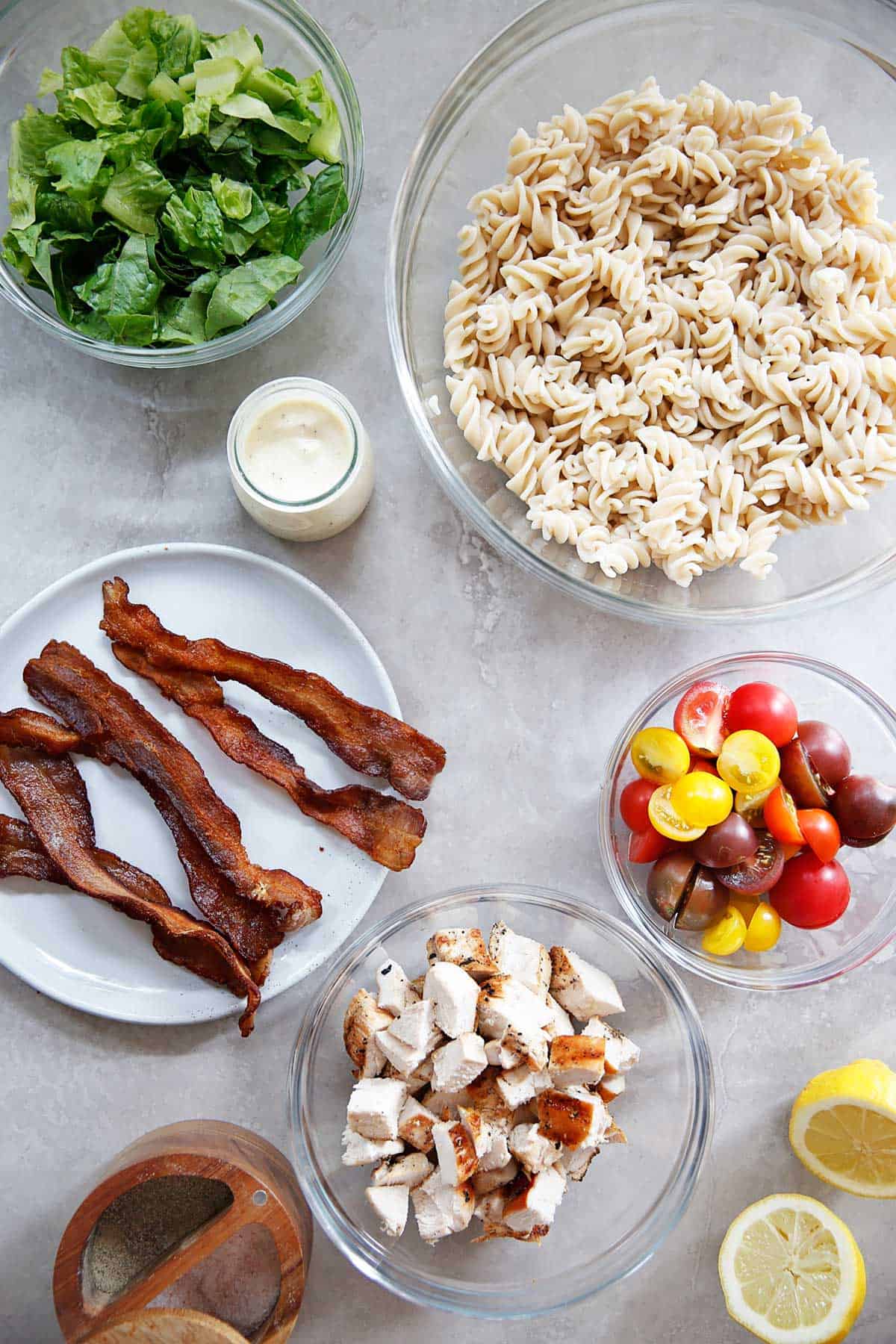 How to make a Chicken Caesar Pasta Salad
This Chicken Pasta Salad takes 30 minutes total to make!
Prepare dressing: In a blender, combine mayonnaise, olive oil, vinegar, Dijon, lemon juice, anchovy paste, garlic, salt and pepper. Pulse until well combined, then adjust as needed and set aside.
Cook the chicken: Season the chicken with salt and pepper, then grill for 8-10 minutes on each side. Leave to rest for a few minutes, then cut into cubes and set aside.
Cook pasta: Prepare the noodles according to package instructions. Rinse with cold water and then place in a large bowl.
Assemble and serve: In a bowl, combine pasta, bacon, tomatoes, lettuce, and chicken. Pour the dressing over and stir. Season with salt, pepper and lemon juice and serve.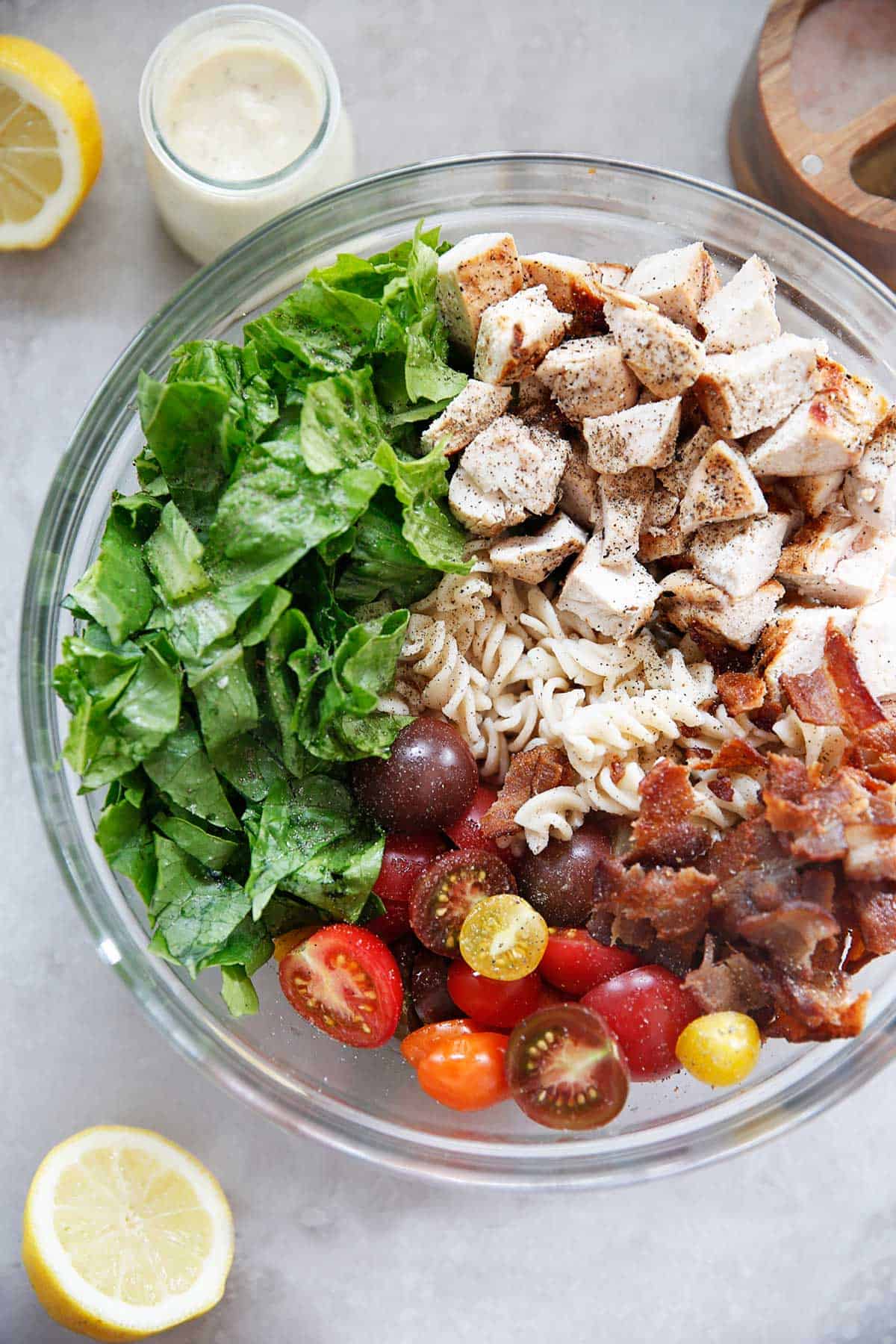 Is Caesar dressing gluten free?
Some store-bought Caesar dressings may contain gluten. As for not trying to figure out which ones work, I just like to make my own!
This gluten-free pasta salad features a homemade Caesar dressing that's naturally gluten-free. It's also made dairy-free, but doesn't skimp on creaminess and flavor.
How do you keep gluten free pasta from getting soggy?
There are a few things you can do to prevent your pasta from getting soggy when you stand it:
Cook al dente. Slightly cooked noodles have a little more texture, so they hold up better in the dressing.
Rinse it off. Rinse the pasta in cold water immediately after cooking to stop the cooking process so it stays perfectly al dente.
Add some oil. A thin layer of oil on each piece of noodle forms a barrier to keep the noodles from caking.
Serve immediately. The longer the pasta stays in the dressing, the more mushy it gets. Once the Caesar pasta salad is ready, serve immediately or as soon as possible.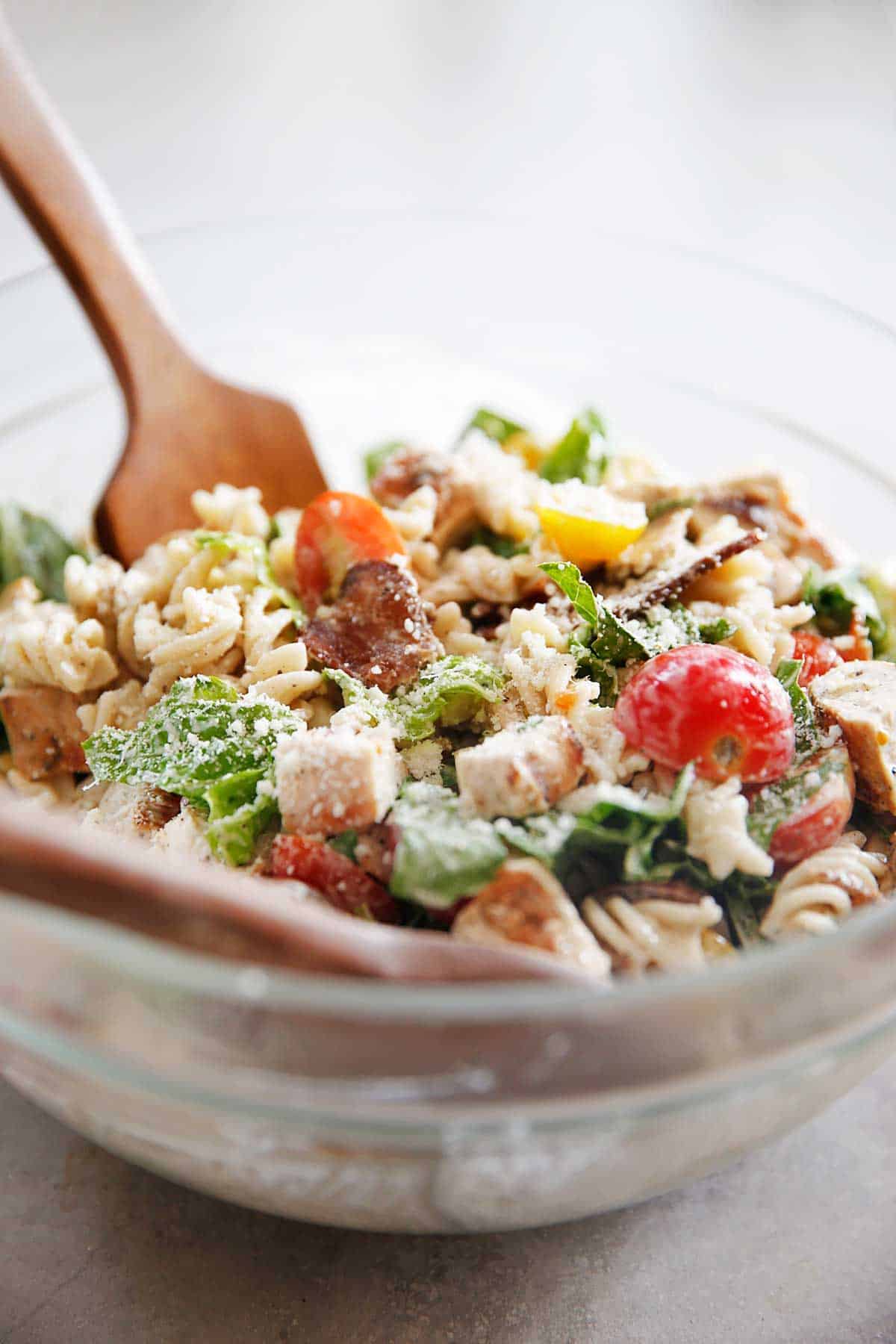 tips and hints
Use a small pasta mold. I like to use rotini in this recipe, but if you decide to use a different pasta shape, make sure it's smaller. The small noodles blend better into the salad.
Cut everything into equally sized pieces. Cut all the ingredients about the same size so you get a little of everything in every bite.
If you have leftover cooked chicken, You can certainly use that instead. I love making this pasta salad after making a batch of Instant Pot Shredded Chicken.
Serve immediately. Once the Chicken Caesar Pasta Salad is ready to serve, it is best served immediately.
To be ahead of the times You can cook the pasta, cook the bacon, make the dressing and chop the veggies, then store them all separately in the fridge until ready to assemble.
If you want to make the salad creamier, Just add extra dressing!
Make it vegetarian. Just omit the chicken or use a meatless chicken substitute.
Not a fan of anchovies? That's fine. you can omit it Although it's a pretty typical Caesar flavor.
serving suggestions
I love this Caesar Pasta Salad warm or at room temperature. Cold also works, but I don't think it's quite as good.
You can serve it as a meal with a side of gluten-free garlic bread, or as a side alongside: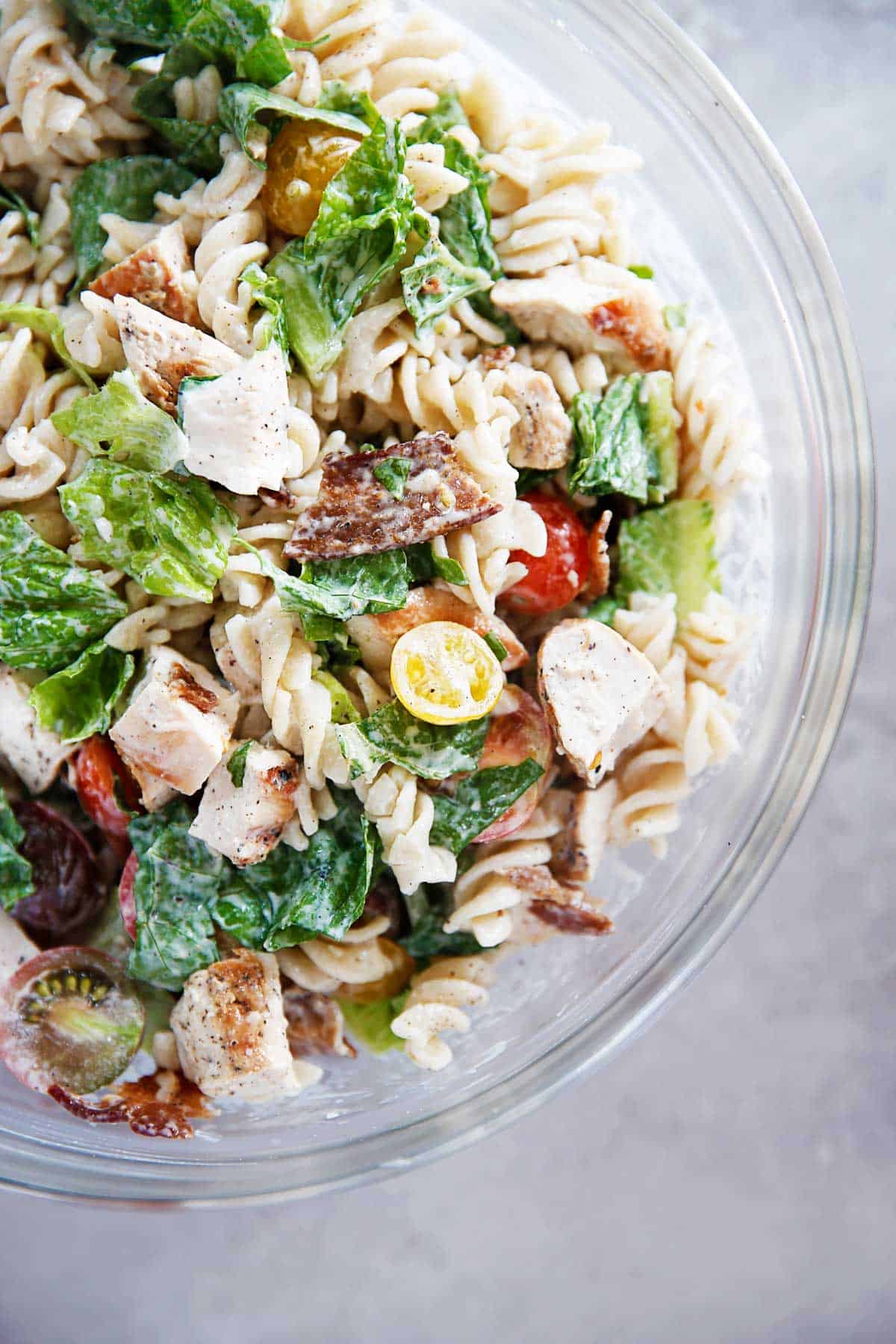 How to store it
A ready-made gluten-free pasta salad will keep in an airtight container in the refrigerator for up to 5 days.
Bring to room temperature to serve again, then enjoy!
More Summer Sites You'll Love
More pasta salads
Pin this recipe to save for later!
pin it!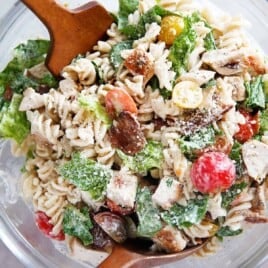 1/2

Cup

mayonnaise

homemade or store bought

2

teaspoon

olive oil

1

teaspoon

Apple Cider Vinegar

1

teaspoon

Dijon mustard

1

teaspoon

lemon juice

divided

1/2

teaspoon

anchovy paste

1

clove

Garlic

crushed

prize

fine sea salt

prize

freshly ground black pepper

4

pieces

bacon

cooked

1

Lb.

Boneless skinless chicken breast

1

head of romaine lettuce

cleaned and roughly chopped

1 16-

ounce

Package of gluten free pasta

1

Cup

cherry tomatoes

halved

1

lemon

salt and pepper

taste good
Prepare the dressing: In a high-speed blender, combine the mayonnaise, olive oil, vinegar, Dijon, lemon juice, anchovy paste, garlic, and a large pinch of salt and pepper. Pulse once or twice until combined. Taste, season and set aside.

Season chicken with salt and pepper and grill until no pink color remains, 8-10 minutes on each side. Cut into cubes and set aside.

Prepare noodles according to package directions. Rinse with cold water, drain and place in a large bowl.

Assemble: Place pasta, bacon, tomatoes, lettuce, and chicken in large bowl. Pour over the dressing and mix. Season to taste with salt, pepper and a squeeze of fresh lemon juice. Serve warm or at room temperature.
If you want it creamier, make an extra dressing!
You can also use fried chicken!
Portion: 1/6 recipeCalories: 460kcalCarbohydrates: 13.5GProtein: 37.8GFat: 28.1GSaturated Fatty Acids: 7.3GSodium: 1100mgFiber: 2.1GSugar: 3.1G