This post may contain affiliate links. Please read my disclosure policy.
This easy couscous salad is loaded with lots of fresh veggies, chickpeas, herbs, feta, and a zesty lemon dressing. Feel free to add some grilled meat or seafood if you like.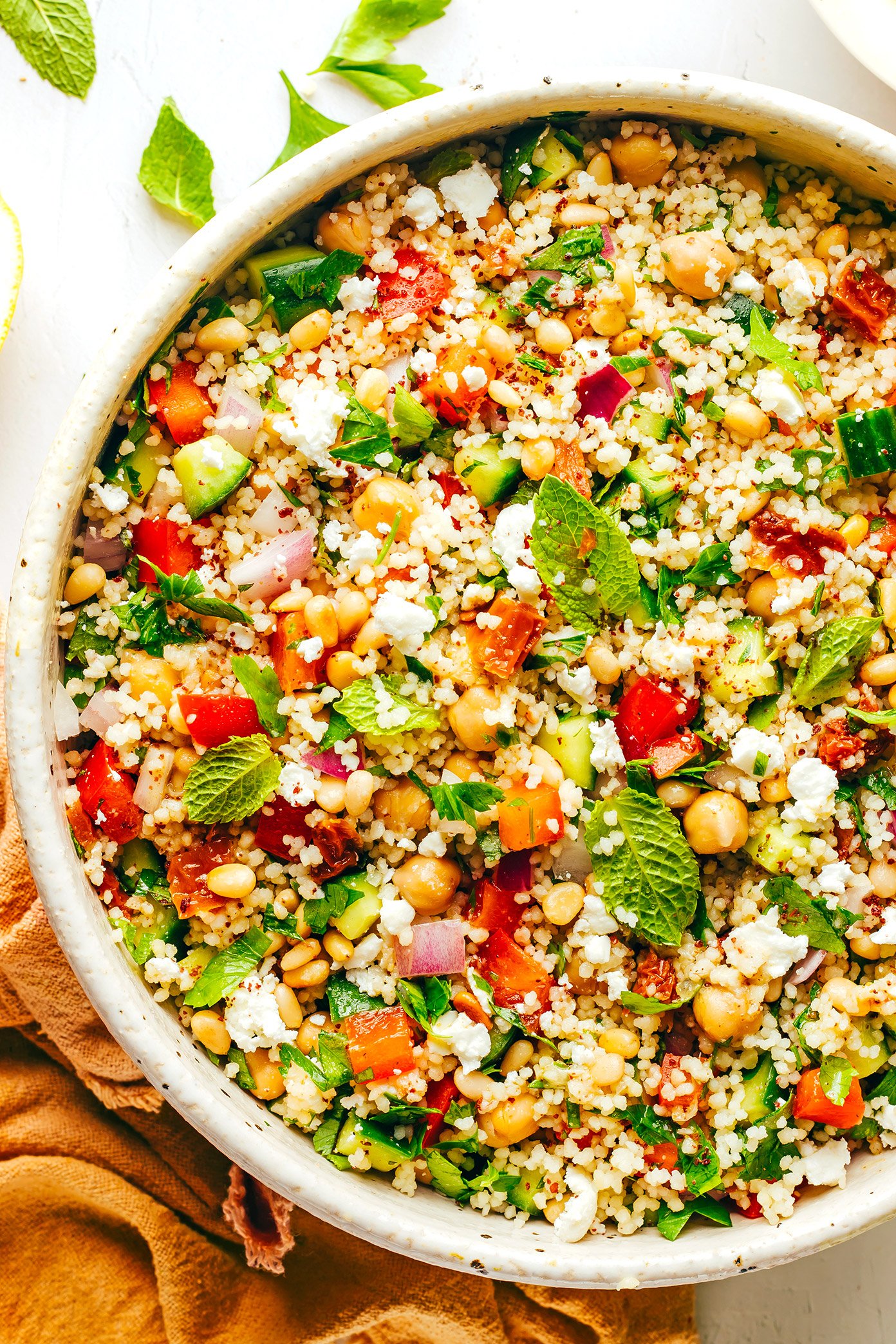 There are many virtues I could highlight in this simple, fresh and flavorful couscous salad. But the most notable for me is this:
I really understand so excited to eat the leftovers the next day. ♡
As someone who doesn't exactly love digging through tubs full of leftovers in our fridge, I have to say that this salad is so delicious that I usually make a double batch just to be sure we to have Extras for the coming week. It's packed with many of the usual Mediterranean favorites – tender couscous, crisp fresh vegetables, chickpeas, sun-dried tomatoes, roasted pine nuts and tangy feta cheese. But the addition of lots of fresh mint and parsley really brightens it up, and the cumin-sumac-garlic-lemon dressing that brings it all together is perfect.
Feel free to add an extra protein (like chicken, shrimp, or salmon) if you'd like, or add any other veggies, cheese, or nuts you happen to have on hand. This is one of those recipes that is infinitely flexible, so make it your own and enjoy!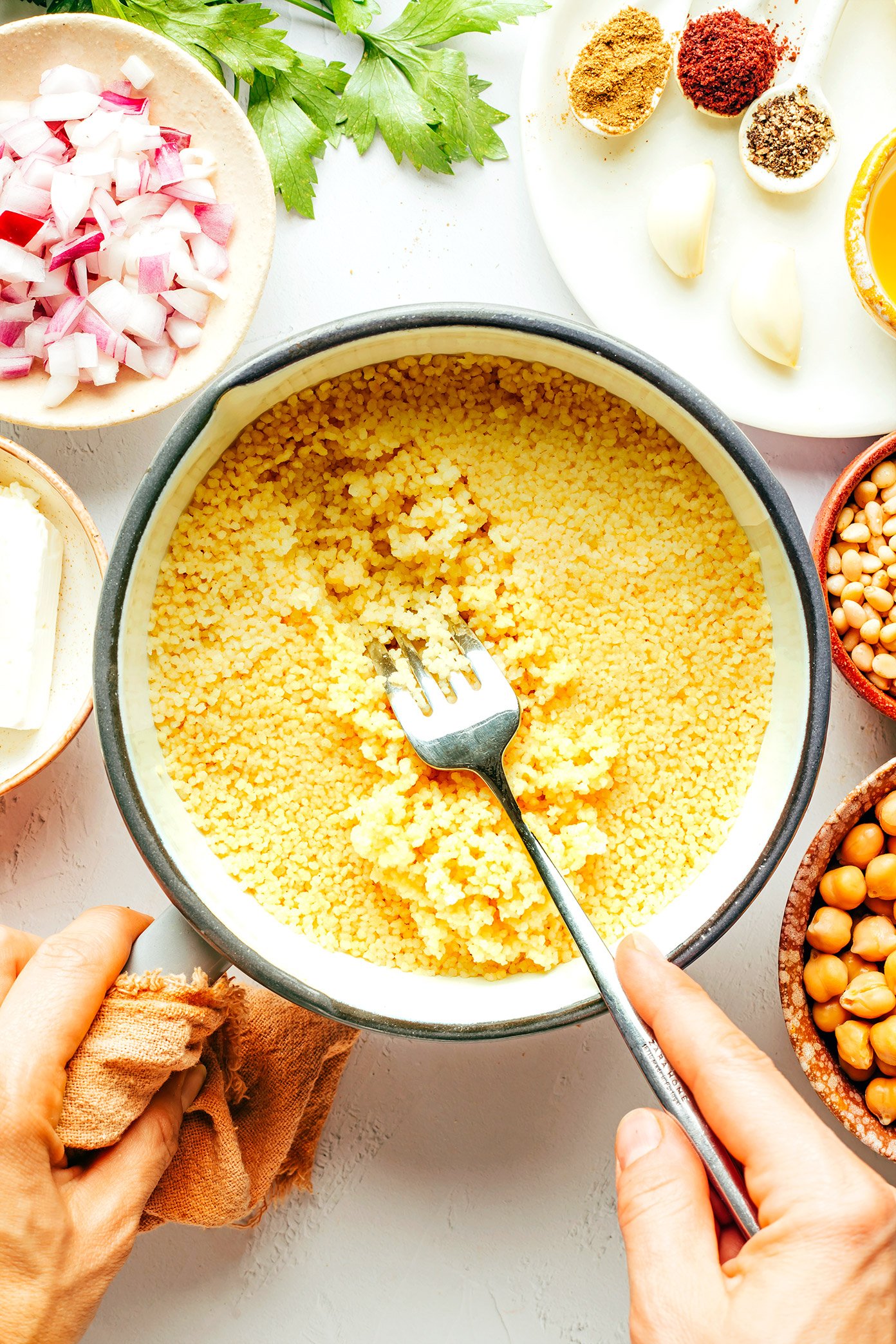 Couscous Salad Ingredients
Before we get to the full couscous salad recipe below, here are a few quick notes on the ingredients you'll need:
Couscous: We use plain couscous for this recipe, which is stovetop cooked with water and a touch of sea salt.
Chickpeas: Feel free to use a can of chickpeas or any other type of beans you have on hand.
Vegetables: I used a simple mix of diced English cucumber, red bell pepper, and red onion for this salad, but again, feel free to swap in any other salad-friendly veggies you happen to have on hand.
Sun-Dried Tomatoes: I love the intense sweet and tart flavor of chopped sun-dried tomatoes in this salad, but you can swap in diced fresh tomatoes instead if you prefer.
pine nuts: The buttery flavor and crunch of toasted pine nuts pair so well with this salad, but toasted pepitas or toasted slivers of almonds would also be delicious alternatives.
Fresh herbs: Please be generous with the fresh herbs here! I used a mixture of fresh mint and parsley, but fresh basil or dill would also be great alternatives if you have some on hand.
Feta cheese: The tangy flavor of crumbled feta blends beautifully into this salad.
Lemon Vinaigrette: We finish it all off with an easy lemon vinaigrette made with olive oil, freshly squeezed lemon juice, ground cumin, ground sumac, garlic, salt and pepper.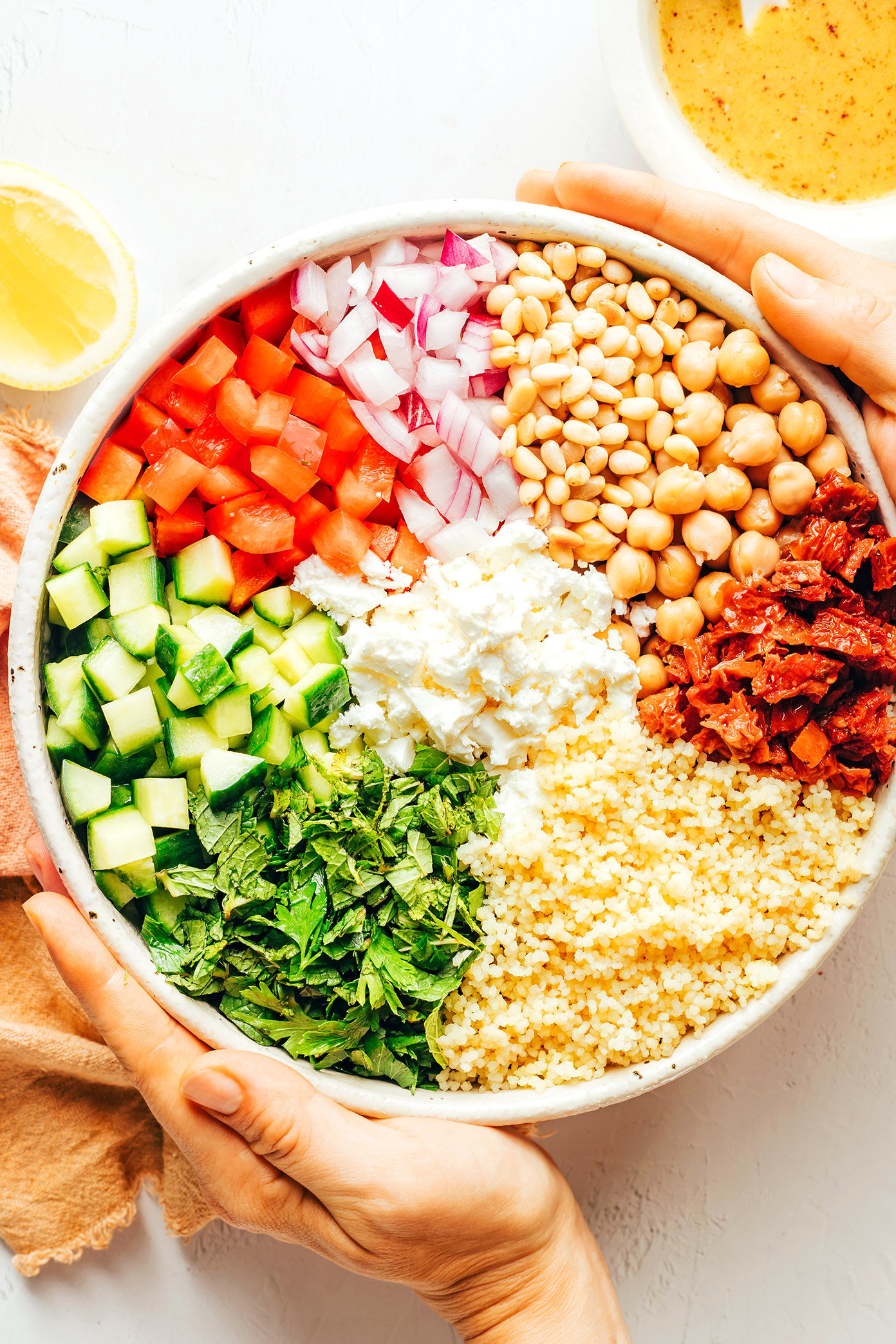 Possible variations
Here are a few additional ways you can feel free to customize this couscous salad to your liking:
Add a protein: Add some grilled chicken, beef, shrimp, salmon, scallops, or even canned tuna to the salad.
Add olives: Add olives of your choice to the salad.
Add tahini: Drizzle over some tahini or mix a few tablespoons into the dressing.
Use a different grain/pasta/rice: Substitute equal amounts of quinoa, farro, rice, orzo, etc. in place of the couscous, cooked according to package directions.
Use a different cheese: Use goat cheese or mozzarella pearls in place of the feta cheese.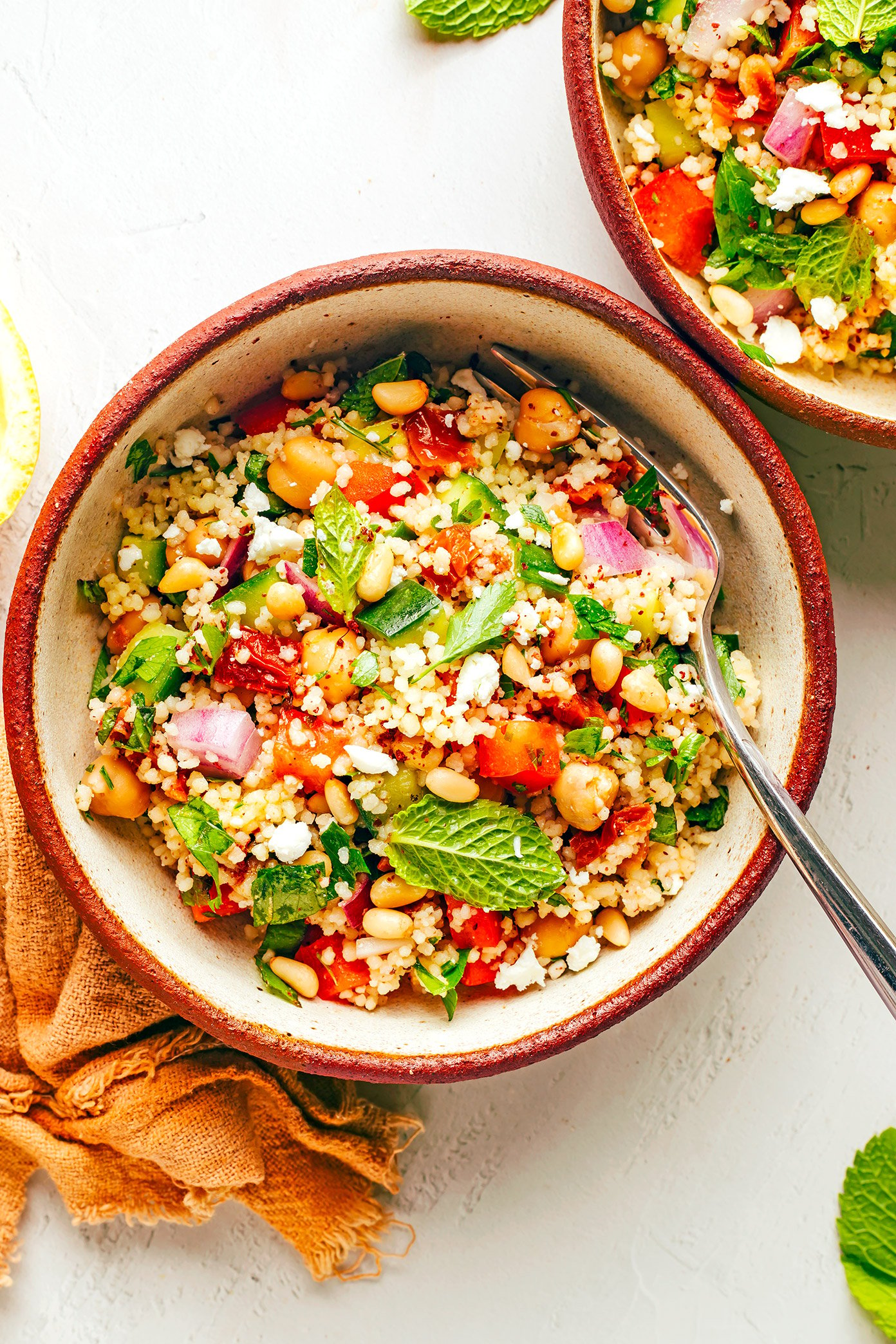 More make-ahead salad recipes
Looking for easier salad recipes to try? Here are a few of my favorites:
Print
---
description
This easy couscous salad is loaded with lots of fresh veggies, chickpeas, herbs, feta, and a zesty lemon dressing. Feel free to add some grilled meat or seafood if you like.
---
Ingredients couscous salad:
1 cup

couscous

1 cup

water

1/2 teaspoon

fine sea salt

1

(15 ounces) can chickpeas, rinsed and drained

1

(12 ounces) English cucumber, seeded and diced

1

medium red peppers, seeded and diced

1

small red onion, peeled and finely diced

1/2 cup

Sun-dried tomatoes in oil, drained and diced

1/2 cup

Pine nuts, toasted

1 cup

(loosely packed) chopped fresh herbs (I used 2/3 cup mint, 1/3 cup parsley)

5 ounces

feta cheese
Lemon Vinaigrette Ingredients:
1/4 cup

olive oil

1/4 cup

freshly squeezed lemon juice

2 teaspoons

everyone

: ground cumin and ground sumac

1/2 teaspoon

everyone

: fine sea salt and freshly ground black pepper

2

Garlic cloves, chopped or pressed
---
cook couscous.

Bring the water and salt to a boil in a small saucepan. Stir in the couscous until combined, then turn off the heat, cover and let sit for 10 minutes or until tender. Uncover and fluff gently with a fork.

Make the vinaigrette.

Whisk all ingredients together in a bowl or shake in a sealed jar until combined.

Arrange the salad.

Combine all the salad ingredients in a large bowl and drizzle evenly with the vinaigrette. Toss until evenly combined.

Season.

Taste and season with additional salt, pepper and/or lemon juice if needed.

Surcharge.

Serve immediately or store in a sealed container in the refrigerator for up to 3 days.
---
Share this post