With a rich Alfredo sauce, this creamy chicken and asparagus pasta is sure to be a hit, and it's loaded with healthy vegetables.
Recipe Overview

Why you'll love it: This restaurant-style chicken Alfredo recipe is totally doable. It's creamy and delicious!
How long it takes: just under an hour
Equipment you'll need: large skillet
Servings: 4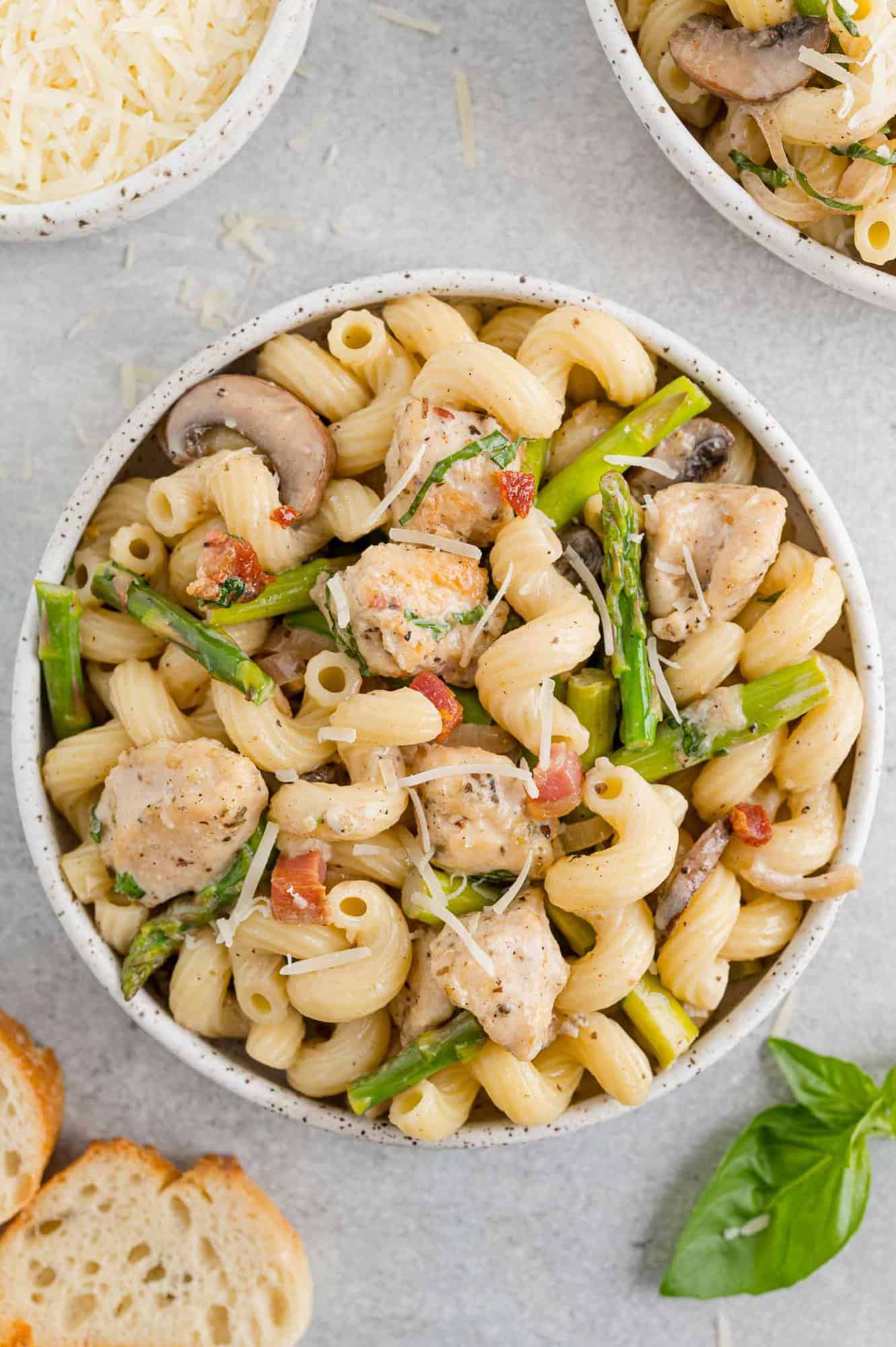 If you're a fan of Olive Garden's chicken Alfredo, you're going to love this creamy chicken and asparagus pasta recipe. It's chicken Alfredo plus!
With tender chicken, salty bits of pancetta, earthy mushrooms, crisp emerald green asparagus, and pasta, all smothered in a creamy Parmesan cheese sauce, there's nothing not to like about this recipe.
I'm always tempted by pasta dishes topped with creamy sauces when I go to restaurants. Probably most of us are. The kicker is that they are usually off the charts when it comes to calories and fat.
According to Fast Food Nutrition, one serving of Olive Garden's chicken Alfredo contains 1480 calories, 94 grams of fat, 95 grams carbohydrates, and 1480 mg of sodium. Gulp! Those numbers make me shudder a bit, okay, actually a lot. And it doesn't include any vegetables, just chicken, pasta, and sauce.
We can do better than that! Home cooks, you can do it! Healthier eating begins at home. And it doesn't have to be all tofu, quinoa, and kale (not that I have anything against any one of those).
In this recipe, you'll still enjoy an Alfredo sauce that's made with cream and Parmesan cheese. This isn't diet food. But still, one serving of homemade chicken Alfredo has less than half the calories of the restaurant version, not even a third of the fat, and way less sodium. Plus, it's packed with healthy veggies which do a body good.
About This Recipe
I hope you're still with me after that little rant. This recipe takes a bit of time and effort but it's totally worth it. You'll need about an hour to prepare it. It's pretty much an all-in-one meal, with meat, pasta, and veggies, so you won't need to add much in the way of side dishes.
Although the pasta cooks in a separate pot, the rest of the cooking takes place in one large skillet. I like to use my big straight-sided skillet for this type of meal.
The pancetta and chicken take their turn in the pan, then they sit out for a bit of time. The veggies go in next to cook, then the sauce ingredients, and then the meat is added back in. The cooked pasta is stirred in last.
You'll want to have everything prepped before you turn the stove on. Once you start cooking, things move along pretty quickly and you'll be glad you had everything ready.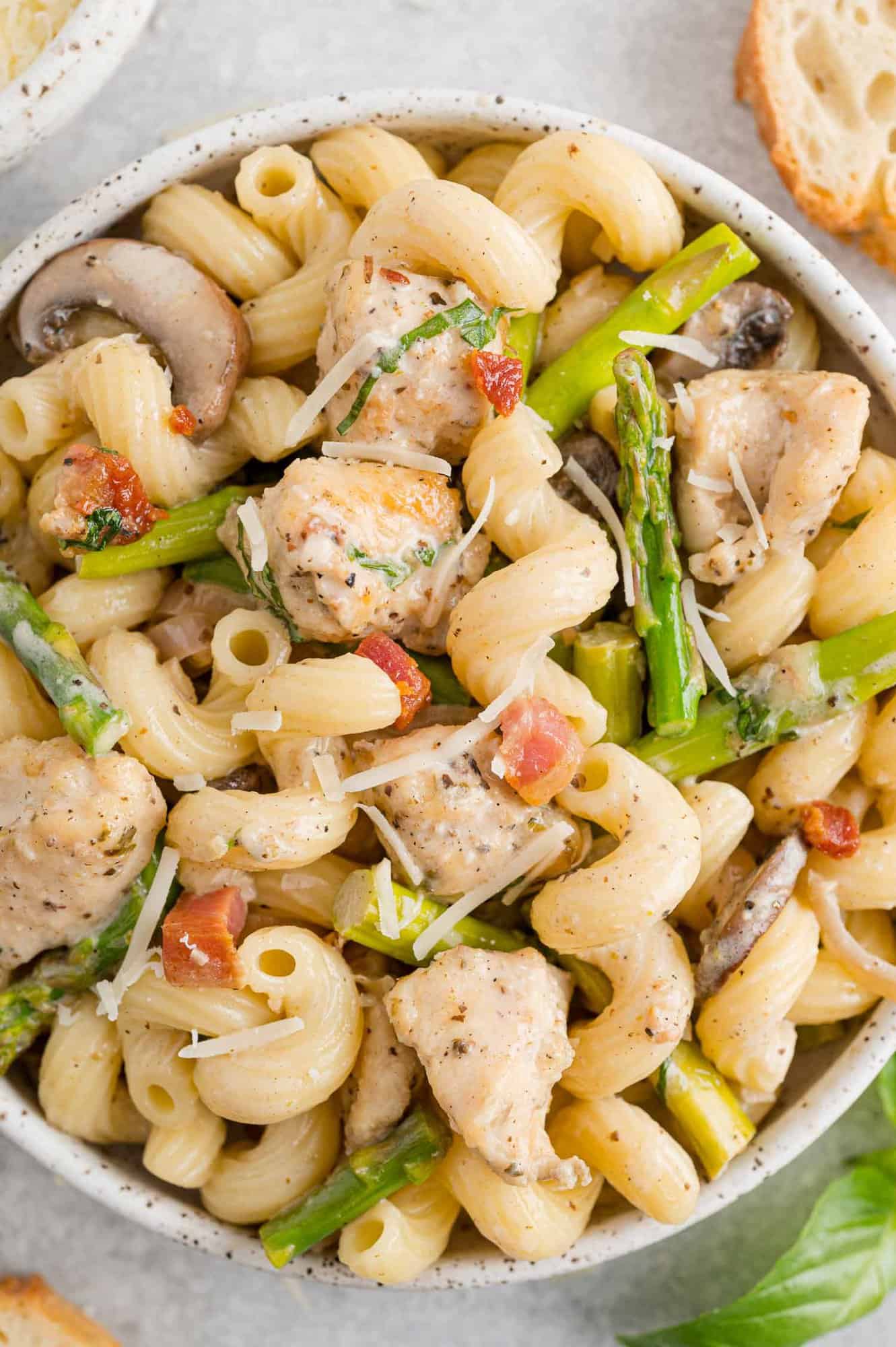 Let's run through the recipe here and I can give you some extra tips. The recipe card is located near the end of the post. You'll find measurements, instructions, and nutrition information there.
What You'll Need
Pasta: You can use pretty much any type of pasta. The pasta pictured is cavatappi. Penne is another good choice. If you prefer whole wheat or gluten-free pasta, that will work, too.
Boneless Skinless Chicken Breasts: You'll need about a pound of chicken. If you prefer dark meat, choose boneless skinless chicken thighs.
Cornstarch, Dried Oregano, Garlic Powder, Salt & Pepper: The chicken is "breaded" with this mixture. It seasons the chicken and the cornstarch aids in browning the chicken, sealing in the juices and giving it a crisp exterior. It also helps to thicken the sauce later on.
Pancetta: This cured meat is similar to bacon but isn't smoked. Buy cubed pancetta which is often sold in vacuum sealed packages. If you prefer, bacon can be substituted for the pancetta.
Shallots: A member of the allium family, shallots are similar to onions. They are purplish in color and usually are smaller than onions, with a finer texture. The flavor is sweeter and milder. If you prefer, an onion can be subbed in for the shallots.
Mushrooms: Look for white mushrooms, sometimes called button or common mushrooms. You can substitute baby bella or cremini mushrooms, if you prefer.
Garlic: Look for firm compact dry heads of garlic, without any green sprouts. Separate four cloves from the head. Peel the cloves before mincing, or press them through a garlic press.
Asparagus: You'll need one pound of asparagus, a good-sized bunch. Snap off the woody ends, rinse it well, and cut it into bite size pieces.
White Wine: Dry wines are best for cooking. Sweet wines add a sweet flavor that often doesn't go well with a savory dish. Choose chardonnay, sauvignon blanc, or a dry pinot grigio. Chicken broth can be substituted if you prefer.
Heavy Cream: Just a half cup of cream provides a creamy texture to the sauce.
Parmesan Cheese: This dry salty cheese adds flavor, richness, and creaminess to the sauce.
Fresh Basil: There's really nothing quite like fresh basil. Lately I've been buying "fresh" basil that is lightly dried and sold in a small plastic container. It smells and tastes like fresh but it keeps for up to 4 weeks once it's opened. It's perfect when fresh basil is out of season.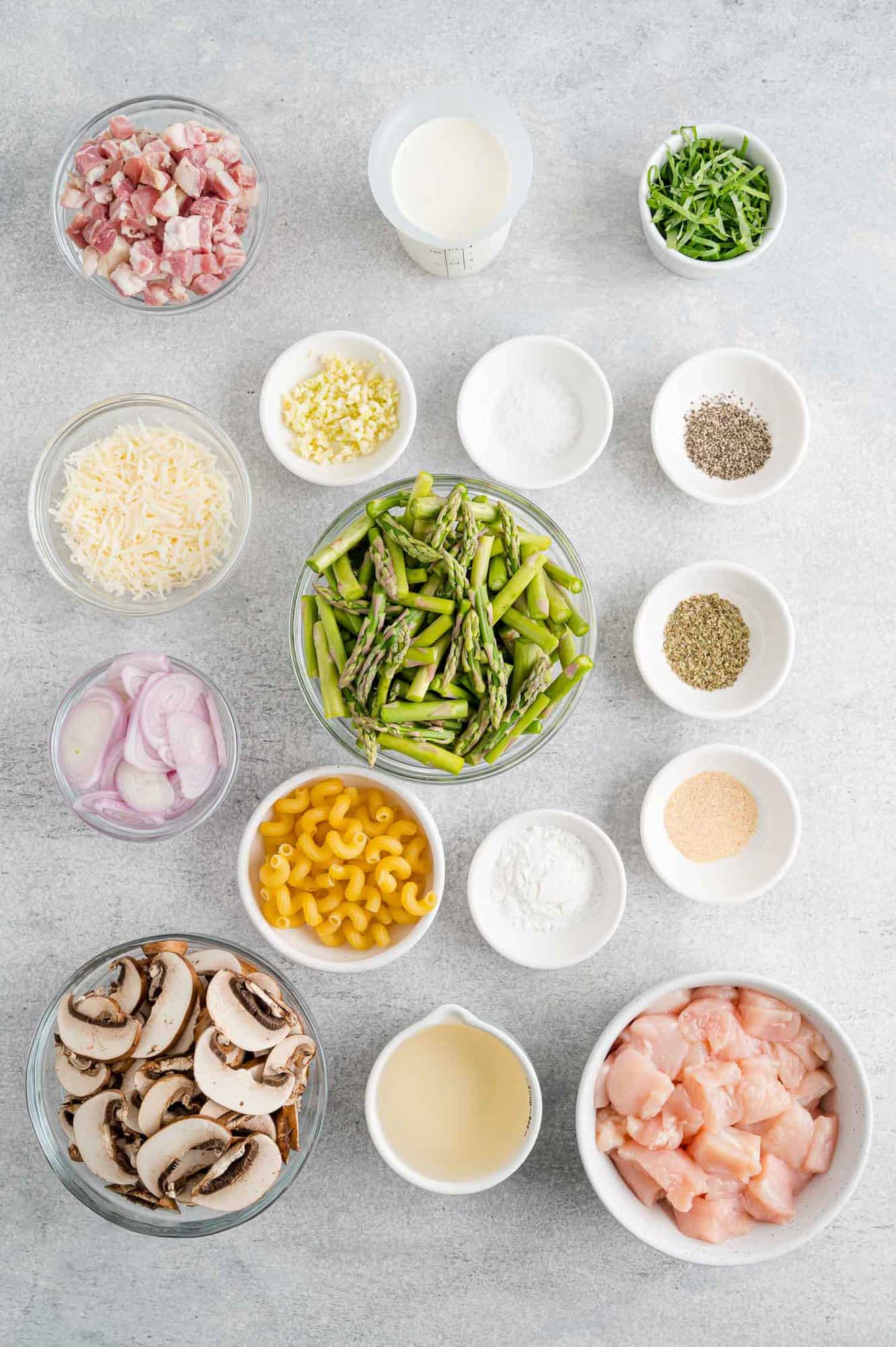 How To Make It
You'll want to get the pasta started first. It can take awhile for a big pot of water to come to a boil. Boil the pasta according to the package directions. The cooking time depends on what type of pasta you choose.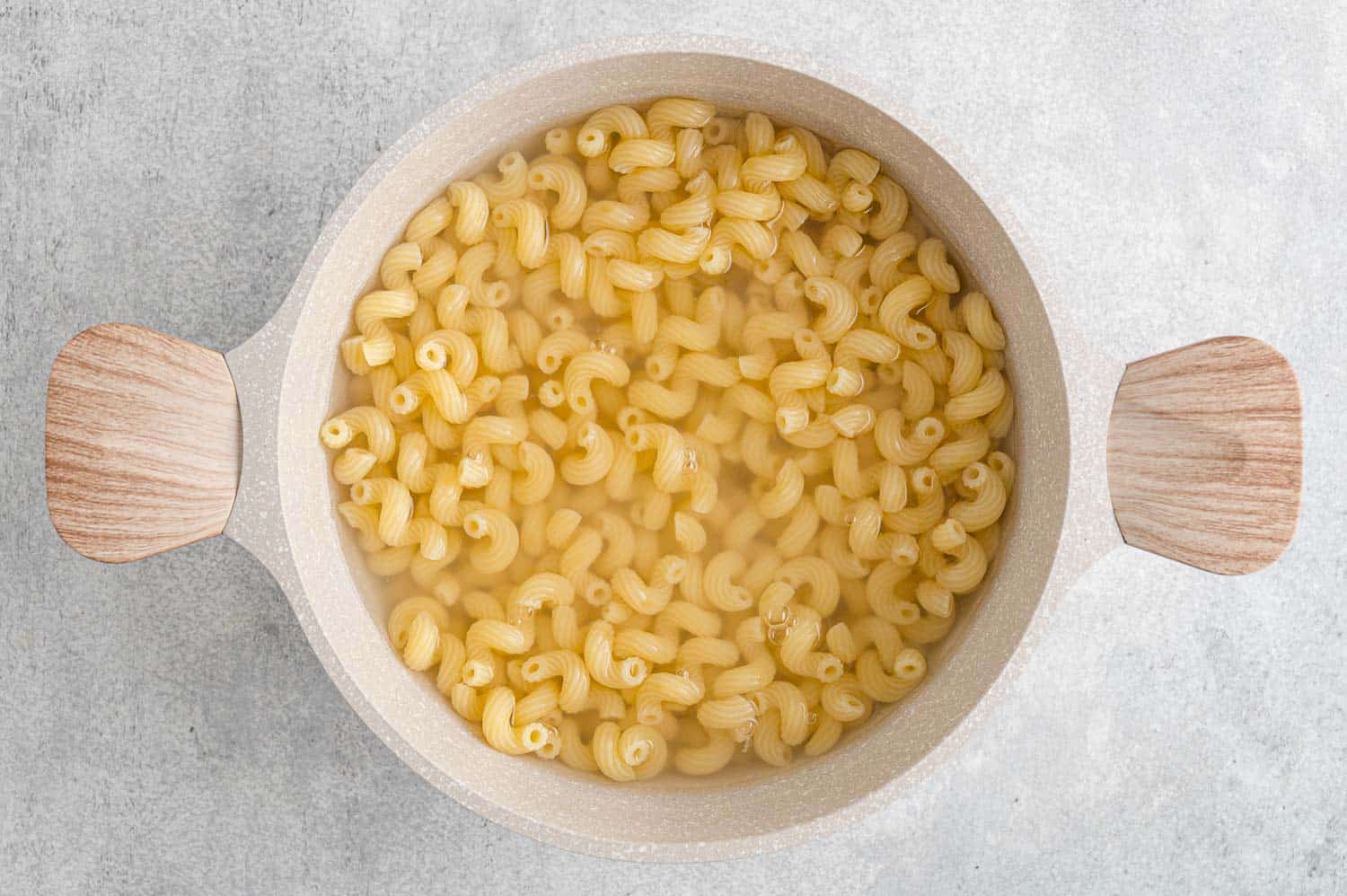 Reserve a half cup of the cooking water before you drain the pasta. You'll be needing that starchy water later to thin the sauce.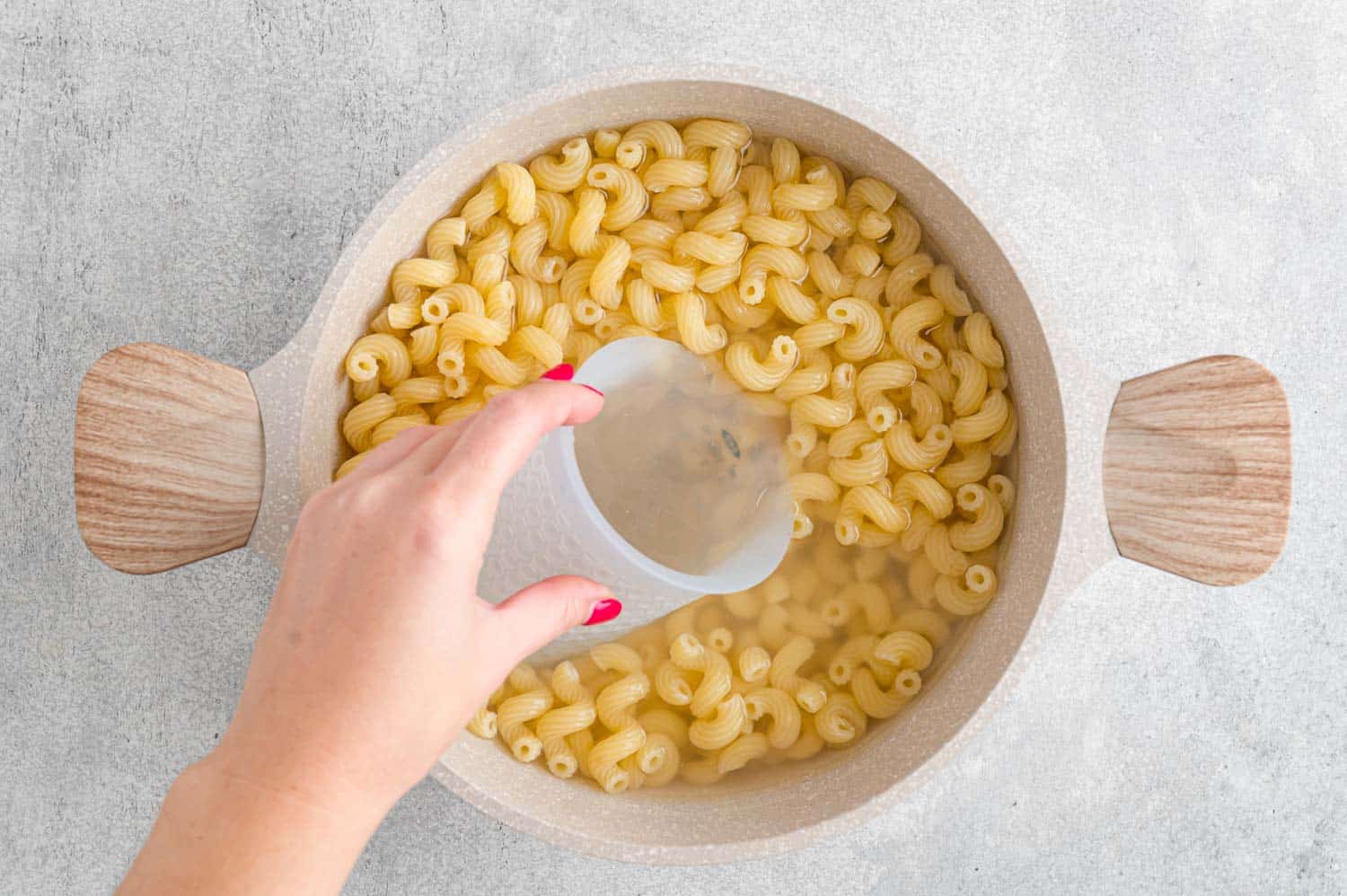 The chicken should be cut into bite size pieces. Toss the chicken pieces with the cornstarch and seasoning mix until they are well-coated; set the chicken aside for now.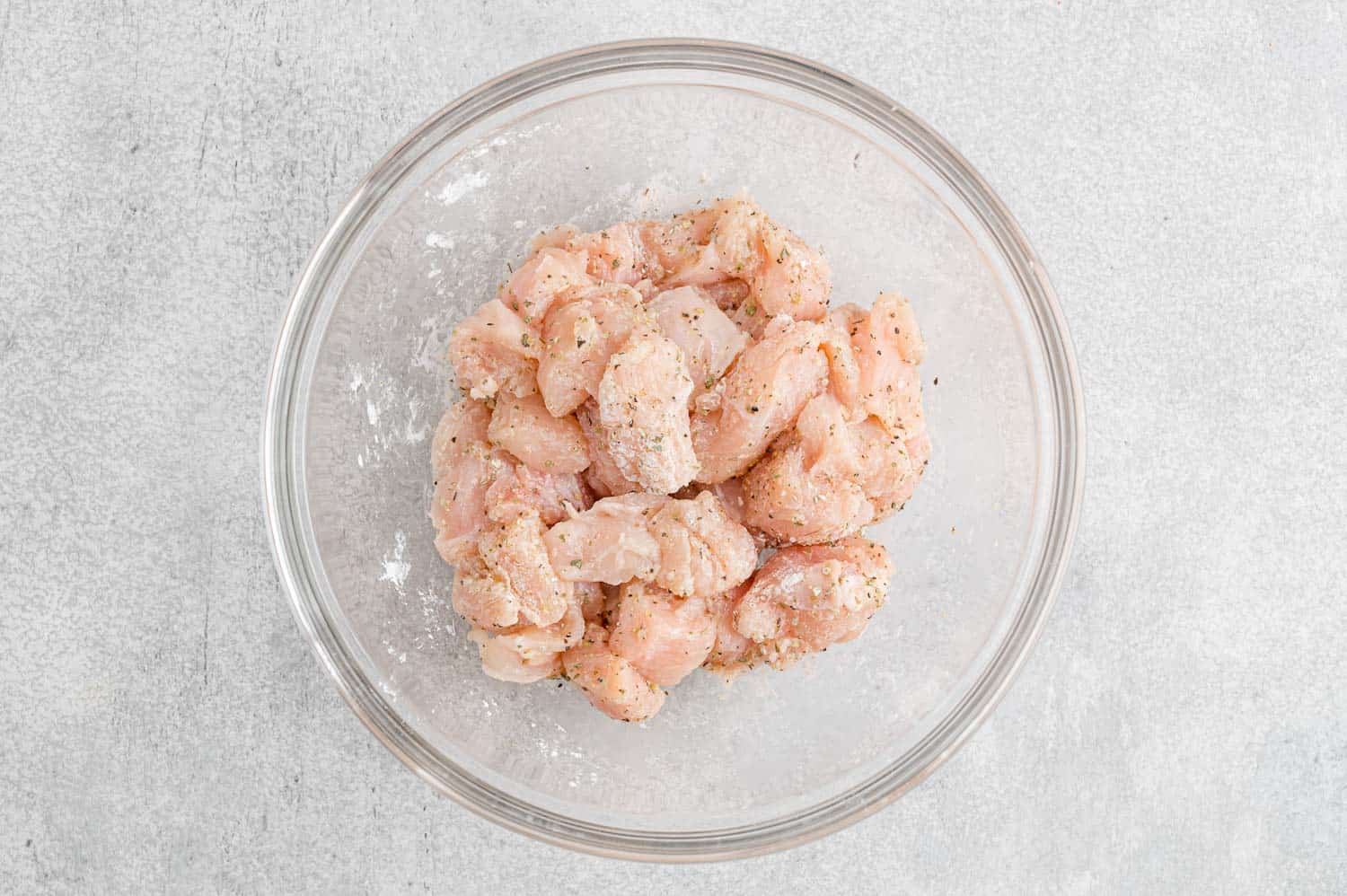 In a large skillet (I like the straight-sided skillets for a recipe like this), cook the pancetta. Like bacon, pancetta is not cooked. It needs to brown and crisp up, and it will render fat, just like bacon. It will take about 10 minutes.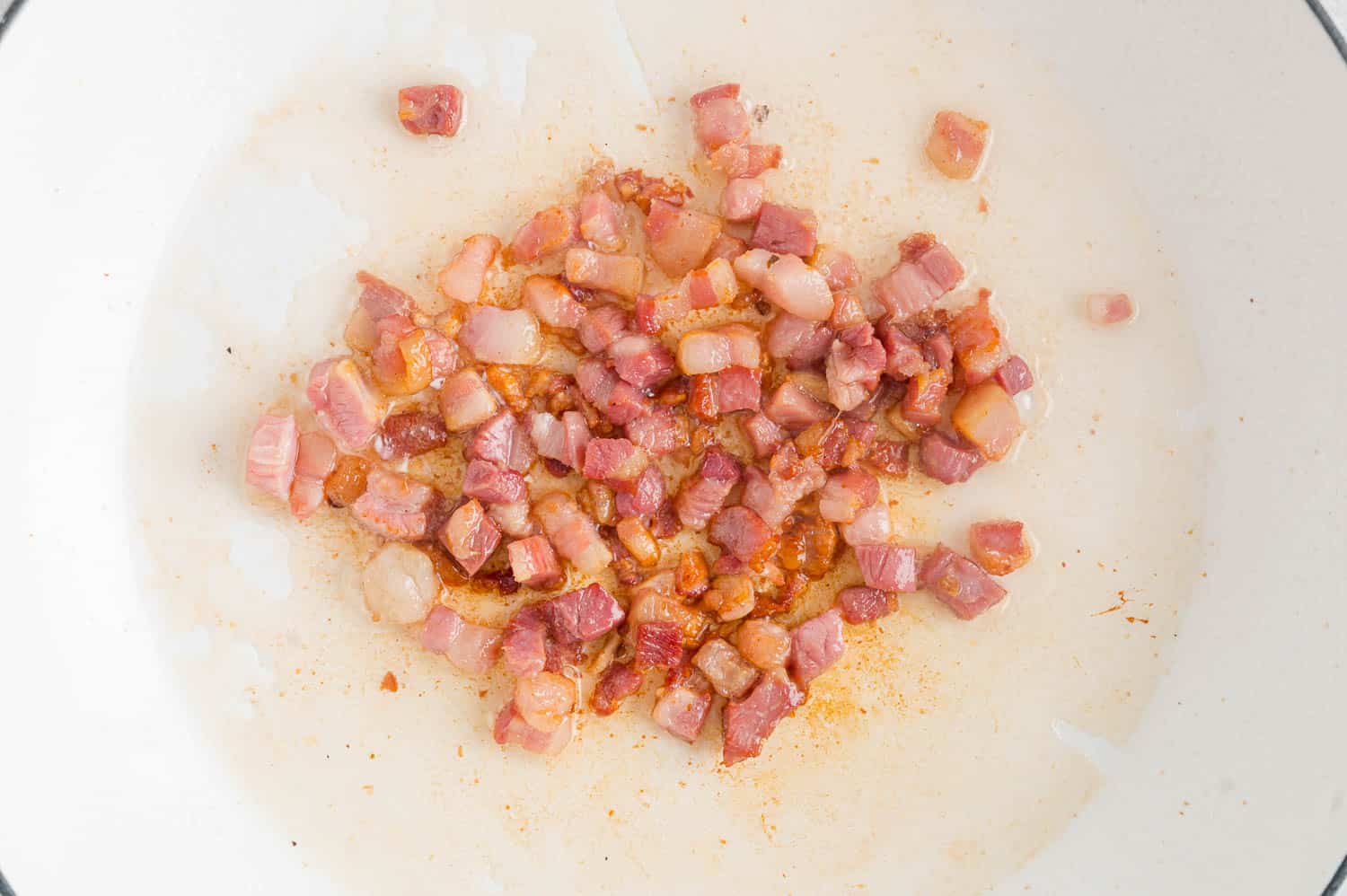 Scoop the pancetta out of the grease and spread it on a paper-towel lined plate to drain. Pour the excess grease into a small bowl, keeping about one tablespoon of it in the skillet.
Put the skillet back on the stove over medium-high heat. Add the chicken, spreading it in a single layer. Allow the chicken to cook undisturbed for a few minutes so it gets nice and brown on the bottom, and then give it a stir. The less often you stir it, the more brown it will get. It will only take about six or seven minutes to cook through since the pieces are small.
Remove the chicken from the pan and put it on the plate with the cooked pancetta.
If the skillet looks pretty dry, add more of the rendered fat from the pancetta. Heat the skillet over medium heat, and cook the shallots and mushrooms, seasoning them with a bit of salt and pepper, until the mushrooms are browned and the shallots are softened.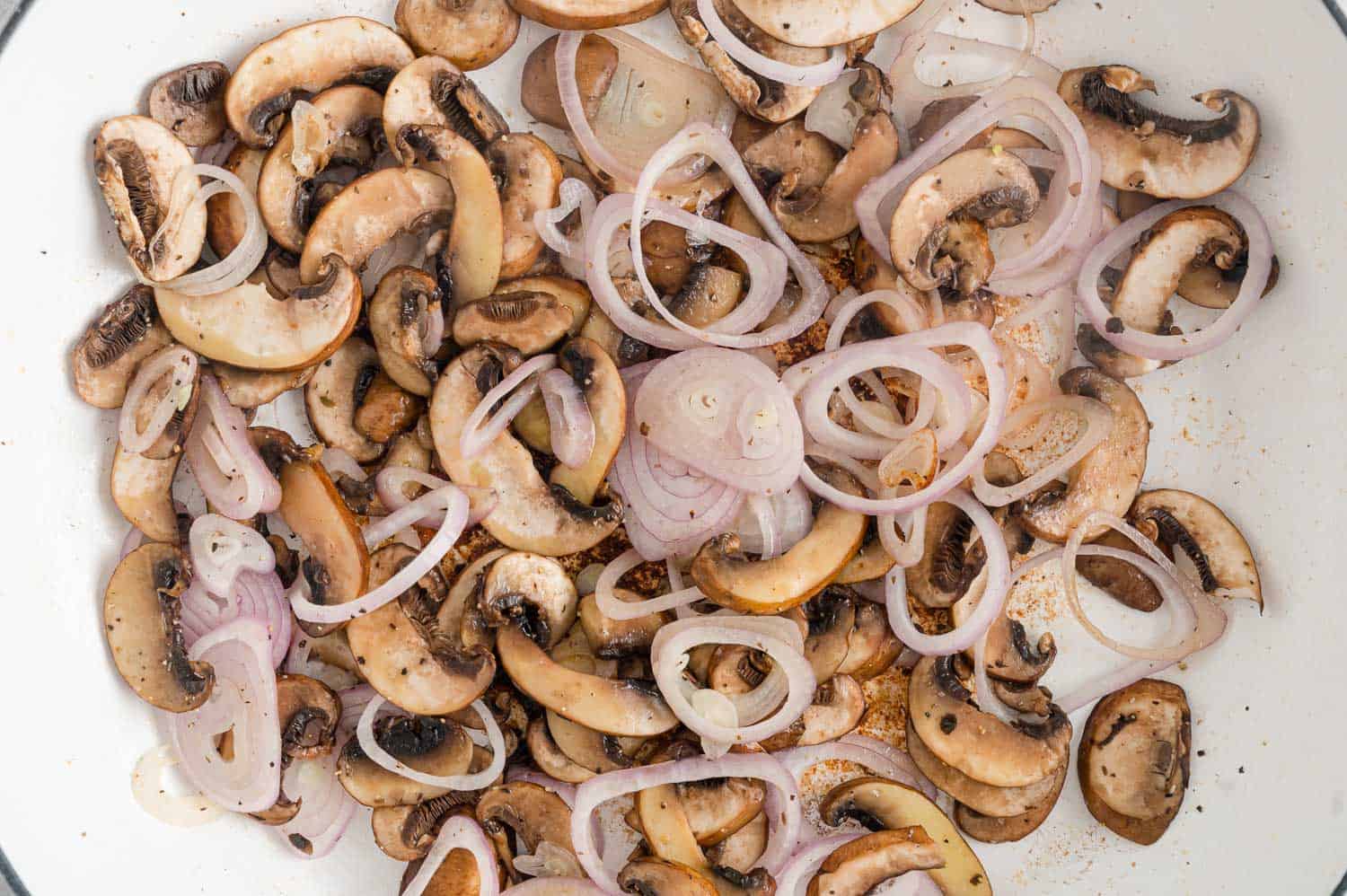 Add the minced garlic, and cook it, stirring constantly until it releases a wonderful garlicky fragrance.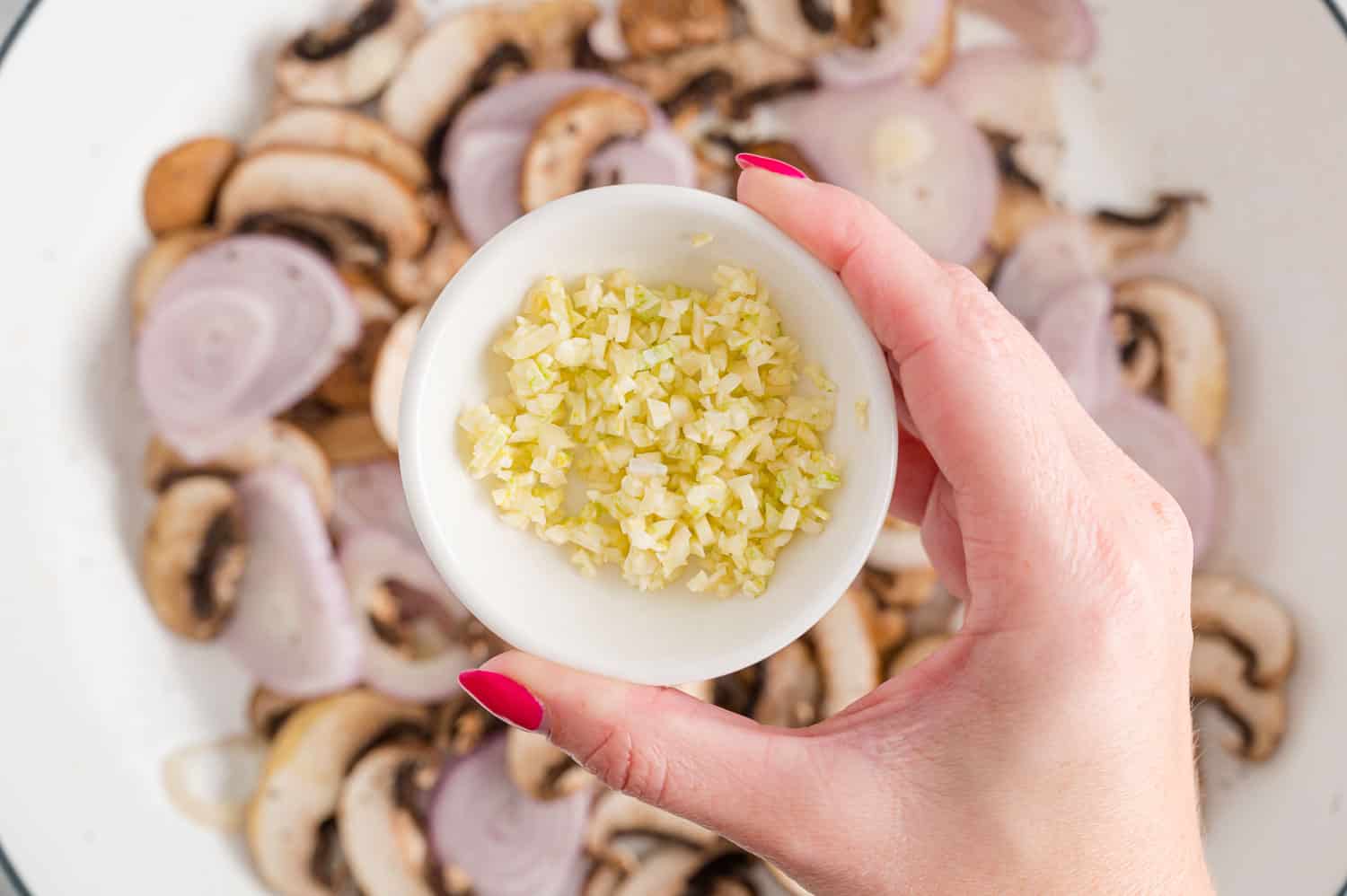 Stir in the white wine, and then the asparagus.
Asparagus cooks pretty quickly, in about three or four minutes. You want it to be crisp tender, not mushy tender. The color should be a vibrant green.
Lower the heat, and stir in the cream. Once that starts to simmer, stir in the cheese, basil, chicken and pancetta. Simmer gently until the cheese melts.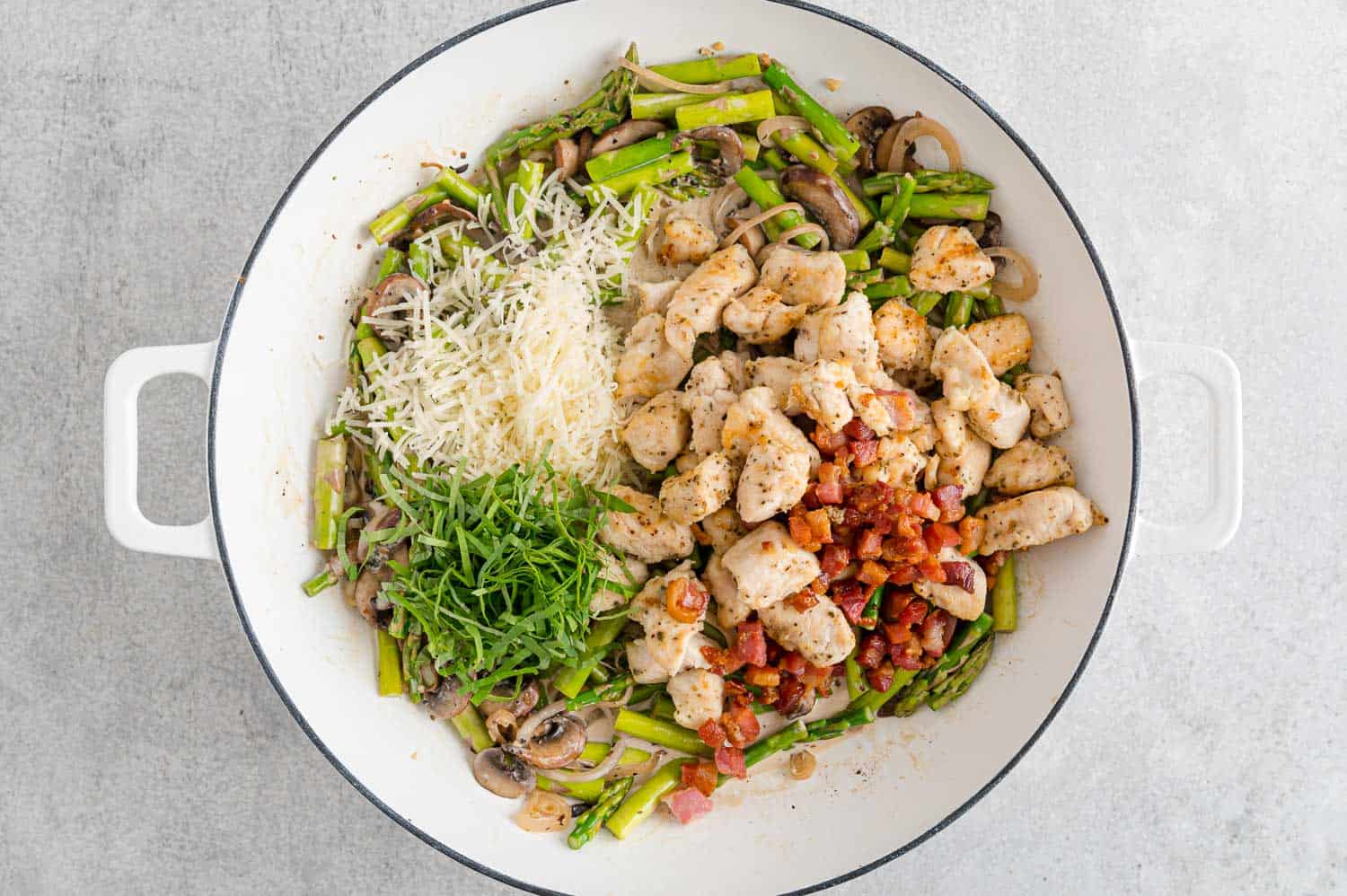 Fold in the cooked pasta. Add a little bit of the pasta cooking water to thin the sauce, a teaspoon or so at a time, until it's the consistency you want.
Serve the creamy chicken and asparagus pasta in large shallow bowls with a sprinkle of fresh basil and additional cheese, if you want.
Wondering what to serve with this pasta? An Olive Garden style salad, with lettuce, croutons, red onions, and tomatoes and creamy Italian dressing goes well with this dish or keep things really simple with marinated tomatoes as a salad.
Serve warm crusty bread and restaurant style bread dipping oil. Make the occasion special with a cocktail, maybe an Aperol spritz or a rosé spritzer. Both cocktails are light and refreshing.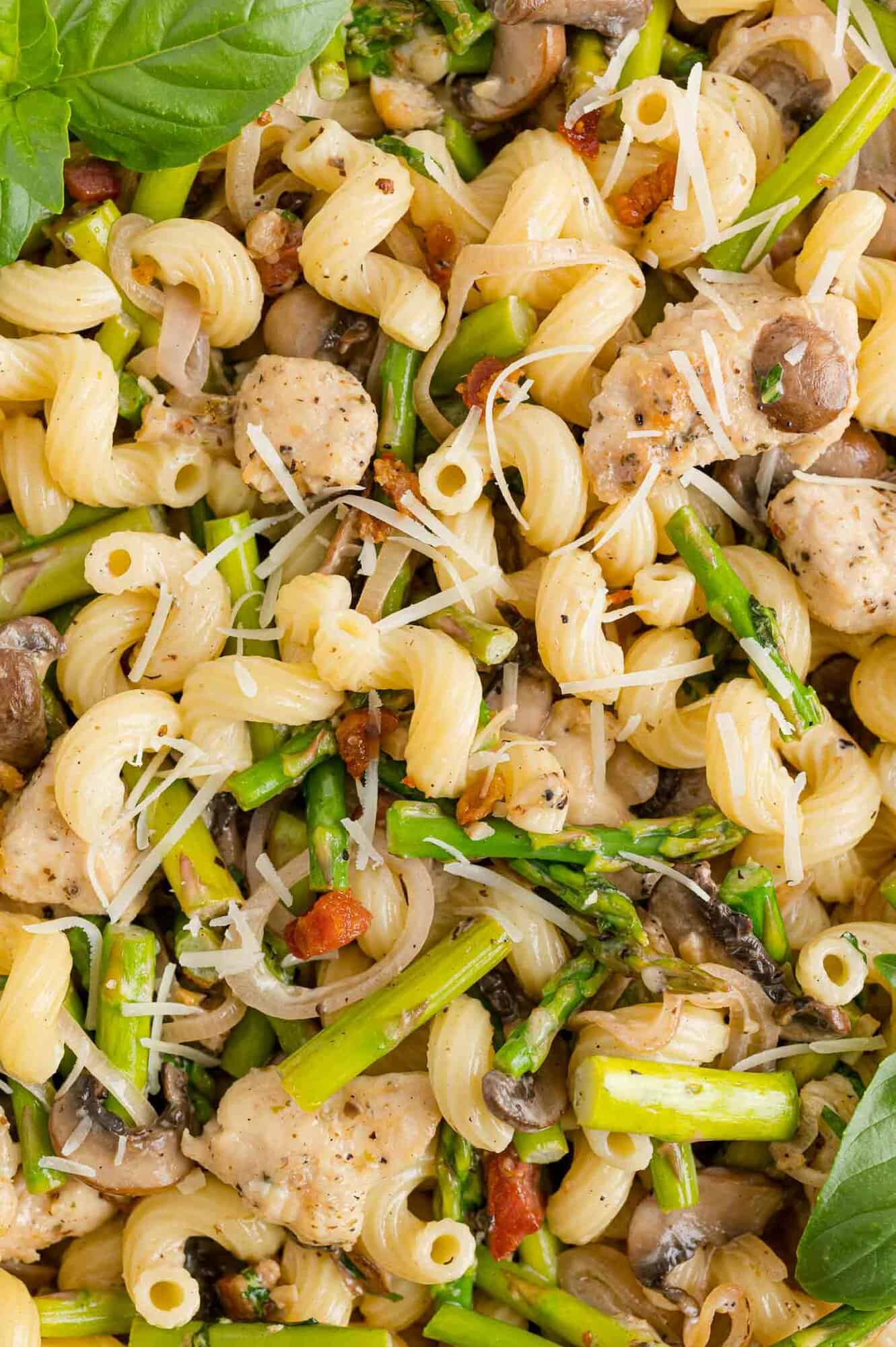 FAQs
How do you know if asparagus is good?
The stalks should be firm, smooth, and crisp and the buds tightly closed. Both thin and thick stalks are fine. Asparagus may be green, purple, or white, depending on the the variety. Avoid asparagus that is limp, wrinkled, or yellowish green.
What can I use for cream in pasta?
If you want creamy pasta but would rather use no cream, there are a few alternatives. Half & half is creamy but with a third of the fat. Whole milk thickened with cornstarch or flour works well. Plain Greek yogurt or cream cheese are good choices, too. Coconut milk is a non-dairy alternative but it does have a flavor so isn't suitable for all pasta dishes.
If you're just not a fan of creamy pasta, try a basil pesto sauce or tomato-based spaghetti sauce.
Make It Your Own
Substitute bacon for pancetta, if you prefer. Another alternative is to skip the pancetta and use olive oil to sauté the chicken and vegetables instead.
Love seafood? Switch out the chicken for shrimp.
Not a fan of asparagus? Substitute sugar snap peas, spinach, or broccoli. Cooking times will vary slightly.
Not a mushroom fan? Simply omit the mushrooms from the recipe. If you like, increase the asparagus instead.
Storage & Reheating Tips
This creamy pasta is best served immediately. Leftovers should be refrigerated promptly. It will keep for up to three days. It does not freeze well.
Reheat single portions in the microwave. For larger amounts, reheat gently in a skillet over medium low heat. Add water, milk, or broth to thin slightly, if necessary.
Did you make this? Be sure to leave a review below and tag me @rachelcooksblog on Facebook, Instagram, or Pinterest!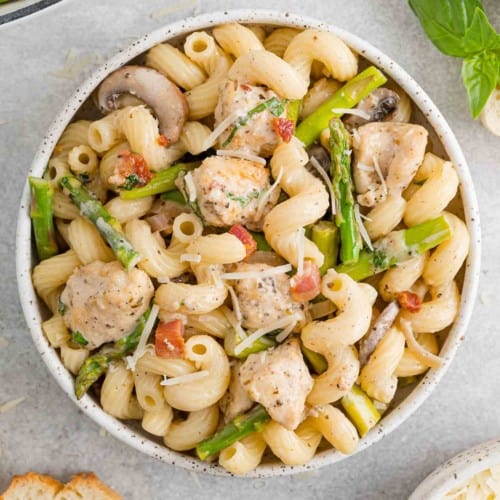 4 servings
Prevent your screen from going dark
With a rich Alfredo sauce, this creamy chicken and asparagus pasta is sure to be a hit, and it's loaded with healthy vegetables.
Ingredients
8

oz.

dry pasta

(cavatappi or mini penne)

1

pound

boneless skinless chicken breasts, cut into ½ inch pieces

1

tablespoon

cornstarch

½

teaspoon

dried oregano

½

teaspoon

kosher salt, divided

½

teaspoon

coarse ground black pepper, divided

¼

teaspoon

garlic powder

4

ounces

chopped pancetta

2

large shallots, thinly sliced

(about

1

cup)

8

oz.

white mushrooms, cleaned and sliced

4

cloves

garlic, minced

1

pound

asparagus, trimmed and cut into 1-inch pieces

½

cup

dry white wine

(substitute chicken broth, if desired)

½

cup

heavy cream

½

cup

shredded parmesan cheese, more for serving

½

cup

thinly sliced basil leaves, more for serving
Instructions
Heat a large pot of salted water over high heat and cook pasta as directed. Reserve ½ cup of the pasta water before draining.

Combine cornstarch, oregano, ¼ teaspoon salt, ¼ teaspoon pepper, and garlic powder in a small bowl. Sprinkle over chicken and toss to combine. Set aside.

Heat a large frying pan over medium heat. Add pancetta and cook until crispy, about 9 to 10 minutes. Remove from pan and place on a paper towel lined plate to drain.

Remove all but 1 tablespoon of grease from the pan, reserving the remaining grease. Increase heat to medium-high and cook chicken, stirring only occasionally, until golden brown and cooked through, about 6 to 7 minutes. Remove chicken from pan and add to plate with pancetta.

Reduce heat to medium, add a teaspoon of reserved grease, if necessary, and add shallots and mushrooms. Season with ¼ teaspoon salt and ¼ teaspoon pepper. Cook until mushrooms are browned, stirring occasionally, about 6 minutes. Add garlic, cook and stir for 1 minute or until garlic is fragrant.

Add wine to pan and bring to a boil. Add asparagus to pan and cook for 3 to 4 minutes or until asparagus is crisp-tender and wine has reduced.

Reduce heat to low, stir in cream until simmering. Stir in cheese, chicken, pancetta, and basil.

When cheese has melted, stir in pasta. Add pasta water as desired to thin sauce.

Garnish with fresh basil and more cheese if desired.
Notes
If you prefer, bacon can be substituted for pancetta. Another alternative is to skip the pancetta and use a couple tablespoons of olive oil to sauté the chicken, mushrooms, and shallots.
Not a fan of asparagus? Substitute sugar snap peas, frozen peas, spinach, or broccoli. 
Reheat leftovers in a skillet over medium low heat. Add water, milk, or broth if necessary to thin the sauce.
Nutrition Information
Calories: 691kcal, Carbohydrates: 56g, Protein: 45g, Fat: 29g, Saturated Fat: 14g, Polyunsaturated Fat: 3g, Monounsaturated Fat: 10g, Trans Fat: 0.1g, Cholesterol: 133mg, Sodium: 831mg, Potassium: 1144mg, Fiber: 5g, Sugar: 7g, Vitamin A: 1601IU, Vitamin C: 12mg, Calcium: 239mg, Iron: 5mg
This website provides approximate nutrition information for convenience and as a courtesy only. Nutrition data is gathered primarily from the USDA Food Composition Database, whenever available, or otherwise other online calculators.