A five-ingredient appetizer perfect for an easily entertaining crispy baked feta in filo wrap is a recipe for all seasons!
March can be a challenging month to find inspiration in the kitchen. As much as I love my local farmers, I'm a little tired of the root vegetables I've been cooking all winter. But the abundance of spring produce is weeks, if not months, away.
Enter feta cheese. It's an ingredient I always look forward to, whether it's simply crumbled onto a side salad or, like in today's recipe, it's the star of the show.
Crispy Baked Feta in Filo Wrap with Floral Lavender Honey is inspired by an appetizer I enjoyed frequently in Greece last June. The feta arrived piping hot, languished in a puddle of honey, and was devoured in seconds.
Just five ingredients make this tempting dish: Puff pastry, feta cheese, olive oil, liquid honey and dried lavender. One bite and I'm back in Greece.
Here's how to make baked feta at home.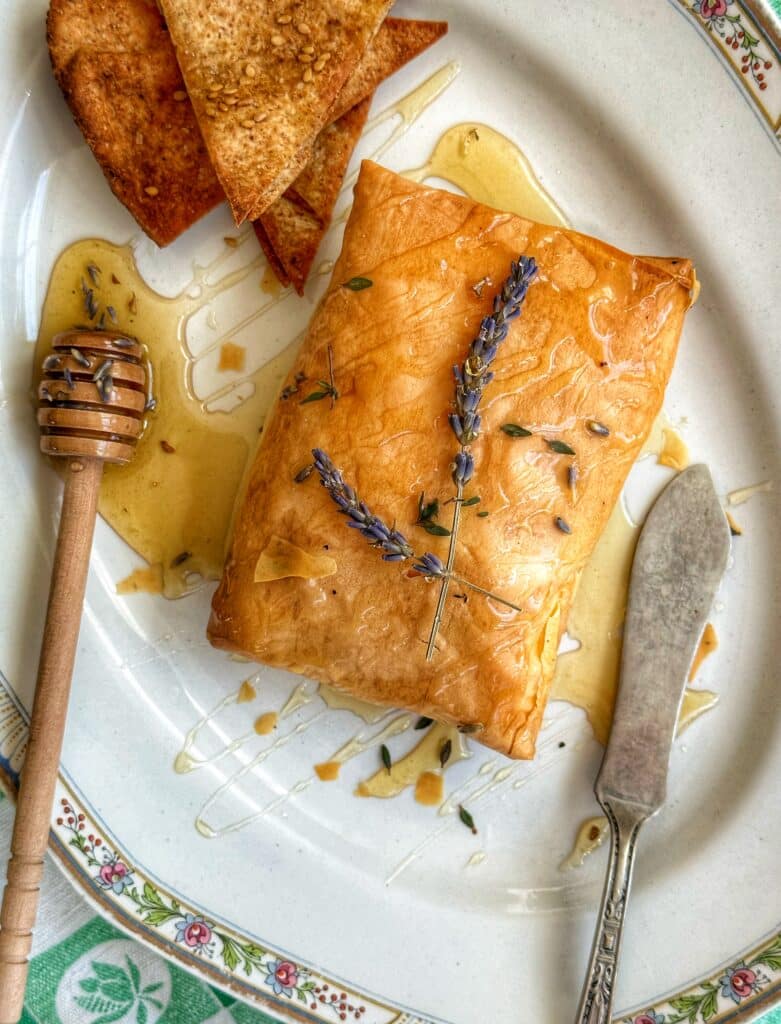 Baked Feta Ingredients
Crispy Baked Feta in Filo Foil uses few ingredients, but they're particularly unique. Let's go through them one by one.
Phyllo pastries – Whether you call it phyllo or filo (I use both), just know that this delicate puff pastry is a staple of Greek cuisine. I buy mine frozen and thaw them in the fridge overnight.
Extra virgin olive oil – Coating the phyllo with olive oil ensures that it bakes crispy and flaky. You can also use melted butter, but olive oil is traditional.
Feta PDO – Real feta is made in Greece from sheep's milk using traditional methods. When buying feta, look for the round golden "seal" that says "Protected Designation of Origin" on the packaging. Read more about authentic feta and my trip to Greece to discover this incredible ingredient.
Liquid honey – The perfect sweet balance with the salty, spicy feta; Honey is an essential ingredient in this dish. If you can find pure comb that would make a wonderful presentation.
Culinary lavender – Most honey in Greece is very floral, so I add a local honey with my home-grown lavender buds. Find culinary lavender at Spice Trekkers.
Bonus: sesame seeds – The baked feta in Greece was almost always sprinkled with sesame seeds. It's a brilliant pairing that I recommend you try at some point.
Baked feta step by step
Baked feta is a very simple dish. After making the recipe once or twice, you can work from memory and whip up a baked feta appy with phyllo wraps with ease! Here are the steps:
Step 1: Thaw the phyllo in the fridge a day before. This part requires a little planning.
Step 2: Infuse the honey with lavender. This can be done up to a week in advance.
Step 3. Preheat the oven to 350F. Line a baking sheet with parchment.
Step 4. Brush the phyllo with olive oil and wrap the feta block.
Step 5. Bake until crispy!
Step 6. Drizzle with honey and serve warm.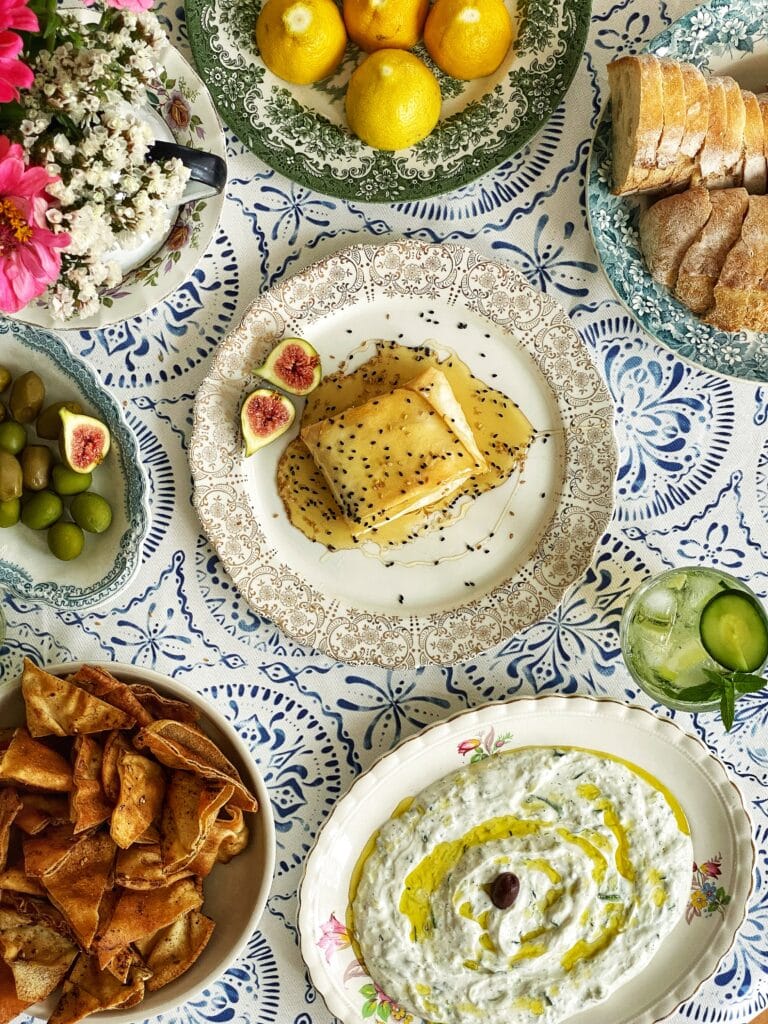 An appetizer for all seasons
One of the best things about this baked feta dish is that it's a welcome addition to the table any time of year.
The ingredients are easy to find and go very well with fruit and vegetables from all seasons. This versatility makes baked feta a valuable appetizer to keep in your repertoire.
Favorite pairings for Baked Feta in Filo Foil
Spring: fresh berries, lavender honey
Summer: fresh figs, roasted sesame, honey
fall: Cherry tomatoes, raw or roasted, fresh shredded basil, balsamic reduction drizzle
Winter: roasted pumpkin, sprinkle with dried oregano, drizzle with olive oil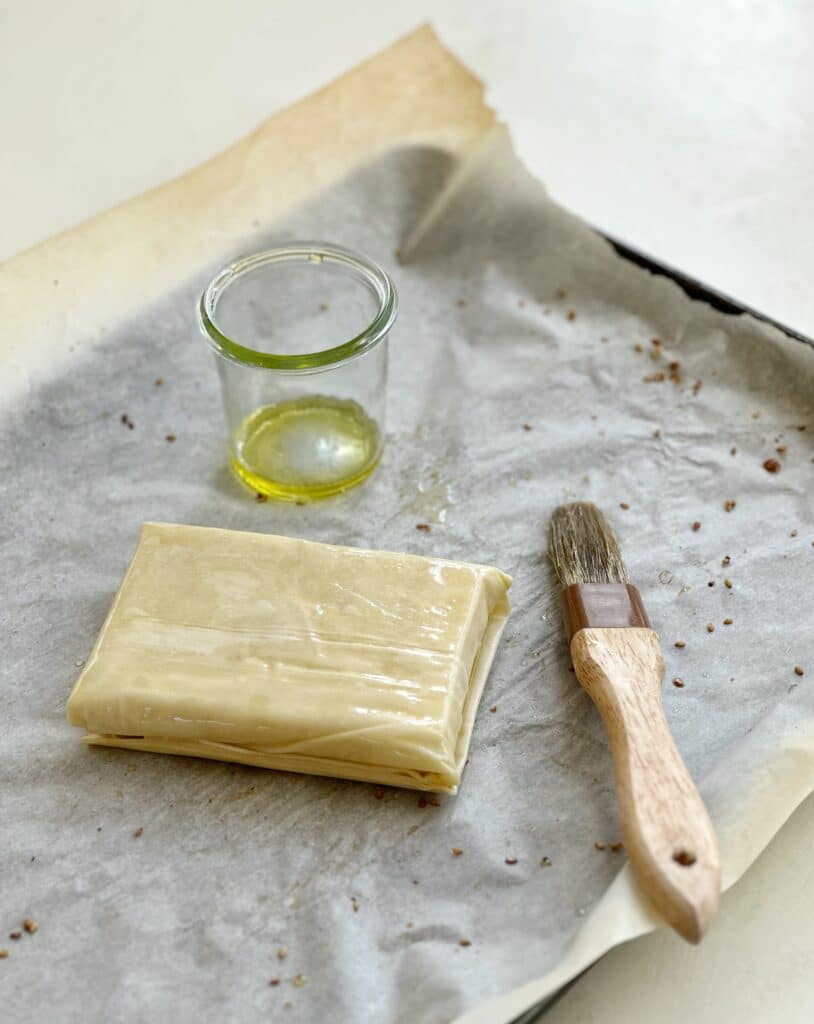 Recipe tips and tricks
As easy as this recipe is, I learned a few tricks in the process.
Before packing, dry the feta well with a clean tea towel
Don't wrap the feta block too tightly with the phyllo
Don't worry if the phyllo tears, just patch it with another small piece
Thoroughly coat the phyllo with olive oil to get that golden color all over
Chef's tip:
To serve, first drizzle some honey onto the plate so the baked feta sticks. As a result, it doesn't slip around when you cut into the crispy baked feta.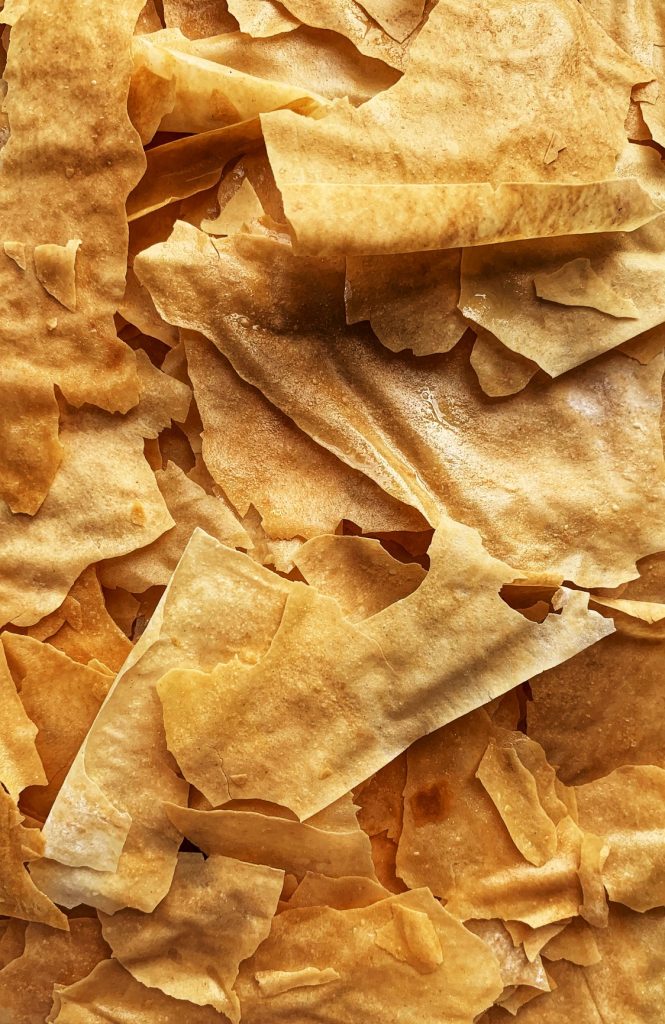 Remnants of Phyllo
Leftover phyllo dough can be stored in the refrigerator for up to a week. But I suggest you toast it in the oven and make the phyllo chips pictured above. Then you can prepare this simple yet extraordinary salad below.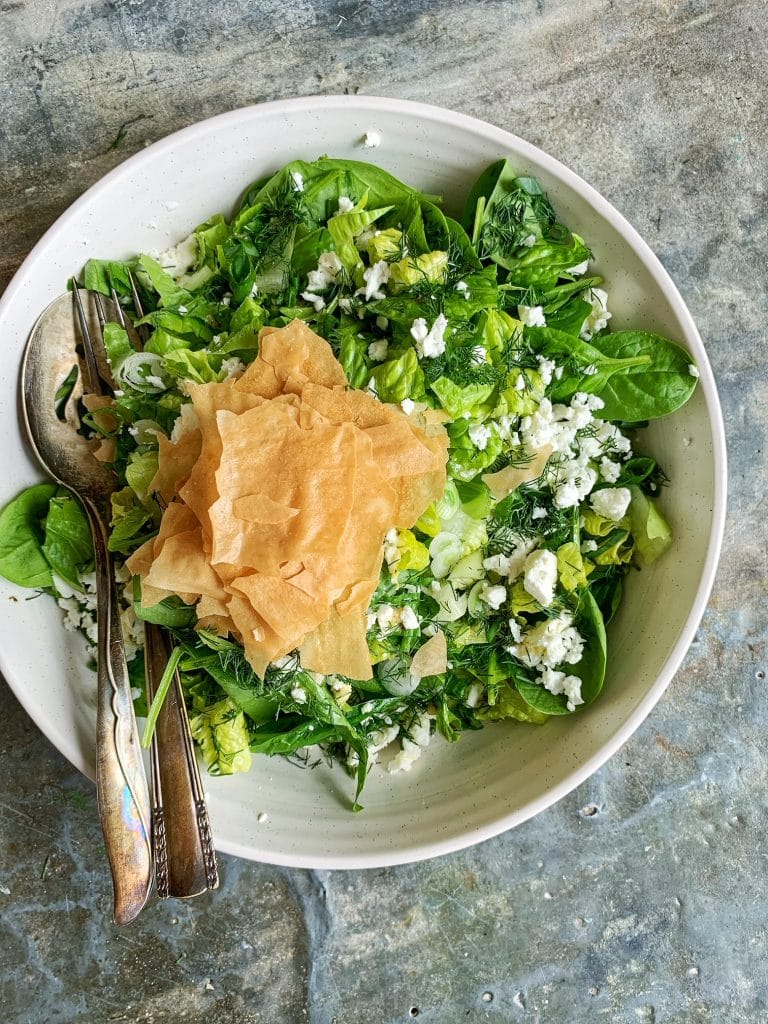 Spinach Feta Salad with Crispy Filo Chips – Here's another fabulous recipe inspired by my trip to Greece. This salad sounds almost too easy, but it's the perfect combination of flavors and textures!
More Cheesy Recipes:
Bread + Cheese = Happiness. If you're ok with that, mark these recipes to try next: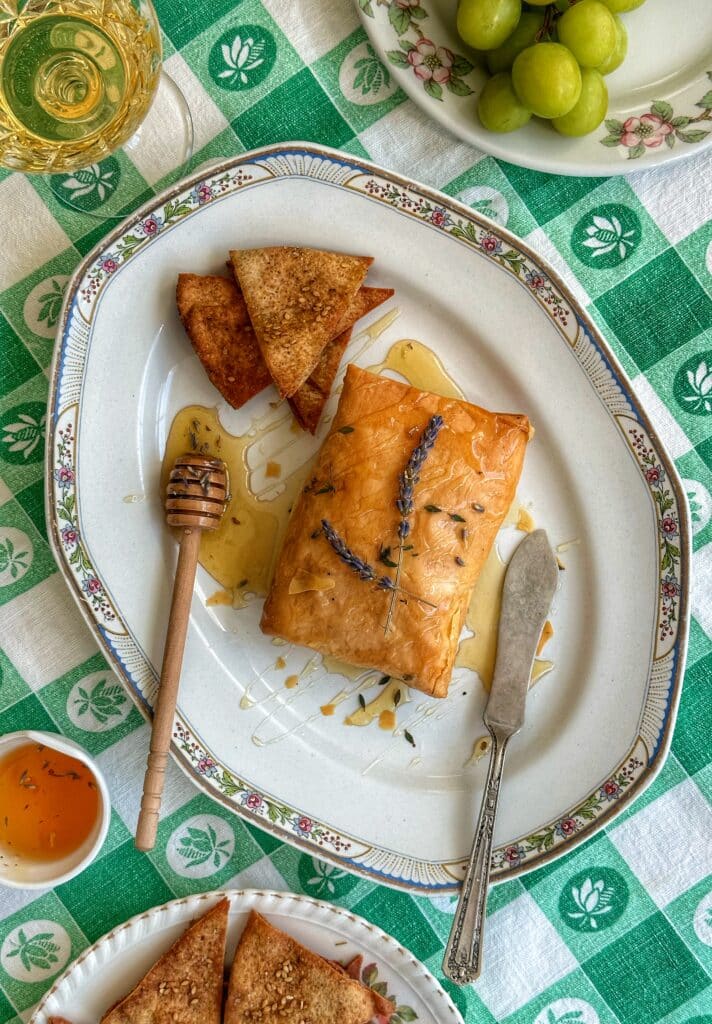 Baked feta with crispy phyllo wraps and lavender honey
I like to serve my baked feta with toasted pita chips, a bowl of fresh fruit, and a glass of chilled white wine. If you want to turn it into a meal, serve it with my Greek Watermelon Salad and a bowl of Greek-inspired sheet metal meatballs. What a party!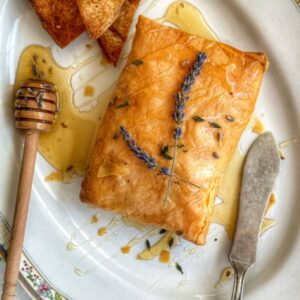 Baked feta with crispy phyllo wraps and lavender honey
A simple five ingredient appetizer that's perfect for a simple conversation. Ready in less than 30 minutes.
Press
Pen
rate
Servings: 4 People
Ingredients
1

to blog

feta

about 135 grams

2

leaves

Filo Dough

2

tablespoon

Extra virgin olive oil

1/4

Cup

Liquid honey

1/2

teaspoon

culinary lavender
instructions
Preheat oven to 350℉. Line a small baking sheet with parchment paper.

Remove the feta from the brine (save the brine for salad dressing or marinades) and pat dry with a clean dish towel.

Place a phyllo leaf on a clean, dry work surface and brush it thoroughly with olive oil. Carefully place the second phyllo sheet on top and brush again with olive oil.

Place the feta block on the prepared baking sheet. Brush generously with olive oil. Place in the oven and bake for 20-25 minutes or until golden brown.

While the feta is baking, slightly warm the honey and add the lavender buds. Leave for a few minutes.

Arrange the hot baked feta on a pretty plate. Drizzle generously with the lavender honey. Serve immediately with pita chips or crusty bread.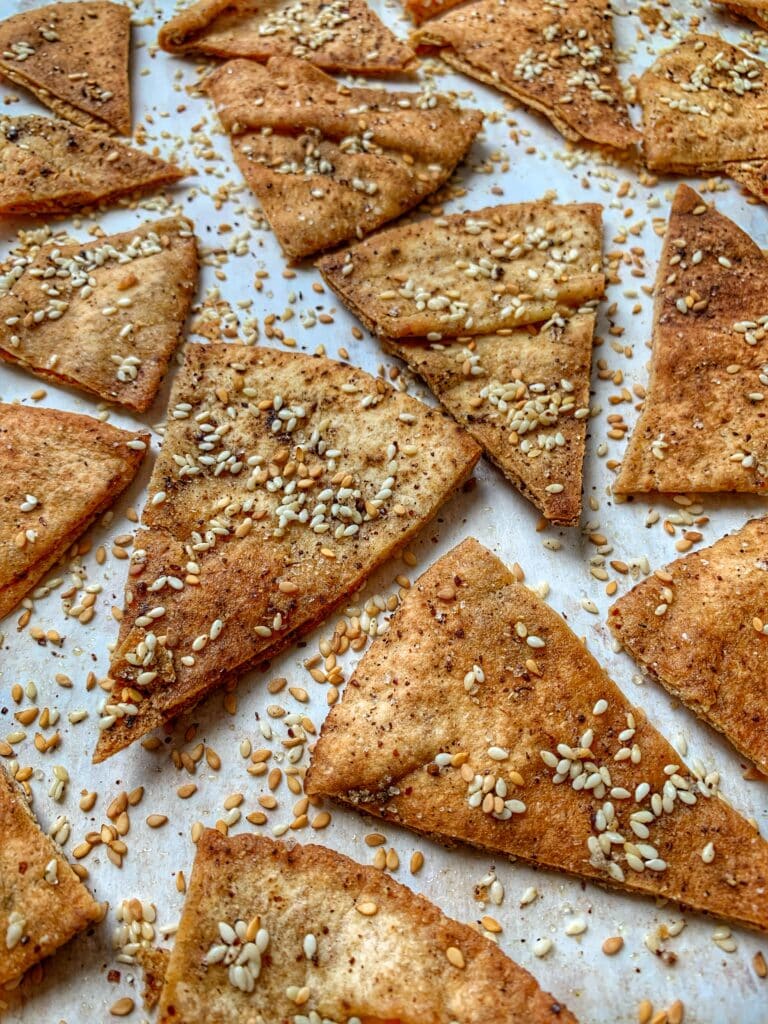 Toasted Sesame Pita Chips
Homemade pita chips are so easy and worth the effort. Get the recipe for these easy chips on my Instagram Reel!
Do you like feta and would you ever try it baked?