Crispy Baked Shrimp – Get all the crispiness of fried shrimp in a quick and easy healthy way. Super crispy, ready in minutes and delicious!
I'm always looking for more compelling shrimp dinner ideas. It's one of the cheapest shellfish options out there and my whole family can't get enough of it. And who can blame them when they're so delicious?
I love cooking with shrimp because it cooks lightning fast and is very healthy. I try to stock up on frozen shrimp when they're on sale and always have some in my freezer.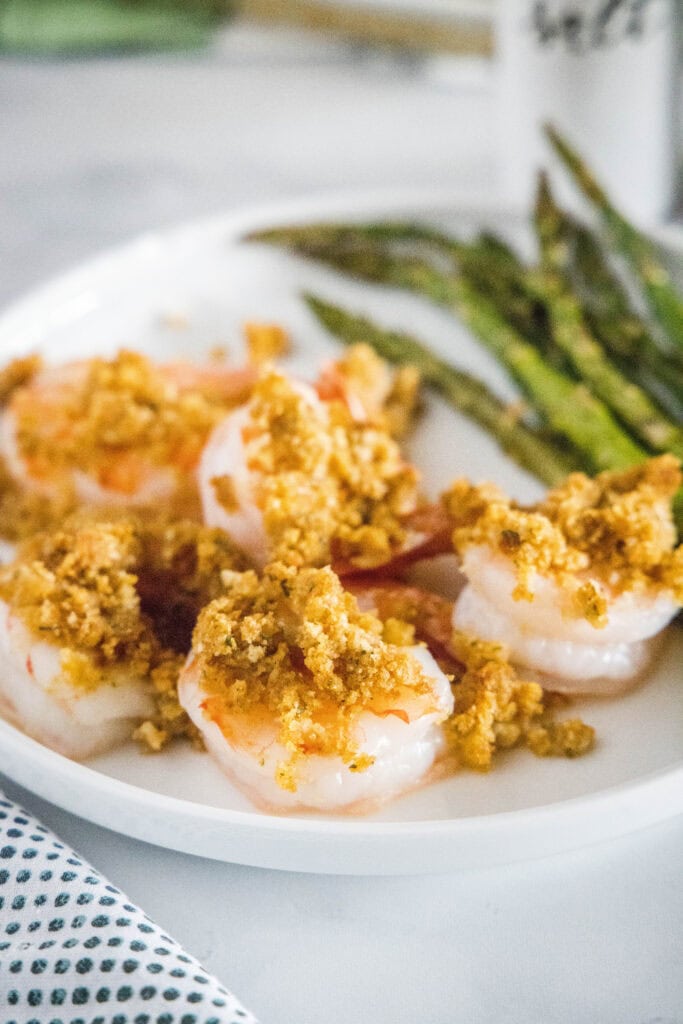 In a pinch, I know I can always sear up a batch and serve over a plain pasta. It defrosts so quickly I can make guilt-free yet delicious dinners in minutes.
By far, one of my favorite quick and easy ways to use my stash of frozen shellfish is to make crispy baked shrimp. It's healthy, goes with very few dishes and is on the table in less than half an hour.
I can't wait for you to try this recipe. I'm sure it will be an instant addition to your weekday recipe repertoire.
Why this recipe works
It only takes a handful of ingredients to make this flavorful shrimp dish.
A mix of Italian and Panko breadcrumbs creates the perfect breading consistency.
Fresh garlic gives the shrimp a powerful flavor that will keep you coming back for more.
Crispy Baked Shrimp is ready in just 25 minutes. You'll have dinner on the table in no time.
what you will need
olive oil
Garlic – Use fresh garlic cloves for the best flavor. Grate them with a microplane or put them in a garlic press.
Italian breadcrumbs – Italian breadcrumbs add flavor and a thicker breading. The crumb is very fine and sticks well to the shrimp.
panko bread crumbs – Panko breadcrumbs provide an ultra-crunchy and light texture.
cook sherry – Cooking sherry gives the shrimp an irresistible flavor, but you could use chicken broth instead.
Spices – Cayenne brings the heat and paprika brings a subtle smoky flavor.
shrimp – To keep this recipe simple and quick, purchase peeled and deveined shrimp to reduce processing time.
How to make crispy baked shrimp
Be sure to scroll down to the recipe card for measurements and full instructions!
Combine all ingredients except the shrimp in a small bowl.
Spread the shrimp in a single layer on the bottom of a greased casserole dish.
Sprinkle the breadcrumb mixture over the shrimp. You can use a spoon to direct the breadcrumbs so you don't lose any crunchy goodness.
Bake in the oven at 375F for about 20 minutes until the shrimp are pink and cooked through.
Serve immediately and dig in!
recipe tips
You don't have to worry about how to grease the casserole dish. Nonstick spray is perfect for this step.
You should use both Italian and Panko breadcrumbs for the best crunchy and flavorful texture that actually sticks to the shrimp.
I highly recommend using boiling sherry instead of chicken broth. Even a dry white wine would work in place of the broth. The sherry and wine aging process adds so much flavor to this simple dish. Sherry for cooking is available at most grocery stores.
How do I know when the shrimp are done?
The trick to perfectly cooked shrimp is to pay careful attention to the crevices along the outer curve of the shrimp. This is the thickest part of the shellfish. Once this area changes from translucent to opaque, you'll know the shrimp is cooked through.
Should I use tailed or tailed shrimp?
Whether you want to make this recipe with tail-on or tail-off shrimp is up to you. The benefit of tail shrimp is that it adds more shrimp flavor. In addition, tail shrimp appear larger and more appetizing. However, if you're not a fan of digging every last bit of meat out of the shell, you absolutely can use tailless shrimp.
How to serve crispy shrimp
Try one of these side dish and dip ideas to pair with your crispy baked shrimp.
Spicy Cajun Dipping Sauce – Smoky and creamy with a kick! You'll want to smother every bite of shrimp with this delicious sauce.
Smoked Mac and Cheese – If comfort food is your thing, you can't go wrong with this smoky and cheesy pasta.
Braised Salad – Keep it light with a simple salad on the side
Roasted Asparagus – Roasted veggies have so much flavor and asparagus can cook alongside the shrimp
Air fryer potato wedges – Use your hot air fryer for crispy and tasty potatoes.
storage
Pack leftover baked shrimp in an airtight container. It keeps in the fridge for 2-3 days.
To reheat, return the shrimp to the oven for a few minutes to warm up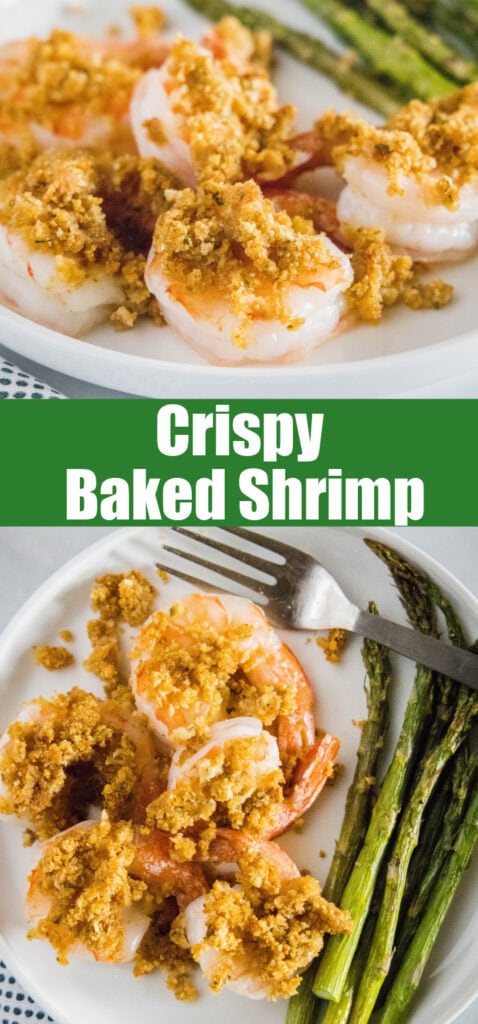 Yield: 4
Crispy baked shrimp
Crispy Baked Shrimp – Get all the crispiness of fried shrimp in a quick and easy healthy way. Super crispy, ready in minutes and delicious!
preparation time 5 minutes
cooking time 20 minutes
total time 25 minutes
Ingredients
3 tablespoons olive oil
2 garlic cloves, grated
1/4 cup Italian breadcrumbs
1/4 cup panko breadcrumbs
1/4 cup boiling sherry (or chicken broth)
1/4 teaspoon cayenne pepper
1/2 teaspoon paprika
12 ounce large or jumbo shrimp, peeled and deveined
instructions
Preheat oven to 375ºF.
Prepare a casserole dish with nonstick spray. Put aside.
In a small bowl, combine everything except the shrimp. Mix well
Spread the shrimp in a single layer in the casserole dish. Sprinkle the breadcrumb mixture over the shrimp.
Bake for 15-20 minutes or until shrimp are pink and cooked through.
Serve immediately
Nutritional Information
yield
4
serving size
1
amount per serving calories 230Saturated Fatty Acids 1gcholesterol 214mgsodium 842mgcarbohydrates 8gprotein 19g
I created a fun group on Facebook and would love for you to join us! It's a place to share YOUR favorite recipes, ask questions, and see what's new in dinner, dishes, and desserts (so you don't miss a new recipe)! If you want to try it, you can submit a request to join HERE.
Be sure to follow me Instagram and tag #dinnersdishes so I can see all the wonderful DINNER, MEAL AND DESSERTS recipes YOU make!
Follow me on my social media channels so you don't miss a post!
Facebook | Twitter | Pinterest | Instagram
Did you know that there is a SHOP for dinner, dishes and desserts? Check out all my e-books as well as branded items HERE! Or you can buy me a coffee to say thank you!
OTHER RECIPES YOU MIGHT LIKE: