These crispy baked vegan candied walnuts will add sweet and savory flavor, along with healthful Omega-3 fatty acids, to salads, roasted vegetable dishes, whole grains, and more. They're a wonderful topping or snack, and they make excellent edible gifts, too!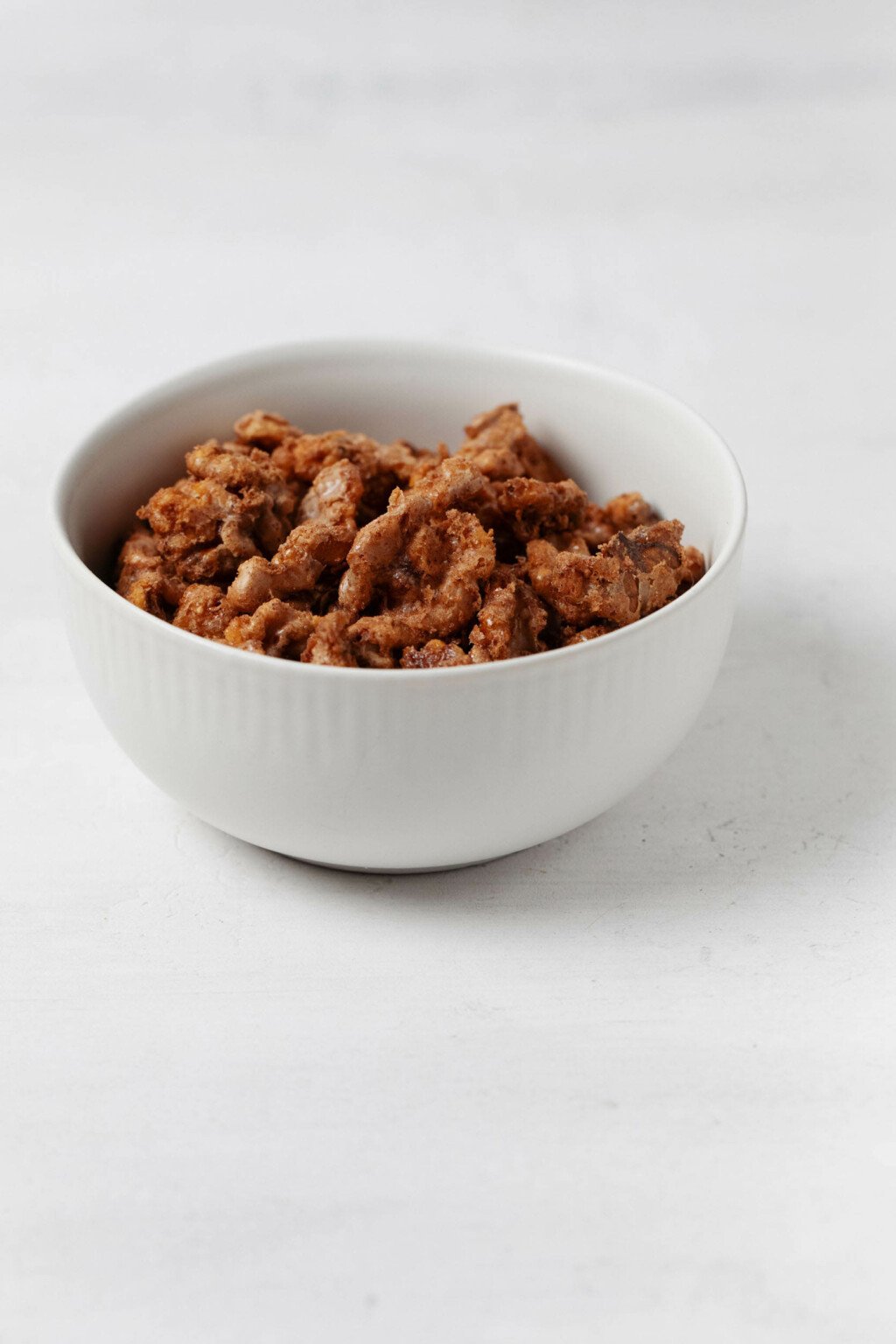 It was only a week ago that I was here chatting about vegan candied pecans. So you may be wondering, why candied walnuts, too?
The honest answer is that, when I tested the candied nuts, I wasn't sure which was going to work better, pecans or walnuts.
I basically prefer the buttery taste and creamy texture of pecans. I also like their wide, flat halves; the shape makes them especially good for snacking.
Pecans are a bit pricey, though. And walnuts are a little more nutrient-dense, all things considered. Which would it be?
In the end, I really liked both versions, and I liked them in different ways. So, I decided to post both recipes.
Also, writing about these vegan candied walnuts gives me a chance to write about all of the fun and cool health distinctions and health properties of nuts. That's a win in my book.
This post is divided into a few sections:
What are the benefits of walnuts?
This is a question that nutrition clients ask me fairly often. Many of the folks that I work with as a registered dietitian are curious about whether some nuts are more healthful than others.
They seem especially interested to know more about walnuts.
As it turns out, walnuts are an especially nutrient-dense food. This is true of nuts in general, but walnuts have a few distinctive properties.
Walnuts and heart health
Nuts have been studied quite extensively for their potential to protect heart health and their association with healthy blood lipids.
Numerous population level studies have shown that higher consumption of nuts is associated with lower rates of cardiovascular disease.
Related to this, nuts seem to have a beneficial impact on blood lipid profiles. Clinical trials in which patients with hyperlipidemia (high cholesterol and/or triglycerides) incorporated more nuts into their diet resulted in significant reductions in total and LDL cholesterol.
Why is this? Two mechanisms might help to explain it.
The first is that soluble fiber in nuts binds to, and encourages excretion of, bile acids during the digestive process. Bile salts transport fat, so this results in reduced fat absorption.
The second mechanism is also related to fiber. When bacteria in our large intestines ferment the fiber in nuts, it produces compounds called short-chain fatty acids, or SCFAs. These SCFAs can help to block the production of cholesterol.
Less absorption + less production = a reduction of cholesterol in our circulatory systems.
Almonds, pecans, peanuts, and walnuts all seem to have an especially strong association with reduced total and LDL cholesterol.
Hazelnuts, pistachios, and walnuts seem particularly associated with improving HDL cholesterol. HDL is the "good" cholesterol that's thought to actually help protect our hearts.
Walnuts fall into both cardioprotective categories, which is a cool mark of distinction for them.
Antioxidant activity
Nuts are great sources of antioxidants, a group of micronutrients that help to reduce inflammation and protect our cells against damage associated with aging.
There are many different antioxidants. Flavonoids, selenium, Vitamin E, folate, phenolic acid are antioxidants that are typically found in nuts.
It's possible that these antioxidants are involved with the cardioprotective effects I just mentioned. But they seem to play an even more significant role in protecting our brains.
Walnuts and brain health
Walnuts are especially rich in antioxidants, as far as nuts go.
Unlike many nuts, which have primarily monounsaturated fatty acids, walnuts have a high amount of polyunsaturated fatty acids.
One of these is alpha-linolenic acid, or ALA. This is a type of Omega-3 fatty acid that is thought to be highly anti-inflammatory.
ALA, combined with antioxidants, may help to explain why walnuts are associated especially strongly with brain health.
Inflammation and oxidative stress, which accumulate through aging, are particularly damaging to the brain. The nutrient profile of walnuts gives them special potential to help protect us from cognitive decline.
Several robust, long-term observational studies have shown an association between walnut consumption and higher cognition and memory scores, compared to diets with less nut (specifically walnut) consumption.
The bottom line? Walnuts are highly nutritious! And their good nutrition may help to protect our brains and hearts as we age.
Ways to enjoy walnuts
Here's a little secret: in spite of knowing how healthful they are, I don't really enjoy nuts that much.
By this, I mean that I don't love eating nuts whole. Even if they're salted and roasted, a handful of them is never what I reach for when I want a snack.
For better or for worse, I'm much more likely to reach for something sweet, or something involving bread/pita/crackers.
Still, I want to harness the nutritional goodness of nuts. So I've learned to consume them in ways that I know I'll stick to on a regular basis.
One such use is to blend them up into dressings. I make a lot of cashew-based dressings, for example, and I like to use almonds in sauces as well. (There's a really tasty romesco in The Vegan Week.)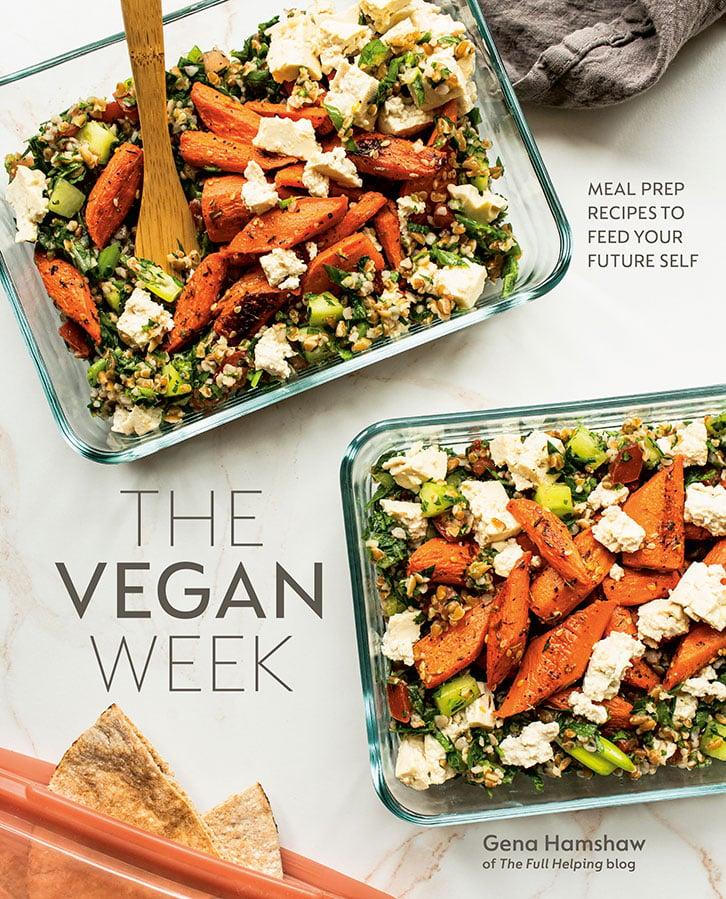 The Vegan Week
Embrace the joy of eating homemade food every day with the hearty and wholesome recipes in The Vegan Week.
Whether you have three, two, or even just one hour of time to spare, The Vegan Week will show you how to batch cook varied, colorful, and comforting dishes over the weekend.
I also love to eat nuts in sweeter foods. For example, I incorporate them into my favorite blueberry banana walnut oat bake.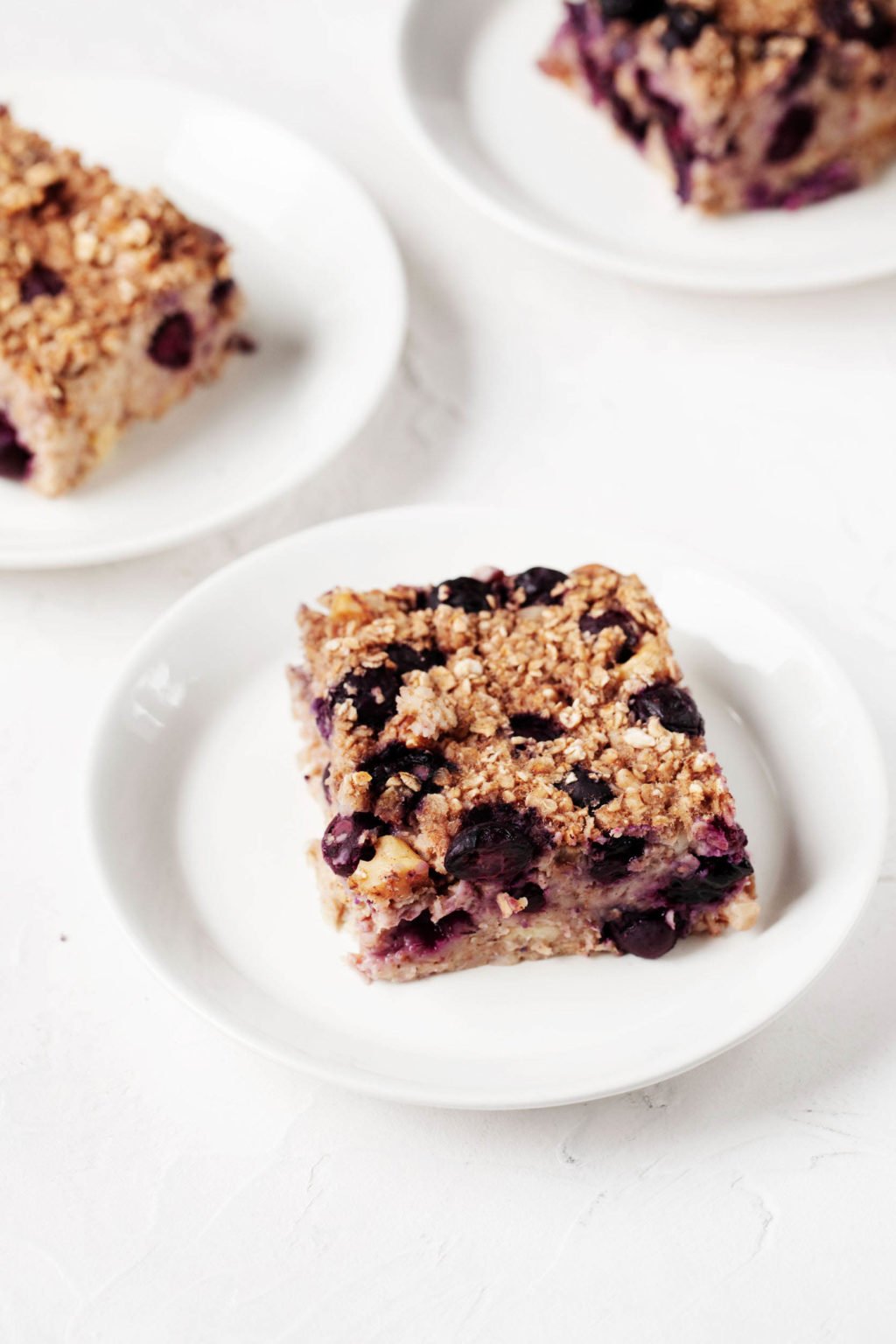 Walnuts make an incredible addition to both vegan banana bread and banana walnut muffins.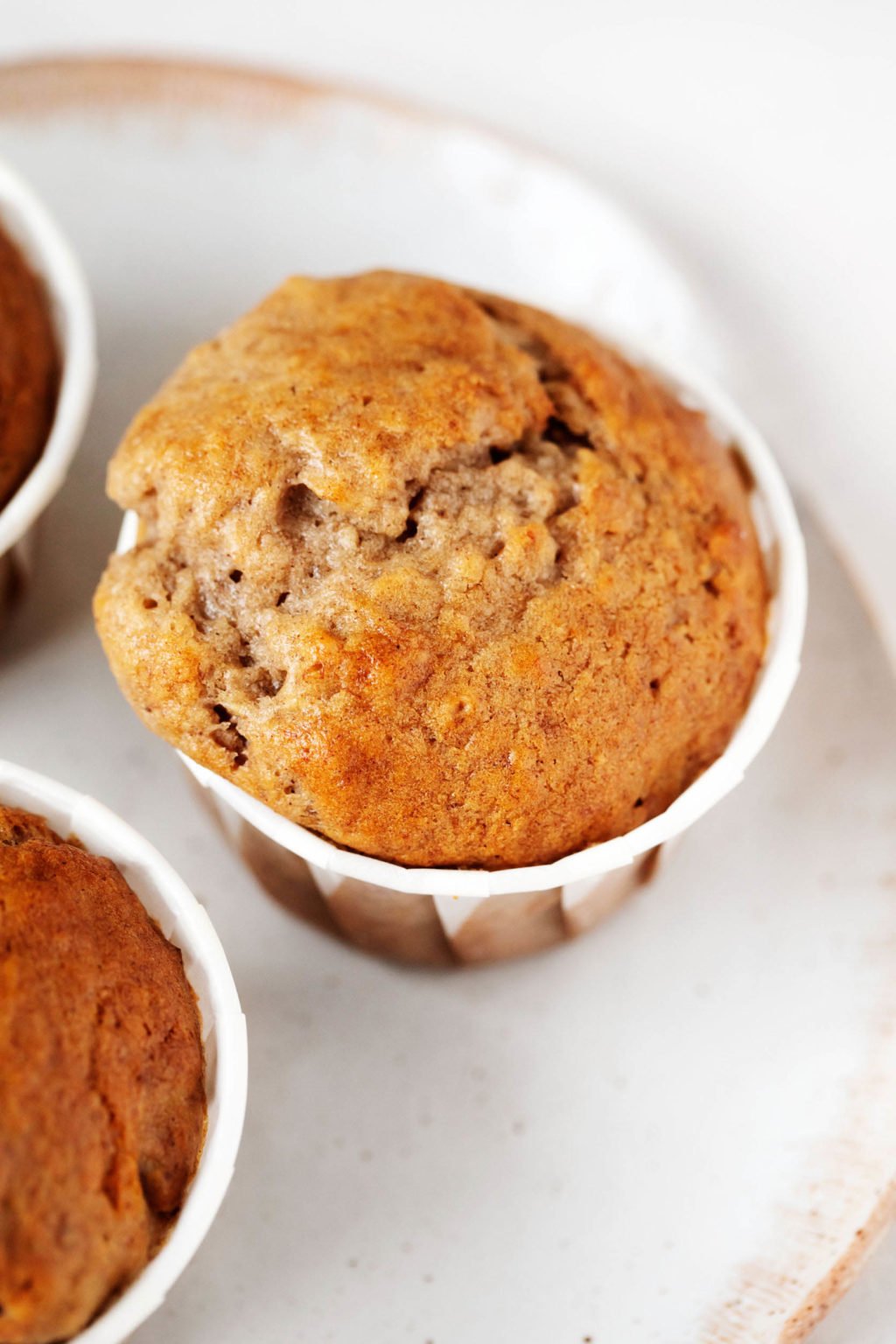 I like to grind nuts and dates up into delicious little energy balls.
And now, having just tested two separate versions, I'm a also huge fan of vegan candied nuts.
What to do with vegan candied walnuts
Some might argue that the sugar in these crispy baked vegan candied walnuts is an affront to all of the sensible nutrition that I've just mentioned.
I get it, but I try to keep the big picture in mind. In candying walnuts, I've suddenly given myself encouragement to eat them much more often than I was before.
I love throwing some of the candied walnuts into salad, and I especially like to sprinkle them on freshly roasted vegetables. I think they'd be great in grain salads, too.
They might even make a fun, sweet/savory addition to pasta.
Rather than adding raw, chopped walnuts to baked goods, it would be fun to add candied nuts to muffins, banana bread, cake, or cookies.
All in all, I find it much easier to snack on these candied nuts than I do plain walnuts.
I'm now eating walnuts on a very regular basis. This is a good thing.
And I'm enjoying walnuts more than I ever have, which is an especially good thing!
Tips for a perfectly crispy texture
Before I talk about the steps in this recipe, it's important to point out why the texture is so special.
These are the most crispy, light vegan candied walnuts I've ever had.
In the past, when I tried to make batches of candied nuts, they always ended up on the sticky side. If they weren't sticky, they were still not perfectly dry and crispy in the way that I like my candied nuts to be.
Hilariously, it took me ages to think to make vegan candied nuts with aquafaba.
Aquafaba! The most reliable, authentic replacement for the egg whites that are so often used in non-vegan candied nut recipes.
Aquafaba is my first tip for creating vegan candied nuts with a crisp texture and sweet, ultra-thin coating.
The second trick of the trade here is to use powdered sugar.
Not cane sugar, not brown sugar, not maple syrup, and not agave. Powdered sugar.
Use of powdered sugar, also known as confectioners sugar, is truly important in achieving the crispy texture that makes these candied walnuts special.
Last tip? Oven baking! It's possible to make candied walnuts (or any candied nut) in a skillet. But oven baking helps to create an especially light, crisp texture.
And that texture is what makes these nuts so delightfully snack-worthy. It's also the reason that they can add texture contrast and crunch to so many of your favorite recipes.
How to make crispy baked vegan candied walnuts
I've certainly had a lot to say about walnuts, candied and otherwise, here. Fortunately, this recipe is simple enough that there's not too much to say about making it.
Step 1: Whisk your aquafaba
The first step in making baked vegan candied walnuts is to whisk one tablespoon and one teaspoon of aquafaba until the mixture is frothy.
That sounds simple enough, but if it's your first time using aquafaba in a recipe, it may be less than self-evident.
Basically, aquafaba is the liquid that comes in a can of chickpeas. Can it also be created by cooking dry chickpeas from scratch?
Yes. But it's quickest and easiest to obtain aquafaba from canned chickpeas, and I tend to use canned beans in my cooking, so that's my default.
Aquafaba from most canned chickpeas will work in recipes, but I recommend finding one that's from a can of low-sodium or no salt added chickpeas. That way, salty flavor of the aquafaba won't interfere with your recipe.
If necessary, aquafaba can be whipped into stiff peaks, just like egg whites. For most of the recipes in which I use it, only a light whisking is necessary. And that's what you'll do here.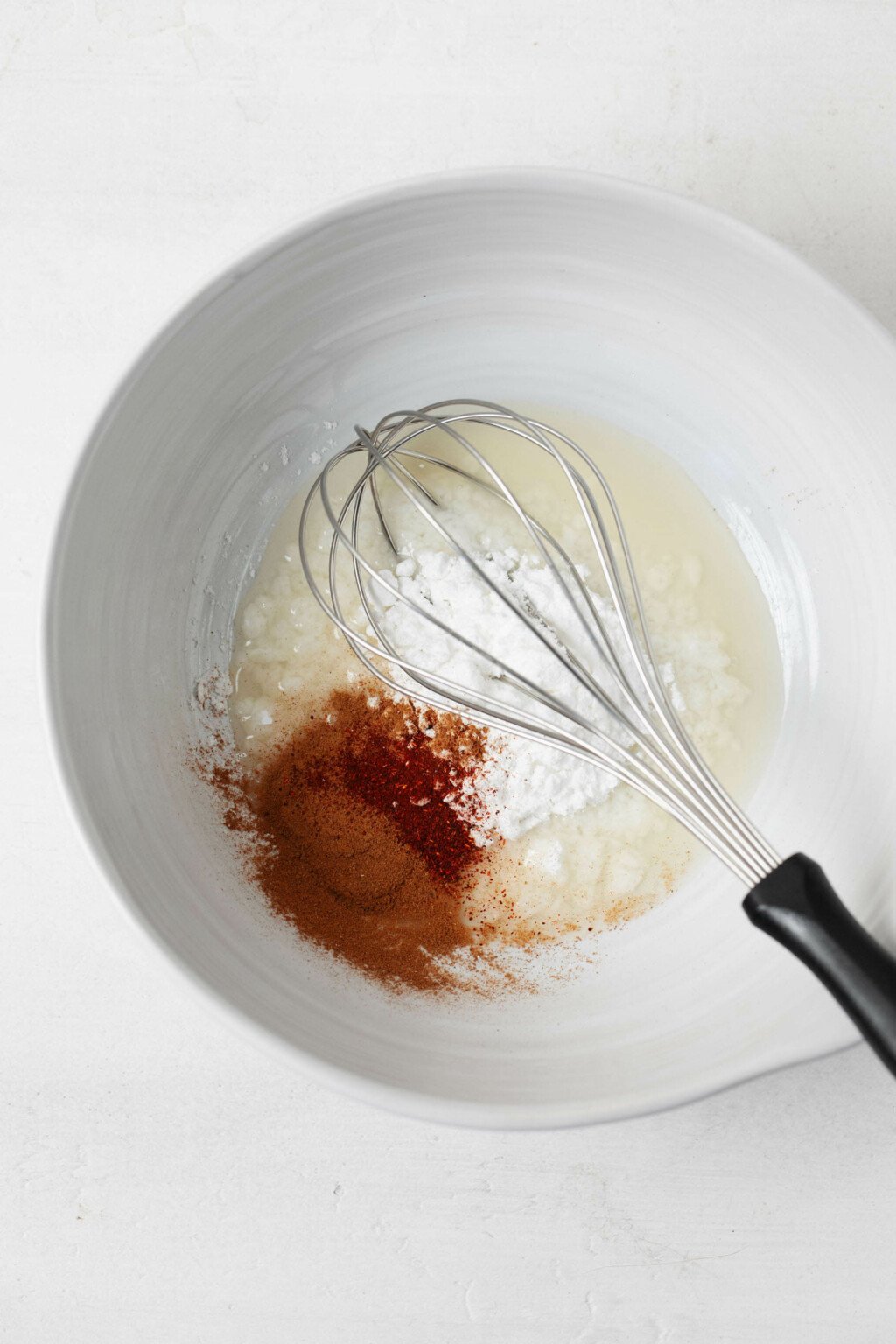 Step 2: Mix aquafaba and seasonings
The next step in making the baked, vegan candied walnuts is to mix together the whisked aquafaba, powdered sugar, and some spices.
I like to use cinnamon, chili powder, and salt. It's a nice marriage of savory and sweet, and it's not overwhelming in flavor.
However, you could add heat to the recipe with a pinch of cayenne. You could also try entirely different spices from the ones I use. Curry powder, turmeric, cumin, garam masala, a ground harissa seasoning: there's room to play here.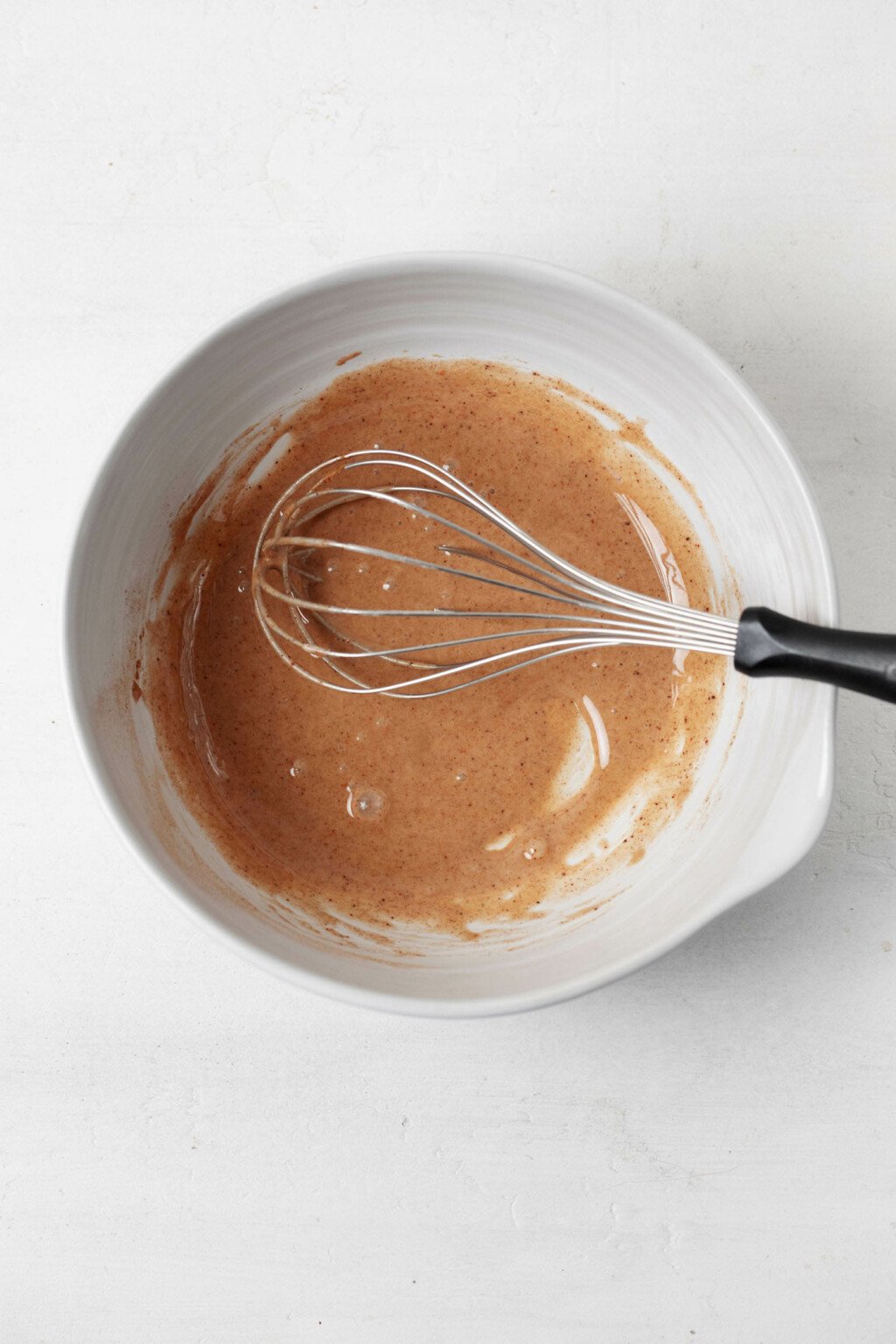 Step 3: Coat the walnuts
In step 3, you'll mix the walnut halves and pieces with the aquafaba/sugar/spice mixture.
Try to do this thoroughly, until all of the walnuts are fully coated.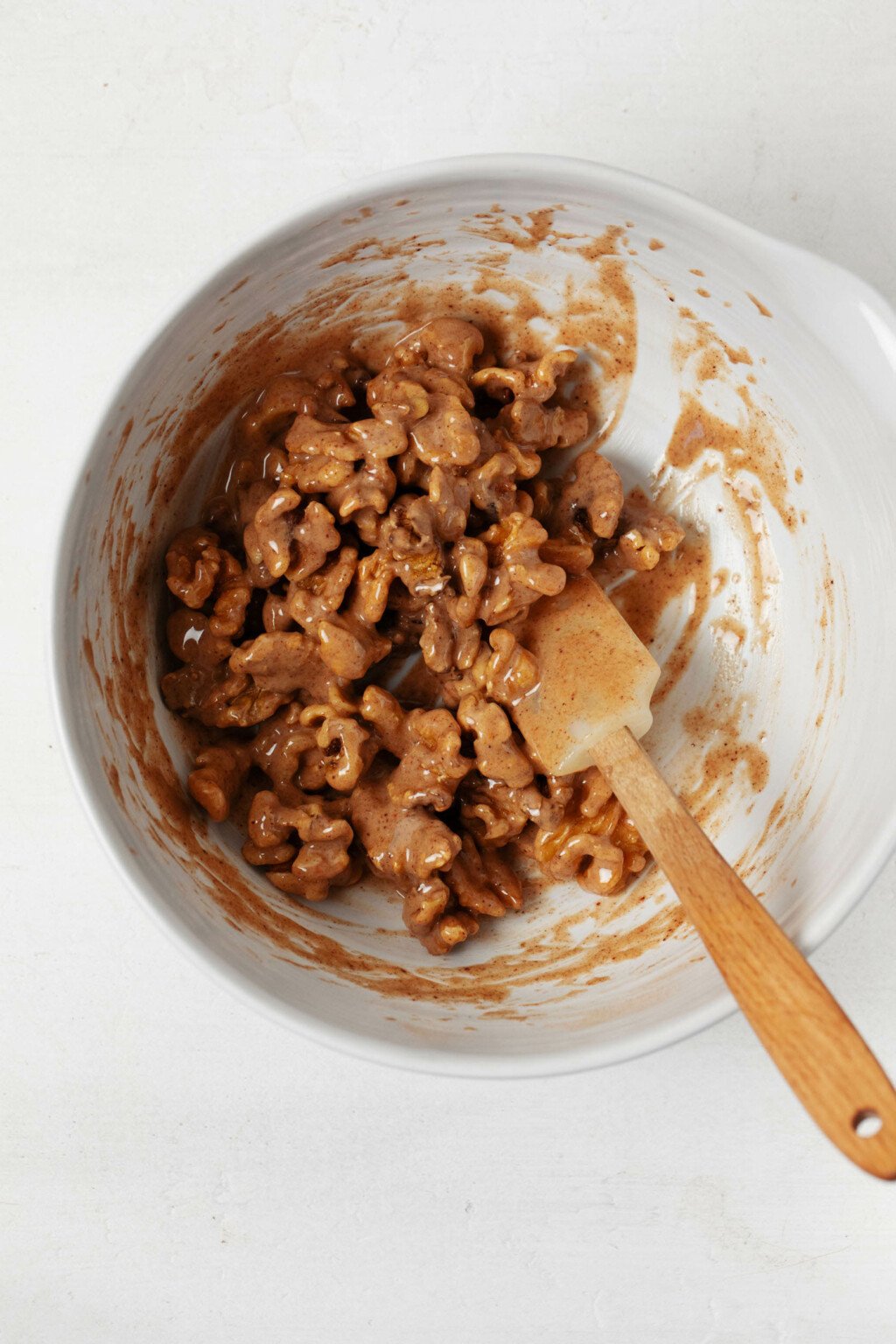 Step 4: Bake
In step 4, you'll transfer the coated walnuts to a parchment-lined baking sheet and transfer them to a 300F oven.
Bake the walnuts for 25-30 minutes, stirring the walnuts gently on the sheet with a heatproof spatula every 10 minutes.
Each time you stir, be sure to leave the walnuts in a single, even layer on the baking sheet. This helps them to bake evenly.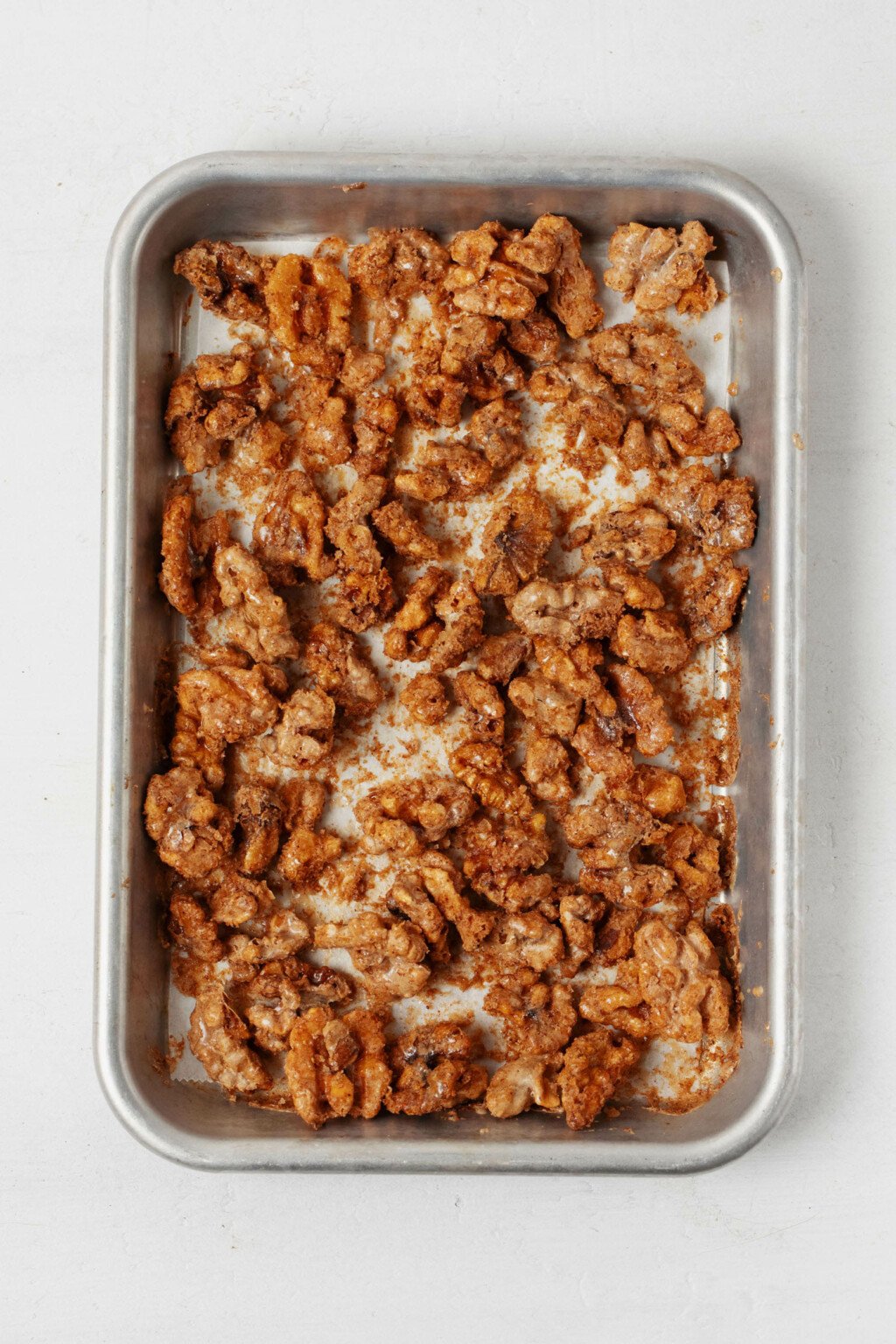 Step 5: Cool
As hard as it may be to wait for the vegan candied walnuts to cool 100% before trying them (or storing them), it's also really important.
Cooling is the final step in getting the walnuts nice and crispy. Tempting though it will be, try to allow the nuts to cool entirely before you dig in.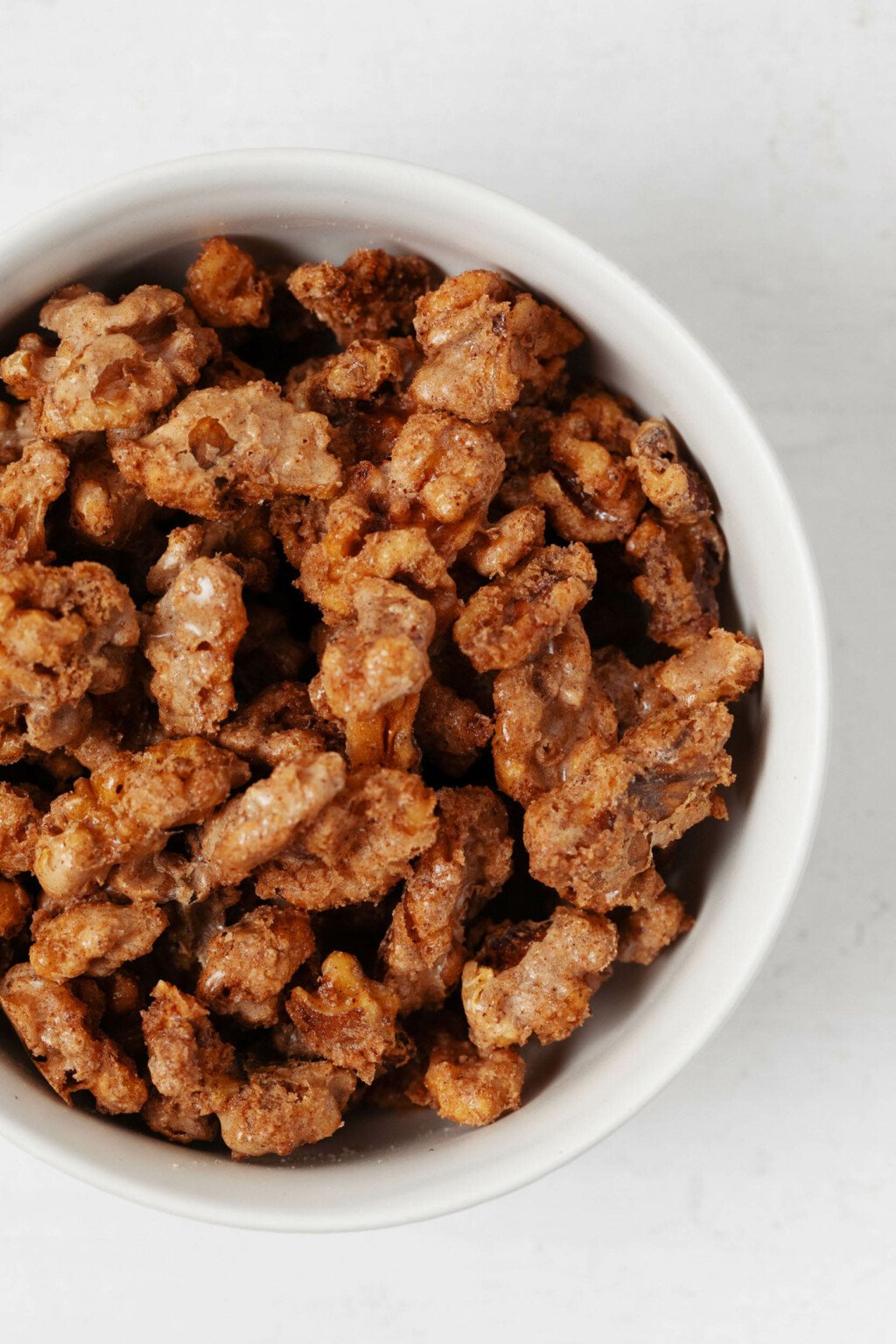 How should I store vegan candied walnuts?
The nuts should be stored in an airtight container at room temperature for up to two full weeks.
If, that is, you can manage to resist finishing the vegan candied walnuts before two weeks pass by. In my experience, it's unlikely.
Can I substitute another type of nut?
I know that I've sung praises to the benefits of walnuts in this post, but it is certainly possible to substitute another nut in the recipe.
The nuts I recommend most are either pecans (see the pecan version of this recipe here), or cashews.
Nuts with harder textures, like almonds or pistachios, will also work. But nuts with softer textures, like walnuts or pecans, will become the most light and crispy.
Recipe suggestions
Candied nuts are very versatile. If you like sweet and savory flavors, then chances are you can find a lot of recipes in which to enjoy them.
Here are some of the recipes that I'd like to add the vegan candied walnuts to, or sprinkle them on top of, sometime soon:
And if none of that appeals, then feel free to snack away. Here's the recipe.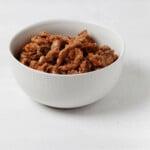 1

tablespoon

+ 1 teaspoon aquafaba

1/2

cup

powdered sugar

(60g)

1

teaspoon

ground cinnamon

1/2

teaspoon

chili powder

1/2

teaspoon

Kosher salt

2

cups

(scant) walnut halves and pieces

(200g)
Preheat your oven to 300F. Line a baking sheet with parchment or silpat.

Place the aquafaba in a medium sized mixing bowl. Whisk it vigorously for 30 seconds, or until it's frothy.

Stir the sugar, cinnamon, chili powder, and salt into the beaten aquafaba. Continue mixing until you have a smooth, sticky, even mixture. Add the walnuts to the bowl and use a spatula to mix them with the aquafaba and sugar, until they're all evenly glazed.

Transfer the walnuts to your baking sheet and arrange them in a single layer. 

Bake them for a total of 25-30 minutes, stirring on the sheet every 10 minutes. Each time you stir the nuts, be sure that you rearrange them in a single layer before returning them to the oven. When the nuts are browning and smell nutty, they're finished. 

Allow the nuts to cool *completely* before breaking them apart. Store them at room temperature in an airtight container for up to 2 weeks.
I hope you'll enjoy the candied walnuts and find some of your own favorite ways to use them. If you do, let me know what you make!
xo
References:
Altamimi M, Zidan S, Badrasawi M. Effect of Tree Nuts Consumption on Serum Lipid Profile in Hyperlipidemic Individuals: A Systematic Review. Nutr Metab Insights. 2020;13:1178638820926521. Published 2020 Jun 15. doi:10.1177/1178638820926521
Arab L, Ang A. A cross sectional study of the association between walnut consumption and cognitive function among adult US populations represented in NHANES. J Nutr Health Aging. 2015;19(3):284-290. doi:10.1007/s12603-014-0569-2
Baden MY, Liu G, Satija A, et al. Changes in Plant-Based Diet Quality and Total and Cause-Specific Mortality. Circulation. 2019;140(12):979-991. doi:10.1161/CIRCULATIONAHA.119.041014
Chauhan A, Chauhan V. Beneficial Effects of Walnuts on Cognition and Brain Health. Nutrients. 2020;12(2):550. Published 2020 Feb 20. doi:10.3390/nu12020550
Guasch-Ferré M, Li J, Hu FB, Salas-Salvadó J, Tobias DK. Effects of walnut consumption on blood lipids and other cardiovascular risk factors: an updated meta-analysis and systematic review of controlled trials. Am J Clin Nutr. 2018;108(1):174-187. doi:10.1093/ajcn/nqy091
O'Brien J, Okereke O, Devore E, Rosner B, Breteler M, Grodstein F. Long-term intake of nuts in relation to cognitive function in older women. J Nutr Health Aging. 2014;18(5):496-502. doi:10.1007/s12603-014-0014-6
Valls-Pedret C, Sala-Vila A, Serra-Mir M, et al. Mediterranean Diet and Age-Related Cognitive Decline: A Randomized Clinical Trial [published correction appears in JAMA Intern Med. 2018 Dec 1;178(12):1731-1732]. JAMA Intern Med. 2015;175(7):1094-1103. doi:10.1001/jamainternmed.2015.1668