This Crockpot Vegetable Soup is packed with veggies in a creamy, cheesy base that makes it an instant dinner winner. It checks all the boxes…simple, healthy, and incredibly delicious!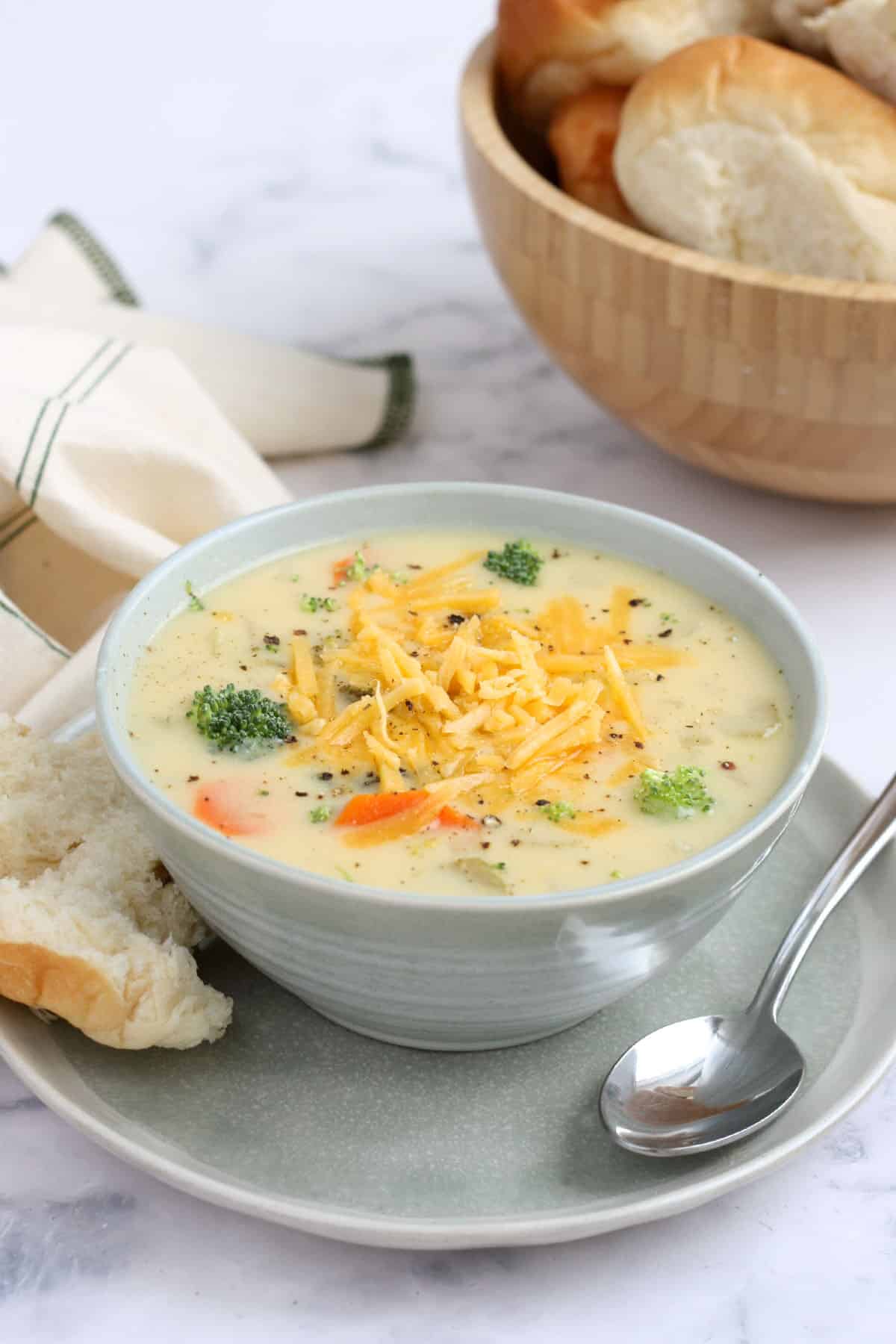 Why We Love This Crockpot Vegetable Soup
The most common question we get from parents is "How do I get my child to eat vegetables?"? We're really excited you're asking this! If you're asking, it means you understand the tremendous impact vegetables can have on our children's health. Studies have consistently shown us that eating vegetables promotes healthy growth and development, prevents diabetes and cardiometabolic diseases, and boosts the immune system. It also gives them energy (a double-edged sword, we know!)
That's why we love to bring you recipes like this Crockpot Vegetable Soup. It gives you the opportunity to introduce your kids to a variety of vegetables in a recipe they will love. The creamy, cheesy base is an absolute win for the whole family. It comes together so easily and is fully customizable. Use whatever veggies you have on hand! The rest of the soup is based on pantry and fridge staples that we always have on hand.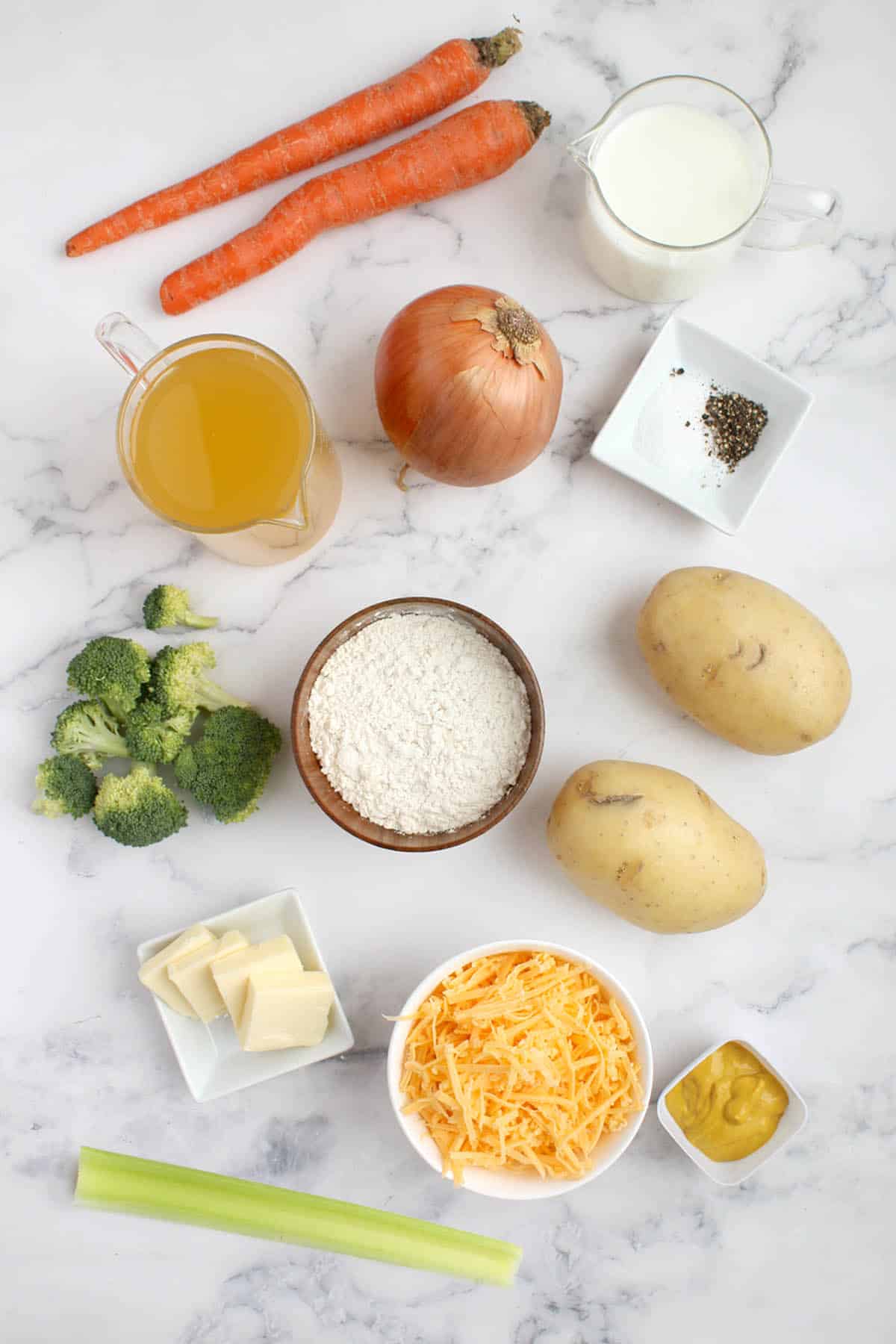 Ingredients for crockpot vegetable soup
potatoes– we used Yukon Gold potatoes for this soup. They're our favorite for this soup because they hold their shape well in the slow cooker and don't need to be peeled! You can also use auburn or red potatoes.
carrots– Carrots are a hardy vegetable that hold up well in a slow-cooked soup. They're pretty kid friendly too!
Onion– we used a yellow onion. If you or your kids are sensitive to onions, you can chop them up or even leave them out (although they get important points for taste!). You can also substitute scallions, which are much milder. Or even onion powder.
garlic– Garlic is a superstar ingredient that not only adds delicious flavor but also nutritional value!
celery– Celery is a great flavor base in soups!
broccoli– the broccoli is delicious in this creamy soup that's reminiscent of cheddar broccoli soup. It's so undercooked that even kids who normally sniff at broccoli could enjoy it here. It's a great way to get them to eat these healthy veggies!
chicken soup– Broth gives the soup a delicious taste. You can also use vegetable broth if you want to keep it vegetarian.
butter– we used salted butter. It adds a rich flavor to the soup and also helps in thickening. You can substitute olive or avocado oil if you like.
flour– Flour is used in the roux to thicken the soup. We used all-purpose flour. If you have a gluten allergy, you can use a gluten-free flour or omit the roux and thicken the soup with cornstarch.
Mustard– we used regular yellow mustard. It adds a delicious flavor that doesn't taste strongly of mustard. You can also use 1 tsp ground mustard.
Salt– we like coarse kosher salt. It enhances the flavor of the soup without making it taste salty.
pepper– Fresh, ground black pepper adds a well-rounded flavor without adding heat. You can omit it if you have picky eaters.
milk– We like to use whole milk for our creamy soups, but you can also use reduced-fat or plant-based milk.
Sharp cheddar cheese– Spicy cheddar really enhances the flavor of this mild soup, but feel free to use whatever you have on hand. If possible, rub yourself! The pre-shredded cheese doesn't melt nearly as well and is usually coated to prevent clumping.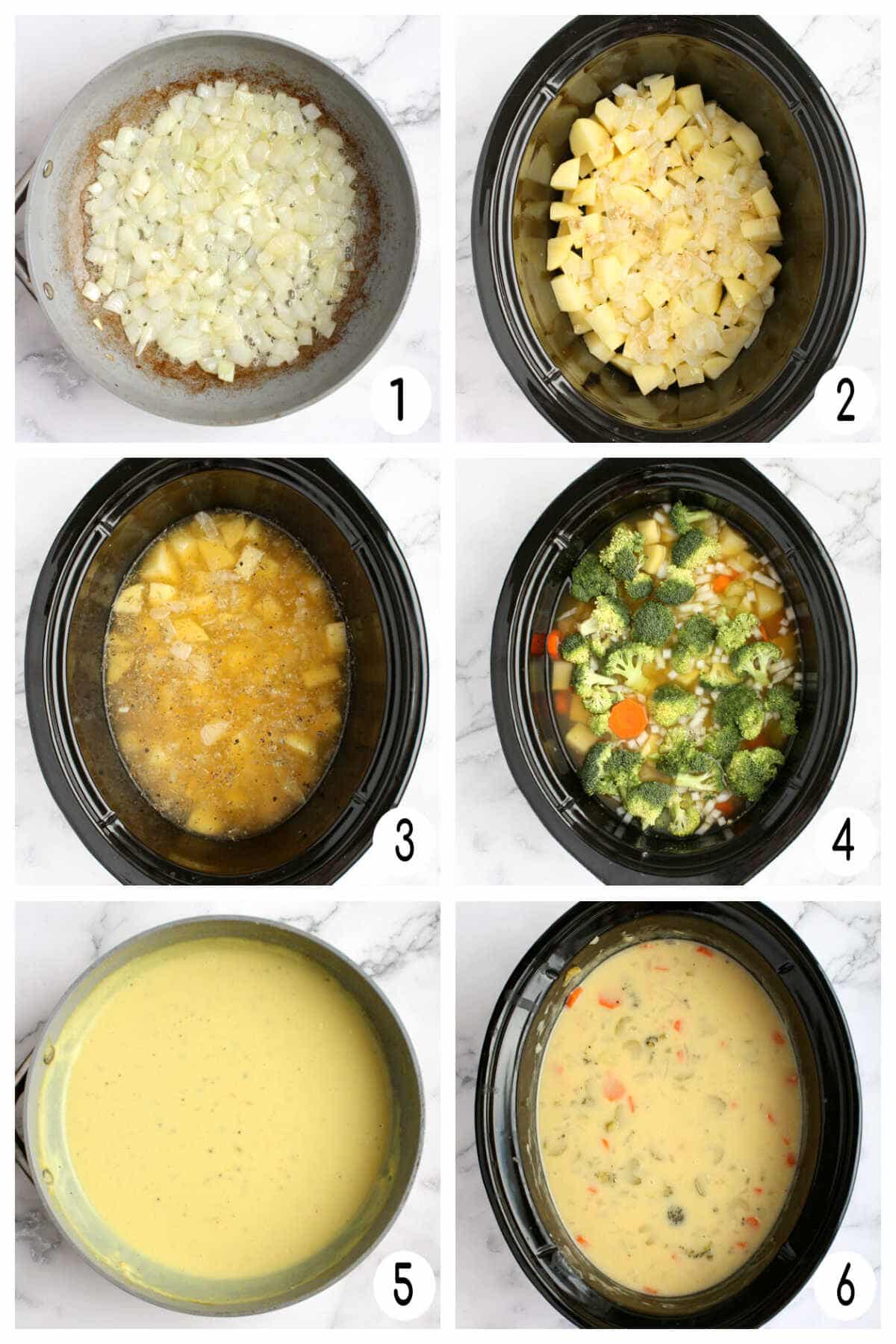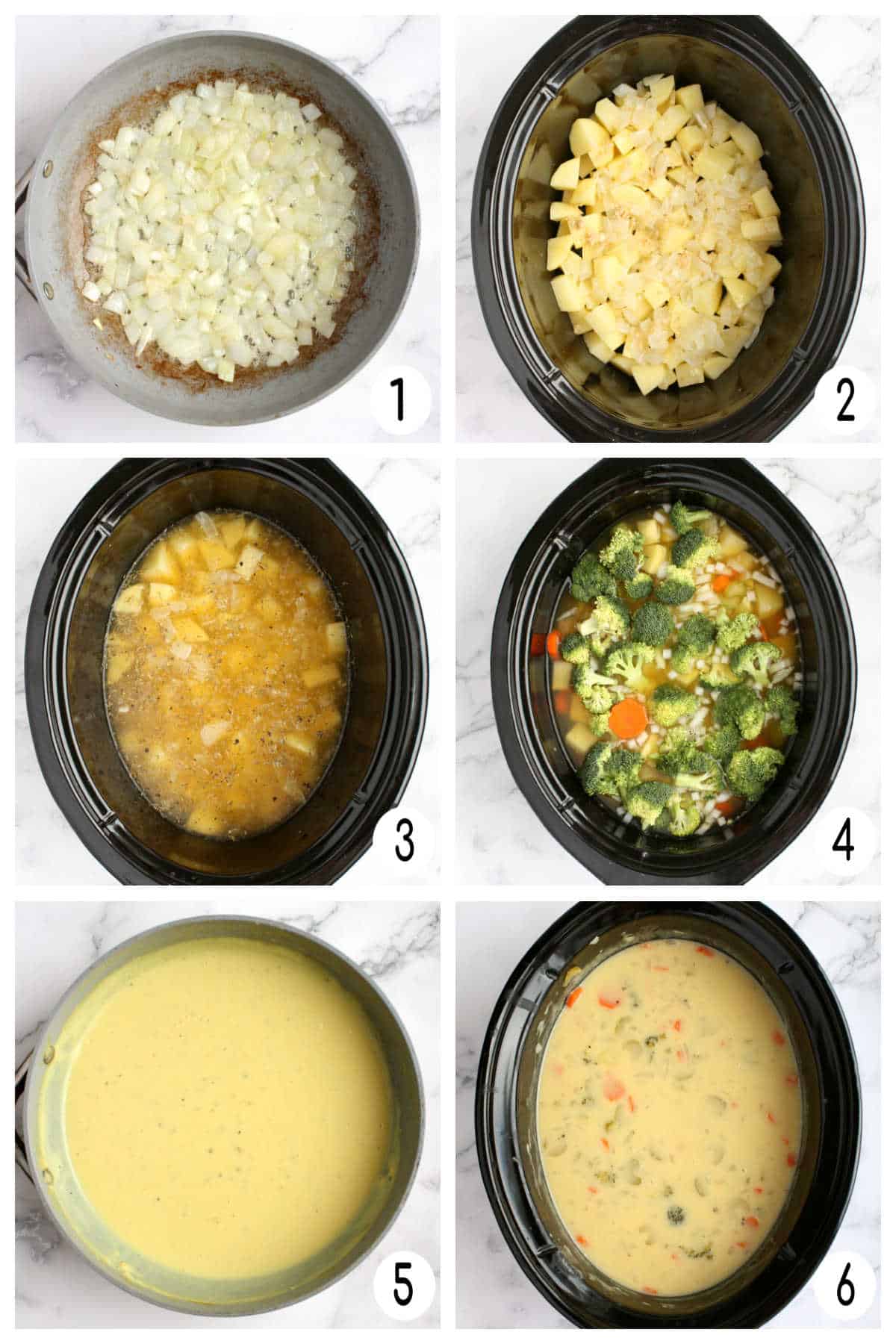 How to Make Crockpot Vegetable Soup
Chop all your veggies
sear the onion and the garlic in a pan.
Add to Place in a saucepan with the rest of the vegetables and the broth.
Cook on low for 6-7 hours or until vegetables are tender.
Do a roux. Melt the butter, then stir in the flour, mustard, salt, and pepper. Slowly add the milk and stir until combined. It will look thick and lumpy at first, but keep beating and you'll end up with a smooth, thick paste. Resist the urge to add more milk!
Before To serve, stir the roux and grated cheese into the crockpot. Stir until the cheese is melted and your soup is thick and creamy.
Enjoy!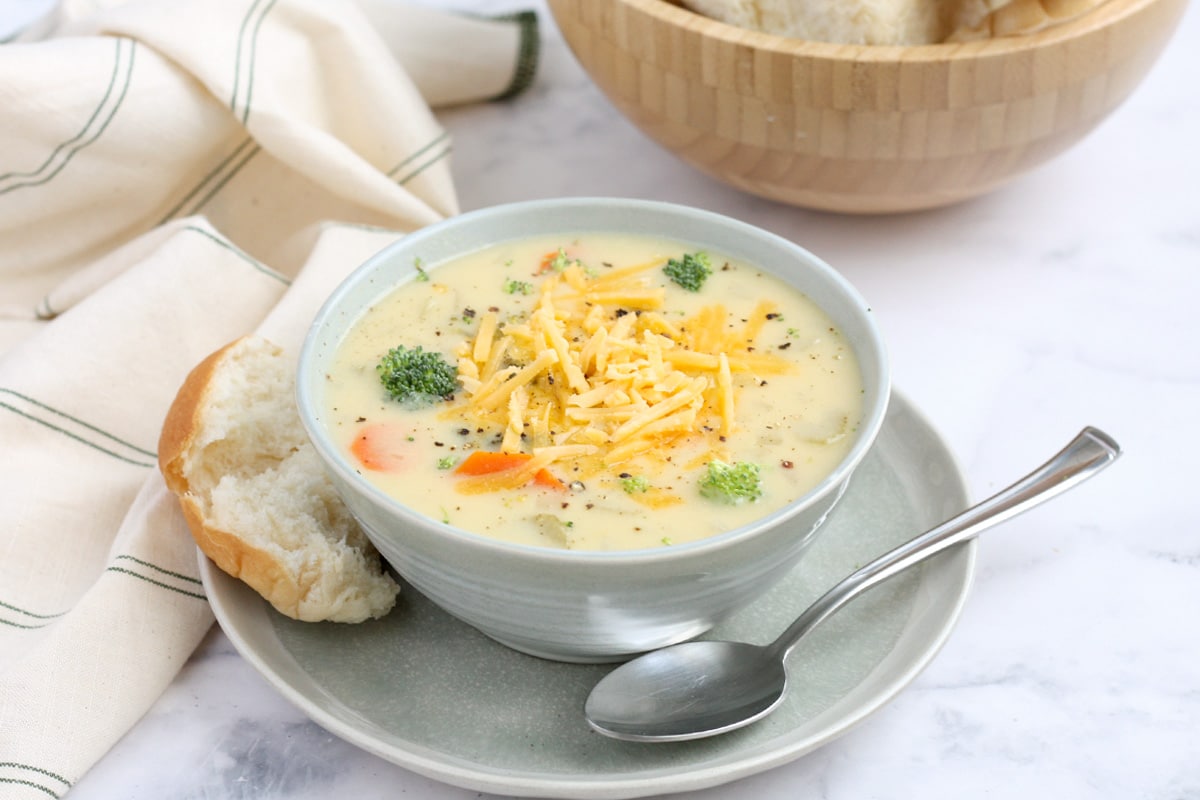 What vegetables should I put in the vegetable soup?
It may depend on the type of soup. For a creamy vegetable soup, we typically use root vegetables (like potatoes, carrots, and parsnips), starchy vegetables (like corn), cruciferous vegetables (like broccoli or cauliflower), and flavorful vegetables (like onions, mushrooms, and garlic).
For a broth-based soup, we typically use vegetables that hold their shape in water and have lots of flavor, like green beans, carrots, peas, tomatoes, peppers, celery, carrots, zucchini, kale, cabbage, and onions.
What can I add to my vegetable soup for more flavor?
Onions and garlic add a great flavor base to any soup. We've also added mustard to help round out the flavor. However, you can add dried herbs to really spice it up. Italian Herbs and Herbs from Provence make great all-purpose soup spice mixes. You can also add garlic and/or onion powder, thyme, basil, oregano, or red pepper flakes if you like a spicy kick.
Can I make this soup on the stove?
Absolutely! Sauté onion and garlic in a large saucepan. When soft, add the remaining vegetables and the broth. Cover and simmer for 20-25 minutes or until vegetables are tender. Follow the rest of the recipe as directed.
What do you serve soup with?
This delicious soup has all the components for a complete meal. But sometimes we like to serve it with fresh rolls or bread. This homemade artisanal bread is one of our favorites because it's so easy. You can also add a green salad or fresh fruit.
Can I freeze leftover soup?
Cream-based soups don't freeze very well and tend to separate. However, it will keep for 3-4 days in an airtight container in the fridge.
Want more slow cooker soup recipes?
Try this creamy soup in the slow cooker. Don't hesitate to try different veggies or add one or two more that you're interested in so your kids get used to it. Let us know what your kids think of this and what other veggies you would like to try in the comments!
6

Middle

Yukon Gold Potatoes

4

Middle

carrots

4

stems

celery

2

cups

broccoli florets

1

Middle

Onion

1

tablespoon

avocado oil

2

cloves

garlic

chopped

2

cups

chicken soup

4

tablespoon

butter

1/2

Cup

all purpose flour

3

tablespoon

Mustard

1

teaspoon

Salt

1/2

teaspoon

black pepper

2

cups

milk

2

cups

sharp cheddar cheese

grated
Prepare your veggies: peel and chop the potatoes and carrots, chop the celery and broccoli (can make a broccoli/cauliflower combo), and dice the onion.

Heat avocado oil in a large skillet over medium-high heat. Add the onions and garlic; Cook for about 5 minutes or until the onion is translucent and softened.

Add the sautéed onions to the crockpot along with all your chopped veggies. Add chicken broth and cook on low for 6-7 hours or until vegetables are tender.

About 30 minutes before serving, prepare the sauce: Melt the butter in a saucepan. Add flour, mustard, salt and pepper; stir until combined. Slowly stir in the milk and cook over medium-high heat until thickened. It will look very thick and chunky! Keep stirring, it will come together.

Add the sauce to the casserole along with the grated cheese. Stir until the cheese is melted and the soup is creamy. Serve with artisan bread or sourdough bread. Enjoy!
Calories: 244kcal | Carbohydrates: 26G | Protein: 9G | Fat: 12G | Saturated Fatty Acids: 6G | Polyunsaturated fat: 1G | Monounsaturated fatty acids: 3G | Trans fats: 0.2G | Cholesterol: 31mg | Sodium: 586mg | Potassium: 624mg | Fiber: 4G | Sugar: 5G | Vitamin A: 3946ie | Vitamin C: 33mg | Calcium: 226mg | Iron: 1mg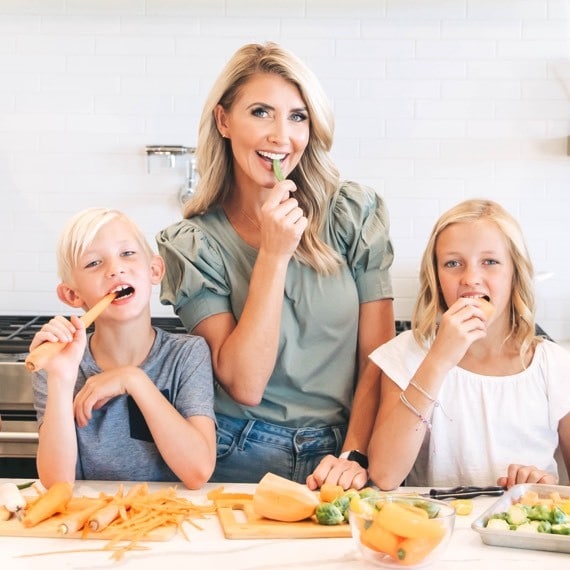 Natalie Monson
I am a Registered Nutritionist, mother of 4, an avid food lover and a strong promoter of healthy habits. Here you'll find lots of delicious fruit and veg-packed recipes, tips on how to get your kids to eat better and become intuitive eaters, and plenty of resources to feed your family.
Learn more about Natalie