These easy Instant Pot Carnitas take just 5 minutes of prep before your pressure cooker takes over. Made from seasoned pork that's cooked juicy and tender, then shredded and lightly broiled until irresistibly crispy. Perfect for pork tacos!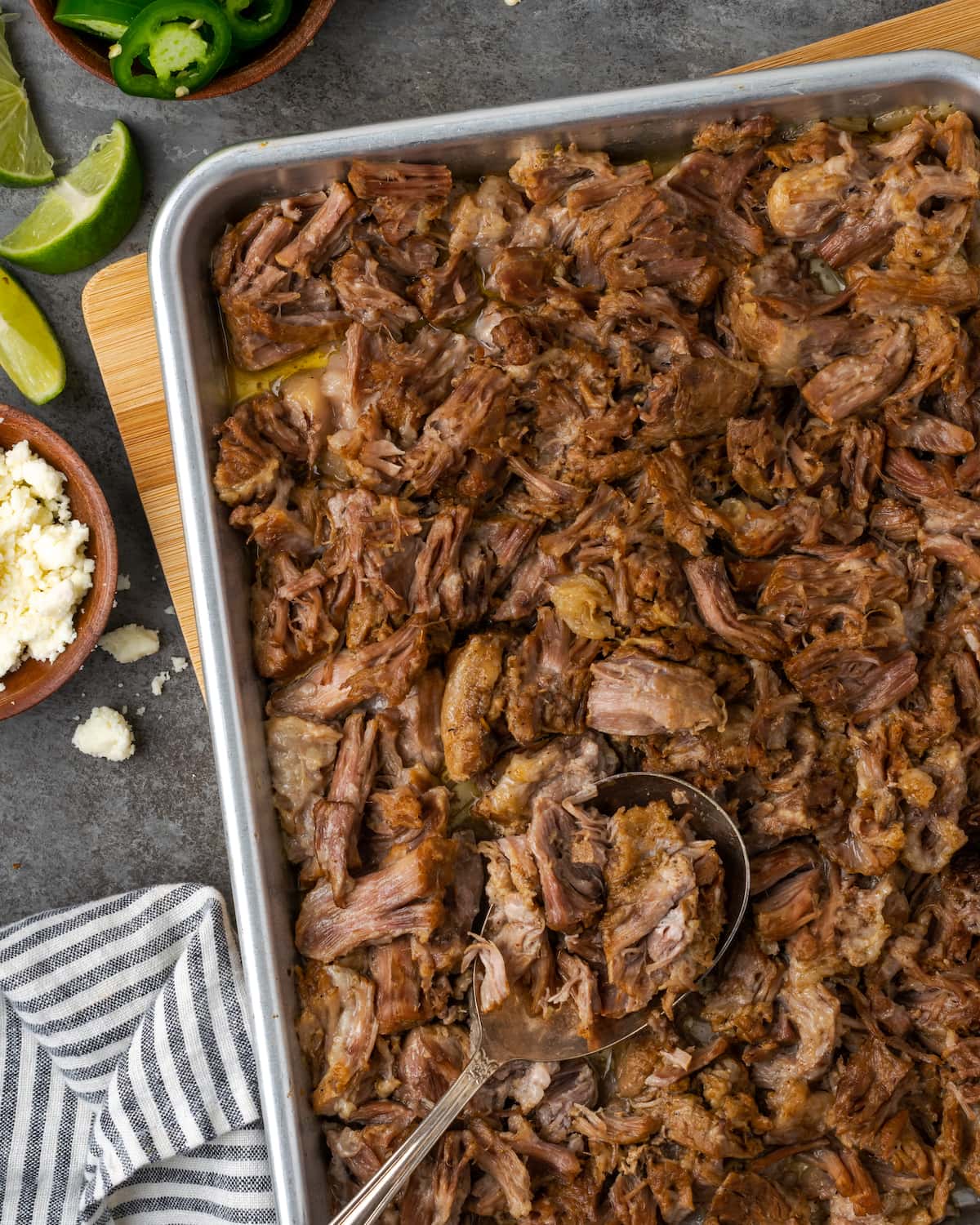 Crispy Instant Pot Carnitas
This Instant Pot carnitas recipe is a quick version of the slower cook pork carnitas recipe that I always make. The pork becomes insanely tender in the Instant Pot, cooked in a totally tantalizing marinade of orange juice, lime, and zesty spices. 
Once shredded, the method stays the same, I pop the pulled pork under the broiler to get those irresistibly golden, crispy bits at the edges. Pork carnitas are somehow juicy and crispy all at once, and 100% a family favorite.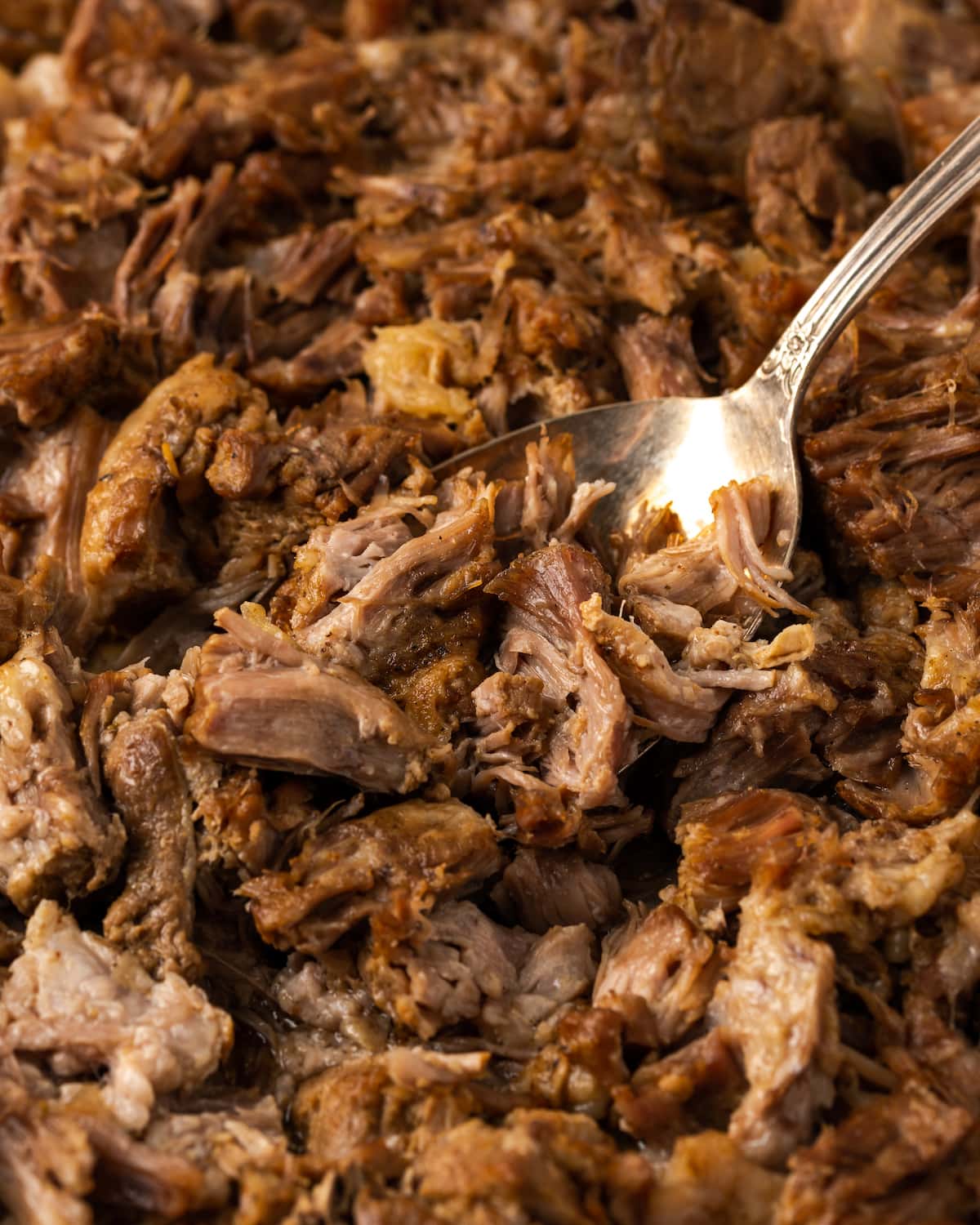 What Are Carnitas?
Carnitas is "little meats" in Spanish. It's a bit like Mexico's answer to pulled pork, made from pork shoulder that's slow-cooked in lard until it's ultra-tender and shreddable. Many of us don't exactly have gallons of lard at our fingertips, though. This homemade version uses the Instant Pot to make carnitas that are pretty darn close to the real deal (if I say so myself), minus the lard. 
Why You'll Love This Instant Pot Recipe
My Instant Pot carnitas are super easy and you're going to be gobsmacked by how good these crispy carnitas turn out!
Quick and delicious. This Instant Pot recipe uses just the right blend of spices and some straightforward pressure cooking to achieve the most authentic-tasting pork carnitas. The Instant Pot is quick, easy, and your carnitas are just about guaranteed to come out perfect.
Versatile. There are so many ways that you can enjoy IP carnitas: loaded into tacos or rolled into burritos, sprinkled over nachos and salads, as a filling for sandwiches, in rice bowls for meal prep, and just as they are! I include all of our favorite serving ideas later on in the post.
Perfect for crowds. A big batch of crispy Instant Pot carnitas is great to make ahead and reheat for parties. This recipe is also freezer-friendly, so you can always have carnitas on hand (which is never a bad thing).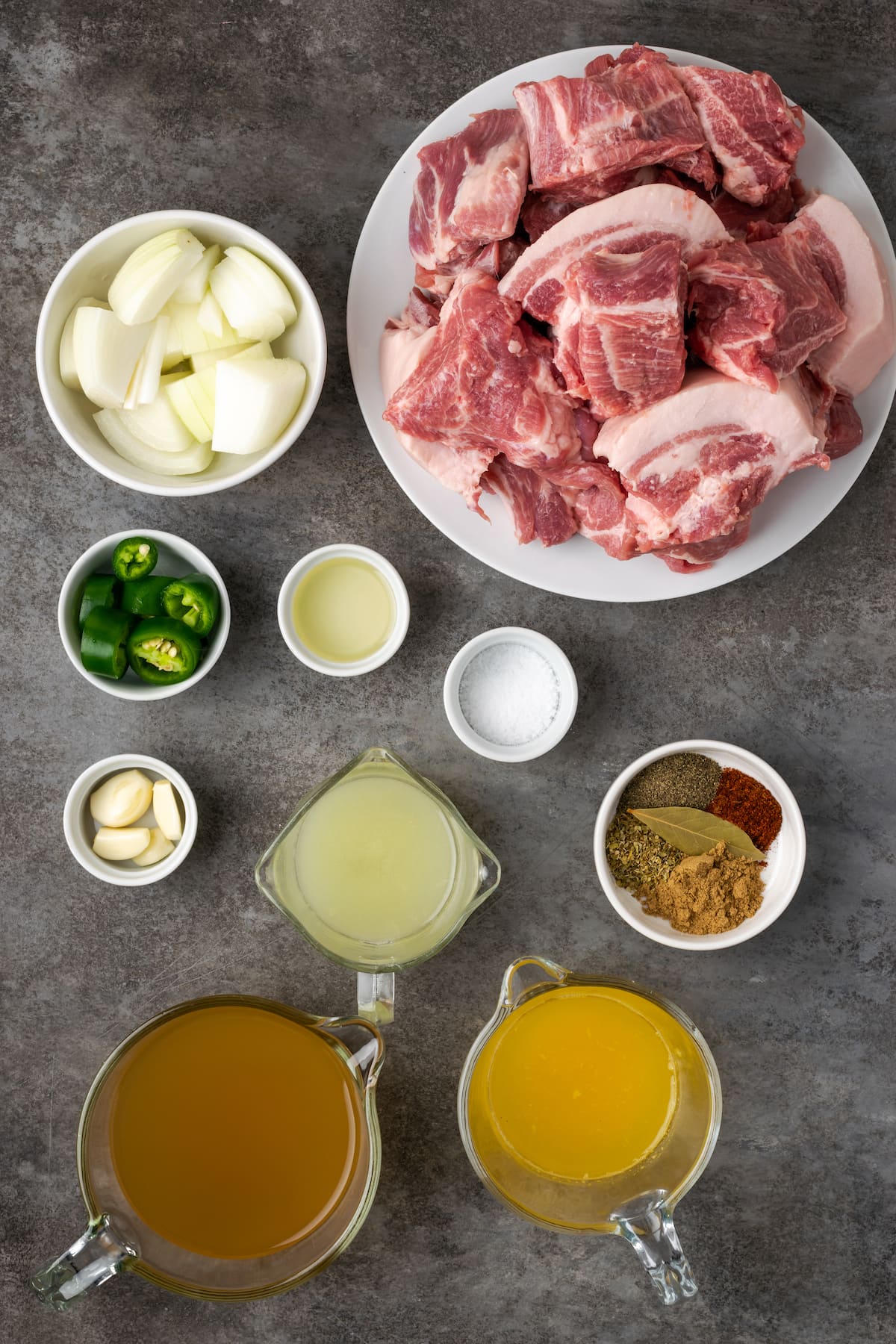 Ingredients You'll Need
Below is an overview of the ingredients and simple seasonings you'll need to make the juiciest Instant Pot carnitas. Refer to the recipe card for the full recipe amounts and details.
Pork: For the juiciest pulled pork, I've always found that pork shoulder, also called pork butt, seasoned with kosher salt is the way to go. However, there are other meat options that work too (see below).
Citrus: I use a combination of freshly squeezed orange juice and lime juice for these carnitas. Oranges complement the pork and bring bright, fresh acidity along with the limes. So good! You can also use all orange juice or all lime juice, depending on what's available.
Garlic: I've said it before, and I'll say it again. Everything is better with garlic.
Seasoning: Cumin, chili powder, oregano, and black pepper.
Olive Oil: Choose a high-quality EVOO (extra virgin olive oil) for sauteeing.
Onion and Jalapeño: Diced onions and jalapeños are the perfect aromatics for this Mexican-style dish. I also throw in a bay leaf for flavor.
Chicken Broth: Use your preferred brand of low-sodium chicken broth or Homemade Chicken Stock. Alternatively, you can substitute stock with equal parts Mexican beer (like Corona, Sol, or Modelo). 
What Cut of Meat Is Best for Carnitas?
So, which kind of pork should you choose? There are a few options that work well when it comes to making succulent pork carnitas:
Pork Shoulder: Boneless, skinless pork shoulder is my cut of choice. I like to use a picnic roast, as it has a good amount of marbling that renders as it cooks, resulting in extra juicy and tender pork with loads of flavor.
Pork Butt: Also called Boston butt, pork butt is in fact cut from the shoulder of the pig, too. This is another solid option for carnitas. Pork butt often comes bone-in with the skin on, and has even more marbling than a picnic roast plus a thick layer of fat (that can be trimmed off). Bone-in roasts tend to take a little longer to cook, but they also bring tons of additional flavor.
Tenderloin: Pork tenderloin is a leaner cut of meat that's super common and readily available in most grocery stores. It can make decent carnitas in a pinch and cooks a lot faster than the above options. However, since tenderloin doesn't have much fat, your pork won't be quite as juicy at the end.
How to Make Pork Carnitas in the Instant Pot
Making my favorite carnitas recipe in the pressure cooker is perfect for weeknights. It definitely speeds up the process and there's hardly any cleanup! Here's how to make these easy Instant Pot carnitas:
Salt the Pork: First, give the pork roast a generous sprinkle with kosher salt and leave it to sit and season for about half an hour. Salting the pork helps to tenderize the meat and bring out the flavor.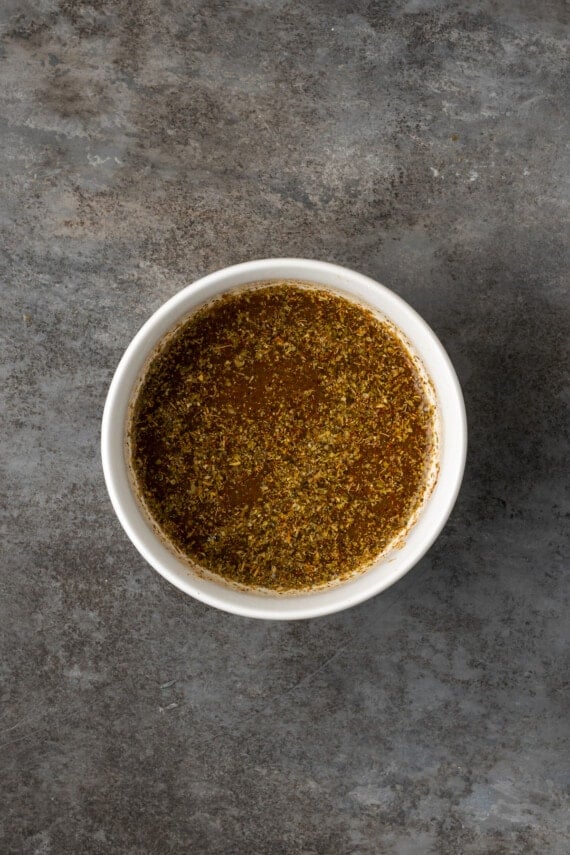 Combine the Marinade: Next, whisk together orange and lime juice with the fresh garlic and spices, and set this aside for now.
Sauté: With your Instant Pot set to sauté, cook the onions and jalapeños in a bit of oil until softened, then add the pork. Pour over the marinade followed by the chicken broth, and drop in your bay leaf.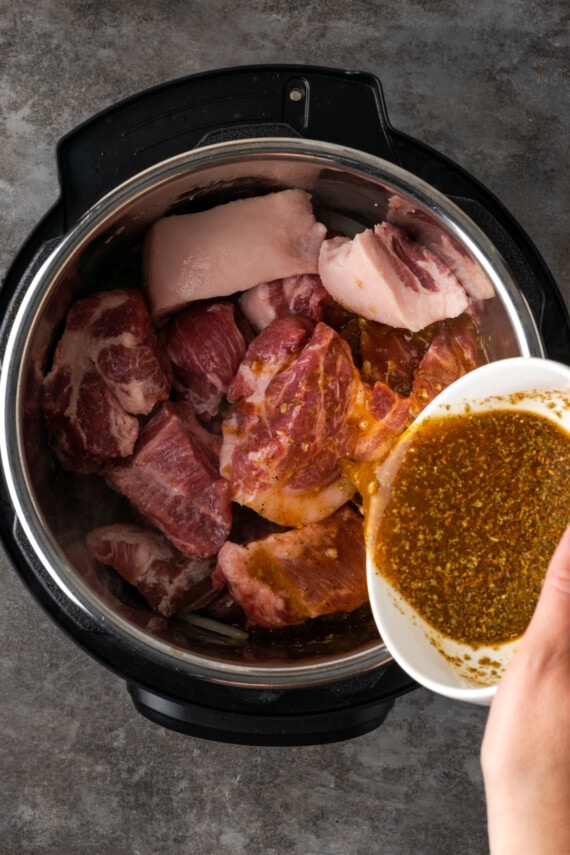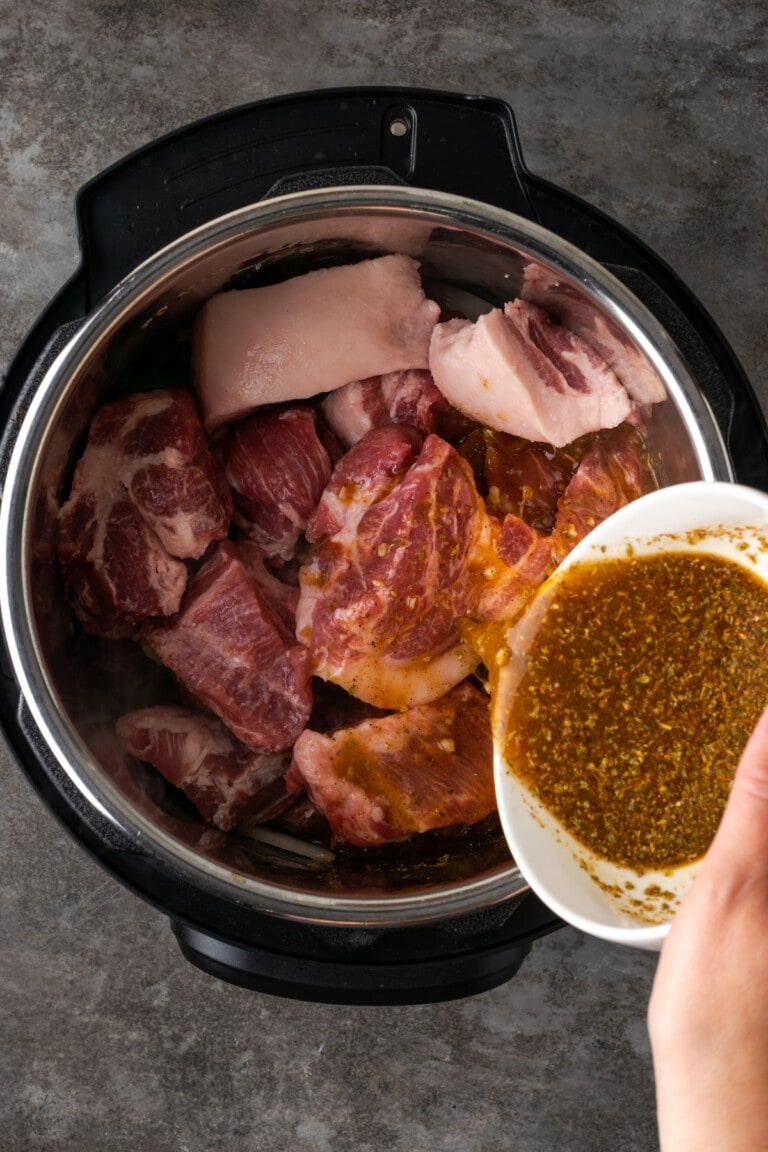 Cook: Seal the lid and switch the pot to cook for one hour at high pressure. Once the cooking time is up, naturally release the pressure for 15 minutes before venting the rest manually.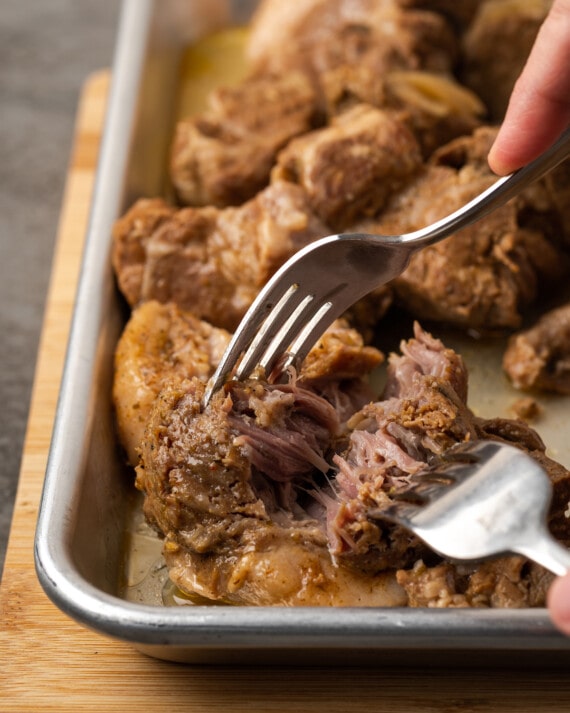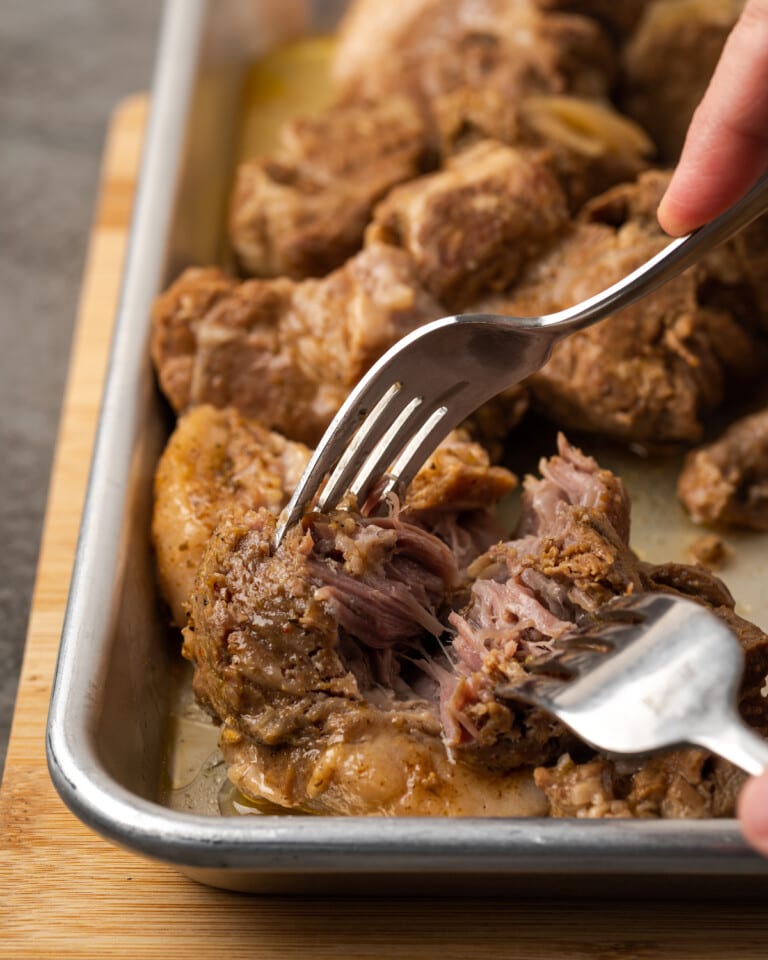 Shred: Lift the lid and transfer the pressure-cooked pork to a baking tray or pan. Then, using a pair of forks, shred the roast, picking out any large chunks of fat as you go. When the pork is fully pulled, it's time to get those edges crispy! See the next section.
Crisping Up Your Carnitas
There are a couple of different ways to crisp up the outside pieces of pork for that delicious contrast of textures:
Broiler: This is the quickest and easiest method that I use most of the time. Place the pan with the shredded pork under your broiler for a few minutes, that's it! Keep an eye on the carnitas while they crisp, so that they don't burn. 
Skillet: Working in batches, fry the shredded pork in a hot skillet with a swirl of vegetable oil. Use a spoon or spatula to gently press the carnitas into the pan, searing the edges to form a crust. Transfer the batch to a bowl and repeat until all the carnitas are golden and lightly crisped.
I like to pour the reserved juices from the Instant Pot over the finished result for more flavor. Voila! These tasty carnitas are ready for tacos, sandwiches, nachos, freezing, and more. See below for easy ways to serve and store homemade pork carnitas.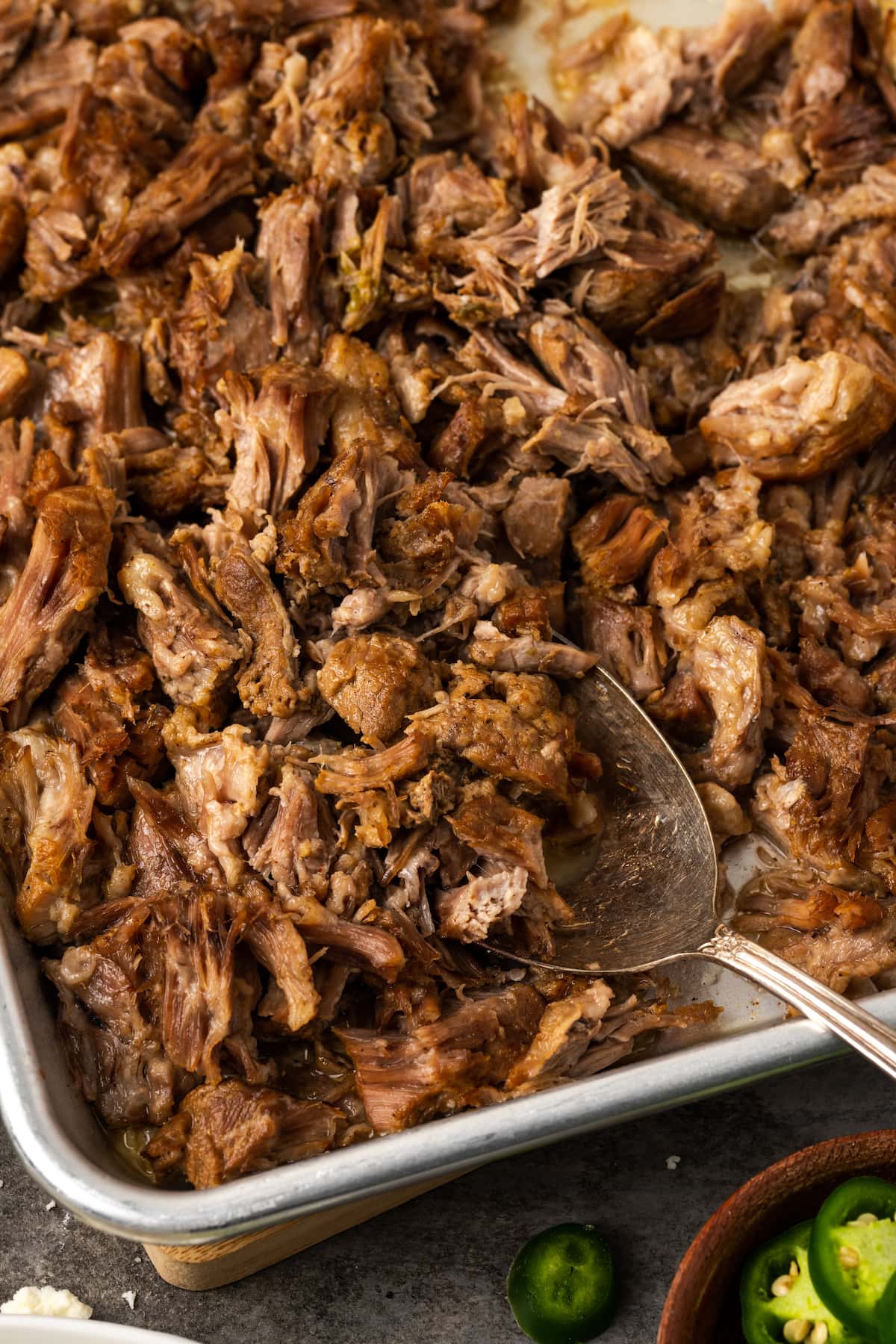 Can I Make Carnitas In the Slow Cooker Instead?
Yes! If you don't have an Instant Pot or if you'd prefer to make this recipe in the crock pot instead, my original recipe for Slow Cooker Carnitas is right up your alley. I include directions in that post for making carnitas in the Dutch oven, too.
Tips and Variation Ideas
This Instant Pot carnitas recipe takes a lot of the guesswork out of getting the texture of the meat just right. Here are some final tips for carnitas that cook up meltingly tender:
Don't undercook the meat. Make sure to budget the amount of time it takes for the IP to come to pressure, and give the pork roast enough time to fully cook. Remember that you may also need to increase or decrease the cooking time depending on the cut of pork your choose (see earlier in the post). Undercooking can lead to tough, chewy meat that won't shred as easily.
Use chicken. If you're not partial to pork, sub in boneless, skinless chicken breasts in place of pork shoulder.
Make it spicy. Stir in a spoonful of adobo sauce along with diced chipotle in adobo for an extra spicy, smoky kick.
Save the juices. The leftover juices are great for flavor, and they also come in handy when reheating leftovers. Adding a drizzle of juice over the carnitas while reheating can help loosen them up again.
Common Questions
New to Mexican-style cooking? Here are some carnitas FAQs:
What's the difference between carne and carnitas?
Carnitas is made with pulled pork shoulder, whereas carne asada is made from thinly-sliced beef (usually sirloin or skirt steak).
Why add orange juice to carnitas?
As mentioned, the citrus juices in this recipe add depth of flavor, and the acidity also helps to further break down the meat so that it's pull-apart tender.
Why is my Instant Pot pork shoulder tough?
If your Instant Pot pork roast comes out tough, this is most likely because it's undercooked and needs more time in the pressure cooker.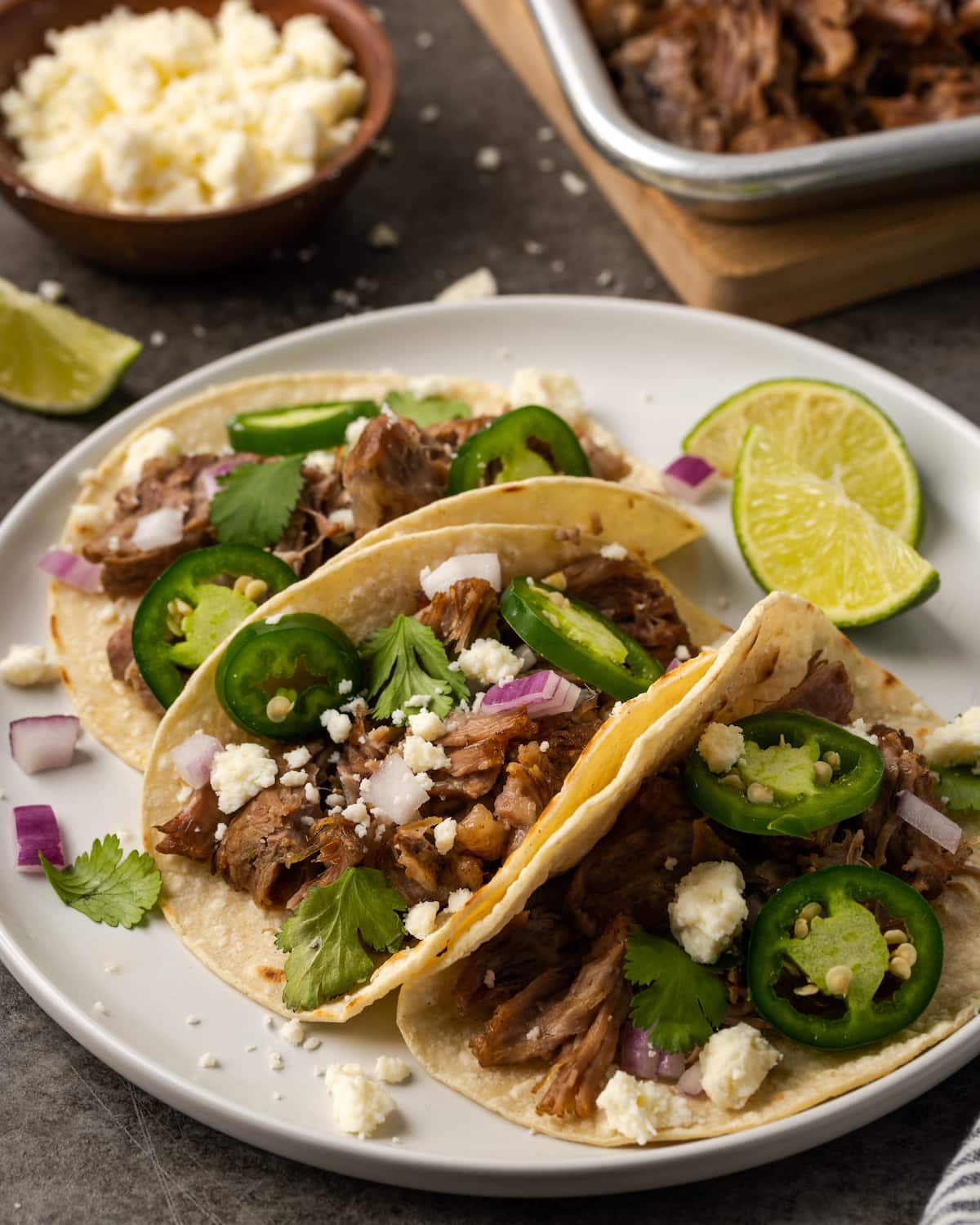 Ways to Serve Carnitas
Instant Pot carnitas are classic for pork tacos. We top ours with Mango Salsa or Avocado Salsa, served with Chicken Flautas or Corn on the Cob on the side. There's nothing more satisfying than juicy pork folded inside a flour tortilla, paired with a margarita! 
You can also serve your crispy carnitas over white rice or Skillet Taco Rice with beans. They make a great addition to Burrito Bowls or rice bowls topped with corn, guacamole, lettuce, black beans, cheese, etc. Other easy side ideas are these Roasted Veggie Nachos or a Southwestern Cobb Salad.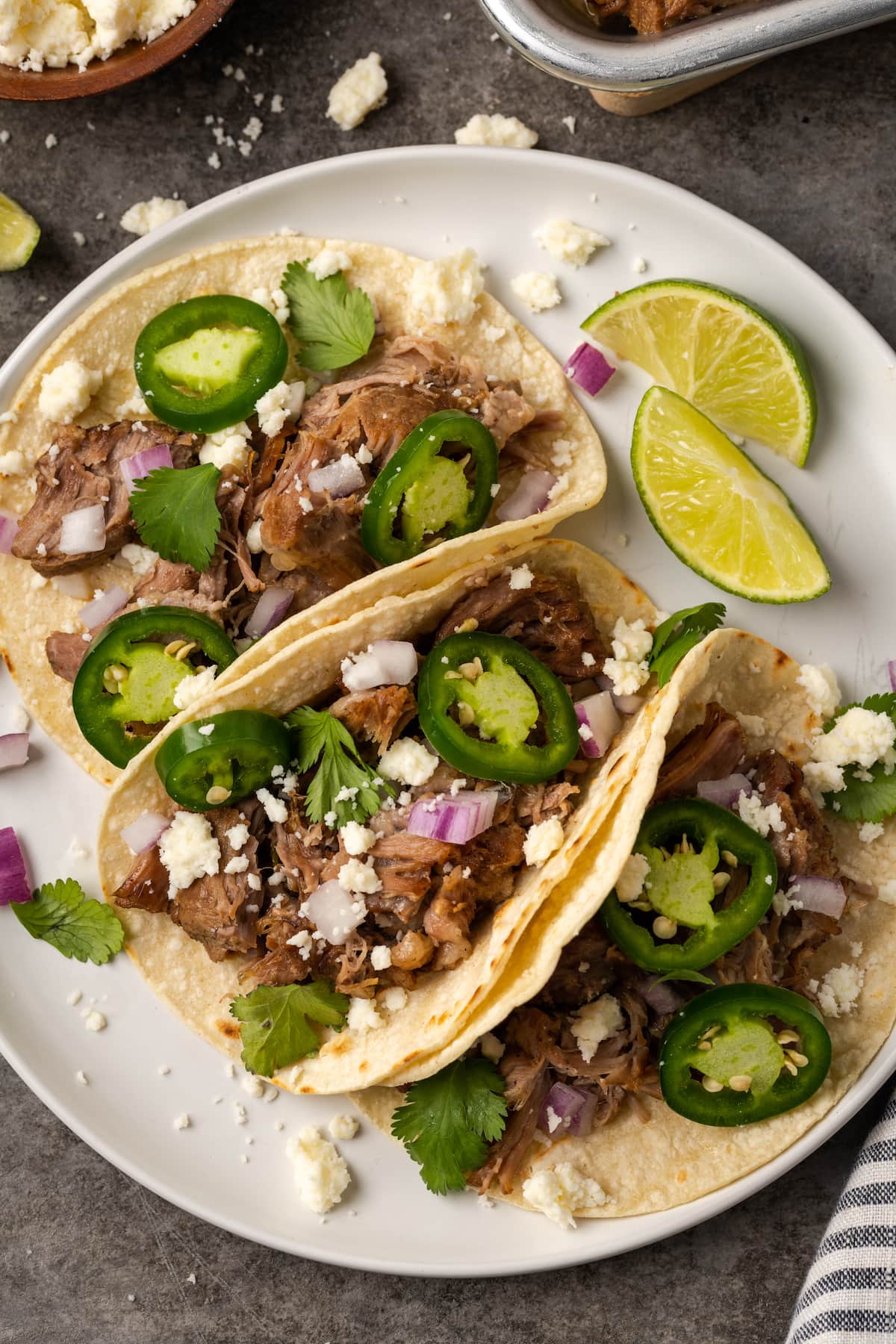 Storing and Reheating Leftovers
Instant Pot carnitas store extremely well. We'll use leftovers to make Carnitas Mac and Cheese! To store, pop the leftover pork in an airtight container and refrigerate it for up to 3-4 days. I recommend reheating carnitas on the stovetop or in the oven to help crisp up the edges again, but the microwave works fine, too.
Can I Freeze Instant Pot Carnitas? 
Yes! I love making a big batch of carnitas to freeze the extras for later. Store the cooked carnitas airtight in a container or freezer bag and freeze them for up to 1 month. Thaw the pork in the fridge before reheating.
Print
---
Description
Easy Instant Pot Carnitas take just 5 minutes of prep before the pressure cooker takes over! Perfectly seasoned pork is cooked juicy and tender, then shredded and lightly broiled until crispy.
---
3 1/2

–

4

pound Pork Butt Roast, cut into

2

–

3

inch cubes

2 teaspoons

Kosher Salt

3/4 Cup

Orange Juice (from

2

oranges)

1/2 Cup

Lime Juice (from

4

limes)

4

cloves Garlic, minced

2 teaspoons

Cumin

1 teaspoon

Chili Powder

1 teaspoon

Oregano

1 teaspoon

Black Pepper

1 Tablespoon

Olive Oil

1

Yellow Onion, chopped

1

Jalapeno, chopped

1

Bay Leaf

12 ounce

Chicken Broth (or sub with Mexican Beer)
---
Sprinkle pork roast with kosher salt and let it sit for 30 minutes.
Combine orange juice, lime juice, garlic, cumin, chili powder, and black pepper. Set aside.
Turn the instant pot to saute mode and add the oil.
Add the onion and jalapeno and cook for about 5 minutes until softened. Press cancel.
Add the pork roast pieces to the instant pot.
Pour the juice mixture over the roast. Then pour in the chicken broth and add the bay leaf.
Place the lid on and turn it to the seal setting. Cook on manual, high pressure for 60 minutes.
Once it's done cooking, naturally release the pressure for 15 minutes, then manually release the remaining pressure. Be careful removing the lid because it will be hot and steamy.
Remove the meat from the instant pot and place it on a baking tray. Use two forks to pull the meat into shreds discarding any large pieces of fat.
Place the baking sheet under a broiler for 6-8 minutes until the edges are crispy.
---
Notes
Serve as tacos, over rice and beans, or with roasted vegetables.
Keywords: instant pot carnitas, carnitas recipe, pork carnitas
Want To Save This Recipe?
Find more recipes like this:
More Mexican-Inspired Recipes
PIN for later: