There's a good chance that you already have everything you need to make this easy Victoria Sponge Cake in your pantry! This classic sponge cake recipe is irresistibly soft, spongy, and perfect for layering with delicious jam and cream filling.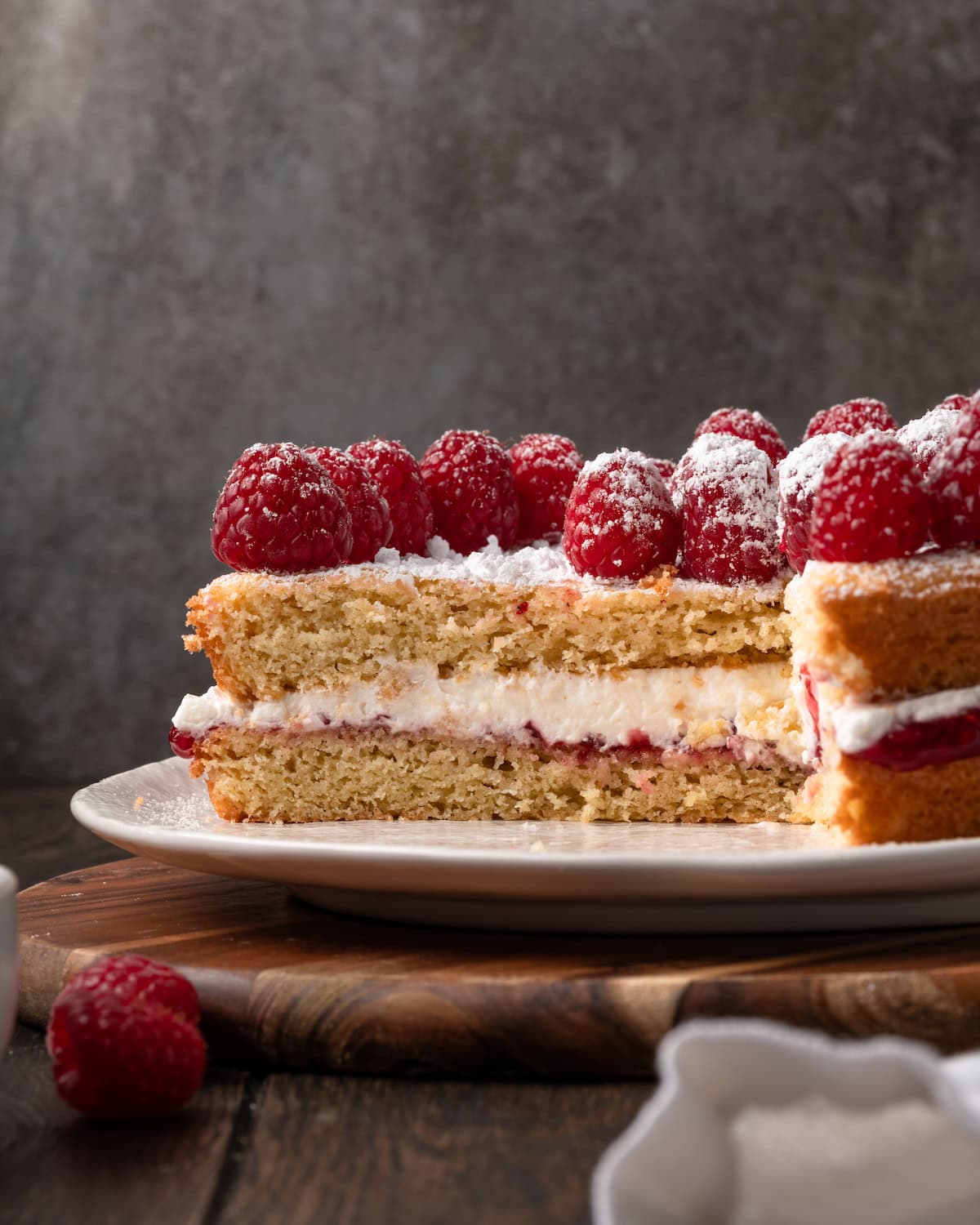 A Simple Sponge Cake Recipe
So, full disclosure: I say "simple" here as in, this Victoria sponge cake is SO simple to make. But the texture and taste are anything but. In fact, if there's one dessert that you'll want to bring to all your summertime get-togethers this year, this is it.
This classic Victoria sponge cake recipe is like the British cousin of my Spanish-inspired Tres Leches Cake. It's soft and moist, filled with fluffy homemade whipped cream and my favorite raspberry jam. The irresistibly spongy crumb melts away with every bite. I layer my cake with filling and then dust the top with powdered sugar. Perfection!
Why is this called a Victoria sponge cake? This is a traditional recipe that's layered with jam and whipped cream (or buttercream). It's named after Queen Victoria, who enjoyed a slice of cake every day with her afternoon tea. Who am I to pass up the chance to eat like royalty?
Why You'll Love This Recipe
What makes this the best sponge cake? 
Easy, yet impressive. There's a reason this cake recipe is fit for a Queen. It's lush and flavorful, yet somehow insanely easy to make with only 4 ingredients. It's a treat for the eyes and tastebuds.
Versatile. Every kitchen needs a classic, perfect sponge cake recipe (IMHO). Whether you're whipping together this cake on the weekend or baking it for a special occasion or holiday, it's really a must-have cake recipe. Trade out the filling, frost it, turn it into a poke cake – the possibilities are endless.
Berries and cream goodness. I love the combination of sweet raspberry jam and fluffy whipped cream between the moist, tender cake layers. It's perfect for summer, and all year round.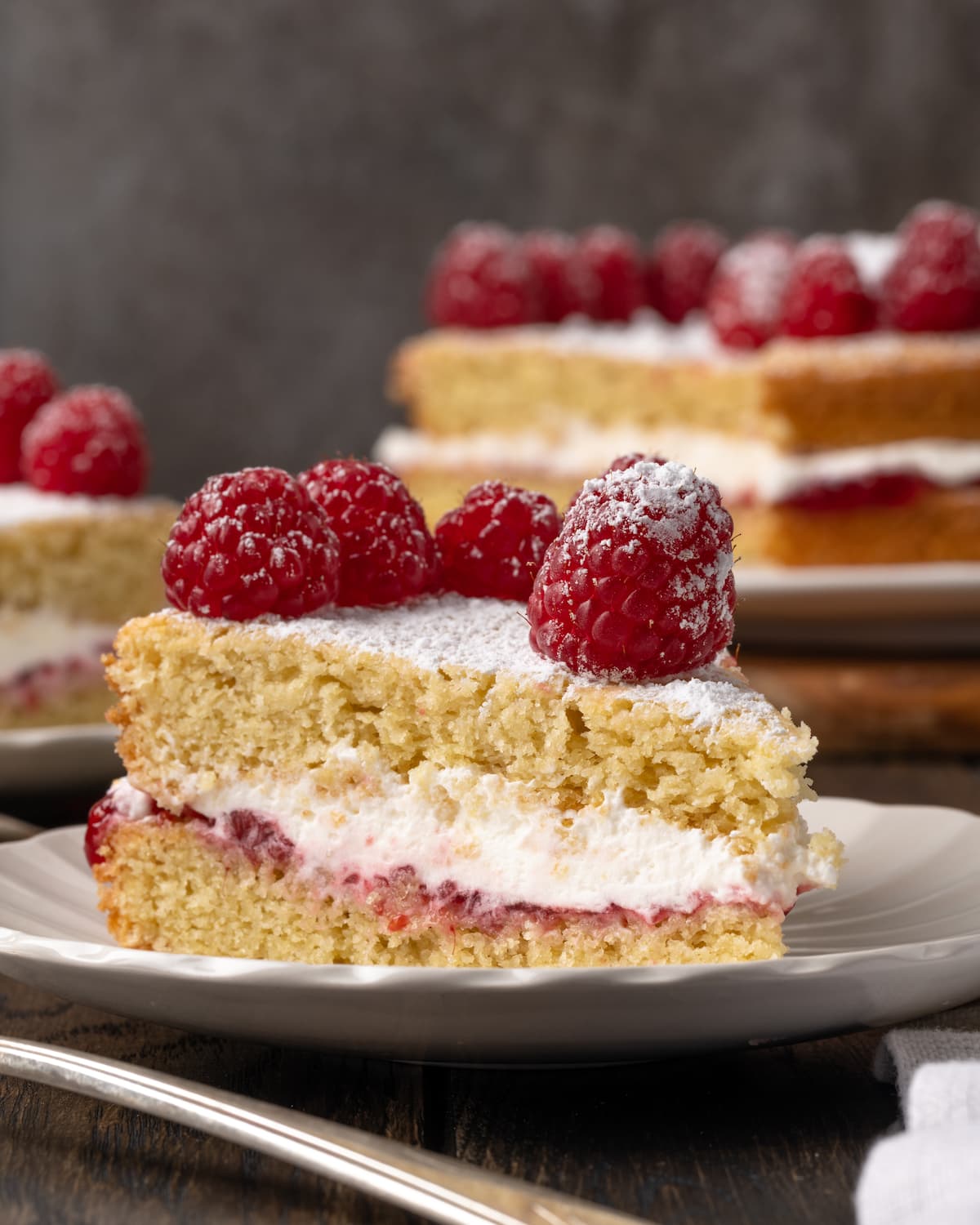 What Is a Sponge Cake?
As you may have guessed by the name, a sponge cake is a light and fluffy, spongy cake. Like a Pound Cake, a sponge cake is made with simple ingredients: mainly butter, sugar, eggs, and flour, though not in the same quantities. The texture of a sponge cake is more delicate, as you'll see with this Victoria sponge recipe. 
Ingredients You'll Need
You can make a perfect sponge cake with only 4 easy pantry ingredients, plus a pinch of salt and some vanilla. Here is a quick overview of what you'll need to make this cake and its filling. Remember to scroll to the printable recipe card for the full amounts and details.
Butter: Salted or unsalted butter, just make sure it's at room temperature.
Sugar: Granulated sugar is best for a sponge cake and yields the most consistently light, airy crumb.
Salt
Vanilla: I highly recommend using a real vanilla extract rather than the imitation kind.
Eggs: Eggs are key to a soft, moist sponge cake. Along with your butter, take your eggs out of the fridge to let them come to room temperature. Whisk them together before you start so that they're nice a fluffy.
Flour: For this sponge cake, I use self-rising flour. All-purpose flour will also work.
Heavy Whipping Cream and Powdered Sugar: Two ingredients for making the easiest homemade whipped cream ever. You can also use store-bought whipped cream if you're pressed for time.
Jam: Traditionally strawberry or raspberry. I chose raspberry jam, but either one tastes delicious, and you can really use any flavor of jam or preserves that you'd like. See further in the post for easy variation ideas.
Fresh Berries: If raspberries are in season, I love to add them as a garnish.
How to Make a Sponge Cake
The beauty of this simple sponge cake recipe is that the batter comes together in the time it takes to preheat the oven. Switch your oven to 350ºF, and let's get started: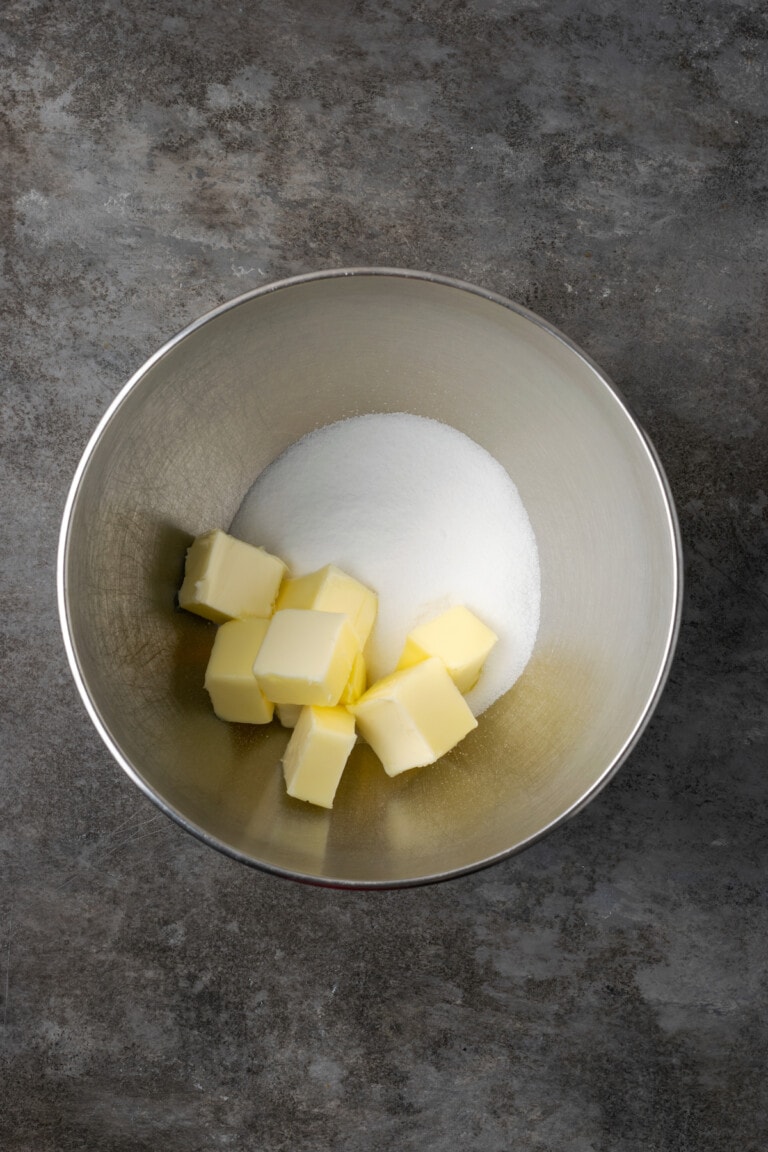 Combine the Batter Ingredients: Begin by creaming together the butter and sugar, plus a pinch of salt. Next, slowly beat in the vanilla followed by your whisked eggs. After about a minute, gradually add the flour. Do your best to not overmix the batter.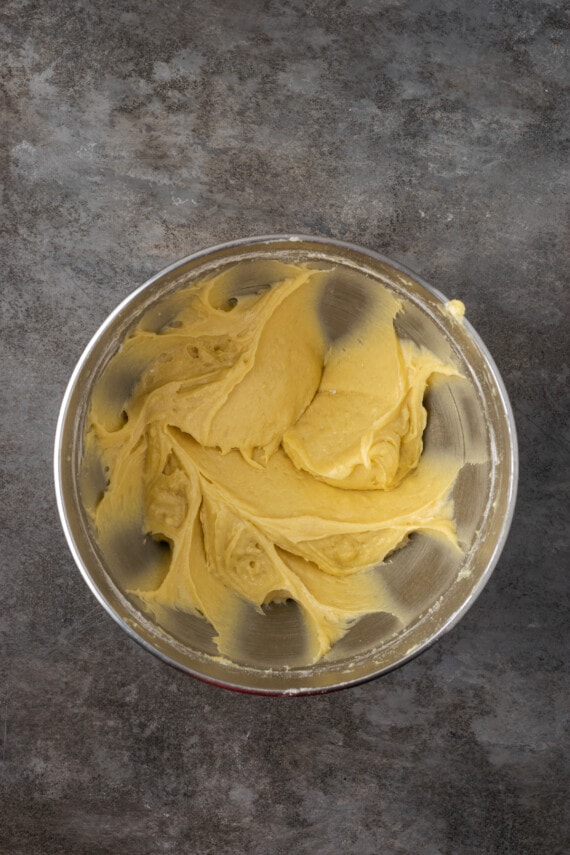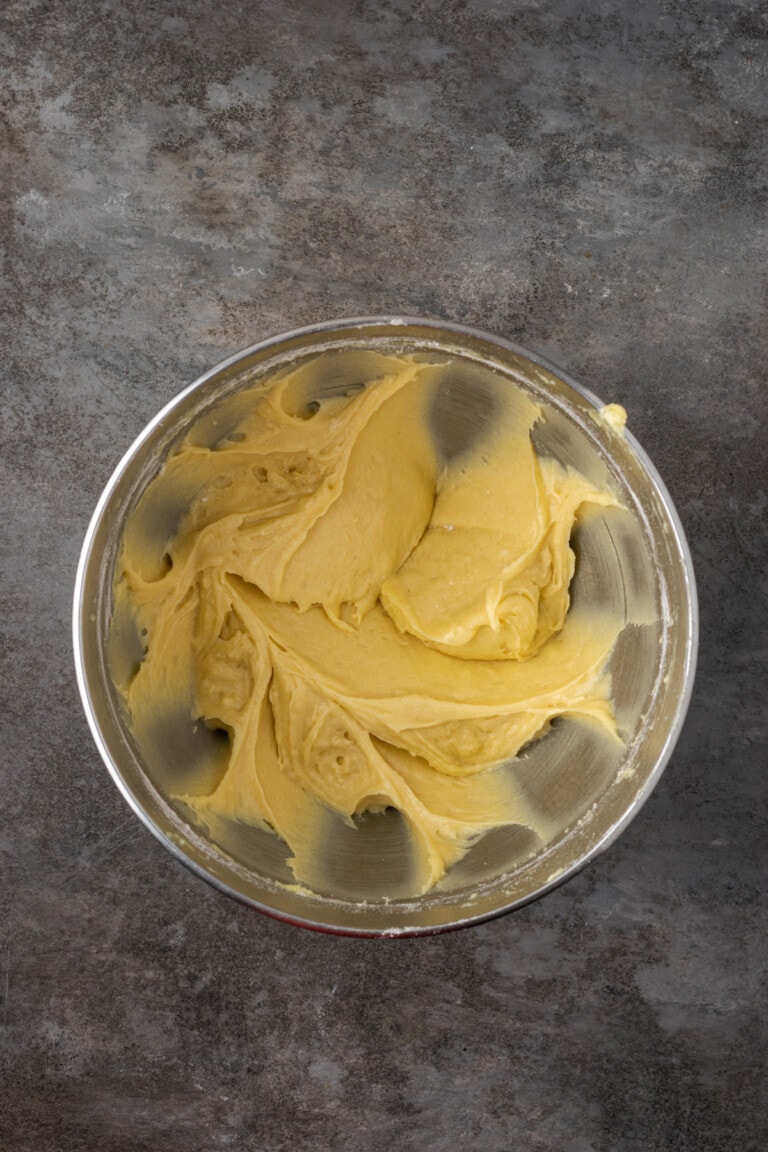 Bake: Divide the cake batter between two greased and lined baking pans, then bake at 350ºF for 17-20 minutes. The top of your cake should be golden, and the center of the sponge should spring back when you press it gently with your finger.
Cool: Your cakes will need to cool to room temperature before you can add the filling. Leave them to cool for about 10 minutes in the pan before inverting the cakes onto a wire rack to finish cooling completely.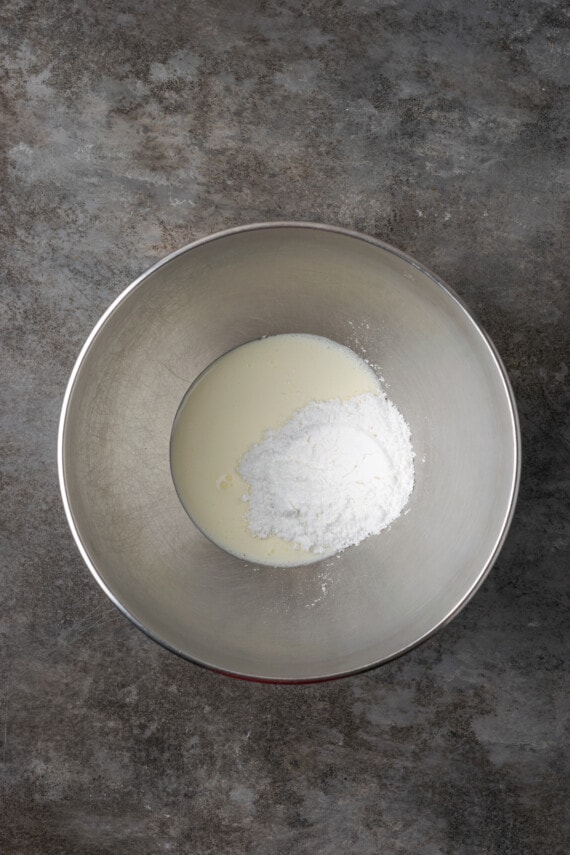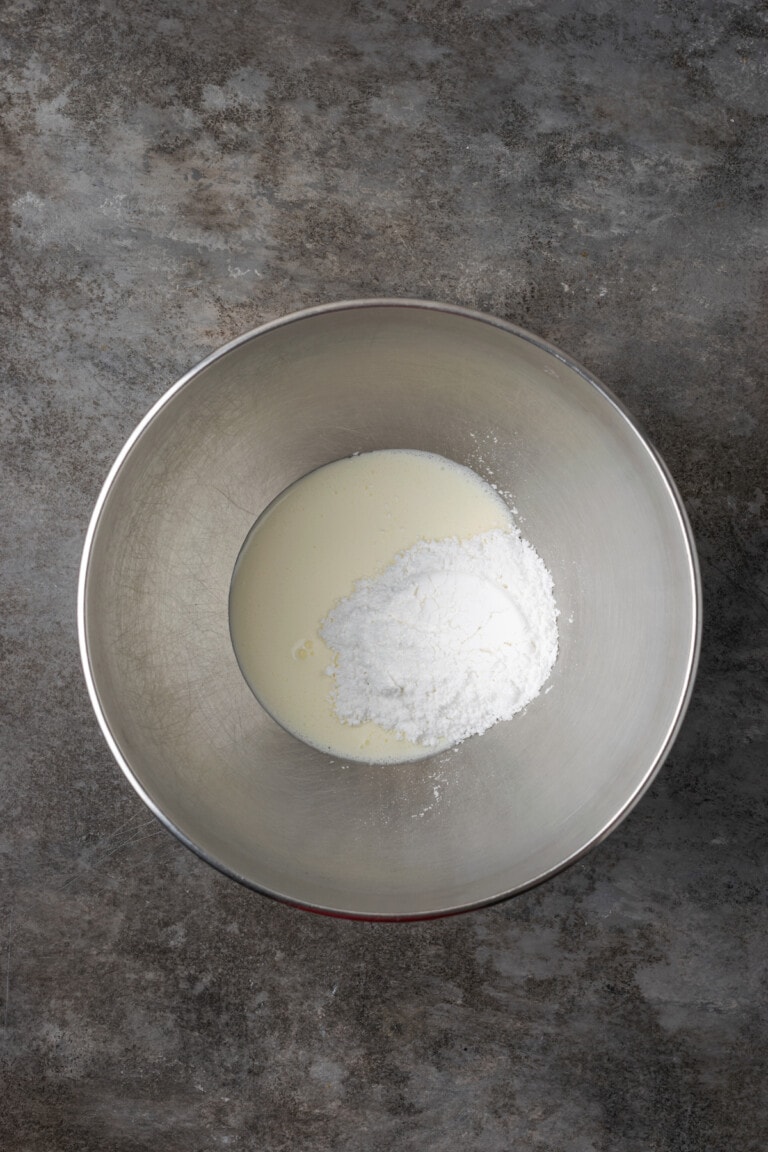 Prepare the Filling: Once your cakes are cooled, you'll whip up a quick and easy homemade whipped cream. To do so, beat the heavy cream and powdered sugar together on high until you reach stiff peaks.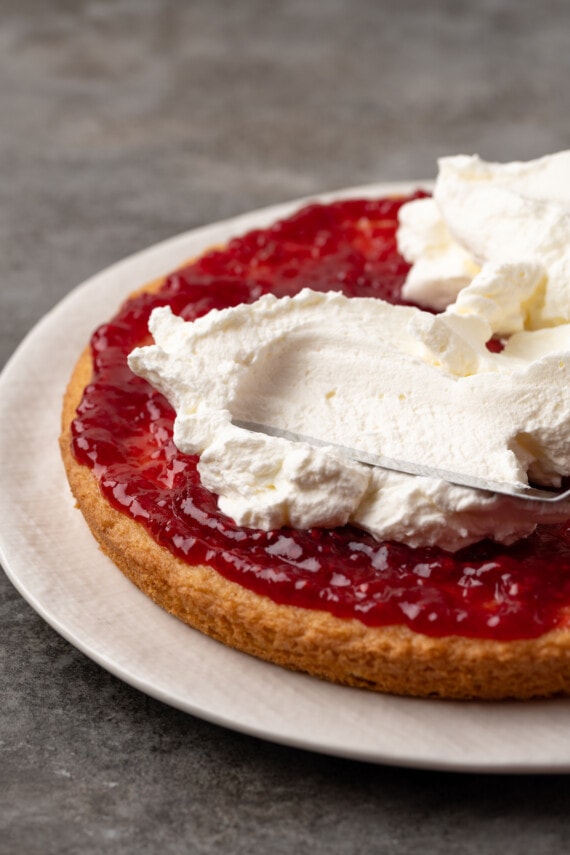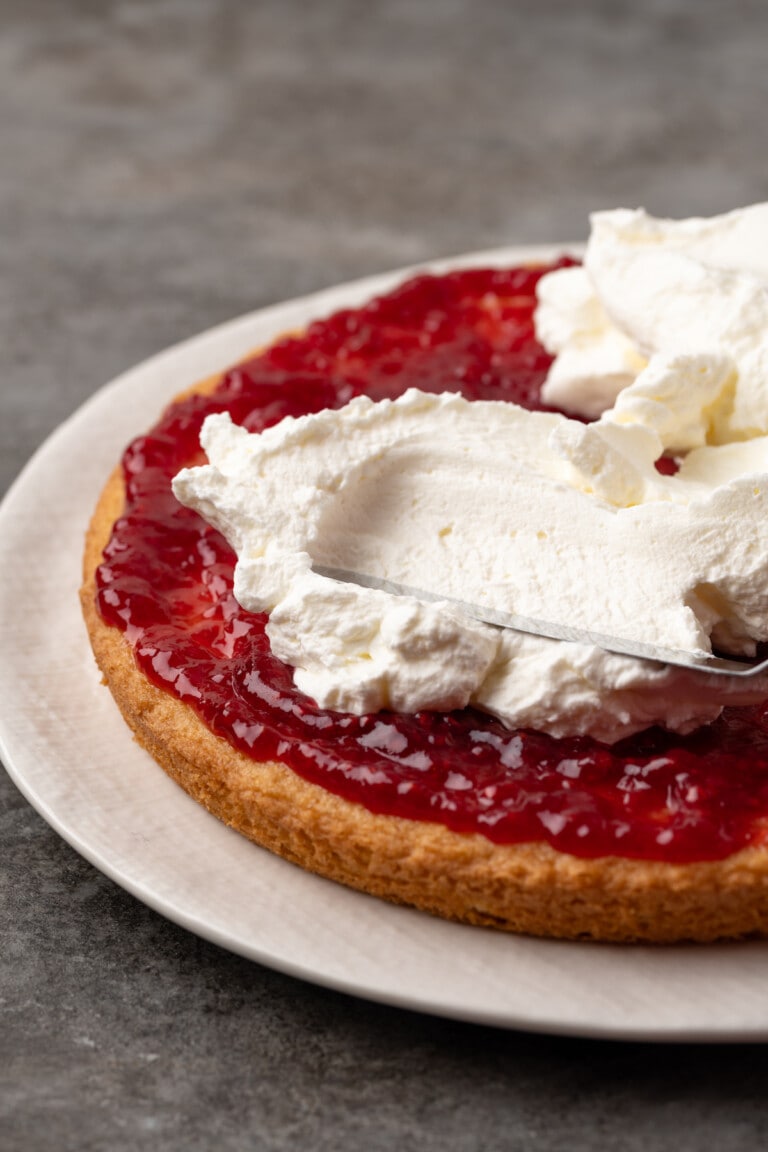 Stack the Cakes: Starting with the first cake layer, spread a thick layer of jam over top, followed by the whipped cream. Carefully top this with the second cake layer. I like to dust the top of my Victoria sponge cake with powdered sugar and fresh berries. How you garnish yours is totally up to you!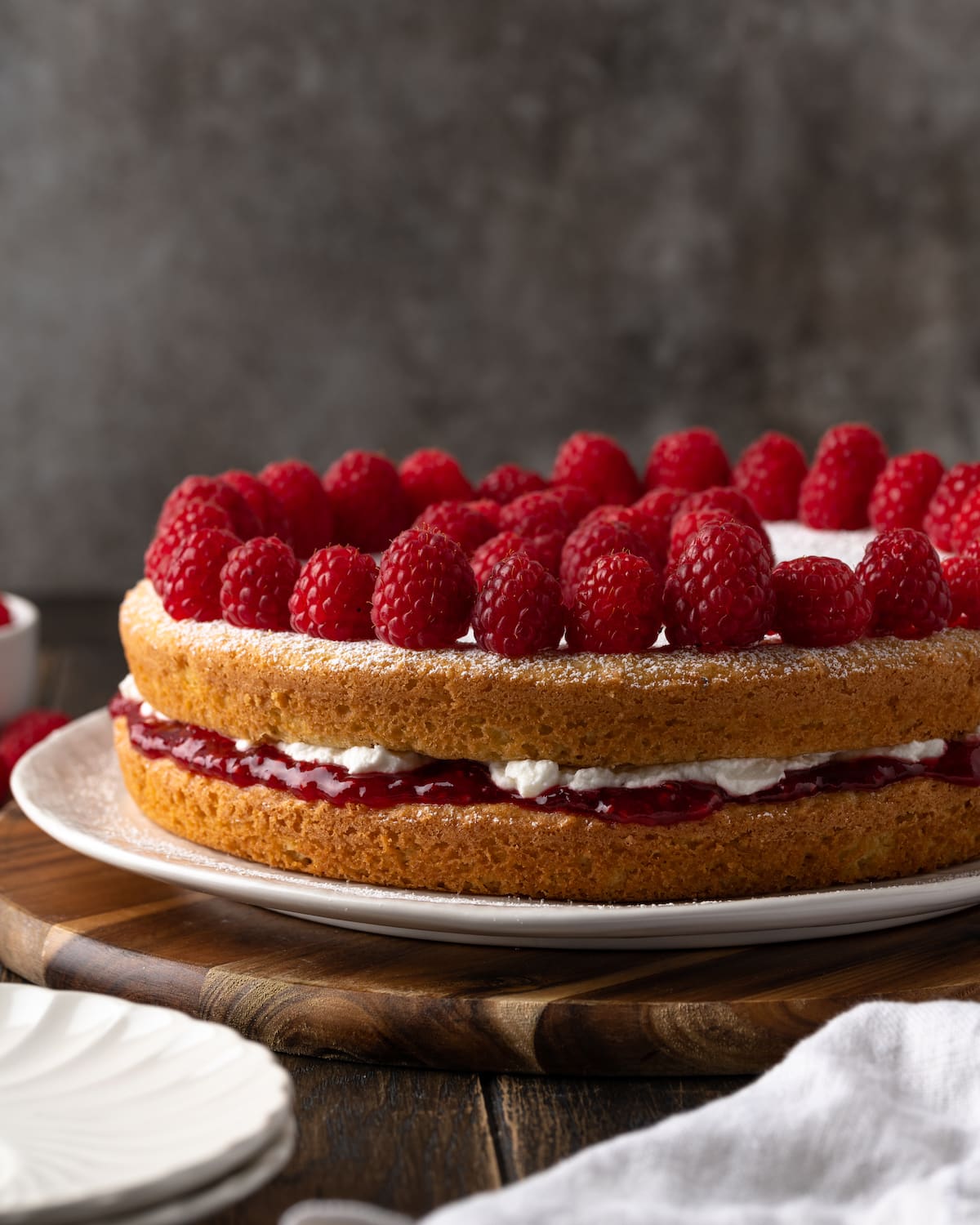 Tips for Success
Keep these tips in mind when making this moist and spongy homemade cake from scratch:
Use room-temperature ingredients. Ingredients like eggs and butter combine more smoothly when they aren't cold from the fridge. Your cake will also bake more evenly.
Beat the eggs well before you start. Adding volume to the eggs is what makes a sponge cake soft and fluffy, instead of dense and, well, eggy.
Don't overmix your cake ingredients. Mix the batter only until the flour is just combined. Overly beating the batter will yield a tough, denser cake.
Avoid overbaking the cake. Start checking your cake for doneness at the earliest suggested baking time so that it doesn't overbake. Overbaking will dry out the cake.
Level the cake. If your baked cake has risen a lot in the middle, you can trim the dome from the bottom layer so that your second cake layer stacks evenly. Another option is to invert the bottom layer so that the smooth, flat side faces upwards.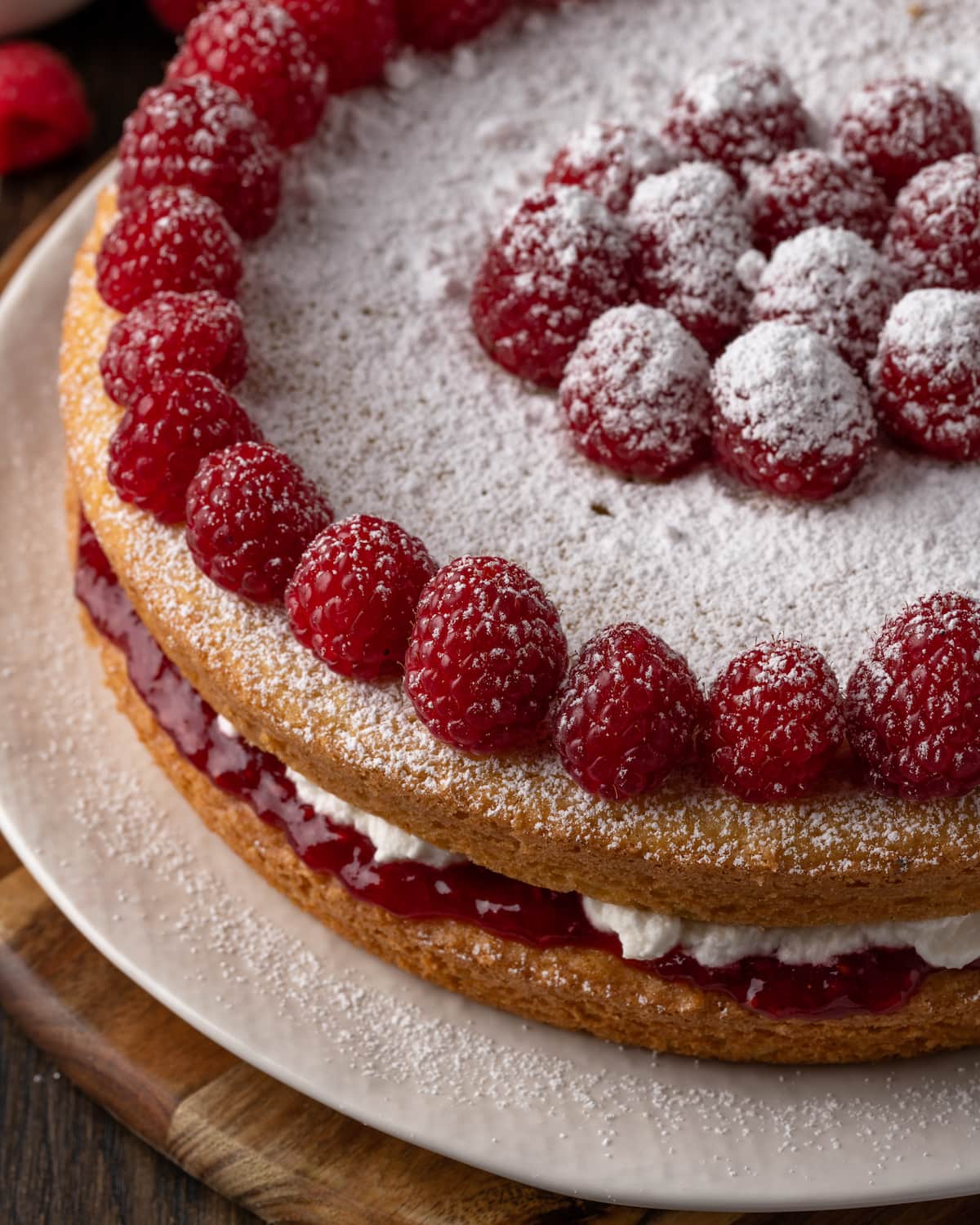 Recipe Variations
Once you have a perfect sponge cake recipe in your repertoire, there's no limit to the variations that you can try! Here are some ideas:
Different Jams: Use your favorite jams and fruit preserves in place of raspberry jam in the filling. Other options are strawberry or blueberry jam, orange marmalade, or lemon preserves. 
Buttercream: Another traditional filling for a Victoria sponge cake is Buttercream. Try it in place of whipped cream! You could even use strawberry jam and Roasted Strawberry Buttercream for a fun twist. 
Toppings: I top this cake with fresh raspberries, but you can garnish it with any type of fresh fruit (strawberries, blueberries, blackberries, or any combination thereof).
Sauces: No one is stopping you from drizzling your cake with chocolate sauce, or even homemade Caramel Sauce or Strawberry Syrup.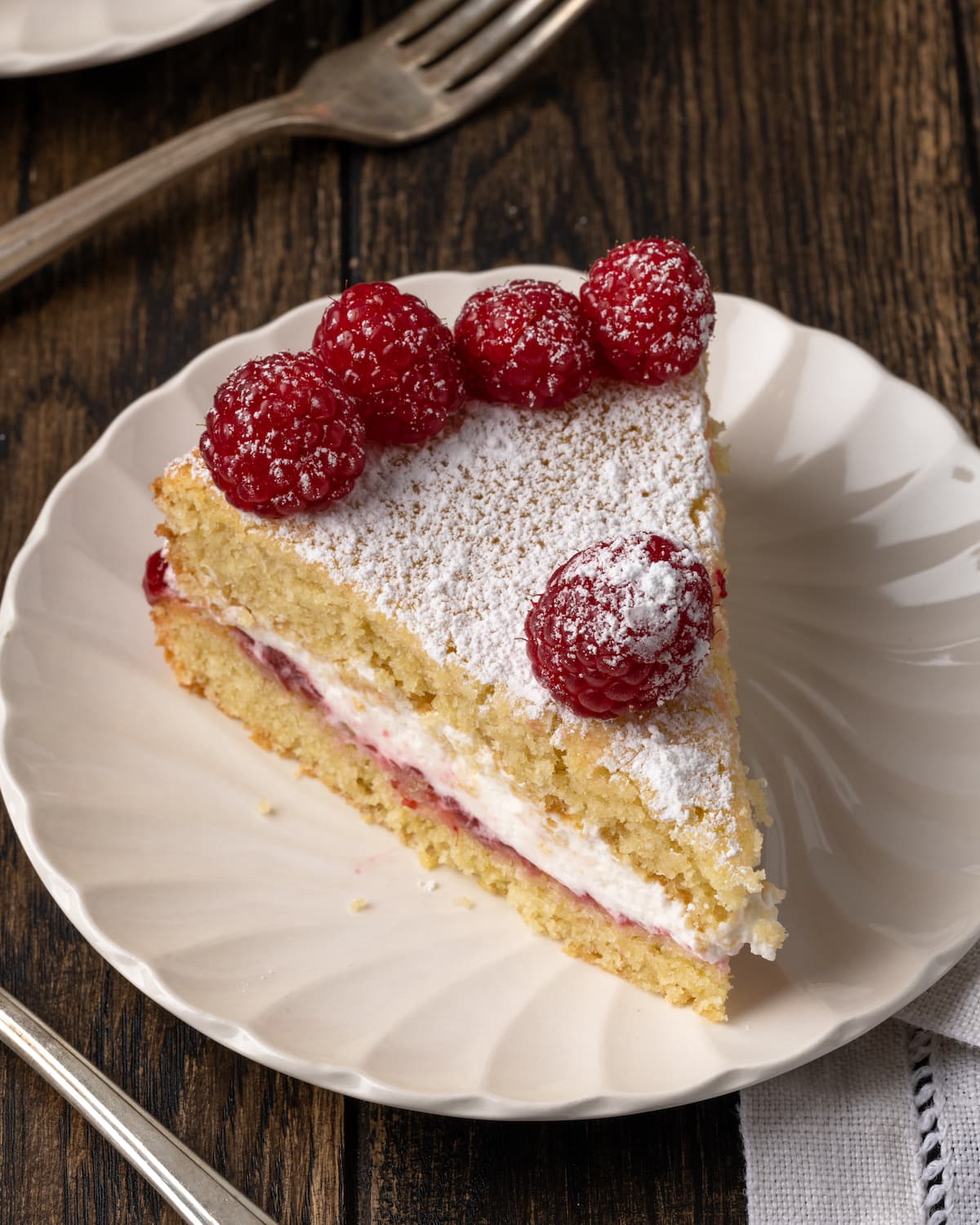 How to Store Homemade Sponge Cake
Due to the whipped cream filling, your finished sponge cake will need to be refrigerated. The cake will keep airtight in the fridge for up to 3 days.
Can I Freeze Sponge Cake?
Yes, if you're making this recipe ahead, I find that it's best to freeze the individual baked sponge cakes before you add the filling. However, you can also freeze the assembled cake. Wrap the sponge cake tightly in plastic wrap, either whole or in slices. I recommend adding an extra layer of foil to help protect the cake from freezer burn. Afterward, store the sponge cake frozen for up to 3 months, and thaw in the fridge before serving.
More Easy Cake Recipes
Print
---
Description
Victoria Sponge Cake is a traditional sponge cake recipe that's soft, spongy, and made with simple ingredients. Perfect for layering with jam and homemade whipped cream!
---
3/4 cup

butter, room temperature

1 cup

granulated sugar

1/4 teaspoon

kosher salt

1 teaspoon

vanilla extract

3

large eggs, whisked at room temperature

1 1/4 cups

self-rising flour
Filling:
1/2 cup

heavy whipping cream

1/4 cup

powdered sugar

1/2 cup

raspberry jam
Optional – fresh raspberries to garnish
---
Cake: Preheat the oven to 350 F. Coat two 8- inch round cake pans with baking spray and line the bottoms with parchment paper rounds. Coat again and set aside.
In a bowl of your stand mixer fitted with the paddle attachment, mix the butter, sugar, and salt together on medium-high speed for 2 minutes. Add in the vanilla and then the whisked eggs slowly, scraping down the sides of the bowl as necessary. Mix for 1 minute.
Turn the mixer to low speed and slowly mix in the flour until just combined and the batter is smooth. Divide the batter between the prepared cake pans and smooth with a spatula.
Bake for 17 – 20 minutes or until the top is golden brown, the cake springs back when gently pressed in the center, and the edges are starting to pull away from the sides of the pan. Cool the cake in the pan for 10 minutes and then invert onto a wire rack to cool completely, peeling the parchment paper off the cake.
Filling: In the bowl of your stand mixer fitted with the whisk attachment mix the cream and powdered sugar together on high speed for 1 minute, or until stiff peaks form.
Place one cake on a cake plate and top with raspberry jam. Spread the whipped cream on top of the jam and place the remaining cake layer on top.
Garnish: Dust the top of the cake with powdered sugar and arrange fresh berries on top or around the cake.
---
Notes
Store airtight in the refrigerator for up to 3 days.
Keywords: sponge cake, victoria sponge cake, sponge cake recipe
Want To Save This Recipe?
Find more recipes like this: