Simple, weekday friendly spaghetti and meat sauce made entirely from scratch. Use ground beef, turkey, pork, chicken or lamb to make this easy spaghetti recipe. Skip to Spaghetti Meat Sauce recipe
watch the video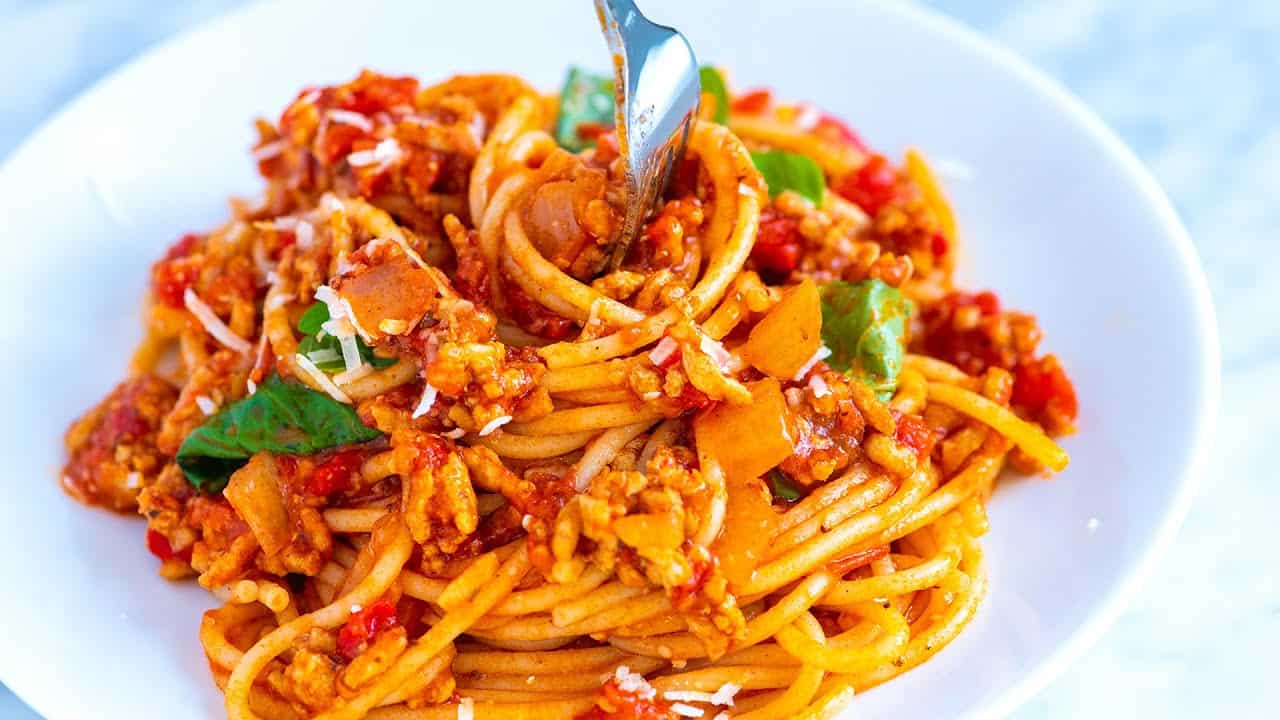 How to make the best spaghetti
For these spaghetti, we turn to our favorite quick meat sauce recipe. It's made with one pot, is ultra flavorful and can be prepared in under 45 minutes. The spaghetti sauce is also perfect for preparing. It can be refrigerated for up to three days and kept in your freezer for about three months. For a more traditional meat sauce, check out our favorite Bolognese recipe.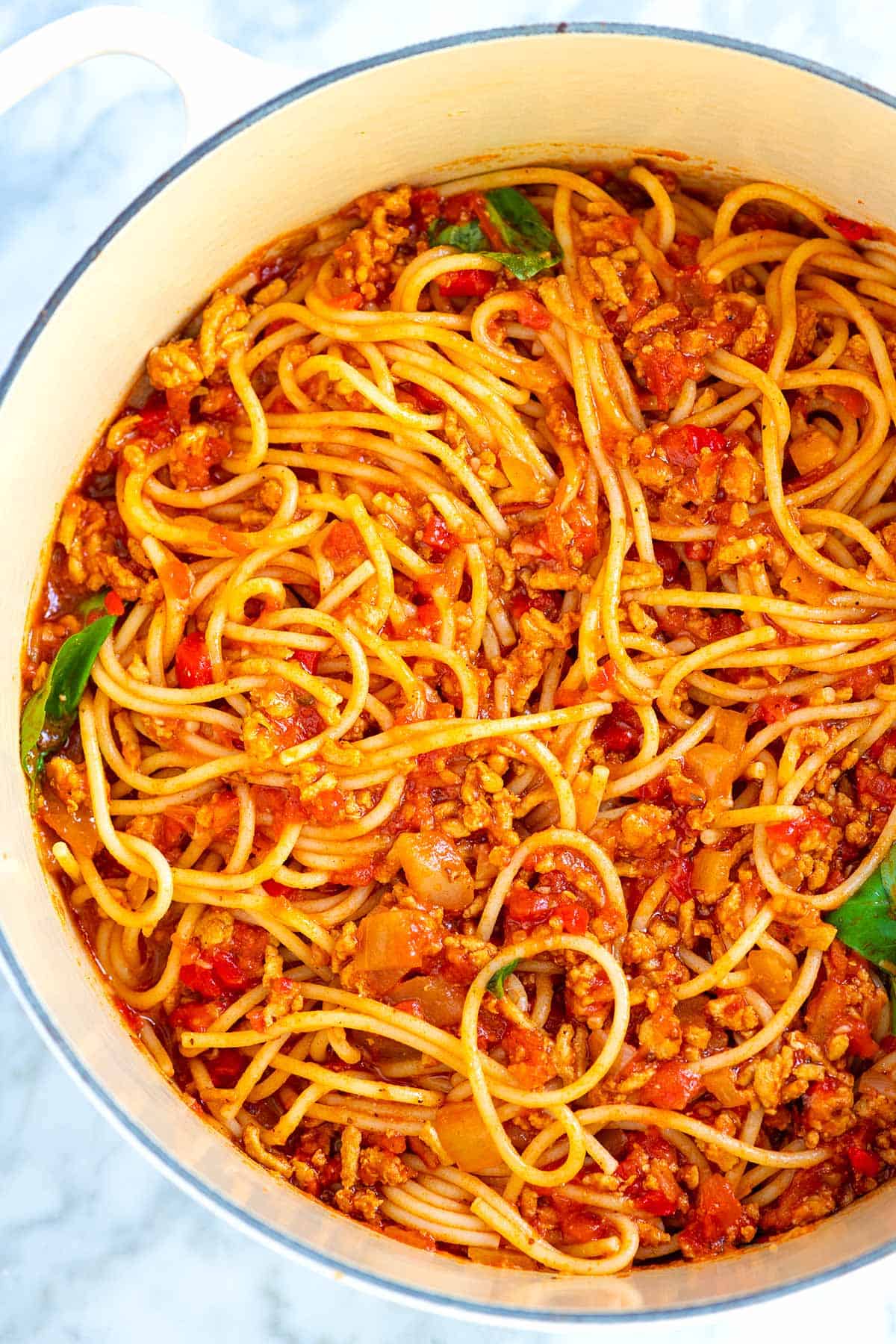 To cook the best spaghetti we have a few simple tricks
Check the package directions for the spaghetti you want to cook. The packaging should list an approximate cooking time for "al dente," meaning the pasta is tender but not mushy. It will still have a bit of bite, which is perfect.
If you know the recommended cooking time, set a timer for about a minute before that. So if the box suggests 10 minutes, set a timer for 8 minutes.
That way you can check on the spaghetti at the 8 minute mark to make sure it's not done yet. The package directions are a helpful guide, but it's always a good idea to check the pasta early!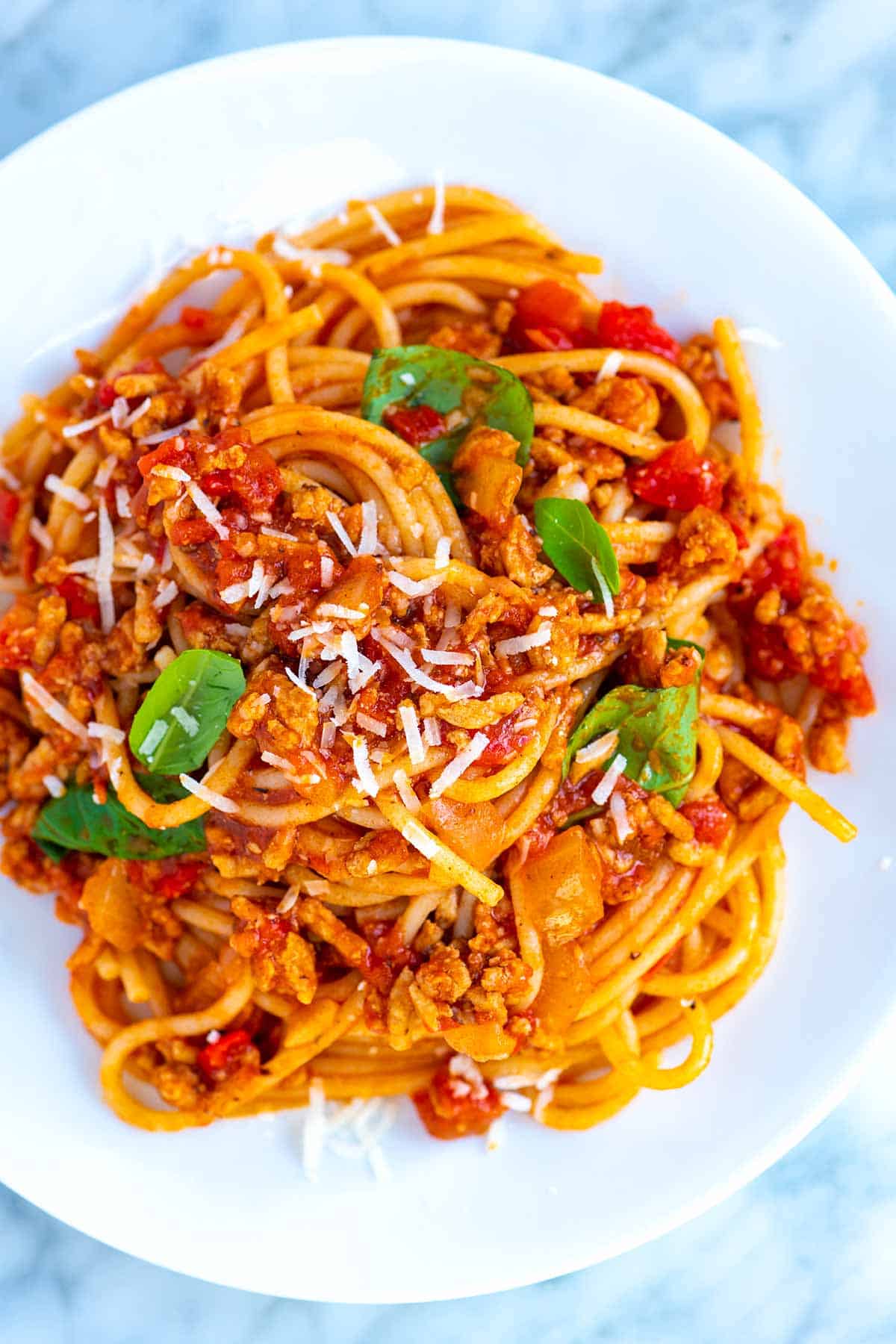 Boil spaghetti in salted water. The water should taste salty. This flavors the noodles as they cook and is necessary for the tastiest noodles.
Toss the cooked spaghetti with a flavorful sauce — like our homemade spaghetti sauce. Don't just spoon the sauce onto the pasta.
For more spaghetti recipes, check out these baked spaghetti, which is similar to lasagna but simpler, and if you love veggies, try our easy veggie spaghetti.
By tossing the pasta and sauce together, the pasta begins to absorb some of the flavors in the sauce. It just tastes better that way.
If you want to cut down on the carbs in your dish, swap out half or all of the pasta for zucchini noodles. Here is our zucchini noodle pasta recipe.
How much salt should I add to pasta water?
We add a lot of salt to our pasta water (it makes the pasta taste delicious). For every 4 liters (16 cups) of water we add about a tablespoon of salt. This is perfect for cooking 1 pound pasta.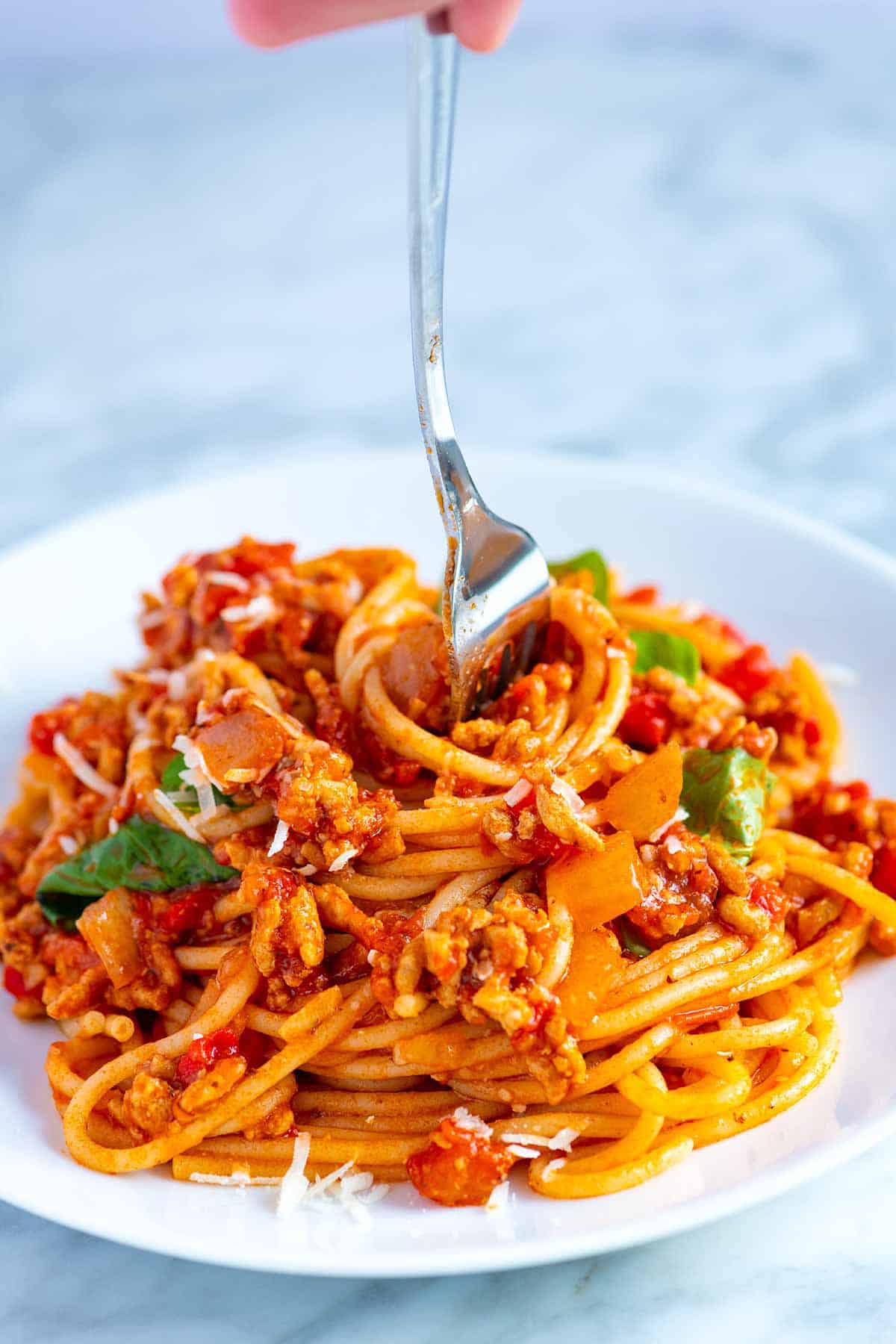 More easy pasta recipes
This Easy Baked Spaghetti combines a simple tomato meat sauce, spaghetti, cheese and a creamy pesto layer.
Our readers have said that our meaty lasagna recipe is the best they've ever made. We combine beef, sausage and a homemade sauce.
This Easy Fettuccine Alfredo features a silky smooth sauce made with butter and Parmesan cheese, cooked sausage and lightly wilted spinach.
For a lighter version of spaghetti, try our Fresh Veggie Spaghetti. The sauce is simple, vegetarian and 100% made from scratch.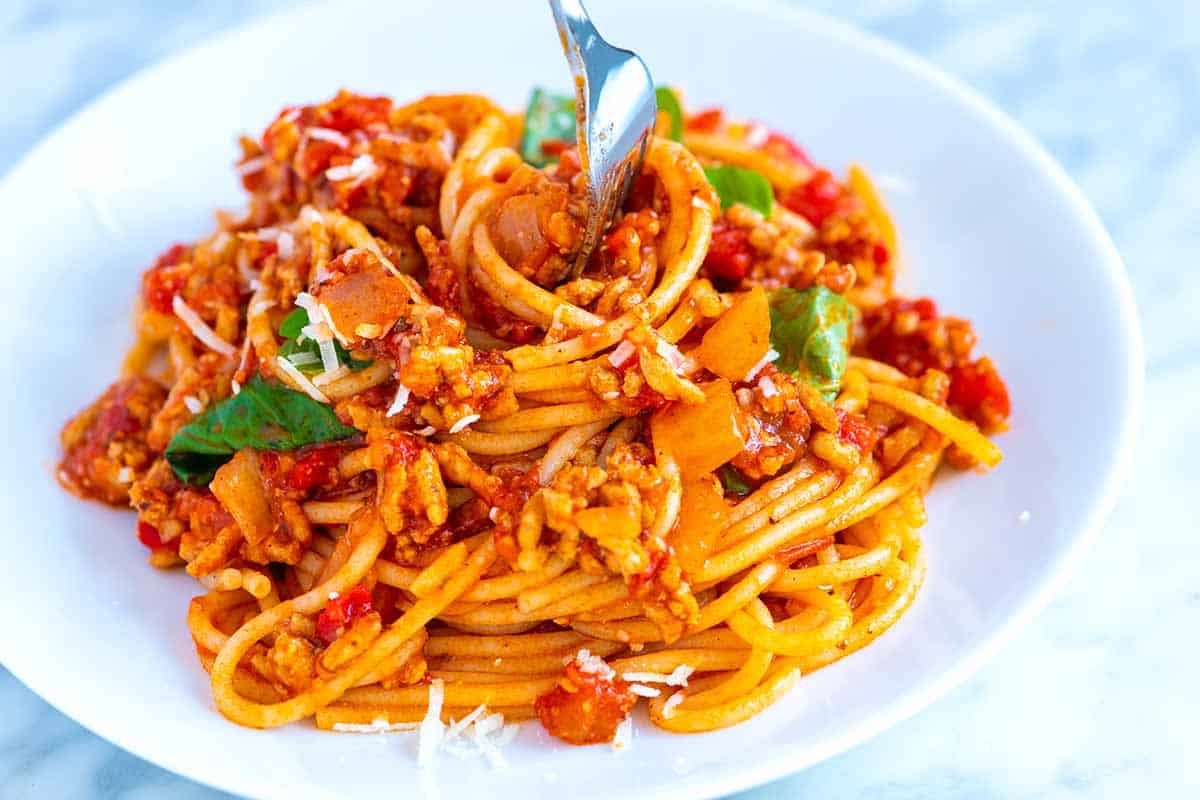 Easy Weeknight Spaghetti with Meat Sauce
Our favorite weeknight spaghetti recipe with a meat sauce made from scratch. Use ground beef, turkey, pork, chicken, or lamb to make this easy spaghetti.
Makes 5 cups of sauce and about 6 servings
Watch us make the recipe
you will need
Spaghetti and meat sauce
1 pound lean ground beef, such as beef, turkey, chicken, or lamb
3 tablespoons olive oil
1 cup (130 grams) chopped onion
3 garlic cloves, chopped (1 tablespoon)
2 tablespoons tomato paste
1/2 teaspoon dried oregano
Pinch of crushed red pepper flakes
1 cup water, broth or dry red wine
1 (28-ounce) can crushed tomatoes
Salt and freshly ground black pepper
Handful of fresh basil leaves and more to serve
12 ounces dried spaghetti or favorite pasta shape
1/2 cup grated parmesan cheese
Optional ingredients, see notes
2 to 3 teaspoons fish sauce
3 to 4 Anchovy fillets, chopped with a little oil or use anchovy paste
puree sugar
1 leftover rind from a Parmesan cheese slice
directions
make sauce

Heat the oil in a large saucepan (we use a Dutch oven) over medium-high heat. Add the meat and cook until browned, about 8 minutes. While the meat is cooking, use a wooden spoon to crumble it into smaller crumbles.

Add the onions and cook, stirring occasionally, until tender, about 5 minutes.

Stir in the garlic, tomato paste, oregano, and red pepper flakes and cook, stirring constantly, about 1 minute.

Pour in the water and use a wooden spoon to scrape off any bits of meat or onion that are stuck to the bottom of the pot. Stir in the tomatoes, 3/4 teaspoon salt, and a generous pinch of black pepper. Bring the sauce to a low simmer. Simmer uncovered on low flame for 25 minutes. Stir and taste the sauce a few times during cooking so you can adjust the seasoning accordingly (see notes for suggestions).

cooking spaghetti

About 15 minutes before the sauce is done cooking, bring a large pot of salted water to a boil, then cook the pasta according to package directions, but check to see if they're done a minute or two before the recommended cooking time.

End

Remove the sauce from the heat and stir in the basil. Add the cooked noodles and let sit for a minute to allow the noodles to soak up some of the sauce. Turn again and serve sprinkled with parmesan.
Advice from Adam and Joanne
Storage/Prep: The meat sauce can be made ahead of time and should last up to 3 days in your fridge and about 3 months in your freezer.
If the flavor of the sauce doesn't stand out, you probably need a little more salt.
If the sauce is too acidic, a pinch of sugar will do.
If the sauce tastes light, consider adding a few dashes of fish sauce or some chopped anchovies or anchovy paste (both add rich, savory flavor).
Adding a leftover rind of a parmesan wedge to the sauce at the same time as adding the tomatoes adds richness and extra flavor. It doesn't melt all the way, just remove the leftovers before serving.
Nutritional Information: The nutritional information below is an estimate. We used the USDA database to calculate approximate values.
If you make this recipe, take a picture and tag #inspiredtaste – we love to see your creations on Instagram and Facebook! Find us: @inspiredtaste
Nutrition per serving: serving size 1/6 of the recipe / calories 486 / total fat 16.7g / Saturated Fatty Acids 4g / cholesterol 58.1mg / sodium 977.4mg / carbohydrate 58.2g / fiber 4.7g / total sugar 10.3g / protein 27.3g
AUTHOR: Adam and Joanne Gallagher