As an Amazon Associate I earn from qualifying purchases.
This delicious eggplant pasta is like vegan pasta alla norma with a nutty twist! Combining pan-fried eggplant with a tomato-based pasta sauce and crispy toasted hazelnuts, this eggplant tomato pasta is healthy, hearty, & wholesome!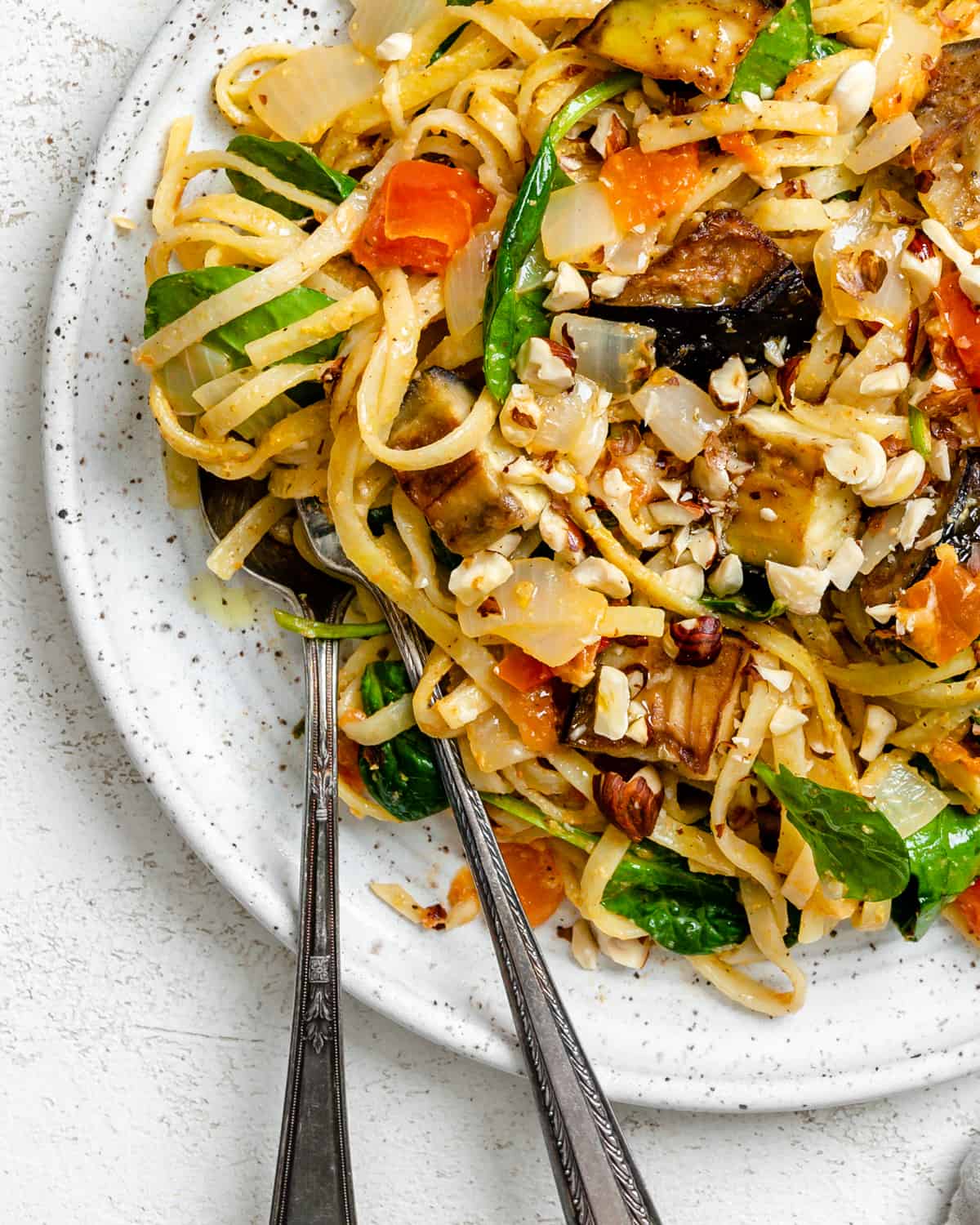 What Is Pasta Alla Norma?
Pasta alla Norma is a traditional Italian pasta dish from Sicily, named after the opera Norma by Sicilian composer Vincenzo Bellini. It traditionally combines pasta (usually penne or spaghetti) with a rich tomato-based sauce, fried eggplant, and ricotta salata cheese (or parmesan), sometimes with fresh basil.
For my version, I'm making a delicious vegan tomato eggplant pasta sauce by replacing the cheese with nutritional yeast. I've also 'leveled up' this hearty vegan eggplant recipe with crispy toasted hazelnuts that add crunch and flavor to a wonderfully flavor-balanced easy vegan pasta recipe.
Why You'll Love This Eggplant Pasta Recipe
The combination of flavors and textures really help this eggplant pasta recipe shine as a simple, elegant, satisfying dish, perfect for a quick weeknight or special occasion meal. That's not the only reason to add this crowd-pleasing tomato pasta with eggplant to your recipe rotation.
Quick: This eggplant spaghetti/pasta is ready in about 45 minutes for a quick and satisfying family dinner.
Simple: Using simple, inexpensive pantry ingredients to create a deep, complex flavored sauce and just two pots to prepare.
Healthy: Eggplant is low in calories and high in fiber, and now you can ditch the deep frying and pan-fry, bake, or air fry the pieces with minimal oil. That combines with antioxidant & nutrient-rich tomato sauce and spinach, and the heart-healthy fats of nuts and olive oil. When paired with pasta, it's a wholesome, satisfying, nutritious meal.
Delicious: It has a savory – sweet, rich tomato-based pasta sauce with tender eggplant that's crispy outside and melt-in-the-mouth tender inside, a splash of tangy balsamic, and crunchy, toasty crushed nuts to top.
Satisfying: The slight 'meaty' texture of eggplant, when combined with pasta, makes for a hearty vegan pasta recipe, perfect for a satisfying meat-free meal.
Versatile: Use the pasta of your choice, choose between fresh or canned tomatoes, pan-fry, bake, or air fry the eggplant (with or without flour + optionally gluten-free), and choose from several optional mix-ins.
Meal prep friendly: I love whipping up a double batch especially.
The Ingredients and Substitutes
The Crispy Eggplant
Eggplant: This eggplant pasta recipe works best with medium or small eggplants, which are less seedy (so usually less bitter). Make sure it's firm and heavy for its size with blemish-free skin.
Flour: We used regular all-purpose flour, though all-purpose gluten-free flour works, too.
Oregano: I love using fresh oregano where possible, though you can substitute it for 1 tablespoon of dried oregano if needed.
Salt & black pepper: To season the eggplant slices.
High-heat oil: Use any high-heat cooking oil, like canola oil, vegetable oil, etc.
Do I have to crust the eggplant with flour? No, if you'd prefer regular tender cooked eggplant, pan-fry it without the flour, or bake/air fry it (method in FAQs).
The Tomato Pasta
Pasta: You can use any short-shape pasta or long noodles. I.e., penne, bows, rigatoni, rotini, linguine, spaghetti, etc. Use gluten-free pasta or lower-carb options, like zucchini noodles, if preferred.
For more flavorful pasta, cook it with a stock/bouillon cube added to the water.
Aromatics: You'll need garlic and onion (yellow or white) for a flavorful base.
Oregano: Fresh or dried for extra herby flavor.
Tomatoes: During tomato season, I highly recommend using fresh Roma tomatoes. However, cherry tomatoes will work year-round, and a tin of chopped tomatoes, like peeled plum tomatoes, works in a pinch.
Spinach: Or kale – to add extra nutrients and color to the eggplant tomato sauce.
Olive oil: Makes for a richer dish and enhances the health benefits of the tomatoes.
Nutritional yeast: (optional) to add a subtle nutty, 'cheesy' flavor instead of parmesan. Another vegan parmesan alternative or vegan feta will also work.
Balsamic vinegar: This slightly sweet, tangy vinegar adds depth for a full-bodied tomato pasta sauce.
Hazelnuts: Use raw (to toast yourself) or roasted hazelnuts (or walnuts). For a nut-free version, use sunflower seeds. Omit them if preferred, though.
What Else Could I Add to Eggplant Pasta?
Basil: You can add fresh basil to this eggplant tomato pasta instead of or alongside the oregano for a more fresh, herby flavor.
Red pepper flakes: For a hint (or more) of spice to the pasta alla norma. Cayenne pepper also works.
Olives: For a salty, slightly briny addition that pairs well with creamy eggplant.
Other vegetables: Increase the nutrients in this eggplant and pasta recipe with other veggies, like zucchini, bell peppers, broccoli, or sautéed mushrooms.
Tomato paste: For extra rich tomato depth in the sauce, just 1-2 tbsp will work.
Sweetener: Adding a small amount of sugar or maple syrup will balance the various tangy flavors of the tomatoes and vinegar.
How to Make Vegan Eggplant Pasta
1) First, peel and dice the onion, mince the garlic, and slice the eggplant into ¼-inch thick slices (or ½-¾ inch diced pieces).
This time around, we used a very thin eggplant so sliced it. However, if you use a medium or large eggplant, it's best to dice it instead.
2) Then, cook your pasta in salted water for about 1-2 minutes less than the packaging states, until al dente. Then drain it well (and optionally rinse), drizzle with olive oil to prevent sticking, and set aside.
3) Meanwhile, combine the flour and a pinch of oregano, salt, and black pepper into a wide bowl and stir to combine, then toss the eggplant slices into the flour mixture on both sides, shaking off any excess.
4) Heat a deep skillet with a tablespoon of oil over medium heat. Once hot, add a single row of eggplant slices and cook for 2-3 minutes per side until tender in the middle and golden brown and lightly crispy outside. Then transfer to a plate and set aside.
Alternatively, you can bake or air fry the eggplant (without flour)—method in FAQs.
5) In the same pan, cook the onion and garlic until lightly browning, then add the tomatoes. Add a lid, and cook for 4-5 minutes until the tomatoes break down a little. Then gently mash them, and stir in the spinach (if using).
6) Reduce the heat to medium-low, stir in the pasta, remaining olive oil, nutritional yeast (if using), balsamic vinegar, oregano, and salt and black pepper to taste. Gently warm until everything is heated through, stirring often.
7) Finally, serve the tomato pasta topped with eggplant slices, toasted hazelnuts, and an (optional) additional balsamic vinegar drizzle. Enjoy!
To Toast the Hazelnuts
Add raw hazelnuts to a large skillet and heat over medium-low heat, stirring often until the nuts are fragrant and toasty smelling. Leave to cool for a few minutes, then chop on your cutting board or pulse in a food processor to break into smaller pieces.
Top Recipe Tips and Notes
To save time: You can use pre-prepared minced garlic/chopped onion.
Use high-quality ingredients: Like fresh Roma tomatoes in summer or high-quality canned tomatoes, fresh herbs, etc.
For more, clingy sauce: Save a ladle-full of starchy pasta cooking water to toss with all the ingredients at the end.
Cook pasta al dente: It will continue to cook when combined with the sauce, so cooking it al dente ensures it doesn't turn to mush.
FAQs
Can you put eggplant in pasta?
Because of its mild flavor and slightly 'meaty' yet melt-in-the-mouth texture, eggplant makes for a delicious addition to hot and cold pasta dishes.
How do you cook eggplant without it getting soggy?
I've found that dusting the eggplant pieces in flour or starch, using a high-heat source, and not overcrowding the pan helps to make eggplant wonderfully tender inside, slightly crisp outside, and definitely not soggy.
Can I bake or air-fry the eggplant instead?
Absolutely and you can do so with or without the flour coating and just a few squirts of cooking oil. To bake, spread the slices (or cubed pieces) across a baking tray in a single layer and bake at 425F/220C for 20-25 minutes. Flip them once, halfway.
To air fry, spread the pieces in a single layer in your air fryer basket and air fry them at 400F/200C for 15-20 minutes, flipping/shaking halfway.
Serving Suggestions
Enjoy a bowl of this tomato eggplant pasta either alone or make a heartier meal with a side of:
Garlic bread
Focaccia or warm crusty bread
Simple tomato bruschetta
Leafy green salad with a simple vinaigrette—like rocket salad
Garlic roasted potatoes
Storage Information
Store: To retain the best texture, store the eggplant, sauce, and pasta separately. However, whether separate or combined, store the pasta alla norma leftovers in airtight containers in the refrigerator for 3-5 days.
Freeze: You can freeze the sauce or sauce + pasta combined (which will become very soft upon thawing/reheating) for up to 3 months in airtight containers. Allow it to thaw in the refrigerator overnight before reheating.
Reheat: Either gently on the stovetop or in the microwave, adding a splash of extra water/veg broth if needed to loosen up the sauce.
The eggplant stores best when cooked without the flour/starch coating. If it is coated, the best way to reheat it is in a pan with a little oil to bring back some crispiness.
More Easy Vegan Pasta Recipes
You might also enjoy browsing this list of 20 Easy Vegan Pasta Recipes You Need to Try!
Photos by Alfonso Revilla
Cook pasta until al dente, drain, rinse and drizzle with olive oil to prevent sticking. Set aside.

Place flour, a pinch of salt and pepper, and a pinch of oregano in a medium bowl and stir to combine. Toss eggplant slices in the flour mixture one at a time until coated. Heat a deep skillet with 1 tablespoon of high-heat oil over medium heat, and add eggplant slices. Cook on both sides until tender and evenly browned, usually 2-3 minutes per side. When done transfer to a plate and set aside. Keep warm.

In the same skillet, cook onion and garlic until lightly browning, and add tomato. Cook covered on medium heat for 4 to 5 minutes until tomatoes break down a bit. Add spinach if using. Turn heat to medium-low and add pasta, olive oil, balsamic vinegar, nutritional yeast (if using), oregano, and salt and pepper to taste. Heat until pasta is heated through, and everything is coated.

Top with toasted hazelnuts and eggplant slices, and drizzle with additional balsamic vinegar just before serving. Adjust salt and pepper as desired. If your hazelnuts are raw, toast for 4 to 5 minutes in a skillet over medium-low heat, then chop on a cutting board. Serve immediately and enjoy.
To save time: You can use pre-prepared minced garlic/chopped onion.

Use high-quality ingredients: Like fresh Roma tomatoes in summer or high-quality canned tomatoes, fresh herbs, etc.

For more, clingy sauce: Save a ladle-full of starchy pasta cooking water to toss with all the ingredients at the end.
Calories: 503kcalCarbohydrates: 66gProtein: 15gFat: 21gSaturated Fat: 2gPolyunsaturated Fat: 3gMonounsaturated Fat: 15gSodium: 66mgPotassium: 1022mgFiber: 10gSugar: 9gVitamin A: 5734IUVitamin C: 28mgCalcium: 113mgIron: 4mg
Disclaimer: Although plantbasedonabudget.com attempts to provide accurate nutritional information, kindly note that these are only estimates. Nutritional information may be affected based on the product type, the brand that was purchased, and in other unforeseeable ways. Plantbasedonabudget.com will not be held liable for any loss or damage resulting for your reliance on nutritional information. If you need to follow a specific caloric regimen, please consult your doctor first.
Source link