This post may contain affiliate links. Please read my disclosure policy.
This Roasted Sweet Potato Arugula Salad recipe features some of my favorite fall flavors and always tastes so delicious this time of year.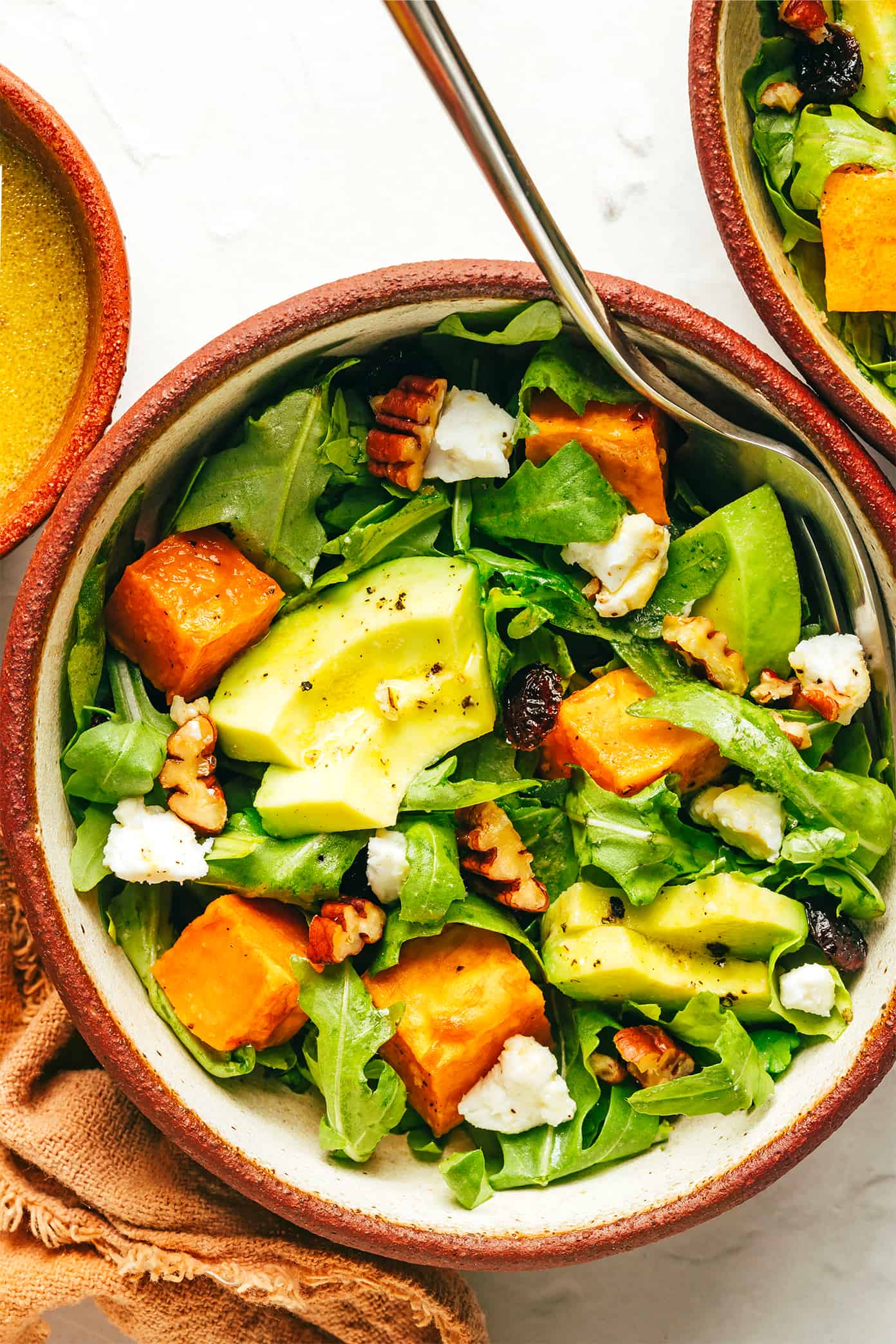 Things are finite (Finally!) Cooling off here in Barcelona this week after the unrelenting summer heatwave, which of course has me craving all of my nostalgic fall favorites right away… including this delicious Roasted Sweet Potato Arugula Salad. ♡
It's a simple one that you can easily make any time of the year. But the combination of roast potatoes, tart dried cranberries, and roasted pecans always feels so typically "falling" to me. And combined with fresh peppery arugula, creamy avocado, tangy goat cheese (or whatever you like best), and a tangy lemon dressing, this salad strikes the perfect balance of cozy and hearty yet fresh and light, which feels just perfect at these times warm, sometimes cool days are what we are enjoying right now as we step into the upcoming new season.
Here at our house, we mostly serve it as an appetizer salad, but it would also make a lovely side dish for dinner or a holiday meal if you like. And if you fancy adding an extra protein, some grilled chicken or bacon would also be a delicious mix.
Let's make salad together!


Favorite ingredients for the fall salad
To make this delicious Roasted Sweet Potato Arugula Salad you will need:
sweet potatoes: Feel free to peel them or leave them unpeeled. We'll then dice them into 1/2-inch cubes, toss with olive oil, season generously with salt and pepper, and fry until tender.
Green: I love the peppery flavor of fresh arugula in this salad, but feel free to use baby kale (or other types of kale), baby spinach, or whatever leafy greens you prefer.
Avocado: Feel free to dice or thinly slice the avocado, which will add a nice creaminess to the salad.
Crumbled Cheese: I love the tart and tangy flavor of goat cheese in this salad, but feta, blue, cheddar, or manchego cheese would also be delicious alternatives.
Nuts: Almost any of your favorite nuts or seeds go well in this salad – pecans, walnuts, almonds, pepitas, the choice is yours!
Dried berries: Dried cranberries always feel so quintessentially autumnal to me, but dried cherries, raisins, or even apricots would work well too.
Dressing: My daily salad dressing goes beautifully with this salad, which is made with a quick mix of olive oil, lemon juice, Dijon, garlic, salt and pepper.

recipe variations
There are so many delicious ways you can customize this fall salad recipe, so don't hesitate to make it your own! For example, you are welcome to…
Add a protein: Cooked chicken, bacon, steak, shrimp or tofu would be deliciously mixed here.
Add more mix-ins: Extra roasted vegetables (like beets, butternut squash, carrots, fennel, green beans, or squash), extra fresh vegetables (peppers, radishes, red onion), rice or grains (quinoa, farro, wild rice), beans, olives, or sun-dried tomatoes would be great more fun options for mix-ins.
Use a different bandage: I also love making this salad with my dreamy tahini dressing for a different twist on the recipe.
Make it vegan: Swap out your favorite vegan cheese for goat cheese, or omit the cheese altogether and add a pinch of nutritional yeast.

More popular salad recipes
Looking for more green salad recipes to enjoy this season? Here are a few of my favorites:

Print
---
description
This popular fall salad recipe is made with the most delicious collection of vibrant, seasonal, and easy ingredients.
---
Salad ingredients:
1 tablespoon

olive oil

2

medium sweet potatoes, peeled and diced

1/2

-inch cube
fine sea salt and freshly ground black pepper

5 ounces

arugula or kale

1

Avocado, thinly sliced

1/2 cup

crumbled goat cheese (or feta or blue cheese)

1/2 cup

chopped pecans, lightly toasted

1/3 cup

dried cranberries
Dressing Ingredients:
3 tablespoons

olive oil

1 tablespoon

freshly squeezed lemon juice

1 teaspoon

Dijon mustard

1

small clove of garlic, pressed or chopped

1/2 teaspoon

fine sea salt

1/4 teaspoon

freshly cracked black pepper
---
To make the dressing: Whisk all ingredients together in a bowl (or shake in a mason jar) until combined. Use immediately or store in the refrigerator in a sealed container for up to 3 days.
Roast the potatoes: Heat oven to 400°F. Spread the diced sweet potatoes on a medium-sized baking sheet. Drizzle with olive oil and toss until the sweet potatoes are evenly coated. Season the sweet potatoes generously with salt and pepper. Then bake for about 30 minutes or until the potatoes are soft and lightly browned/caramelized around the edges. Remove from the oven and set aside.
How to assemble the salad: Once the sweet potatoes are ready, place them in a large serving bowl along with the arugula, avocado, goat cheese, nuts, and cranberries. Drizzle with the dressing and toss until well combined. Serve immediately and enjoy!
---
Share this post