This post may contain affiliate links. Please read my disclosure policy.
My favorite holiday green salad is a festive mix of seasonal ingredients and a delicious shallot vinaigrette.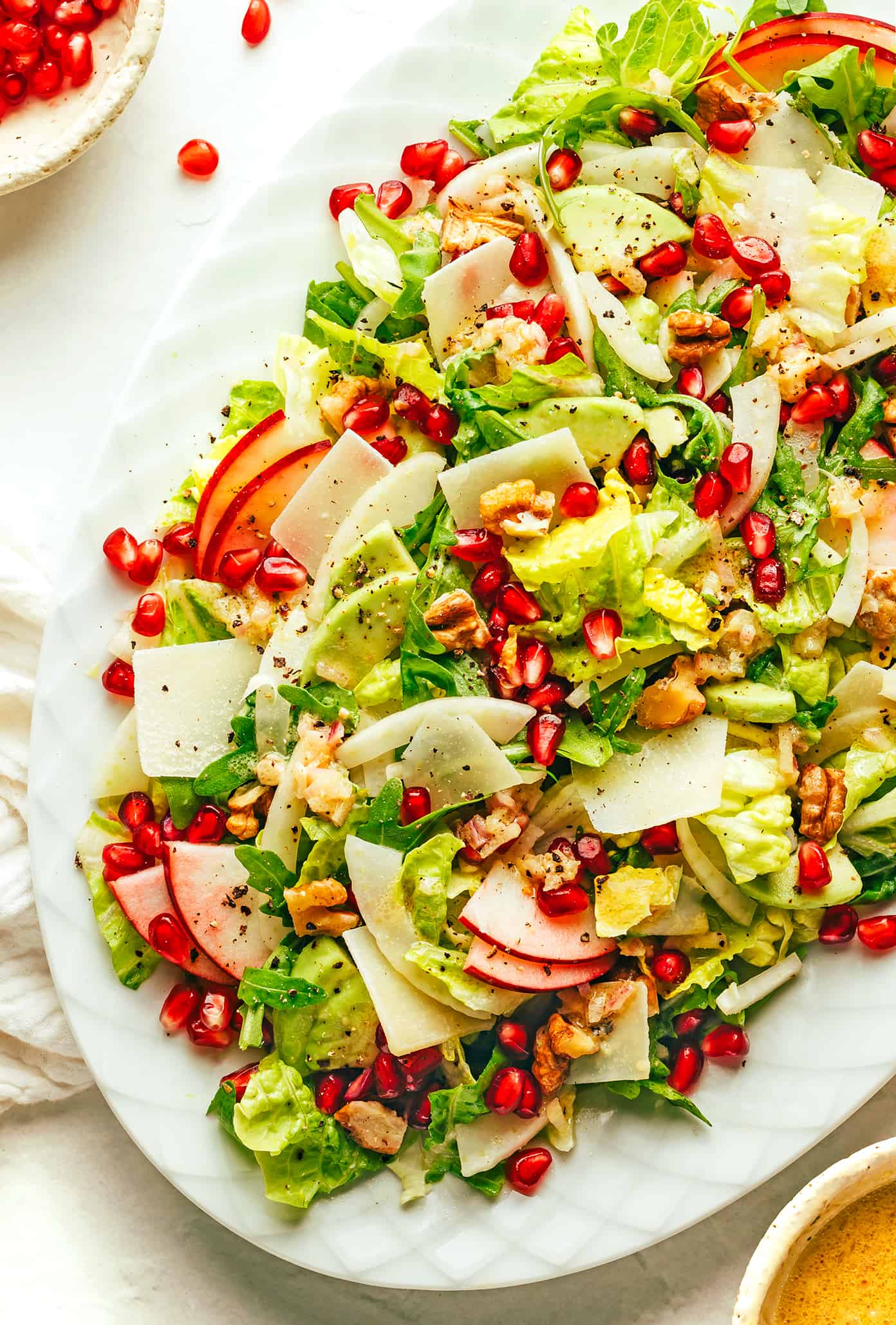 Can we just agree to add pomegranates to all of our salads this time of year? ♡
I always think those pretty little red gems add such a festive touch to green salads for the holidays, and this pomegranate salad in particular is one of my favorites. It's tossed with your choice of veggies, sliced ​​apples, toasted walnuts, creamy avocado, crisp fennel, salty shaved parmesan, and my favorite shallot vinaigrette. I make a version of this salad every year for Thanksgiving and Christmas (and many winter nights in between), and it's always as delicious as it is beautiful.
However, this pomegranate salad is also incredibly flexible. So if you fancy a different kind of nuts, veggies, cheese or even vinaigrette, please don't hesitate. I also wrote this recipe to be naturally vegetarian and gluten-free, but feel free to add an extra protein (like chicken or bacon) if you'd like. I only insist that you sprinkle generously lots of beautiful pomegranate seeds covered like confetti, and then share and enjoy.
Happy Holidays everyone!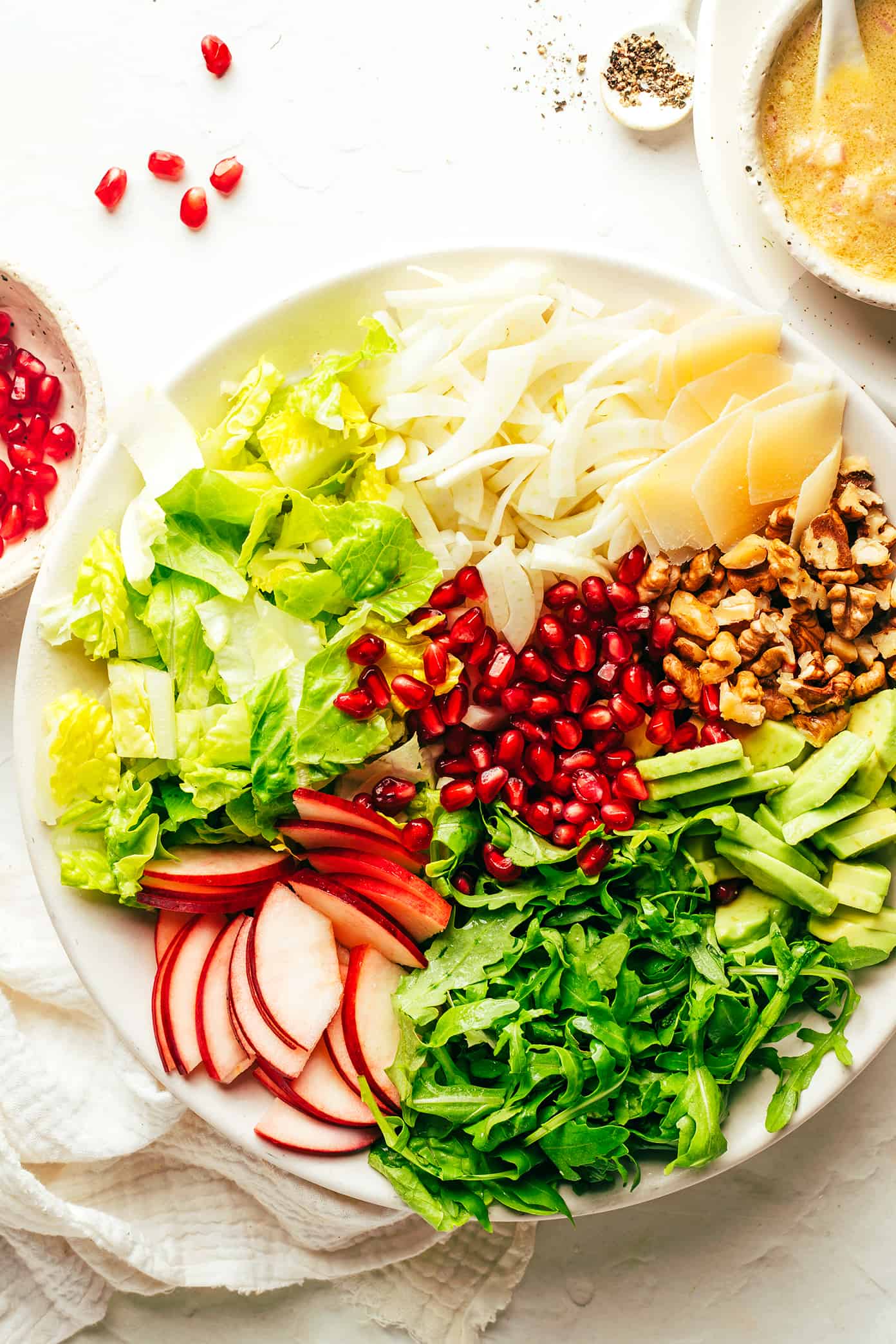 Pomegranate Salad Ingredients
Here are a few pointers to the ingredients you will need for this green pomegranate salad recipe:
Green: I used a 50/50 mix of baby arugula and small gems for this salad, but you can use romaine lettuce, red leaf lettuce, a spring greens mix, or whatever you prefer instead.
Apple and Pomegranate: Feel free to use whichever apple variety you prefer to use in salads (I chose a Pink Lady), plus a generous sprinkling of pomegranate seeds! If you've never worked with pomegranates before, here's a quick guide to opening and pitting a pomegranate.
Avocado: Fresh avocado gives the salad a nice creaminess that you're welcome to dice or thinly slice.
Fennel: I also like to add some crunchy, fresh fennel, sliced ​​wafer-thin, whose mild aniseed flavor harmonises beautifully with the fruit.
Nuts: I used roughly chopped walnut halves here, which I recommend lightly toasting before adding to the salad to bring out the best in flavor. But the choice of nuts in this salad is completely flexible, so use whatever you prefer. (Pecans, sliced ​​almonds, pistachios, or pepitas are great options!)
Parmesan cheese: I love the salty, nutty, umami flavor of freshly grated parmesan in this salad, which I simply shave with a Y-peeler. But when choosing cheese for this recipe, you could go in many different directions. Pecorino or Manchego would be somewhat similar alternatives, or you could take a 180 and opt for a crumbled gorgonzola, feta or goat cheese.
Shallot Vinaigrette: We love using my favorite lemon and shallot vinaigrette here, which adds the perfect amount of tart citrus flavor to balance out all the sweet and creamy ingredients in the salad.

recipe variations
Here are a few other ideas for adapting this green salad recipe:
Add a protein: Chicken, steak, bacon (or prosciutto) would be great additions to this salad if you want to add a protein.
Add croutons: Toasted homemade croutons (I'd recommend using a good sourdough) would also add a delicious extra crunch to this salad.
Use a different vinaigrette: A classic balsamic vinaigrette also goes well with this salad. Or if you want something extra simple, my everyday salad dressing would be lovely too.
Use candied nuts: If you want to add a little more sweetness and crunch, candied walnuts (or candied pecans) would be fun here too.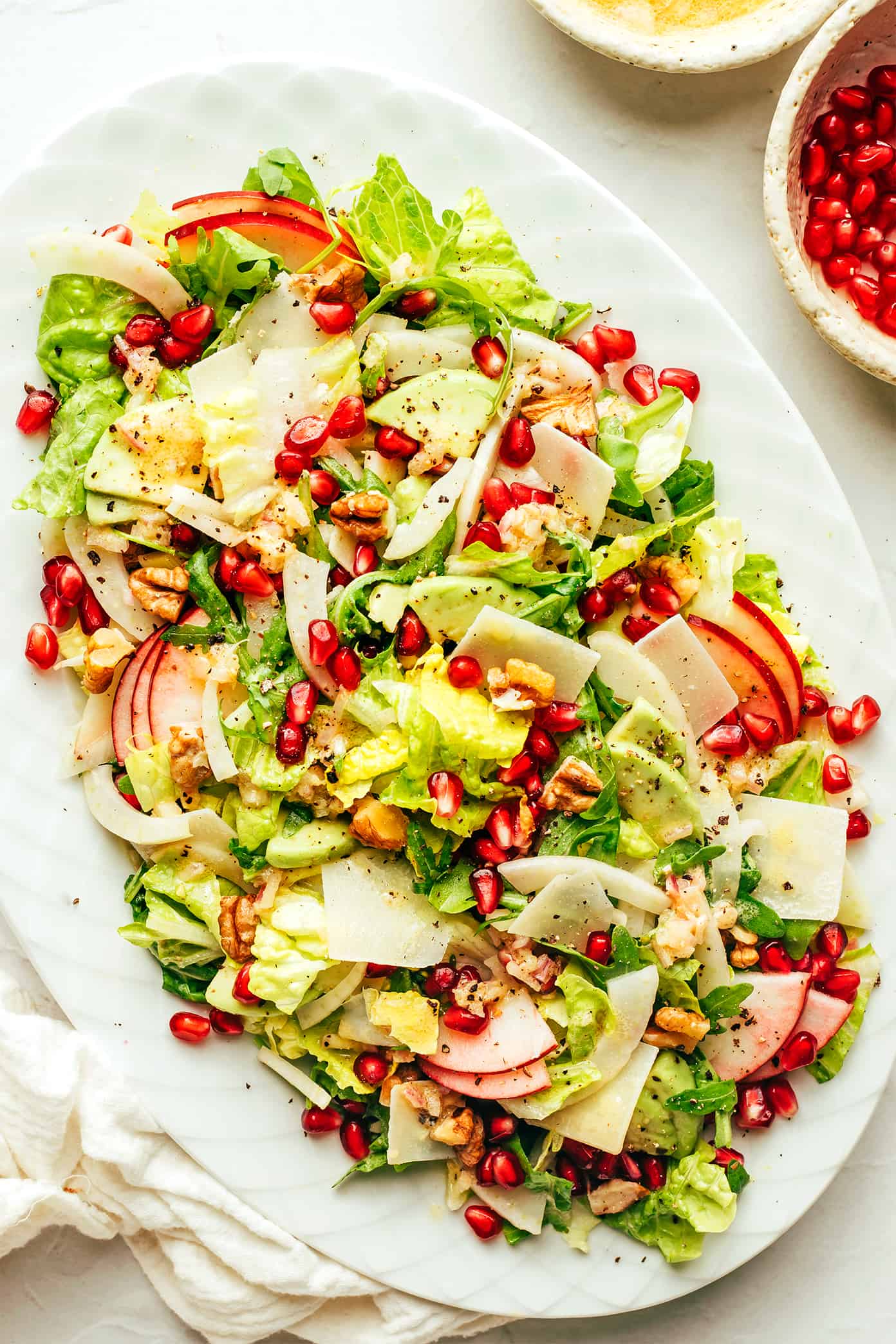 More holiday salad recipes
Looking for more beautiful green salads to serve around the holidays? Here are a few of my favorites: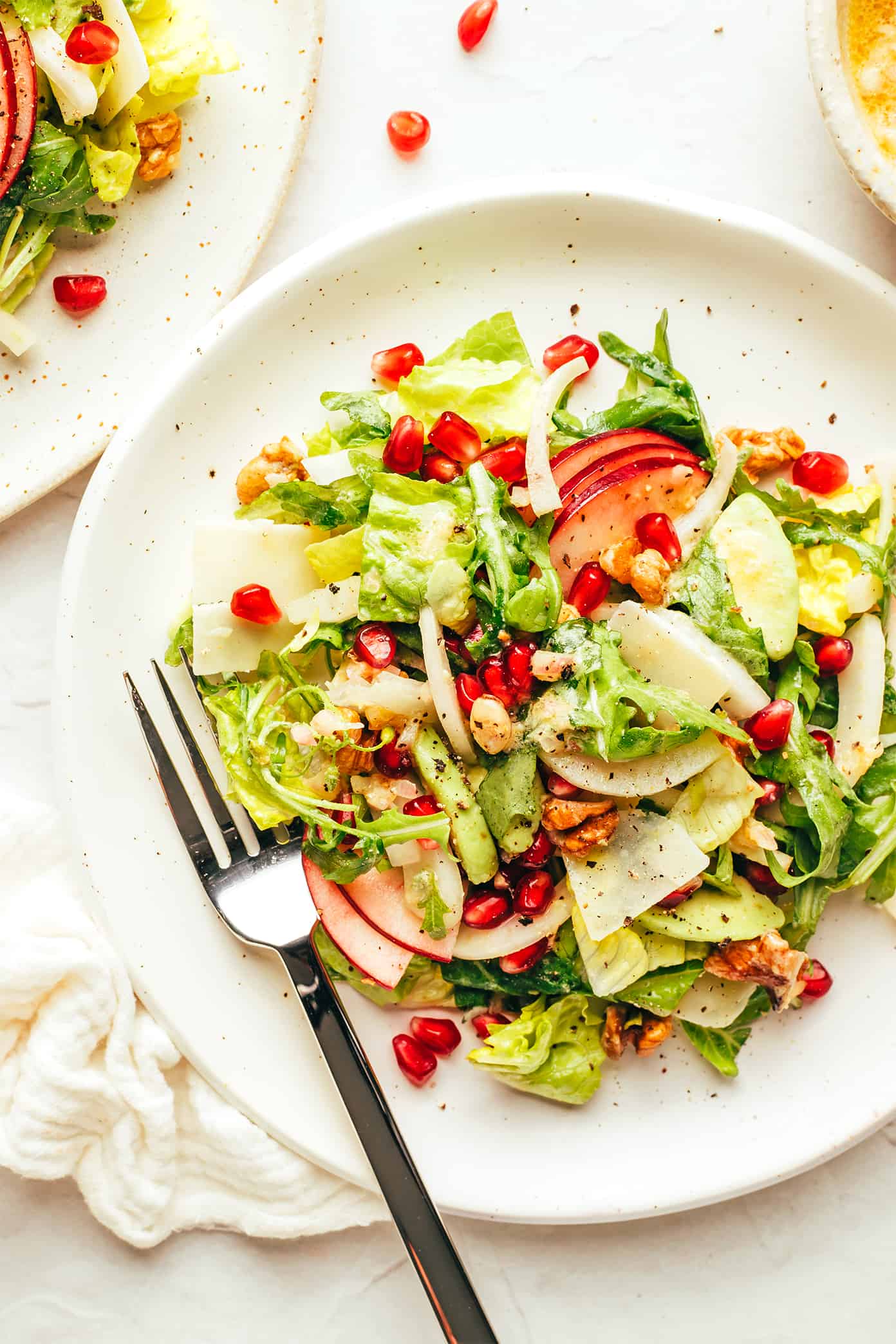 Print
---
description
My favorite holiday green salad is a festive mix of seasonal ingredients and a delicious shallot vinaigrette.
---
10 ounces

greens

(I used half arugula, half small gems)

1

Apple, thinly sliced

1

Avocado, thinly sliced

1

medium fennel bulb, very thinly sliced

1

medium pomegranate (Above

1.5

to

2

cups of aril),

Cut

1 cup

Walnut halves, roughly chopped and toasted

2/3 cup

grated Parmesan cheese, separated

1

batch

Shallot Vinaigrette
---
Arrange the salad.

Combine the vegetables, apple, avocado, fennel,

half

of pomegranate seeds, walnuts and

half

of Parmesan in a large mixing bowl. Drizzle evenly with the shallot vinaigrette and toss gently until evenly combined.

Surcharge.

Serve immediately, garnished with the remaining pomegranate seeds and parmesan and a few dashes of freshly ground black pepper. Enjoy!
---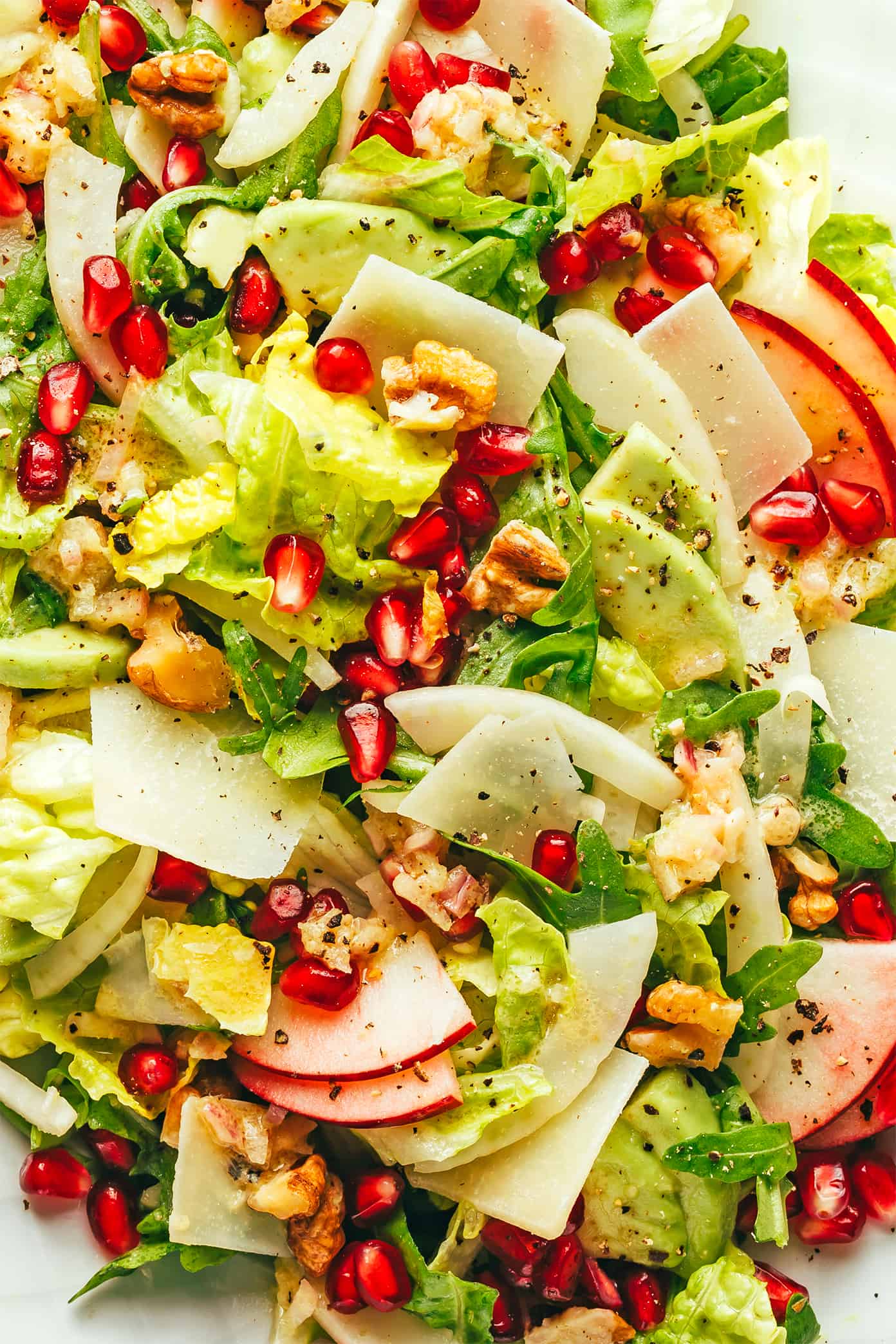 Share this post