Fresh Corn Tomato Salad is the ultimate end-of-summer dish! We love this easy, fresh salad that takes minutes to make. This gluten-free, dairy-free, vegetarian recipe is a salad that many with nutritional concerns can enjoy!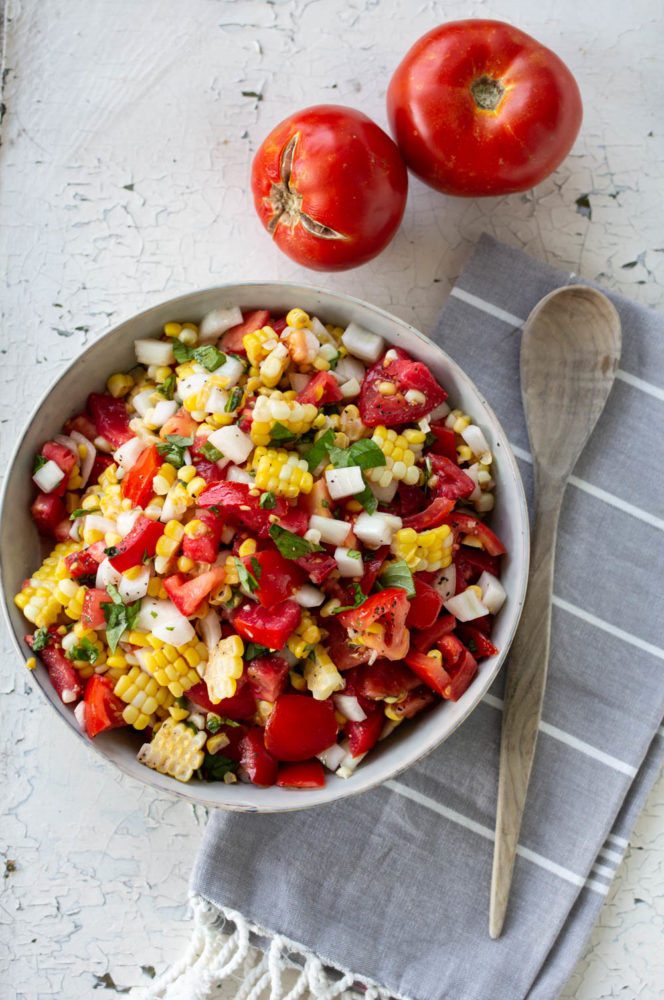 Is there anything better than corn and fresh juicy tomatoes from the vine? Not in my book. I remember eating corn as a kid until I was so full I couldn't eat another bite. I loved sticking the little mini corn holders into the ends of the hot cobs, rolling my corn in butter (actually, it was margarine at my mom's house!), sprinkling with a little salt, and eating ear after ear of fresh corn .
This Gluten Free, Dairy Free, Vegetarian Salad is the best treat for hard-to-cook friends!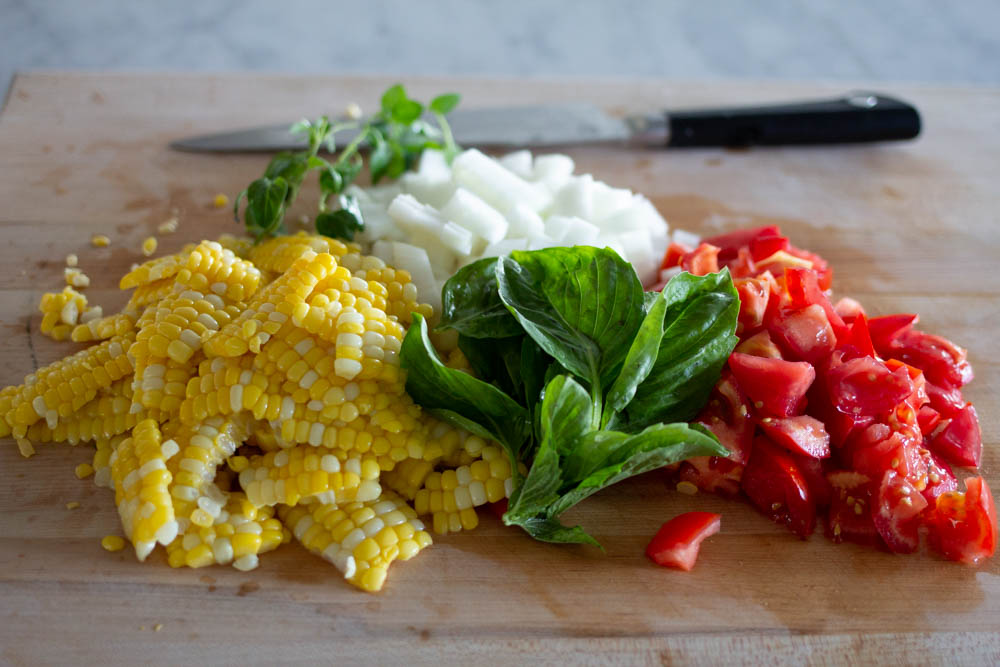 Corn is plentiful in grocery stores as well as at our local fruit stands during August and September. I get a little carried away when fresh corn is piled high and love using corn in recipes that celebrate fresh corn on the cob! Some of these recipes include: Corn, Tomato, and Avocado Salsa, Fresh Corn Cake with Peach Sauce and Cheesy Corn Cream.
My favorite type of corn is the bicolor or sweet corn, which is usually a mix of yellow and white corn. I love how it tastes and how it looks! Fresh Corn and Tomato Salad is made with just a few basic ingredients: corn, tomatoes, fresh basil, onions, and oregano. The white balsamic and olive oil dressing is poured directly over the corn and tomatoes.
This fresh salad is summer in a bowl! Tomatoes also play a key role in this salad, the fresher the better. I love buying tomatoes fresh from the farmer's market and still warm from the sun. Never refrigerate a tomato! Refrigerating a tomato changes the texture and tends to make tomatoes mushy. If you bring a tomato home from the store, leave it on the counter until ready to use. Refrigerate any leftovers that have been cut up or mixed into a salad.
Fresh corn and tomato salad has been around our house for over a decade and is a summertime favorite with our family favorites Enchiladas, Easy Southwest Tortilla Rollups, Smoked Green Chili Mac and Cheese, and Tacos Al Pastor!
Fresh Corn and Tomato Salad was originally shared in 2009 and again in 2013. Updated 2020 with updated photos and text.
Fresh corn and tomato salad
Fresh Corn and Tomato Salad is quick and easy and the best way to use corn and tomatoes this summer!
Cool time for corn
5
protocol
ingredients
6




ears of corn

3




large fresh tomatoes, about 6-8 cup sized cubes

1/2




large onion or about 1 cup chopped




Walla Walla or sweet Vidalia

1/2




Cup




chopped fresh basil

2-3 sprigs of fresh oregano, stem removed




Optional

2




tablespoon




white balsamic vinegar, golden balsamic vinegar or white wine vinegar




White vinegar is sold near salad dressings

1/4




Cup




Extra virgin olive oil

coarse sea salt




taste

freshly ground pepper




taste
instructions
Fill a large saucepan about 1/2 full with water. Boil water.

Add the corn and cover the pan again. Bring to a boil again.

When the water in the pan is boiling, remove from the heat and let the corn sit in the water, covered, for 8-10 minutes.

When the time is up, drain hot water and submerge the corn in cold water, or simply drain hot water and run cold water into the same pot.

Drain again. When the corn has cooled, cut off the cob and set aside. Throw away the cob. This step can be done ahead of time, slicing corn and refrigerating until salad is ready.

While the corn is cooking, cut the tomatoes and onion into chunks.

Roughly chop the basil and pluck the oregano from the stalks.

Place chilled corn, chopped tomatoes, onions, and herbs in a large bowl.

Season to taste with vinegar and olive oil. Season with salt and pepper. Serve at room temperature. Refrigerate any leftovers.