This post may contain affiliate links. Please read our disclosure policy.
Whether you call it a garden salad or a house salad, one thing's for sure – it's easy, oh-so-delicious, and makes a great side dish or salad base! This fresh garden salad is a delicious combination of crisp fresh vegetables and romaine lettuce in a light, zesty citrus vinaigrette dressing — yum! You can customize it to add any veggies or swap out the dressing to your liking.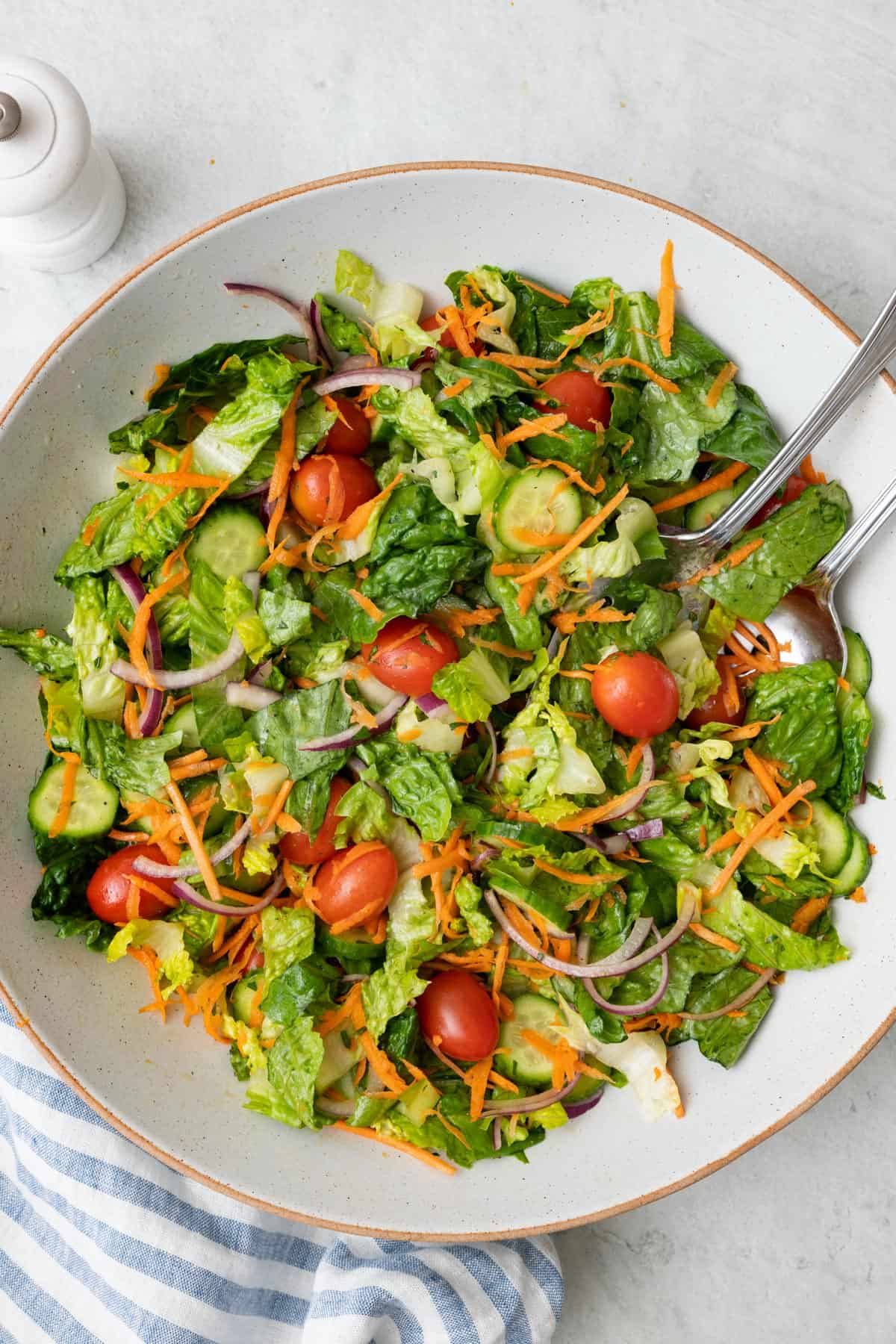 Table of contents

Why You'll Love This Classic Garden Salad Recipe
Simple ingredients for the garden salad
How to make a garden salad
Tips for making the best vegetable garden salad
Popular substitutions and additions
What goes well with a fresh garden salad?
Here's how to store your garden salad and dressing
frequently asked Questions
More salad recipes:
Fresh garden salad recipe
A simple salad recipe using all your favorite ingredients is an easy way to add more nutritious veggies to your meals and add some texture to your plate. Enjoy this fresh house salad recipe anytime, for any reason!
Why You'll Love This Classic Garden Salad Recipe
Quick and easy dish. Garden salads are the ultimate meal for busy days. All you have to do is chop up your veggies, make a simple dressing, and toss it all together. You can add a protein like grilled chicken, salmon, or shrimp to make it a complete meal.
So fresh and full of good ingredients. Raw vegetables in a light, refreshing dressing offer different textures and flavors in every bite while providing many nutritional benefits. Leafy greens and leafy greens are rich in vitamins, beta-carotene, fiber and folic acid and are naturally low in calories.
An everyday salad. The name says it all! This side salad is a treat with any meal, whether as a quick lunch, an appetizer for dinner, or as a side dish.
Simple ingredients for the garden salad
Romaine: Romaine lettuce adds crispness and a slightly bitter taste to garden salads. Look for heads that are tight and densely packed with crisp green leaves.
Vegetables: For my garden salad, I used cherry tomatoes, red onions, Persian cucumbers, and shredded carrots, but feel free to mix and match your veggies based on your preference or what you have on hand.
Dressing: For an easy garden salad dressing, I chose light and flavorful ingredients consisting of olive oil, lemon juice, Dijon mustard, honey, salt, and black pepper. I like to make my own salad dressings, but you can use store-bought if you prefer.
How to make a garden salad
After chopping and slicing the veggies, layer in a bowl or divide into 4 individual serving bowls.
In a small bowl, whisk together the ingredients for the dressing.
Pour the dressing over the salad.
Swirl to combine and serve immediately. If not serving immediately, wait until you've added the dressing.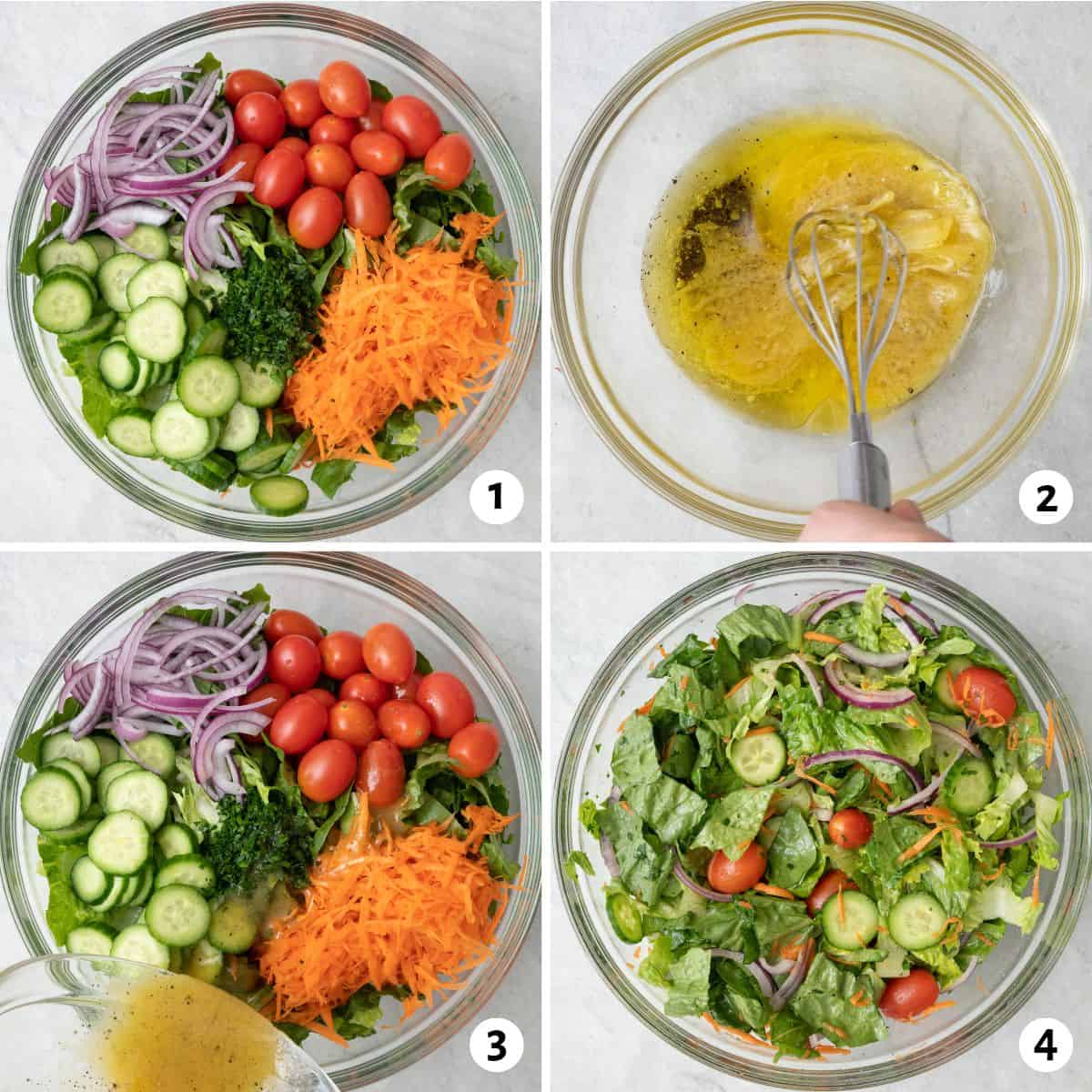 Tips for making the best vegetable garden salad
Cut vegetables into similar sizes. For the perfect bite, your fork should have a little bit of each vegetable. If you need help slicing the veggies, check out my instructions for slicing carrots, onions, and tomatoes. They are quick and easy to follow!
Add dressing just before serving. Wait until the last step to mix the dressing into the salad to keep your veggies crispy. If you add it too early, your salad and some of the veggies may become mushy or wilted.
Use a salad spinner. After washing your veggies, it's a good idea to spin them quickly or pat them dry with paper towels to remove excess water. Make sure the dressing sticks to the veggies and doesn't get watered down.
Popular substitutions and additions
Choose fresh and colorful vegetables. To prepare your salad, pick different colorful vegetables such as cherry tomatoes, cucumbers, peppers and carrots.
Change your lettuce. While I love using romaine lettuce, there are so many options to choose from, and each one has its own unique flavor and texture. Try any of these common vegetables for your fresh garden salad: arugula, bibb, butter, spinach, iceberg, or green leaf lettuce. Better yet, you can grab a spring mix that includes a handful of different types of lettuce in one container.
Add toppings. This house salad is perfect for a quick and easy recipe, but you can add whatever you like! Try some of these salad topping ideas:

Nuts and Seeds: roasted nuts, candied nuts, roasted sunflower seeds, roasted pumpkin seeds
Fruit: diced apples, sliced ​​strawberries, sliced ​​oranges, diced dragon fruit and more fruit ideas.
Cheese: shredded cheddar or other shredded cheese, crumbled feta, goat cheese, or blue cheese.
Crunchy topping: Croutons or crispy chickpeas

Add a protein. For a more filling and satisfying meal, top your garden salad with chicken, tofu, chickpeas, boiled eggs, or steak.
What goes well with a fresh garden salad?
Here's how to store your garden salad and dressing
It is best to keep the vegetables and dressing separate until ready to serve. Make sure your veggies are dry and stored in an airtight container. A zippered pouch that squeezes out excess air keeps your veggies extra crispy. Store the dressing in a separate container or jar in the refrigerator.
How long do salad ingredients keep in the fridge?
You can store your salad with vegetables in the fridge for up to 2-3 days. After that, they will likely become mushy and watery and should be discarded.
frequently asked Questions
What is the best salad dressing for a garden salad?
A light and flavorful vinaigrette or a simple oil and vinegar dressing will pair perfectly with your garden salad.
Can I do it early?
Secure! Prepare your vegetables and either store them separately in the crisper drawer or prepare your salad in individual containers. For best results, keep the bandage on its side.
What's in a garden salad?
A fresh garden salad typically consists of fresh, raw vegetables you would find in a garden, such as lettuce, tomatoes, cucumbers, carrots, peppers, and radishes.
Both easy and delicious, this garden salad recipe is perfect for any day of the week. The light vinaigrette dressing complements any combination of fresh vegetables or protein you choose to add. With endless possibilities, I hope this recipe inspires you to create your own unique take on an everyday garden salad!
More salad recipes:
If you try this you will feel good garden salad Recipe or any other recipe on Feel Good Foodie, then don't forget it Rate the recipe and leave a comment below! It helps others who are thinking of making the recipe. We'd love to hear about your experiences with it. And when you've got some shots, share them on Instagram so we can repost them in Stories!
Place the salad ingredients in a large bowl or divide into 4 bowls.

Whisk together the dressing ingredients in a small bowl or glass. Pour the dressing over the salad and mix. Serve immediately after turning.
Calories: 150kcal, Carbohydrates: 13G, Protein: 3G, Fat: 11G, Saturated Fatty Acids: 2G, Polyunsaturated fat: 1G, Monounsaturated fatty acids: 8thG, Sodium: 331mg, Potassium: 603mg, Fiber: 5G, Sugar: 6G, Vitamin A: 16605ie, Vitamin C: 18mg, Calcium: 72mg, Iron: 2mg
The nutritional information given is an estimate. It depends on the cooking method and the specific ingredients used.