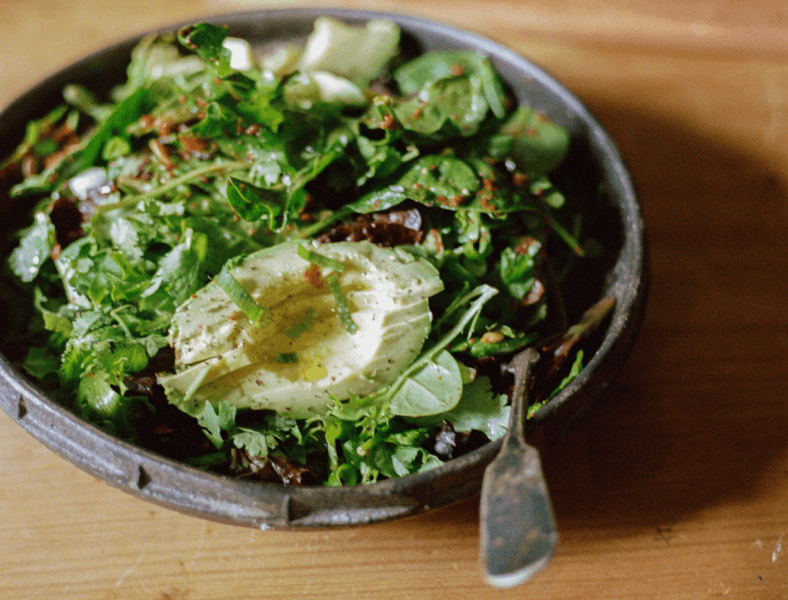 Fresh Leaf Kimchi Salad
The deep intensity of kimchi is beautifully reinterpreted in this bright, fresh salad. Tender greens, rich avocado, and crunchy sunflower seeds round out these assertive flavors for a super hearty salad that feels both light and satisfying. You'll likely have extra kimchi paste, so use it to make a quick kimchi from any vegetable that can be eaten raw, like radish, cucumber, or fennel.
for the kimchi paste
3 dried shiitake mushrooms
1 cup of boiling water
1 teaspoon vegetable stock powder or sea salt
½ cup gochugaru (Korean red chilli flakes)
5 garlic cloves, sliced
1 to 2 cm piece of ginger, peeled and sliced
½ onion or 1 shallot, roughly chopped
1 apple, peeled, cored and roughly chopped
For the salad
3½ ounces lettuce leaves (watercress, purslane, pea sprouts, baby spinach, or a combination)
2 to 3 tablespoons kimchi paste
2 tablespoons sunflower seeds
1 avocado, cut into wedges
1 spring onion, finely chopped
Handful of coriander leaves
Juice of ½ lime or lemon
extra virgin olive oil or toasted sesame oil
sea ​​salt and black pepper
1. First prepare the kimchi paste. Soak the shiitake mushrooms in boiling water for 30 minutes, then press into the soaking water. Save the mushrooms for another use (they can be kept in the fridge or freezer until you need them). Strain the mushroom water to remove dirt, then stir in the broth or sea salt until dissolved. Then place the gochugaru, garlic, ginger, onion or eschalot, apple and mushroom water in a food processor or blender and puree into a paste.
2. Place the leaves in a bowl and add enough kimchi paste to match your preferred spice level. Add the sunflower seeds, avocado, spring onions and coriander and season with sea salt and black pepper. Swirl gently to combine. Finish with a drizzle of citrus fruits and some oil and serve immediately.
from With love to Asia by Hetty McKinnon, Copyright © 2021. Published by Prestel Publishing. Photography: Hetty McKinnon
Originally featured in Standout Recipes from To Asia, with Love