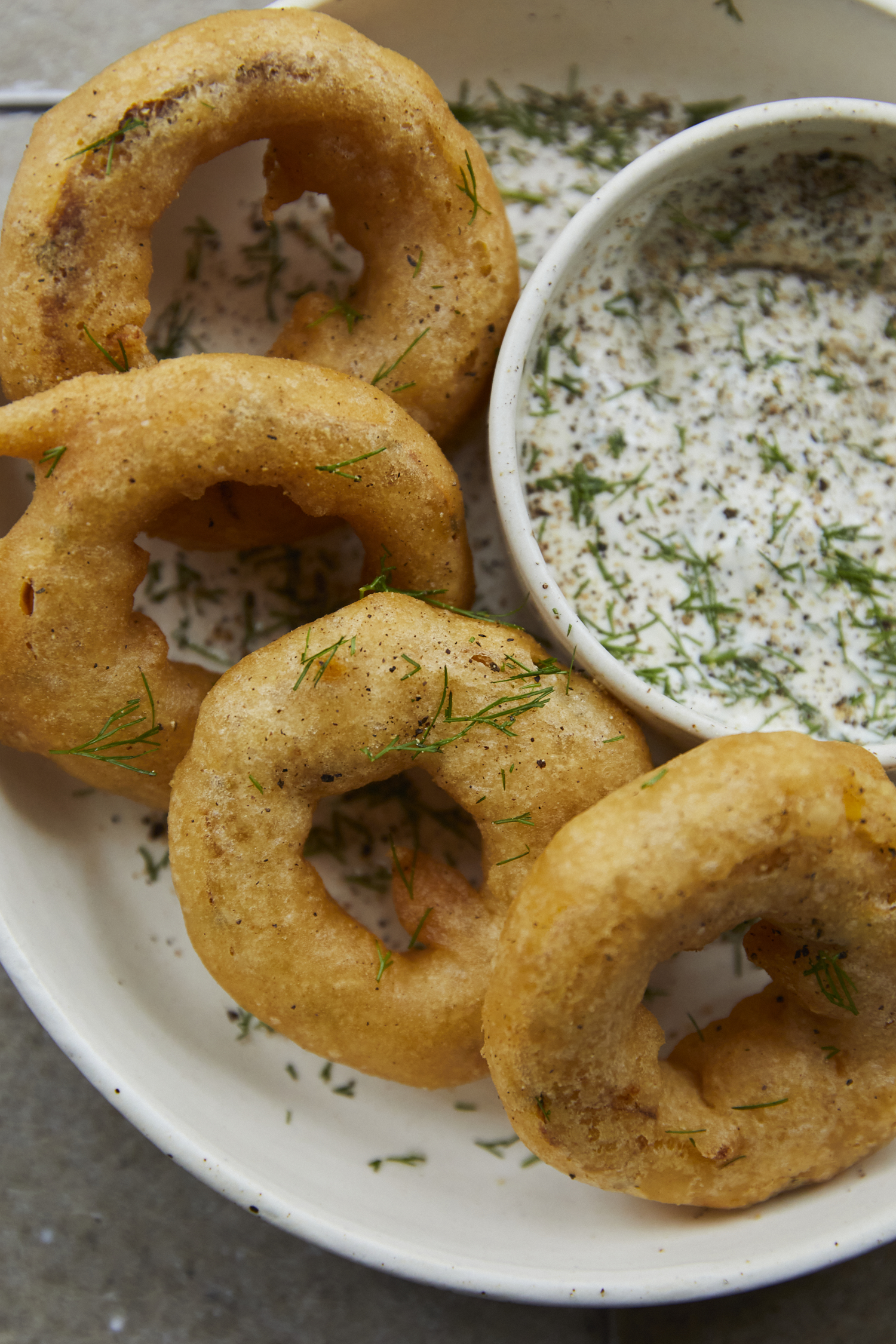 This recipe originally appeared in the vegan Winter issue of Casual.
If you want to make me happy, feed me a snack of fried food, preferably with a beer or cocktail. It's the mix of crispy and salty that gets me every time, and so when one of my favorite restaurants in Sacramento—Magpie—had fried delicata on the menu, it was everything I loved in one bite. These squashion rings, as my son calls them, are well worth the effort of heating a bit of oil.
Serve with
The midwesterner in me loves these served with ranch or even a chipotle ranch. Also good is a garlic aioli, cheese sauce, or even an okonomiyaki sauce. 
Squash Alternatives
This batter is also great with onions, cauliflower, asparagus, or even pickles. It's a pretty basic batter which makes it versatile. For these items, don't bother roasting ahead of time, just use raw. 
Beer Alternatives 
If looking for a beer alternative, use cold seltzer water (a trick I picked up from Snixy Kitchen, who has a wonderful gluten-free tempura recipe if you need to make something gluten-free).
Print
Fried Delicata Rings
Author:
Yield:

2

–

3

servings

1

x
Ingredients

Scale

1 delicata squash (1 ¼ lb)
2 tablespoons (16g) cornstarch
½ cup (70g) all-purpose flour or soft wheat flour
½ cup + 2 tablespoons lager (Mexican lager)
½ teaspoon baking powder
1 teaspoon kosher salt
Sunflower oil for frying
Instructions
Preheat the oven to 425˚F. Cut the squash in half widthwise and scoop out the seeds. Slice each half into ½"-thick rings and spread out in a single layer on a baking sheet. Depending on your squash's size, you should get about 12 rings. Roast until the squash is just starting to brown, 15 minutes. When the squash is finished, let sit until cool enough to handle.
When the squash is cool, preheat a medium pot with 2" of high-heat sunflower oil until it reaches about 350˚F and aim to maintain that temperature throughout the cooking process.
Whisk together the remaining ingredients in a medium bowl. The batter should be thin enough to easily coat the squash but thick enough that an opaque layer clings to the ring. You can tweak the consistency by adding a splash of beer to thin or a sprinkle of flour to thicken.
Place the squash in a large bowl and add the cornstarch. Toss to evenly coat the squash. Place a wire rack on a rimmed baking sheet and set aside. Once the oil is ready, dip a ring into the batter to coat, then shake off any excess. Transfer to the hot oil and repeat with as many squash as will fit without overcrowding. Cook about 2 minutes, flip, and cook for another 2 minutes or so, until the squash is golden but not dark. Transfer to the wire rack to allow any excess oil to drip off. Repeat with remaining squash.