An easy 30 minute recipe for beef and lamb meatballs packed with flavor.
I I never thought Garlic Meatballs would become my favorite easy summer meal recipe. And yet here we are.
Inspired by the many Keftedes Consumed on my recent trip to Greece, I never have a few dozen of these versatile mini meatballs in my freezer.
These tender and juicy flavor bombs are delicious as a starter, main course or side dish. They freeze well and thaw quickly, making them an ideal protein for uncomplicated meals.
It's the summer of the meatballs. Let's get the recipe!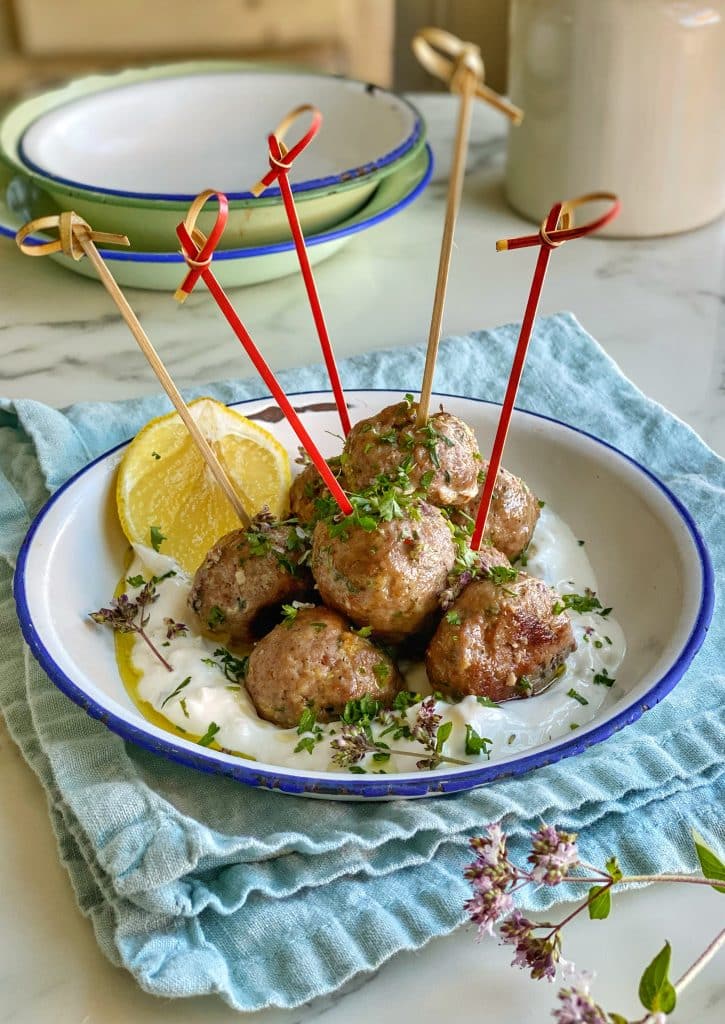 Greek-inspired sheet metal meatballs
I suppose I've always classified meatballs as a winter comfort food. Either stacked on top of rice, like these Ginger Glazed Chicken Meatballs, or the sweet and sour slow cooker favorite.
But Greece was hot. Very hot. And when the keftedes arrived at the table, served with thick yoghurt and half a lemon, they were everything I ever wanted (as well as that chilled glass of Malagousia, thank you).
Usually served as part of a greek meze Keftedes are usually dredged in flour and pan fried. However, I designed this recipe to be a little simpler: just a quick 12-minute bake on two sheet pans.
If you enlist a helper to roll the meatballs, you can be in and out of the kitchen in under 30 minutes.
TOP: On a chilly day when you don't mind turning on the oven, prepare a mini meatball or two. Let cool completely, then freeze in batches of 12 for future appetizers and picnics.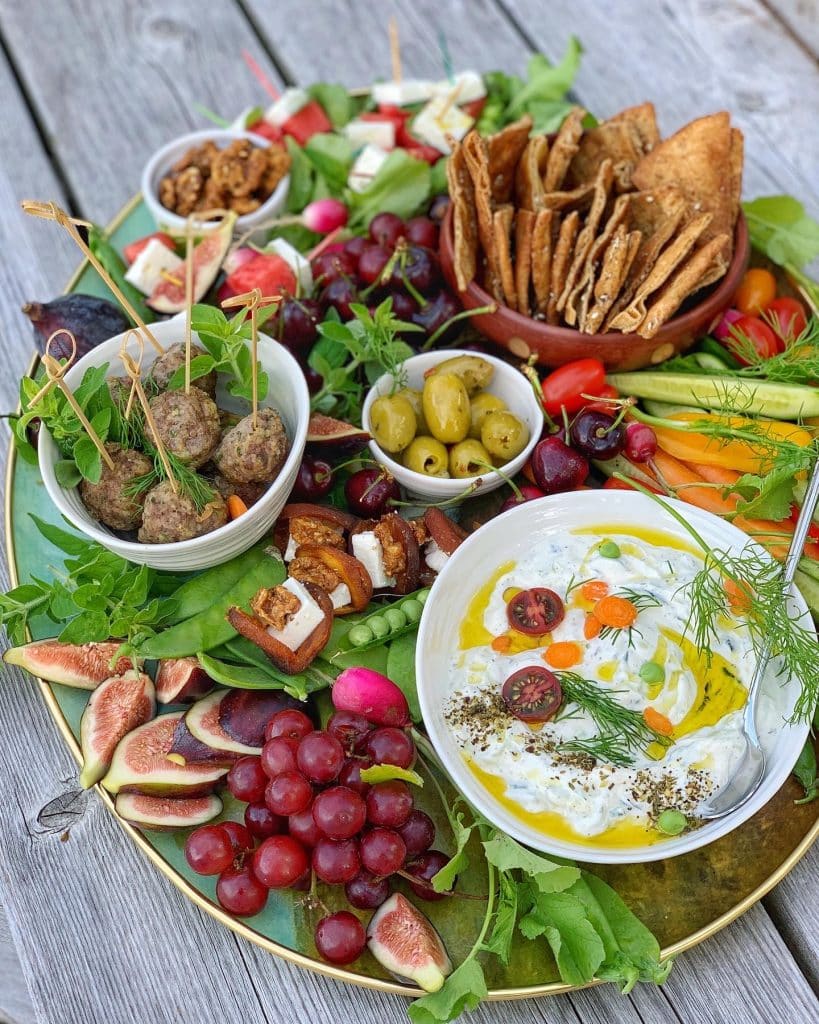 Here's how I've been serving sheet metal meatballs so far this summer:
Appetizers
Add a bowl of warm meatballs from a sheet pan to a summer pasture board. Add a generous side of tzatziki, a drizzle of olive oil, and a sprinkling of parsley or dill. You will be the first to leave! (Here is a great tzatziki recipe from my Greek friend Joanne)
Quick dinner
Simmer the meatballs in a few cups of marinara sauce, then place them in boat-style buns. Sprinkle with parmesan and enjoy a homemade meatball sub. (My teenager actually shook my hand after I served this meal).
Picnic Food
Stuff room-temperature meatballs in soft pita and top with tzatziki or Greek-style yogurt. Serve with sliced ​​cucumbers, tomatoes, and red onions for an unforgettable picnic sandwich.
Camping Meal
Heat a cast-iron skillet with meatballs over the campfire and set out a jar of toothpicks. It is the Crowd-loving midnight snack to remember.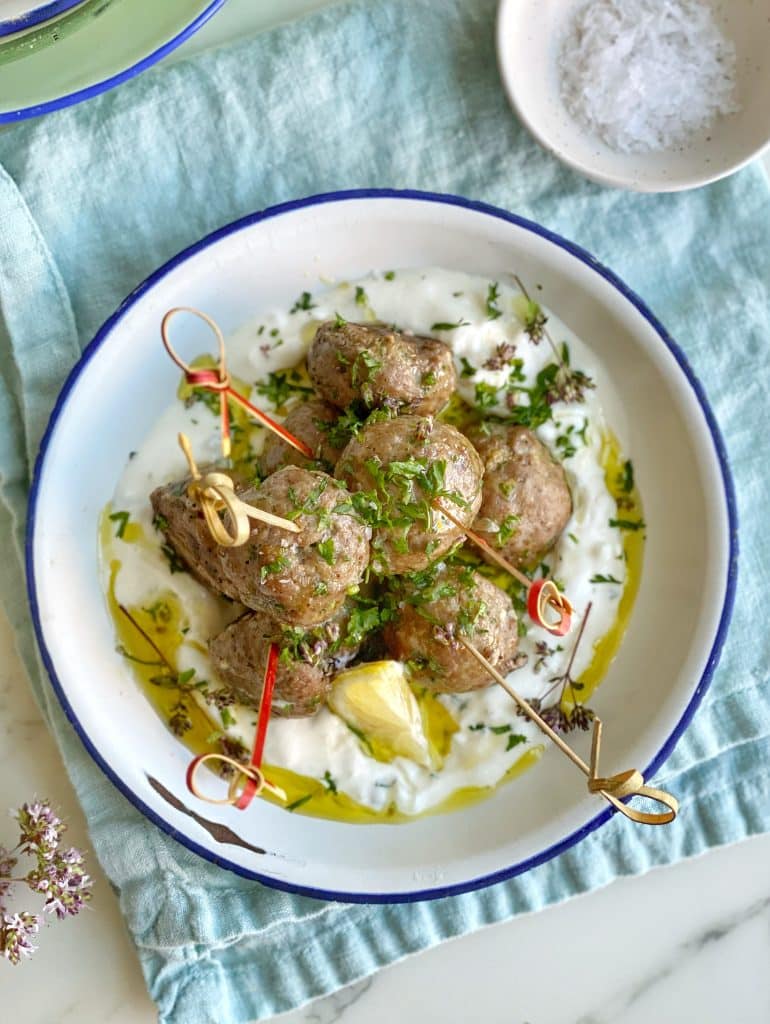 Ingredients for sheet pan meatballs
Here's what I use for my mini meatballs. Like most of my recipes, you can take it and make it your own.
ground beef and lamb – this combination is traditional for keftedes and my favorite, especially for filling pita or appetizers. I've also made them with a mix of beef and pork (much richer) as well as pure beef – or pure lamb!
Herbs – I like to use a mix of dried and fresh Mediterranean herbs in these meatballs. Use what you have, including: dill, thyme, oregano, sage, mint, or parsley. I love the Greek Isles Layover Spice Blend from Epices de Cru.
binder – A mixture of breadcrumbs, eggs and milk gives the meatballs a little lightness and binds them together.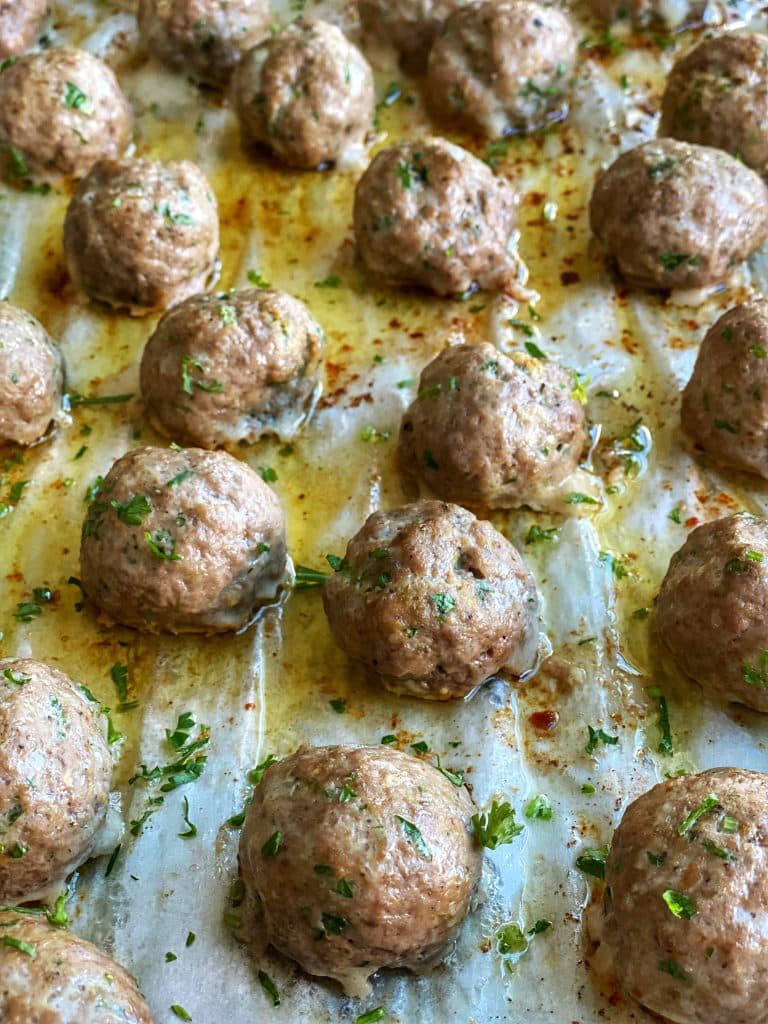 garlic – You can use chopped fresh garlic or dried ones. I've made both, and I usually save time and grab the granulated garlic.
lemon – my own addition. Since I'll be serving these with a halved lemon for squeezing, you bet I'll grate them into the meat mixture first.
Optional: crumbled feta – that is a very delicious addition. Simply add about 1/4 cup of crumbled feta into the mixture and continue with the recipe as usual.
Recipe: Greek-inspired Tin Meatballs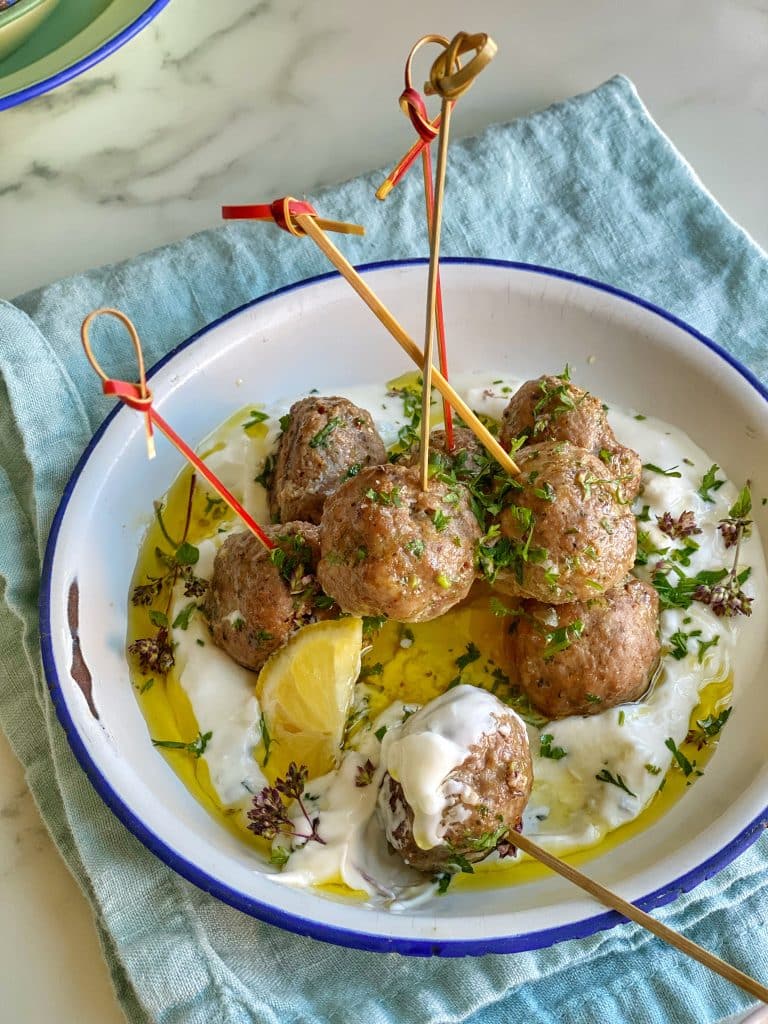 Greek-style tin meatballs
Print
Pen
rate
Servings: 4 dozen
Calories: 600kcal
ingredients
1

tablespoon

olive oil

1

teaspoon

dried Greek oregano

1/2

teaspoon

granulated garlic

1 1/2

teaspoon

fine sea salt

1

teaspoon

freshly ground black pepper

2/3

Cup

breadcrumbs

2

Middle

eggs

1/4

Cup

whole milk

1

lemon

1/4

Cup

chopped fresh parsley

1

lb

lean ground beef

1

lb

ground lamb
instructions
Preheat oven to 425°F. Line two rimmed baking sheets with parchment or foil. Brush the parchment lightly with olive oil.

In a small bowl, mix together your flavors: oregano, garlic, salt, and pepper. Add the breadcrumbs and mix.

In a larger bowl, lightly beat the eggs with a fork. Pour in the milk. Zest a whole lemon into the bowl and mix well.

Add the seasoned breadcrumbs and fresh parsley and mix.

Put the ground beef in the bowl. Use your hands to gently mix everything together. Don't worry about it getting perfect—mixing too long will make your meatballs tough.

Divide the dough into four large balls. Roll out 12 meatballs from each larger ball – for a total of 48. They should be about 1 1/2 inches in diameter, about the size of a ping pong ball.

Place 24 meatballs on each baking sheet and place in the oven on the middle and bottom racks. Bake for 6 minutes, then rotate the pans. Bake another 6 minutes.

Meatballs are cooked through within 12 to 14 minutes as ovens vary. They should be firm but tender when squeezed!

Serve hot with a side of Greek yogurt, a drizzle of olive oil and a sprinkling of chopped fresh Mediterranean herbs. Refrigerate and freeze any leftovers.
Remarks
I like a mix of dried and fresh Mediterranean herbs in these meatballs. Use what you have, including: dill, thyme, oregano, sage, or parsley.
GET AHEAD: Make a mini meatball or two on a chilly day when you haven't got the oven on. Let cool completely, then freeze in batches of 12 for future appetizers and picnics.
nutrition
Portion: 12G | Calories: 600kcal | Carbohydrates: 18G | Protein: 50G | Fat: 36G | Saturated Fatty Acids: 16G | Polyunsaturated fat: 3G | Monounsaturated fatty acids: fifteenG | Trans fats: 2G | Cholesterol: 237mg | Sodium: 1206mg | Potassium: 557mg | Fiber: 2G | Sugar: 3G | Vitamin A: 477ie | Vitamin C: 19mg | Calcium: 108mg | Iron: 6mg