This post may contain affiliate links. Please read my disclosure policy.
These Greek Salmon Salad Bowls feature quick seared salmon, crisp greens and greens, creamy avocado, flavorful feta, and a zesty lemon dressing. So fresh and flavorful and ready to use in just 25 minutes!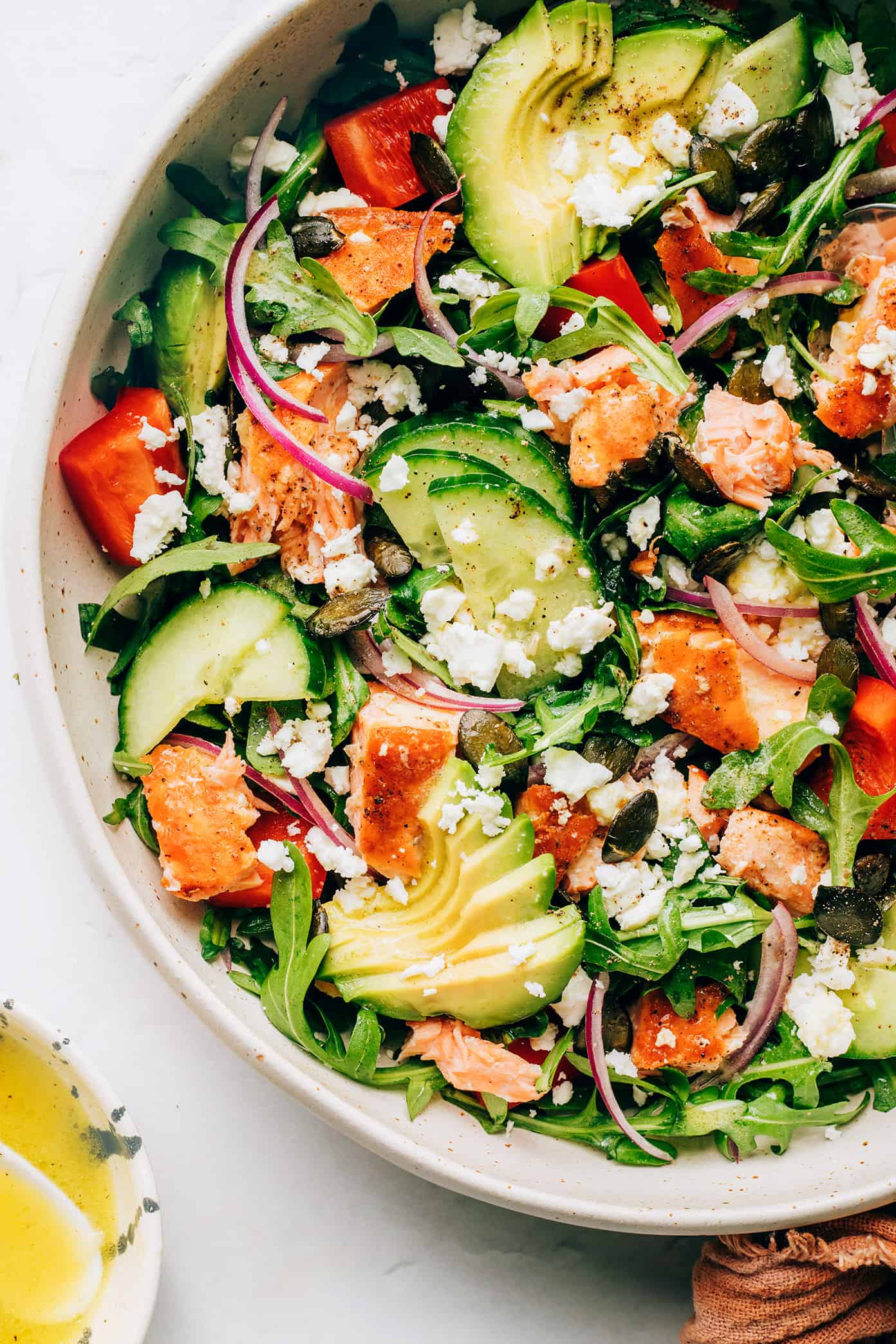 Say hello to the Greek-inspired salmon salad bowls, which my husband and I make in big reps. ♡
Somehow this recipe made its way into our regular lunch rotation a few years ago when my husband and I started working from home together. And years later, it's still one of our absolute favorites. We learned that tagging this salmon salad can be ready in under 15 minutes — I usually pan sear the salmon and make the dressing while Barclay chops the veggies. And on busy days when we're craving a quick, fresh, tasty, feel-good meal, this salad always hits the spot.
The ingredients here are simple and endlessly flexible. All you need is some fresh leaf salads, some crunchy veggies, a ripe avocado, a sprinkling of flavorful feta (or goat cheese), crunchy pepitas (or your choice of nuts or seeds), and a serving of my quick everyday dressing (made with either lemon juice or red wine vinegar). ). Then simply fry a few salmon fillets on the stove, add them to the salad and you're done.
Let's make a salmon salad!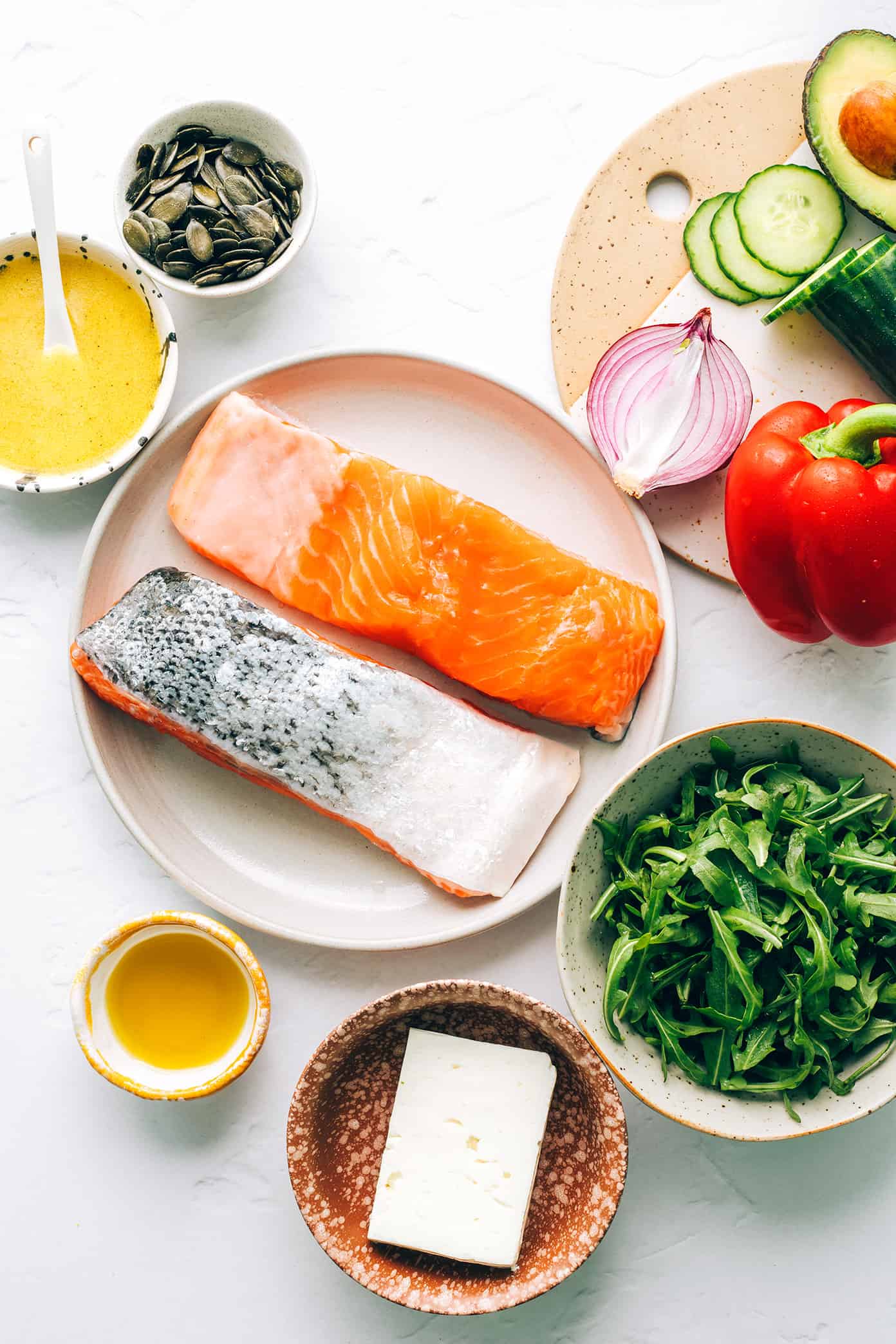 Greek Salmon Salad Bowls Ingredients:
Okay, some quick ingredient notes before we get to the recipe! To make these Greek Salmon Salad Bowls you will need:
Salmon: Feel free to use whatever salmon you like best. Since we're adding the cooked salmon to the salad, it doesn't matter if you're making multiple fillets or a large platter of salmon—you only need about a pound of salmon total.
Arugula: I love the peppery flavor and hearty texture of arugula in this salad, but any veggies you like best will do.
Vegetables: I used a crunchy mix of fresh bell peppers, English cucumber and red onions. (If you want to soften the flavor of the sliced ​​onions, simply rinse them briefly under cold running water before adding them to the salad.)
Feta cheese: Feta gives such a great tangy flavor to the salad. But we also occasionally make this recipe with goat cheese or creamy burrata, which are also delicious.
Avocado: Feel free to dice or slice the avocado for this salad.
nuts/seeds: We usually throw in a handful of toasted pepitas, but toasted walnuts, almonds, or sunflower seeds would also be great options.
everyday clothes: You will need one daily serving of my favorite dressing, to which I recommend adding 1/2 teaspoon dried oregano for this particular salad.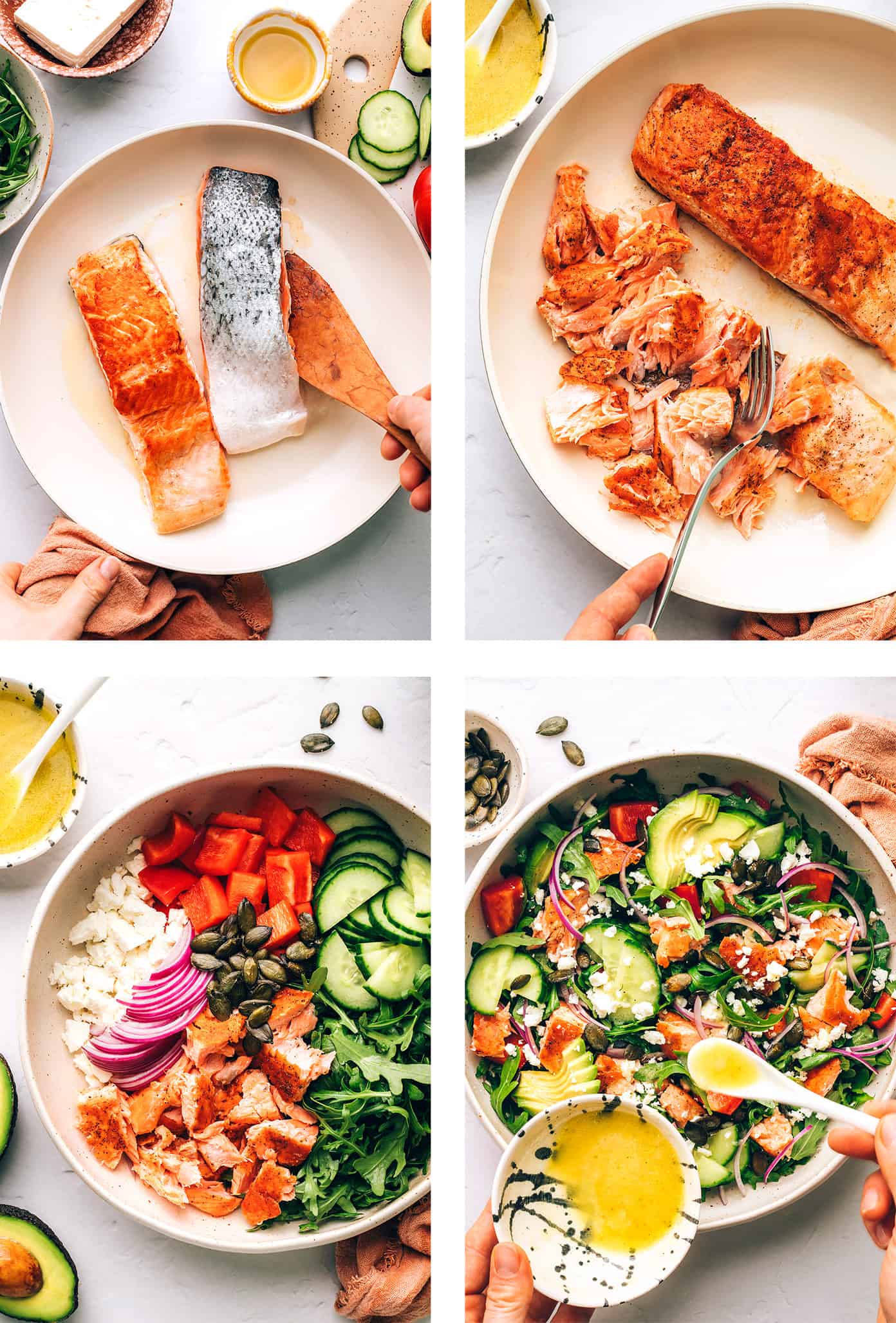 recipe variations
Here are a few other possible ways to customize your Greek salmon salad bowls…
Bake the salmon (instead of pan searing): Here's my favorite method if you'd rather bake the salmon.
Add additional spices to the salmon: I usually stick with salt and pepper, but feel free to add any additional herb blends or spices you prefer to the salmon.
Add tomatoes: Fresh cherry or sun-dried tomatoes are also great in this salad.
Add olives: We often add a handful of Kalamata olives if we have a jar on hand.
Use a different protein: We occasionally make this salad with quality canned fish (tuna, salmon, mackerel, etc.) if you want to save time, but feel free to pan sear any other fish that sounds good. Or chicken, steak, or shrimp would also be great protein options in this salad.
Use different veggies/vegetables/cheese: All of these ingredients are pretty flexible if you want to add a different type of lettuce, veggies, or cheese in this salad.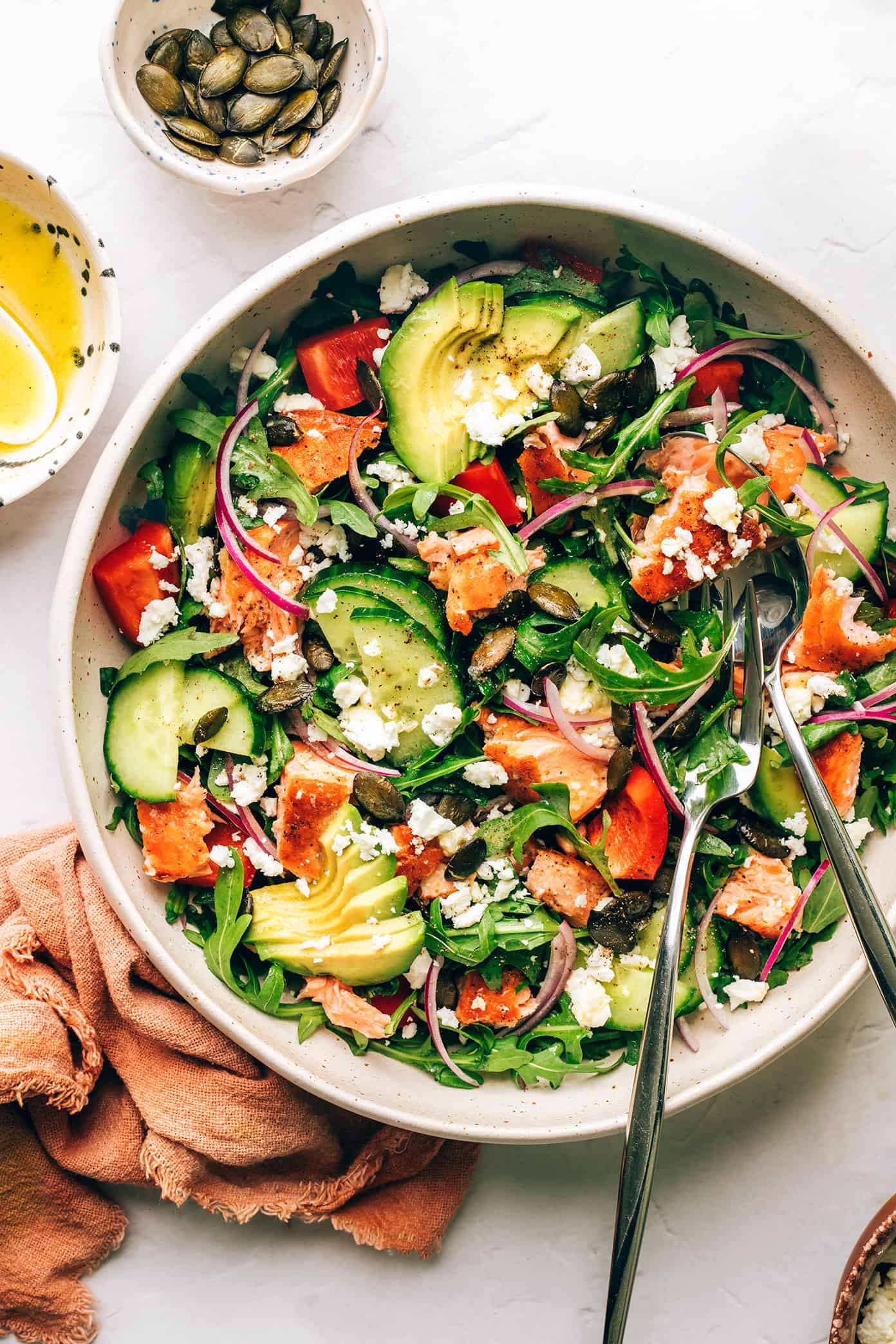 Other popular salad recipes:
Here are some other favorites that you'd love to serve as a side salad or as an appetizer (like we did here):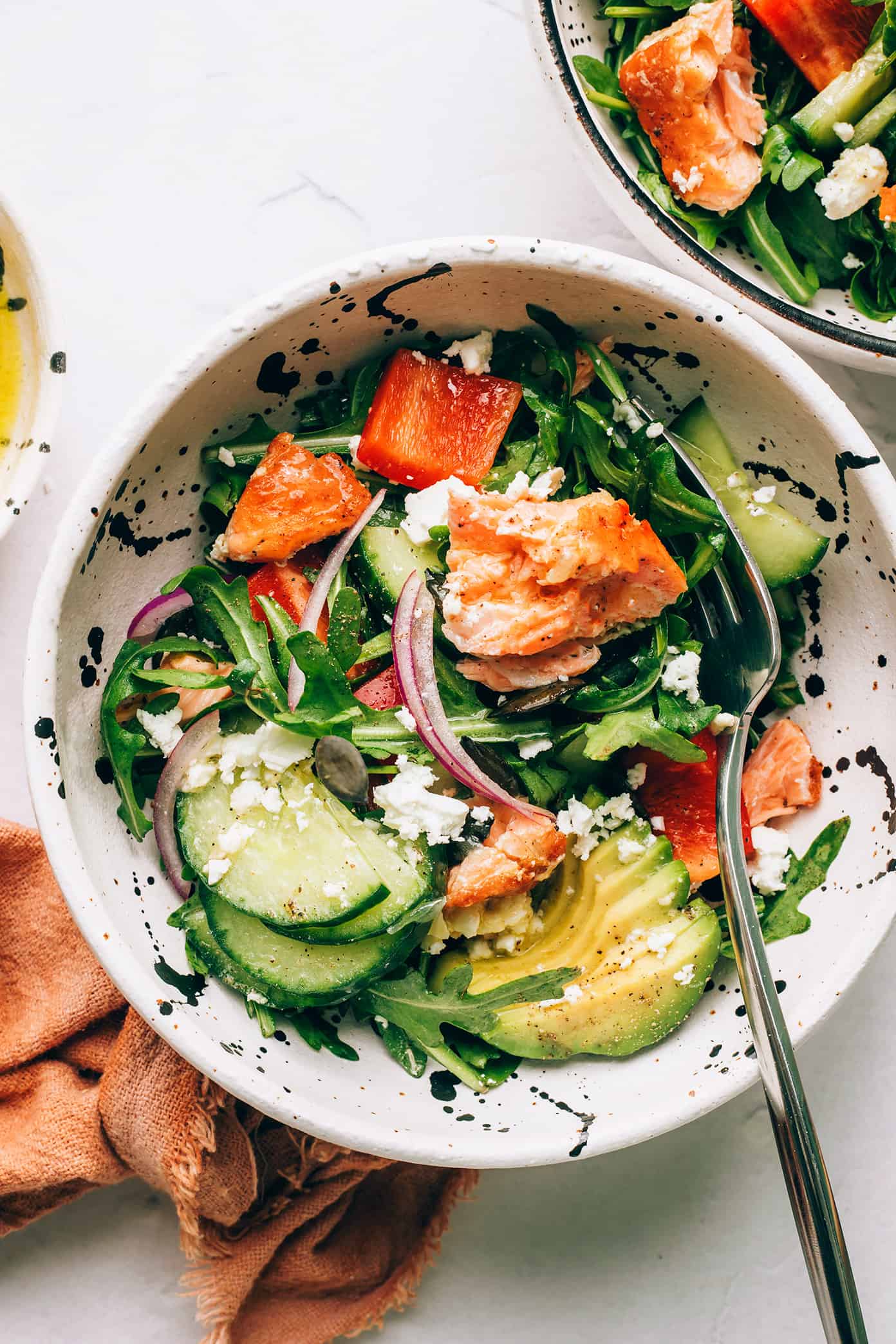 Print
---
description
Packed with fresh and healthy ingredients, these Greek Salmon Salad Bowls are easy to make in under 30 minutes.
---
1

pounds of salmon fillets
fine sea salt and freshly cracked black pepper

1 tablespoon

olive oil

2 ounces

fresh arugula

1

large red peppers, cut into bite-sized pieces

a half

English cucumber, cut into bite-sized pieces

half one

small red onion, thinly sliced

2/3 cup

roasted pepitas

1/2 cup

crumbled feta cheese

1

Batch of everyday dressing*

1

Avocado, sliced ​​or diced
---
cook the salmon Season the salmon with a few generous pinches of salt and pepper. Heat the olive oil in a large non-stick frying pan. Place the salmon fillets, flesh side down, and cook undisturbed, about 3-4 minutes or until golden brown. Flip and cook the other side for an additional 2-4 minutes, until the salmon is cooked through to your desired level and flakes easily with a fork. (Cooking time will also depend on the thickness of the salmon.) Transfer the salmon to a clean plate and set aside.
Throw. In a large mixing bowl, combine arugula, bell pepper, cucumber, red onion, pepitas, feta and cooked salmon. Drizzle evenly with the dressing, then gently toss to combine.
Surcharge. Serve immediately, garnished with the avocado and additional feta and/or pepitas for garnish.
---
Remarks
Dressing: I recommend mixing an additional 1/2 teaspoon of dried oregano into the dressing for this recipe.
Share this post