With its new, original premium Handtman cutting set, Handtman now offers optimal synchronization of the latest vacuum filling technology, mincer and filling separation technology with an integrated cutting set and smart cutting set management option. The technology is universally applicable to all production processes of meat and sausage products, including vegetarian and vegan products.
When changing products, there is no need to replace conveyor parts in vacuum fillers, since standard conveyors are used for all products regardless of the cut size of the end-hole plate. Processing of very cold products, a high filling capacity for small-grained end products or new production possibilities for coarse-grained products are thus possible. Separating and straining applications are also possible for potato, vegetable and fruit products.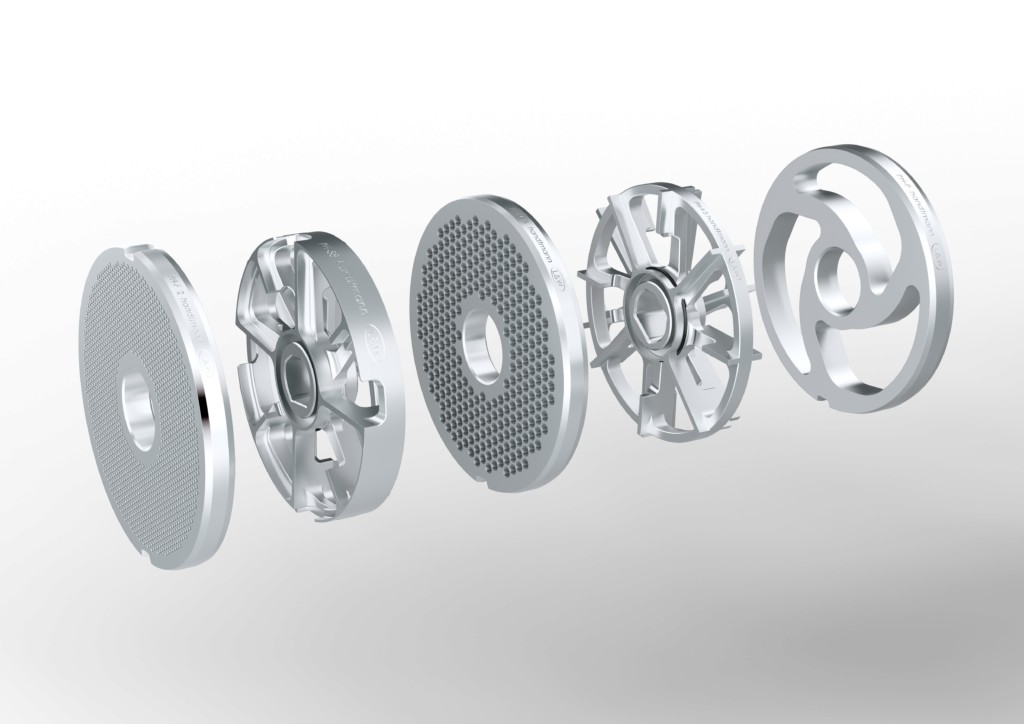 In all applications, the original PH cutting set ensures a product-friendly, precise and energy-efficient cutting process of raw materials with only minimal product heating. This is due to the optimal cutting set geometry, which ensures that the material flows through the perforated disc in a manner that is gentle on the product. This causes a significant reduction in pressure within the mincer housing, which, according to Handtman, results in a perfect cutting pattern with uniform grain size.
Optionally, the PH cutting set can be equipped with a label that enables clear allocation to the corresponding vacuum filling machine and the corresponding product. In combination with the HCU software solution, smart cutting set management is thus possible with complete documentation, evaluation and management of the associated cutting sets.
Documented performance parameters and flow rates provide complete transparency of the cutting process and consequently reduce process and product safety and errors. In the case of perforated discs, support crosses and knives, the direction of installation is also specified by means of a mechanical installation code, so that parts can only be used in the correct installation direction. This prevents incorrect installation with consequent damage to parts and products alike. A flawless manufacturing process with consistent results is thus ensured.
More information at https://www.handtmann.de/