Italian Dressing Mix – skip buying the store-bought packs and make your own at home! Great in recipes, for dressing and you know what's in it!
Those little packets of dressing and condiments at the store can sometimes be a real time saver. But they're usually loaded with sodium, sometimes they have ingredients you can't pronounce, and often sugar too.
This is a homemade Italian dressing mix, so you can ditch the store-bought one. Similar to Homemade Ranch Dressing Mix, Onion Soup Mix, and Homemade Taco Seasoning. Just keep it in the pantry and grab it whenever you need it!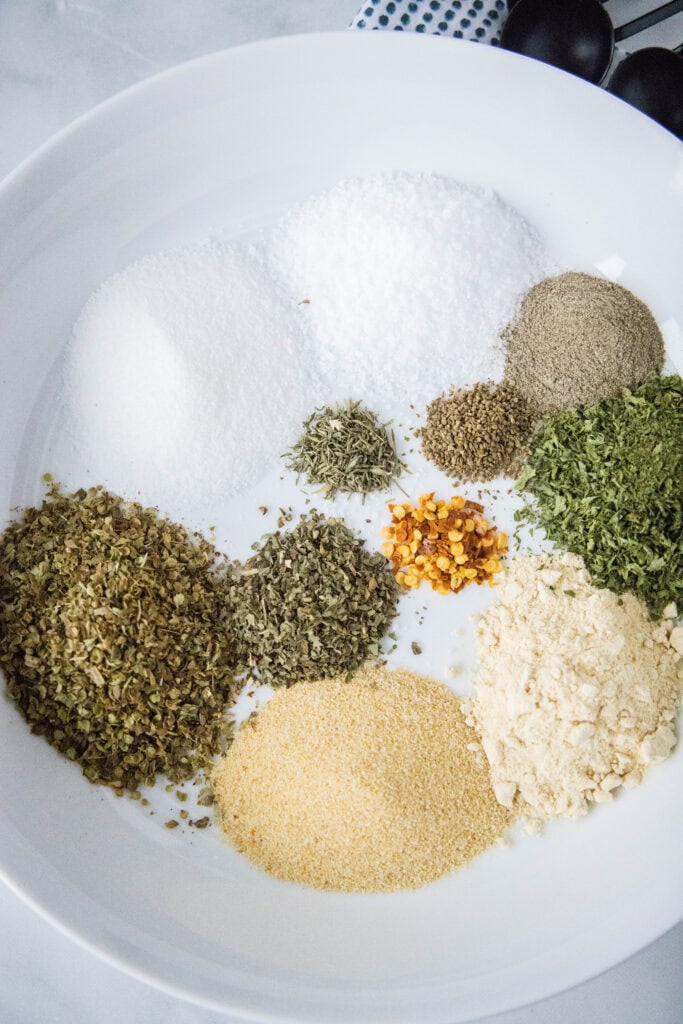 Why this recipe works
It uses spices you probably already have on hand, so you can make it in no time!
The packets have gotten so expensive, so having all those spices at home is a lot more economical too.
Makes enough for you to use something and have it on hand for a few more uses.
Make salad dressing or use it in a recipe, either way it's on hand and ready when you need it!
You know what's inside. No MSG, you control the salt, you control the sugar, etc.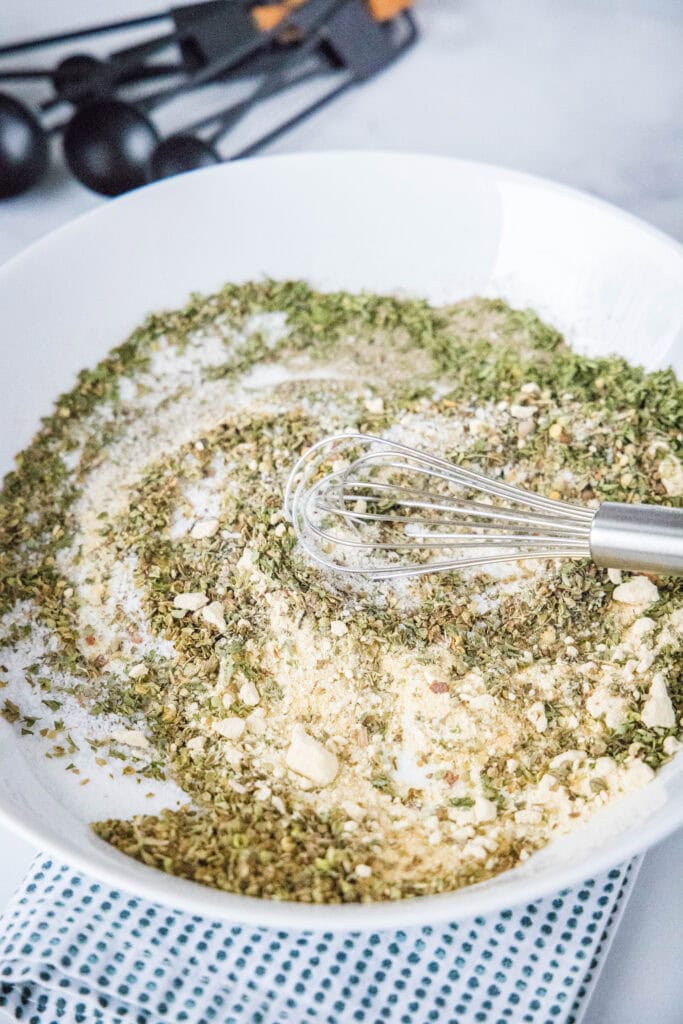 what you will need
Dried oregano
garlic powder
onion powder
Dried Parsley
Salt
Sugar
Black pepper
Dried Basil
celery seed
Dried Thyme
Red pepper flakes
Yes, there is some sugar in it. If you're using it for a dressing, you should leave it in. You need the sugar to reduce the acidity in the dressing. If you only want to use it in other recipes, you may be able to reduce the amount or eliminate it.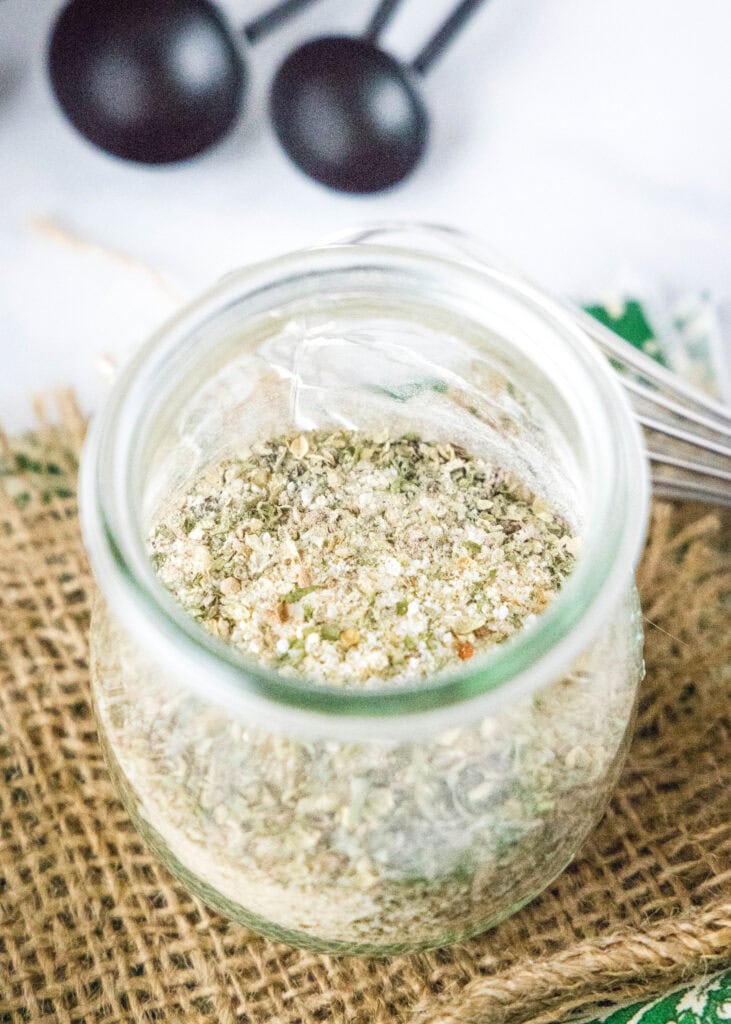 How to make an Italian dressing mix
Be sure to scroll down to the recipe card for measurements and full instructions!
Measure out all spices and mix together.
Store in an airtight container until ready to use
how to use
Do you want to make Italian dressing? Use 2 tablespoons dried mix with 2/3 cup oil, 1/4 cup vinegar (cider, red wine, etc.) and 2 tablespoons water. Whisk or shake until well combined and serve over a side salad or in this Antipasto Chicken Salad.
Other uses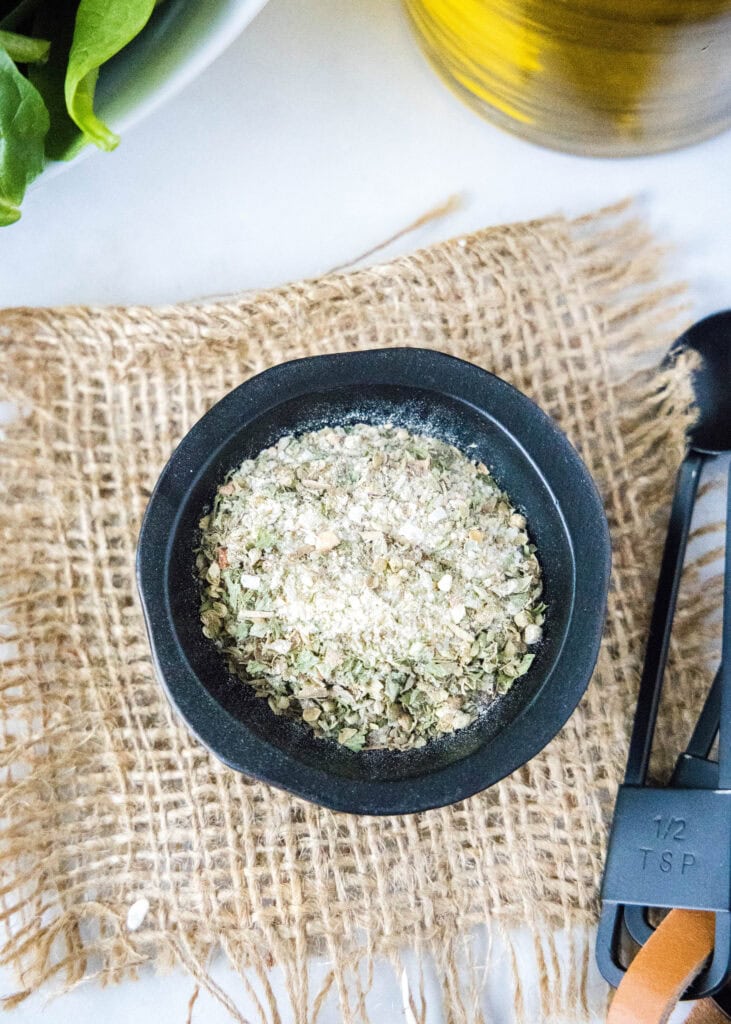 storage
I like to mix the herbs in a small mason jar or Tupperware container. Then I can just shake or stir until everything is well combined. Store sealed in an airtight container in the pantry for 6 months to a year. It really depends on how fresh your herbs were to begin with.
Dried spices don't actually go bad, they just lose their potency. So if you use old spices your dish may be more bland than intended as your spices will have a lot of flavor over time.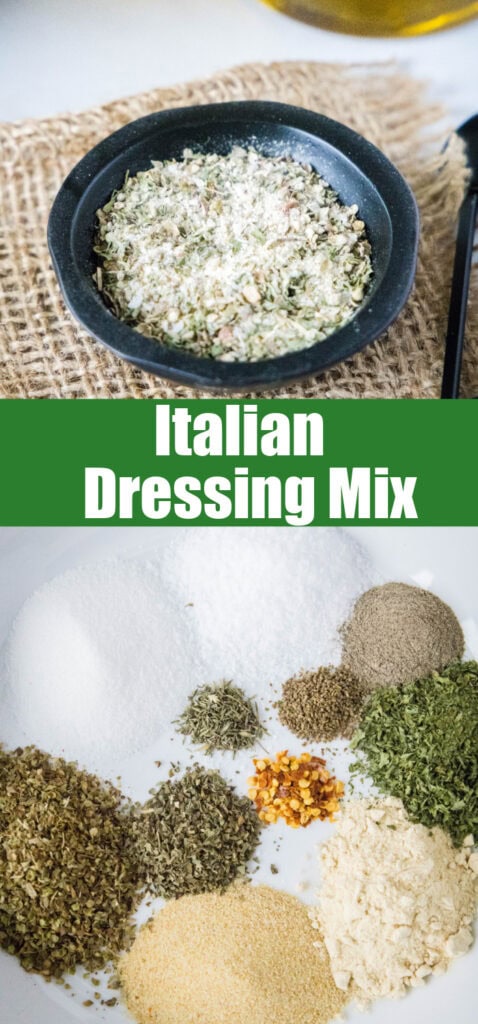 Yield: 4
Italian dressing mix
Italian Dressing Mix – skip buying the store-bought packs and make your own at home! Great in recipes, for dressing and you know what's in it!
preparation time 5 minutes
total time 5 minutes
Ingredients
2 tablespoons dried oregano
1 tablespoon garlic powder
1 tablespoon onion powder
1 tablespoon dried parsley
1 tablespoon of sugar
1 tablespoon kosher salt
1 teaspoon of black pepper
1 teaspoon dried basil
1/2 teaspoon celery seeds
1/4 teaspoon dried thyme
1/4 teaspoon red pepper flakes
instructions
Measure all ingredients into a small bowl or mason jar.
Stir or cover and shake until well combined.
Store in an airtight container for 6-12 months
Remarks
2 tablespoons spice mix = 1 store-bought packet
The recipe is enough to equal 4 store-bought packets.
to make dressing
Mix 2 tablespoons spice mix with 2/3 cup oil, 1/4 cup vinegar (apple cider or red wine), and 2 tablespoons water.
Nutritional Information
yield
4
serving size
1
amount per serving calories 36total fat 0gSaturated Fatty Acids 0gtrans fat 0gunsaturated fat 0gcholesterol 0 mgsodium 950mgcarbohydrates 9gfiber 2gSugar 3gprotein 1g
Nutritional Disclaimer: All information on this website is for informational purposes only. I am not a certified nutritionist and any nutritional information shared on dinnersdishesanddesserts.com should be used as a general guide only.
I created a fun group on Facebook and would love for you to join us! It's a place to share YOUR favorite recipes, ask questions, and see what's new in dinner, dishes, and desserts (so you don't miss a new recipe)! If you want to try it, you can submit a request to join HERE.
Be sure to follow me Instagram and tag #dinnersdishes so I can see all the wonderful DINNER, MEAL AND DESSERTS recipes YOU make!
Follow me on my social media channels so you don't miss a post!
Facebook | Twitter | Pinterest | Instagram
Did you know that there is a SHOP for dinner, dishes and desserts? Check out all my e-books as well as branded items HERE! Or you can buy me a coffee to say thank you!
OTHER RECIPES YOU MIGHT LIKE: