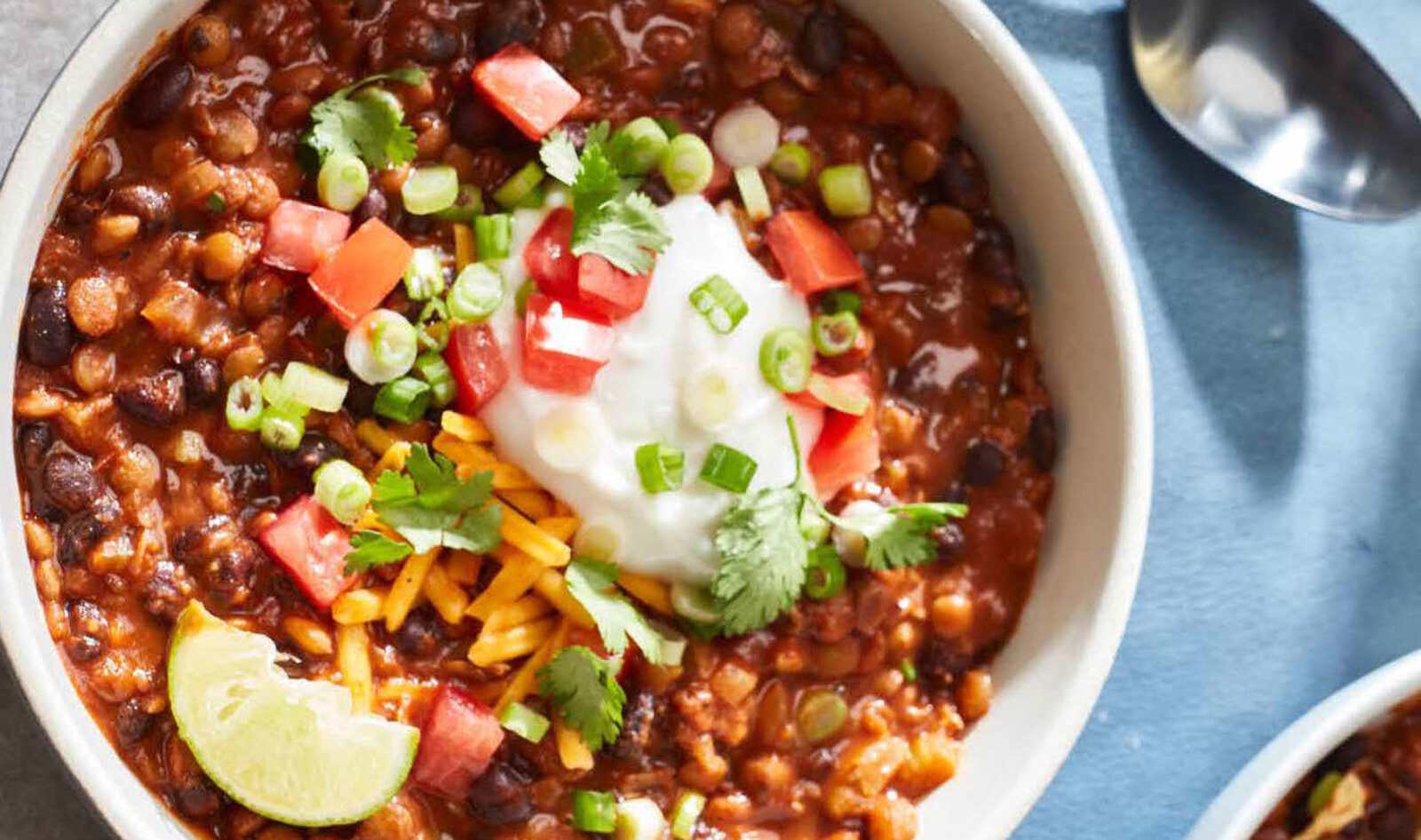 Cacao is mixed with chilies and coconut sugar to create a simple seasoning mix that adds flavor and heat to this vegetarian chili recipe. Incredibly vegan Serve the cookbook on game day and let your guests customize their bowl with a bar of toppings for the ultimate bowl of vegan chili.
do you want:
For the spice mix:
1 tablespoon coconut sugar
2 teaspoons smoked paprika
2 teaspoons of chili powder
2 teaspoons of fine pink salt
1 teaspoon unsweetened cocoa powder
1 teaspoon of chili powder
1 teaspoon of cumin
1 teaspoon dried oregano
1 teaspoon black pepper
For the chilies:
2 tablespoons grape seed oil
1 yellow onion, chopped
1 green bell pepper, stemmed, seeded, and chopped
2 celery stalks, diced
3 cloves of garlic, minced
1 (6-ounce) can tomato paste
4 cups vegetable broth
3 cups cooked green or brown lentils
3 cups cooked black beans or kidney beans
1 tablespoon apple cider vinegar
2 teaspoons of liquid aminos
1 bay leaf
For the topping:
Chopped fresh tomatoes
Vegan sour cream
Chopped fresh coriander leaves
Chopped fresh flat-leaf parsley
Diced avocado
what do you do:
For the spice mix, in a small bowl, combine the coconut sugar, paprika, chili powder, salt, cocoa powder, ancho chili powder, cumin, oregano, and black pepper. Mix well to combine and set aside.
For the chili, heat a large pot over medium-high heat and add the oil. When the oil is hot, add the onion, pepper and celery and fry for 5 to 7 minutes until the onion is translucent. Add the garlic and fry for 30 seconds or until fragrant. Add tomato paste and spice mix. Stir for 1 to 2 minutes, until the tomato paste begins to thicken slightly, then add the broth. Stir, scraping up the browned bits from the bottom of the pan.
Add lentils, beans, vinegar, liquid aminos and bay leaf. Bring to a simmer. Cover, reduce heat to medium-low, and cook until thickened, 30 to 40 minutes. Remove bay leaves and discard.
Pour into bowls and garnish with desired toppings.
For more recipes like this, see: