Miyoko's Creamery plant is known for its innovative approach to dairy products and its new products push the envelope even further. The company's new Cinnamon Raisin Cream Cheese is the first vegan version of this classic flavor and goes on sale at major retailers in May.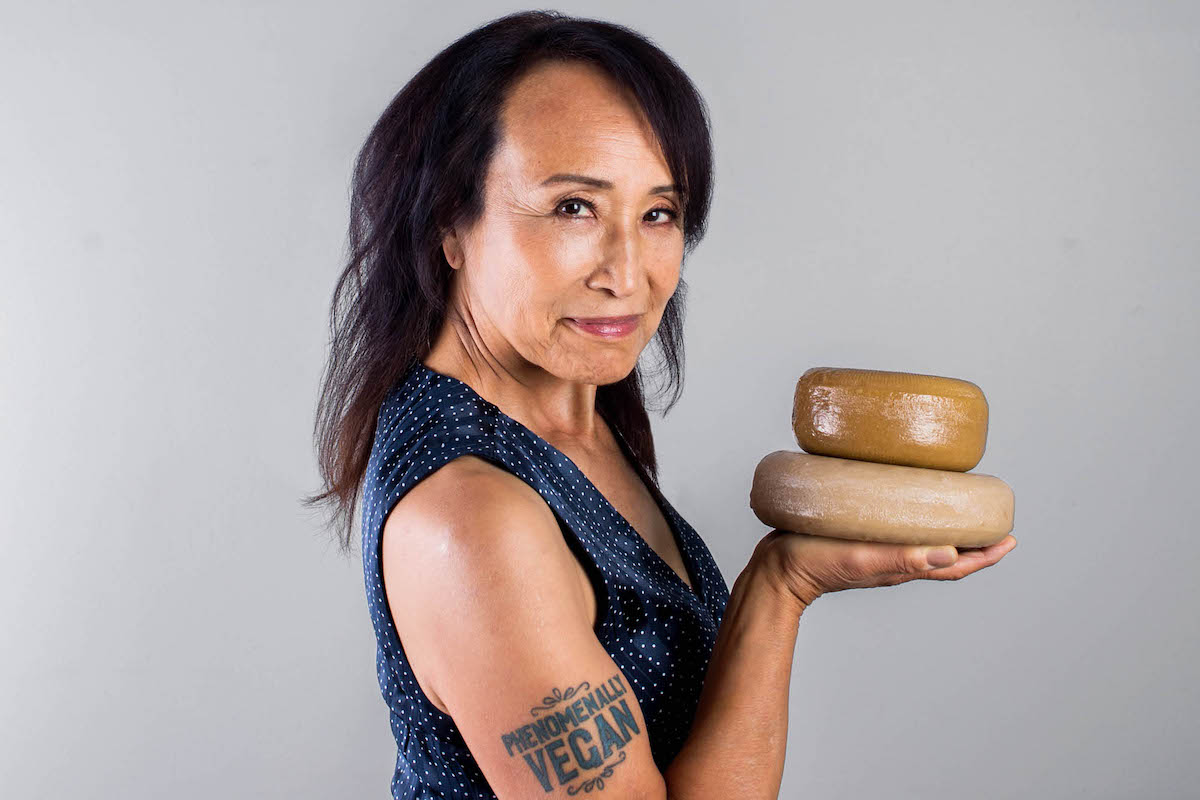 Miyoko's Creamery
Visionary chef Miyoko Shiner founded Miyoko's Creamery in 2014 and has been redefining what plant-based cheese and butter can be ever since. Based in Northern California, Miyoko's combines old-world creamery traditions with new, innovative technology to revolutionize the cheese and butter category, with an overarching mission to make vegan dairy ideal.
"It's always been important to Miyoko as a brand to lead with innovation, and that's what we've done with our first-of-its-kind Cinnamon Raisin Cream Cheese," Rusty Porter, CMO of Miyoko's Creamery, told VegNews. "There's a growing appetite from our fans — vegetarians and vegans alike — for sweet treats they can feel good about."
First up is the Vegan Cinnamon Raisin Cream Cheese
Made with cashew milk and coconut cream—and without added flavors, oils, or gums—new Miyoko's Cinnamon Raisin Cream Cheese flavor has a new proprietary culture that delivers a more dairy-like experience.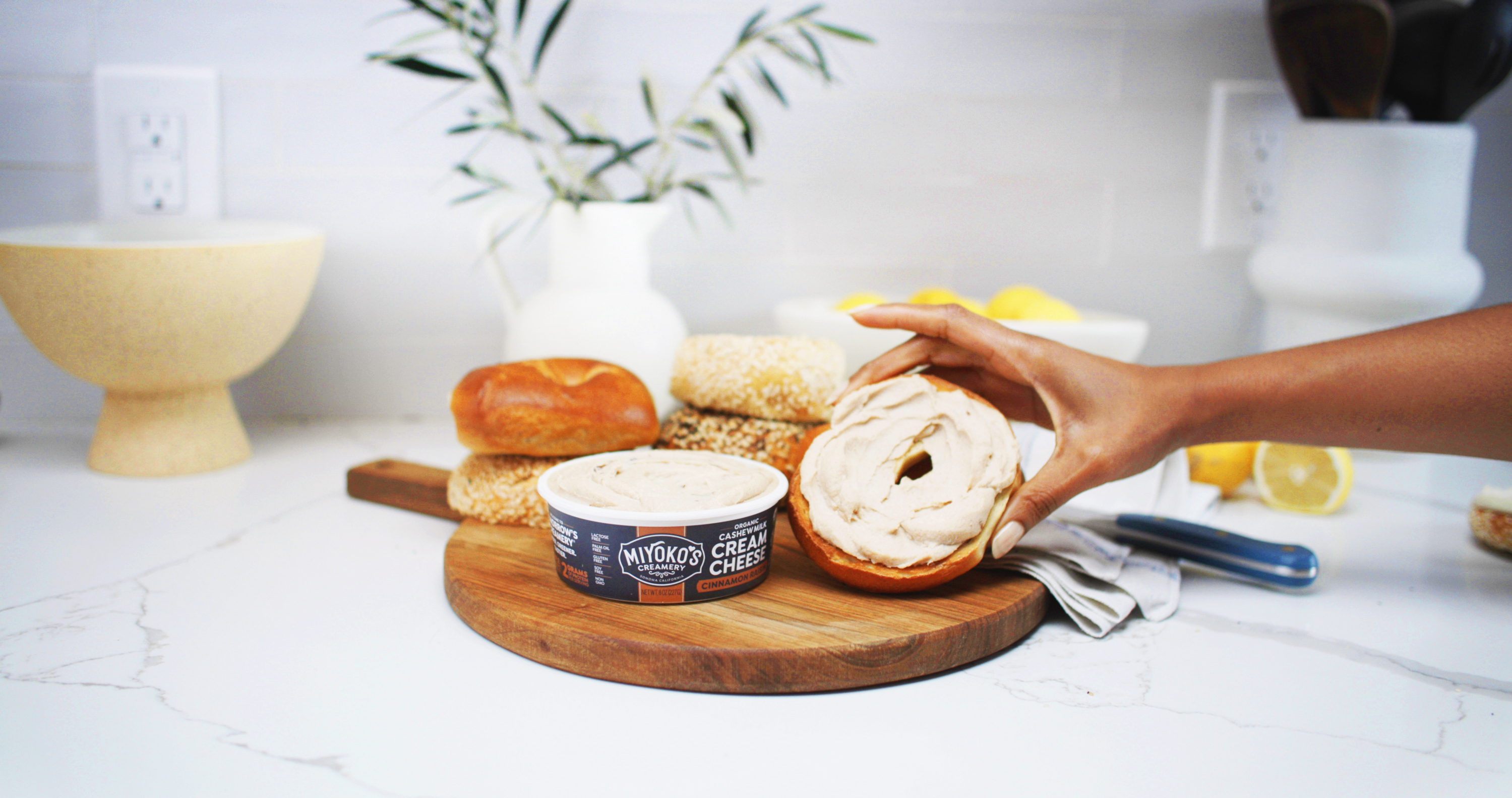 Miyoko's Creamery
Porter explained that the new flavor was created to target an opportunity in the cream cheese category, where 72 percent of growth is coming from sweet flavors. "Creating delicious flavors with simple ingredients ensures we can meet demand and satisfy consumer cravings, while enticing more plant-aware consumers to switch to plant milk dairy," said Porter.
"In addition to the new flavors, we're enhancing our entire cream cheese line using proprietary new cultures, creating a less intense tang, while delivering richer dairy notes and an even creamier texture," Porter said.
It also served as a vehicle to unveil a new packaging look for Miyoko Creamery, featuring high-contrast colors (making it easier to spot on store shelves) and a call-out for its simple and organic ingredients.
Beyond its retail launch, a similar product made a brief appearance at Starbucks in 2020 as part of a single-store test. At its Issaquah, WA location, the coffee chain giant is offering Miyoko's Vegan Cream Cheese in Everything and Cinnamon Raisin flavors for $1 for a limited time.
Vegan Caramel with Miyoko Butter
Beyond new launches under its own line of dairy-free products, Miyoko's is partnering with other brands to help them deliver next-level products. Oakland, CA-based company OCHO Candy just launched a line of dark chocolate-coated vegan caramels in classic, cinnamon, coffee and chocolate flavors.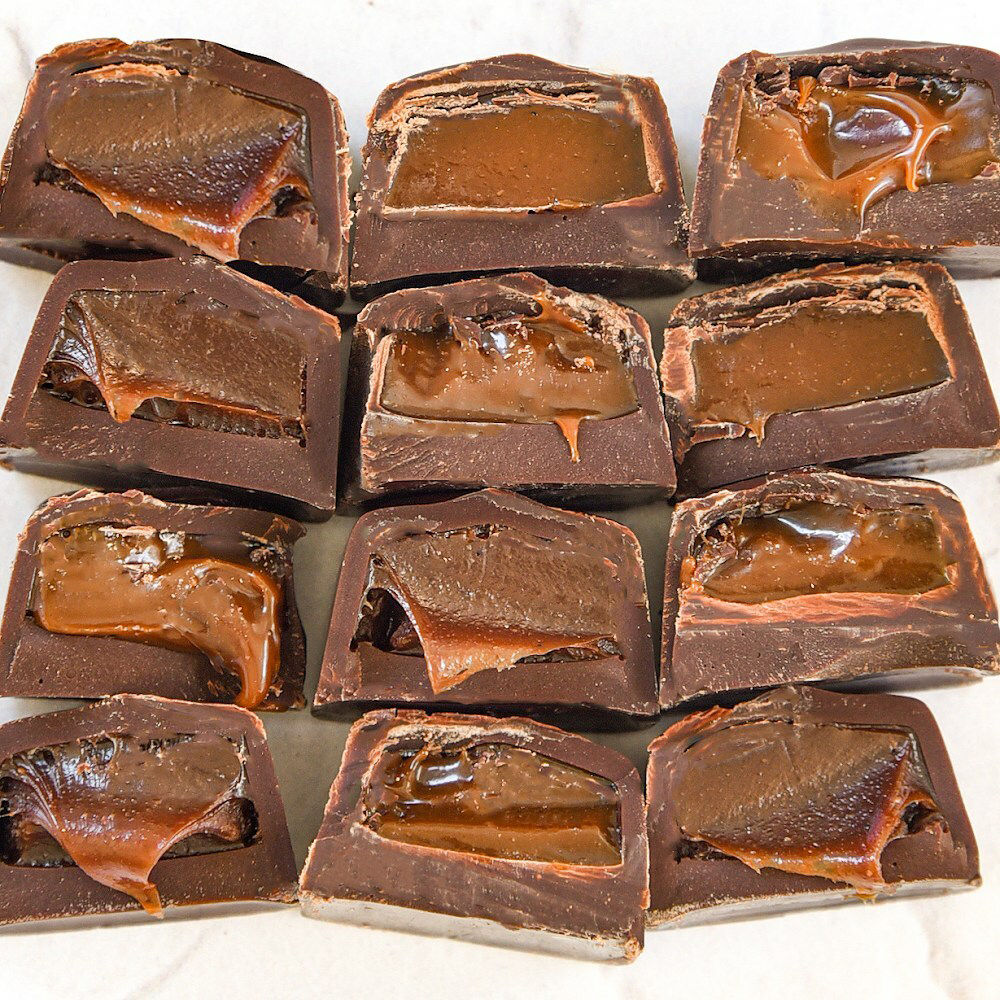 OCHO Candy
What's unique about these desserts is that their caramel center is made with Miyoko's European cultured style butter, which gives a delicious buttery flavor that's often masked by more common coconut milk-based vegan caramels. The unique formulation delivers the same gooey pull and chew of traditional caramel but without any animal products.
"I am incredibly excited to announce this partnership between Ocho Candy and Miyoko's Creamery," Ocho Candy CEO Scott Kusirek said in a statement.
"Vegan and dairy-free consumers deserve dessert options with great textures and bold flavors, and we believe our plant-based caramel line delivers on both fronts. We are proud to provide a certified organic and fair trade option for caramel lovers," said Kucirek.
OCHO Candy's new vegan caramel line—available through the company's website—is a recent collaboration featuring Myoko's vegan butter. Previous collaborations include an upcycled vegan chocolate chip cookie from Renewal Mills and a Myocore butter toffee and chocolate ice cream flavor from Seattle-based brand Frankie & Joe's—which returned to the ice cream shop for a second year in December.
Better milk production with plants
Since its launch, Miyoko's has become a family favorite but continues its mission of perfecting vegan dairy products, fueled by a desire to offer consumers delicious vegan options for every occasion.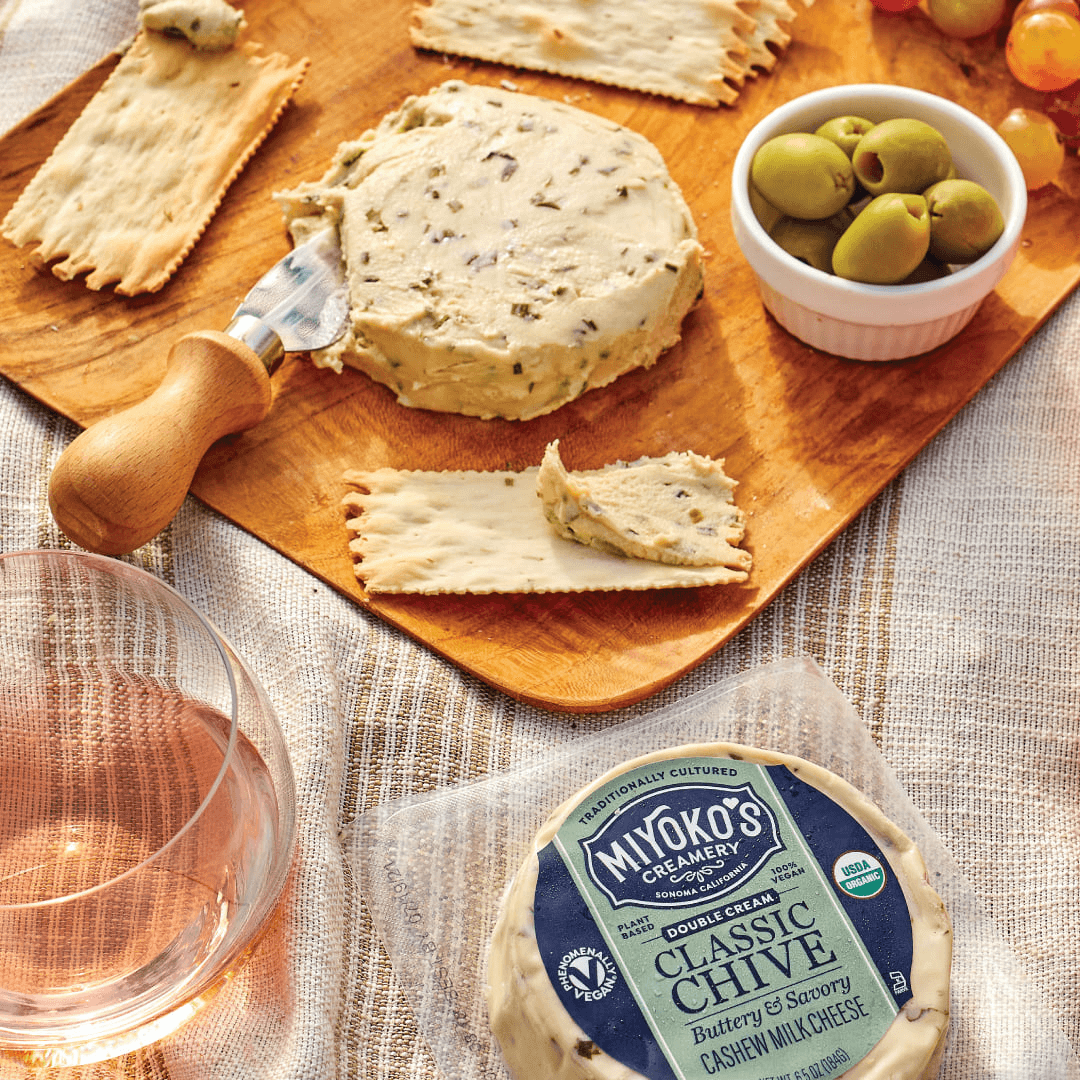 Miyoko's Creamery
In addition to butter and cream cheese, Miyoko makes vegan cheeses in a variety of formats, including liquid mozzarella (which browns perfectly on pizza); Artisan Chaka (which pairs well with wine); and Roadhouse Cheddar (a dipping cheese that goes wonderfully with pretzels).
"With plant-based milk in nearly half of households across the country, Miyoko believes there is opportunity for plant-based cheese to become a household staple," said Porter.
"We push boundaries with innovations that appeal to vegetarians and vegans alike who are looking for delicious and healthy treats, and our Cinnamon Raisin Cream Cheese innovation does just that," says Porter.
The forward-thinking company is also working on the world's first vegetarian cottage cheese – made with watermelon seed milk – a prototype it unveiled last year.
For the latest vegetarian news, read: