From brightly colored Cheetos to nostalgic Cheez-It crackers, cheesy snacks have long been an American staple. And while vegans have enjoyed the dairy-free iteration, a plant-based cheese snack is rising to the top. Enter: eat every body.
A Chicago-based vegan brand, Every Body Eats is quickly gaining a cult following with its cheese-less smoothies. Free from the top 14 allergens plus corn, Every Body Eats Cheese-Less Thins get their signature cheesy flavor from just eight simple ingredients: potato starch, brown rice flour, garlic, white pepper, paprika and sea salt.
The vegan cheese crackers first launched in 28 Chicago-area locations of Whole Foods Market, before expanding its partnership with the Every Body Eat grocery store chain and landing in 56 locations across the Midwest, ultimately catapulting it to the top of the cheesy snack category. Religion.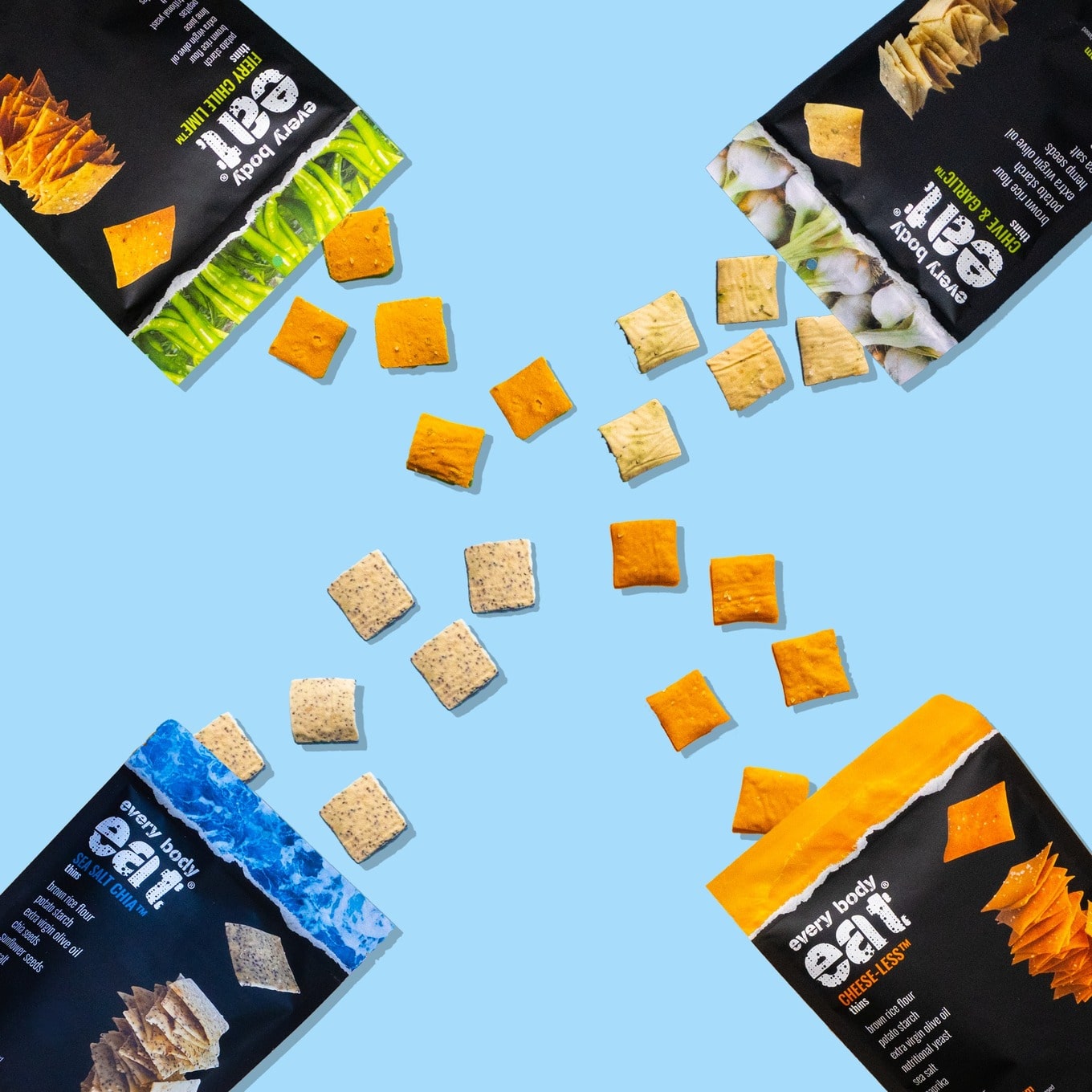 Eat every body
Last year, Every Body's Cheese-less Thins was named one of Whole Foods' best-selling cheese snacks in the Midwest. But unlike the grocery store chain's other best-selling cheese snacks, Every Body Eat's cheesy crackers are the only ones that don't contain dairy.
For every body to eat, creating healthy, wholesome snacks that anyone – regardless of diet – can enjoy is crucial. "Everything we're doing is trying to make eating easier for people with special diets — whether that means being vegan, having food allergies or having an autoimmune disease, like me," co-founder and CEO Patricia "Trish" Thomas. told VegNews.
Vegan snacks for everyone
For Thomas, creating vegan, allergen-friendly snacks was personal. A serial entrepreneur, Thomas suddenly found himself feeling tired and falling out after the birth of his son. Undiagnosed at the time, she didn't realize it was an autoimmune disease that was making her feel sick.
"I just thought the kids tired you out. I didn't know there was anything wrong," Thomas said. After shrimp and red wine put him in an ambulance, Thomas jumped head first into research and realized that he felt significantly better when he avoided dairy, corn and gluten in his diet.
"I could no longer eat the same food as the people I loved," she says.
"We were always entertaining and having people over, and then all of a sudden, I couldn't eat what my family was eating for dinner, or I had to change the whole menu. I'm really used to cooking in a way that allows people to customize based on their diet."
But it wasn't until Thomas met Nicole Wilson, co-founder of Every Body Eat, that the company idea first took off. After meeting at a book fair at their children's school, Thomas invites Wilson for a conversation and serves some snacks that Wilson finds unappealing. "We just started working together on another business idea and I served [Wilson] Some really bad food, and he said, 'You eat this stuff? That's not good,'" Thomas said.
Eat every body
Initially, the pair were working on a technology platform that aimed to make eating easier for people on special diets. However, when it came to adding allergen-friendly foods to the platform, they found that nothing met their standards.
"Our requirements [for the platform] If everything comes from healthy, whole-food ingredients, has healthy fats, no sugar—and we haven't found anything to put in it," says Thomas. "We literally had four or five products [on the platform]"
The co-founders decided to pivot and create their own allergen-friendly healthy food that everyone could enjoy.
Vegetarian food for the greater good
Each Body Brick aims to make eating easier, healthier and tastier for its consumers. Beyond food, the company is making sure everyone has a seat at the table.
Eighty percent of the company's workforce is people of color. Additionally, 65 percent of its production team has been impacted by the justice system and 20 percent were formerly homeless.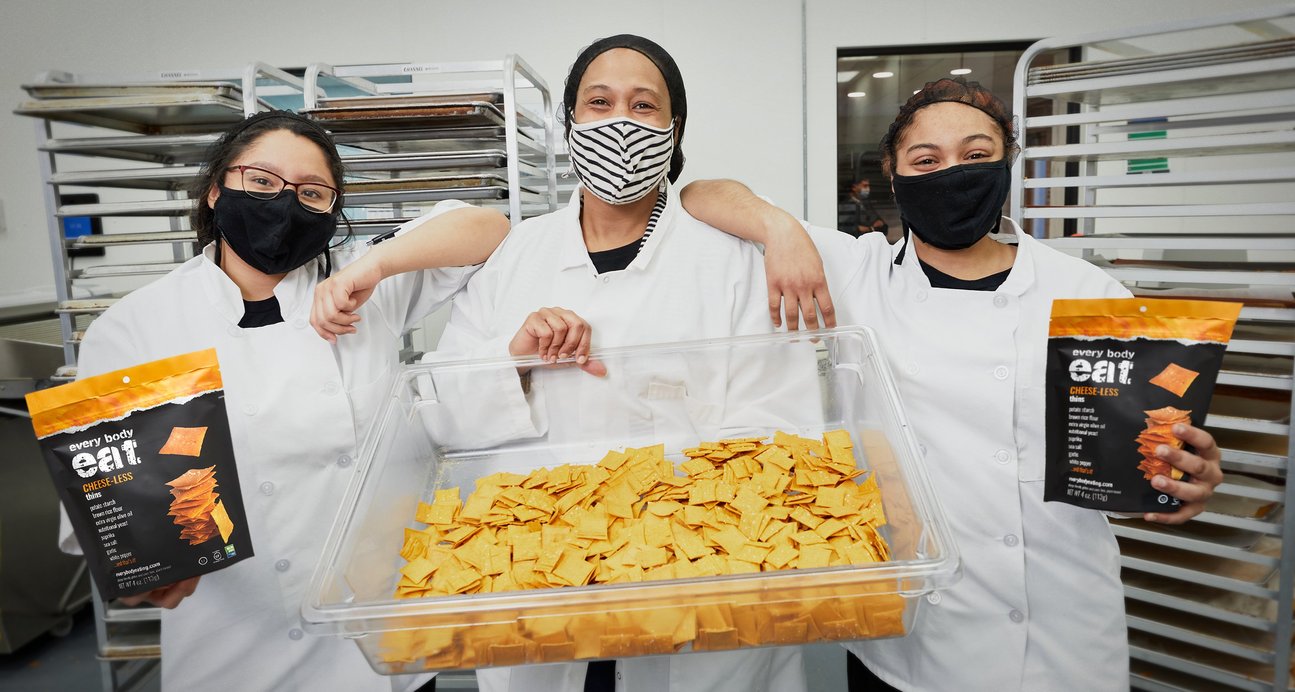 Eat every body
And during the Covid-19 pandemic the company boasts a nearly 100-percent employee retention rate, losing only one employee who chose to pursue a career in music.
"We've been able to create a place where people want to work," Thomas said. "Our goal is to literally and figuratively give everyone a seat at the table. We're doing it with our food and we're doing it with our people."
For the latest vegetarian news, read: