The Mint Mojito is the perfect refreshing summer cocktail! Naturally sweetened with a honey mint syrup, it brings together the best flavors like mint, lime and white rum.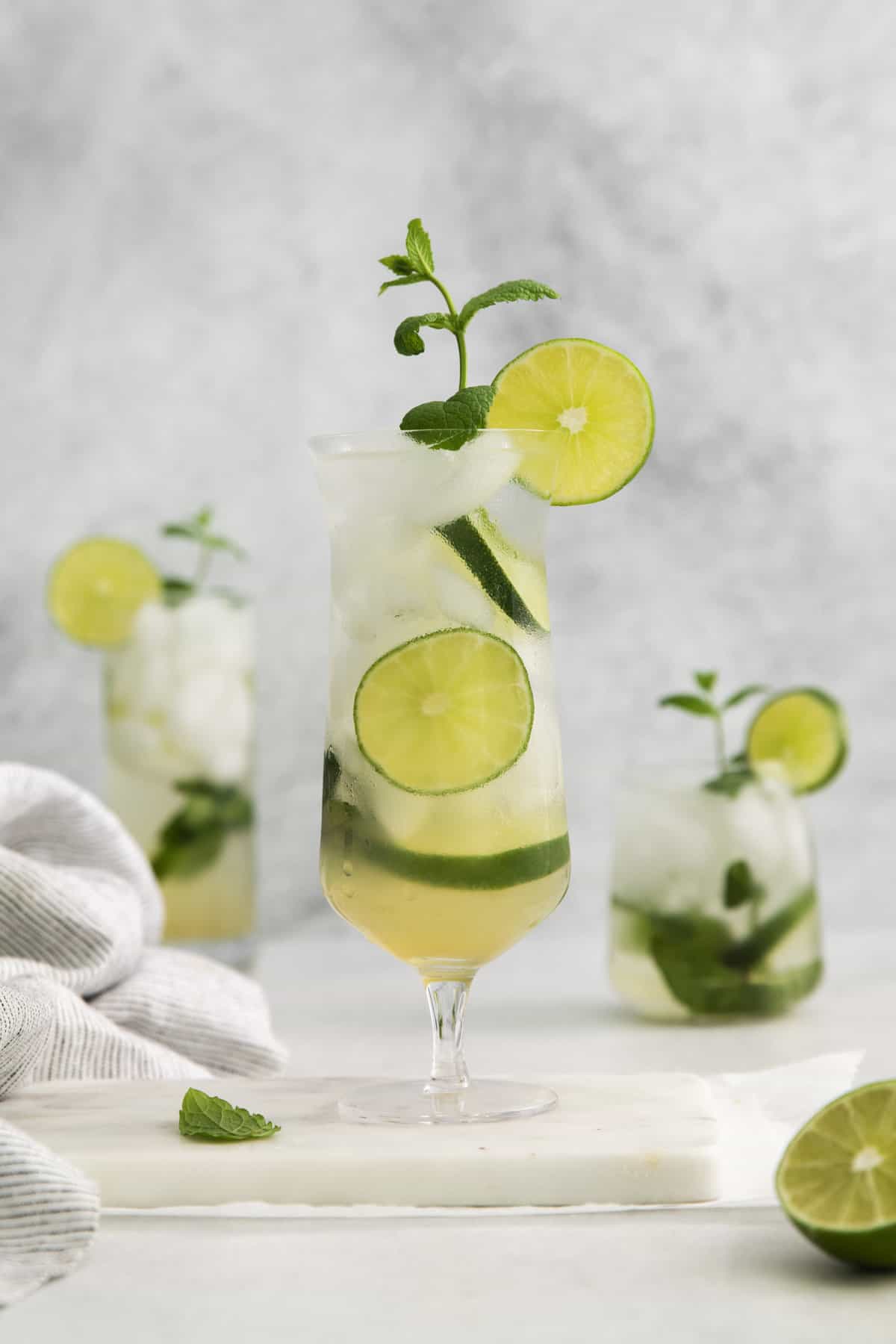 Easy mojito recipe
Who doesn't love a mojito? It's minty, it's lemony, it's a bit tropical. It really is the perfect drink for summer.
And as if a classic mojito wasn't delicious enough, I've given it an extra twist with a naturally sweet honey syrup with extra mint…which is delicious! Seriously. This is the best mojito recipe.
Enjoy this cocktail as a refreshing drink with dinner or serve it to a crowd at your next party. It's a drink that everyone will love.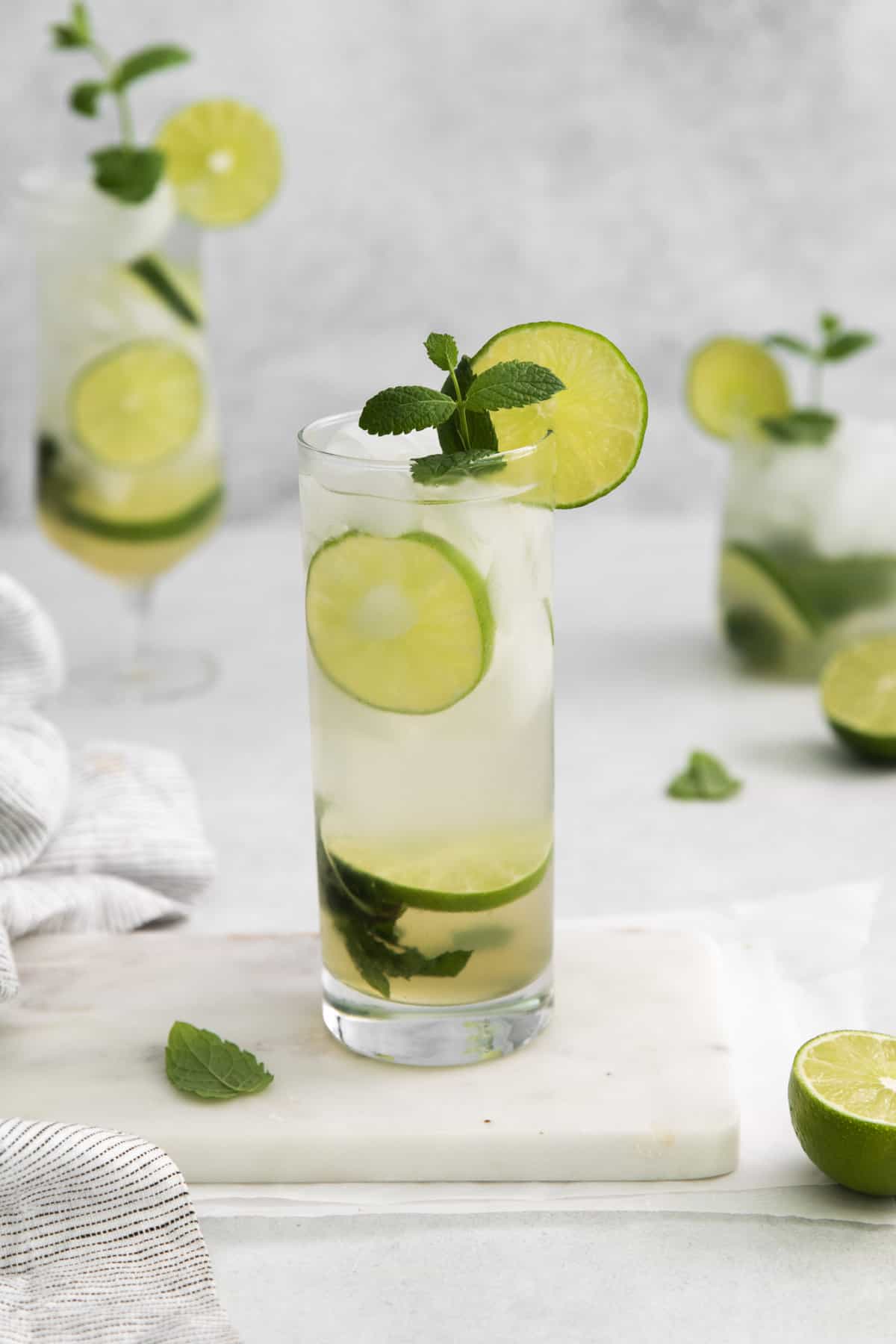 What is a mojito?
A mojito is a Cuban rum cocktail made with lime juice, mint, sugar, white rum, and lemonade.
Traditionally, mojitos are sweetened with granulated sugar. The sugar is mixed with the mint to break it down so it doesn't taste so gritty and to release the natural oils in the mint. Here we forgo the refined sugar and instead make a quick honey mint syrup. It adds just the right touch of sweetness and makes it extra minty!
Are mojito mint and spearmint the same thing?
Somehow! Mojito mint is a variety of spearmint. The differences are subtle, but mojito mint is slightly sweeter than classic spearmint.
Either way works for this recipe!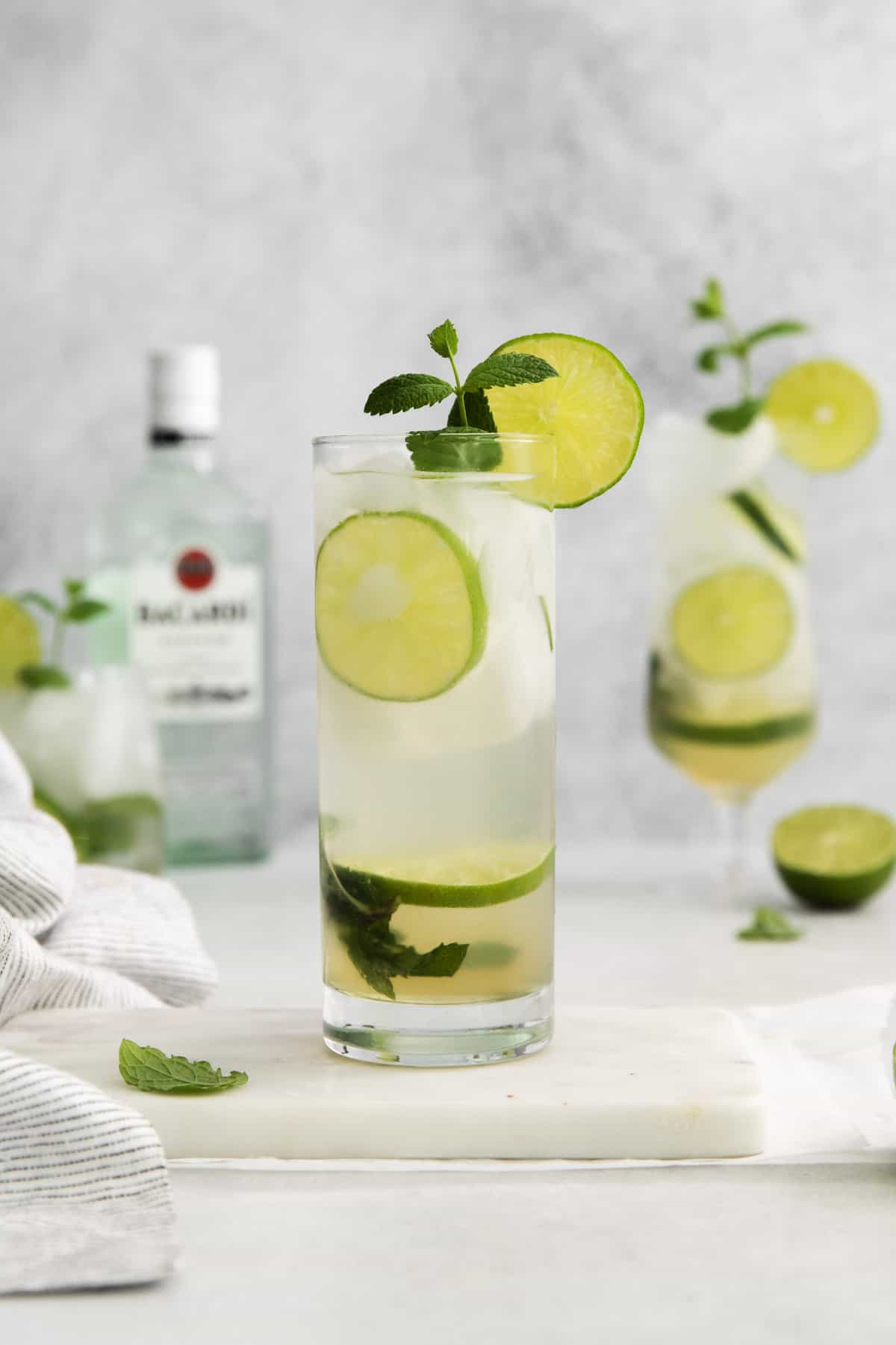 Mojito ingredients
Mint: You can find fresh spearmint leaves at most grocery stores.
lime juice: For the best flavor, use freshly squeezed lime juice. Otherwise, bottling will also work.
Simple Mint Syrup: For this recipe, you can make a homemade mint syrup sweetened with honey.
White Rum: Just use your favorite variety.
Soda: Club soda is the classic, but you can really use any carbonated water you like. Try lime water for an extra hint of lime flavor!
Side dishes: I like to garnish each serving glass with a lime wedge and an additional mint leaf or two.
How to make a mojito
Once the easy syrup is made, this homemade mojito is ready to go in just 5 minutes!
Crush the mint: Place a few mint leaves in two serving glasses. Add the simple syrup and mash together with a pestle or wooden spoon.
Combine: Fill each glass 2/3 full with ice, then pour in the lime juice, rum, and lemonade.
Garnish and serve: Garnish each glass with some lime and/or mint and then enjoy!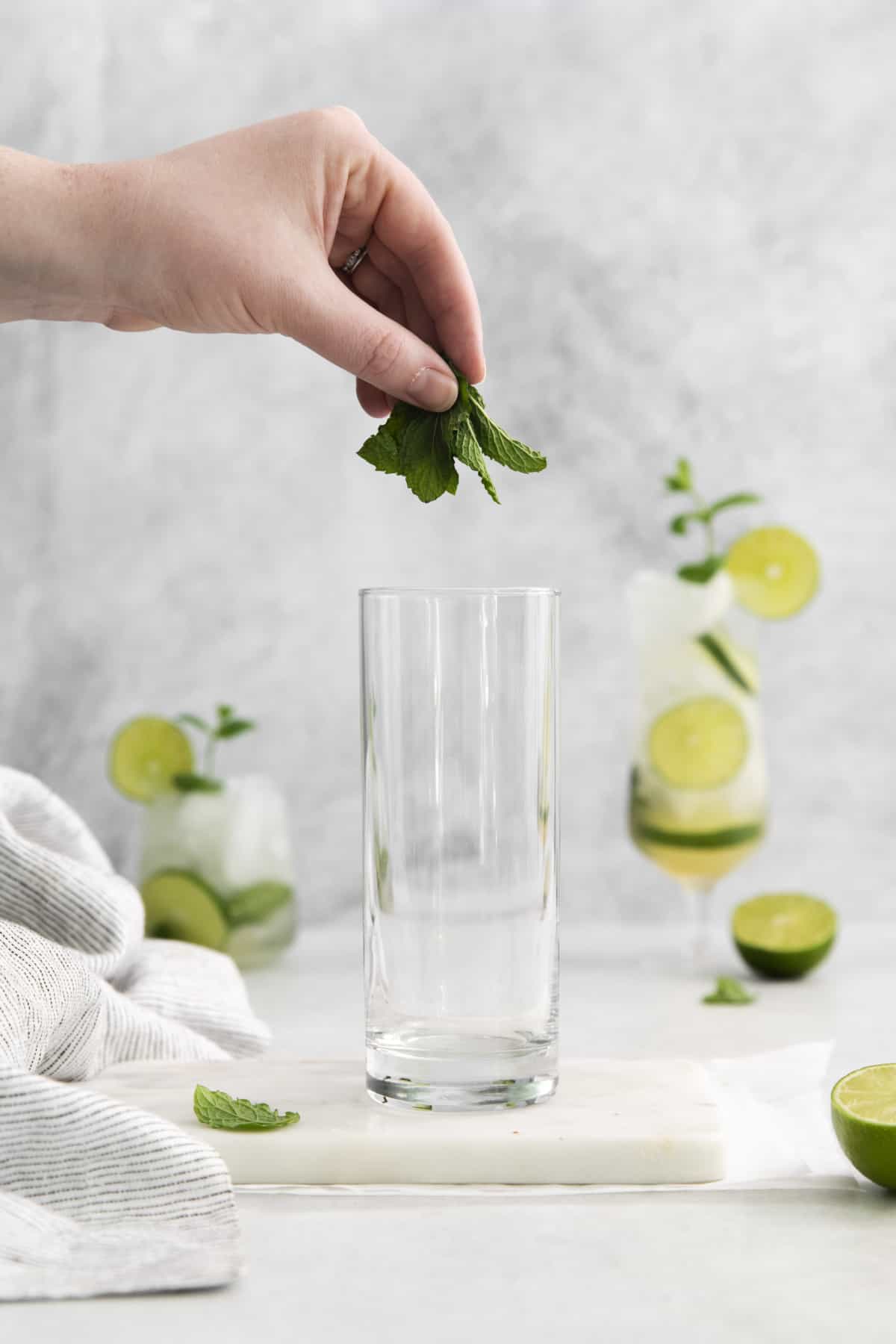 How to make simple mint syrup
You can find all the instructions and recipes in this post, but here's a quick summary:
Make a simple syrup by mixing together 1 part water and 1 part sweetener. In this case I use honey. Bring this mixture to a boil and let the honey dissolve.
Crush or roughen clean mint leaves to release the oil, then place the mint in a heatproof bowl. Pour the simple syrup over the mint, then let sit for 10 minutes to allow the mint flavor to penetrate the syrup.
Strain and gently press the mint leaves to release more flavor and oils.
Which alcohol is best for mojitos?
The traditional alcohol used in mojitos is white rum, also known as silver rum or rum blanco. It has subtle tropical flavor notes that go perfectly with the other ingredients in a mojito!
If you don't have rum handy, vodka will do, but it's not a traditional mojito.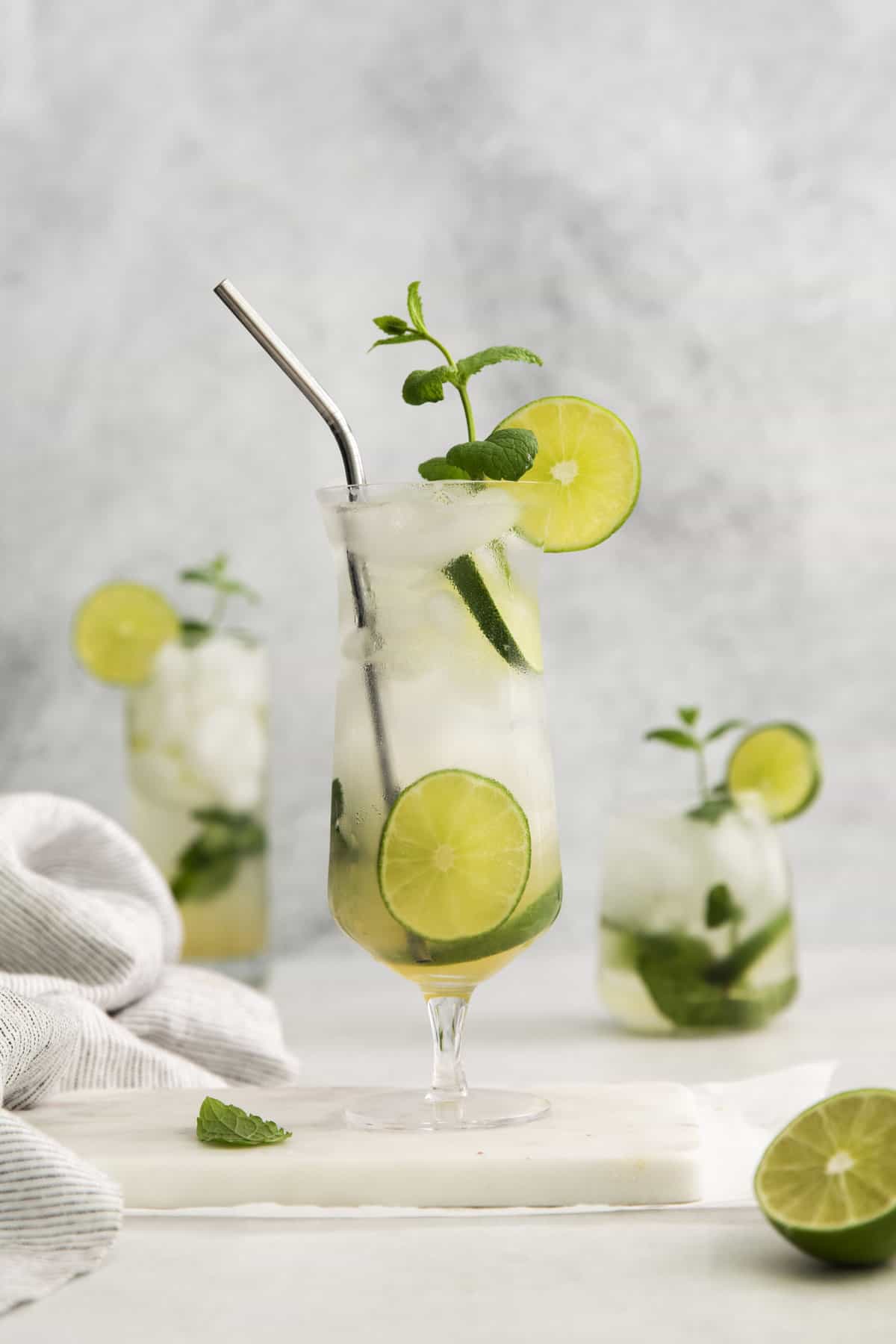 tips and hints
Mash the mint well. You don't have to grind it, but gently squeezing it a few times really helps release the oils and flavor.
Use simple syrup to sweeten. Adding honey directly to the drink won't work because the honey won't blend well with the cold drink.
Make the simple syrup ahead of time. Give it enough time to cool so it doesn't heat up your cocktail. The good news is that you can make it days in advance and store it in the fridge.
Serve immediately. Once the cocktail and ice are mixed, it should be enjoyed immediately. Otherwise, the ice will melt and the drink will be diluted.
Serving a crowd? Simply measure out all the ingredients (except the soda and ice) and mix them together in a large pitcher. When ready to serve, pour into serving glasses over ice and top with lemonade.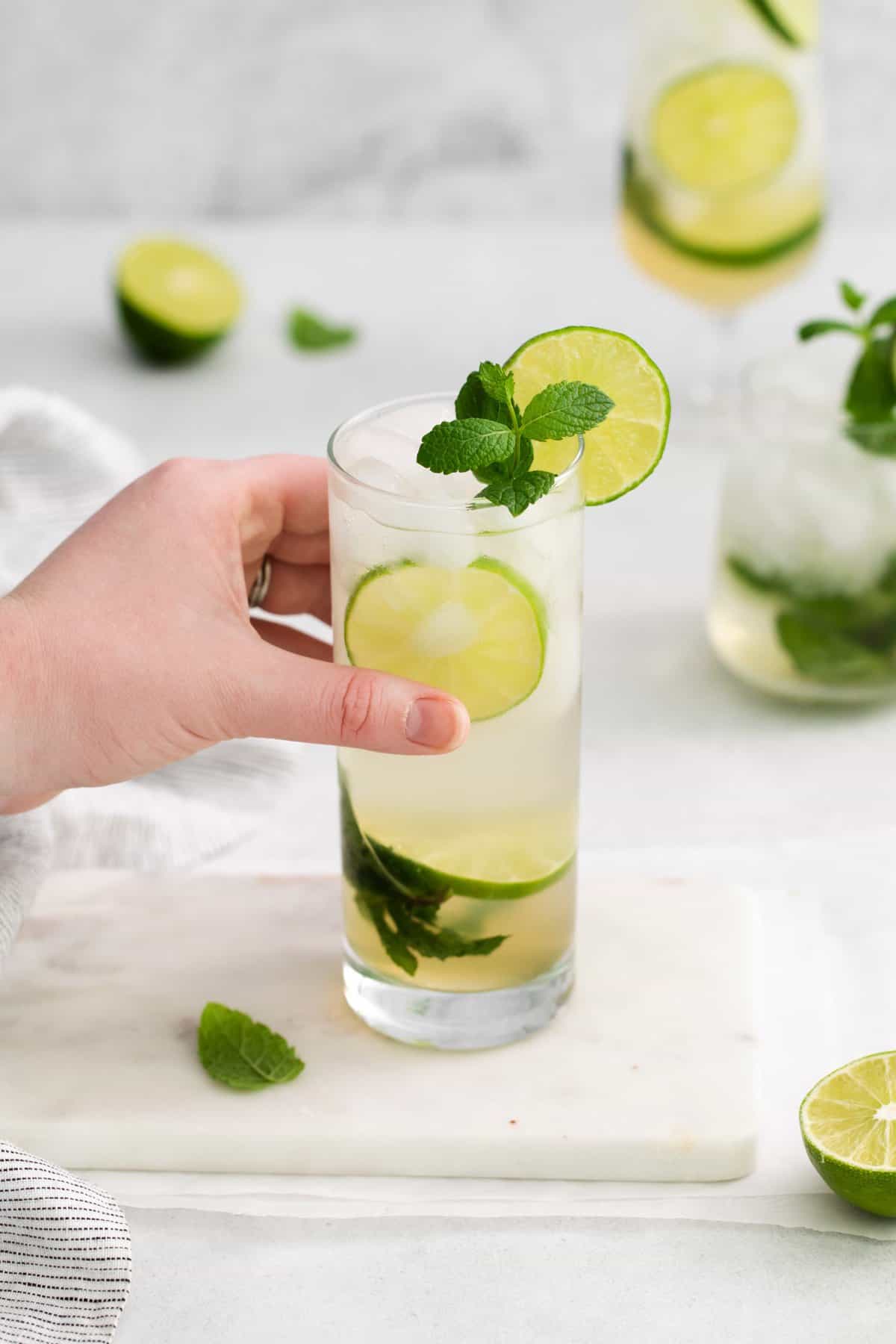 serving suggestions
This cocktail is great for serving with your favorite appetizers at a party or for a casual dinner at home. Here are a few combination ideas – meals and appetizers!
How to store it
I do not recommend storing this drink. Once fully assembled, it is best served immediately.
However, you can move forward by preparing some of it in advance.
The simple syrup can be prepared, cooled and stored in an airtight container or jar in the refrigerator for a few weeks.
The cocktail can be mixed a few hours ahead, without the lemonade and ice, then poured over ice and garnished with lemonade when ready to serve.
More cocktails:
More Mint Recipes:
Pin this recipe to save for later!
pin it!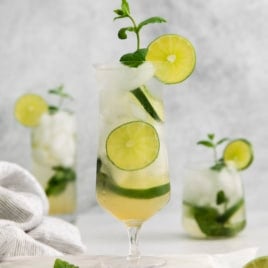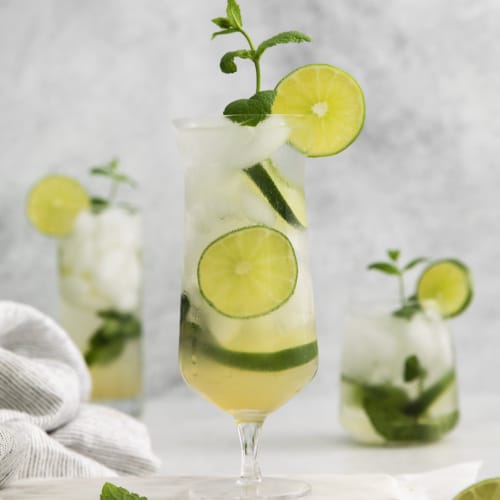 A small handful of fresh mint

well washed

2

tablespoon

lime juice

2

teaspoon

Mint syrup (see post)

2

ounces

white rum

Soda

Extra lime and mint for garnish
Put 5-8 mint leaves in two highball glasses. Put the mint and simple syrup in the glass. Muddle the mint with a pestle or the bottom of a wooden spoon to release the oils.

Fill the glass ⅔ full with crushed ice.

Add the lime juice and rum and top up with lemonade.

Garnish with extra lime or mint.